It is just short of two years ago that Adelle Biton, then two years of age, was driving in the Shomron with her mother and two older sisters, when Arabs threw rocks at their car, causing it to spin out of control and collide with an oncoming truck. Her mother and sisters were moderately injured. Adelle, however, incurred severe brain injury. She spent a long time in a hospital and then time in a rehab center, before she was brought home, still severely disabled, to continue therapies.

Adva, her mother, was remarkable for her constant devotion and her optimism.


Credit: Yoni Kempinsky

~~~~~~~~~~

Today, Adelle Biton succumbed to pneumonia.

On learning the news, I cried. Such a painful and unnecessary loss of tender young life. Such anguish for the family.

And so, Baruch Dayan HaEmet. The Almighty has taken Adelle. May He grant healing for the hearts of Adva and her husband, Rafi, and other members of the family.

As to those who throw such stones (or firebombs or firecrackers), may He allow them no peace.

~~~~~~~~~~

An occurrence such as this brings us upright, and sharpens our perspective. There are issues that truly, truly matter. And others that are imbued with nonsense and pettiness and self-interest. And I say honestly today that I have precious little patience for the constant flow of nonsense and pettiness and self-interest that passes for "news" these days.

~~~~~~~~~~

Sadly, there is yet one more death I must report: Minister Uri Ohrbach, 54, passed away yesterday after a battle with an unnamed blood disease. He had worked as a journalist and author for years, before joining a new Habayit Hayehudi and entering the Knesset.

He is being widely saluted as a man of exceptional sincerity, gentleness and wit. What is clear is that this was a man who was greatly loved.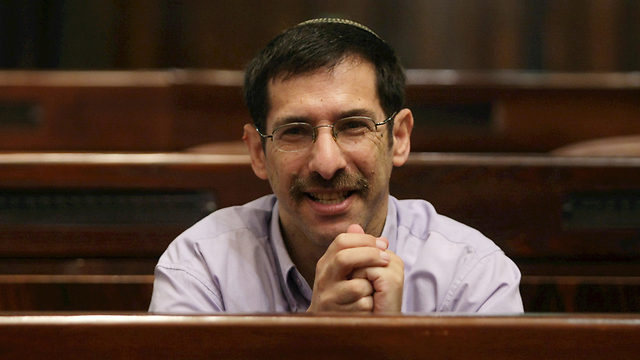 Credit: Alex Kolomoisky

~~~~~~~~~~

So, let us look at some of the news that does matter (if only people would pay attention):

Just a week ago, the IDF and the Shin Bet launched raids in the area southwest of Jenin, uncovering large quantities of firearms, ammunition and knives – sufficient to "strengthen [Hamas's] grip on the territory." Hamas does not intend to stop trying, folks. Let us not forget this.

~~~~~~~~~~

The IDF has warned the government that the PA could collapse at any time.

"In one of the scenarios that the IDF presented, a small localized security incident, like an altercation between settlers and Palestinians, or the throwing of a Molotov cocktail could quickly escalate to rioting in the Galilee and the Triangle area. With the weakened Palestinian Authority a situation like this is liable to lead to terrorist organizations taking control of the West Bank."

http://www.jpost.com/Arab-Israeli-Conflict/IDF-security-assessment-The-Palestinian-Authority-can-collapse-at-any-moment-390934

~~~~~~~~~~

Repeatedly, it has been the case that rumors spread by Palestinian Authority "leaders" regarding alleged Israeli threats to the Al Aqsa Mosque have served as incitement – whipping up the populace to fury and violence.

Now we learn from the Palestinian Media Watch that the PA is renewing this incitement:

For example, on February 5, the PA Minister of Religious Affairs Sheikh Yusuf Ida'is warned that since January, Israel has made "over a hundred attacks and incidents of desecration of the Al-Aqsa Mosque and the Ibrahimi Mosque (i.e., Cave of the Patriarchs)" and that "the Al-Aqsa Mosque is in grave and direct danger and that with every sunrise. this danger grows."

Similar statements are being made by others.

http://www.palwatch.org/main.aspx?fi=157&doc_id=14016

~~~~~~~~~~

Defense Minister Bogie Ya'alon, for his part, has leveled another sort of charge at the PA. In a taped address to the annual conference of the INSS - the Institute for National Security Studies, he said:

"We tried after [Operation] Protective Edge, with Egyptian agreement, to facilitate the entry of the PA into the Strip, but they didn't want it,"

"...it was clear that the only way to allow the more open transfer of goods and people in and out of Gaza to Israel and Egypt would be through the stationing of PA troops at the border crossings.
"We created a three-way mechanism – the [Israeli] Coordinator of Government Activities in the Territories, the Palestinian prime minister, and the UN representative Robert Serry. What's left of that today? The coordinator and Robert Serry. The Palestinians ran away! They are good at accusing us at the UN and the Security Council and the ICC. But when it comes time to take responsibility, they are nowhere, and this was not the first time." (Emphasis added)
http://www.timesofisrael.com/yaalon-lambastes-pa-for-bailing-out-on-plan-to-ease-gaza-blockade/
~~~~~~~~~~
In sharing this accusation by Ya'alon, I am not endorsing the idea of PA officers at the Gaza crossing. My intent, rather, is to point a finger directly at the PA and to be certain that people understand precisely what we are dealing with. With the focus on Iran, I hadn't mentioned Abbas or the PA for several days.
Martin Indyk, who consistently works against Israel's best interests, has just made a statement regarding what's going to happen after the elections. There will be increased pressure on Israel to go back to negotiations, he warned, including via a Security Council resolution.
And my inclination is to tell him, and all of his ilk, to stuff it. We are supposed to make "peace" with these guys? They are going to administer a secure and responsible and peaceful state? Of course neither Martin or others who think as he does believe a peaceful "two-state solution" is really around the corner. But hey, if Israel can be weakened...
The lesson. We have to be on our guard in all quarters.
~~~~~~~~~~
Of course, there is also the occasional politician on the far left here in Israel who says it's time for us to withdraw unilaterally from Judea and Samaria since negotiations don't work. Great idea! I believe they have oatmeal between their ears in place of brains.
~~~~~~~~~~
Yesterday, Lt.-Gen. Gadi Eisenkot was sworn in as IDF Chief of Staff, replacing Benny Gantz. Eisenkot is described as "cool and calculated, someone who will strike hard and fast – but only if he has to." He served in the vaunted Golani Brigade.
We can only pray for General Eisenkot's wisdom and bravery and cool head, as he faces incredible challenges in the weeks and months ahead.
Credit: Israel Defense
~~~~~~~~~~

The Conference of Presidents of Major Jewish Organizations is meeting here in Jerusalem this week. I close today by sharing a video of the remarks of Prime Minister Netanyahu to this group. His focus, of course, was his up-coming speech in the Congress on Iran. Worth a listen.

http://www.voiceofisrael.com/netanyahu-conference-presidents-sacred-duty-make-israels-case/?utm_source=ZohoCampaigns&utm_campaign=Feb+16%2C+2015_2015-02-16&utm_medium=email

~~~~~~~~~~

© Arlene Kushner. This material is produced by Arlene Kushner, functioning as an independent journalist. Permission is granted for it to be reproduced only with proper attribution.

If it is reproduced and emphasis is added, the fact that it has been added must be noted.
http://arlenefromisrael.squarespace.com/current-postings/2015/2/22/february-17-2015-the-stuff-of-heartbreak.html
Posted
on Sunday, February 22, 2015 at 04:34AM
by
Arlene
|
Post a Comment
|
Email
|
Print
The good guys give hope and promise for the possibility of better days coming.

Many spirits were buoyed on Friday, when the news broke that Elie Wiesel had announced that he would be attending Netanyahu's March 3rd address in Congress "on the catastrophic danger of a nuclear Iran."

Rabbi Shmuley Boteach, a close associate of Wiesel's, announced that he would be placing full page ads in the NY Times and the Washington Post that would declare Wiesel's intention of coming to Congress to hear Netanyahu, and would broadcast his invitation to Obama and others: "Will you join me in hearing the case for keeping weapons from those who preach death to Israel and America?"

http://www.israelnationalnews.com/News/News.aspx/191326#.VOC4opv9nIU

credit: failedmessiah
~~~~~~~~~~
All I am aware of at this point is that the NY Times ad did appear yesterday. You can see it here (with my thanks to Cheryl L.):
http://thisworld.us/2015/02/13/nobelist-elie-wiesel-to-attend-netanyahu-speech/
~~~~~~~~~~
In a situation that has become shamefully politicized and partisan, Wiesel brings attention back to the real issue – the dangers of Iran. Speaking as he has for decades on the horrors of the Holocaust, he is able to draw a direct line to what we face today. And, very importantly, he does it with a stature that is non-partisan.
Do I imagine that Obama is going to rush to join Wiesel in Congress to hear Bibi? Of course not. But I do have hope that this public action will take some of the wind out of the the president's political sails. It is clear that Obama has been going on about "protocol" and "elections campaigns" in order to distract from his major concern: Netanyahu's challenge to the deal with Iran that is currently in the works. When it is pointed out by someone such as Wiesel that we are confronting a situation that is terrifying, hopefully it becomes just a tad more difficult for Obama to continue with the same obfuscation.
~~~~~~~~~~
Governor Mike Huckabee and his wife are in town now; they will be leading a mission of some 250 people – many coming for the first time – who will be touring the country to learn about Israel's heritage.
This morning, Governor Huckabee held a press conference. He has not yet announced that he will be running for president, but there is considerable reason to believe that this will be the case. And I see this to the good. As he addressed subjects of major concern for journalists today, he was very much on the mark:
We are, said the governor, in the midst of a crucial historical time, as we face the threat of radical Islam. This is a threat not just to Israel. Israel is the canary in the coal mine, but is not Iran's ultimate target – a nuclear Iran would be a huge threat to the US and other nations.
We are not looking at a personal conflict between Obama and Netanyahu, but rather at the question of whether we trust Iran. The strategy of loosening sanctions is counterintuitive – there should be pressure put upon Iran now to bring it to the breaking point.
It is stupid to declare in advance what we are not going to do. Everything must be on the table. The government of Iran has no credibility – it's like negotiating with a snake. America's leading from behind has had disastrous consequences.
~~~~~~~~~~

Governor Huckabee absolutely believes Netanyahu should speak in Congress. Speeches of power can have a great impact. And Netanyahu may be uniquely qualified to deliver that speech.

We should remain assured that there is strong Democratic support for Israel in Congress. Much of the partisan tension we are seeing now is anti-Boehner not anti-Israel.
Credit: The Guardian


~~~~~~~~~~~~

Please see here another very cogent argument regarding the need to counter Obama as vigorously as possible with regard to Iran. This article – "Worse Than No Strategy" - is written by Clifford May, president of the Foundation for the Defense of Democracies (emphasis added):

"It seems like only yesterday that President Obama was being criticized for having no strategy to counter the jihadi threat...

"Since then, a different perception has been taking root: Mr. Obama does indeed have a strategy – a 'secret strategy,' one that is alarmingly misguided.

"According to this theory, he believes that fighting terrorism requires accommodating the regime long recognized by the U.S. government as the world's leading sponsor of terrorism: the Islamic Republic of Iran.

"He may also see the Islamic Republic not as a rival to the Islamic State but as a more moderate alternative -- despite the fact that Iran's Supreme Leader, Ali Khamenei, has repeatedly declared hostility toward America the foundation of the Islamic revolution. The president appears to believe that Sunni jihadis can be countered by Shia jihadis...

"Michael Doran, a senior fellow at the Hudson Institute, has not just speculated about Mr. Obama's 'secret strategy.' He has painstakingly combed through the record and produced a 9,000-word report persuasively establishing that Mr. Obama, since early in his presidency, has been in pursuit of a 'comprehensive agreement' that would allow Iran to become what the president has called 'a very successful regional power.'

"Understand what that means: Iran would be the hegemon of the Middle East...."

http://defenddemocracy.org/media-hit/may-clifford-d-worse-than-no-strategy/

Is it any wonder that Binyamin Netanyahu has refused to be dissuaded in his determination to address the US Congress on the issue of Iran?

~~~~~~~~~~

You might also want to see "Anatomy of a Bad Iran Deal: A Preliminary Assessment," by Dore Gold, president of the Jerusalem Center for Public Affairs (emphasis added).

A key factor of concern here, as elsewhere is the number of centrifuges that Iran would be permitted to maintain.

"The numbers are important. In a scenario of 'breakout,' in which the Iranians race to produce enough weapons-grade uranium for their first atomic bomb, the number of centrifuges largely determines the amount of time the Iranians will need to accomplish this goal...

"Iran currently has 19,000 centrifuges, 9,000 of which are running and 10,000 that are installed but not operating. Israel's position is that Iran should have zero centrifuges. The reason is that if Iran truly needs enriched uranium for civilian purposes, it could import enriched uranium as do roughly 15 other countries, such as Canada, Mexico, and Spain. The Israeli position is in line with six UN Security Council resolutions that were adopted between 2006 and 2010, with the support of Russia and China.

"...at the beginning of the current round of negotiations, the United States was demanding that Iran significantly reduce its stock of centrifuges to 1,500, but in doing so dropped the longstanding U.S. policy that Iran eliminate its centrifuges completely.

"...According to multiple press reports, Western negotiators have raised the ceiling for the number of centrifuges that Iran will be allowed to have: they have gone from 1,500 to 4,500, and they now appear to be ready to let the Iranians have 6,000 centrifuges."

When other factors - such as the amount of enriched uranium Iran would be permitted to retain – Iran's breakout time for producing enough weapons-grade uranium for an atomic bomb would be six months and possibly considerably less.

http://jcpa.org/anatomy-of-a-bad-iran-deal/

~~~~~~~~~~

Last time it was Paris. This time Copenhagen. Terrifying, but not unexpected.

Early yesterday, a gunman shot into a café where a Swedish cartoonist, Lars Vilks, who had caricatured the Prophet Muhammad was speaking. Vilks body guards successfully whisked him away and he hid in a freezer (shades of Paris). Someone else inside the café - Finn Norgaard, 55, a film director, took a bullet and was killed.

Today, Dan Uzan, 37, a longtime security guard. and a Jew, was shot dead. Uzan was guarding a synagogue where a Bat Mitzvah celebration was taking place. According to reports, he was brought in after the café shooting.

The police have pursued and killed someone whom they say they believe was the perpetrator of both attacks. There has been official reluctance to identify him, but Danish media sources are saying it was Omar Abdel Hamid El-Hussein, a man known by authorities and possessing a record of violence. He had been released from prison two weeks ago.

Could it possibly be, by any remote chance, that a politically correct aversion to fingering a Muslim is behind the police reluctance to officially reveal the terrorist's identity?

~~~~~~~~~~

The Danish are deeply distressed that this terrorism has come to their door. They are eager to express their horror, and their readiness to protect all citizens and keep life normal. Here you see pictures of flowers brought to the synagogue where the shooting took place.

Credit:US News

~~~~~~~~~~

Yet, the questions must be asked: Where next? And, what normal?

Prime Minister Netanyahu said that this attacks would continue and that the Jews should come home to Israel. One Danish leader of the Jewish community criticized this, saying that anti-Semitism is not a reason to leave.

It's not? Not even when the handwriting is on the wall? Note the Israeli flag hung on the synagogue over the flowers.

~~~~~~~~~~

I close here, then, with a piece on this issue – "After Copenhagen, What Next for Europe?" - written by David Harris, president of the American Jewish Committee. Says Harris (emphasis added):
"...after 15 years of engaging with European leaders to get their attention, help them understand what stares them in the face, and press for sustained action, I'm not quite ready to bet the family farm that the day after tomorrow will be all that different than the day before yesterday.
"Even so, I desperately want to believe that Europe, with all its dazzling achievements since the end of World War II, can still strengthen its resolve, stiffen its spine, and fully understand the stakes involved, however late in the day it is."
A bit of wishful thinking, given present realities, but what he would wish for is instructive and worth noting. He calls for the following now:
[] ..."quickly organize a high-level conference to discuss the rise in anti-Semitism...discuss and adopt a comprehensive plan of action, and then implement and monitor it.
[] "European leaders must understand, as French Prime Minister Manuel Valls has, that anti-Semitism is not only an attack on Jews, but also an assault on Europe and its values. The two cannot be separated.
[] "call a spade a spade. For many Europeans, there is no hesitation in identifying the source of anti-Semitism when it emanates from right-wing extremists. But when anti-Semitism, including deadly violence, springs from within a segment of the Muslim population, verbal acrobatics all too often come into play. If you can't name the adversary, how can you effectively fight it?
[] "stop tying anti-Semitism to Islamophobia, as if the two are Siamese twins. AJC's Brussels office has been trying for months to encourage a European Parliament hearing on anti-Semitism, only to be met with insistence that any such meeting include Islamophobia. Why this demand to join the two together, when the majority of incidents occurs against Jews, when Europe has a particularly ugly history of anti-Semitism, and when the principal attackers of Jews invoke their Islamic faith?
[] "recognize that we confront both a short- and long-term menace that won't be overcome by even the most eloquent of speeches and the most symbolic of acts. Rather, it requires a full-court, sustained effort by individual governments (and, of course, by the EU) using the resources they have the capacity to mobilize, joined by the determined efforts of civil society.

[] "connect the lessons of the Holocaust to the present-day threat to the Jews. I've witnessed too many Holocaust-related events where murdered Jews are mourned -- Jews who, tragically, cannot be brought back to life -- but that totally ignore the current dangers to living Jews. A refusal to connect the two quite frankly empties these commemorations of much of their meaning and sincerity.

[] don't apologize for European values of democracy, human dignity, openness, and pluralism....It's high time to stand up in defense of these noble values and do everything possible to ensure that newcomers embrace them as well.

[] "it is important to understand that the jihadist barbarism which Europe is experiencing first-hand is not much different from what Israel has been facing for decades. Why, then, does Europe continue to try drawing a distinction, when, in reality none exists? The same jihadists who hate Europe detest Israel, and the same jihadists who wish for Israel's annihilation aspire to no less for Europe as we know it."

http://www.huffingtonpost.com/david-harris/after-copenhagen-what-nex_b_6688370.html

Right on! This is a reasonably comprehensive list of what's wrong in Europe today, regarding anti-Semitism and radical Islam. Now...if only.

~~~~~~~~~~

© Arlene Kushner. This material is produced by Arlene Kushner, functioning as an independent journalist. Permission is granted for it to be reproduced only with proper attribution.

If it is reproduced and emphasis is added, the fact that it has been added must be noted.
http://arlenefromisrael.squarespace.com/current-postings/2015/2/16/february-15-2015-the-good-guys.html
Posted
on Monday, February 16, 2015 at 04:40AM
by
Arlene
in Copenhagen, Israel, Jews, anti-Semitism, radical Islam, terrorism
|
Post a Comment
|
Email
|
Print
In case you still had doubts about Obama's positions regarding jihadi terrorism, I provide here just one more instance that makes it clear how eager he is to deny what is in front of all our faces.

Two days ago, in the course of an interview with Matthew Yglesias of Vox.com, the president referred to the Islamic jihadis who shot up the kosher store in Paris after the Charlie Hebdo attack as "vicious zealots" who "randomly" shot "a bunch of folks in a deli in Paris."

The "vicious zealots" are not identified as Islamists. (They never are so identified by Obama, are they?) As he sees it, the choice of a kosher deli was just a coincidence. And the shooting victims were merely "a bunch of folks," and not Jews, specifically.

Mind blowing, really.

You can see the video in which he says this, here:

http://www.realclearpolitics.com/video/2015/02/09/obama_legitimate_for_americans_to_be_concerned_about_violent_zealots_who_randomly_shoot_people_in_paris_deli.html

~~~~~~~~~

Ah, but there is more that illustrates how Obama perceives matters – or purports to perceive them at any rate. It is "legitimate," he says, to be concerned about these vicious zealots and to devote resources to dealing with them, just as a big city mayor acts to cut crime.

This too indicates an obfuscation of the genuine underlying problem that we are confronting: that problem being the ideology of radical Islam. Dealing with street criminals is not parallel at all. This analogy serves to underplay the seriousness of what is threatening the free world right now.

Lastly, I mention this, more for a laugh than anything else. Obama says it is good to allocate resources to dealing with these "zealots," but it is important to also devote attention to "future threats" such as "global warming."

Is this man for real? I am certain that all of my readers across the east coast of the US have spent inordinate amounts of time this winter worrying about the imminent threat of global warming. (Actually, satellite data indicates there has been no global warming for about 20 years.)

~~~~~~~~~~

A great deal of energy was expended following these remarks by Obama, in attempts to justify what he meant.

White House press secretary Josh Earnest, for example, explained that: "the individuals who were killed in the terrible tragic incident were killed not because of who they were, but because of where they randomly happened to be."

This is pathetic sophistry. No, the victims of the massacre were not singled out by individual identity. But does anyone imagine that the terrorists' selection of an establishment where kosher food is sold, on a Friday afternoon when Jews would be shopping for Shabbat preparations, was just random? Is there anyone even half-way honest who truly believes that the fact that it was Jews who were killed was purely a random happening?

State Department spokesperson Jen Psaki also dealt with this. She was asked the question: "Does the administration believe that this was...an attack on the Jewish community in France?"

She replied: I don't think we're going to speak on behalf of French authorities and what they believe was the situation at play here..."

The questioner persisted: "But if a guy goes into a kosher market and starts shooting it up, he's not looking for Buddhists, is he? Who does the administration expect shops at a kosher (store)? ...I'm not sure I can understand how it is that you can't say this was a targeted attack."

Her response: "I don't have more for you...it's an issue for the French government to address."

http://www.israelnationalnews.com/News/News.aspx/191210#.VNtbBpv9nIU

~~~~~~~~~~

After the attack at Hyper-Cache, French Prime Minister Manuel Valls said, "How can we accept that in France, we still hear about the death of Jews? How can we accept that people are killed because they are Jewish?"

What I ask is how we deal with this: that the French prime minister was able to accept an ugly reality, while the American president and those who speak for his administration dance around it?

I see this state of affairs as alarming.

~~~~~~~~~~

Meanwhile, Prime Minster Netanyahu continues to make it clear that he intends to speak to Congress and the American people about a matter that is existential for Israel. He will speak in Congress, because the Congressional role may be important, and he will speak before March 24th. (He has clarified this in response to suggestions that the venue of the talk or its timing be changed.)

You can see a short video of his statement here (all emphasis following is added):

http://www.israelhayom.com/site/newsletter_article.php?id=23451

"At a time when there are those who are dealing with protocol and politics, a bad deal is being put together in Munich that will endanger Israel's existence."

"Israel's survival is not a partisan issue. Not in Israel, nor in the United States...

"I am going to the United States not because I seek a confrontation with [U.S. President Barack Obama], but because I must fulfill my obligation to speak up on a matter that affects the very survival of my country."

~~~~~~~~~~

"Disagreements over Israel's security have occurred between prime ministers in Israel from the Left and from the Right and American presidents from both parties.
"None of these disagreements led to a rupture in the relationship between Israel and the United States. In fact, over time, our relationship grew stronger.
[He refers here to some major US-Israel disagreements over time.]

"But we do have today a profound disagreement with the United States administration and the rest of the P5+1 over the offer that has been made to Iran. This offer would enable Iran to threaten Israel's survival. This is a regime, Iran, that is openly committed to Israel's destruction. It would be able, under this deal, to break out to a nuclear weapon in a short time, and within a few years, to have the industrial capability to produce many nuclear bombs for the goal of our destruction.

"This is not a personal disagreement between President Obama and me. I deeply appreciate all that he has done for Israel in many fields. Equally, I know that the president appreciates my responsibility, my foremost responsibility, to protect and defend the security of Israel."
~~~~~~~~~~

Bibi is diligently seeking to separate out the political accusations from genuine security concerns. And yet, those opposed to what he has to say (read, those supporting the Obama administration) continue to try to delegitimize his efforts to speak out on Iran by accusing him of playing politics, making the matter partisan, etc.

Once again, I urge that if you are in the US, you contact your elected representatives in Congress. Tell them that Iran's threat to Israel is not a partisan matter. Encourage them to listen to what Israel's prime minister will be saying on March 3. And most especially, urge them to support the Kirk-Menendez bill.

For your Congresspersons:
http://www.house.gov/representatives/find/
For your Senators:
http://www.senate.gov/general/contact_information/senators_cfm.cfm
~~~~~~~~~~
One of the accusations made early on, regarding the Netanyahu talk in Congress, is that it was planned without (it was claimed) prior notification to the White House. This was said to be a serious lapse of protocol. Well...I thought I'd take a minute to look at how Obama observed protocol when he was here here in Israel.
As Aaron Lerner of IMRA describes the situation:
"Back on 21 March 2013 President Barack Obama declined to address the democratically elected Knesset and instead chose to speak to a crowd that was screened by the American Embassy in Tel Aviv to preclude Israelis who did not share Mr. Obama's outlook on Arab-Israeli affairs. The White House termed this selected group 'the People of Israel.'"

Ruby Rivlin, who was then Speaker of the Knesset, called the situation "worrying":

"Three American presidents have spoken on the Knesset stage, as well as [Egyptian president Anwar] Sadat and leaders from Europe. President Obama should speak to the people of Israel through its elected representatives."

http://www.jpost.com/Diplomacy-and-Politics/Rivlin-slams-Obama-for-not-visiting-Knesset-307083

Obama only focuses on protocol when it suits him.

~~~~~~~~~~

Zahava Gal-On, head of the far left Meretz, had hoped to prevent the broadcasting of Bibi's speech here in Israel, on the grounds that it constituted electioneering, two weeks before the March 17th election.
Israeli Attorney General Yehuda Weinstein has said, however, that there is no reason to block Israeli media outlets from carrying the speech, which "has a very clear news value...;" is "substantially related to the prime minister's work, so that one cannot say it enters the realm of electioneering;" and "will deal with important matters relating to Israel's foreign policy and which hold interest for the public."

~~~~~~~~~~

As to what is going on regarding the negotiations with Iran, let's take a look at the latest:

John Hannah, of the Foundation for the Defense of Democracies, writes (emphasis added):

"Iran appears to be working systematically to advance all three of the elements essential to its nuclear weapons program: 1) the ability to enrich uranium to weapons-grade (by developing more powerful centrifuges); 2) a nuclear explosive device...; and 3) a delivery vehicle (the ballistic missile program). The Iranians have been using the breathing space provided by the interim deal to improve parts of their weapons program that aren't yet quite up to snuff. In terms of sheer technical capability, Iran will be in a better position to breakout to a bomb in the aftermath of the interim deal than before it took effect.

"The pretense that this process was about compelling a rabidly anti-American theocracy that has been at war with America for four decades to surrender permanently its nuclear weapons ambitions is now out the window. In its place, what remains is the quixotic pursuit of some form of grand bargain, a rapprochement that - while leaving the bulk of Iran's nuclear infrastructure in place - will somehow work over time to tame the Islamic Republic.
"We see today an Iran on the march throughout the region, plotting terror attacks in the Western Hemisphere, and actively seeking to advance key elements of its nuclear program in the middle of a negotiation whose very purpose is to end that program."

http://foreignpolicy.com/2015/02/10/how-congress-became-the-fall-guy-for-obamas-iran-deal/

This title presents its own commentary. Read it, my friends, and weep, or, far better stand up and scream bloody murder.

~~~~~~~~~~

Senator Bob Corker (R-TN), who heads the Senate Foreign Relations Committee, made the following comment after emerging from a closed-door briefing on the status of negotiations with Iran (emphasis added):
"It's evident that these negotiations are really not P5+1 negotiations anymore. It's really more of a bilateral negotiation between the United States and Iran."
http://www.israelnationalnews.com/News/News.aspx/191195#.VNtxp5v9nIV

This has been obvious for some time to anyone who has been watching closely. But now it's being said publicly. And this is scary as hell. Do you realize how much power this gives Obama? And how critical it is that Netanyahu address the Congress?

The way I see it, those P5 + 1 powers that are not actively participating in negotiations have abdicated their solemn responsibility to be involved. I know that France, at least – and perhaps others as well - has been discontent with the Obama position, which is seen as too lenient.

~~~~~~~~~~

And let's see just how lenient the US is. As Omri Ceren provided a review of the situation two days ago:

"As always there are two things at stake: process and substance. Process is about the technicalities of the next few months: when are scheduled talks, what are deadlines for various agreements, etc. Substance is about what will ultimately be acceptable to the parties: the structure of the deal, centrifuge capacity, plutonium-production capability, etc.
"The American stance on process is that there's a March deadline for a political agreement and a June deadline for a technical agreement. The stance on substance is that the West will trade phased sanctions relief for Iran meeting confidence building benchmarks."
On Sunday, Iranian Supreme Leader Ayatollah Ali Khamenei had given a speech laying out the conditions he would consider acceptable in negotiations. It took a bit of time for careful translation to proceed. This is the heart of what Ceren reports regarding the Ayatollah's positions:
(1) Process - rejects political agreement - "I do not favor remarks that we should agree on some principles and later on details. I dislike it when they say that there should be a deal on general principles at one stage and then we can talk about details. Given our experience with the other side, they will use this as a tool for repeatedly making excuses regarding details. If they want a deal, they should cover both generalities and details in a single session, instead of leaving details for later and separating generalities which are vague and leave room for different interpretations. This is not logical."
(2) Substance - rejects phased lifting of sanctions - "[T]hese are all meant for taking away the weapon of sanctions from the hands of the enemy. It is good if they can do this. However, the sanctions must literally be taken away from the hands of the enemy. The sanctions must be lifted. This kind of a deal [is favored]. Otherwise, if they achieve no success in this regard, the Iranian nation, statesmen, the honorable government and others have numerous ways and they must certainly take this path in order to nullify the weapon of sanctions."
"So," writes Ceren, "while it's technically true Khamenei pressed for 'progress,' what that actually means is he rejected the US's understanding of how talks should move forward. And while it's technically true he embraced a 'fair' deal, what that actually means is he rejected the US's understanding of how a deal should be structured."
Khameni has been widely quoted as saying no deal is better than a bad deal, and that for him, a good deal means one that is good for his nation. In other words, he is not predisposed to compromises. He wants what he wants.
~~~~~~~~~~
Fast forward one day. When Jen Psaki, our good old State Department spokesperson, was asked about the March deadline, she responded:
"Yes it is a goal, it remains a goal, but the secretary has been very vocal about that. We've never called it a deadline. We've called it a goal of when we want to achieve the political framework."
The problem with this is that the date has been consistently called a deadline by US spokespersons. For example, on January 28th, White House Deputy Press Secretary Eric Schultz said, "...the president has made clear the importance of the end-of-March deadline..."
What we see, then, is that while Iran may be inflexible, Obama's desire to seal an agreement is so strong that he will be unendingly flexible.
~~~~~~~~~~
I'm going to end here with a good news story of no particular consequence except for the fact that it is charming, and, I think, says something heart-warming about how we operate.

Last week, a mobile intensive care unit of Magen David Adom was driving from Ma'aleh Adumim to Jerusalem when something hit the vehicle's windshield and fell to the ground. Paramedic Nati Haron got out to investigate and found a baby fruit bat that had been knocked unconscious by the impact. He fed her sugar water and she regained consciousness.

"I looked at her, and she looked back at me. I tried to release her twice in the Ma'aleh Adumim area, but I saw she couldn't fly. I took her home and called the zoo."

The Jerusalem Biblical Zoo took her in, and she is being cared for until she recovers, at which time she will be released back into the wild.

http://www.jpost.com/Israel-News/Health/Israeli-paramedic-saves-life-of-baby-fruit-bat-after-painful-windshield-collision-390668


Credit: Magen David Adom
~~~~~~~~~~

© Arlene Kushner. This material is produced by Arlene Kushner, functioning as an independent journalist. Permission is granted for it to be reproduced only with proper attribution.

If it is reproduced and emphasis is added, the fact that it has been added must be noted.
http://arlenefromisrael.squarespace.com/current-postings/2015/2/12/february-11-2015-crystal-clear.html
Posted
on Thursday, February 12, 2015 at 01:33PM
by
Arlene
in Hyper-cacher attack, Iran, Obama, US, nuclear weapons
|
Post a Comment
|
Email
|
Print
The Obama administration is very close to sealing the parameters of a deal with Iran.
Last Friday, US Secretary of State Kerry, meeting with Iranian Secretary of State Zarif on the sidelines of a conference in Munich, encouraged Iran to move forward on finalizing those parameters by March 24 (the deadline a group of Democratic Congresspersons had given Obama before considering sanctions). Following this, details would be ironed out by the June 30th final deadline.
http://www.voanews.com/content/kerry-zarif-to-hold-nuclear-talks/2631469.html
Both Zarif and Kerry have agreed that there will be no more extensions of the final deadline. After Kerry pressed him on the issue, Zarif concurred: "I do not believe another extension is in the interest of anybody. We're reaching the point where it is quite possible to make an agreement ..."
http://www.nydailynews.com/news/politics/kerry-rules-extension-iran-nuclear-talks-article-1.2107417
"This is the opportunity to do it, and we need to seize this opportunity," concluded Zarif. Of course, this was after Zarif had warned that a failure to clinch a deal would undermine President Hassan Rouhani.


Credit: oxiran

~~~~~~~~~~
The parameters of the deal are horrendous.
The Washington Post – hardly a right wing publication – ran an editorial on this issue last week. It is instructive to consider its major points (emphasis added):
"First, a process that began with the goal of eliminating Iran's potential to produce nuclear weapons has evolved into a plan to tolerate and temporarily restrict that capability.
"Second, in the course of the negotiations, the Obama administration has declined to counter increasingly aggressive efforts by Iran to extend its influence across the Middle East and seems ready to concede Tehran a place as a regional power at the expense of Israel and other U.S. allies.
"Finally, the Obama administration is signaling that it will seek to implement any deal it strikes with Iran — including the suspension of sanctions that were originally imposed by Congress — without a vote by either chamber. Instead, an accord that would have far-reaching implications for nuclear proliferation and U.S. national security would be imposed unilaterally by a president with less than two years left in his term...
"Where it once aimed to eliminate Iran's ability to enrich uranium, the administration now appears ready to accept an infrastructure of thousands of Iranian centrifuges. It says its goal is to limit and monitor that industrial base so that Iran could not produce the material for a warhead in less than a year. As several senators pointed out last month during a hearing of the Foreign Relations Committee, the prospective deal would leave Iran as a nuclear-threshold state while theoretically giving the world time to respond if Tehran chose to build a weapon. Even these limited restrictions would remain in force for only a specified number of years, after which Iran would be free to expand its production of potential bomb materials...
"Former secretary of state George P. Shultz cited Iran's regional aggression in pronouncing himself 'very uneasy' about the ongoing negotiations. 'They've already outmaneuvered us, in my opinion,' he told the Armed Services Committee."
Please, see the entire editorial here:
http://www.washingtonpost.com/opinions/the-emerging-iran-nuclear-deal-raises-major-concerns-in-congress-and-beyond/2015/02/05/4b80fd92-abda-11e4-ad71-7b9eba0f87d6_story.html

~~~~~~~~~~
The current situation has spawned a host of commentaries, many very grim. Observed Michael Ledeen, for example, "Obama entered the White House with the intention of forging an alliance with our most dangerous enemy in the Middle East. That fact has to be the baseline of any serious analysis of our government's policies."
http://pjmedia.com/michaelledeen/2015/02/03/we-still-dont-know-why-obama-wants-deal-with-iran/
The unease voiced by Shultz, above, regarding Iran's expansionism and promotion of terrorism, is echoed in many quarters. What complicates the situation enormously is the Shia Iran vs. Sunni ISIS situation – with Obama seeking Iran's "help" in countering Sunni jihadists. His desire to weaken ISIS has moved him even further into forging ties with Iran. Action against Sunni jihadists actually strengthens Iran's position.
~~~~~~~~~~
Is this a fait accompli? Close, but no, not yet. Although it may be about five minutes to midnight, there is still time to counter what seems to be coming down the road. Were sanctions to kick in again, it would weaken Iran significantly and might shift the dynamic.
Yesterday, Prime Minister Netanyahu said (emphasis added):
"The major powers and Iran are galloping toward an agreement that will enable Iran to arm itself with nuclear weapons, which will endanger the existence of the State of Israel.

"We will continue to take action and to lead the international effort against Iran's arming itself with nuclear weapons. We will do everything and will take any action to foil this bad and dangerous agreement that will place a heavy cloud over the future of the State of Israel and its security."

http://www.ynetnews.com/articles/0,7340,L-4624318,00.html
Pretty clear and direct.
~~~~~~~~~~
There is no one reading this who doesn't know that Netanyahu has been invited by Speaker of the House John Boehner to address Congress on the issue of the dangers of Iran; that speech is scheduled for March 3.
And here we come to the heart of the matter.
Netanyahu has devoted himself for years to the issue of the dangers of Iran: There is likely no world leader better able to address the issues; at this juncture, what he has to say has deep import. And there is no more significant venue in which he might speak than the US Congress – for it is the members of Congress who will make hard decisions regarding sanctions.
As Boehner has said: "...there's nobody in the world who can talk about the threat of radical terrorism, nobody can talk about the threat that the Iranians pose, not just to the Middle East and to Israel, our longest ally, but to the entire world, but Bibi Netanyahu."
Should have been a simple matter – with Congress prepared to hear what he has to say.
But, of course, it wasn't a simple matter. For Obama is determined to get his agreement with Iran, and is not content to allow an upstart Israeli (an Israeli!) throw a monkey wrench in the works. He does not take interference with his plans lightly.
Thus did the charge go out that Netanyahu was meddling in US politics: It was now a political issue, rather than a matter of diplomacy and security.
First came the lament that protocol was ignored, as the president should have been told about the invitation and was not. But Boehner countered this, saying that he had informed the White House.
http://www.jpost.com/Israel-News/Politics-And-Diplomacy/Boehner-denies-blindsiding-White-House-with-Netanyahu-invite-388988
Then came the attempt to stonewall Netanyahu: Obama has said he will not see him when he's in the US. The reason given – that it's too close to Israeli elections – feels bogus to me in light of how similar situations have been handled. Not only that, Kerry has said he will not be present, and now Biden has discovered that he will be unable to hear Netanyahu speak, as he will "be out of the country." Some numbers of Democratic members of Congress will decline to be present for the talk, as well – undoubtedly pressured by their president.
All of this is an outrage. A rudeness to a head of state deeply concerned about the security of his state, and the world. People have forgotten that the issue is security, however, since it has all been so politicized.
~~~~~~~~~~
And here in Israel, in my opinion, the situation is worse. For I expect nothing – less than nothing – from Obama. But here we are talking about our own people.
We are facing a severe security situation – not only with Iran threatening us directly, but with Iran arming and inciting Hezbollah and Hamas. Our prime minister is seeking to address the matter of Iran with seriousness. But we are in the middle of an election campaign, and the opposition on the left sees this as an opportunity to make points. Thus, rather than supporting Netanyahu, rallying around him at this time, the issue has been improperly politicized.
Fingers are being pointed at Netanyahu: See! Goes the cry. He makes trouble with the president of the US by pushing himself into the Congress. We need the US, and this is a bad thing he is doing.
Anyone interested in a reality check would be reminded very quickly that the prime minister was invited, he did not push his way in.
~~~~~~~~~~
But we are not done yet. "Bugie" Herzog, co-chair with Tzipi Livni of the so-called Zionist Camp (formerly the Labor Party), was in Munich for a security conference, as was Vice President Biden. In the hallway, they stopped to speak to each other. This interval is being billed as an "informal meeting."
Whether it was really much of a meeting – a meeting that Biden should not have permitted if there is a policy of not meeting with candidates before an election – or a very brief greeting and no more, I cannot say.
But the Zionist Camp is parlaying it into a real meeting. Wrote Shelly Yachimovich that night:
"His meeting this evening with Vice President Biden in Munich, after Biden announced that he would not attend Bibi's speech to Congress, is proof that the only bridge to harmonious and proper communication in the international arena is Herzog as prime minister."

http://www.timesofisrael.com/likud-says-herzog-crossed-red-lines-at-munich-summit/
This is a low blow that is nothing short of disgusting. The main issue here is not who can be Obama's best friend, but who can best guard Israel's security. It happens at present that the two are mutually exclusive – that is, the leader most eager to keep Obama happy is least likely to protect Israel. Bugie Herzog would give away our security and our land. (Heaven forbid that he should have the opportunity to do so.)
~~~~~~~~~~
But still this is not the end of the story. At that security conference in Munich, Herzog also said that Netanyahu should cancel the March 3 speech "for the sake of Israel's security...My talks with leaders from Europe and the U.S. indicated they were furious that Netanyahu had diverted the debate on a nuclear Iran for political purposes and made it into a confrontation with Obama."
What? What?
First of all, Bibi didn't "make" the confrontation, Obama did.
Second, Herzog is conflating security with being on good terms with Obama – when in fact, as I have pointed out above, these are two different issues. He makes it sound as if he, the one who would have the better relations with Obama, would thus automatically guard Israel's security better. Nonsense, balderdash, and worse.
And last, there is an understanding here in Israel that criticism of the government is kept in house – inside Israel – and not voiced outside On the outside, the government is supported. What Herzog did, was done for political purposes. And it was vile and obscene: to weaken Israel's position internationally for his own electoral gain.
Strategic Affairs Minister Yuval Steinitz said Herzog "crossed all the lines." MK Miri Regev (Likud) said that "[Herzog] is being exploited by the international community. He's cooperating with them against Israel and putting the security of the state at risk."
http://www.algemeiner.com/2015/02/08/steinitz-labor%E2%80%99s-herzog-%E2%80%98crossed-all-the-lines%E2%80%99-by-criticizing-israeli-government-in-munich/
I fully agree, and I grieve that the situation has been reduced to this.
I want to believe that the Israeli electorate can see through Herzog. But I fear that some percent (what percent?) may be comforted by the notion that it would be easier to have a prime minister who is friends with Obama. I tremble at this thought, and at the sort of self-serving propaganda that promotes it.
~~~~~~~~~~

There are all sorts of suggestions flying about, regarding ways that Netanyahu might mitigate some of the political tensions when he goes to Washington. My best understanding is that he still intends to speak. I salute him for his courage and pray that he will. He cannot back down now.
~~~~~~~~~~
© Arlene Kushner. This material is produced by Arlene Kushner, functioning as an independent journalist. Permission is granted for it to be reproduced only with proper attribution.

If it is reproduced and emphasis is added, the fact that it has been added must be noted.
http://arlenefromisrael.squarespace.com/current-postings/2015/2/9/february-9-2015-outrage.html
Hypocrisy is all around us, but I will focus today on the very significant information that the Israeli NGO Regavim has uncovered regarding the EU:

The Europeans protest long and loud about "illegal Israeli building" in Judea and Samaria. But what it turns out is that they have been supporting illegal Arab building in Area C. The Oslo Accords assigned full control (civil and military) of Area C to Israel. This is apparently irrelevant to the EU, in spite of the fact that the EU was a witness to (and according to international lawyer Alan Baker) a guarantor of the Oslo Accords.

The building is being done in Ma'aleh Adumim and near E1 (a region that stretches between Ma'aleh Adumim and Jerusalem). Clearly, this is intended to establish facts on the ground, by way of supporting a Palestinian state.

As the JPost reported last week (emphasis added):

"According to Regavim, European Union support for the Palestinians has in recent years moved from 'passive diplomatic and financial assistance to a situation of active cooperation in illegal building which the Palestinian Authority has been advancing unilaterally since 2000, as part of its strategic plan to create a Palestinian state de facto, while avoiding the need for negotiations with Israel.'

"This week, prior to the release of its latest report, Regavim took journalists to look at a number of Beduin encampments straddling E1 as well as the Jerusalem-Jericho road. They are not temporary tent encampments as they were in years past, but rather clusters that – in addition to tents and tin shacks – also include modular structures with cement floors bearing the EU logo.
"According to Ari Briggs, Regavim's international relations director, the EU logo is placed on the structures in the belief that this will prevent Israel from demolishing them. Israel is not likely to take down a building with an EU logo, due to concerns over both public relations damage and the harm it could cause to relations with the EU, he said...

"The EU-funded structures, according to Meir Deutsch, the director of Regavim's policy and government relations department, are being placed illegally on state land, and in some cases in restricted nature reserves.

"When Regavim appealed to the High Court in 2008 to compel the state to demolish illegal buildings in the area, it ruled that this could not be done until an alternative living arrangement was found for the Bedouin living there. Israel then began planning a city – called Ramat Nueima – north of Jericho for some 12,000 people, a plan now adamantly opposed by the Palestinians and the EU.

"In November, a meeting of EU foreign ministers issued a statement that, in addition to their usual condemnations of land expropriation and settlement construction, also slammed plans to 'displace Bedouin in the West Bank and the continued demolitions, including of EU and member states funded projects.'"

http://www.jpost.com/Arab-Israeli-Conflict/Report-EU-building-hundreds-of-illegal-structures-for-Palestinians-in-Area-C-of-West-Bank-390184

Charges Briggs:

"This is great hypocrisy. Any time a building goes up for Jews, they raise an outcry, call it illegal and say it endangers peace. They are building illegal houses for Arabs."

According to Deutsch, from 2012 to 2014, the EU spent millions of euros in putting up more than 499 structures.

~~~~~~~~~~

An excellent story on the Regavim report, complete with a large collection of Regavim photos and maps, has also been put out by the Daily Mail (emphasis added).

"Official EU documentation reveals that the building project is intended to 'pave the way for development and more authority of the PA over Area C'... "Locally, the villages are known as the 'EU Settlements', and can be found in 17 locations around the West Bank."

Because the Daily Mail is in the UK, it has an emphasis that is different from that of the JPost: Concern is expressed about European tax money being spent on this illegal venture.

http://www.dailymail.co.uk/news/article-2874883/EU-funding-illegal-building-West-Bank-says-report.html

Notable among the pictures is one of a man in an EU uniform threatening Israeli soldiers with a rock.

A structure in Area C bearing an EU flag:


Credit: Regavim

And the full Regavim Report here:

http://regavim.org.il/en/wp-content/uploads/2014/11/Position-Paper-European-Building-in-Area-C-US.pdf

~~~~~~~~~~

The staff of Regavim has worked hard to produce this scrupulously researched material. Now, as always, it falls to us to spread this information as broadly as possibly. Truth must be exposed.

~~~~~~~~~~

Already we have seen one positive outcome to this report.

"Prime Minister Benjamin Netanyahu instructed Defense Minister Moshe Ya'alon to move forward with a plan to demolish some 400 Palestinian structures built in the West Bank with European funding, Israeli media reported Friday. "
http://www.timesofisrael.com/pm-orders-demolition-of-eu-funded-palestinian-settlements-in-west-bank/

~~~~~~~~~~.

© Arlene Kushner. This material is produced by Arlene Kushner, functioning as an independent journalist. Permission is granted for it to be reproduced only with proper attribution.

If it is reproduced and emphasis is added, the fact that it has been added must be noted.
http://arlenefromisrael.squarespace.com/current-postings/2015/2/8/february-8-2015-hypocrisy-writ-large.html
Posted
on Sunday, February 8, 2015 at 03:00PM
by
Arlene
in Area C, EU, Israel, illegal building
|
Post a Comment
|
Email
|
Print
My mother used to say, "Enough is enough, and too much is plenty." Well...we passed the "plenty" mark a long time ago where terrorism and threats by terrorist entities are concerned. But what I see is that the excesses of terrorists are beginning to stiffen backs a bit. In the face of acts that are increasingly obscene, there is a growing recognition that tough stances are necessary. Not nearly enough yet, mind you, but growing.

The most obvious example at the moment of a nation being pushed to a new stance by terrorist excesses is Jordan. As most of my readers undoubtedly know, ISIS has executed a Jordanian pilot by locking him in a cage and burning him alive; this was captured on videotape. Jordan is part of the US-led alliance against ISIS, and their pilot, Lt. Mouath al-Kasaesbeh, was captured when his plane went down over Syria. There are no words for the inhumanity of what was done to him, and the Jordanians are beyond furious. Thus have critics of action against ISIS now joined the chorus of rage.

The first thing Jordan did was to execute (apparently by hanging) two al-Qaeda connected Iraqi prisoners – already convicted and, as I understand it, sentenced to death, but being held long term in prison. Now King Abdullah is quoted as saying:

"We are waging this war to protect our faith, our values and human principles and our war for their sake will be relentless and will hit them in their own ground."

And a Jordanian government spokesman has spoken about intensifying "efforts to stop extremism and terrorism to undermine, degrade and eventually finish Daesh [the Islamic State]." (Emphasis added)

http://www.ynetnews.com/articles/0,7340,L-4623133,00.html

Rhetoric in part, perhaps, because honor is involved. But a welcome perspective, none the less. And Jordan is already increasing bombing.

~~~~~~~~~~

Here at home, I've noted a number of ways in which the responses of our government seem to me to be increasingly tough. These responses have nothing to do with declarations of war, and may seem relatively minor, but are not. They send an important message regarding our strength, our rights, and our readiness to take action to protect ourselves. Constant vigilance is required on a number of fronts:

Israeli-Arabs who leave Israel - apparently getting into Syria via Turkey - to join ISIS are being tracked and arrested on their return. In ISIS camps they are trained in torture and weapons use. After being interrogated, they are indicted, and, if found guilty sentenced. Although it appears from news reports that sentences remain too lenient, European nations might take a lesson from this practice.

See here, for example:

http://www.ynetnews.com/articles/0,7340,L-4595249,00.html

~~~~~~~~~~

And speaking of ISIS, seven Arab Israelis were arrested recently for attempting to set up an Islamic State cell in the Nazareth area.

~~~~~~~~~~
Last month, the Shin Bet and a special police unit, working together, identified and then closed down three Israeli NGOs that were funneling money to activities
intended to "inflame tensions on the Temple Mount."

These groups were established last October by the northern branch of the Islamic Movement in Israel "with the purpose of funding activities meant to disrupt the security of visitors to the Temple Mount and in order to inflame tensions and cause disturbances, while harming the sovereignty of the State of Israel at the site."

http://www.jpost.com/Arab-Israeli-Conflict/Israel-police-Shin-Bet-close-three-Islamic-charities-for-causing-unrest-on-Temple-Mount-387507

There are groups of Arabs – often women – who have been paid to come up on the Mount and harass Jews both verbally and physically.

~~~~~~~~~~

Last Saturday night, an IDF unit in the Shomron came upon Palestinian Arabs throwing firebombs at on-coming cars. The army opened fire on them, and one of the Palestinian Arabs was killed.

It is critical to consider the attacks upon cars – whether by firebombs or rocks and bricks, all of which can maim and kill – with utmost seriousness.

~~~~~~~~~~

This is a very modest response (TOO modest a response, in my opinion). But, as it is a first, it is a step in our asserting ourselves: The Israel Electric Company is now cutting back on service to the PA areas because of the enormous unpaid electric bill. Service will be cut in half for two hours every day.

http://www.ynetnews.com/articles/0,7340,L-4620683,00.html

~~~~~~~~~~

The organization Im Tirtzu – "if we will it," from Herzl – is staunchly Zionist, and prepared to expose those who are not. B'Tselem, on the other hand, is an Israeli NGO that poses as a human rights group, but is in fact enormously politicized, and anti-Israel. B'Tselem just released a report, allegedly documenting "war crimes" committed by Israel during our recent war with Hamas, Operation Protective Shield. Their findings will be used by what was at least until this week referred to as the Schabas Commission, which has a UNHRC mandate to "investigate" Israel's behavior during the war (more on Schabas below).

Now Im Tirtzu has exposed the fact that B'Tselem received funding for this report from Ramallah, from "a Palestinian foundation that, among other things, finances organizations related to the Popular Front for the Liberation of Palestine."

Says Im Tirtzu: "Israeli citizens and the international community who will read B'Tselem's report have a right to know that this report does not represent an objective investigation of truth with justice as its guiding principle. Rather, this is the result of a political agenda and the negative attitude toward Israel."

http://www.israelnationalnews.com/News/News.aspx/190804#.VM9kvpv9nIV

~~~~~~~~~~

On Monday, William Schabas – the Canadian legal academic who had been appointed to head the UN Human Rights Council investigation on Israel's "war crimes" in Gaza this past summer – resigned. He had been exposed:

Turns out that in 2012, he wrote a legal opinion for the PLO and was paid for doing so.

He apparently did not see this as a conflict of interest that would disqualify him. In fact, he declared, all innocence, that "this work in defense of human rights appears to have made me a huge target for malicious attacks." He assumed the position, he maintained, with full commitment to "act with independence and impartiality. I have fully respected that undertaking."
As Anne Bayefsky, who directs the Touro College Institute on Human Rights, wrote, ""Yea, right."

http://www.jpost.com/Arab-Israeli-Conflict/Analysis-The-indelible-stain-on-the-UN-committee-once-chaired-by-William-Schabas-389928

~~~~~~~~~~

The UNHRC might have scrapped the work of the investigatory commission, but that would have been expecting too much. One day later, Schabas's successor – former NY judge Mary McGowan Davis – was appointed. Davis, already a member of this commission, had served as well on the Goldstone Commission, the findings of which were subsequently repudiated by Goldstone himself.

As Bayefsky points out (emphasis added):

"Israel's achievement in this whole affair...is not that it brought to light damning information about Schabas that compelled him to step down.
"Rather, the achievement is that, now that he has stepped down because of incontrovertible evidence of bias, it will be easier for Israel to dismiss the report as completely one-sided and useless when it does come out.
"This incident also provides real-time evidence to those tired of hearing Jerusalem argue that it does not get a fair shake in international organizations, that – indeed – it does not get a fair shake in international organizations.
"...Schabas has lost his credibility, and as a result so has the commission that he chaired, even before the paper it is working on even sees the light of day."

~~~~~~~~~~

This is unreal, but not unexpected:

Maj.-Gen. Yoav Mordechai, the Israeli coordinator for government activities in the territories, is in Europe to discuss better relations with the EU. He was scheduled to meet with European Parliament's Delegation for Relations with Israel, which is responsible for "maintaining and developing Parliament's contacts and relations with the Knesset."

The invitation to Parliament members said that his visit presented an "excellent opportunity to carry an open dialogue, as well as raise issues of mutual interest." But that visit never happened. In the face of objections by left wing members, it was cancelled.

"Portuguese parliamentarian Marisa Matias, from the European United Left–Nordic Green Left grouping, was quoted as saying that 'giving him [Mordechai] a platform to host a lecture would legitimize his violations of international law and human rights. Rather than giving a warm welcome to those who stand for repression and apartheid, the EU institutions should pressure the Israeli government to abide by the rules of international law and UN resolutions. We must bring to justice those responsible for human rights violations in the Occupied Palestinian Territories.'"

http://www.jpost.com/Arab-Israeli-Conflict/Leftists-in-European-Parliament-torpedo-meeting-with-visiting-IDF-Major-General-390032

~~~~~~~~~~

Sigh...

What this tells me is that the Legal Grounds Campaign has quite a task to do, to set the record straight. There is no such thing as "the occupied Palestinian territories." Nor is Israel remotely apartheid. These are terms bandied about for political purposes with less than no respect for truth.

~~~~~~~~~~

© Arlene Kushner. This material is produced by Arlene Kushner, functioning as an independent journalist. Permission is granted for it to be reproduced only with proper attribution.

If it is reproduced and emphasis is added, the fact that it has been added must be noted.
http://arlenefromisrael.squarespace.com/current-postings/2015/2/5/february-5-2015-response-and-defense.html
What I write about here will not in its essence be a surprise to many of my readers. And yet, there is no way to confront what is going on without a sense of horror. The reality is being exposed, one ugly report followed by another:

We start with this, which broke yesterday:

According to Israeli officials, European diplomats are saying that the US, which has made significant concessions, is close to striking a deal with Iran that would permit them to keep up to 6,500 centrifuges in return for "guaranteeing regional stability" in Iraq, Afghanistan and Syria.

http://www.algemeiner.com/2015/02/03/eu-concerned-over-report-of-major-us-concessions-to-iranians-in-nuclear-negotiations/

This is insane. How can the source of the greatest terrorist unrest in the world "guarantee stability"?

This deal would put Iran about three months from creating a bomb. What is more, apparently the US is also considering a "time limit,"so that the "restrictions" would last only for 10 to 15 years, after which Iran could do what it wished.

http://www.timesofisrael.com/israel-us-deal-will-leave-iran-with-6500-centrifuges-spinning-months-from-a-bomb/

~~~~~~~~~~

Now, it might be, as some say, that Obama is doing this because he covets the "historical legacy" of having "brought Iran into the family of nations" (a la Nixon and China). And I suppose it's possible that he hopes Iran will cool its instigation of terrorism briefly, in order to allow him to say has accomplished positive things without having to commit the US military in a significant way. But when you tally the implications of this report with others, below, it appears that he is on the other side, content to see the destruction of his own nation, as well as others that he should be eager to protect. This is a surreal conclusion, but a very distinct possibility.

Word is that the Saudis, whom Iran seeks to control, are thoroughly enraged with what Obama is doing. In the end, whatever his motivations, his behavior is exceedingly destructive. (Please, do not write to me to tell me what Obama's reasons are. I am tracking his behavior.)

~~~~~~~~~~

I do have a question for which there seems to be no satisfactory answer. In theory, it is P5 + 1 – the permanent members of the Security Council, US, UK, France, Russia and China, plus Germany - negotiating with Iran. So, if the Europeans are deeply dissatisfied with the US position, why can they not block it or override it? The best answer I've been able to secure is that the US, while cutting Iran significant slack, wields significant power with regard to fellow negotiating partners. Apparently, what Obama says, goes.

~~~~~~~~~~

How can anyone with an ounce of sense in his head object to Netanyahu's scheduled speech to the Congress? What he has to say may be immeasurably important. Yet now I hear that some prominent democrats, Vice President Biden among them, are thinking that they might not attend. Who knows what arm-twisting has ensued from the White House, but it would be most unfortunate if they were not present. They might disagree in the end, but they have a responsibility to be open to hearing the information Prime Minister Netanyahu will seek to impart. That responsibility, in the face of huge dangers to the world, trumps political considerations.

~~~~~~~~~~

As if the above were not enough, just under a month ago, the German weekly Der Spiegel broke with news (emphasis added):

"New intelligence suggests that Bashar al-Assad is still trying to built the bomb. And he may be getting help from North Korea and Iran...

"...secret information obtained by SPIEGEL indicates that the world is once again being misled by Assad. Syria's dictator has not given up his dream of an atomic weapon and has apparently built a new nuclear facility at a secret location. It is an extremely unsettling piece of news...

"Analysts say that the Syrian atomic weapon program has continued in a secret, underground location..Furthermore, a new reactor or an enrichment facility has very likely been built at the site -- a development of incalculable geopolitical consequences.

Intelligence agency findings indicate that the material [uranium, etc.] was moved to a well-hidden underground location just west of the city of Qusayr, not even two kilometers from the border with Lebanon.
"...the clearest proof that it is a nuclear facility comes from radio traffic recently intercepted by a network of spies. A voice identified as belonging to a high-ranking Hezbollah functionary can be heard referring to the 'atomic factory' and mentions Qusayr...

"Work performed at the site by members of Iran's Revolutionary Guard is also mentioned in the intercepted conversations..."

http://imra.org.il/story.php3?id=66224

What was that, again, about Obama seeking Iran to "guarantee regional stability" in Iraq, Afghanistan, and Syria?

~~~~~~~~~~

And how about this, by Khalid Abu Toameh, who wrote, "U.S. Seen in Middle East as Ally of Terrorists" (emphasis added)":
"While the Egyptian government has been waging war on the Muslim Brotherhood and other Islamic radical groups, the U.S. Administration and some Europeans are continuing to hamper efforts to combat terrorism.
"Many Egyptians and moderate Arabs and Muslims were shocked to hear that the U.S. State Department recently hosted a Muslim Brotherhood delegation...
"The State Department's hosting of the Muslim Brotherhood leaders has outraged Egypt's President Abdel Fattah Sisi, who has been waging a relentless war against the organization over the past year...
"'If the White House is out to offend some of its closest Arab allies and is intent on heightening their suspicions, it's succeeded,' wrote Middle East expert Linda S. Heard. 'If there's a plot, then it's unfolding,' she added. 'Just two days after the controversial visit, the Brotherhood called for a war against their fellow Egyptians.'
"'The U.S. Administration is continuing to jeopardize its relations with Egypt by appeasing Muslim Brotherhood,' remarked columnist Ezzat Ibrahim. 'The Muslim Brotherhood is seeking to return to the political arena through the American door and terrorist attacks. The U.S. policy appears to be devious and unreliable.'
"Another Egyptian columnist, Mohamed Salmawi, launched a scathing attack on the U.S. Administration; he accused it of deception and double standards. He said that the meeting between U.S. officials and Muslim Brotherhood leaders exposes the U.S. Administration's deceptive policy toward Islamic terror groups.
"'The U.S. Administration says it is combating these groups at home while it is supporting them abroad," Salmawi wrote. 'This meeting has grave indications because it shows that Washington has not abandoned its policy of double standards toward Islamic terrorism.'
"Said Lindawi, a prominent Egyptian international affairs expert, said that the meeting of the Muslim Brotherhood leaders with State Department officials means that the Obama Administration has given the organization a green light to carry out terrorist attacks against Egypt.
"'The U.S. Administration has refused to recognize the Muslim Brotherhood as a terror group,' he said. 'The Americans continue to insist that the Muslim Brotherhood is not responsible for the terrorist attacks in Egypt.'
"By embracing the Muslim Brotherhood, the U.S. Administration has sent the wrong message to moderate Arabs and Muslims. This is a message that says that Washington believes that there are good terrorists and bad terrorists."
http://www.gatestoneinstitute.org/5179/us-terrorists-ally
~~~~~~~~~~
My job is to broadcast this information as broadly as possible. And so, to that end I look to each of you, as I always do, to share this posting, put the information on your FB pages, write talkbacks and letters to the editor, etc. Word on the current state of affairs must get out.
~~~~~~~~~~
J Street executive director Jeremy Ben-Ami has written: "Momentum is on our side — and it's growing. Make it clear that Netanyahu's speech shouldn't go forward as planned." Well, folks, if you are represented in Congress by Democrats, contact them and urge that they attend.
http://www.ynetnews.com/articles/0,7340,L-4622997,00.html
Martin Indyk, director of the Foreign Policy Program at the Brookings Institute, and a former Obama envoy to the "peace negotiations," is on record as having made some negative comments about Netanyahu's up-coming speech. But please remember that the Brookings Institute has taken large sums of money from Qatar.
~~~~~~~~~~
In spite of all of the horrendous truths I speak about above, there are also signs that are encouraging. Next posting, I hope to share a number of these. Here I close with a link to an incredible MEMRI video of an imam in Brooklyn who speaks out passionately for Muslim moderation.
http://www.memri.org/clip/en/0/0/0/0/0/0/4748.htm
There is hope. (With thanks to Leon K. for calling my attention to this.)
~~~~~~~~~~
© Arlene Kushner. This material is produced by Arlene Kushner, functioning as an independent journalist. Permission is granted for it to be reproduced only with proper attribution.

If it is reproduced and emphasis is added, the fact that it has been added must be noted.
http://arlenefromisrael.squarespace.com/current-postings/2015/2/4/february-4-2915-horrendous-truths-unfold.html
Sometimes the obtuseness of the world – the failure of decision-makers and commentators to grasp what's really important about a situation - seems unbearable. There is a shallowness – and where the decision-makers are concerned, a political self-centeredness – that is reprehensible.

But of course, in some instances, this shallowness is calculated – which makes it more intolerable still.

There continues to be an enormous amount of media focus on what Netanyahu "did" to Obama because he responded in the affirmative to an invitation to come speak to the Congress without seeking a nod from the president. Thus, goes the narrative, he showed "disrespect" for the chief executive of the US, causing a further deterioration in an already tenuous relationship. Israel will pay for this down the road, we are being warned.

~~~~~~~~~~

All those who babble on this way are either truly obtuse, or, more likely, know better but prefer not to confront the painful reality that is at the heart of the matter, and so resort to a hullabaloo about a lesser issue as distraction.

The heart of the matter is so crystal clear: Iran is making headway in its development of nuclear capacity, and there is a strong possibility that a deal will be struck between P5 + 1 and Iran in coming weeks that would give this radical jihadist nation leeway to become nuclear at a time of its choosing.

What is more, Iran is the chief supporter of terrorism in the world, and has schemes for a hegemony in the Gulf region and the Middle East that would be disastrous, notably for Israel but also for the Gulf Arab states. There will be every attempt by Iran to advance this hegemony, even if it is prevented from achieving nuclear capacity. That is, Iran's danger to the world does not end with the issue of nuclear development.

~~~~~~~~~~

And, it happens, Binyamin Netanyahu - who has been speaking for years to a world that has chosen not to listen about the dangers of Iran - is undoubtedly the world leader with the greatest expertise on issues regarding Iran, and the only world leader prepared to be forthright on those issues.

Thus he embraces his coming talk to Congress as a last chance opportunity to make a difference that could affect Israel, first, and much of the rest of the world as well.

On Friday, the prime minister, who reportedly has placed calls to some key Democrats in Congress, said:

"We can resolve procedural issues with regard to my appearance in the US, but if Iran arms itself with nuclear weapons, it will be a lot harder to fix."

http://www.timesofisrael.com/pm-easier-to-mend-us-ties-than-bad-iran-nuclear-deal/

~~~~~~~~~~

And Obama? There was no need to make such a furor about the invitation to Netanyahu, of course. He is simply doing his own masking. I rather like what commentator Dan Friedman had to say about this today:

"Imagine...Obama's fury when he found that a Jew is the only leader on earth unafraid to confront him with the truth."

Whether it's because Netanyahu is a Jew or not (and it is very likely the case), Obama is clearly beside himself because there is indeed one leader "unafraid to confront him with the truth." The president does not like to be crossed – and on something as major to him as this? Oy v'voy, as we say.

But Bibi is not intimidated.

~~~~~~~~~~

Please see this (emphasis added):

"Israeli officials told Channel 10 on Friday that they are convinced the Obama administration has already agreed to most of Iran's demands in the P5+1 negotiations over the Islamic Republic's nuclear program.
"According to unnamed officials, Washington 'has given the Iranians 80 percent of what they want' out of the negotiations, Channel 10 is reporting.
"Jerusalem officials appear alarmed at the prospect that the United States will soon strike a deal with the Iranian regime that will leave it with a 'breakout capacity' of months during which it can gallop toward a nuclear bomb."

http://www.jpost.com/Israel-News/Obama-has-agreed-to-80-percent-of-Irans-demands-in-nuclear-talks-Israeli-officials-tell-Ch-10-389533

~~~~~~~~~~

Here in Israel, we are witnessing a similar craziness with regard to shallowness: We are in the middle of an electoral campaign, and the left is making a charge that is nothing short of ludicrous:

Sarah Netanyahu, they are reporting, collected bottles used in the president's residence (and paid for by the people), returned them to the supermarket, and pocketed the deposits.

What? With everything going on in the world THIS is what deserves attention? How pathetically bankrupt is the position of the left, if this is the worst they can say about Netanyahu. (Or, actually, about his wife, which makes it even worse.)

As it happens, a former employee of the Netanyahus, who had no great fondness for them when he was their employee, has come forward to tell the truth: It was Sarah who decided, after years of seeing bottles simply being thrown away, that they had to be recycled. "and the petty cash was used for the purposes of the Prime Minister's Residence and its employees."

http://www.israelnationalnews.com/News/News.aspx/190759#.VM6R8Zv9nIV

~~~~~~~~~~

Having put this charge to rest is not the end of this, however. What is it the left was saying? Vote for Herzog and Livni and be sure they'll never pocket bottle deposits?
What else does this pathetic crew have to say for themselves?

As was pointed out above, we are living in extraordinarily perilous times. What can they say about ways in which their leadership would bring us greater strength and security? Not much, if anything, apparently. Their position is bankrupt.

Tzipi Livni, in a recent interview, indicated that she is still for negotiating "two states":

"I'm not trying to sell to the Israeli public that we have peace around the corner, that when we enter the negotiations room we will sign an agreement and live happily ever after; this is not the situation. I support using the Israeli military [to fight terrorism], but my ideology is not about keeping Greater Israel without any hope for peace."

http://www.jpost.com/Israel-Elections/Jpost-Election-Arena-Livnis-consistent-vision-388659

So, she's committed to the ideology of "two states" – "dividing this tiny place into two" she said – even though it doesn't mean peace. Why she imagines this would bring "hope" for peace is beyond me. Probably beyond her, as well. For, rather than debate this issue with Netanyahu – something she should want to do if she were truly committed to this path as wise and correct - she prefers to simply see his wife charged with pocketing bottled deposit money.

Another oy v'voy.

~~~~~~~~~~

Thankfully, Likud is now leading the left in the polls. Herzog-Livni had moved ahead when they re-named their joint effort "The Zionist Camp." A clever move if something of a misnomer.

There are commentators saying that the Likud advance is the result of the violence in the north last week: people see Netanyahu as the stronger leader. It may be a correct assessment – I cannot say. But if it is, it is a very sad commentary on the thinking of those polled. Do they have to see an incident of violence that might lead to war to know that war is always a possibility here, especially in the north? They should know, all of Israel should know, that because we live in precarious times, it is essential to vote for someone who knows how to stand strong, and who will not give our country way, weakening us disastrously.

~~~~~~~~~~

Having said this, I want to share Netanyahu's latest election video, which was just released today. The videos, which have been quite clever, have been the only enjoyable part of this campaign (about which I will say more soon). In this one, Bibi – the "Bibi-sitter" – addresses the issue of who can keep the nation – and our children – safe, precisely the point of this posting.

http://www.israelhayom.com/site/newsletter_article.php?id=23211

Scroll down for the video (which has English subtitles).

~~~~~~~~~~

© Arlene Kushner. This material is produced by Arlene Kushner, functioning as an independent journalist. Permission is granted for it to be reproduced only with proper attribution.

If it is reproduced and emphasis is added, the fact that it has been added must be noted.
http://arlenefromisrael.squarespace.com/current-postings/2015/2/2/february-1-2015-intolerable.html
Along with the bad news, we can see those who do get it and respond appropriately. I will describe what I have learned briefly – briefly being my practice, of necessity, before Shabbat.

The first issue is the matter of Obama's State of the Union threat to veto any legislation regarding sanctions against Iran. The issue was misrepresented, as, in fact, the sanctions under the proposed Kirk-Menendez legislation would not kick in until and unless negotiations failed. The current negotiating deadline is June 30. There have been two extensions already and it becomes ridiculous – the Iranians are being provided with the opportunity to advance their agenda. Obama's argument that this legislation would inhibit negotiations is nonsense – on the contrary, it would "motivate" Iran to negotiate.

On Tuesday, a letter was sent to the president, signed by 10 Senate Democrats, telling him that by March 24, but not before, they would vote for legislation to impose sanctions on Iran if the Iranians refuse to commit to a "political framework that addresses all parameters of a comprehensive agreement." Menendez was among those who signed the letter.

There was a widespread reaction when this news broke interpreting this as a setback for those who want to see the Kirk-Menendez legislation pass. I didn't understand that, because Obama was simply being given a bit of leeway before action on the bill would kick in. And what was significant was that 10 Democrats were now prepared to support this legislation – (with the considerable exception of Menendez, and then Charles Schumer) it had been labeled a partisan "Republican" effort. Now this was clearly no longer the case.

The ten who signed the letter were: Menendez, Schumer, Blumenthal, Peters, Casey, Cardin, Coons, Manchin, Donnelly, and Stabenow. If you are a constituent of one of these, you might want to write and thank him/her for readiness to support the bill.

~~~~~~~~~~

Fast forward to the Banking Committee, which had to pass on the Kirk-Menendez legislation. The 10 Democrats had pledged not to vote on this legislation until March 24 – but that was on the floor of the Senate. There was no commitment regarding a holding pattern in the Banking Committee.

The very good news here is that yesterday it passed through the Committee 18-4, with three additional Democrats who had not signed the letter - Tester, Heitkamp, Warner - voting for it.

There are then three Democratic Senators - Booker, Bennett, Gillibrand - who had voted for an earlier version of the Kirk-Menendez bill, and are expected to support this version, although they didn't sign the letter.

And so, the bottom line – according to Omri Ceren of The Israel Project – is that the way seems clear for it to be brought to the floor, and it looks as if the vote, come March 24, should be veto-proof.

And this is before Netanyahu speaks to the Congress. His words might bring along additional votes.

Obama, who does not take defeat lightly, is clearly not a very happy man right now (see second story below).

~~~~~~~~~~

The story broke three days ago in the Free Beacon (emphasis added):

"A U.S. State Department funded group is financing an Israeli campaign to oust Prime Minister Benjamin Netanyahu, and has hired formed Obama aides to help with its grassroots organizing efforts.
"U.S.-based activist group OneVoice International has partnered with V15, an 'independent grassroots movement' in Israel that is actively opposing Netanyahu's party in the upcoming elections, Ha'aretz reported on Monday. Former national field director for President Obama's 2012 reelection campaign Jeremy Bird is also reportedly involved in the effort.
"OneVoice development and grants officer Christina Taler said the group would be working with V15 on voter registration and get-out-the-vote efforts but would not engage in overtly partisan activities. She said OneVoice and V15 are still formalizing the partnership.
While V15 has not endorsed any particular candidates, it is working to oppose Netanyahu in the March elections.
"'We've formed a partnership with [V15], but it's important to know we're absolutely nonpartisan,' Taler told the Washington Free Beacon. 'Our biggest emphasis and focus right now is just getting people out to vote.'
"OneVoice said in a press release on Tuesday that it is teaming up with V15 because Israel 'need[s] a prime minister and a government who will be responsive to the people."'
http://freebeacon.com/national-security/state-department-funded-group-bankrolling-anti-bibi-campaign/

~~~~~~~~~~

Clearly, this is not the "good news." This is an outrage above and beyond. I have difficulty here giving voice to how I responded to this, because I try to write very professional pieces, and what I have to say would not be quite "professional."

The direct meddling in our election, not for positive reasons, but in an effort to oust Netanyahu because Obama despises him, cannot be tolerated. And this is the same Obama who has refused to meet with Netanyahu when he comes to speak to Congress, "because it's wrong to influence the election."

My own hope would be that Israelis, on learning of this, would be so enraged by the meddling that they would make a point of – dafka! – voting for Netanyahu, because the State Department cannot tell us which candidate we should support. (Dafka? Just so. In spite of. To the contrary. Spoken a bit ironically.) It is said that we Israelis are a "dafka" people, and that is how we survive.

~~~~~~~~~~

This news has been picked up and put out by a variety of sources.

Head of NGO Monitor, Gerald Steinberg, has blasted the State Department over this action.

"Steinberg pointed out that American taxpayer funds have been used for similarly politically-charged projects in the recent past. In 2012, USAID, the US's largest provider of foreign assistance, donated millions of dollars to Israeli NGOs through the 'Peace and Reconciliation Program,' which included support for the so-called "Geneva Initiative" – another grassroots project pressuring the Israeli government to make concessions to the Palestinians.
"'After public exposure, the funding was discontinued,' Steinberg said." (Emphasis added)
http://www.algemeiner.com/2015/01/28/ngo-monitor-head-slams-use-of-american-taxpayer-funds-to-finance-anti-netanyahu-campaign/

~~~~~~~~~~

So that's the first order of business, folks. Scream long and loud about this. Protest to your elected representatives. Put this information out wherever you can – in letters to the editor, Internet talkbacks, on your FB pages, etc. etc. In the US make the point that taxpayer money is being used improperly. This CAN make a difference, and it falls to each of you to do your part. Don't sit still for this. Be enraged in a pro-active manner.

~~~~~~~~~~

And the good news? "U.S. Sen. Ted Cruz, R-Texas, and Congressman Lee Zeldin, R-NY-1, today sent a letter to Secretary of State John Kerry asking for information regarding media reports that U.S. taxpayer dollars are being used to fund efforts to influence upcoming elections in Israel."

Said Senator Cruz: "This administration's relentless harassment of Israel is utterly incomprehensible. The Islamic Republic of Iran is pursuing the deadliest weapons on the planet, and there can be no doubt that their first target will be Israel, followed by the United States. This administration should be focusing its animosity on the very real enemies we face, not on our staunch allies." (Emphasis added)

The letter requests answer to eight questions.

You can see the full letter here:

http://www.cruz.senate.gov/files/documents/Letters/20150129_Letter_to_Secretary_Kerry.pdf

We've got good people working for what is right.

Shabbat Shalom

~~~~~~~~~~

© Arlene Kushner. This material is produced by Arlene Kushner, functioning as an independent journalist. Permission is granted for it to be reproduced only with proper attribution.

If it is reproduced and emphasis is added, the fact that it has been added must be noted.
http://arlenefromisrael.squarespace.com/current-postings/2015/2/1/january-30-2015-the-good-news-that-is.html
Posted
on Sunday, February 1, 2015 at 06:47AM
by
Arlene
|
Post a Comment
|
Email
|
Print
All is quiet in the north now. There are those who think it's just a matter of time until we are attacked again, and that we are certainly closer to major hostilities than we were before this most recent attack. That something major is coming down the road, at some point, is clear. But I would not rush to assume that we are now closer to it.

Hezbollah sent a message via Gen. Luciano Portolano, commander of UN forces in Lebanon (UNIFL), overnight, indicating that they are not seeking an escalation of tensions.

http://www.timesofisrael.com/hezbollah-conveys-to-israel-it-does-not-want-escalation/

As was expected, Hezbollah declared that it considered this an "eye for an eye" regarding our hit on their people in the convoy in the Golan. Their honor, dignity, whatever, has ostensibly been salvaged with the death of two of our soldiers, and for now they are content.

~~~~~~~~~~

Among political analysts there are two schools of thought regarding Hezbollah's current situation. One says that this radical terror group, in fighting for Assad in Syria, has been depleted (hundreds of their fighters killed) and drained – and thus is in no mood to take on Israel now. The other says that whatever the stresses of fighting have been for Hezbollah, the experience has honed their battle skills so that they are better equipped to confront Israel than they were before.

I am not certain that the two are necessarily mutually exclusive. They might decide to wait before advancing a major confrontation, but might ultimately be more dangerous opponents than they would have been if not for the Syrian battles.

Maj. Gen. (ret.) Yaakov Amidror, former national security advisor, says that the last thing Hezbollah needs now is to open a second front: "The chances (of an escalation) are very slim, almost none,"

http://www.israelnationalnews.com/News/News.aspx/190676#.VMpJKJv9nIU

~~~~~~~~~~

Other matters, as well, must be factored into predictions regarding Hezbollah actions in the coming days and months:

There is, as I have mentioned, great dissatisfaction inside of Lebanon with what Hezbollah is doing. See more about the mounting criticism here:

http://www.ynetnews.com/articles/0,7340,L-4620415,00.html

And there are also apparently financial difficulties for Hezbollah. It "may be on the cusp of a financial crisis":

http://www.algemeiner.com/2015/01/19/hezbollah-gripped-by-major-financial-crisis/

~~~~~~~~~~~

And, most significantly, there is Iran. If Hezbollah were to take on Israel in a major confrontation, it would be at the bidding of Iran; Many analysts believe that Iran would be reluctant to "waste" Hezbollah on this now, when it is not yet time. Hezbollah is being "saved" for the moment when Israel might decide to attack Iran. (More about Iran below.)

~~~~~~~~~~

Then, of course, on the other side, there is the reluctance of Israel's leaders to engage in a major confrontation with Hezbollah now (the proclamations of Foreign Minister Lieberman regarding the need to do more notwithstanding). We are in an election campaign, and a war now would not serve Netanyahu's electoral aspirations. The death and damage that would ensue would cause many to turn against him – whether fairly or not.

~~~~~~~~~~

But let me add, lest the above be read improperly: while our leaders may not wish to go the route of war now, our military is prepared and on the alert, and would respond if necessary. The IDF is actually on high alert in the north, and has begun searching for tunnels Hezbollah may have been excavated a la Hamas.

http://www.jpost.com/Israel-News/IDF-drilling-in-northern-Israel-amid-fears-of-Hezbollah-attack-tunnels-389236

~~~~~~~~~~

What I must say is that I wish never, ever again to see pictures such as these below here in Israel, or to have to share them. These were taken at the funeral of Maj. Yochai Kalangel, 25, who was killed by Hezbollah. He was buried in the military cemetery at Har Herzl earlier today. Perhaps some can look at these photos without a wrenching of the heart or a tear in the eye, but I cannot. Nor can many others here. The pain is palpable.

The woman is Kalangel's widow, who has a one year old child. I am assuming the man is his father, who said at the funeral that "Where you should have buried me, I bury you."
Credit: IsraelNationalNews

Credit: Yonatan Sindel/Flash 90

~~~~~~~~~~

St.-Sgt. Dor Haim Nini, 20, from Shtulim, was buried in his home village later in the day today. Yesterday, his girlfriend, Sahar, posted a picture of the two of them on Facebook, and wrote "good morning my love." Nini saw it, "liked" the photo and wrote, "you are my life. I love you." Hours later, he had been killed.

Good people, good soldiers cut down in their young lives. I never want to have to share such photos or stories again. But as surely as I am sitting at my keyboard now, I know I will have to.

~~~~~~~~~~

It is worth mentioning that the US stance on this was supportive. Jan Psaki, State Department spokeswoman, said: "We support Israel's legitimate right to self-defense." She added that Washington condemned the attack.

http://www.timesofisrael.com/us-israel-has-right-to-self-defense-against-hezbollah/

This statement lacked the absolute "evenhandedness" that so often mars comments from State; apparently it's politically correct to criticize Hezbollah.

~~~~~~~~~~

Netanyahu, in the last couple of days, has pointed a finger at Iran, as being ultimately responsible for the Hezbollah attack.

"Iran is the one which is responsible for arming, organizing, funding and deploying terrorists on Israel's northern and southern borders." (Emphasis added)

http://www.jerusalemonline.com/news/politics-and-military/politics/netanyahu-iran-behind-hezbollah-attack-11327

~~~~~~~~~~

In another statement yesterday, the prime minister said, "For some time, Iran – via Hezbollah – has been trying to establish an additional terrorist front against us from the Golan Heights." (Emphasis added)

http://www.jpost.com/Arab-Israeli-Conflict/Netanyahu-blames-Iran-for-northern-border-attack-389343

And I think with this we come full circle. We attacked the convoy in the Golan because intelligence suggested a good possibility that high level military personnel were present in order to advance plans for establishing a base there that might even include rocket launching equipment.

Now there is talk in some quarters about the need for stronger Israeli action against the killing of our soldiers in the attack launched from Lebanon – the claim is that this is necessary for deterrence. But as I see it, our deterrence was advanced most powerfully via the attack on the convoy in the Golan. Hezbollah seeks that base in order to be able to attack Israel without involving Lebanon. But Hezbollah and Iran have been warned that we are on to their intentions and will not permit this.

~~~~~~~~~~

On the subject of Iran, I share here two articles.

The first, by Shoshana Bryen, Senior Director, Jewish Policy Center: "Iran Doesn't Need Nuclear Weapons" (emphasis added):

"In his State of the Union address, President Obama forcefully announced he would not accept 'a nuclear-armed Iran.' This reflects his view that the only objectionable element of Iran's behavior would be acquisition and possible use of such weapons. This is conveniently narrow.

"While the ability to produce nuclear weapons quickly and in secret – if it hasn't already done so – is important, Iran pursues a wide variety of long-term Shiite religious and Persian imperial goals in the Middle East and Africa, and in the Western Hemisphere...

"...With his focus solely on nuclear weapons, President Obama has missed perhaps the last, best opportunity to stymie the mullahs.
http://www.americanthinker.com/articles/2015/01/iran_doesnt_need_nuclear_weapons_.html

~~~~~~~~~~

And then, Khaled Abu Toameh, "How Iran is Circling the Gulf and Israel" (emphasis added):
"...Relations between Iran and Hamas had become strained after Hamas's refusal to support the regime of Iran's client, Syria's Bashar Assad, in his fight against the Syrian opposition forces.
"Iran and Hamas need each other badly. Iran wants Hamas because it does not have many Sunni allies left in the region. An alliance with Hamas would enable Iran to rid itself of charges that it is leading a Shiite camp fighting against the Sunnis.
"Hamas, for its part, is desperate for any outside support, especially in wake of its increased isolation in the Palestinian and international arenas...
"Hamas leaders say they have taken a 'strategic' decision to restore their ties with Iran. Ismail Haniyeh, the former prime minister of the Hamas government in the Gaza Strip, announced recently that his movement is working toward establishing "open relations" with Iran...
"The Hamas-Iran rapprochement is yet another sign of Tehran's effort to use its allies in the Middle East to destroy Israel. Hamas leaders are now hoping that Iran will resume not only its financial aid to their movement, but the supply of weapons as well.
"Iran is not interested in the reconstruction of the Gaza Strip or providing shelter to thousands of Palestinian families who lost their homes during the last war. The only thing Iran is interested in there is turning Hamas into another Iranian-backed army that would be used to attack Israel. This is all happening at a time when the Obama Administration is busy preparing for another round of talks with Iran over its nuclear program. It is obvious by now that Tehran is using these negotiations to divert attention from its efforts to deepen its involvement in the Middle East, with the hope of taking over the oil fields and eliminating Israel."
http://www.gatestoneinstitute.org/5149/iran-encircling-gulf-israel
~~~~~~~~~~
This is stuff to make the blood run cold. And it is with this that I stop my political reporting tonight. Who knows what's coming down? Who cares?
I think part of what enrages me so much is the on-going hullabaloo about Netanyahu's plans to speak to Congress when Obama doesn't want him to. Here in Israel, the left is carrying on because this may give him an electoral advantage.
The bottom line is that where Iran is concerned, people should eagerly embrace an opportunity to hear what Netanyahu has to say. And we Israelis should hold our heads high, for we have a leader who gets it right – and has something to say to the Congress.
Dear friends, I urge you to share Khaled Abu Toameh's article broadly – and most specifically with your senators and congresspersons. This is a matter that must be brought to the attention of those who can make a difference.
For your Congresspersons:
http://www.house.gov/representatives/find/
For your Senators:
http://www.senate.gov/general/contact_information/senators_cfm.cfm
~~~~~~~~~~
Let's close with something upbeat. Because we must hold on to what can sustain us:
Yesterday, I saw for the first time that the almond trees (the very first to blossom) are in bloom. This means that – while winter weather, hopefully, will return to bring us more rain – spring is around the corner. Something to lift the spirits. (Yes, I know, parts of N. America are buried in snow – but allow your spirits to be lifted, at least in this regard, vicariously.)
Credit: Israel-tourguide
~~~~~~~~~~
© Arlene Kushner. This material is produced by Arlene Kushner, functioning as an independent journalist. Permission is granted for it to be reproduced only with proper attribution.

If it is reproduced and emphasis is added, the fact that it has been added must be noted.
http://arlenefromisrael.squarespace.com/current-postings/2015/2/1/january-29-2015-a-brief-respite.html