This is a posting that begs to be written, even as I do my Shabbat preparations. Shabbat is actually Tisha B'Av – the ninth of Av, which commemorates a host of tragedies that have befallen the Jewish people, most significantly the destruction of the Temples. Because we do not mourn on Shabbat, the observance begins immediately after Shabbat into Sunday.

We must seek an especially meaningful fast this year – with a maximum in prayer and contemplation, for we are facing down so much that is dire.
Credit: NJJewishnews

Credit: Levlalev

~~~~~~~~~~

They seem to be coming at us from all sides. And so, while we battle the farcical accords with Iran, we have to stand our ground – literally and figuratively – in many other spheres at the same time.

I think perhaps there is a notion that they can kick us while we're down. But you know what? We are not going down.

In coming posts I will share additional information on ways in which we are demonstrating strength.

~~~~~~~~~~

Typical of what we are contending with is the issue of the illegal Arab village in Susiya. Ari Briggs of Regavim has done an op-ed on this, "The Invention of the Village of Susiyah" (emphasis added):

"On July 16 the daily press briefing of the US State Department astonished legal circles in Israel.
"... State Department spokesperson John Kirby with a prepared statement pressured Israel not to enforce demolition orders against an illegal Arab encampment adjacent to the Jewish community of Susiya. The State Department took this stand despite the fact that these demolition orders had been confirmed by Israel's High Court in May 2015 after decades of appeals.
"The Israelis were astonished for two reasons. One, the State Department was apparently misinformed about basic facts of the case. Two, the statement appears to be an arrogant attempt to undermine the Israeli legal system, including its universally respected High Court.
"The High Court found that these assertions were demonstrably false, based on comprehensive objective historical and geographical accounts. Historical aerial photography, detailed mandatory maps, travelogues from the 18th and 19th centuries, and the population registry all established that their assertions were a fabrication. Fact: no such village ever existed. The High Court has ruled repeatedly against these false assertions (HC 7530/01, 430/12, 1556/12, 1420/14).
"However, the Nawajah family's 'struggle' has become a cause célèbre of the cadre of foreigners and foreign-funded NGOs intent on harming Israel and its standing worldwide through untruths, misrepresentations and outright lies.
"...apparently the State Department failed to realize that the High Court established that the Nawajah family members have permanent homes in Yata, a city in Area A, under full Palestinian Authority rule (HCJ 430/12 and HCJ 1556/12).
"Moreover, Regavim's research has established that like other PA residents from Areas A & B, the Nawajah family are being encouraged by the PA in accordance with the Fayyad Plan (2009) and assisted by the EU (EU report "Area C and Palestinian State Building"– 2011) to illegally establish facts on the ground in Area C (under full Israeli authority, as per Oslo Accords)..."

http://www.jpost.com/Opinion/Comment-The-invention-of-the-village-of-Susiya-409861

~~~~~~~~~~

It seemed important to me to inform my readers about this because of the huge press this is getting. You need the facts, as the lie is advanced that Israel is in the wrong, mistreating poor, suffering Arabs once again and trampling on their "rights." It is astounding, the degree to which the world thinks it has a right to a say with regard to legal matters inside of Israel. This hugely important fight against international claims is being fought by Regavim (http://www.regavim.org.il/en).

~~~~~~~~~~

Then see this report from UN Watch, yet another fine organization that is fighting the good fight:

"Israel was the only country in the world to be condemned at the ECOSOC [UN Economic and Social Council] annual session when a resolution adopted on Monday by 42 of 54 member states, including all EU members – with only Australia and the US opposed – excoriated the Jewish state for a litany of crimes including 'the dumping of all kinds of waste materials in the Occupied Palestinian Territory, including East Jerusalem, and in the occupied Syrian Golan.

The EU-backed resolution mentions Hamas, Islamic Jihad and the PLO for a total of 0 times. (emphasis in the original)
http://www.unwatch.org/site/apps/nlnet/content2.aspx?c=bdKKISNqEmG&b=1314451&ct=14743407
~~~~~~~~~~
That a UN agency behaves thus is hardly surprising. But loud warning bells are sounded regarding the degree to which the EU is complicit. Western Europe is lost.
For a hint as to how lost Europe is, consider this:
"French President Francois Hollande conferred with Iranian counterpart Hassan Rouhani Thursday...
"'The two leaders also agreed to...step up bilateral cooperation in this new context,' the presidency said in a statement.
"Hollande 'expressed the wish for Iran to contribute positively to the resolution of crises in the Middle East.'" (Emphasis added)
http://www.timesofisrael.com/hollande-rouhani-discuss-iran-deal-implementation/
Come again??
I will follow with more regarding EU plans for BDS and intentions to pressure us into a "two state solution."
~~~~~~~~~~
Let me circle back now to a couple of items related to the Iran deal.
It has been exposed that the US had forged some secret annexes with Iran. Once again, ZOA has put out an informative release on the matter (emphasis added):
"...secret annexes to the nuclear agreement concluded by the P5+1 powers (the five permanent members of the United Nations Security Council, including the United States, plus Germany) and Iran that have emerged – about which neither the U.S. Congress nor the American public were told. These secret annexes concern Iran's military base at Parchin which, like other Iranian military sites, are off-limits to nuclear inspectors under the agreement, and Iran's failure to disclose its past nuclear-related military and procurement activities as was once demanded of it. The ZOA has called upon President Obama to fully disclose the nature of these aspects of the nuclear agreement, noting that President Obama committed to fully disclose the full agreement to Congressional scrutiny.
"The secret annexes were discovered by Senator Tom Cotton (R–AK) and Congressmen Mike Pompeo (R–KS) during a July 17 meeting with International Atomic Energy Agency (IAEA) officials in Vienna. Both legislators said:
"'According to the IAEA, the Iran agreement negotiators, including the Obama administration, agreed that the IAEA and Iran would forge separate arrangements to govern the inspection of the Parchin military complex — one of the most secretive military facilities in Iran — and how Iran would satisfy the IAEA's outstanding questions regarding past weaponization work. Both arrangements will not be vetted by any organization other than Iran and the IAEA, and will not be released even to the nations that negotiated the JCPOA [Iran nuclear agreement]. This means that the secret arrangements have not been released for public scrutiny and have not been submitted to Congress as part of its legislatively mandated review of the Iran deal.'"
http://zoa.org/2015/07/10291332-pres-obama-must-disclose-iran-deal-secret-annexes/
~~~~~~~~~~

NY Assemblyman Dov Hikind participated with others, included Helen Freedman of AFSI, in a protest outside of the office of Senator Chuck Schumer yesterday, calling upon him to declare his intention to vote against the Iran deal. Schumer is a Democratic Senator of considerable clout in the party, and his refusal to date to make a definitive statement regarding his opposition to the deal is shameful.

Hikind and Freedman, along with others, were arrested in the course of the demonstration:

https://www.youtube.com/watch?v=dL0ODfbr4nY

"Shomer" means guardian in Hebrew. Schumer is being called on to fulfill his role as a shomer.

If you live in NY, please, be in touch with Senator Schumer, preferably by phone:

New York:
212-486-4430
Washington, D.C.:
202-224-6542

~~~~~~~~~~

To the people of Israel, unity and strength.
Credit: Jewlicious
Credit: mymorningmeditations

~~~~~~~~~~

SHABBAT SHALOM!

~~~~~~~~~~

© Arlene Kushner. This material is produced by Arlene Kushner, functioning as an independent journalist. Permission is granted for it to be reproduced only with proper attribution.

If it is reproduced and emphasis is added, the fact that it has been added must be noted.
http://arlenefromisrael.squarespace.com/current-postings/2015/7/26/july-24-2015-from-all-sides.html
Posted
on Sunday, July 26, 2015 at 03:46PM
by
Arlene
|
Post a Comment
|
Email
|
Print
I have been trying to provide you, my readers, with sufficient solid information on the Iran deal so that you can grasp its horrors – without overwhelming you with enormous technical minutiae, which can make the head spin.
However, every time I think I have provided enough, some other fact is exposed that simply must be written about. And here we are again today. Here, once more, we have Omri Ceren of The Israel Project, who cites BBC:
"Zarif said that restriction on Iran's missile programme has been removed from Chapter 7 of UN Resolution 1929 and 'has turned into a non-binding restriction.'"
And, says Ceren, "he's absolutely right about how the new United Nations Security Council resolution (UNSCR)...turns what used to be a total ban on ballistic missile development into a 'non-binding restriction.'" ("Emphasis added here and following)
"Here is the now-outdated UNSCR 1929, which used mandatory language that 'Iran shall not undertake':
'Decides that Iran shall not undertake any activity related to ballistic missiles capable of delivering nuclear weapons, including launches using ballistic missile technology, and that States shall take all necessary measures to prevent the transfer of technology or technical assistance to Iran related to such activities;'
"Here is the new UNSCR 2231, which uses non-binding language that 'Iran is called upon not to undertake':
'Iran is called upon not to undertake any activity related to ballistic missiles designed to be capable of delivering nuclear weapons, including launches using such ballistic missile technology, until the date eight years after the JCPOA Adoption Day or until the date on which the IAEA submits a report confirming the Broader Conclusion, whichever is earlier.'"
Try to wrap your heads around this, my friends. It was already a disaster that Obama went along with removing the UN sanctions against Iranian use of ballistic missiles. The point has been made repeatedly that this should not have been part of the deal at all, because the negotiations were about nuclear development not conventional weapons. In the end, Obama tried to soften this by representing it as a victory because there was an eight-year delay in Iran's ability to use ballistic missiles. But as it turns out, this is a lie. Iran just may have the leeway to start now.
~~~~~~~~~~
ZOA (Zionist Organization of America) picked up similarly hedged wording yesterday. In a press release, ZOA asks, "Deal Repeatedly Refers to Iran's 'Voluntary Measures.' Does Iran Have No Real Obligations?" (emphasis added):
"Virtually every treaty and agreement contains language clearly binding the parties to definitive terms, such as 'the parties agree to the following terms.' However, the Iran deal – formally called the 'Joint Comprehensive Plan of Action' (or JCPOA) – is different. Strangely, supposed obligations are merely called 'voluntary measures.'
"It is frightening and of great concern that even the minimal supposed obligations of the Islamic Republic of Iran in this disastrous, lopsided deal may not be binding on Iran.
"Right at the outset, the introduction to the Iran deal's provisions calls these provisions 'voluntary measures.' At the end of the introductory 'Preamble and General Provisions,' which is immediately prior to key Section A (entitled 'Nuclear'), the JCPOA states:
"'Iran and E3/EU-3 [that is, P5 + 1] will take the following voluntary measures' within the timeframe as detailed in this JCPOA and its Annexes.
"The phrase 'voluntary measures' is also repeated elsewhere in the JCPOA....
"The JCPOA also uses the terms Iran's 'intention' and 'plan' and 'voluntary commitments' in other key paragraphs. 'Intentions' and 'plans' and "voluntary commitments" do not have the force of binding agreements. For instance:
"The very title of the deal, "Joint Comprehensive Plan of Action" – merely indicates a plan – not a binding agreement. The term JCPOA is used throughout.
http://zoa.org/2015/07/10291044-zoa-deal-repeatedly-refers-to-irans-voluntary-measures-does-iran-have-no-real-obligations/
~~~~~~~~~~
I have the feeling that this whole fiasco is imploding. What P5 + 1 has is not a "deal" with Iran, a binding accord, but a whole lot of words that sound technical but are merely cover to present to the world, while allowing Iran to do pretty much as it pleases.
And Iran is not even pretending to be conciliatory – not playing the game. Yesterday, for the first time, Kerry alluded to the hostile tone of the statements of Iranian leaders, and declared himself bewildered:
"I don't know how to interpret it at this point in time, except to take it at face value, that that's his policy," he said, referring to a recent statement by Khaminei that "Even after this deal our policy towards the arrogant US will not change."
"It's very disturbing," admitted Kerry.
Well...hello?
~~~~~~~~~~
Then we have the comment yesterday by Brig. Gen. Mohammad Reza Naqdi, Commander of Iran's paramilitary Basij Force, that, "Any Iranian who reads the Vienna documents will hate the US 100 times more...All paragraphs of the resolution that the US proposed to the UNSC are full of enmity towards Iran and show the US deep grudge against the Iranian nation."

http://www.israelnationalnews.com/News/News.aspx/198456#.Va-IcZsVjIU
Obama and Kerry have shown endless readiness to make concessions to Iran, likely assuming that this would bring them closer to Iranian officials, in a spirit of goodwill. But here is the lesson, writ bold: Concessions made in the Persian bazaar invite contempt, not gratitude. Big concessions yield huge contempt.
Will Congress tolerate this attitude? The American people?
~~~~~~~~~~
I want to remind one and all to contact their elected members of Congress, if they have not done so yet, and to attend a "Stop Iran" rally, if possible. More information follows below.
In speaking with your Congresspersons and Senators, or their aides, remind them that the Founders of the United States envisioned three branches to the government, so that there would be checks and balances. If the elected officials on Capitol Hill merely cave to what the man in the White House wants, they are failing to fulfill their responsibilities as outlined in the Constitution. If America is to stay strong, this cannot be allowed to happen.
~~~~~~~~~~
Carolyn Glick, in her column today, expresses the opinion that it may be possible for Congress to kill the Iran deal. What she writes ties directly to the issues I've been raising (emphasis added):
"As far as the Obama administration is concerned, now that the UN Security Council has anchored the agreement in a binding resolution and so given the force of international law to a deal that guarantees Iran will receives the bomb and $150b., the deal is done. It cannot be walked back.
"But this is not necessarily true. Congress may have more power than it realizes to kill the deal before Iran gets the money and before its other provisions are implemented.
"Over the months leading up to the conclusion of negotiations last Tuesday, Obama refused to acknowledge that he was negotiating a treaty. Rather he said it was nothing more than an executive agreement.
"Consequently, he argued, the US Senate's sole authority to ratify treaties by two-thirds majority would be inapplicable to the deal with Iran.
"Obama also said he would further sideline Congress by anchoring the deal in a binding UN Security Council resolution. This resolution would force Obama's successor to uphold the deal after he leaves office.
"Obama mitigated his position slightly when Senator Bob Corker, chairman of the Senate Foreign Relations Committee, drafted the Corker-Cardin bill with veto-proof majorities in both houses. The bill, which Obama reluctantly signed into law, requires Obama to submit the deal to an up or down vote in both houses. If more than two thirds of Senators and Congressmen oppose it, then the US will not abrogate its unilateral sanctions against Iran.
"In other words, Obama agreed that if Congress turned the Constitution on its head by replacing the two-thirds Senate majority required to approve a treaty with a two-thirds bicameral majority necessary to disapprove his executive agreement – then he wouldn't go to the Security Council until after Congress voted.
"When Obama betrayed his pledge and went to the Security Council on Monday, he gave Congress an opening to reconsider its position, ditch the restrictive Corker-Cardin law and reassert the Senate's treaty approving authority.
"As former US federal prosecutor Andrew McCarthy argued in National Review last week, by among other things canceling the weapons and missile embargoes on Iran, the six-power deal with Iran went well beyond the scope of the Corker-Cardin law, which dealt only with nuclear sanctions relief. As a consequence, Congress can claim that there is no reason to invoke it.
"Rather than invoke Corker-Cardin, Congress can pass a joint resolution determining that the deal with Iran is a treaty and announce that pursuant to the US Constitution, the Senate will schedule a vote on it within 30 days. Alternatively, Congress can condition the Iran deal's legal stature on the passage of enabling legislation – that requires simple majorities in both houses.
"Dan Darling, foreign policy adviser to Republican Senator and presidential hopeful Rand Paul wrote Monday that senators can use Senate procedure to force the Foreign Relations Committee to act in this manner. Darling argued that House Speaker John Boehner can either refuse to consider the deal since it is a treaty, or insist on passing enabling legislation under normal legislative procedures.
"Monday Netanyahu explained that by keeping US sanctions in force, Congress can limit Iran's capacity to move beyond the current sanctions regime even after it is canceled. Every state and firm considering business opportunities with Tehran will have to weigh them against the opportunity cost of being barred from doing business with the US.
"Iran for its part may walk away from the deal entirely if Congress acts in this manner. If it does, then the US will not be obligated by any of the deal's requirements. The continued viability of the Security Council resolution will be something for the lawyers to argue over.
"The devil in Obama's deal with Iran is not in the mind-numbing details, but in the big picture. The deal guarantees Iran will get the bomb. It gives the Iranian regime $150b.
"To secure these concessions, Obama has trampled congressional authority.
"If the American people think this doesn't advance their national interest, they should encourage their congressional representatives to ditch Corker-Cardin and use their full authority, as a co-equal branch of the government, to scupper it."
http://www.jpost.com/Opinion/How-and-why-to-kill-the-deal-409725
Credit: CarolineGlick
~~~~~~~~~~
I have asked New Yorkers to contact their Senator Chuck Schumer, and urge him to oppose the Iran deal. Now I have acquired phone numbers, to simplify the process for you:
New York:
212-486-4430
Washington, D.C.:
202-224-6542
~~~~~~~~~~
There are two rallies scheduled in California for Sunday, which is Tisha B'Av:

Los Angeles:
July 26, 2015, 2:00-4:00 pm at the Federal Building (Veteran and Wilshire)

San Diego:
July 26, 2015, 2:00-4:00 pm at Balboa Park (Park Boulevard and President`s Way Lawn)

~~~~~~~~~~

I was particularly glad to share information today that had been put out by ZOA, for yesterday I mentioned EMET and AIPAC, which are both doing lobbying on the Hill with regard to the Iran deal, and inadvertently left out ZOA, which has been doing this work of lobbying on behalf of Israel longer than either of the other organizations. For this omission – startling because my co-chair in Legal Grounds Campaign is Jeff Daube, who heads the ZOA office in Israel – I sentenced myself to ten lashes with a wet noodle.

~~~~~~~~~~~

I close here with two items that are more upbeat in perspective:

Here we have Shabtai Shavit, who was director of the Mossad director from 1989 to 1996, voicing the opinion that the current situation brings with it the possibility of enhanced relationships with the Sunni Arab states of the region – notably Saudi Arabia, Jordan, Egypt.

"I believe that in the present time there is a widow of opportunity for Israel in order to try and pursue a new order in the Middle East."

He's not the only one saying this. Perhaps a glimpse of a silver lining in the morass we must currently contend with.

http://www.jpost.com/Middle-East/Iran-nuclear-deal-opens-window-for-Israel-to-join-new-Mideast-order-409462

~~~~~~~~~~

And then, a most interesting perspective from Shoshana Bryen, who is currently Senior Director of the Israel Policy Center, and formerly served as Senior Director for Security Policy at JINSA (Jewish Institute for National Security Affairs). This is "Israel: Security Asset for the United States" (emphasis added):

"...there is a reason military-to-military cooperation between the U.S. and Israel has remained almost untouchable, and the American military proudly touts its relationship with Israel.

"With the President of the United States behaving as if Iran can be an ally and a pro-Western player, it might help to recall the 'quick reference guide' to the capabilities Israel brings to U.S.-Israel security cooperation, first published by JINSA in 1979..."

I am not going to reproduce the entire list here, but suggest you look at it. It will boost your morale. Included are such items as:

[] A secure location in a crucial part of the world
[] A well-developed military infrastructure
[] The ability to maintain, service, and repair U.S.-origin equipment
[] Multilingual capabilities, including facility in English, Arabic, French, Farsi and the languages of the (former) Soviet Union
[] Combat familiarity with Soviet/Russian style tactics and equipment
[] The ability to assist U.S. naval fleets, including common equipment
[] The ability to support American operations and to provide emergency air cover
Noting that "In 1996, R&D capabilities and intelligence cooperation were added. Post 9-11, urban counterterror training was added....Nothing has been deleted," Bryen shares something she wrote in 20016:

"In a volatile region so vital to the U.S., where other states cannot be relied upon, it would be foolish to disengage -- or denigrate -- an ally such as Israel. The war against terrorists and the states that harbor and support them will be long and hard, and success will depend in no small measure on the allies who stand with us and with whom we stand."

She says "the message is better yet in 2015."

http://www.gatestoneinstitute.org/6178/israel-us-security-asset
Credit: steelonsteel

~~~~~~~~~~

© Arlene Kushner. This material is produced by Arlene Kushner, functioning as an independent journalist. Permission is granted for it to be reproduced only with proper attribution.

If it is reproduced and emphasis is added, the fact that it has been added must be noted.
http://arlenefromisrael.squarespace.com/current-postings/2015/7/22/july-22-1015-an-endless-litany.html
Posted
on Wednesday, July 22, 2015 at 12:30PM
by
Arlene
|
Post a Comment
|
Email
|
Print
It is Obama himself who has primary responsibility for having moved – traitorously - to empower a dangerous and radical terrorist entity (and more on this below).

But Obama doesn't operate in a vacuum: Those members of Congress who truly know better, but hesitate to stand up to him (because as Democrats they believe they must ally themselves with a Democratic president or for other political reasons) certainly also have responsibility for the current situation.

And lastly, there are those American citizens who also know better, but have been too busy with their own lives, or too apathetic, to stand up and make their voices heard. The United States is a democracy, and so the people must assume a measure of responsibility. There is much to be done – and no time to be lost! Elected representatives in Congress must hear from their constituents, calling for a resolute stand against the accord with Iran. They must know that they will be held accountable for what transpires.

America, my friends, has lost her way. I do not write this lightly. I grieve. Lose sleep. But I face the reality. And so must each of you.

The reality is that only the people of America can redeem the situation, which has gone beyond horrendous.

Only the people can instill in hesitant members of Congress the motivation to act, when they are focused on what they perceive to be politically expedient. They must understand what is expected of them – starting, but not ending, with a vote against the Iran accords.

As for those elected representatives who have had the courage to stand up, they must be supported and encouraged: They must be urged on to ever greater strength and acts of leadership.

~~~~~~~~~~

Please, share this with everyone you know, and in every possible venue – on FB, on websites, on discussion group lists. Now. Because if you decide to do it later, you run the risk of forgetting to do it at all.

~~~~~~~~~~

Contact your Senators. You can locate them here:

http://www.senate.gov/general/contact_information/senators_cfm.cfm
Contact your Congresspersons. You can locate them here:
http://www.house.gov/representatives/find/
Emails work. Phone calls are much better. Go for it. Now. Because if you put it off for later, you may forget.
Keep your communication short and polite, but deliver a message that is strong and clear.
~~~~~~~~~~
I want to urge everyone living in New York to contact Senator Chuck Schumer:
http://www.schumer.senate.gov/.
I have read several reports indicating that he may be waffling on his challenge to Obama. Let him hear from you.
~~~~~~~~~~

Also for those in the NYC area and those prepared to travel to NYC tomorrow:

The STOP IRAN NOW RALLY -Times Square, 7th Avenue and 42 Street in Manhattan. Wednesday, July 22, 5:30 PM.

A huge turnout is needed and you are urged to do your best to make it.

~~~~~~~~~~

In conjunction with the NYC rally, there will be a rally in Broward County, Florida:

Federal Courthouse in Ft. Lauderdale, corner of Broward Boulevard and 3rd. Avenue, Wednesday, July 22, 5:30 – 7:30 PM.
~~~~~~~~~~
Bring your signs to these rallies, please!
~~~~~~~~~~
In Phoenix, Arizona:
An Emergency Meeting on the dangers of the Iran accord and what you can do to stop it.
Ina Levine Jewish Community Campus, Room 101-102, Wednesday, July 22, 6:30 PM.

~~~~~~~~~~

In Toronto, Canada:

A rally opposite the US Consulate, 360 University Avenue, Wednesday, July 22, Noon – 1:30 PM.

~~~~~~~~~~

Additionally in NYC:

TODAY, Tuesday, July 21, 7:00 PM
STOP IRAN FROM GOING NUCLEAR - Bipartisan Iran Education Campaign
Featured Speaker: Josh Block, President & CEO of The Israel Project
Community-Wide event at Lincoln Square Synagogue, 180 Amsterdam Ave., NYC
_______________

Wednesday, July 22, 1:00 – 2:30 PM.
Analysis of the Iran Deal & Global Islamic Jihadism Featuring Lieutenant Colonel Allen West, sponsored by EMET.
Lunch (dietary restrictions observed)
For more information and to register: dheffernan@emetonline.org . $10 entrance fee, bring an ID for security clearance.
~~~~~~~~~~
I have previously mentioned EMET, which is working hard at lobbying Congress. Here I also want to note AIPAC, the largest lobby group for Israel – which is working overtime to deliver the message to Congress about the dangers of the Iran deal.
~~~~~~~~~~
For clarity on some of the major issues regarding the accord, see this column by Charles Krauthammer, "Worse than we could have imagined" (emphasis added):
"When you write a column, as did I two weeks ago, headlined 'The worst agreement in U.S. diplomatic history,' you don't expect to revisit the issue. We had hit bottom. Or so I thought. Then on Tuesday the final terms of the Iranian nuclear deal were published. I was wrong.
"Who would have imagined we would be giving up the conventional arms and ballistic missile embargoes on Iran? In nuclear negotiations?
"When asked Wednesday at his news conference why there is nothing in the deal about the American hostages being held by Iran, President Obama explained that this is a separate issue, not part of nuclear talks.
"Are conventional weapons not a separate issue? After all, conventional, by definition, means non-nuclear. Why are we giving up the embargoes?...
"Obama claimed in his news conference that it really doesn't matter, because we can always intercept Iranian arms shipments to, say, Hezbollah.
"But wait. Obama has insisted throughout that we are pursuing this Iranian diplomacy to avoid the use of force, yet now blithely discards a previous diplomatic achievement — the arms embargo — by suggesting, no matter, we can just shoot our way to interdiction.
"Moreover, the most serious issue is not Iranian exports but Iranian imports — of sophisticated Russian and Chinese weapons. These are untouchable. We are not going to attack Russian and Chinese transports.
"The net effect of this capitulation will be not only to endanger our Middle East allies now under threat from Iran and its proxies, but also to endanger our own naval forces in the Persian Gulf. Imagine how Iran's acquisition of the most advanced anti-ship missiles would threaten our control over the gulf and the Strait of Hormuz, waterways we have kept open for international commerce for a half-century.
"The other major shock in the final deal is what happened to our insistence on 'anytime, anywhere' inspections. Under the final agreement, Iran has the right to deny international inspectors access to any undeclared nuclear site. The denial is then adjudicated by a committee — on which Iran sits. It then goes through several other bodies, on all of which Iran sits. Even if the inspectors' request prevails, the approval process can take 24 days.
And what do you think will be left to be found, left unscrubbed, after 24 days? The whole process is farcical."
http://www.washingtonpost.com/opinions/worse-than-we-could-have-imagined/2015/07/16/aa320b42-2bf0-11e5-bd33-395c05608059_story.html
~~~~~~~~~~
Krauthammer wrote this before the vote was taken on the accord in the UN Security Council. Anticipating the vote, he said:
"Approval there [in the U.N.] will cancel all previous U.N. resolutions outlawing and sanctioning Iran's nuclear activities.
"Meaning: Whatever Congress ultimately does, it won't matter because the legal underpinning for the entire international sanctions regime against Iran will have been dismantled at the Security Council. Ten years of painstakingly constructed international sanctions will vanish overnight, irretrievably.
"Even if Congress rejects the agreement, do you think the Europeans, the Chinese or the Russians will reinstate sanctions? The result: The United States is left isolated while the rest of the world does thriving business with Iran.
"Should Congress then give up? No. Congress needs to act in order to rob this deal of, at least, its domestic legitimacy. Rejection will make little difference on the ground. But it will make it easier for a successor president to legitimately reconsider an executive agreement (Obama dare not call it a treaty — it would be instantly rejected by the Senate) that garnered such pathetically little backing in either house of Congress.
"It's a future hope, but amid dire circumstances. By then, Iran will be flush with cash, legitimized as a normal international actor in good standing, recognized (as Obama once said) as 'a very successful regional power.' Stopping Iran from going nuclear at that point will be infinitely more difficult and risky."
~~~~~~~~~~
Weep for this, my friends, and then let your elected representatives in Congress know that they must not give up. That you expect better of them.
~~~~~~~~~~
You might also like to see Jennifer Rubin on 17 ridiculous things the president said at the Iran news conference. Her counter to Obama's major misrepresentations is helpful.
http://www.washingtonpost.com/blogs/right-turn/wp/2015/07/15/17-ridiculous-things-the-president-said-at-the-iran-news-conference/
~~~~~~~~~~
There are matters I did not get to today, which will keep for yet another time. I want to close here with analysis by Omri Ceren of The Israel Project. Along with Krauthammer's column, what Ceren tells us is the stuff of nightmares (emphasis added):
"[The political debate] is about how dropping the arms embargo will enable Iran to push the U.S. out of the Gulf, about how giving the Iranians $150 billion will bolster their terror and military programs, about how putting Iran on a 10 year glidepath to zero breakout will trigger Sunni nuclear proliferation, about how coziness between the Obama administration and Iran has detonated American alliances in the region, about how an economically resurgent Iran will become a hostile regional hegemon, and so on. The criticism is that even if the deal successfully prevents Iran from building a nuclear weapon for 10 years, the Obama administration will be funding and boosting Iran's conventional military capabilities.
"The JCPOA introduces an additional wrinkle... The agreement commits the international community to actively helping Iran perfect its nuclear program over the life of the deal (!) On a policy level, it means Iran's breakout time will be constantly shrinking. On a political level, it means that the deal will be seen as accomplishing the exact opposite of what the Obama administration promised Congress: instead of rolling back Iran's nuclear program, it will commit the U.S. and its allies to funding and boosting it."
~~~~~~~~~~
© Arlene Kushner. This material is produced by Arlene Kushner, functioning as an independent journalist. Permission is granted for it to be reproduced only with proper attribution.

If it is reproduced and emphasis is added, the fact that it has been added must be noted.
http://arlenefromisrael.squarespace.com/current-postings/2015/7/21/july-21-2015-the-ultimate-challenge.html
Posted
on Tuesday, July 21, 2015 at 12:20PM
by
Arlene
|
Post a Comment
|
Email
|
Print
Impossible to have predicted that the current world situation would have devolved into something quite as vile as it has. The more we know about that Iran deal, the greater our understanding of how truly awful it is.

The concessions to Iran have been mind-boggling, but in the end, a demand that the US should have made was not made:

Iran holds four Americans. Not only did Obama's negotiating team not tell Iran that there would be no sanctions relief until they were released – Obama has chosen not to speak about them or their plight. The four are:

Jason Rezaian, a Washington Post correspondent who disappeared a year ago and is accused of "subverting" the Islamic State.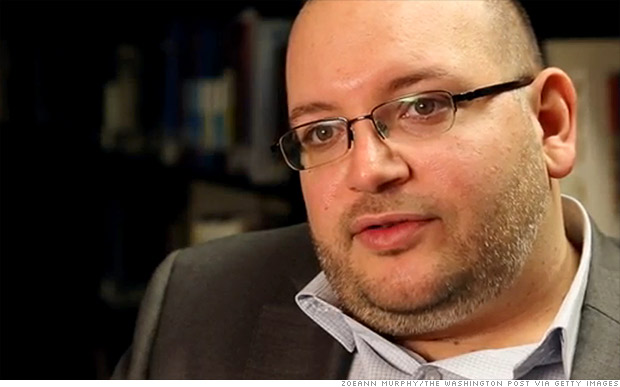 Credit: CNN

Saeed Abidini, a Christian pastor converted from Islam, he was in Iran to establish an approved orphanage. Has been held for three years, convicted of being "a threat to Iran's national security." His health has deteriorated.
Credit: ecumenicalnews

Amir Heckmati, a former US marine of Iranian heritage, who was in serving as a language and cultural liaison to US military in the Middle East. He had gone to Iran – for the very first time - to visit family, and was grabbed and ultimately convicted of "treason." He has been held for four years.
Credit: NYTimes

Robert Levinson, with the FBI for 33 years, and after retirement a private investigator. Was detained while in Iran eight years ago, charged with being on a CIA mission. There is some confusion here – as different sources are checked - as to whether this is so, or he was operating as a private investigator when grabbed on Kish Island, an Iranian free-trade zone which is visa-free.
Credit: wn

https://www.commentarymagazine.com/2015/03/01/why-are-american-hostages-still-held-in-iran/

~~~~~~~~~~

It is no accident that three of the four are Iranian Americans. The first question to be asked is why every American is not familiar with these names.

When challenged three days ago at a press conference by reporter Major Garrett, as to why the release of the Americans was not demanded by the US, Obama was very coy. Tying the release of these Americans to the deal would have given the Iranians an advantage, he claimed – they might have demanded even more.

http://www.foxnews.com/opinion/2015/07/17/our-hostages-in-iran-are-more-important-than-obamas-feelings-major-garrett-was-right-to-be-aggressive.html

But Obama has it exactly backwards, and the fact that he said what he did is one more indication that the Iranians called the shots in the negotiations. What if the US had played hardball, and had tied sanctions to the release of the Americans? Sanctions relief was at the heart of why Iran stayed at the table.

~~~~~~~~~~

I may have alluded to this before, but I also wanted to mention here the clause in the agreement – in article 10, page 142 - that Western nations signing will offer "cooperation through training and workshops to strengthen Iran's ability to protect against, and respond to, nuclear security threats, including sabotage, as well as to enable effective and sustainable nuclear security and physical protection systems."

http://www.israelhayom.com/site/newsletter_article.php?id=26999

Israel has relied to some extent on sabotage to slow down Iranian nuclear development. The US will now be party to making this more difficult. But what is more, reference to physical protection systems" might mean that a military attack on Iran will now also be more difficult.

"Sources privy to the negotiations said Article 10 did not appear in the interim deal inked between world powers and Iran in April, but was added to the final agreement at the last minute."

Israeli officials call this "inconceivable." In a sane world, indeed. But that's not where we are.

~~~~~~~~~~

The clock is now ticking on the 60 days Congress has to review the terms of the accord with Iran and indicate acceptance or rejection of its terms. This is in accordance with the Iran Nuclear Agreement Review Act of 2015 – frequently referred to as the "Corker Bill," for Senator Bob Corker (R-TN) Chair of the Senate Foreign Relations Committee, who co-sponsored the bill with Senator Robert Menendez (D-NJ).

This bill provided a major concession to the president – we might say a caving to the president – because of how it is structured. The Iran deal is not being regarded as a treaty, which would – according to Article II of the US Constitution - require 2/3 of the Senate for approval. Rather, the White House is treating the accord as matter of "executive prerogative."

Thus, a simple majority of the Congress can reject the accord, but then a 2/3 vote is required to over-ride that veto. This is the reversal of what would be the case were the agreement being treated as a treaty.

~~~~~~~~~~

In an act of blatant disregard for the will of the American people and disrespect for the people's elected representatives, Obama brought the agreement to the Security Council of the UN, where it passed unanimously. My information is that the American government proceeded here under pressure from Iran and other nations involved in the negotiations, but it has acted in the face of multiple calls from key members of Congress that he not proceed with this.
Credit: Jewel Samad/AFP

The resolution formally endorses the Iran deal and paves the way for lifting UN (not US) sanctions against Iran.

~~~~~~~~~~

The big question now is whether this resolution is binding on the Congress in the short term, and whether it will be binding on future US presidents. This is what Iran claims; Kerry has made similar claims, although this is not the official position of the Obama administration.

The answer is not so simple. One international lawyer with whom I consult calls the situation "complicated," and right now there is no consensus on this.

I point out here that the UN resolution reads so that the "adoption date" comes 90 days after the Security Council endorsement vote — presumably so that Congress has time to complete its review before the resolution kicks in.

But this fact, offered in multiple articles I've now read, does not seem to me to address the core question. OK, the UN resolution gives Congress time to review the agreement. But if Congress rejects it, and the resolution kicks in, then what?

~~~~~~~~~~
"Some international legal experts say that...the UN resolution doesn't make adhering to the entire nuclear pact obligatory for all parties. [That is, the US could sustain its sanctions on Iran if Congress so decides.] At the same time, they said the resolution would require all signatories to the deal — including United States and Iran — to comply with key provisions like the lifting of the UN arms embargo and ballistic missile ban in five and eight years, respectively."
http://foreignpolicy.com/2015/07/15/obama-turns-to-u-n-to-outmaneuver-congress-iran-nuclear-deal/
~~~~~~~~~~
Consider this: The deal with Iran was supposed to be unanimous – that is, it was not supposed to kick in unless all parties (P5 + 1) agreed. The US agreement at this point, however, is only tentative, because the administration has signed off on a Congressional review of the deal. In theory, if Congress rejected the accord – and was able to override a veto by Obama - then the deal should have been considered failed, because then the US would then not be on board.

But Obama – who was not about to sit still for this possibility - has done an end-run around it. Now that the deal has been endorsed by the Security Council, it exists in international law. It may well be that Congress will still have options regarding whether to lift US sanctions on Iran, but its clout has now been considerably reduced.

~~~~~~~~~~

What I know with certainty is that many members of Congress are infuriated, enraged, by what is going on. From a key Senatorial aide, with whom I remain in touch, I received this today: "We are brainstorming right now as to what creative things we can do. We are NOT just rolling over and giving up. We will fight!"

~~~~~~~~~~

Walter Russell Mead, writing before the Security Council vote, had this to say (emphasis added):

"...Dissing Congress is a risky move for American presidents. There have been widespread reports that many Democrats on Capitol Hill would like to support the President's Iran policy, but are worried about the political fallout among voters back home. In the end, many of these waverers would probably support the President on the Iran deal in a straight up Congressional vote, but if the President does an end run to the Security Council, the waverers could—and many will—oppose him on procedural grounds. Both the Senate and the House are jealous of their Constitutional prerogatives, and voting to uphold the powers of Congress is a much easier vote for Democrats than voting against the President on an important foreign policy issue...

"This is not likely to end well. President Obama was stretching both his Constitutional powers and his political mandate when he decided to short circuit the treaty process for one of the most important decisions that American foreign policy has taken in many years. There is precious little doubt that the Founders would have considered this a threat to the system of checks and balances they wrote into the Constitution..."

http://www.the-american-interest.com/2015/07/17/obama-lights-firestorm-on-capitol-hill/

~~~~~~~~~~

Andrew McCarthy, in a speech reproduced by Frontpage Magazine, says:

"So the two checks that the Framers essentially gave to Congress to reign the president in were the power of the purse [blocking funding] and impeachment."

http://www.frontpagemag.com/fpm/259458/andy-mccarthy-obamas-shredding-constitution-frontpagemagcom

Is Congress sufficiently furious, at long last, to consider impeachment?

~~~~~~~~~~

The US Secretary of Defense is in Israel now, but I will close here and write about this next time.

~~~~~~~~~~

© Arlene Kushner. This material is produced by Arlene Kushner, functioning as an independent journalist. Permission is granted for it to be reproduced only with proper attribution.

If it is reproduced and emphasis is added, the fact that it has been added must be noted.
http://arlenefromisrael.squarespace.com/current-postings/2015/7/21/july-20-2015-impossible.html
Posted
on Tuesday, July 21, 2015 at 05:06AM
by
Arlene
|
Post a Comment
|
Email
|
Print
I've long known that Daniel Greenfield - who formerly posted as "Sultan Knish" - is an incisive, politically-incorrect, "tell-it-as-it-is" writer. In his latest piece - "Time to Call Obama and Kerry What They Are: Traitors" – he does not disappoint.

Credit: FrontPage Magazine

Greenfield is not one to dance around reality, excusing Obama as someone who just doesn't get it, or who is too idealistic, or... He presents facts straight on, and draws his conclusions (emphasis added):

"The last time a feeble leader of a fading nation came bearing 'Peace in our time,' a pugnacious controversial right-winger retorted, 'You were given the choice between war and dishonor. You chose dishonor, and you will have war.' That right-winger went on to lead the United Kingdom against Hitler.
"The latest worthless agreement with a murderous dictatorship is being brandished by John Kerry, a man who instinctively seeks out dishonor the way a pig roots for truffles...
"John Kerry betrayed his uniform and his nation so many times that it became his career. He illegally met with the representatives of the North Vietnamese enemy in Paris and then next year headed to Washington, D.C. where he blasted the American soldiers being murdered by his new friends as rapists and murderers 'reminiscent of Genghis Khan'...
"Kerry revolted even liberals with his gushing over Syria's Assad. Now he's playing the useful idiot for Assad's bosses in Tehran.
"For almost fifty years, John Kerry has been selling out American interests to the enemy. Iran is his biggest success. The dirty Iran nuke deal is the culmination of his life's many treasons.
"It turns America from an opponent of Iran's expansionism, terrorism and nuclear weapons program into a key supporter. The international coalition built to stop Iran's nukes will instead protect its program.
"And none of this would have happened without Obama.

~~~~~~~~~~

"Obama began his rise by pandering to radical leftists on removing Saddam. He urged them to take on Egypt instead, and that's what he did once in office, orchestrating the takeover of the Muslim Brotherhood in Egypt and across the region. The Muslim Brotherhood was overthrown by popular uprisings in Egypt and Tunisia, but Obama had preserved the Iranian regime when it was faced with the Green Revolution. Now Iran is his last best Islamist hope for stopping America in the Middle East.

"Obama and Kerry had both voted against designating Iran's IRGC terrorist ringleaders who were organizing the murder of American soldiers as a terrorist organization while in the Senate...
"Throughout the [negotiating] process they chanted, 'No deal is better than a bad deal.' But their deal isn't just bad. It's treason.
"Obama isn't Chamberlain. He doesn't mean well. Kerry isn't making honest mistakes. They negotiated ineptly with Iran because they are throwing the game. They meant for America to lose all along.
"When Obama negotiates with Republicans, he extracts maximum concessions for the barest minimum. Kerry did the same thing with Israel during the failed attempt at restarting peace negotiations with the PLO. That's how they treat those they consider their enemies. This is how they treat their friends.
"A bad deal wasn't just better than no deal, it was better than a good deal.
"Obama did not go into this to stop Iran from going nuclear. He did it to turn Iran into the axis of the Middle East.
"Obama made this deal to cripple American power in the Middle East.
"Iran get[s] to keep its nuclear facilities, its reactors, including the hidden underground fortified Fordow facility which Obama had repeatedly stated was, 'inconsistent with a peaceful program.'
"The deal gives Iran a 'peaceful' nuclear program with an equally peaceful ballistic missile program. It puts into place a complicated inspection regime that can be blocked by Iran and its backers. It turns Iran into the new North Korea and the new Saddam Hussein, lavishing money on it while running future administrations through a cat and mouse game of proving violations by the terrorist regime.
"And Obama made sure the Iran deal was written to make the proof as hard to obtain as possible.
"That hasn't stopped Obama from lying and claiming that 'Inspectors will have 24/7 access to Iran's nuclear facilities.' Meanwhile France's Foreign Minister, somewhat more accurately put it, 'The IAEA will be able to gain access to Iran's military sites, if necessary, under certain conditions'...
~~~~~~~~~~
"One of the first items on Iran's shopping list will be Russia's S300 missile system to keep Israel or a future American administration from taking out Iran's nuclear program. But Iran is also pursuing ICBMs that can strike at Europe and America. Obama's decision to phase out the ballistic missile sanctions on Iran will make it easier for Iran to build weapons that can destroy major American cities.
"And Iran's new cash will empower it to fund terrorism in Israel, America and around the world.
"Obama claims to 'have stopped the spread of nuclear weapons' by allowing Iran to keep enhancing its nuclear program and rewarding it with ballistic missiles for its 'peaceful' intentions. He claims to have negotiated 'from a position of strength and principle' when in fact he surrendered to the Iranians on position after position. Tehran negotiated from strength and principle. Obama sold out America...
"Obama and Kerry have not made this deal as representatives of the United States, but as representatives of a toxic ideology that views America as the cause of all that is wrong in the world. This is not an agreement that strengthens us and keeps us safe, but an agreement that weakens us and endangers us negotiated by men who believe that a strong Iran is better than a strong America...
"Their ideology is not America. It is not American. It is the same poisonous left-wing hatred which led Kerry to the Viet Cong, to the Sandinistas and to Assad. It is the same resentment of America that Obama carried to Cairo, Havana and Tehran. We have met the enemy and he is in the White House."
http://www.frontpagemag.com/fpm/259466/time-call-obama-and-kerry-what-they-are-traitors-daniel-greenfield
~~~~~~~~~~
I'm not going to pursue a great deal of analysis now on how the Israeli government will make the case against this deal, or how Congress is likely to vote. It's too soon for that. But this must be shared, immediately:
"Aside from removing UN conventional arms embargo on Iran after five years, the nuclear deal signed Tuesday by the P5+1 powers and Iran grants several other questionable concessions to the leading state sponsor of terror, unrelated to its controversial nuclear program.
"The most glaring of these concessions is seen by some as the inclusion of the name Qassem Soleimani on a list of companies and individuals who will have sanctions against them removed as expressly detailed in the deal, reports Yedioth Aharonoth.
"Someimani is the Iranian Revolutionary Guards commander who leads the elite Qods Force, which conducts foreign operations outside of Iran's borders and directs the Islamic regime's terrorist activities throughout the world.
"While no clear reason was given as to why Soleimani – who is on the official American terrorist list, and whose Qods Forces have murdered American soldiers in Iraq – had individual sanctions against him removed, the move apparently comes due to the shared fight against Islamic State (ISIS) that Soleimani has been leading in Iraq in parallel to American efforts.
"Indicating the willingness to bend on principles in order to secure an Iranian alliance against [ISIS], US President Barack Obama was revealed to have sent secret letters last October to Iranian Supreme Leader Ayatollah Ali Khamenmei asking for cooperation against ISIS, in addition to asking for help in sealing the nuclear deal.
"Thanks to the removal of sanctions, the arch-terrorist Soleimani will now be able to travel freely throughout the world, advancing Iran's terror interests."
http://www.israelnationalnews.com/News/News.aspx/198156#.VaY9OZsVjIV

Credit: Reuters

~~~~~~~~~~

If there is a glimmer of positive news here, it is that Prime Minister Netanyahu and head of the opposition Yitzhak Herzog have agreed that on the Iran issue it is important to show a united front:

Credit: Nati Shohat/Flash90

http://www.israelnationalnews.com/News/News.aspx/198146#.VaaCRJsVjIV

~~~~~~~~~~

Here we have incisive cartoon commentary from Ya'akov Kirschen, creator of Dry Bones:


~~~~~~~~~~

I want to remind my readers in America how much depends on you. You must stand up and be counted in the course of the next 60 days, with regard to your opposition to the Iran deal. The situation is deadly serious and passivity is not an acceptable option.

For those in the NY area:

Watch for rallies in other parts of the country, as well.

~~~~~~~~~~

EMET – The Endowment for Middle East Truth – which does lobbying in Congress, is urging contacts with Senators and Congresspersons. You are being asked by EMET to fill out a form that will allow them to arrange crucial meetings in the Capitol.

http://emetonline.org/meet-with-or-call-your-senators-congressmen/

~~~~~~~~~~

© Arlene Kushner. This material is produced by Arlene Kushner, functioning as an independent journalist. Permission is granted for it to be reproduced only with proper attribution.

If it is reproduced and emphasis is added, the fact that it has been added must be noted.
http://arlenefromisrael.squarespace.com/current-postings/2015/7/15/july-15-2015-indictment.html
Posted
on Wednesday, July 15, 2015 at 03:16PM
by
Arlene
|
Post a Comment
|
Email
|
Print
Until the end there was doubt that this would actually happen. But it happened. Heaven help us now. The fools who were negotiating in Vienna have reached an agreement. And look how happy they appear, after the crushing damage they have fomented. (Of course Zarif of Iran, who is laughing the hardest, would be ecstatically happy.)
Credit: Reuters

~~~~~~~~~~

I share here some basics of the agreement, as described by Omri Ceren of The Israel Project (with my bolded emphasis added):

(1) The Iranian nuclear program will be placed under international sponsorship for R&D - A few weeks ago the AP leaked parts of an annex confirming that a major power would be working with the Iranians to develop next-generation centrifuge technology at the Fordow underground military enrichment bunker. Technically the work won't be on nuclear material, but the AP noted that "isotope production uses the same technology as enrichment and can be quickly re-engineered to enriching uranium." The administration had once promised Congress that Iran would be forced to dismantle its centrifuge program. The Iranians refused, so the administration conceded that the Iranians would be allowed to keep their existing centrifuges. Now the international community will be actively sponsoring the development of Iranian nuclear technology. And since the work will be overseen by a great power, it will be off-limits to the kind of sabotage that has kept the Iranian nuclear program in check until now.
(2) The sanctions regime will be shredded - the AP revealed at the beginning of June that the vast majority of the domestic U.S. sanctions regime will be dismantled. The Lausanne factsheet - which played a key role in dampening Congressional criticism to American concessions - had explicitly stated "U.S. sanctions on Iran for terrorism, human rights abuses, and ballistic missiles will remain in place under the deal." That turns out to have been false. Instead the administration will redefine non-nuclear sanctions as nuclear, so that it can lift them...
(3) The U.S. collapsed on the arms embargo - Just a week ago Dempsey told the Senate Armed Services Committee that "under no circumstances should we relieve pressure on Iran relative to ballistic missile capabilities and arms trafficking." Now multiple outlets have confirmed that the embargo on conventional weapons will be lifted no later than 5 years from now, and that the embargo on ballistic missiles will expire in 8 years. No one in the region is going to wait for those embargoes to expire: they'll rush to build up their stockpiles in anticipation of the sunset.
(4) The U.S. collapsed on anytime-anywhere inspections - The IAEA will get to request access to sensitive sites, the Iranians will get to say no, and then there will be an arbitration board that includes Iran as a member. This concession is particularly damaging politically and substantively because the administration long ago went all-in on verification. The original goal of the talks was to make the Iranians take physical actions that would prevent them from going nuclear if they wanted to: dismantling centrifuges, shuttering facilities, etc. The Iranians said no to those demands, and the Americans backed off. The fallback position relied 100% on verification: yes the Iranians would be physically able to cheat, the argument went, but the cheating would be detected because of an anytime-anywhere inspection regime. That is not what the Americans are bringing home.
~~~~~~~~~~
Last night, Ceren, who was in Vienna, was interviewed on Voice of Israel. He referred to the deal as a "staggering, staggering failure of US diplomacy, and a staggering failure of US leadership."
~~~~~~~~~~
You can see more on the deal as a Western catastrophe in the op-ed by Times of Israel editor David Horovitz:
http://www.timesofisrael.com/16-reasons-nuke-deal-is-an-iranian-victory-and-a-western-catastrophe/

~~~~~~~~~~

President Obama's speech today, celebrating the end of the deal, is so filled with lies and misrepresentations it is difficult to know where to begin:

"...the United States, together with our international partners, has achieved something that decades of animosity has not: a comprehensive long-term deal with Iran that will prevent it from obtaining a nuclear weapon.

"This deal demonstrates that American diplomacy can bring about real and meaningful change, change that makes our country and the world safer and more secure...

"Today, because America negotiated from a position of strength and principle, we have stopped the spread of nuclear weapons in this region. Because of this deal, the international community will be able to verify that the Islamic Republic of Iran will not develop a nuclear weapon.
"This deal meets every single one of the bottom lines that we established when we achieved a framework this spring. Every pathway to a nuclear weapon is cut off..."
http://www.timesofisrael.com/full-text-of-obamas-speech-on-iran-deal-every-pathway-to-a-nuclear-weapon-is-cut-off/
If you have been tracking the breathtaking concessions made by the US, either via my posts or elsewhere, you can identify the whoppers for yourself. But let me take one very obvious example here: He says, "we have stopped the spread of nuclear weapons in this region [the Middle East]. Quite the contrary is the case.
As the Jewish Policy Center explains:
"We have not. Far from providing for better arms control, the deal will encourage Sunni powers in the region,– including Saudi Arabia and Egypt,– to reconsider their own nuclear programs, shredding the international non-proliferation protocol. The region will become increasingly unstable."
http://www.jewishpolicycenter.org/5627/statement-on-nuclear-agreement
~~~~~~~~~~
Prime Minister Netanyahu calls the deal a "stunning historical mistake."
Credit: Hadas Parush/Flash90
In his statement today, he said (emphasis added):
"The world is a much more dangerous place today than it was yesterday.
"The leading international powers have bet our collective future on a deal with the foremost sponsor of international terrorism. They've gambled that in ten years' time, Iran's terrorist regime will change while removing any incentive for it to do so. In fact, the deal gives Iran every incentive not to change.
"In the coming decade, the deal will reward Iran, the terrorist regime in Tehran, with hundreds of billions of dollars. This cash bonanza will fuel Iran's terrorism worldwide, its aggression in the region and its efforts to destroy Israel, which are ongoing.
"Amazingly, this bad deal does not require Iran to cease its aggressive behavior in any way...
"In addition to filling Iran's terror war chest, this deal repeats the mistakes made with North Korea.
"There too we were assured that inspections and verifications would prevent a rogue regime from developing nuclear weapons.
"And we all know how that ended.
"The bottom line of this very bad deal is exactly what Iran's President Rouhani said today: 'The international community is removing the sanctions and Iran is keeping its nuclear program.'
"By not dismantling Iran's nuclear program, in a decade this deal will give an unreformed, unrepentant and far richer terrorist regime the capacity to produce many nuclear bombs, in fact an entire nuclear arsenal with the means to deliver it."
http://www.timesofisrael.com/full-text-of-netanyahus-response-to-nuke-deal-it-will-fuel-irans-efforts-to-destroy-israel/
Netanyahu added:
"Israel is not bound by this deal with Iran and Israel is not bound by this deal with Iran because Iran continues to seek our destruction.
"We will always defend ourselves."
~~~~~~~~~~
The Security Cabinet has met and unanimously voted to reject the terms of the agreement, and stands by Israel's right to defend herself.
~~~~~~~~~~
And here we come to one essential aspect of what will now follow. There is a great deal of discussion regarding whether Israel can hit Iran, and whether Israel will opt to do so.
There are those who say declarations by Israel's leaders are just bluff. I'm not sure that is true (see below), but those who call these words "bluff" are missing a very essential point: If Iran knows Israel is watching, and Iran is not sure if Israel is bluffing, the situation has a certain inhibiting effect on Iran's behavior. This has already been demonstrated.
But in any event, as I said, we do not know that Israel is bluffing.
Military analyst Yaakov Lappin says that Israel will continue to develop means for attacking Iran, as long as Iran remains a threat: the military option is not off the table. However, it is only an attempt by Iran to break through to nuclear capability that would trigger an attack.
http://www.jpost.com/page.aspx?pageid=7&articleid=408827
~~~~~~~~~~
An attempt by Iran to break through remains a possibility because, historically, Iran cheats, and now the monitoring is sorely insufficient.
See this video of an interview of Naftali Bennett by BBC. He makes the point exceedingly well of how insufficient monitoring will be under the agreement:
http://www.israelnationalnews.com/News/News.aspx/198134#.VaV2fZsVjIU
~~~~~~~~~~
A statement by MK Tzahi Hanegbi (Likud), Chair of the Knesset Foreign Affairs and Defense Committee, reinforces the view presented by Lappin: Israel's ability to attack is independent, he says. [I.e., no one controls us.] We won't attack if they don't cheat. "And we know that this entire program is based on fraud and deceit that the world is now accepting."
http://www.israelnationalnews.com/News/News.aspx/198135#.VaV1W5sVjIU
~~~~~~~~~~
Netanyahu has been saying that he never promised he could stop this agreement, as the Western leaders were determined to go forward with it.
What he has promised, he says, and that promise stands, is not to let Iran go nuclear. Lappin's analysis gives teeth to this commitment. The capability of hitting Iran's nuclear facilities is one Israel has no intention of forfeiting, Lappin says.
~~~~~~~~~~
What I find more than a bit astounding is that in spite of widespread understanding in many quarters that the Iranian deal is badly flawed and dangerous, in all the world, Prime Minister Netanyahu is the only head of state who is speaking out forcefully.
In this, I believe he merits our whole-hearted support.
There are others, such as heads of the Sunni Arab states, who are truly horrified. But they are opting for a deafening silence.
~~~~~~~~~~
The next focus of attention is Washington DC and Congress – which has 60 days now to review the deal. The president has already said he will veto a negative vote. We knew this going in.
Israel has plans to speak with Congressional leaders and to bring the case for rejection of the deal to the American people. The hope is that the deal can be stopped.
According to some sources, Obama, for his part, now plans a charm offensive: he will invite Netanyahu to the White House, offer arms, etc., in an attempt to sway Netanyahu to accept the deal without campaigning against. Make it worth Israel's while, that is.
I do not expect this will work.
I've even read commentary that suggests that Netanyahu might secure guarantees from the US that if Iran attacked Israel, the U.S. would provide defense. Trust the U.S. to defend us? Get real.
I will return to this diplomatic situation, as it plays out, several times over, I am certain.
~~~~~~~~~~
© Arlene Kushner. This material is produced by Arlene Kushner, functioning as an independent journalist. Permission is granted for it to be reproduced only with proper attribution.

If it is reproduced and emphasis is added, the fact that it has been added must be noted.
http://arlenefromisrael.squarespace.com/current-postings/2015/7/15/july-14-2015-the-horrific-made-real.html
Posted
on Wednesday, July 15, 2015 at 02:43PM
by
Arlene
|
Post a Comment
|
Email
|
Print
For days, I have delayed writing because the situation regarding negotiations with Iran has been so much in flux. I was waiting, waiting, for some outcome or closure. My own feeling for some time has been that there is the possibility that there will be no deal, as the Iranians in the end might balk at signing.

No deal would be the best we might hope for now. Great damage has already been done. But at least this way, Obama's insanity would be exposed and he wouldn't be able to claim "victory." And then, if/when Israel were to attack Iran, there would be no charge that an agreement that would have brought "peace" had been sabotaged.

In truth, the Iranians pretty much have what they want already – insofar as much sanction relief has been provided upfront, European nations are clamoring to trade, and the international community has conceded the Iranian "right" to operate centrifuges. Why mess things up by signing an agreement that calls for inspections, however limited, or other controls?

~~~~~~~~~~

The problem, of course, is that, while Iran hasn't come to terms with signing, neither have the mullahs said negotiations were at an end. They have been willing to play the game, on and on and on, all the while advancing their nuclear agenda.

While the American administration – in spite of Kerry's feeble claims that he wouldn't stay at the table forever – has been reluctant to be identified as the party that called an end to proceedings. Then, of course, the Iranians would charge that it was the US that was refusing to cooperate on a deal.

Thus have the negotiations gone past one deadline after another. I came to refer to this process, in my own head, as "faux negotiations." These are not legitimate negotiations, for there is no real give-and-take.

~~~~~~~~~~

This is how journalist Daniel Greenfield described the situation in "Obama's Infinite Nuclear Deadlines for Iran" (emphasis added):

"'We are certainly not going to sit at the negotiating table forever,' John Kerry said. That was last year around the time of the final deadline which had been extended from July 2014.
"'New ideas surfaced' in the final days, he claimed and 'we would be fools to walk away.' That's also the theme of every sucker caught in a rigged card game, MLM scheme and Nigerian prince letter scam.
"Smart people walk away after getting cheated. Only fools stay.
"The final deadline was extended to March. White House spokesman Josh Earnest said in March that, 'I think it's fair to say that we've reached our limit, right now, in as far as the conversations have been going on for more than a year.'
"The March deadline was extended until the end of June.
"Earnest said earnestly that the Obama Squad was ready to walk away even before June 30. An official claimed, 'No one is talking about a long-term extension. No one.'
"The Iranians had a good laugh and sent the US negotiators out to fetch them some coffee and smokes.
~~~~~~~~~~
"...But Kerry was almost coherent compared to European Union foreign policy chief Federica Mogherini who stated that, 'We are continuing to negotiate for the next couple of days. This does not mean we are extending our deadline.'
"When you don't treat a deadline as final, that means it's being extended. A deadline that isn't kept, isn't a deadline. It's an ex-deadline pining for the peaceful Iranian fjords.
"But Federica explained that the deadlines weren't being extended, they were being 'interpreted… in a flexible way.' A flexible deadline is a good metaphor for the Obama negotiating posture.
"If the negotiators can't even make one of many deadlines stick, who really believes they'll stand their ground on nuclear inspections or sanctions snapback?...
"...Obama's people have admitted that they will negotiate until doomsday. And doomsday is likely to be the date that Iran detonates its first bomb.
"...The deadline concession officially puts Iran in the driver's seat."
http://www.frontpagemag.com/fpm/259412/obamas-infinite-nuclear-deadlines-iran-daniel-greenfield
~~~~~~~~~~
And so... yesterday it was announced that a deal was very imminent and would likely be announced on Monday. (Monday midnight – tonight - is the latest deadline.) Hearts sank, stomachs clenched, at this possibility.
But here it is, Monday evening, and still no deal. AP, reporting this afternoon, says a deal is still elusive (emphasis added):
"Disputes over attempts to probe Tehran's alleged work on nuclear weapons unexpectedly persisted at Iran nuclear talks on Monday, diplomats said, threatening plans to wrap up a deal by midnight...
"The diplomats said two other issues still needed final agreement — Iran's demand for a lifting of a U.N. arms embargo and its insistence that any U.N. Security Council resolution approving the nuclear deal be written in a way that stops describing Iran's nuclear activities as illegal..."
http://news.yahoo.com/iran-talks-hit-final-stage-announcement-expected-064307157--politics.html
~~~~~~~~~~
The UN arms embargo has to do with conventional weaponry and impinges directly on Iranian plans for hegemony in the region. But it has implications even beyond this. As Andrew Bowen writes, in "Give the Mullahs Ballistic Missiles?" (emphasis added):
"Ending an arms embargo on Iran will only destabilize the Middle East and threaten U.S. national security...
"Advocates of this policy have three main arguments.
"First, that the U.S. shouldn't get preoccupied by this small snag...
"Second, Washington's concessions on the embargo aren't a big deal because these negotiations are focused on Iran's nuclear program...
Finally, there's a claim that Iran simply needs advanced weapons to help defeat ISIS in Iraq and Syria....
"Matthew McInnis, a Resident Fellow at the American Enterprise Institute and a former senior expert on Iran at the CENTCOM, argues, 'these are all red herrings. They distract from Iran's real threat to U.S. national security interests: an unfettered Iranian armed forces'...
"It is one of the great ironies with this potential deal that in trying to constrain Iran's nuclear program for ten to 15 years, we may actually help create an Iranian military that puts the lives of American sailors, soldiers, and airmen at serious risk."
http://www.thedailybeast.com/articles/2015/07/13/give-the-mullahs-ballistic-missiles.html
~~~~~~~~~~
Omri Ceren's observations on this:
"...it just doesn't seem possible that the Americans can give ground on this. What's the sales pitch to Congress going to be? 'Not only are we giving Iran $150 billion to bolster its military, but we're also lifting arms restrictions to make it easier for them to buy next-generation cruise missiles they'll use against the U.S. military and our allies.'
"...yes of course lifting the arms embargo would detonate American national security...
"...If Kerry agrees to drop the arms embargo, it's difficult to see Congress accepting the agreement. If Kerry gets the Iranians to give up on the demand, Congress will want to know what he had to trade away to do it."
But (see below), Khameini is saying all his red lines have to be met, if there is to be an agreement. If the Americans cannot accept it, is this a genuine sticking point? Or, if they do, the kiss of death in Congress?
Whatever the case, it is imperative that all Americans be aware of what is going on here, and hold Congress accountable.
~~~~~~~~~~
Perhaps by midnight tonight there will be a deal. But do not count on it. There is talk of extending negotiations into Tuesday. In fact, there are reports that hotel rooms have been booked again in Vienna by the US delegation.
While Iranian media outlet PressTV cites Iran's nuclear negotiator Abbas Araqchi (emphasis added):
"...certain issues still remain. As long as these issues are not settled, one cannot say we have reached an agreement. I cannot promise that the issues will be resolved by tonight or tomorrow night."
http://www.timesofisrael.com/july-13-2015-liveblog/
~~~~~~~~~~
If there is a deal, it will be the stuff of nightmares, beyond horrific.
Yesterday we saw photos of the overwhelming crowds in the streets of Tehran, waiting to celebrate the agreement. Horrendous.
Credit: Reuters
Hey folks, if the Iranians are that pleased, something is very very wrong.
According to the semi-official news agency Fars, the anticipated agreement complies with all the "red lines" set out by Supreme Leader Ayatollah Khamenei.
Khamenei had put forth these "red lines" last month, in talks with Iranian president Rouhani.
http://www.algemeiner.com/2015/07/12/iran-state-media-says-final-nuclear-agreement-includes-all-khameneis-demands/
Providing a somewhat different take, a Khamenei advisor, going by the name Velayati, has tweeted that: "Any deal in Vienna will be provisional, subject to approval by 'Supreme Guide.'"
Credit: AFP
~~~~~~~~~~
Also a signal of something very wrong is the readiness of the Obama administration to continue negotiations even as Khamenei calls for a continuing struggle with the US – which he refers to as an "arrogant power" - regardless of what deal is signed.
http://www.ynetnews.com/articles/0,7340,L-4678652,00.html
Last Friday, in Tehran, "Al Quds Day" was observed by crowds of tens of thousands shouting, "Down with America," "Death to Israel."
Credit: AP
Not even the specter of a burning American flag prompted Obama or Kerry to protest, or gave them pause regarding the wisdom of the negotiations.
~~~~~~~~~~
Prime Minister Netanyahu has made it clear again and again that Israel will not be bound by a bad deal with Iran. Yesterday at the weekly Cabinet meeting, he showed a video of President Clinton, in which he praised a nuclear deal with North Korea, which would make the world safer. We all know how that turned out.
http://www.theblaze.com/stories/2015/07/12/blasting-world-negotiators-for-parade-of-concessions-to-iran-netanyahu-drives-home-his-point-with-a-bill-clinton-video/
~~~~~~~~~~
In an interview with The Times of Israel yesterday, Dr. Dore Gold, who is currently serving as Director-General of the Foreign Ministry, let it be known that (emphasis added):
"Israel won't be shy about making its views on the Iran deal heard on Capitol Hill...While Israel needs to express its concerns with civility, he stressed, the government is gearing up to firmly advocate its position in discussions with all the relevant players in the US government. 'We'll do it respectfully, but we have to tell the truth,' he said."
Reports The Times:
"According to other Israeli diplomats, never before has a Foreign Ministry director-general been as close to the prime minister as Gold is to Benjamin Netanyahu, who also happens to be serving as interim foreign minister. Unlike his predecessors, Gold, who immigrated to Israel in 1980, can pick up the phone and call Netanyahu at any time. It is quite clearly Gold, rather than Deputy Foreign Minister Tzipi Hotovely, who is calling the shots in Israel's diplomacy, these diplomats say, acting as Netanyahu's trusted emissary."
"'The story of Iran's nuclear capability is not over," said Gold, the author of a 2009 book on the Iranian regime's bid for the bomb.
"...he hailed Netanyahu, whom he has advised since the mid-90s, as the courageous defender of the entire region, single-handedly bearing the burden of opposition to a deal that all Sunni states loathe but don't dare to publicly criticize.
"'They can afford a strategy of silence when there is one player in the region who is defending not just itself but the entire Middle East,' Gold said. 'When Prime Minister Netanyahu stands up and attacks Iran, he's not just defending Israel. He's defending Egypt, Saudi Arabia, the United Arab Emirates, Jordan and all the other Sunni countries.'"
http://www.timesofisrael.com/battle-to-thwart-the-iran-nuke-deal-is-not-over-foreign-ministry-chief-vows/
~~~~~~~~~~
Gold's role here is important not only because of his close relationship with Netanyahu. It is also because he carries a certain prestige as an academic, author and diplomat.
Credit: Flash 90
In truth, we do not yet know how this will play out.
~~~~~~~~~~
© Arlene Kushner. This material is produced by Arlene Kushner, functioning as an independent journalist. Permission is granted for it to be reproduced only with proper attribution.

If it is reproduced and emphasis is added, the fact that it has been added must be noted.
http://arlenefromisrael.squarespace.com/current-postings/2015/7/13/july-13-2015-a-lethal-farce.html
Posted
on Monday, July 13, 2015 at 03:07PM
by
Arlene
|
Post a Comment
|
Email
|
Print
How many times can I write about the P5+1 negotiations with Iran and demonstrate how Obama has caved even further? How outrageous and terrifying and jaw-droppingly perverse it all is?

The new deadline for completion is tomorrow, July 7th. And so I must return to this subject once again. I will not belabor details of how the US administration has backed off in the face of Iranian intransigence, or has misrepresented the situation. Unless you are deeply into those negotiating details, you are likely to find your mind spinning when confronted with yet more of them.

Here, I prefer to provide an overview, beginning with commentator Charles Krauthammer, who calls this upcoming deal "The worst agreement in U.S. diplomatic history".

Krauthammer says we don't even need to focus on those details in order to understand the depth of the problem (emphasis added):

"The devil is not in the details. It's in the entire conception of the Iran deal, animated by President Obama's fantastical belief that he, uniquely, could achieve detente with a fanatical Islamist regime whose foundational purpose is to cleanse the Middle East of the poisonous corruption of American power and influence.

"In pursuit of his desire to make the Islamic Republic into an accepted, normalized 'successful regional power,' Obama decided to take over the nuclear negotiations. At the time, Tehran was reeling — the rial plunging, inflation skyrocketing, the economy contracting — under a regime of international sanctions painstakingly constructed over a decade.
"Then, instead of welcoming Congress' attempt to tighten sanctions to increase the pressure on the mullahs, Obama began the negotiations by loosening sanctions, injecting billions into the Iranian economy (which began growing again in 2014) and conceding in advance an Iranian right to enrich uranium.
"It's been downhill ever since. Desperate for a legacy deal, Obama has played the supplicant, abandoning every red line his administration had declared essential to any acceptable deal.
~~~~~~~~~~
"Inspections. They were to be anywhere, anytime, unimpeded. Now? Total cave..Nuclear inspectors will have to negotiate and receive Iranian approval for inspections. Which allows them denial and/or crucial delay for concealing any clandestine activities.

"To give a flavor of the degree of our capitulation, the administration played Iran's lawyer on this one, explaining that, after all, 'the United States of America wouldn't allow anybody to get into every military site, so that's not appropriate'...the absurdity of morally equating America with the world's foremost state sponsor of terrorism...

"Coming clean on past nuclear activity. The current interim agreement that governed the past 19 months of negotiation required Iran to do exactly that. Tehran has offered nothing. The administration had insisted that this accounting was essential because how can you verify future illegal advances in Iran's nuclear program if you have no baseline?

"After continually demanding access to their scientists, plans and weaponization facilities, Secretary of State John Kerry two weeks ago airily dismissed the need, saying he is focused on the future, 'not fixated' on the past. And that we have 'absolute knowledge' of the Iranian program anyway — a whopper that his staffers had to spend days walking back.
"Not to worry, we are told. The accounting will be done after the final deal is signed. Which is ridiculous. If the Iranians haven't budged on disclosing previous work under the current sanctions regime, by what logic will they comply after sanctions are lifted?
"Sanctions relief. These were to be gradual and staged as the International Atomic Energy Agency certified Iranian compliance over time. Now we're going to be releasing up to $150 billion as an upfront signing bonus. That's 25 times the annual budget of the Iranian Revolutionary Guard. Enough to fuel a generation of intensified Iranian aggression from Yemen to Lebanon to Bahrain.
"Yet three months ago, Obama expressed nonchalance about immediate sanctions relief. It's not the issue, he said. The real issue is 'snap-back' sanctions to be reimposed if Iran is found in violation.
"Good grief. Iran won't be found in violation. The inspection regime is laughable and the bureaucratic procedures endless. Moreover, does anyone imagine that Russia and China will reimpose sanctions? Or that the myriad European businesses preparing to join the Iranian gold rush the day the deal is signed will simply turn around and go home?
"Nonnuclear-related sanctions. The administration insisted that the nuclear talks would not affect separate sanctions imposed because of Iranian aggression and terrorism. That was then. The administration is now leaking that everything will be lifted.
~~~~~~~~~~
"Taken together, the catalog of capitulations is breathtaking....
"What's left? A surrender document of the kind offered by defeated nations suing for peace. Consider: The strongest military and economic power on earth, backed by the five other major powers, armed with what had been a crushing sanctions regime, is about to sign the worst international agreement in U.S. diplomatic history.
"How did it come to this? With every concession, Obama and Kerry made clear they were desperate for a deal.
"And they will get it. Obama will get his 'legacy.' Kerry will get his Nobel. And Iran will get the bomb."
http://www.washingtonpost.com/opinions/the-worst-agreement-in-us-diplomatic-history/2015/07/02/960e8cf2-20e8-11e5-aeb9-a411a84c9d55_story.html?wpisrc=nl_most&wpmm=1

Credit: Real Clear Politics

~~~~~~~~~~

Kerry has been making noises about how "We are close, but will not 'shave margins' to clinch an Iran deal."

Do not believe him. This is the one thing that we know will not happen. After all of the concessions, all the work of pseudo-negotiations, Kerry is not about to throw up his hands and say, We tried, but we couldn't reach an agreement and we declare negotiations failed.

Not only does the Obama administration want an agreement at all cost, they want it now: According to the Corker-Cardin bill (the Iran Nuclear Agreement Review Act of 2015), if an agreement is sent to Congress by July 9, the House and Senate have 30 days to review it. If it is submitted later, there is a period of 60 days provided for review.

~~~~~~~~~~

So, it is possible that the parties will announce a full agreement that can be implemented immediately. But, in light of the present situation, this is not likely to actually happen.

It is also possible that negotiations might be extended yet again, all the way through the summer. It seems that if negotiations continue throughout the summer, the review time permitted to Congress reverts to 30 days again. Seems a bit confusing, but this may have something to do with the fact that there is a Congressional recess involved in this timing.

What may be the most likely scenario is that "there will be a non-agreement agreement. The parties will announce they've resolved all outstanding issues but they still have to fill in some details." This is how Omri Ceren of The Israel Project (TIP) sees it.

~~~~~~~~~~

And then, my friends, once the "outstanding issues" are resolved, the matter will be referred to Congress.

Which means a great deal rests with each of you in the US.

Please, see and share this short and very powerful video. At its end, a mechanism is provided for you to contact your elected members of Congress:

http://www.israelvideonetwork.com/has-the-world-learned-nothing-from-history-graphic/

"Indifference is never an option," says Eli Wiesel, in this video.
Credit: Bloomberg

~~~~~~~~~~

I'll pick up with other highly important issues next posting. Here I close with links to some matters directly relevant to the Krauthammer article:

"Oil-rich Iran is poised to benefit from an explosion of business from the west after a nuclear deal is signed and France has already taken its place on the starting line to get a piece of the pie...

"Since the start of tortuous nuclear negotiations with Iran, France has been seen as taking the toughest stand. Now as a deal nears, Paris must be ready to dash in and grab a slice of the long untapped market.

"'The first repercussions of any deal will be the opening of the Iranian market. That's what all the Western countries are waiting for,' a top western diplomat said recently. (Emphasis added)

"'They are jostling as if they're at the start of a marathon, and are keeping a close eye on one another.'"

http://www.ynetnews.com/articles/0,7340,L-4676353,00.html

This solidly puts the lie to any claim by Obama that "snap-back" sanctions would work.

~~~~~~~~~~

"Ram Ben Barak, director general of the Strategic Affairs Ministry and a leading candidate to be the next head of Israel's Mossad spy agency, told the Makor Rishon newspaper that 'the deal which is about to be signed will allow Iran to decide by itself when it will be nuclear [armed], and that is the most problematic.'

"He said the lifting of sanctions would give Tehran 'an ocean of money,' allowing it to buy influence across the Middle East and 'advance to a position where no one will be able to threaten it and it will acquire control wherever it pleases.'" (All emphasis added)

http://www.timesofisrael.com/top-israeli-official-nuke-deal-will-set-up-iran-to-take-over-middle-east/

Indifference is never an option.

~~~~~~~~~~

Today is the sixth of July, which means I have passed the Fourth of July. Once upon a time, I noted this day in my postings, and marked it with a graphic of fireworks. The US is the land of my birth, and I still have a strong connection to her. But mostly these days I worry about America.

It does not seem to me to be a time for fireworks (although I am sure many did enjoy the celebrations). Instead, it seems to me a time for prayer: that America might grow strong again and reach her former grandeur, based on her traditional values.
Credit: theedesign

~~~~~~~~~~

© Arlene Kushner. This material is produced by Arlene Kushner, functioning as an independent journalist. Permission is granted for it to be reproduced only with proper attribution.

If it is reproduced and emphasis is added, the fact that it has been added must be noted.
http://arlenefromisrael.squarespace.com/current-postings/2015/7/6/july-6-2015-how-many.html
Posted
on Monday, July 6, 2015 at 02:14PM
by
Arlene
|
Post a Comment
|
Email
|
Print
As has become my practice of late, I'm going to start with a good news item, saving the somber stuff for later. Here we have a brief video that should put a smile on your face and a touch of hope in your heart:

https://www.facebook.com/mirilavi/videos/10154126499312715/

~~~~~~~~~~

We had better hold fast to that hope, because there's a whole lot that is very ugly facing us at the same time. In recent weeks, we have seen an increase in the number of attacks in Judea and Samaria, and Jerusalem:

[] Early last week, outside the Damascus Gate of the Old City of Jerusalem, a terrorist critically stabbed a border police officer in the neck and chest. The officer, in spite of his wounds, managed to shoot the terrorist before collapsing.

Credit: flikr

[] Last Saturday night, terrorists shot at a civilian ambulance traveling on a road adjacent to Beit El, in Samaria. Bullets hit the vehicle, but thank Heaven no one was injured.

[] Then Monday, a woman soldier at a checkpoint outside of Rachel's Tomb, which is near Bethlehem in Judea, was stabbed in the neck several times by a knife-wielding female terrorist. The soldier (shown below with the prime minister and minister of defense) was seriously wounded but has stabilized.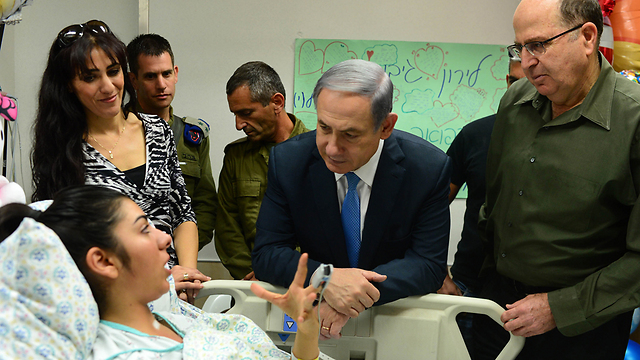 Credit: GPO

The terrorist was found to be carrying two knives in addition to the one she used. She told the Shin Bet that she had come to that checkpoint to kill a soldier.

[] This was followed by another incident Monday night, when terrorists fired upon a car near Shvut Rachel, in the Binyamin area of Samaria. Four people were wounded, one critically.

http://www.israelnationalnews.com/News/News.aspx/197464#.VZU005sVjIV

~~~~~~~~~~

The young man who was critically injured in the Shvut Rachel attack, Malachi Rosenfeld, 26, of Kochav Hashachar, succumbed to his wounds the following day. At his funeral, yesterday, his father sang a heart-rending song of faith:
"Even in the most concealed​​ of concealed​​ moments, certainly​ G-d, blessed be He`1, is also found there.
"Even behind the most difficult things that happen to you, He (still) stands, He stands - and we will stand, we will stand with G-d."
Once again, I am awed by the strength of a grieving parent. The video:
http://www.israelnationalnews.com/News/News.aspx/197557#.VZVv_JsVjIV
~~~~~~~~~~

And what is thought to be the reason for this increase in violence?

Ramadan.

That is, the Islamic holy month that we are in the midst of right now. Fasting is required from sunup to sundown. This is supposed to be a time for spirituality and introspection, traditionally marking the receiving of the Koran by Muhammad.

However, Ramadan is typically accompanied by increased violence (called Ramadan rage), including Muslim on Muslim violence and a spike in crimes. There are different explanations I've encountered, but the most frequent one is that the day-time fasting repeated day after day takes a toll on the body and makes people respond more irritably.

My thought: there is irritable and then there is violent. Physical stress leads to violence in this context, it seems to me, because we are talking about an essentially violent culture.

~~~~~~~~~~

And what does Israel institute before the beginning of Ramadan? "Good will gestures," such as removing checkpoints to make it easier for people to get the Temple Mount for prayers. There was even a decision to allow buses from Ramallah and Bethlehem to take people straight to the Old City.

Isn't that nice of us?

Are we crazy?

Because of rockets launched from Gaza recently, a decision to allow 500 Arabs from Gaza to travel to the Temple Mount over Ramadan was revoked.

Now Minister Naftali Bennett is calling on Netanyahu to "cancel the exemptions granted to the Palestinians for Ramadan as they have become life threatening...Bayit Yehudi will not ignore the murder of Jews."

http://www.ynetnews.com/articles/0,7340,L-4675282,00.html

I totally concur with him here. And so do a majority of Israelis, according to a recent poll: 51% want to remove leniencies for Palestinian Arabs with regard to their freedom of movement.

http://www.jpost.com/Arab-Israeli-Conflict/Poll-Majority-wants-to-remove-leniencies-on-Palestinians-407870

~~~~~~~~~~

I find that members of Habayit Hayehudi – Bennett and others - most frequently advance positions that project clarity regarding our need to protect ourselves.

Minister Uri Ariel called on the prime minister to take more stringent action in the face of terror: "The terrorist organizations must receive the message that the blood of Israeli citizens, especially residents of Judea and Samaria, cannot be shed with impunity."

And MK Bezalel Smotrich declared, "Too many steps have been taken to improve the lives of the Palestinian population at the expense of Israeli citizens."

http://www.jpost.com/Israel-News/Politics-And-Diplomacy/Bayit-Yehudi-threatens-coalition-crisis-over-terror-attack-407719

And yet there is something else Bennett said that troubles me:

He called for government approval "for construction in Judea and Samaria and strengthening of the settlements."

Clearly, I am not opposed to construction in Judea and Samaria. But this should be advanced as a matter of right, and not presented after terror attacks as a sort of retribution. Building as a punishment for terror gives the wrong message.

~~~~~~~~~~

Egypt yesterday endured an enormous blow when an affiliate of ISIS, located in the northern Sinai, attacked in at least 15 different locations simultaneously, killing some 100 people, including 50 security personnel.

http://www.jpost.com/Middle-East/Egyptian-security-sources-At-least-30-killed-in-Sinai-terror-attacks-407664

Egypt's battle is hardly over yet, and what goes on in the Sinai impinges directly on Israel: ISIS is at our door. We are solidly with Egypt in this fight, and have given permission for Egyptian forces in excess of what is permitted by treaty to enter the Sinai.

There are indications that radical forces in Gaza are cooperating with ISIS, and there are weighty ramifications in this regard as well.

The Israeli borders with the Sinai and Gaza have been closed.

~~~~~~~~~~

Hamas is known to be attempting to rebuild its strength in Judea and Samaria, after it was severely weakened by the IDF last summer. In recent comments, Defense Minister Ya'alon confirmed this fact, saying that Hamas had outside support, including from Iran:
"There's Iranian funding. [Ayatollah Ali] Khamenei has declared that terrorists in Judea and Samaria must be funded and armed."
http://www.israelhayom.com/site/newsletter_article.php?id=26605

~~~~~~~~~~

© Arlene Kushner. This material is produced by Arlene Kushner, functioning as an independent journalist. Permission is granted for it to be reproduced only with proper attribution.

If it is reproduced and emphasis is added, the fact that it has been added must be noted.
http://arlenefromisrael.squarespace.com/current-postings/2015/7/3/july-2-2015-facing-down-violence.html
Posted
on Friday, July 3, 2015 at 02:53AM
by
Arlene
|
Post a Comment
|
Email
|
Print
Never do I relinquish hope, my friends. Not even in the midst of growing horrors. And so I begin here with something we did right: the way we handled the "threat" of the "Freedom Flotilla."

The flotilla, carrying a total of 47 passengers, was comprised of four boats, lead by the largest – the Swedish-registered "Marianne of Gothenburg," with some 20 passengers aboard. When all diplomatic efforts to re-route the flotilla failed, a political decision was made to stop it at sea. During the night last night, three Israeli navy boats approached the "Marianne" in international waters – some 100 nautical miles from shore - and in accordance with international law, repeatedly advised the lead boat to change course. When there was no compliance, the "Marianne" was surrounded; Navy commandos from Shayetet 13, the special forces unit of the Israeli Navy, boarded, seizing control of the boat without violence or incident.

The other three boats in the flotilla turned back. The "Marianne" will be brought to the port in Ashdod. After its crew and passengers are questioned, they will likely be deported via Ben Gurion Airport.

http://www.timesofisrael.com/israeli-navy-boards-ship-headed-for-gaza-no-injuries-reported/


Credit: YouTube Screenshot

~~~~~~~~~~

The PR emanating from the pro-Palestinian Arab passengers and news sources sympathetic to them strikes me as parody. One passenger referred to the Israeli navy as "pirates." and one news source explained that the "Marianne" was on a humanitarian voyage - carrying solar panels because "there is no electricity in the Gaza Strip." Indeed there is electricity: and Israel supplies 70% of it! The pity is that there are some who believe this garbage.

~~~~~~~~~~

Last night, a letter to the passengers of the "Marianne" from Prime Minister Netanyahu was released (emphasis added):

"Welcome to Israel.

"You seem to have gotten lost. Perhaps you meant to sail to a place not far from here – Syria where Assad's army is slaughtering its people every day, and is supported by the murderous Iranian regime.

"Here in Israel we face a reality in which terrorist organizations like Hamas try to kill innocent civilians. We defend our citizens against these attempts in accordance with international law.

"Despite this, Israel transports goods and humanitarian aid into the Gaza Strip – up to 800 trucks a day. In the past year we enabled the entry of over 1.6 million tons of products, an average of one ton per person in the Gaza Strip. By the way, these supplies are equivalent to 500,000 boats like the one you came in on today...

"However, we will not allow the terrorist organizations to transfer weapons into the Gaza Strip by sea. Only one year ago, we thwarted an attempt to smuggle hundreds of weapons into the Gaza Strip by ship. These weapons were meant to target innocent Israeli civilians.

"There is no siege on the Gaza Strip, and you are welcome to transfer any humanitarian supplies for the Gaza Strip through Israel.

"Barring the entrance of boats and ships into the Gaza Strip is in accordance with international law, and was even backed by a committee commissioned by the United Nations Secretary General.

"If you were truly concerned about human rights, you would not be sailing in support of a terrorist regime which summarily executes citizens in the Gaza Strip, and uses children as human shields."

http://www.pmo.gov.il/English/MediaCenter/Spokesman/Pages/spokeYam290615.aspx

~~~~~~~~~~

I thought this would be a good place to share the following fascinating piece of information, as well (emphasis added):

"Shop owners in the West Bank lament that it is impossible to boycott Israel, Jordan-based Albawaba news reported on Thursday.
"According to the report, Palestinian political party Al-Mubadra Al-Watniya, or the Palestinian National Initiative, has launched a campaign throughout Ramallah urging consumers to boycott Israeli products, as part of the larger international boycott, divestment and sanctions movement against Israel. Signs throughout Ramallah call on Palestinians to 'boycott Israeli goods' and to refuse to 'pay for the bullets that kill our children.'
"But it appears locals are having difficulty accomplishing just that because of certain specialty goods that come from Israel. 'Our gluten-free bread and lactose-free milk come from Israel,' one Palestinian businessman said, according to the report.
"According to the report, most small grocers in Ramallah continue to sell Israeli goods, despite the active boycott movement.
"Pharmacist Samer Toubassi told Albawaba, 'We're with the boycott, but for many products we have no alternatives,' adding that 40 to 50 percent of his medications come from Israel...
"'Palestinians do not have the technology to produce medicine that is used to treat cancer, problems with the immune system, or diabetes, for instance,' said Toubassi.
"One Palestinian told the Jordanian paper that he would not boycott 'the settlements' — Jewish communities built on lands conquered by Israel in the defensive 1967 Six-Day War — because the settlements provide many Palestinians with work.
"'I don't believe in boycotting. If we boycott settlement products, what about the Palestinians who work in the settlements?' said Ramallah resident Mahmoud Jbbarin.

http://www.algemeiner.com/2015/06/26/palestinians-in-west-bank-its-impossible-to-boycott-israel/#

How about that?

~~~~~~~~~~

Then I want to return to the issue of the Druze in Syria, who were said to be threatened by Islamist rebels fighting Assad. Recently Israeli Druze demonstrated in large numbers, and appealed to the Israeli government to act to save their cousins across the border, who presumably were facing potential genocide because of their support for Assad.


Many here, sensitive to the issues of genocide, declared in support of acting to helping the Syrian Druze. There was discussion of the establishment of a "safe zone" on the Syrian side of the Golan, for example.

But the story has grown ever more complex since then, taking on different shadings every day or two.

~~~~~~~~~~

As my readers may remember, Druze in the Israeli Golan attacked an IDF ambulance that was bringing two Syrians to a hospital for care – one Syrian died and the other was left in critical condition. This was a situation that was by all measures unacceptable and had the effect of shifting attitudes here in Israel. Civilians in Israel (many but not all Israeli citizens) cannot attack an IDF ambulance under any circumstances, or otherwise interfere with an IDF mission.

The Druze in the Golan were charging that the Syrians who were attacked were rebels belonging to groups that threatened the Syrian Druze. Israeli officials said that we help Syrian individuals – presumably civilians, who have been injured in cross-fighting – and that Israel does not directly support the Nusra Front. How it is determined who is a civilian was not made clear.

~~~~~~~~~~

All this by way of background. Five days ago, Brig- Gen. (res.) Imad Fares, a Druze IDF officer who served in high positions, went public with a statement, saying that the Israeli defense establishment cannot and should not intervene in Syria (emphasis added):

"If we can be mature and accept this point, it will be easier for us to understand the complicated nature of the situation.
"It is not a correct or realistic request, and I think that intervention must be coordinated with the side receiving the support, and therefore intervention with an Israeli stamp of approval is unacceptable, will not happen, and there is no mutual interest, making it useless to think about.

"...the Druse in Syria also won't want Israel to intervene on their behalf. The Syrian Druse, let's be honest, identify with the Assad regime. Their continued survival is also dependent on other alliances which won't necessarily be helped by joining with Israel."

http://www.jpost.com/Arab-Israeli-Conflict/Former-Senior-army-official-The-IDF-cannot-intervene-in-Syrias-war-406914

Quite a departure from the original statements we were hearing, and makes a great deal of sense.

I had reported on the analysis of one of my contacts, who had said that all Israel might do is send weapons to the Syrian Druze so that they can better defend themselves. The weapons should go through Jordan, he told me: This would be so that they were not readily identified as having come from Israel. And this dovetails with what Fares said.

~~~~~~~~~~

Now there is yet another take on the situation, which is what prompted me to revisit it (emphasis added):

"Defense Minister Moshe Ya'alon said Monday that Israel has been providing aid to Syrian rebels, thus keeping the Druze in Syria out of immediate danger. Israeli officials have previously balked at confirming on the record that the country has been helping forces that are fighting to overthrow Syrian President Bashar Assad.
"During a briefing with Israel's diplomatic correspondents at the IDF's headquarters in Tel Aviv, Ya'alon said that Israel's ongoing humanitarian assistance to Syrian rebel fighters, a source of growing conflict between Israel and its own Druze population, safeguards the minority population in Syria.
"'We've assisted them under two conditions,' Ya'alon said of the Israeli medical aid to the Syrian rebels, some of whom are presumably fighting with al-Qaeda affiliate al-Nusra Front to topple Syrian President Bashar Assad. 'That they don't get too close to the border, and that they don't touch the Druze.'"
http://www.timesofisrael.com/yaalon-syrian-rebels-keeping-druze-safe-in-exchange-for-israeli-aid/

Not the same story we started with...

It is no secret that the Israeli government tends to see the radicals such as Nusra Front as the lesser of the evils in Syria (a lesser evil, not as dangerous, but this does not mean an ally), with the first goal being to see Assad – the puppet of Iran - taken down.

~~~~~~~~~~

The horrors I refer to in my subject line? Very real and growing daily.

There has been a series of terrorist killings in a host of different venues over the last few days that boggle the mind with their horror and inhumanity. Perhaps I will return to deal with them in greater detail. Perhaps not. The beheading, the drownings, all the rest. Not sure if it serves purpose to dwell on the details (although threats to France must be mentioned).

What strikes me, again and again, is a perversity so great that it makes it difficult to take a breath: Israel has been charged by the UN with possible war crimes for defending herself in Gaza. Israeli leaders in turn may be charged with war crimes by the ICC (if Abbas has his way – and this I must return to). Israel! When we are surrounded by beheadings, and rapes of six year olds, and all the rest.

~~~~~~~~~~

There is incredible unrest and insecurity in the EU, starting with Greece, but not ending there. Along with fiscal instability, there are problems of large numbers of Muslim refugees flooding into Europe. This must be watched carefully.

~~~~~~~~~~

And, of course, what I must return to in detail is the perennial subject of the negotiations with Iran. As matters stand now, the deadline – that's tomorrow! - will not be met. Netanyahu declares himself pleased that no deal is likely to be signed, because he knows it would be an awful deal. It can still be improved, he cautions. But this is a pipe dream, not reality. Each day, as I see it, the situation is worse, not better. The negotiators of P5+1 are not going to suddenly discover they have backbones.

The best case scenario that I can envision (I guess also a pipe dream) is that P5+1 tells Iran, we have given you more than enough time and you have not cooperated in good faith. Negotiations are now declared failed. This would mean, this should mean, the imposition of the stiffest of sanctions, to bring Iran to its knees, backed by a credible military threat if Iran pursues further military nuclear development.

I have just read that Dennis Ross, formerly an advisor to Obama on Iran, says it would be reasonable to negotiate for another three to six months. This is daft. Obama cannot bear to say the negotiations failed, and so concedes more and more to keep them going. (Boy, do the Iranians have his number!) In six months, he'd probably be sending hi-tech advisors into Iran to help them.

~~~~~~~~~~

© Arlene Kushner. This material is produced by Arlene Kushner, functioning as an independent journalist. Permission is granted for it to be reproduced only with proper attribution.

If it is reproduced and emphasis is added, the fact that it has been added must be noted.
http://arlenefromisrael.squarespace.com/current-postings/2015/6/30/june-29-2015-the-horrors-and-the-hope.html
Posted
on Tuesday, June 30, 2015 at 04:34AM
by
Arlene
|
Post a Comment
|
Email
|
Print