Painful going. There is no respite.

Yesterday afternoon, there was an anti-Semitic terrorist shooting in the Jewish Museum in Belgium.


Credit: Getty

Three people were killed on the spot inside the museum. They were an Israeli couple - Emanuel and Miriam Riba, 54 and 53, of Tel Aviv, who have left behind two teenage daughters – and an unidentified volunteer at the museum, reported to be French. A fourth – an employee of the museum, also unidentified, but said to be Belgian - was critically wounded, and has since died.

The terrorist ran into the museum from a car, opened fire, and ran back out to the car. It is being reported that the driver of that car was picked up, and subsequently a suspect.

Some details are provided here: http://www.timesofisrael.com/3-dead-in-shootout-near-brussels-jewish-museum/

Further details will emerge in the coming hours and days.

~~~~~~~~~~

Although the identity of the shooter is not yet known this attack was very quickly compared to the terrorist murders in Toulouse, France, two years ago, because of certain similarities in how the terrorists behaved.

And speaking of France...mere hours after the Belgian attack, Jews in Paris were stabbed coming out of synagogue. They have been identified by Israel National News as the synagogue's treasurer and his two sons, all of whom have been hospitalized.

http://www.israelnationalnews.com/News/News.aspx/181005#.U4HgR5tZrIV

~~~~~~~~~~

Then we have this, which occurred before the Belgian attack, but came to light after (emphasis added):

Masked Muslims, shouting "the national of Mohammed is coming back to take revenge," entered the main market in Djerba, Tunisia, on Thursday and stabbed Gabriel Ozen, 38, a Jewish jeweler.

In spite of his attempts to fight off the attackers, Ozen was stabbed in the chest, and then rushed to a local hospital, where he is in serious, but stable, condition.

"According to local media reports, merchants on the scene were able to apprehend the perpetrator and turn him in to local police. Justice will not be served, however; more than a hundred masked men surrounded the police station and threatened to burn it down if the terrorist was prosecuted.

"The police released the assailant immediately." (Emphasis added)

http://www.israelnationalnews.com/News/News.aspx/181002#.U4HiXJtZrIV

~~~~~~~~~~

Can we plausibly even say we are shocked by these events any more?

Friday night, the IDF thwarted a planned terror attack in Migdal Oz, in Gush Etzion:

"...patrols on shift in watch towers in the Etzion region identified two suspicious figures approaching the kibbutz and then standing in front of a cluster of houses.

"Security forces managed to close in on the suspects [two Palestinian Arabs] quickly and detain them for questioning.

"The quick work of observation forces, in cooperation with operative combat forces in the Etzion region, has brought remarkable success," said Etzion deputy brigade commander, Lt. Col. Ayes Fares."

http://www.israelnationalnews.com/News/News.aspx/180983#.U4HmqZtZrIV

Vigilance at all times.

~~~~~~~~~~

Let me turn here to another sort of attack, one that can be managed:

The Israeli NGO Yesh Din ("there is justice") is mounting a major attack on the Levy Report, which is an underpinning of the Legal Grounds Campaign, which I co-chair with Jeff Daube.

See our website - http://wehavelegalgrounds.org/ – for a good deal of information about the Levy Report, as well as a picture of Justice Edmund Levy z"l handing the Report to Prime Minister Netanyahu.

We don't find it threatening, so much as interesting – that this is happening. That a group whose focus is work "to defend the human rights of the Palestinian civilian population under Israeli occupation" feels the need to discredit this material, big time, tells us a great deal about the power of the Report. And about the importance of our work to promote it.

Understand that when I say they are working "big time" to discredit this material, I mean that they have secured large sums of money to underwrite the effort. And the funds have come from such sources as the government of Norway and the EU.

This raises a whole other issue, which is under serious discussion here now, regarding the right of foreign governments to underwrite a campaign that seeks to affect Israel's retention of Judea and Samaria.

I will likely come back to this. Here I wish simply to call the attention of my readers to this, and to sound the call, for any and all who can lend support, to please consider doing so. Write to me if you wish to discuss this further.

~~~~~~~~~~

And then, sigh, we have the visit of Pope Francis to this area. A mixed scenario at best. Officially he is here to further a Christian ecumenical spirit. A rapprochement between the Catholic Church and Christian Orthodox churches of the east first took place on the Mount of Olives in 1964. The pope on this visit with recognize the 50th anniversary of this event with ecumenical meetings, notably with Bartholomew I, the Orthodox Patriarch of Constantinople at the Church of the Holy Sepulchre in Jerusalem.

That's officially. Unofficially, his warmth towards Israel is being celebrated with much enthusiasm. As a JPost editorial – which refers to Francis's "philo-Semitism" - put it:

"Already in 1964, the Church repudiated a millennia-long tradition of "No salvation outside the Church...the Church...affirmed that the covenant God made with Israel is full and permanent – a reversal of the replacement theology that had defined Catholic self-understanding...

"Francis seemed to go further when he praised the Jews for remaining faithful to God 'despite the awful trials of these last centuries.' If Jews were once condemned for being present when Jesus appeared but choosing to reject him, Francis was now thanking them for holding stubbornly to their faith."

http://www.jpost.com/Opinion/Editorials/The-papal-visit-353135

~~~~~~~~~~

And yet... and yet... there are elements of his trip that are deeply disconcerting. Yes, the claim has been made – by the pope himself – that the trip is purely religious and not political. Yes, he has to be even-handed. Yes, he must call for peace.

But he didn't come our way directly from the Vatican via Ben Gurion airport, as might have been expected. He came via Amman, where he landed yesterday, and met with the king of Jordan and other officials. From there he went by helicopter, this morning, to Bethlehem. And, oh, did the Palestinian Arabs make the most of this. They took him on an unscheduled side trip to see the "occupation wall" in Bethlehem – the wall constructed to keep terrorists out. Abbas, additionally, lamented to the pontiff that Israel is "judaizing Jerusalem."

And take a look at this from Palestinian Media Watch: A mind-boggling art exhibit set up for the pope by the PA, in which Palestinian Arabs are represented as Jesus.

http://palwatch.org/main.aspx?fi=157&doc_id=11523
~~~~~~~~~~

The pope at one point referred to "the state of Palestine." Israel national news further reports:

The pope "paused for several moments in front of a graffiti on the security wall in Bethlehem, bowing his head in prayer in front of a message proclaiming, 'Pope we need to see someone speak out about justice. Bethlehem look like Warsaw ghetto. Free Palestine.

"...ahead of the trip, Vatican Secretary of State Cardinal Pietro Parolin defended the Palestinian Arabs' right to a 'sovereign and independent' homeland and said he hoped Francis's visit would lead to 'courageous decisions' for peace.

"Rabbi Sergio Bergman, a member of the Argentinian parliament and close friend of Pope Francis, reported in February that the pope intends to define himself as the 'Che Guevera of the Palestinians' and support their 'struggle and rights' during his visit.

"...It has been noted that the pope has been remarkably tight-lipped over the violent persecution of Christians in Bethlehem, instead choosing to condemn alleged Jewish 'price tag' vandalism.'" (Emphasis added)

http://www.israelnationalnews.com/News/News.aspx/181001#.U4IS75tZrIU

~~~~~~~~~~

All of this is deeply unsettling, and rather puts the lie to the notion that the pope is being even-handed. But perhaps most seriously disturbing of all is the readiness by the pope, in the name of political correctness or devotion to the Palestinian Arab cause, or whatever, to turn his back on the suffering of Arab Christians.

"Justus Reid Weiner of Hebrew University has reported that Bethlehem's Christians have been suffering 'many examples of intimidation, beatings, land theft, firebombing of churches and other Christian institutions, denial of employment, economic boycotts, torture, kidnapping, forced marriage, sexual harassment, and extortion.'

"PA officials are reportedly directly responsible for many of the attacks and some Muslims who have converted to Christianity have been murdered. The Muslim Fatah-controlled authority in Judea and Samaria is encouraging a 'sharp demographic shift' in Bethlehem, where the Christina population went from a 60 percent majority in 1990 to...about 15 percent of the city's total population today, according to Weiner."
http://www.israelnationalnews.com/News/News.aspx/180757#.U4IlU5tZrIU

This pope, who has been declared "fearless" in his calls for peace, is without moral authority.

~~~~~~~~~~

Now that the pope - having been flown from Bethlehem to Ben Gurion Airport for an official ceremony, and then on to Jerusalem - is here in Israel (until late in the day on Monday), he will take all of the requisite actions expected of a head of state visiting here. This will include laying a wreath on Herzl's grave. He has called for both Peres (not Netanyahu, you note) and Abbas to come to the Vatican and pray for peace, and they have apparently accepted. Peres loves this sort of thing.

But there is one other item on the pope's agenda while he is here that is enormously infuriating for Jews: He will be meeting Grand Mufti Sheikh Muhammad Hussein, and on the Temple Mount, no less.

The Grand Mufti?

"In 2012, the Mufti preached that it is Muslim destiny to kill the Jews. On a different occasion, in the Al-Aqsa Mosque, he taught that Jews were 'enemies of Allah,' and in another speech he said that the souls of suicide bombers 'tell us to follow in their path.'"

http://www.algemeiner.com/2014/05/22/u-k-silent-on-popes-meeting-with-mufti-who-wants-to-kill-jews/

~~~~~~~~~~

I don't care if the Mufti is the Palestinian Arab "chief rabbi." Better, I think, that the pope should have stayed home, rather than imbue him with very visible credibility.

~~~~~~~~~~

Netanyahu, when meeting the pope in official ceremony, pledged that he is "committed to maintaining the status quo at the holy sites of Muslims, Christians and Jews."

There are several implications to his words. One the one hand, we might say that he is reassuring the pope that all religious sites are safe under Israeli administration.

But there is a push now, which I will continue to follow, for allowing Jewish prayer on the Mount – and with this statement he is making it clear that he will all he can to prevent this.

Lastly, there have been for weeks over-wrought rumors, never confirmed, about the intentions of the Israeli government to turn over to the Church ownership of the room over David's Tomb on Mt. Zion, which is said by Christians to be the room of the Last Supper. Government denials of all such intentions were apparently on the level.

~~~~~~~~~~


Credit: Times of Israel

Credit: Vassollomalto

~~~~~~~~~~

© Arlene Kushner. This material is produced by Arlene Kushner, functioning as an independent journalist. Permission is granted for it to be reproduced only with proper attribution.

If it is reproduced and emphasis is added, the fact that it has been added must be noted.
http://arlenefromisrael.squarespace.com/current-postings/2014/5/25/may-25-2014-tough-going.html
It has been over a week since I've posted because I have been occupied with personal affairs (I am OK). Many was the time in the course of the last several days that I have wanted to write. Here I will touch upon some of the news items that caught my attention, and follow with more in coming days. (The number of things I might write about is, quite frankly, overwhelming.)
~~~~~~~~~~
There is so much that is vile happening, that I will begin with good news: I'm determined to maintain a balance! See this video about a program that incorporates young people with disabilities into the IDF:
https://www.youtube.com/watch?v=gZC42c8lMqg&feature=youtu.be
There is no other army like this in the world, and I hold my head high. Please, share very broadly.
~~~~~~~~~~
Jew-hatred, which is so prevalent in the world, is so irrational, so maliciously skewed, so inherently sick, that those who promote it are oblivious to information about extraordinary, humane and sensitive actions taken by Israel. Reality is irrelevant to them. But there are others – exposed to anti-Semitism but still open to the possibility of seeing good in Jews - who need to know about programs such as the one described above.
Besides, those who love Israel should share in this pride.
On all scores, your sharing is important.
~~~~~~~~~~
I speak about Jew-hatred now for a reason:
The Anti-Defamation League (ADL) has just released the results of a global survey on anti-Jewish attitudes done in 101 countries plus Gaza and PA-administered areas of Judea and Samaria (referred to as the "West Bank"). Over 53,000 people were polled.
Some 25% of people across the world exhibit anti-Semitic attitudes, according to the survey. The highest rates of anti-Semitism in the world are found in the Middle East and northern Africa . On the average in these areas (Muslim, all, I note), 74% are anti-Semitic.
The very highest rate of anti-Semitism in the world was found to exist among the Palestinian Arabs in Gaza and PA-administered areas of Judea and Samaria. In these areas, 93% are anti-Semitic. Let me repeat: ninety-three percent have anti-Jewish attitudes.
http://www.timesofisrael.com/the-10-most-anti-semitic-countries/
Our "peace partners," my friends.
This, too, should be shared widely. How could anyone possibly believe there can be genuine peace between Israelis and Palestinian Arabs? A sick joke.
~~~~~~~~~~
Prime Minister Netanyahu had it right when he told the Cabinet on Sunday that this shocking rate of anti-Semitism, "is the result of the Palestinian Authority's endless incitement against Israel and attempts to distort Israel's image and the character of the Jewish people."

http://www.israelnationalnews.com/News/News.aspx/180737#.U3s6y5tZrIU

As Israel National News explains:
"Earlier this year, the Israeli government...released its annual 'Palestinian Incitement Index,' which showed that incitement against Israel and the Jewish people is continuing on official media channels including...by bodies that are very close to the PA Chairman and in educational and religious networks.
"Such incitement ranges from the glorification of Nazism and the lionization of Adolf Hitler, to programs on official PA television featuring heavily-stereotyped Jews as villains (and encouraging violence against them), and various TV and radio shows which literally wipe the Jewish state off the map."
~~~~~~~~~~
If you want to see examples of incessant and ugly PA incitement, check the Palestinian Media Watch at http://www.palwatch.org/ .

~~~~~~~~~~
I would never claim that our government totally ignores this situation. Incitement is alluded to now and again - clearly this is so, as there is an incitement index. But I will charge that it is not emphasized nearly enough, not placed front and center in press conferences and releases on a regular basis. That US leaders have the unmitigated gall to say that "settlements" were the stumbling block in negotiations when this sort of incitement persists is something that should be directly and forthrightly challenged. In fact, from the "get go," Israel should have declined to sit at the table with representatives of Abbas as long as this incitement persisted.
The Oslo Accords – which never required a cessation of settlement activity - unambiguously called for a cessation of incitement:
The Interim Agreement (Oslo 2) of September 28, 1995 (Article XXII) states that Israel and the PA "shall seek to foster mutual understanding and tolerance and shall accordingly abstain from incitement, including hostile propaganda, against each other and...shall take legal measures to prevent such incitement by any organizations, groups or individuals within their jurisdiction." (Emphasis added)
~~~~~~~~~~
Netanyahu did make the point at the Cabinet meeting on Sunday that Nakba Day, celebrated last Thursday as a day of catastrophe because of Israel's establishment, constitutes incitement:
"Whoever sees the establishment of the State of Israel and its continued existence as a disaster does not want peace," he declared.
https://www.middleeastmonitor.com/news/middle-east/11561-netanyahu-likens-commemoration-of-nakba-to-incitement-against-israel
~~~~~~~~~~
In point of fact, this Nakba day was quite violent, with riots in several locations.
In the course of rioting, two young Palestinian Arabs were allegedly killed, although there is serious dispute as to the circumstances.
Be alerted: An organization called Defense for Children Palestine is circulating a video that ostensibly shows the IDF simply shooting down two youths in Beitunia, near Ramallah, in the course of a lull in Nakba riots. The IDF says that the video is edited in a tendentious manner and does not reflect the true level of violence that occurred there. What is more, it appears, based on initial checks, that no live fire was used, only rubber bullets.
Defense Minister Moshe Ya'alon says the soldiers were facing a situation that was life-threatening, and acted appropriately.
"Israeli Channel 2′s military correspondent Roni Daniel suggested that the film may have been staged and faked. Daniel noted that the first alleged victim put out his hands to break his fall, which did not appear consistent with being shot. Daniel further noted that the two alleged fatalities, ostensibly filmed an hour apart, appeared to have taken place in almost exactly the same place, with an immediate convergence on the scene of a similar group of people. His queries were not about whether two Palestinians had been shot that day, Daniel said, but rather about whether the NGO footage being disseminated indeed actually showed such shootings or was fabricated."
http://www.timesofisrael.com/yaalon-says-troops-in-nakba-day-killings-were-in-danger-acted-as-needed/
Anyone familiar with Pallywood fabricated film sequences will find that all of this sounds familiar indeed. Naturally the PA and its supporters revel in this.

~~~~~~~~~~
With this all, good old Justice Minister Tzipi Livni (Hateuna), chief negotiator for Israel, met with Abbas in London without sanction from the prime minister and in spite of the fact that all ties with the Palestinian Authority are supposed to be cut because of its unity negotiations with Hamas. Some reports had it that Netanyahu knew about the meeting, but made it clear that she spoke not for the government but only for herself. Others said that he didn't learn until after the fact. In any event, it was reported that he was "furious."
Livni, who was in London to deliver a talk, claimed that there was no choice but to continue talking. She is sufficiently obtuse so that she is likely pleased with herself. There have been calls for her resignation – and indeed she should be dumped forthwith if she doesn't resign. But none of this will happen.
~~~~~~~~~~
The prime minister has announced his intention to submit to the Knesset a new Basic Law (Basic Law serves as Israel's constitution) that would define Israel as the nation state of the Jewish people.
With this declaration came a clarification: "The State of Israel will always preserve the full equality, in personal and civil rights, of all its citizens, Jewish and non-Jewish alike."
http://www.israelnationalnews.com/News/News.aspx/180147#.U3tvkptZrIU
There is a distinction between personal civil rights, which adhere to all Israeli citizens, and national rights, which belong to the Jewish people. Anyone who claims that Israel will no longer be a democracy if this Basic Law is passed is distorting the reality.
~~~~~~~~~~
Yet another law that offers promise is being promoted. This, to ensure Jewish rights to pray on Har Habayit (the Temple Mount). MK Miri Regev (Likud) and MK Hilik Bar (Labor) have said they will introduce a bill that would create a situation similar to that of the Machpela in Hevron, where Jews and Muslims both pray. At a bare minimum, this should be the situation – right now Muslims have full access for prayer, but Jews are prevented by Israeli security from praying because it would generate "unrest" among the Muslims. This, in spite of the fact that the High Count has said that Jews have a right to pray on the Mount.
Dearly would I love to see this pass. I believe this issue must be promoted until the current situation is overruled. But I am cynical. I fully expect Netanyahu – who is afraid of upsetting the status quo on the Mount and risking Muslim displeasure – to do everything in his power to block it. I see the talk about this legislation as an important first step.
http://www.ynetnews.com/articles/0,7340,L-4520843,00.html
~~~~~~~~~~
© Arlene Kushner. This material is produced by Arlene Kushner, functioning as an independent journalist. Permission is granted for it to be reproduced only with proper attribution.

If it is reproduced and emphasis is added, the fact that it has been added must be noted.
http://arlenefromisrael.squarespace.com/current-postings/2014/5/20/may-20-2014-resuming.html
Posted
on Tuesday, May 20, 2014 at 04:24PM
by
Arlene
in Incitement, Israel, Nakba day, Netanyahu, Palestinian Authority
|
Post a Comment
|
Email
|
Print
American officials declare regularly and with great passion that they are true and devoted friends to Israel. But right now they'd have a hard time proving it. We have friends in the US – without question! They can be found in the US Congress and the Pentagon. But the administration is altogether another story. What was bad has only gotten worse.
There are, first of all, the official fingers that have been pointed at Israel with regard to the failure of the "peace negotiations."
Most culpable in this regard has been US envoy to the Middle East Martin Indyk. He has made several statements of late regarding the "settlements" as being a major cause for the breakdown of the talks. Indyk has been identified as the unnamed source who claimed: "the main act of sabotage on peace talks was from the settlements."
http://www.israelnationalnews.com/News/News.aspx/180438#.U3C4eJtZrIW
~~~~~~~~~~
I mention this malicious nonsense only in order to refute it. Oslo did not prohibit settlement building in Area C by Israel. Nor did the agreement for nine months of negotiations, which ended in late April, restrict building,
An unidentified senior Israeli official said pointedly that Indyk's charges are hypocrisy:
Indyk, he says, knew construction would continue during the period of negotiations and was, in fact, informed of all construction plans, down to the number of homes.
"Furthermore, [Indyk] knew that it was on this basis that Israel agreed to enter the talks. So it's not clear why now that should be criticized."
http://www.timesofisrael.com/senior-israeli-official-slams-indyks-hypocrisy/
When we consider the ways in which Abbas overtly and deliberately sabotaged the talks – first via application to UN agencies, and then via the unity agreement with Hamas – the outrage of Indyk's position becomes very apparent.
~~~~~~~~~~
It has even been revealed that Netanyahu – while demanding recognition for Israel as the Jewish state – was willing to work on wording that would be more acceptable to Palestinian Arabs. But Abbas would have none of it:
" Israeli negotiators were willing to work with Palestinian Authority President Mahmoud Abbas and his team on the wording of the desired declaration, towards a formula that would have described the Jewish people's and the Palestinian people's right to self-determination in precisely equivalent terms, and would have also included phrases to guarantee the rights of Israel's Arab minority."
http://www.timesofisrael.com/abbas-rebuffed-bid-to-find-mutually-acceptable-wording-on-jewish-state/
It would have been as plain to Indyk as the nose on his face that Israel was attempting to go that extra mile (not necessarily a good idea, but there it was), while Abbas was totally obstinate. But hey! let's blame Israel.

~~~~~~~~~~
My fervent hope (foolish me) is that our prime minister would take a look at the way Israel ends up being blamed no matter what, and determine that it's foolish to try so hard to be accommodating.
My prayer, actually, is that he would simply speak out for Israel's rights. It's not just that Indyk "knew" about planned construction before the beginning of the negotiation period. It's that we have a RIGHT to do that construction. That point is consistently overlooked.
~~~~~~~~~~
And now we have the barrage of accusations regarding Israeli spying on American officials. These charges have come mainly by way of two exceedingly distorted articles in Newsweek. One of the main stories in the second of the articles involves the claim that a secret service agent in a hotel room in Jerusalem that was about to be occupied by then VP Al Gore discovered an Israeli spy in a heating vent. (Although the "spy" is never positively identified as such, and might just as easily have been a custodian.)
The response from Israel has been that since the Pollard affair Israel has been scrupulous about not spying on the US, or official Americans. What is more, says Ronen Bergman:
"The scene described by Newsweek of the...Israeli in the vent, makes no sense even for a much more prosaic reason: Why should the Shin Bet act that way? After the all, the location of the suite the vice president is about to stay in is known some time in advance, and numerous listening devices and surveillance cameras can be installed in it even before the agents arrive. The days in which there was a need to physically keep someone in the vent in order to listen to what is happening in the room are long gone."

http://www.ynetnews.com/articles/0,7340,L-4518432,00.html
~~~~~~~~~~
Former ambassador to the US Michael Oren also vociferously denied claims – based on reports by "two former top counterintelligence officials" cited in the second Newsweek article - that Israeli officials in Washington DC had to be summoned by the FBI "dozens of times" in the last several years and warned about spying activities.
Oren called these charges "utterly without foundation."
"Oren, a historian of the US-Israel relationship, said that when it has gone through periods of tension in the past, stories frequently appear in the US media citing anonymous sources leveling stinging criticism of Israel.
"The ambassador...said the important questions to ask are about what the motivation is behind them, and why 'somebody is making an effort to leak this stuff and give it prominence.' (Emphasis added)
"Without saying who he thinks is behind the stories, Oren speculated that it could be elements inside the security establishment opposed to granting Israelis visa waivers; it could be people within the intelligence services acting to preempt an early release of Israeli spy Jonathan Pollard; or it may be individuals who hold Israel responsible for the failure of the peace talks seeking retribution."
http://www.jpost.com/Diplomacy-and-Politics/Oren-Claims-the-FBI-warned-Israeli-diplomats-about-spying-are-baseless-351959
~~~~~~~~~~
There are a dozen reasons not to release terrorists from Israeli prisons – certainly this should not be done to lure Palestinian Arabs to the negotiating table, nor in a trade. Their release is an injustice that causes great pain to families of terror victims.
And...there is the problem of recidivism. That some of those released will immediately return to terror is well documented. But here we have a different sort of plot that has now been exposed: terrorists still in prison in Israel had planned an attack, to be executed after their release.
The plan was to have been put into motion in April of this year – which means they anticipated release as part of the "price" of keeping Abbas at the table. They were going to set about kidnapping soldiers (with the intent, undoubtedly, of securing further releases in exchange for these soldiers).
There were, of course, some operatives outside the prison. Support and funding came via Hamas. Communication with those inside the prison was via cell phones smuggled in by visiting relatives.
You can read the whole convoluted plot here:
http://www.israelnationalnews.com/News/News.aspx/180497#.U3DlQZtZrIW
~~~~~~~~~~
A law is now being advanced that would serve to block the early release of terrorists from prison. The law, which would become part of Basic Law, would give judges the jurisdiction to deny terrorists the possibility of parole when they are being sentenced. It already passed the Knesset Committee for Legislation yesterday, by a vote of 7-3.
Those ministers supporting the bill included: Pensioners Minister Uri Orbach and Housing Minister Uri Ariel (Habayit Hayehudi); Culture Minister Limor Livnat, Interior Minister Gideon Sa'ar, and Communications Minister Gilad Erdan (Likud); and Agriculture Minister Yair Shamir and Absorption Minister Sofia Landover (Yisrael Beitenu).
The legislation still has to pass three readings in the Knesset.
http://www.israelnationalnews.com/News/News.aspx/180482#.U3Dne5tZrIU
~~~~~~~~~~
While possibility of true success for a Hamas-Fatah unity remains dubious, the process does seem to be rolling along in certain superficial ways – a release of prisoners, appearance of a Hamas newspaper in PA-administered Judea and Samaria, etc.
But with it all, Hamas is insisting that it will be in control of the military in a unified gov't. There will certainly be no dismantling of the Hamas military arm - Al-Qassam Brigades, or agreement that it be under the jurisdiction of Fatah.
~~~~~~~~~~
I will end with good news about Israel:
See this lovely video about the Youth Village of Yemin Orde, which houses and educates immigrant youth from many cultures:
https://www.youtube.com/watch?v=Q9C0xORQOSY
And then this about the Israeli Save a Child's Heart foundation which treats children from all over the world:
https://www.youtube.com/watch?v=dOD9q5R4S-4
~~~~~~~~~~
© Arlene Kushner. This material is produced by Arlene Kushner, functioning as an independent journalist. Permission is granted for it to be reproduced only with proper attribution.

If it is reproduced and emphasis is added, the fact that it has been added must be noted.
http://arlenefromisrael.squarespace.com/current-postings/2014/5/12/may-12-2014-a-us-offensive.html
Posted
on Monday, May 12, 2014 at 02:43PM
by
Arlene
|
Post a Comment
|
Email
|
Print
Israel is an ancient nation, celebrating the 66th year of her rebirth.
Credit: Hoops
And there is a great deal to celebrate, my friends.
~~~~~~~~~~~
Ben-Dror Yemini, writing about the paradoxes in how Israel is seen, says (emphasis added):
"...there is one thing [Israel's founders] definitely didn't know: That the State of Israel would lead the contribution to humanity and would also become the most hated country by that same humanity.
"For almost a decade now, Israel has been leading, or has been among the leaders, in global surveys about negative contribution to the world...
"When we move from perception surveys to facts, the picture is reversed. Israel is one of the leading countries in the world in developing medications and irrigation and water purification systems (the first place in the world in sewage treatment), in patent applications (first place in the registration of patents of medical developments) and in scientific publications (second place in the world in the three most important journals).
"These achievements are not only a cause for national pride. They are mainly a contribution to humanity.
"There is no index of 'contribution to humanity per capita.' But if there were such an index, Israel would likely take the first place. Millions of people owe their lives to the irrigation systems and agricultural products from Israel. Not just the Third World. Even California Governor Jerry Brown recently asked Israel for research and technological aid in order to deal with the severe drought. How does this contribution match the oh-so-negative image? It doesn't.

"...Israel is far from perfect...But in spite of all the problems, Israel is a miracle. A state founded from 70 Diaspora communities, most of which did not know anything about democracy. A state of poor refugees which became a world power in agriculture and irrigation and water purification and high-tech developments. A state which does not live by the sword, but by research, development and entrepreneurship. A state in which the talks about boycott and suspending investments conceal the fact that it is the most invested country in the world, and in some fields not even just for its size.
http://www.ynetnews.com/articles/0,7340,L-4516595,00.html
~~~~~~~~~~
With all of the hi-tech and entrepreneurial advances of Israel, it is the humanity of the country that catches my attention.
Israel is known world-wide as an innovator in the field of medical clowns, for example, having developed not only training programs but methods for integrating the clown into the medical team. Now this approach is being expanded successfully to include clowns in the labor room, to help women relax:
http://israel21c.org/health/clowning-around-in-the-delivery-room/
~~~~~~~~~~
As well, the outreach that Israelis do is not only in fields of agriculture and technology – it is also humanitarian. An example here: A team from the NGO IsraAID, in cooperation with other Israeli NGOs, went to South Sudan in 2012 to help establish a social-worker training program on sexual violence.
http://israel21c.org/headlines/top-22-ways-israel-aided-africa-in-last-three-years/
In the course of the last decade, IsraAID has responded to crises in 22 countries, reached over one million people, and distributed 1,000 tons of relief and medical supplies.
~~~~~~~~~~
Within our borders we also respond to medical needs of others – including the medical needs of enemies. Who else in the world does this?
You've read in my postings about care we've provided to Syrians. Here is an article about care given to the grandchild of Hamas leader Ismail Haniyeh, who has described Israel as a "cancerous tumor that must be removed and uprooted." When his one year old granddaughter needed emergency medical treatment recently, the family turned to Israel:
The child was brought to "Schneider Children's Hospital Medical Center of Israel [which] has been forced by Hamas' relentless bombing to reinforce its windows and build a rocket shelter in its basement.
"The hospital calls itself a 'bridge of peace,' and despite the danger posed by Hamas bombs, it attempts to live up to this self-designation by opening its doors to children from Jordan, Africa, Europe, and elsewhere around the world. Each year, hundreds of children from Gaza seek medical care at Schneider Children's."

http://www.aish.com/h/iid/Israel-Helping-its-Enemies.html
Who else in the world? No one. And yet we remain on the receiving end of vicious calumnies that defy reason.
~~~~~~~~~~
Every year, there is a transition here from the mourning of Yom HaZikaron to the joy of Yom Ha'atzmaut. It happens in a flash, at the sounding of a siren, and has always astounded me.
I was particularly taken this year with how Dr. Pamela Peled, writing in the "In Jerusalem" section of the JPost put it:
She speaks of the emotions of solidarity felt for Israel's soldiers and victims of terror –
"a kind of awe for the sacrifices to ensure Israel's survival...it seems almost too heavy to bear. And then the sharp transition into barbecues and fluttering flags as Israelis celebrate our miraculous existence and achievements... no wonder we are a nation that always seems a bit on the edge.
"Yet this edginess translates into a vitality that has to be experienced to be understood. It's an 'only in Israel' feeling that is hard to define."
http://www.jpost.com/Metro/Features/Wading-through-widowhood-Post-Passover-perspective-350877
~~~~~~~~~~

There is an official ceremony on Har Herzl that marks the transition to Yom Ha'atzmaut. Every year, Israelis representing different segments of society are selected to light torches. This year, 14 women were so honored.
One of those women is Miriam Peretz, whom I have been in awe of for a long time.
Credit: Israelnationalnews

At different times, not one, but two of her sons from the Golani Brigade fell in battle: Uriel Peretz – in Lebanon in 1998, and Eliraz Peretz - in Gaza in 2010.
Singer Yehoram Gaon describes her as a person "imbued with a mission to strengthen the Jewish and Israeli spirit in the nation of Israel...Miriam has chosen to continue with her life. She meets with soldiers, with youths and with bereaved families and conveys messages of hope and faith in the power of man to grow from crises."
In an interview with the JPost, she says (emphasis added):
"reality brought me to this situation," but she chose to pick her herself up, out of the pain and bereavement and to build from it a "tower of love - love of Israel, and the human strength to influence your own and other people's lives."
When she was informed of the honor that was to be bestowed upon her, she said that she would light the torch "with their [her sons'] spirit, spirit of leadership, faith, love for the country, love for people."
She explains that the transition from one day to the other has always been difficult for her. "I can't take the sound of the fireworks," as with each bang she hears the sound of the explosions that took the lives of her sons.
"But this year I will experience it, and I'm scared to be in this simcha (happiness) after the hardest day. Suddenly, fireworks and dancing.
"Either I will close my ears and lower my eyes to the ground, and be with my sons when the fireworks go off, or I'll lift my eyes to the sky and I'll follow a firework and hope it will open the skies and that I'll see my family - and that they'll see that they didn't fall in vain, that a nation is celebrating, that life goes on."
http://www.jpost.com/National-News/The-faces-behind-the-flames-Miriam-Peretz-351294
Awe, my friends. This is Israel. And I count it as a great honor that I am Israeli. I lift my voice to heaven with gratitude.
~~~~~~~~~~
I close with the really neat Aish video, "Wave Your Flag":
http://www.aish.com/h/iid/Israel_Wave_Your_Flag.html
~~~~~~~~~~
© Arlene Kushner. This material is produced by Arlene Kushner, functioning as an independent journalist. Permission is granted for it to be reproduced only with proper attribution.

If it is reproduced and emphasis is added, the fact that it has been added must be noted.
http://arlenefromisrael.squarespace.com/current-postings/2014/5/6/may-6-2014-celebrating-at-66.html
Posted
on Tuesday, May 6, 2014 at 11:57AM
by
Arlene
|
Post a Comment
|
Email
|
Print
Credit: Erinamsili
Credit: Haifa-Israel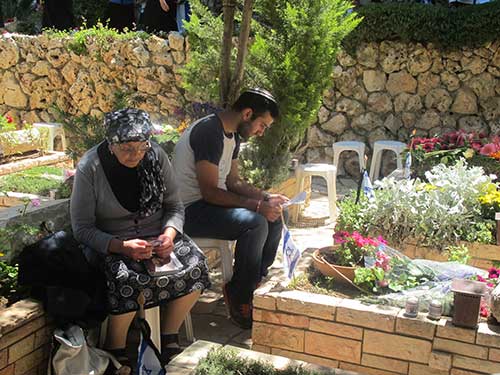 Credit: Na'ama Yehuda

Israel's Memorial day – a day for remembering all those from our defense forces who have died defending the country, and all those who have died at the hands of terrorists. It is a day of national mourning. Just about everyone in the country has either suffered a personal loss or knows someone else who has.

I dedicate this posting to all of them.

If not for the readiness of our soldiers to risk their lives in the defense of Israel, there would be no Israel. Our debt to them is boundless.

Our responsibility is to remember them, honor them, and keep this nation strong. They have given their lives for this nation. We owe it to them to reach to our own limits in building Israel and bringing blessings upon her.

~~~~~~~~~~

The official number of those who have fallen is 23,169 since 1860. There are 57 added to the list since last year. The official number of bereaved families is 17,038, which includes 2,141 orphans and 4,966 widows whose loved ones have fallen in the service of the IDF and security establishment.

A siren at 8 PM last night marked the beginning of the day of memorial – with official ceremonies at the Kotel. A two-minute siren sounded again at 11 AM today. As the siren begins, everyone stops and stands at attention. Today, tens of thousands visited the graves of their loved ones.

http://www.dailymotion.com/video/xz0z85_sirens-sound-as-israel-remembers-fallen-soldiers-civilians_news

~~~~~~~~~~

I confess that I am in awe, with an astonishment that is two-fold. The stories abound of young people who acted with extraordinary bravery, ultimately giving their lives in the process.

What Roi Klein did is one such story.

http://vimeo.com/40849030

And I am awed as well by the strength of families – parents, spouses, siblings, children – who find ways to carry on. No, "carry on" does not sufficiently describe it. They find ways to embrace life and to bring goodness to life in the memory of the one they have lost.

Rabbi Stuart and Susie Weiss – whom I was honored to hear speak last night – are such people, doing good in the name of their son, Ari Yehoshua, who fell in Shechem in 2002.

Here is the speech Susie Weiss delivered last night:

http://rabbistewartweiss.com/yom-hazikaron-2011/

And here is something Rabbi Weiss wrote. A week after his son died, he eulogized him and then asked that everyone assembled go home and sing "Am Yisrael Hai" The Jewish People lives. This extraordinary piece explains his thinking.

http://www.internationalwallofprayer.org/A-099-The-Never-Ending-Story.html

~~~~~~~~~~

A memorial video:

https://www.youtube.com/watch?v=LpEdtLDsepY

~~~~~~~~~~

© Arlene Kushner. This material is produced by Arlene Kushner, functioning as an independent journalist. Permission is granted for it to be reproduced only with proper attribution.

If it is reproduced and emphasis is added, the fact that it has been added must be noted.
http://arlenefromisrael.squarespace.com/current-postings/2014/5/5/may-5-2014-yom-hazikaron.html
Posted
on Monday, May 5, 2014 at 11:17PM
by
Arlene
in Israel Memorial Day, Yom Hazikaron
|
Post a Comment
|
Email
|
Print
I would like to pick up on the two topics I wrote about before Shabbat: accusations of Israel as "apartheid" and the debate about Israel as a Jewish state vs. democratic state. These subjects may overlap, but they are separate issues.

As to apartheid. Warren Goldstein, chief rabbi of South Africa, offered an important take on the matter in yesterday's JPost. What Kerry has done in using the word inappropriately, he say, is to trivialize it, and desecrate the memories of those who truly suffered under the apartheid system. "No one who truly understand the brutality and the systemic racism and denial of basic human rights that made apartheid nefarious could possibly use the the word in a discussion relating to the Israeli-Palestinian conflict..."

http://www.jpost.com/Opinion/Columnists/Sinai-today-Kerrys-sins-351102

The choice of this word, of course, is not accidental, nor does it originate with Kerry. It has been the stock in trade of the Palestinian Arabs all along – part of the attempt to delegitimize Israel. Abbas, for example, in coming before the UN in 2012, spoke about Israel's "apartheid policies." Just as an apartheid South Africa was read out of the community of nations, so must Israel be, he and his cohorts are implying. Regrettably, on occasion it has even been picked up by Israelis – such as Livni – who are hungering for that Palestinian state.

Words have power. And it is our task to challenge all references to Israel as "apartheid." We cannot ignore them.

You may want to see and share this video of an interview of Lydia Meshoe, wife of Kenneth Meshoe, president of the African Christian Democratic Party of South Africa. She has visited Israel and says there is no apartheid in Israel – nothing that remotely resembles the horrors of the racially repressive system that existed in her country. People must come to Israel, she declares, to see the truth:

http://www.israelvideonetwork.com/is-israel-racist-south-african-leaders-wife-lydia-meshoe-tells-us-the-truth

(With thanks to Esther E.)

~~~~~~~~~~

As to issues of democracy in Israel: We are looking at the tension between particularism and universalism. There are elements of both within Judaism, In fact the Jewish universal perspective is extraordinary. We are taught that the righteous have a place in the world to come whether or not they are Jewish, and we pray for the day when the House of God will be a place of prayer for all peoples (which does not mean all peoples must convert to Judaism).

But there is a predominant focus on particularism. Hillel's aphorism states is superbly: "If I am not for myself, who will be? If I am only for myself, what am I?..." Being for oneself comes first. Jews, who must have concern for all peoples in the world, must be first for other Jews.

~~~~~~~~~~

However, what has happened is that universalism has trumped particularism in the thinking of much of the modern Western world . It is no longer politically correct to stand up for your own people first, or to promote the values of your own culture. Some Israelis have bought into this perspective. But this thinking can be our downfall, as it causes us to negate what is special about Jewish Israel and demonstrates a readiness to give equal weight to all positions. Most significantly, it renders "shameful" or morally questionable a readiness to defend ourselves and to give priority to our rights.

With the active "encouragement" of Palestinian Arabs, who are masters at promoting themselves, this is what happened post-Oslo: The poor suffering Palestinians. We must give them a state, We must attend to their expressions of suffering. We must make room for their narrative within our national life. After all, don't all narratives have equal value?

Thus do we get into the ridiculous situations I described in my last post: with some claiming that perhaps it's not "fair" to Arab Israelis to put a Jewish star on our flag. Nonsense! We are, proudly, a Jewish state.

I think of two other situations in particular that make this point:

There has been heated discussion in Israel regarding the teaching of "nakba" in our schools. (To the best of my knowledge it's not being taught now.) "Nakba" in Arabic means catastrophe and it refers to the founding of the State of Israel, which is viewed by many Arabs as a catastrophic event. I find a position that promotes the teaching of "nakba" (because, after all, that is how some Arabs in Israel think) to be deeply offensive, as well as a tad suicidal. The Jewish State must imbue in her students pride in her founding. We don't tell our kids that, look, there is this other perspective that says we should never have happened, and we have to be sensitive to the people here who think this way. We tell our kids that Israel's founding was a blessing, not only for Jews, but for everyone. After all, the Arabs who are Israeli citizens have more freedoms, more human rights, more health care and social services, than they would anywhere else in the Middle East. We must celebrate who we are, and stand strong always.

And then there is Haneen Zoabi (who stands as an example of a certain insidious mindset). She is a virulently anti-Zionist Arab Israeli who is a member of the Knesset for the Balad party. In 2012, she made the statement that, "Israel has no right to live in security while it is an occupier" – which sure looks like incitement to me. Two years prior to that she participated in the Mavi Marmara flotilla incident, in which Turkish terrorists claiming the right to break the naval blockade of Gaza set a trap for Israeli military.



With it all, she still sits in our Knesset. Our High Court says she has the right.

I think this is nuts – bending over backwards to be "fair." And yet we are accused of being insufficiently democratic.

~~~~~~~~~~

Last Tuesday, the organization Haliba, which is fighting for equal Jewish rights on the Temple Mount, held its first public meeting. The turnout was excellent, and I will have more to say about their efforts over time.

Here I simply want to reinforce the unfairness – fostered by our own government – of the current situation. It is rather mind-boggling, really. And very clearly reflects a reluctance on the part of certain leaders to stand up for our rights. Consider:

[] The High Court has ruled that Jews have a right to pray on the Mount. Why shouldn't we?? And yet, the Wakf (the Islamic trust that controls the Muslim holy sites on the Mount, and, de facto, all of the Mount) objects. What is more, Muslims up on the Mount threaten to riot should a Jew pray. And so, for reasons of "security," the Israeli police prohibit praying.

[] There are ten gates to the Temple Mount. Nine of them are for Muslims only. Only one – the Mughrabi gate, adjacent to the Kotel - is for non-Muslims, Jews and Christians and others. Consequently, while Muslims stream onto the Mount freely, there are sometimes very long lines for those Jews and Christians who wish to enter. This is especially true during the time of Jewish holidays and tourist season.

[] What enormously exacerbates the long lines is the restriction in hours and the days during which Jews and other non-Muslims are permitted to enter.. According to Haliba, in the course of a week, non-Muslims have access to the Mount for 840 hours in a week (12 hours/day for seven days) while others, including Jews, have access for only 20 hours (four hours/day for five days).

These figures do not represent a typo. They are real. And they are shocking.

At the Liba Conference, Deputy Religious Services Minister Eli Ben-Dahan (Habayit Hayehudi) stated unequivocally, in a video made for the event, that Jews must be allowed to pray on the Mount. He said that his ministry is preparing regulations for suitable arrangements for Jewish prayer on the Mount.

Public Security Minister Yitzhak Aharonovitch (Yisrael Beitenu) has since declared he would would not make the required administrative changes: "...Any change to the status quo for Jews and Arabs [on the Temple Mount] will not be approved."

http://www.jpost.com/National-News/Ben-Dahan-calls-for-Jewish-prayer-on-Temple-Mount-351076

This situation must change.

~~~~~~~~~~

For your information: In spite of all the words of sweetness and light from Abbas, with regard to how Hamas has moderated, it has now been made clear that this is not the case. We knew this. But now it's on the record. Declared Khaled Mashal this past week: "Our path is resistance and the rifle, and our choice is jihad."

Meanwhile Netanyahu is laying out all the repercussions that will be levied against the PA because of its agreement with Hamas. However...however...he says if the reconciliation deal falls apart, talks might be restarted.

http://www.jpost.com/Diplomacy-and-Politics/Khaled-Mashaal-Hamas-remains-committed-to-jihad-against-Israel-350937

This is, quite frankly, sickening.

More to follow. There's always more. Obama is putting the screws on Israel big time.

~~~~~~~~~~

© Arlene Kushner. This material is produced by Arlene Kushner, functioning as an independent journalist. Permission is granted for it to be reproduced only with proper attribution.

If it is reproduced and emphasis is added, the fact that it has been added must be noted.
http://arlenefromisrael.squarespace.com/current-postings/2014/5/5/may-3-2014-continuing-thoughts.html
Posted
on Monday, May 5, 2014 at 11:11PM
by
Arlene
in Haliba, Israeli democracy, Temple Mount, apartheid
|
Post a Comment
|
Email
|
Print
Shabbat starts late at this season, which allows me the time to do a post – but even so, Shabbat is Shabbat and this will be brief.

The nine-month negotiating deadline of April 29 came and went with no resolution of the issues, and no promise of an extension of the talks. So we can breath a sigh of relief. It should not, however, be too large a sigh. Somewhere, somehow, it's going to come back to haunt us yet again.

For the meantime, Kerry has actually declared that he thinks it's best now to take a "pause" and to re-evaluate what is possible and what is not. What he means by "pause" is exceedingly vague. Is he looking at a couple of weeks or several months or even a year?

What he said was: "I personally remain convinced that as each [side] sort of works through the reasons that things began to become more difficult in the final hours, there may be quiet ways within which to begin to work on next steps."

http://www.ynetnews.com/articles/0,7340,L-4515564,00.html

"sort of works through the reasons that things began to become more difficult..." How ludicrous this is. Fatah is now negotiating a unity government with Hamas. And that's after Abbas signed for membership with international agencies in abrogation of agreements in effect during the period of negotiations.

~~~~~~~~~~

But Kerry is something of a de facto lame duck secretary of state now anyway. There have been calls for his resignation, but undoubtedly he'll hang in there.

The declaration that he was no longer fit to be secretary of state (they just noticed?) was prompted by a statement he made recently that crossed the line. What he said was:

"A two-state solution will be clearly underscored as the only real alternative. Because a unitary state winds up either being an apartheid state with second class citizens, or it ends up being a state that destroys the capacity of Israel to be a Jewish state."

http://www.thedailybeast.com/articles/2014/04/27/exclusive-kerry-warns-israel-could-become-an-apartheid-state.html

Kerry said this during remarks to world leaders at the Trilateral Commission; a recording of his words was obtained by The Daily Beast.

He also delivered other warnings to Israel – such dire warnings being his stock in trade when trying to get Israel to do what he wants. There might be a resumption of Palestinian Arab violence against Israeli citizens, he said. And he suggested that a change in Israeli leadership might made a peace deal more feasible.

~~~~~~~~~~

The suggestion that Netanyahu should be replaced so that his [Kerry's] goals might be advanced is terribly out of line. But it pales next to the "apartheid" charge, which rang all sorts of bells, with some calling it anti-Semitic.

The accusation that Israel is "apartheid" is a basic part of the Palestinian Arab litany of charges against Israel. It is a ludicrous charge, and any one who understands the first thing about what apartheid South Africa was like knows this. In that South Africa, blacks were kept entirely separate, had to live in their own areas, and to maintain separate, inferior services.

Here in Israel, Arabs who are Israeli citizens have full human rights – no different from those of Jewish Israelis. All professions are open to them, they can move anywhere, they are treated in the same hospitals, attend the same universities, receive the same social service benefits, vote and serve in the Knesset, etc. etc. Apartheid? Arabs in Israel receive better treatment than Arabs anywhere else in the Middle East.

Of course, in fairness, Kerry just said we might become apartheid. Still ludicrous. He was painting a picture of an Israel that had annexed all of Judea and Samaria, but had not given the vote to all the Arabs in that area. But denying full citizenship with voting rights to certain groups is still not remotely the same as apartheid. Even now, Palestinian Arabs who live in areas controlled by the PA – and are not Israeli citizens - are able to come into Israel for work, and are sometimes treated in Israeli hospitals.

MK Moshe Feiglin put it thus:

"there is a clear and recognized difference between human rights and civil rights," and that "if annexation of territory without affording full voting rights means apartheid," then the U.S. has an apartheid regime in Puerto Rico, Guam, the Virgin Islands, the Northern Mariana Islands and American Samoa.

http://jpupdates.com/2014/04/30/likud-mk-moshe-feiglin-kerrys-set-terms-u-s-apartheid-regime/

~~~~~~~~~~

After Kerry made his egregious "apartheid" remark, PA officials began echoing him. This has happened again and again – Kerry and Obama set the tone for the Palestinian Arabs to become more hardnosed and intransigent. Thus we had chief PLO negotiator Saeb Erekat declaring:

"We believe that the international community must clarify to Israel that it's choice of settlements and apartheid over peace will have political, legal, and financial ramifications." (Emphasis added)

~~~~~~~~~~

We must ask, as well, how Kerry had the gall to speak of Israel as potentially apartheid, at the same time that he is championing a Palestinian state that would be Judenrein.

~~~~~~~~~~

Prime Minister Netanyahu, in a speech in Tel Aviv yesterday, announced intention to promote a basic law defining Israel as the nation-state of the Jewish people. Israel has no written constitution, and the body of basic law serves in lieu of that constitution.

There is hardly anything radical about this concept, as it is embedded in the Israel's Declaration of Independence:

"the Land of Israel...was the birthplace of the Jewish people. Here their spiritual, religious and political identity was shaped. Here they first attained to statehood, created cultural values of national and universal significance and gave to the world the eternal Book of Books.
"After being forcibly exiled from their land, the people kept faith with it throughout their Dispersion and never ceased to pray and hope for their return to it and for the restoration in it of their political freedom...
"In the year 5657 (1897), at the summons of the spiritual father of the Jewish State, Theodore Herzl, the First Zionist Congress convened and proclaimed the right of the Jewish people to national rebirth in its own country.
"This right was recognized in the Balfour Declaration of the 2nd November, 1917, and re-affirmed in the Mandate of the League of Nations...
"This right is the natural right of the Jewish people to be masters of their own fate, like all other nations, in their own sovereign State." (Emphasis added)
http://www.mfa.gov.il/mfa/foreignpolicy/peace/guide/pages/declaration%20of%20establishment%20of%20state%20of%20israel.aspx
~~~~~~~~~~
And yet, incredibly, Minister Tzipi Livni objected to what our prime minister proposed to do because it would "disrupt the delicate balance of Israel's Jewish and democratic values."

http://www.timesofisrael.com/livni-bashes-pms-plan-to-codify-israels-jewish-status/

To this I say Heaven help us! This is how far we've lost our way.

This requires a good deal of discussion, and I would like to return to this at some point. Here I must be brief:

As was pointed out above, human rights are not the same as civil rights. The concept of (collective) civil rights is often used by enemies of Israel in an attempt to destroy the Jewish nature of Israel. Collective civil rights would refer to Muslim Arabs not as individuals whose rights (to study, receive medical care, to freely walk the streets and shop everywhere, etc. etc.) must be guarded, but as a people who require opportunities for national expression.

I am not suggesting that Livni overtly intends to destroy Israel. Not at all. What I see is that, like many on the left, she has bought into these concepts in a manner that is counterproductive to Israel's best interests.

Israel's anthem refers to the Jewish soul. Israel's flag has a Star of David on it. Israel shuts down on Jewish holidays. There are those who yell that this is "unfair" to Israel's Arab citizens and demand changes. Their intention is to do away with the Jewish nature of Israel. The term they use is a "nation of all its citizens."

There is a myriad of states that are either Arab or Muslim or both. There is one Jewish state in the world. It is ours, and it must remain proudly so. This does not mean we are not a democracy.

~~~~~~~~~~

Barely touching the surface, and here I say Shabbat Shalom.

~~~~~~~~~~
© Arlene Kushner. This material is produced by Arlene Kushner, functioning as an independent journalist. Permission is granted for it to be reproduced only with proper attribution.

If it is reproduced and emphasis is added, the fact that it has been added must be noted.
http://arlenefromisrael.squarespace.com/current-postings/2014/5/3/may-2-2014-bye-bye-negotiations.html
Posted
on Saturday, May 3, 2014 at 03:43PM
by
Arlene
|
Post a Comment
|
Email
|
Print
How much can one write about the moribund "peace process"? (Please read through, as I move to another very important subject.)
There is only one piece of good news regarding the "peace process": Netanyahu and the Security Cabinet came through. After a prolonged meeting on Thursday regarding the appropriate response to Abbas's rapprochement with Hamas, this announcement was released by the Prime Minister's Office (emphasis added):
"The Cabinet today unanimously decided that Israel will not negotiate with a Palestinian government backed by Hamas, a terrorist organization that calls for Israel's destruction...
"In addition, Israel will respond to unilateral Palestinian action with a series of measures."
According to one Israeli political source, cited by YNet: "The moment they announced that they were becoming one body, negotiations became impossible. Abbas has gone a step too far. There will be no political contacts with the Palestinians."
http://www.ynetnews.com/articles/0,7340,L-4513046,00.html
~~~~~~~~~~
This was good. Anything less would have been shameful. But what made the decision more satisfying was that the vote was unanimous. Even Tzipi Livni – the 'gung-ho' negotiator - and Yair Lapid (head of Yesh Atid) – who had been talking about leaving the coalition if progress wasn't made in negotiations – voted to terminate current talks. In fact, Lapid laid responsibility solidly at the feet of the Palestinian Arabs, questioning whether they really want a state. To me, that is simply a rhetorical question, for obviously they do not. But it was satisfying to see even Lapid facing up to this fact.
http://www.timesofisrael.com/lapid-questions-whether-palestinians-want-state/
~~~~~~~~~~
The catch, however, is that talks were suspended and not irrevocably ended. This means that if the situation changes diplomatically they might be considered again. There was no declaration that any party that is willing to consider unity with a terror organization cannot be considered a good faith partner for peace negotiations, even if unity fails to materialize. There was not even a demand, at a minimum, that there must be a protracted period of time during which the PA would cease incitement, educate for peace, and stop paying salaries to terrorists.
So negotiations were rendered comatose. But not buried with absolute finality.
~~~~~~~~~~
I hasten to point out here again that the difference between Fatah and Hamas is one of appearances and methodology, not final goals. The Palestinian National Charter, which was supposed to have been amended at the time of Oslo signings in 1993, was not. Arafat hoodwinked the international community, which was quite content to be deceived for the sake of "peace."
The Charter reads (from Article 15): "The liberation of Palestine, from an Arab viewpoint, is a national [duty] and it attempts to repel the Zionist and Imperial aggression against the Arab homeland, and aims at the elimination of Zionism in Palestine." (Emphasis added)
~~~~~~~~~~
The first statement from the State Department last Wednesday, regarding the projected Fatah-Hamas unity, was mildly encouraging. Said spokeswoman Jen Psaki,
"It's hard to see how Israel can be expected to sit down and negotiate with a group that denies its right to exist."
http://www.timesofisrael.com/washington-disappointed-by-palestinian-unity-move/
OK, then, the US understands Israel's position and Kerry is not going to trot back here and apply more pressure, right? Well...
Her description of the announcement of the unity plans as "disappointing" was an understatement of mammoth proportions. When you want to see a singer who has come to town and then discover that tickets are all sold out, that's disappointing. But to thus describe Abbas's announcement – right in the middle of attempts to salvage the talks – suggests a deliberate effort to soft-pedal the seriousness of the matter.
~~~~~~~~~~

And sure enough: A day later Psaki was saying that both sides have taken "unhelpful steps." The moral equivalency makes me see red.

"We view it as essential that both parties exercise maximum restraint and avoid escalatory steps." This is a joke, right?
"We're seeking more information from the parties and we'll see what transpires over the coming days...There are many mechanisms for moving the process forward."
Kerry, for his part, declared, "We will never give up our hope or our commitment for the possibilities for peace."

http://www.ynetnews.com/articles/0,7340,L-4513125,00.html
So they are daft, perhaps certifiable.

~~~~~~~~~~

As expected, Abbas and company began to make their own daft statements. The unity arrangements are only an internal Palestinian affair, they declared, and in no way interfere with the possibility of continuing "peace" negotiations.
Abbas has reportedly said that Hamas has agreed to all terms to which the PLO is committed: recognition of Israel, renunciation of violence, etc.

http://www.timesofisrael.com/hamas-to-recognize-israel-under-deal-abbas-reportedly-says/
Please note that this is Abbas speaking for Hamas, which has said nothing of the sort. You might want to see what Palestinian Media Watch put out regarding Hamas threats while the unity agreement was being announced: http://palwatch.org/main.aspx?fi=157&doc_id=11284 .
Hamas says that the unity government will only be responsible for such matters as establishing a government and elections, and that the PLO is responsible for negotiations.
Watch for a lot of diplomatic fancy footwork here. And for ways in which the US will join the dance, attempting to show us why it's OK to keep negotiating.
~~~~~~~~~~
The best inside analysis I've secured to date on the unity government in the works is that if it holds, which is a dubious proposition, it will be only on paper. There will be no true unity, with unified security forces, etc. That would be near impossible to achieve. Hamas will manage matters in Gaza, and Fatah in Judea and Samaria.
The greatest motivating factor on both sides, I'm being told, is economic. And behind the scenes we can look to Qatar – which has strong Muslim Brotherhood inclinations - as having pushed this arrangement.
~~~~~~~~~~
The moment at which I really, really wanted to throw up my hands, however, was last night, when I checked news after Shabbat. Seems Abbas had given a talk yesterday before the Central Council of the PLO, in the course of which he laid out, once again, his ultimatums for coming to the table. You know, the usual: freeze building, etc.
And, apparently, "Israeli officials" told AFP that Abbas "administered the coup de grace [the death blow] to the peace process today. [He] recycled the same conditions, after he already knows Israel won't accept them."
http://www.israelnationalnews.com/News/News.aspx/179937#.U1ytypvNvIV

But that is the wrong response. The proper one is that we have frozen talks with the PA because it is in bed with Hamas, thus the terms Abbas lays out for continuing those talks are moot and irrelevant. The way this is worded, there is an unspoken implication that if Abbas laid out reasonable terms we'd be back at the table with him, and this makes me very very uneasy. We seem to have a constant, maddening tendency to exhibit our insecurity: See, see, he's not being reasonable so we can't sit with him. We don't know how to take a stand with finality, secure in our right to do so.
~~~~~~~~~~
So let us turn to another matter, which is not maddening, so much as enraging. I refer to the situation on Har Habayit [the Temple Mount], which is deteriorating rapidly. Arabs on the Mount know full well that they can block the Jewish presence there by rioting or threatening to riot. Israeli police then declare a security risk, and Jews are prevented from ascending.
Over Pesach, there was rioting - with rocks and Molotov cocktails thrown at police - when the Mughrabi gate (the only entrance to the Mount for non-Muslims) was opened. Riot police were sent up on the Mount, which was then closed. This was a particularly egregious situation during the holiday time.
http://www.timesofisrael.com/rioters-hurl-stones-firebombs-at-police-on-temple-mount/
~~~~~~~~~~
To make matters worse, the Jordanian government then called in Israel's ambassador to Jordan, Daniel Nevo, to protest that "assaulting Muslim worshipers and allowing [in] Jewish extremists." must stop. Jordan, he was told, holds Israel, as the "occupying power," responsible for the security of the...Muslim worshipers there.
Nevo was warned that "such violations and attacks are tantamount to a flagrant violation of international law and the peace treaty between Jordan and Israel and constitute an extreme insult to bilateral relations."
http://www.jpost.com/Middle-East/Jordan-summons-Israeli-ambassador-in-Amman-to-protest-Israeli-Temple-Mount-violations-350027
An extreme outrage, considering that the Muslims started the riot.
~~~~~~~~~~
The situation here is complex and very much to be regretted. A bit of background is in order:
In 1967, during the Six Day War, Israel liberated the Mount and all of eastern Jerusalem from Jordan, which held it illegally, "Har Habayit b'yadenu!" cried Gen. Motta Gur, on reaching it during the decisive battle: The Temple Mount is in our hands. If only.
Then Defense Minister Moshe Dayan, bending over backwards to be sensitive to the vanquished Muslim Arabs, went up on the Mount to meet with Muslim authorities there. What he determined was that, "The Israeli authorities were responsible for overall security, but we would not interfere in the private affairs of the Moslems responsible for their own sanctuaries."
This quote is from his autobiography, and the relevant section can be seen here (one might be inclined to weep, on reading it):
http://www.imra.org.il/story.php3?id=4154
Dayan ordered the Israeli flag taken down from the Dome of the Rock, and subsequently moved to prevent Jewish prayer on the Mount. He also stopped the Jordanian practice of censoring the Friday sermons delivered in the Al-Aksa Mosque on the Mount before they were broadcast on the radio. (Such rabble-rousing sermons emanating from the Mount are still broadcast.)
The only thing that was clear to Dayan with regard to Jewish prerogatives on the Mount was that: "it would be inconceivable for Jews not to be able freely to visit this holy place now that Jerusalem was under our rule." (Emphasis added)

I ponder whether he would have done things differently, had he been able to see how the situation would have evolved. He was enormously naïve and did not foresee the extreme Muslim Arab reluctance to share.

It is not coincidental that he was a secular Jew with great devotion to archeology. For him the Mount and its remains represented primarily part of Jewish history. I am convinced that this attitude played heavily into the decisions he made.

~~~~~~~~~~

The Muslim authority on the Mount is the Wakf, the Muslim trust. At various points in the last 47 years, there have been periods when the Jordanians controlled the Wakf and other times when the Palestinian Arabs did. Sometimes there were actually two competing Wakfs. Today, the Jordanians are in control.

When Israel signed a peace treaty with Jordan in 1994, there was a clause inserted at Jordan's insistence that gave Jordan a special role with regard to the Temple Mount. Try as I have over the years, I have never been able to determine precisely what that means – beyond the fact that it is the Jordanian Wakf that will be recognized. It is unclear how much of what transpires is specified in the treaty, and how much is political/diplomatic overlay. I intend to continue to pursue this.

What I have observed is that our prime minister tends to be a bit obsequious with regard to taking care not to ruffle Jordan's feathers on this issue. I have in mind in particular the issue of the rebuilding of the bridge going to the Mughrabi Gate.
Credit: Flash 90

A temporary structure put up after the permanent structure collapsed under snow, it was said to be unsafe and was scheduled to be replaced. Then King Abdullah objected and Netanyahu backed off. I didn't even get it, really, because the bridge leads to the Mount but is not even on the Mount.

What I see is that Jordan threatens to rescind the peace treaty if Israel doesn't give on these Mount-related matters. And this, undoubtedly, is a factor in Netanyahu's reluctance to take the issue head on. But here we are into matters of Israeli sovereignty, and I believe they have yet to be adequately dealt with.
~~~~~~~~~~
See this news report from February:
"[Jordanian] Prime Minister Abdullah Nsur warned on Wednesday that Jordan might review a 1994 peace treaty with Israel after the Knesset began a debate on allowing Jewish prayer on the Temple Mount, according to AFP.
"'If Israel wants to violate the peace treaty in this issue, the entire treaty, its article, details and wording will be put on the table,' Nsur told Qatar's Al-Watan paper in an interview."
http://www.israelnationalnews.com/News/News.aspx/177892#.U1zkoZvNvIU
This is the threat that unsettles our government. But Jewish prayer on the Mount does not put Muslim holy sites at risk, nor is it something about which the Wakf should have the slightest say. Will we be forever afraid to assert our rights? To pray on the Mount is a very basic Jewish right.
The High Court ruled, some while ago, that Jews have the right to pray on the Mount. It is the Israel police who prevent this – as I described above, calling it a situation that generates a "security risk," which means it leads Muslims to riot. The presence of Jews going up on the Mount is monitored very tightly by Israeli security forces, and this is simply not how it should be.
~~~~~~~~~~
Having said all of this, I want to share a horrendous video taken on the Mount very recently; it is accompanied by descriptive text.
Last Tuesday a group of Hareidi fathers brought their young children, some 25 in number, up on the Mount, an act to be much applauded. But they were assaulted both verbally and physically by Arabs. Small children, poked at and shoved and spit at. Arabs throwing shoes and sticks at them. How terrifying it must have been for them, and how brave they were.
The Israeli security forces simply did not adequately protect them. And I cannot help but wonder if it was because of the recent Jordanian threat, which would be shameful indeed.
When I saw this video, I wept.
http://www.algemeiner.com/2014/04/24/jewish-children-assaulted-by-muslims-on-temple-mount-video/
~~~~~~~~~~
This situation cannot be permitted to persist. Here I do not, absolutely do not, throw up my hands. Never. Here the fire of my activism – and my commitment to fighting for Jewish rights - burns bright.
This must be understood: Arab Muslim interest in the Mount and in control over the Mount is directly related to issues of Jewish sovereignty and rights. It hits at our core – at the essence of our ancient identity – and they know it. Jewish rights on Har Habayit must be firmly established.
Credit: BiblePlaces.com
~~~~~~~~~~
A new organization has been established here that is taking on this fight: Haliba.
It is promoting Jewish rights on the Mount, with the idea that there is room for all and that sharing is possible.
In response to what has been going on – most particularly the harassment of the children – Haliba is calling an emergency meeting on Tuesday night at 6:30 PM, at the Begin Center in Jerusalem. Hebrew only.
I will follow in due course with more information as it becomes available.
~~~~~~~~~~
© Arlene Kushner. This material is produced by Arlene Kushner, functioning as an independent journalist. Permission is granted for it to be reproduced only with proper attribution.

If it is reproduced and emphasis is added, the fact that it has been added must be noted.
http://arlenefromisrael.squarespace.com/current-postings/2014/4/27/april-27-2014-throwing-up-my-hands.html
Posted
on Sunday, April 27, 2014 at 02:32PM
by
Arlene
in Har Habayit, Israel, PA, Temple Mount, peace negotiations
|
Post a Comment
|
Email
|
Print
Or lack thereof.
Before I get to the more current news, I want to back-track just a bit. Stay with me: see where I am going.
As you may recall, at the end of March, we were expected to release a last group of terrorists, as per original arrangements to bring Abbas to the table. But the voices raised in opposition to this here in Israel were strong. And there was a very serious issue with regard to releasing Arabs who were Israeli citizens – the PA having been under the impression that we would because this is what Kerry told them, although Israel had not agreed.
Our government assessed the situation. There were no direct negotiations going on. And Abbas had let it be known that once he had those prisoners, he was going to walk out. And so, Netanyahu, seeing no gain in such a move, cancelled that prisoner release, thereby eliciting rage from the Palestinian Arabs.
Enter the US, which attempted to "salvage" the situation. Rumors abounded about a deal in which we would release all of the last group of prisoners, and another 400 to boot, and the US would release Jonathan Pollard. Whatever its precise parameters, there was some sort of deal on the cusp of being completed. And then Abbas signed all of those applications for membership in international organizations and conventions, thereby quite deliberately scotching the deal.
At that point, Netanyahu declared that no prisoners would be released unless the applications to international agencies were voided. And that is my point here.
~~~~~~~~~~
The applications were not voided and have in fact been accepted. According to what Netanyahu had said, we might have thought that the issue of releasing prisoners was dead.
Ah, but then we would not have reckoned sufficiently with Kerry's determination to keep going at all costs, or with Netanyahu's readiness, under duress, to help him achieve that goal.
Last Friday, Gil Hoffman, political analyst for the JPost, wrote an article about how Netanyahu had lost his majority in the cabinet for approving a deal that would see those prisoners released (apparently including the Israeli Arabs – who would have been banished from Israel), if Pollard were to be released, and the PA would stay at the table for an extended period of time.
http://www.jpost.com/Diplomacy-and-Politics/Netanyahu-loses-majority-for-deal-to-extend-talks-with-Palestinians-349844
The majority (of one) was lost because after the terror attack: Public Security Minister Yitzhak Aharonovitch (Yisrael Beitenu) said he could not longer vote for a prisoner release since Abbas had not condemned it.
My point here is simple: Netanyahu, who said there would be no prisoner release if Abbas did not void international memberships, was prepared to waive that stipulation and go ahead anyway.
Not for a second do I make light of the enormous pressure that Kerry brings to bear. And yet, and yet... A leader must stand on principle, adhere to his word. Or else, where are we? Floundering, is where.
~~~~~~~~~~
A note about Jonathan Pollard, who has been pulled around like a marionette on a string – he'll be released, he won't, he will, he won't. What the Americans have done in this regard is despicable and beneath contempt.
With it all, however, perhaps something that will benefit him has been accomplished. It had been argued in certain quarters that he couldn't be released because he represented a security risk. Patent nonsense after all these years, even if it might have been true in the beginning. But now it is demonstrably nonsense. If it was OK to release him in the context of Israeli-PA relations, then, clearly, it is OK to release him.
I urge that efforts to release Pollard be intensified.
~~~~~~~~~~
As to quickly changing events on the scene:
Last night, I wrote about meetings on unity between the PA (Fatah) and Hamas, indicating that Abbas's approach to Hamas was one more ploy. There was ample reason to think this. But it appears that this was not the case after all:
According to Al Jazeera, a Fatah delegation headed by Azzam al-Ahmad met Hamas leaders, including Prime Minister Ismail Haniyeh (pictured below) and senior official Musa Abu Marzouk, in Gaza yesterday. At the end of the meeting it was announced that a unity government would be established within five weeks.
http://www.jpost.com/Middle-East/Report-Fatah-and-Hamas-agree-to-form-unity-government-within-5-weeks-350158

Credit: arabpress
Said Haniyeh, "the possibility for further separation between the two movements is no longer possible given the current circumstances."
From the Hamas perspective, anything that pulls Abbas away from Kerry's incessant pressure to "negotiate" and into the "jihad" sphere is a good thing. From the Fatah, perspective, Abbas is thumbing his nose at the West and removing himself from a no-win situation.
The deal includes the following:
A government (I believe of technocrats) to be established within five week.
Elections for the presidency and legislature within six months.
Hamas and Islamic Jihad join the PLO.
The matter of Hamas joining the PLO has huge significance. This is something that Hamas has sought for a long time, for it confers power. Technically, Israel negotiates with the PLO, not the PA. Consider the implications.
~~~~~~~~~~
A few comments here:
The fact that the unity agreement was announced does not guarantee genuine success. There have been multiple unity agreements that have fallen apart at one stage or another. Whether motivation is truly different now, because the situation is different, is something we'll have to watch.
But, as much as there are inherent tensions between the two movements, there is also considerable affinity. Their ideologies are not so different – as both Fatah and Hamas want Israel gone; only the methodologies vary.
As much as Abbas has been intransigent in dealings with Israel, so is Hamas intransigent in its demands of Fatah. What I have observed over the years is that Fatah contact with Hamas further radicalizes Fatah. Do not for a fraction of a second be taken in by left-wing arguments that claim Fatah will "moderate" Hamas and bring it to the table for peace.
~~~~~~~~~~
For the time being, this truly does seem to be the kiss of death for the "peace negotiations." When news of the meeting first surfaced, Netanyahu declared that Abbas could choose peace or Hamas but could not have both. And, he added, rather pointlessly, even though Fatah had not chosen peace until now he hoped at this point it would.
After the formalization of the unity agreement was announced, Netanyahu observed that Abbas had chosen Hamas and not peace.
Here is a perfect case in point for what I discussed above. We must be able to count on it – that this is Israel's red line and that there will be no further negotiations if Fatah is in a unity arrangement with Hamas. "Does he want peace with Hamas or peace with Israel? You can have one but not the other." (Emphasis added)
It would seem to be a no-brainer. But there is always that slight unease, that Kerry's presence will again be felt, and a loophole will be found that permits Israeli talks with the "Fatah branch" of the new unity government – or some such double talk.
At any rate, talks scheduled for today were cancelled by Israel. While Abbas is playing the "good partner," acting as if he can do a reconciliation with Hamas and continue to pursue negotiations with Israel. His people will be meeting with US representatives.
The official statement from Abbas's office:

"There is no incompatibility between reconciliation and negotiations, especially as we are committed to a just peace based on a two-state solution in accordance with resolutions of international law.

"In the interest of the Palestinian people, it is necessary to preserve the unity of land and people...This approach, supported on the Arab and international levels, strengthen[s] the capacity of Palestinian negotiators to achieve the two-state solution."
http://www.ynetnews.com/articles/0,7340,L-4512606,00.html
~~~~~~~~~~
Does Kerry – who spoke about Abbas's dedication to pursuing peace – feel the complete fool yet?
~~~~~~~~~~
© Arlene Kushner. This material is produced by Arlene Kushner, functioning as an independent journalist. Permission is granted for it to be reproduced only with proper attribution.

If it is reproduced and emphasis is added, the fact that it has been added must be noted.
http://arlenefromisrael.squarespace.com/current-postings/2014/4/23/april-23-2014-more-on-freedom.html
Posted
on Wednesday, April 23, 2014 at 03:48PM
by
Arlene
in Hamas, Haniyeh, Israel, PA, PLO, Unity agreement
|
Post a Comment
|
Email
|
Print
The Time of our Freedom. Another term for the Pesach Holiday which is just completing (last night here in Israel, tonight outside of Israel). As I picked up news over the holiday that gave me a knot of considerable dimensions in my stomach, I knew how I had to begin this first post-holiday post:
Herut. Freedom. It was supposed to be that the Jewish People, having reached Israel, would be free.

Credit: Menachem Kahana/AFP
But what I see is that we are still enslaved. Enslaved to a galut (diaspora) mentality: bowing still before international public opinion. Worried about what "they" will say, or do.
When last I wrote, it was clear that the continuation of the "peace negotiations" was going to be a non-starter. Or, at very least, if the two sides were to return to the table, it would come to absolutely nothing. I had hoped to be done with writing about this, hoped that there would be nothing more to write in this regard. But, alas, it was not to be.
Our prime minister – however ludicrous the situation and the demands of the PA – never says with finality, "Look guys, the current situation is obscene. We've given it our honest best, and we've had it." He prefers to play that game, so that the "failure" of the talks doesn't appear to be our "fault," all the while knowing it can go nowhere.
~~~~~~~~~~
Just hours before the beginning of Pesach here, there was a terrorist attack:
Baruch Mizrachi, 46, was a chief superintendent in the National Police, in the intelligence unit. With his wife Haddas and four of their five children, he was driving from Modi'in to Kiryat Arba, adjacent to Hevron, for a Pesach seder with his in-laws, when terrorists fired on his car. He was killed, and his wife and at least one of his kids were injured.
Credit: JPost

~~~~~~~~~~
Every Israeli death at the hands of a terrorist brings heartbreak, but this was one of the really tough ones. On their way to a seder! Haddas Mizrachi, pregnant. allowed to leave her hospital bed the day after yom tov (the first day of Pesach) to bury her husband. "With a bullet's whistle," she said, "I lost you, the love of my life."
She told about how Baruch had spotted the terrorist and pressed his foot on the gas pedal, so that the terrorist would not have clear aim. In doing this, said his widow, he saved his family, although he took a fatal hit.
http://www.jpost.com/Defense/Terror-victims-wife-recounts-attack-My-husband-kept-driving-to-protect-the-children-348627
Credit: Reuters

It is past time to say, ENOUGH!
~~~~~~~~~~
What Prime Minister Netanyahu did say was that this attack was the result of PA incitement:
"The Palestinian Authority continues to constantly broadcast -- in its official media -- programs that incite against the existence of the State of Israel."
http://www.israelhayom.com/site/newsletter_article.php?id=16887
He is absolutely correct. The message given to the Palestinian Arabs is that attacking Jews is an acceptable, indeed, a praiseworthy thing to do.
But did he follow through and say that there can be no further "negotiations" with the PA until that incitement is halted? That any entity that promotes murderous attacks on us cannot be considered a partner in such negotiations, theoretically aimed at achieving peace? Of course not.
~~~~~~~~~~
Then a flap ensued regarding the question of whether Abbas condemned the terror attack – with Netanyahu saying that talks about the talks could not continue unless Abbas did provide a condemnation. "The incitement of the Palestinian Authority continues in that it has yet to see fit to condemn this abominable and reprehensible act."
In any event, a condemnation, had it been offered to satisfy a demand, and not as an expression of spontaneous outrage, would have been worthless. But I will tell you that even this did not happen: Abbas did not condemn the attack – not in terms that are meaningful. But he's a sly fox who knows that he can offer pretense, and that Israel will look away.
Pathetically, a group of MKs from the Meretz and Labor parties – all people who are definitely not free, and don't seem to even know what freedom is – visited Abbas in Ramallah on Wednesday. They came away insisting that Abbas did condemn the terror attack. That's how Abbas does it, if at all – in English, and in a private room.
It is so pathetic that MK Nitzan Howowitz (Meretz), according to the JPost, declared that Abbas "specifically emphasized his disgust from bloodshed."
http://www.jpost.com/Diplomacy-and-Politics/As-Right-blames-Palestinian-incitement-for-terror-attack-Left-meets-Abbas-in-Ramallah-348662
Now, I ask you... What sort of pretzel do you have to turn yourself into to believe/or tout an Abbas statement such as this?
~~~~~~~~~~
The tenor of feelings in the PA regarding the terrorist attack is quite clear from this report:
"Endowments Minister Mahmoud El Habash told Israeli reporters in Ramallah earlier last week that he was 'pained' by the murder of 47-year-old Baruch Mizrahi." Now there are demands that he be dismissed and put on trial. On some Palestinian Arab FB pages threats about killing him have shown up.
http://www.jpost.com/Diplomacy-and-Politics/Palestinians-aim-wrath-at-minister-who-condemned-Passover-murder-of-Israeli-349899

~~~~~~~~~~
What we must remember is that the only thing that matters is a public statement by Abbas in Arabic, so that he would be delivering a message to his own people regarding his stern disapproval of such behavior. This he never provides. He might, quite literally, find himself on the receiving end of some violence if he did.
According to PA spokesman Nabil Abu Ruaineh, Abbas did not condemn the attack, but, rather, simply said in that meeting that he "is committed to a total condemnation of violence..."
http://www.jpost.com/Diplomacy-and-Politics/Israeli-lawmakers-say-Abbas-condemned-Hebron-Passover-attack-his-spokesman-denies-claim-348687
Double talk. Did Abbas offer a condemnation of the attack to the MKs and then allow his spokesman to deny it? Or did those MKs misinterpret and expand on what he actually said?
~~~~~~~~~~
Ultimately, it doesn't matter. No public condemnation was given in Arabic, and yet Israel, with a one day hiatus, continued those talks about the talks. Martin Indyk had returned, and things proceeded apace. Which means nothing has been happening.
An unnamed Palestinian official has told AFP that Indyk, in meetings on Friday, "did not present any new proposals on how to salvage the talks." I laughed at this. There is nothing, but nothing, that could be presented by Indyk that would generate a break-though, although an associate of mine thought maybe Indyk might bring a different kind of pizza to the table.
~~~~~~~~~~
Next week we reach the deadline for the talks, and there is a great deal of unease as to what comes next. PA officials are indulging in their typical dramatic statements and threats.
Abbas has delivered his latest list of demands for returning to the table. I've lost track of how many times he's set out "requirements," each time varying the specifics. I will not belabor them here, as what Abbas wants is far more than Israel will give: release of prisoners, total freeze of all building over the '67 line, including in Jerusalem, and agreement on borders for a Palestinian state within three months.

Israel has already rejected these terms. A senior Israeli official has said that building will not be frozen, and borders will not be discussed separately from other issues – in fact, borders could not be determined until other issues were resolved.

https://now.mmedia.me/lb/en/mena/544264-israel-rejects-abbas-conditions-for-extending-talks
The official further said: "The meaning of what Abbas said is that the Palestinians do not want peace. Because those who do [want peace] do not continue to make demands they know Israel cannot accept." This is apparent on the face of things for those who wish to see.
.
~~~~~~~~~~
The most dramatic of Abbas's threats right now involves a dismantling of the Palestinian Authority. I see it as a ploy and no more. Even Saeb Erekat says it won't happen. But I'll come back to this as appropriate. There are vast implications and complications, yet I am less unsettled by them than many seem to be. Minister Naftali Bennett has challenged Abbas: You want to leave, so leave. I would second that.
~~~~~~~~~~
What does unsettle me greatly is the manner in which our sovereignty is being challenged, both on Har Habayit (the Temple Mount) and Har Hazeitim (Mount of Olives), where we have been confronting increased – and horrendous - Arab violence.
To those who are watching this closely, it seems clear that we are not seeing disparate incidents that just happened to take place at the same time. We are seeing a concerted campaign. This I want to address in some detail.
~~~~~~~~~~
Oh! And there are renewed talks with Hamas regarding a unity agreement.
You can see details here:
http://www.israelhayom.com/site/newsletter_article.php?id=17003
This is just one more attempt to frighten Israel into making more concessions.
~~~~~~~~~~
Last Thursday was "Palestinian Prisoners Day," and the PA marked it by calling for the release of all 5,300 Palestinian Arabs in Israeli prisons. Now that the "state of Palestine" has ratified the Geneva Conventions, PA leaders say, they are able to harness international law in applying pressure on Israel. Keeping the Palestinian Arabs in prison is a "war crime," they claim, for Israel is holding political prisoners who are fighting for their people's freedom.
http://www.jpost.com/Diplomacy-and-Politics/Palestinian-Authority-Holding-our-people-in-Israeli-jails-is-a-war-crime-349826
What an absolute crock this is. International law (invoked inappropriately by various parties) does not recognize the deliberate killing of innocent civilians, including children, as a political act on behalf of freedom.
This is what we are going to be subjected to, more and more. But we're looking mostly at empty threats and what is important is to not be intimidated or manipulated. Said an Israeli official:
"According to the Geneva Conventions, the entire Palestinian leadership should be immediately indicted for the thousands of rockets that have been fired from Palestinian territories into Israel..."
The Palestinians have actually increased their liability by signing the Conventions, by which they are now bound.
~~~~~~~~~~
Here I recommend an important briefing for the JCPA by Alan Baker on PA attempts to be recognized as a state. It addresses serious issues regarding international law:
http://jcpa.org/article/palestinian-deception/
~~~~~~~~~~
© Arlene Kushner. This material is produced by Arlene Kushner, functioning as an independent journalist. Permission is granted for it to be reproduced only with proper attribution.

If it is reproduced and emphasis is added, the fact that it has been added must be noted.
http://arlenefromisrael.squarespace.com/current-postings/2014/4/22/april-22-2014-zeman-herutenu.html
Posted
on Tuesday, April 22, 2014 at 04:43PM
by
Arlene
in Abbas, Baruch Mizrachi, Netanyahu, peace negotiations, terror attack
|
Post a Comment
|
Email
|
Print