The INS Rehav, Israel's fifth Dolphin class submarine, arrived home to its Haifa port yesterday with a crew of 50, to much official fanfare.
Credit: Kobi Gideon/GPO
Built in Germany, at a cost of over $400 million (one third of which was picked up by the German government), it is the "the most advanced, complex and most expensive item in the Israeli military's arsenal." according to President Ruby Rivlin.
Over 220 feet (67 meters) long and weighing more than 2,000 tons, this diesel-fueled sub has an air-independent propulsion system, which operates through a fuel cell instead of oxygen-dependent sources, allowing it to remain underwater without surfacing for weeks at a time.
"In the decades to come, the INS Rahav will take an active part in defending the country and its maritime territory, by acting deeper, further and longer underwater. Seeing without being seen, keeping a watchful eye, and projecting our operational abilities on the naval front."
Although there has been no official comment on this, the sub is said to be able to deliver a nuclear payload. This is what Prime Minister Netanyahu did say:
"Above all else, our submarine fleet acts as a deterrent to our enemies who want to destroy us. They won't achieve their aims. They need to know that Israel can attack, with great might, anyone who tries to harm her."
A sixth submarine was purchased from Germany in 2013, and will be complete in a few years.
http://www.timesofisrael.com/pm-president-turn-out-to-welcome-israels-newest-submarine/
Credit: Static
~~~~~~~~~~
This, my friends, is good news. As is the following:
"Israel's first-ever stealth fighter jet took a significant step towards completion at the end of last week, when the new "Adir" F-35 entered the advanced production stages at Lockheed Martin's plant in Forth Worth, Texas. A ceremony was held on-site to mark the milestone.

"...The Defense Ministry has ordered 33 of the fighter jets from (example pictured) the US at a total cost of $4.75 billion, which includes the building of infrastructure from which the aircraft can operate as well as making changes specified by the IAF."
http://www.ynetnews.com/articles/0,7340,L-4751490,00.html
Credit: Lockheed Martin

In 2013, Lockheed Martin Aircraft Industries announced that Israel would be the first nation outside of the US to receive its F-35 stealth fighter jets – capable of evading radar and integrated air defense systems. It is the most expensive weapon in U.S. history.
~~~~~~~~~~
Also good news is the consistent shift we are seeing in Israeli policy with Tzipi Hotovely serving as Deputy Foreign Minister:
"Deputy Foreign Minister Tzipi Hotovely (Likud) on Wednesday led a tour of Samaria of the foreign service school cadets, accompanied by local council head Yossi Dagan, as part of the effort to familiarize Israel's future emissaries abroad with the realities on the ground back home. 'Today you will learn about the great settlement endeavor that has risen here, you'll see the topographic importance of the area, the coexistence in the industrial parks — in short, you can't really represent Israel without having been here physically.'
"Traditionally, Israel's foreign service has been staffed with old guard, pro-left personnel, who on occasion sided with Israel's opponents over issues like the value of Jewish settlements in Judea and Samaria. Hotovely, who is identified with the right-wing, pro-settlement segment of her party, has set out to change that through educating the next generation of Israeli diplomats.
"Hotovely reiterated the Israeli government's position that 'the settlements are legal, and the foreign ministry has issued a legal paper on this matter. The State of Israel engages in legal construction, and all the homes are sitting either on state owned land or on legally purchased land....'" (Emphasis added)
http://www.jewishpress.com/news/hotovely-settlements-are-western-democracies-wall-against-isis/2016/01/13/
Credit: Marc Israel Sellem/JPost
~~~~~~~~~~
Now about that "intrusion":
To "intrude" – says Merriam-Webster - is "to thrust or force in or upon someone or something especially without permission, welcome, or fitness."
Unfortunately, what I have observed is that foreign officials/governments seem to think they have the right to intrude in Israeli affairs, making comments that are inappropriate (because, who asked them?) and, far worse, trying to manipulate matters to their liking.
Here I want to focus on one particular issue (with other related issues to follow):
Minister of Justice Ayelet Shaked (Habayit Hayehudi) has sponsored a bill regarding NGO funding transparency. A draft has already passed through the Ministerial Committee on Legislation – with a nod from the prime minister - and is on its way to the Knesset, where there is a good likelihood it will pass.
https://behindthenewsisrael.wordpress.com/2015/12/27/govt-approves-ngo-transparency-bill-shaked-blasts-eu-hypocrisy/
Credit: Flash 90
The bill would require all NGOs that receive more than 50% of their funding from foreign governments to declare the precise sources of their funding and to make the fact of that funding known when they enter the Knesset (via wearing a badge).
It does not penalize them for receiving that funding, nor does it prohibit them from continuing to receive those funds.
~~~~~~~~~~
The purpose of this (long over-due) bill is not difficult to comprehend. Foreign governments invest money in specific Israeli NGOs, with compatible positions, in order to advance their own agendas. As a result of this foreign funding – which is often considerable – the selected NGOs are better able to promote particular positions inside of Israel. This may include the lobbying of members of Knesset and bringing petitions to the Court, all done in the name of Israeli organizations, not foreign governments.
What is more, it would be naïve in the extreme to imagine that the NGOs receiving large sums from specific governments are anything but devotedly attentive to their agendas and concerns. At the most basic level, this is simply the way it works. If they wish to sustain those major donations, the NGOs know they have to produce results that will keep the foreign governments happy. (I will not address here the possibility that certain NGOs ultimately perceive themselves as partners with foreign governments in doing their work.)
The foreign governments are thus able to have an effect on the policies and practices of NGOs that are registered as Israeli organizations.
The result is an intrusion into the workings of the Israeli government by foreign governments. Minister Shaked makes the point, with great validity, that if foreign governments wish to influence Israel's government there are proper diplomatic channels for doing so.
~~~~~~~~~~
There has been a considerable outcry from certain quarters about this pending legislation. This rush to protest, in and of itself, I would suggest, indicates how badly the legislation is required.
Perhaps most telling is the fact that an EU-associated group on December 15th gave a 30,000 euro grant to B'Tselem to fight the legislation. This was reported by NGO-Monitor, whose spokesman, Aaron Kalman, observed:
"The nature of the grant, openly aiming at influencing Israeli legislation, again highlights the infringement on sovereignty and the manipulative intent of European government funding in the context of Israeli democracy."
http://www.jpost.com/Israel-News/Politics-And-Diplomacy/EU-linked-group-gives-BTselem-30000-euros-to-fight-NGO-transparency-bill-441049

~~~~~~~~~~.
As protests against the legislation have been advanced, there have been more than a few misrepresentations of fact.
It has been said that this bill is directed selectively at left wing organizations. Not so. It applies across the political spectrum without distinction. However (surprise!), it happens that international governments (primarily the EU or EU nations) are only interested in left wing NGOs.
Left wing organizations such as Shalom Achshav (Peace Now) and B'Tselem, which work mightily to remove Jews from Judea and Samaria, are major recipients directly, or indirectly via NIF, of European funds. The Legal Grounds Campaign, which I co-chair, works just as mightily to demonstrate the legal basis for Israel's rights in Judea and Samaria. And yet, not even one European nation has ever offered to provide funds for us. I say this tongue in cheek. Of course, we have never expected European funds, for the Europeans promote Palestinian Arab rights to a state.
What we see then is an inequity. Left-wing, pro-Palestinian Arab organizations and Jewish nationalist organizations do not operate on a level field, in terms of making their respective cases to the public and the Knesset. For, as a result of foreign funding, the left wing operates with far greater fiscal ability to do PR, run tours, hire lawyers to bring court cases, produce expensive videos, etc.
~~~~~~~~~~
And that leads to the next point of criticism: that the legislation works against the democratic process. That is unmitigated nonsense. For quite the contrary is true. As Gerald Steingberg, head of NGO-Monitor, put it (emphasis added):
"In democracies, civil society organizations are supposed to arise indigenously and not as tools of external actors promoting their own interests and political manipulations."
http://www.ngo-monitor.org/article/the_issues_behind_israel_s_ngo_law
~~~~~~~~~~
There have also been claims that this legislation will interfere with free speech, and I have no clue, frankly, as to how they think they can make this case. The representatives of NGOs supported by foreign governments will be as free to speak out and make their case as they ever were.
What may happen, of course, is that their words will be less heeded when it is understood that foreign interests may be promoting them. And that, quite frankly, is precisely as it should be. Or, to put it in the vernacular: Tough.
Again from Gerald Steinberg: "...in Israel, this is not a free speech issue; rather, the NGO legislation seeks to counter what is seen by many as costly and unjust demonization and warfare enabled by European governments."
~~~~~~~~~~
Aaron Kalman, cited above, refers to "infringement of sovereignty," I would like to return to this briefly. A sovereign state is autonomous, operating independently without outside control or infringement. When I wrote about foreign governments thinking they have the right to intrude in Israeli affairs, this is what I was talking about. There is a pattern we can discern – we see foreign governments (Western governments) that fail to respect Israel's sovereignty. This problem transcends the issue of funding for NGOs.
~~~~~~~~~~
One of the nations that has registered "concern" about the pending legislation is the US. US Ambassador to Israel Daniel Shapiro spoke out on this and held a meeting with Minister Shaked to explore the issues.
Credit: Flash 90
Here you can see all of those "concerns" spelled out:
http://www.israelnationalnews.com/News/News.aspx/206269#.Vpa7yptunIV
Said he: In a healthy democracy, "governments must protect free expression and peaceful dissent and create an atmosphere where all voices can be heard."
Sigh. Diplomatic doubletalk. I would like him to explain how the law would prevent "free expression and peaceful dissent."
~~~~~~~~~~
But there is one issue he raised that I do wish to explore. Comparisons have been made between the current Israeli draft legislation on NGO transparency and FARA in the US – the Foreign Agents Registration Act. Shapiro insisted that there is no comparison, for "FARA requires individuals or organizations to register as foreign agents only if they engage in certain specified activities at the order, request, or under the direction or control, of a foreign principal – not simply by receiving contributions from such an entity."
After he made this statement, I contacted an American-Israeli lawyer who has helped with the drafting of the proposed Israeli legislation and has familiarity with FARA, as well What I learned is that it is not as simple as Shapiro would have it. He makes it seem as if there must be a contract between a foreign government and a US individual or organization before foreign agent registration is required. However, my legal advisor said, actually FARA allows for determination that someone is a foreign agent to be made via oral agreements as well. It is a question of "circumstances," which can be proven by "context," and not just by documentation. This resembles what I discussed above.
~~~~~~~~~~
A statement released by the US Embassy indicated that "Ambassador Shapiro sought more information about the draft legislation from the Minister."
It's his business?
Shaked's response, released shortly after, was appropriate:
"I met the American ambassador and was under the impression that the American administration's interest and concern is sincere. But there is no cause for concern. Israel is a strong democracy and as such there is no need for other nations to intervene in internal legislation." (Emphasis added)
http://www.israelnationalnews.com/News/News.aspx/206294#.VpbF7ptunIV
~~~~~~~~~~
We might ask why the US is suddenly so concerned about Israeli democracy. This issue did not worry Obama when he sent political advisors to Israel during an election campaign, in an attempt to influence the election. One is hard put not to come to the conclusion that the true American concern here is blocking the transparency bill.
Shaked, as a representative of the Israeli government, has gracefully acknowledged the American concern for Israeli democracy as "sincere." I would like to share one incident that casts a very different light on the matter (with emphasis added):
"Former secretary of state Hillary Clinton considered a secret plan created by her then-advisers to foment unrest among Palestinian citizens and spark protests in order to push the Israeli government back to the negotiating table, according to emails released as part of the investigation into the Democratic presidential frontrunner's private email server.
"In a Dec, 18, 2011, email, former U.S. ambassador to Israel Thomas Pickering suggested that Clinton consider a plan to restart then-stalled peace negotiations by kick starting Palestinian demonstrations against Israel.
"Pickering described the effort as a potential 'game changer in the region,' recommending that the United States undertake a clandestine campaign to generate unrest. Clinton requested that his email be printed...
"'Most of all the United States, in my view, cannot be seen to have stimulated, encouraged or be the power behind it for reasons you will understand better than anyone,' he wrote, suggesting that the government enlist liberal non-profit groups in Israel. 'I believe third parties and a number NGOs [non-government organizations] on both sides would help.'"
http://freebeacon.com/national-security/clinton-considered-secret-plan-to-spark-palestinian-protests/
Enough said.
~~~~~~~~~~
I close with a fascinating video of starlings doing a "dancing cloud" over Israel.
http://www.israelnationalnews.com/News/News.aspx/206393#.VpeCB5tunIU
~~~~~~~~~~
© Arlene Kushner. This material is produced by Arlene Kushner, functioning as an independent journalist. Permission is granted for it to be reproduced only with proper attribution.

If it is reproduced and emphasis is added, the fact that it has been added must be noted.
http://arlenefromisrael.squarespace.com/current-postings/2016/1/14/january-14-2016-intrusion.html
Posted
on Thursday, January 14, 2016 at 10:37AM
by
Arlene
|
Post a Comment
|
Email
|
Print
So much, so much to write about. I suggested as much toward the end of my last posting on Friday. But we will not by-pass the good news first:

An Israeli hi-tech agricultural start up has developed an Internet of Things technology for crops. (Internet of Things: IoT, a network of physical objects embedded with electronics, software, sensors, and network connectivity, which enables these objects to collect data.)

PhyTech, located in Kibbutz Yad Mordechai near the Gaza border, developed its plant sensor system PlantBeat in 2011. This system records how much water crops get, how moist the soil is, what the soil temperature is, and other data. The information provided by the sensors is analyzed and downloaded to a mobile app that indicates how healthy a plant is and what to do to improve its performance.
"The low-cost sensors can be attached to sample plants to take readings within an immediate area of several square meters, with multiple sensors set up as an array to get a full picture of conditions in a growing area."
Credit: PhyTech
This system is already in use on some of the biggest farms in the US, Brazil, Australia, and elsewhere. In Israel, some 60% of tomato farmers and 40% of cotton growers utilize it.
And now Sygenta, one of the world's biggest agriculture technology businesses, is partnering with the corporate group Mitsui, of Japan, to invest an undisclosed sum in PhyTech.

http://nocamels.com/2016/01/israeli-phytech-iot-agtech-crops/
~~~~~~~~~~
Another Israeli start up, NUA Robotics, has developed a prototype for luggage that uses Bluetooth technology that syncs with a smart phone app that allows it to identify its owner and follow along.
This smart suitcase "features an anti-theft alarm, a USB port for charging electronic devices on the go, and can send real-time data, including its weight and location, to the app."
It is hoped that this will be on the market within a year.
http://www.timesofisrael.com/israeli-startups-suitcase-follows-you-around/
Credit: dailymail (UK)
~~~~~~~~~~
This is also good news, serious good news, of far greater import:
"Spain's Supreme Court, the Council of State, has issued a landmark ruling against the country's Housing Ministry for illegally excluding Israel's Ariel University from a scientific competition in 2009.
"The legal victory, which was announced last week but made public by Ariel University on Tuesday, is a significant setback for Spanish BDS (Boycott, Divestment and Sanctions) activists targeting the Jewish state...

"According to a university statement, Ariel received an invitation to participate in the international competition from Spain's Housing Ministry, the organizer. The competition was open to universities from around the world.
"'In 2008, Ariel University was selected as one of 21 finalist universities,' the statement said. 'Ariel University was the only Israeli and Middle Eastern finalist in the competition.'
"...According to the university, in 2009, the Spanish government notified it that it had been ousted from the competition because 'your institution is located in the occupied territories and since we are bound to respect the position of the European Union in relation to this matter, we are compelled to announce that it will not be possible for your center to continue in this competition.'
"'The important legal victory shows that Europe's treatment of Israeli entities and people in Judea and Samaria is legally baseless, and amounts to arbitrary discrimination,' Eugene Kontorovich, a professor at Northwestern University School of Law in the US and a leading expert on BDS, told The Jerusalem Post. (emphasis added)

"...The legal case against the government of Spain was led by Spanish firm Cremades & Calvo-Sotelo on behalf of Ariel University, in coordination with the University's Anti-BDS Committee, headed by executive committee member and lawyer Marc Zell of Jerusalem."
http://www.jpost.com/Arab-Israeli-Conflict/Spain-awards-Ariel-University-70000-in-discrimination-suit

In all, Ariel University was granted €100,000 in compensation.

Credit: Ariel University

~~~~~~~~~~

We might also categorize the growing tensions between Saudi Arabia and Iran as good news, however qualified. Good, because if this diminishes Iran's influence in the region, Israel stands to gain. Most analysts see what is going on in terms of Sunni (Saudi) vs. Shiite (Iran) but you will see a more nuanced assessment by Jonathan Spyer below.

Prof. Joshua Teitelbaum of the BESA Center had this to say :

"By executing a prominent Shiite leader, the Saudi King and his son the Deputy Crown Prince sent a strong signal to Iran, to the kingdom's beleaguered Shiite minority, and to the world. To its Iranian Shiite rival, Sunni Riyadh was saying that it would absolutely not tolerate intervention in its internal affairs. It was telling its own Shiites that it would not allow 'Arab Spring'-like dissent. And to the world, Salman and Muhammad were signaling that the Saudis were growing into their new role as a defender and leader of the Sunni Muslim countries; especially since the Obama administration appears to be siding with Iran. (Emphasis added)
"On January 2, 2016, Saudi Arabia announced the execution of the Shiite religious leader Shaykh Nimr al-Nimr (and 46 other prisoners). [This was followed by a breaking off of diplomatic relations.] In the region, this was the climax of escalating tension between Saudi Arabia, which perceives itself as defending the world's Sunni Muslims, and Iran, which claims the mantle of Shiite leadership.
"...for King Salman bin Abd al-Aziz (pictured), only a year in office, and his young son and Minister of Defense, Deputy Crown Prince Muhammad bin Salman, this was a further demonstration of a developing muscular and assertive foreign policy."
http://besacenter.org/perspectives-papers/9673/
Credit: royalista
~~~~~~~~~~
Never a fan of the Saudis, who maintain an exceedingly repressive regime and export radical Wahhabi Islam, I find myself pleased indeed with their challenge to Iran. They are attempting to fill the lacunae created by an absent Obama.
Gulf Sunni states, with the exception of Oman, are expected to come forward publicly on the side of the Saudis.
According to Eliezer Tsafrir of the Interdisciplinary Center in Herzliya, the situation has a been fraught with tension "since the Saudis, having had enough of Iranian subversion near its border, launched a war in Yemen [which borders Saudi Arabia to the south] last year to defend its interests against Iranian- backed Houthis taking over the country.
"...the decision by [Sunni majority] Sudan, until recently in Iran's orbit of influence, to cut off diplomatic relations with the Islamic Republic, may be a sign of things to come. He said Khartoum's maneuver demonstrated how far the conflict between the Sunni and Shi'ite factions has escalated...
"Meir Javedanfar, a lecturer on Iranian politics at the IDC said that both sides 'are going to significantly increase support for proxy groups in Syria, Yemen, Iraq, and even Lebanon.'"

According to Javedanar, "for now direct confrontation is unlikely as they 'prefer fighting proxy wars against each other. And this is likely to continue.'"
http://www.jpost.com/Middle-East/Iran-Saudi-sectarian-proxy-war-set-to-explode-Israeli-experts-say-439378
~~~~~~~~~~
Dr. Jonathan Spyer Director of the Rubin Center (formerly the GLORIA Center), IDC Herzliya, shares similar perceptions in his analysis as above, but addresses a broader context and enlarges on the complexities of the current situation – what he refers to as "trend lines" (emphasis added):
"As its [Iran's] activities in Yemen, Iraq, Syria, Lebanon and among the Palestinians show, Iran is not able to build lasting and deep alliances with forces outside of the Shi'a and associated minorities. And the Shi'a are a minority in the region, too few in numbers to form a basis for regional hegemony...
"The result of this is that Iranian interference in each case until now has led not to Iranian victory and the reconstitution of the area as an Iranian ally. Rather, Iranian interference leads to ongoing instability and conflict, with the Iranian client neither defeated nor fully victorious. Iran creates chaos...
"So welcome to the Middle East circa 2016 – state collapse, political Islam as the dominant language, an ambitious Iran at the head of a Shi'a/minorities alliance, and Saudi Arabia seeking to mobilize Sunni resistance to Iranian plans, in competition with sundry other Sunni actors. All taking place against a backdrop of American absence and Russian attempts to build a presence."

http://www.rubincenter.org/2016/01/teheran-vs-riyadh/
In terms of that "American absence," Spyer wrote:
"The abandonment by the US of long-standing ally Egyptian president Hosni Mubarak in 2011 confirmed for the Saudis the sense that the current US administration is operating in the Middle East according to a set of perceptions quite alien to its own, and quite likely to end in disaster."
~~~~~~~~~~
On Friday I said in my posting that the Tel Aviv terrorist Nashat Milhem had not yet been found. About two hours after I sent it out, he was located and killed in a shoot-out. Seems he went quickly to his village of Ara'ra in the north after the attack. I have seen various reports about how he was located. One involved tracking via DNA, and another referred to a phone call placed to authorities by relatives in the village, from whom he sought assistance while attempting to hide his identity.
http://www.timesofisrael.com/how-a-critical-error-by-nashat-milhem-led-to-his-death/
I would like to believe that relatives did contact authorities. For we also have reports that paint quite a different picture:
According to Arutz Sheva, he made his way to his village by car less than two hours after his killing spree (which ultimately included murder of a taxi driver, Amin Shaaban). This strongly suggests an accomplice who cooperated in his escape.
And we have a report from Times of Israel that:
"Many of the residents of Arara knew that fugitive gunman Nashat Milhem was hiding in the Arab town in northern Israel, but were reluctant to hand him over to the authorities, locals said....

"'He received full help, in particular from his close relatives,' local residents told the Ynet news website. 'He slept in a different location every day. They brought him food and took care of him.'"

http://www.timesofisrael.com/we-knew-milhem-was-here-but-no-one-wanted-to-be-the-one-to-tell-police/
~~~~~~~~~~
That there was very probably family complicity is clear: Milhem's father, Mohammad, and brother, Ali, were first held by police and are currently under house arrest. More significantly, yesterday an unnamed relative was remanded into custody for seven days, under suspicion that he played a "central role" in the attack.
http://www.timesofisrael.com/relative-of-ta-killer-milhem-held-as-key-accomplice/
Milhem's body was supposed to have been returned to the family, for a quiet funeral Sunnday, but return was delayed by Security Minister Erdan out of concern that the funeral would become a celebration of terror. The body will not be turned over to them until the family agrees to Israel's terms.
But why should we turn it over at all? More so is this a reasonable question as there seems complicity of some family members.
Credit: Alex Kolomoisky/POOL
~~~~~~~~~~
I want to return to the subject of the Duma arson very briefly here. I hope there will be time to address this in greater depth – the broader situation begs for it. But not in this posting.
While I continue to reiterate that I cannot say with certainty that Amiram Ben-Uliel did not set the fires in Duma, I do want my readers to know that the case against him is problematic, with several matters having come to the fore:
- Apparently he confessed to the Shabak, but then recanted his confession when turned over to police.
- The indictment says he acted alone, as the minor who was supposed to act as accomplice backed out. However, police records from the time of the arson indicate that family members on the scene reported seeing two men. Other news reports similarly refer to multiple perpetrators on the scene.
- If you look closely at the two instances of graffiti at the site, it becomes apparent that they are very different in appearance, strongly suggesting that they were written by different people.
And this is hardly the sum total of troubling issues with regard to this case.
~~~~~~~~~~
A full enough agenda, then, for one posting. More soon...
Recently, I was sent commentary about the song "Somewhere Over the Rainbow" from a Jewish perspective. And for this I express thanks.
I have always loved that song because it touched something deep inside of me; I remember singing it to myself as a young girl. This commentary by Rabbi Bernhard Rosenberg, however, brought a whole new depth to it:
"But perhaps the most poignant song to emerge out of the mass exodus from Europe was 'Somewhere Over the Rainbow.' The lyrics were written by Yip Harburg, the youngest of four children born to Russian-Jewish immigrants. His real name was Isidore Hochberg, and he grew up in a Yiddish-speaking, Orthodox Jewish home in New York.
"The song's music was written by Harold Arlen, also a cantor's son. His real name was Hyman Arluck, and his parents were from Lithuania.
"Together, Hochberg and Arluck wrote 'Somewhere Over the Rainbow,' which was voted the 20th century's No. 1 song by the Recording Industry Association of America and the National Endowment for the Arts.
"In writing it, the two men reached deep into their immigrant Jewish consciousness — framed by the pogroms of the past and the Holocaust about to happen — and wrote an unforgettable melody set to near prophetic words. Read the lyrics in their Jewish context and suddenly the words are no longer about wizards and Oz, [but] Jewish survival."
http://www.mycentraljersey.com/story/life/faith/2014/12/10/somewhere-rainbow-jewish-perspective/20104523/
Somehow, this seemed like the right song to share, as counterpoint to so much that I have written above. Perhaps you have to be of a certain age to properly enjoy it. Although I would hope not.
I have located a video of Judy Garland singing it, in the movie "Wizard of Oz," 1939. You may remember – as do I – seeing that movie in colorized version many years after the original was released.
https://www.youtube.com/watch?v=U016JWYUDdQ
~~~~~~~~~~

© Arlene Kushner. This material is produced by Arlene Kushner, functioning as an independent journalist. Permission is granted for it to be reproduced only with proper attribution.

If it is reproduced and emphasis is added, the fact that it has been added must be noted.
http://arlenefromisrael.squarespace.com/current-postings/2016/1/12/january-12-2016-full-agenda.html
Posted
on Tuesday, January 12, 2016 at 06:06AM
by
Arlene
|
Post a Comment
|
Email
|
Print
Unless we breathe deeply and slowly, and focus on the good that abounds in Israel – and the good that Israel exports to the world - we run the risk of feeling overwhelmed. These are not the best of times (understatement). And so, good news first (emphasis below added).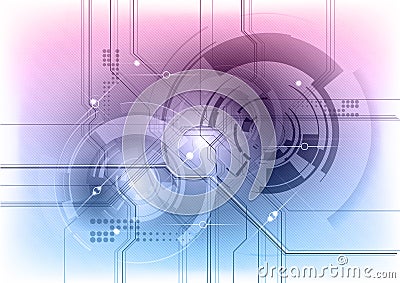 Credit: dreamstime

"Israeli high-tech startups were red hot in 2015, and are entering 2016 as exciting commodities for investors worldwide, according to numerous end-of-year market reports....
"We have grown accustomed to the presence in Israel of global giants like Facebook, Apple, IBM, Qualcomm, Microsoft, Intel and more," writes Rubi Suliman in the PwC report.
"The amounts currently invested in Israeli high-tech are unprecedented, and it seems that this will bear fruit in the form of more innovative companies that will keep Israeli high-tech rolling forward...
"Asian delegations to Israel grabbed headlines throughout 2015 and reports show that it was definitely not a one-off.
"'The romance with Asia is serious. It is new and exciting for both sides and this shows signs of a long term commitment,' Jonathan Medved, CEO of OurCrowd, told ISRAEL21c in our predictions for 2016."
http://www.israel21c.org/2015-was-red-hot-year-for-israeli-high-tech-scene/
~~~~~~~~~~
"Volunteers from the Engineers without Borders (EwB) chapter at the Technion-Israel Institute of Technology joined up with a rural community in northern Ethiopia to design and build a safe drinking-water system for their school.
"The system collects rainwater from the rooftop during the rainy season and stores it in a stone reservoir constructed as part of the project. The water is cleaned and treated before reaching the school's holding tank.
"As a result, more than 600 students finally have access to safe drinking and washing water during the school day, all year long. The visiting Israelis formed an engineering club for older children at the school and trained them to be responsible for the maintenance of the system and treating the water."
http://www.israel21c.org/these-children-finally-have-clean-water-at-school/
Credit: Technion spokesperson
~~~~~~~~~~
"When American troops are injured in the field, the first piece of life-saving medical equipment they may come into contact with nowadays is an Israeli-invented mini-sized manual ventilator. And not just American soldiers on the battlefield; the Pocket BVM has been used to treat thousands of people at the scene of numerous natural disasters, like in the huge earthquake that devastated Nepal earlier this year..."
Courtesy
http://www.timesofisrael.com/the-israeli-invented-device-thats-saving-american-lives-in-afghanistan/
~~~~~~~~~~
"When an infectious pandemic hits – SARS, swine flu, MERS or Ebola, for instance – health officials in dozens of countries turn to the Israeli company Beth-El Industries for its IsoArk biological isolation units...
"In the world market, Beth-El Industries is a key supplier to many NATO and other armies and NGOs."
http://www.israel21c.org/ebola-cant-escape-israeli-mobile-isolation-units/
Courtesy Kaplan Medical Center, Rehovot
Are those who support BDS ready to rethink their positions yet?
~~~~~~~~~~
Before moving on to other matters, I want to turn to the Legal Grounds Campaign, which I co-chair with Jeff Daube. Most of you have seen my previous references to this important work. You can find a good deal of information about us on our website: http://israelrights.com (please sign up if you have not yet done so), and you can see highlights of our campaign to date here: http://israelrights.com/en/accomplishments//
Until now we have worked primarily in the Knesset, and we will continue to do so. But at this point, we are eager to reach out with innovative and important projects outside of the Knesset as well.
A significant venture we are advancing now is a series of classes for a select group of Israeli law students – all of whom study in law schools that tilt left (they all do) – in order to provide them with important information regarding Israel's rights in Judea & Samaria and all of Jerusalem, and help them understand how to apply this information in their practices.
If you would like to know more about what we are planning, please contact me directly.
~~~~~~~~~~
We call it the matsav – the "situation" – and everyone knows what is meant by this. The word does not necessarily mean a bad situation, but with the current state of affairs, that is what is clearly understood. "I'm not sleeping well because of the matsav."
~~~~~~~~~~
Terror-related issues remain uppermost in the minds of most Israelis.
Last Friday afternoon, in a terrorist shooting on Dizengoff Street in Tel Aviv, two people were killed, two seriously injured and five others injured moderately to lightly. The attacker shot 15 times with a submachine gun, aiming into various establishments such as a bar, restaurant and café.
The terrorist was subsequently identified as Nashat Milhem, who had served time in prison for attacking a soldier.
http://www.timesofisrael.com/five-hurt-two-critically-in-shooting-in-tel-aviv/
Dead in that attack were Shimon Ruimi:
Facebook
and Alon Bakai:
Facebook
At first, the terrorist's father rushed forth, ostensibly to lend assistance – he called for his son to surrender, etc. Subsequently he and other family members where picked up by police and questioned as possible accomplices.
~~~~~~~~~~
In this instance, the terrorist fled, and was not caught either by security or by bystanders. Tel Aviv was combed – while mothers kept their children home from school - and then after some days it was declared that he had left the area and is either in the north or, it is thought, in a PA area. As I write, he is still at large. This is the first time this has happened in the course of the current intifada.
What I want to note as well, is that there seem to be fewer stabbings and vehicle attacks now, and more shootings. An escalation.
~~~~~~~~~~
And there is something else notable about this particular incident. Milhem (pictured) is from the Israeli Arab village of Ara'ra, in the north of Israel, close to the village of Umm al-Fahm – a hotbed of Arab radicalism that served as the focus of the Israel Islamic Movement, northern branch. All in all, a troublesome area.
Credit: Channel 10 news
A day after it happened, Prime Minister Netanyahu visited the scene of the attack and made a statement that I find significant (emphasis added):
He was unwilling, he said, to tolerate "enclaves with no law enforcement, with Islamist incitement and an abundance of illegal weapons that are often fired at happy events, weddings, and during endless criminal incidents...That time is over...
"We will demand loyalty to the laws of the state from everyone. One cannot say 'I am Israeli in my rights and Palestinian in my responsibilities.' Whoever wants to be Israeli, must be Israeli all the way, with rights and responsibilities, and the first and foremost responsibility is to follow the laws of the state...
"I call on all Israeli citizens, and especially Muslim Israeli citizens, to follow this path, a path of integration, coexistence and peace, and not a path of incitement, hatred and zealotry. We are all citizens of the State."
http://www.jpost.com/Israel-News/Netanyahu-visits-site-of-Tel-Aviv-shooting-attack-439168
~~~~~~~~~~
And I say, Mazel Tov, this was long past due. Psychological identification by some – not all!! – Israeli Arabs with Palestinian Arabs is a major problem, and in recent years Israeli Arabs have been increasingly radicalized by Palestinian Arabs who play on that dual sense of loyalty. It does not work and damages Israel.
The prime minister did not paint all Israel Arabs with one brush. He praised those who voluntarily enlist in the IDF or do national service, and those who spoke out against the attack.
At the same time, he announced that Public Security Minister Gilad Erdan and Police Insp.-Gen. Roni Alsheich had established a plan to greatly increase law enforcement services in Arab areas throughout the country.
~~~~~~~~~~
At Sunday's Cabinet meeting, the prime minister enlarged on these plans. There will be increased enforcement of the law with regard to building, regulations against noise coming from mosques, and incitement coming from mosques, social media and the educational system. Additionally, there will be confiscation of large quantities of illegal arms in Arab communities.
In spite of the fact that Netanyahu said that this increased law enforcement would also help Arabs, many of whom suffer as a result of lawlessness in their communities – which results in heightened criminality - some Arab leaders charged him with inciting against the Arabs of Israel and singling out one group. Netanyahu – thankfully - was not moved by these charges, and I would dare say that in light of the terrorism our nation is currently coping with, these plans will be most welcome by a majority of Israelis (including some Muslim Arabs).
Commented Minister Ofir Akunis (Likud) (emphasis added):
"Those who want to live in peace with us, we will respect, and those who don't, like that blood thirsty terrorist – and the condemnation of his father did not impress me – we need to fight them will all our strength and step up the enforcement of the law...
"...the desire to kill Jews came from somewhere. So with all due respect to the condemnation, the phenomenon is very wide and deep, and it needs to be dealt with at its root among the extremists among the Israeli Arabs."
http://www.jpost.com/Israel-News/Politics-And-Diplomacy/Opposition-Netanyahu-is-treating-Israeli-Arabs-like-criminals-439239
Knesset Interior Affairs Committee chairman David Amsalem (Likud), for his part, announced that he would swiftly call a meeting of his committee to consider the issue of illegal weapons.
"In the Arab population alone there are thousands of illegal weapons, many of which were stolen from the IDF. They are used every day and illegally to harm citizens of the state in criminal and nationalist acts."

~~~~~~~~~~
At the very end of December a decision had been made to allocate an additional $4 billion towards services in minority communities - Muslims, Druze, Christians and Circassians, with Muslim Arabs predominating. This is as it should be. Services of equitable levels in communities across Israel and law enforcement of equitable stringency.
After Netanyahu's announcement regarding increased law enforcement, there were murmurs in the Arab community about the additional allocations being tied to this, which is being denied. Illegal housing construction will be impacted, however, with a different sort of housing being funded.
http://www.timesofisrael.com/government-okays-nis-15b-upgrade-plan-for-arab-communities/
~~~~~~~~~~
After Shabbat we might look at news about Hezbollah, Russia, the PA, heightened tension between Iran and Saudi Arabia... There is no end...no end...
But as we are going into Shabbat, I close here with a traditional version of Shalom Aleichem, traditionally sung on Friday evening.
https://www.youtube.com/watch?v=2mxe3Y9CnWQ

Peace upon you, ministering angels, messengers of the Most High,
of the Supreme King of Kings, the Holy One, blessed be He.
Come in peace, messengers of peace, messengers of the Most High,
of the Supreme King of Kings, the Holy One, blessed be He.
~~~~~~~~~~
© Arlene Kushner. This material is produced by Arlene Kushner, functioning as an independent journalist. Permission is granted for it to be reproduced only with proper attribution.

If it is reproduced and emphasis is added, the fact that it has been added must be noted.
http://arlenefromisrael.squarespace.com/current-postings/2016/1/8/january-8-2016-a-deep-breath.html
Posted
on Friday, January 8, 2016 at 06:58AM
by
Arlene
|
Post a Comment
|
Email
|
Print
No good news will start this posting, my friends. That's not because there isn't any – there is! and I'll get back to sharing it next posting – but because it is time for me to write about Duma once again. There is nothing redeeming about this situation, but I believe it is important to focus on it today.
I do not – I cannot claim to – have final or absolute answers. But I raise critical issues.

~~~~~~~~~~
I first wrote on August 4th about the situation – the late July torching via a firebomb of a house in the Arab village of Duma, which ultimately caused the death of three people, starting with 18-month-old Ali Saad Dawabsha.
Credit: AFP/Jaafar Ashtiyeh
You can find the full post here:
http://arlenefromisrael.squarespace.com/current-postings/2015/8/5/august-4-2015-rush-to-judgment.html
I want to begin by referring back to pertinent sections of that posting to establish context for what is going on now:
~~~~~~~~~~
At the scene of the arson, graffiti spray-painted on the wall led to the wide-spread assumption – in some cases tentative and in others not so tentative - that it was an attack by Jews:
The graffiti consisted of a Jewish star and the Hebrew word nekama, which means "revenge."
Credit: Zacharia Sadeh/Rabbis for Human Rights
Elsewhere on the wall was written, "Long live King Messiach" (HaMelech HaMoshiach).
Credit: Zacharia Sadeh/Rabbis for Human Rights

Academic Daniel Gordis wrote, "it is almost universally assumed that the attack was the work of right-wing Jewish nationalist extremists." Defense Minister Moshe Ya'alon reflected this assumption when he declared, "We intend to fight Jewish terror with determination and without compromises." But I did not see this assumption as "almost universal."
What was widely suggested was that the perpetrators were "radical settlers" from a nearby Jewish community – with "settler," in this context, a pejorative. The fact was, however, that there were no identified suspects when this presumption was advanced. This was the "Rush to Judgment" that I referred to in the title of my August 4 post.
On the part of the Jews of Israel, there was, first, a stunned sorrow, on learning that a baby had been destroyed, that a family had been attacked in their home. But then there was the difficulty of taking in the fact that it may have been Jews who did this. Jews are not supposed to behave thus. The visceral reaction was that such an act demeaned us, as a people.

There were demonstrations to register opposition to terrorism; rabbis who spoke out forcefully against use of violence for resolving societal problems; editorials that decried what our society was in danger of becoming and demanded communal soul-searching.
And so, there was a way in which it was possible to say that we had demonstrated that this is not what what we are – we had demonstrated to ourselves and before the world that we are different. We stand against violence.
And yet there was a point at which this ceased to resonate positively. There was too much breast-beating, a tone that echoed a sort of communal guilt that was not appropriate. Condemning the terrorism implicit in burning a baby is one thing. Assuming that our whole society is generating a terrorist mentality – because of one act that may or may not have been committed by Jews - is something else.
(I didn't say this explicitly in August, but I would suggest now that this was galut mentality. This rush to assume guilt. Seeking answers and being ready to acknowledge the fact of a Jew who committed a terror act is one thing – this went further.)
Add to this the way in which our political adversaries and enemies chose to use the terror act in Duma to attack Israel.
And the way in which leftist Israelis sought to use this as a weapon against "religious Zionists," "nationalists" – representing them as violent crazies who must be restrained.
The so-called "Rabbis for Human Rights" (which I consider shorthand for Rabbis for Arab Human Rights) irked me greatly. Which is hardly surprising. One of their field workers was cited as saying this "terrorist action" was "one of the more heinous ones that has occurred in the West Bank." The message: that Jews commit atrocities that are as bad or worse than what Arabs do.
My mind went immediately to what was done four years ago to five members of the Fogel family, murdered by Arabs while they slept in their home. The perpetrators declared themselves proud of what they had done, which included mutilating the body of the Fogel's two-month old baby. I had no recollection of Rabbis for Human Rights speaking out on this most horrendous attack – but then, the Fogels were "settlers" of a religious orientation.
As for the EU, their response to this incident was vile:
"The Israeli authorities should … take resolute measures to protect the local population. We call for full accountability, effective law enforcement and zero tolerance for settler violence," declared a spokesperson for Federica Mogherini, head of foreign policy for the EU, in a prepared statement.
When, ever, did you hear an EU spokesperson say to Abbas or other PA leaders that it was time for them to take full accountability for the violence visited upon Jews by Arabs living in PA areas? When did they demand zero PA tolerance for violence? Rhetorical questions, of course. The EU does not see fit to predicate support for the PA on its accountability with regard to terrorism. And yet Mogherini's spokesperson had the gall to speak about protecting the local Arab population from Jews.
~~~~~~~~~~
And here I come to the final issue I addressed in August: certain facts that I encountered cast doubt on the likelihood that it was Jews who killed Ali Saad Dawabsha.
Hillel Fendel wrote an article in Arutz Sheva about this. He relayed the fact that "there have been reports of an ongoing, 18-year feud between two clans in Duma that might be related to the murderous arson."
Then he cited Yonadav Tapuchim, a Jew who had gone into Duma with other Jews in an attempt (unsuccessful) to pay a condolence call to the bereaved family. Tapuchim had written on his Facebook page that there was something suspicious about the nature of the alleged arson, with "curious aspects" in the story.

"I would start with the fact that the two houses [an empty one was firebombed first ] are located in the center of the village, and that in order to get there we had to travel a number of minutes from the entrance. Duma is spread out over a gigantic area, and the houses are situated at the end of a winding road, among fences and yards.

"According to the Duma version, the attackers burnt one house, then saw that it was empty, and so they went to set fire to the next house. The second house is enclosed by a fence, and the windows are covered by a dense lattice; a firebomb cannot be hurled through the windows, and in any event it is very hard to reach the windows behind the fence...."
Most of the time, when terrorists enter a village, they aim for attack on the houses close to its periphery, to reduce the chance of being seen and maximize the opportunity for escape. Such attacks are random in nature – the Fogel family, for example, was, to the best of my understanding, just in the wrong place, not singled out specifically for attack.
The logical question here is why Jewish terrorists would have taken themselves way into the center of the Arab village, where the chances for being seen or apprehended were much greater, rather than staying on the periphery. And why they would have chosen to hit a home that was difficult to access because of fencing, if the intent was to hit "a" family, not to target any particular family.
If the perpetrator belonged to a clan that is feuding with the Dawabsha clan, then there might indeed have been a specific family that had been targeted. And thus a specific reason for going to that particular house. What is more, if the perpetrator belonged to the feuding Arab clan of Duma, then, presumably, he was already a resident of the village and not someone who had to make his way from the outside – and not identifiable in the way a religious Jew would have been.
~~~~~~~~~~
Let us then carry this one step further:
On the front page of the August 4th Jerusalem Post, there was a feature story about the family that owned the empty house that had been firebombed. They were supposed to be in the house that night, but were delayed in Nablus (Shechem). And guess what? Their name is also Dawabsha – they are cousins to the family that was attacked.
Was this truly random then? An attack by Jews from the outside? Or an attack by people who were after members of the Dawabsha clan specifically?
What was explained by Emam Dawabsha (lady of the first house) is that the arsonists "torched the backroom of their home where they typically slept on hot summer nights."
So then, one last question: Was it simply a random act by Jewish terrorists, who happened to torch the room where this family would have been sleeping even though it was at the back of the house? Or was the attack by people who knew full well where the family was expected to be?
~~~~~~~~~~
Some commentators have taken a close look at that "HaMelech HaMoshiach" graffiti. Clearly, it suggests, or is deliberately designed to suggest, a "radical religious settler." However, this specific term is directly associated with the Chabad-Lubavitch movement today. (If you doubt it, Google it and you will see.) But Chabad – indisputably the most open and moderate of hassidic groups – is not associated with terrorism. Was this term written by a radical religious settler? Or by an Arab who wrote Hebrew and got his religious groups just a tad mixed up?
(Some commentators have suggested – there are apparently ways for graphologists to assess this – that the way the Hebrew looks suggests that it was not written by a Jew thoroughly comfortable with Hebrew, but by someone who was copying the Hebrew.)
~~~~~~~~~~
For some considerable time thereafter, there was only silence.
If there was ever a serious investigation within Duma, regarding the clan feud, etc., no word was ever leaked about it, no report ever issued.
But neither was there any information leaked about evidence secured in the course of an investigation of possible Jewish suspects. As it turned out, there apparently was no evidence.
At one point Defense Minister Moshe Ya'alon made an ambiguous statement that bewildered many – myself included. We know who did it, he said. Jews, but not from the price tag (tag mehir) movement. Those responsible are a small group of perhaps a couple hundred who are very radical, he said, and a danger to Israel because they want to overthrow the government. No arrests followed this statement, however. Ya'alon said this was because it would "expose intelligence sources" if arrests were made.
~~~~~~~~~~
Then, some some six weeks ago, a number of far right young people (the original number I believe was six and then one was released) were detained in connection with the Duma arson. In their teens – at least one a minor – and early twenties, their identities were withheld.
These are members of the hilltop youth, who have established themselves on hilltops in Samaria, attempting to claim the land without approval from the gov't. They are extremely right wing, and passionate in their beliefs. They are disenchanted with the government, often alienated; they may be responsible for price tag graffiti, or vandalism on occasion.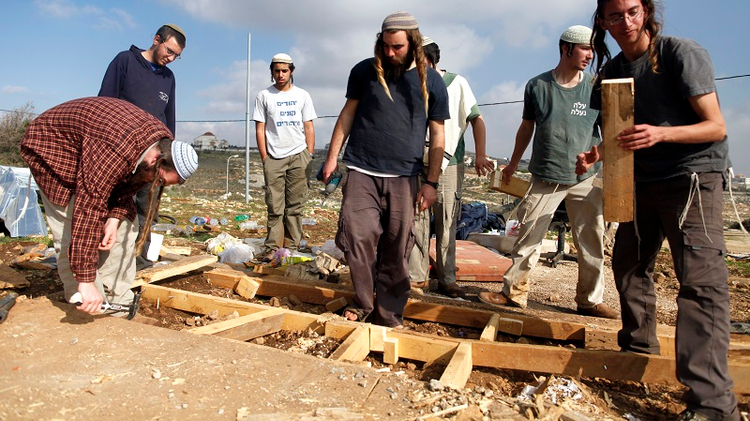 Credit: i24news
You might deplore their positions and tactics, wish they had better guidance from adults who can reach out to them, or admire them as courageous and honest. But none of what I just described, per se, makes them "terrorists."
The question before our nation now is whether any one of their members indeed is a terrorist.
~~~~~~~~~~
They were not arrested because there was no evidence against them and thus no way to charge them. And here I want to stop and cite political commentator Martin Sherman, who recently provided valuable perspective with regard to the fact that Shin Bet had nothing on them (emphasis added):
"Having committed the dastardly deed, these youthful renegade radicals, who presumably have not been extensively schooled in the tradecraft of clandestine activity, apparently have the iron discipline not to let slip the vaguest hint of what they had perpetrated. No boastful bravado, no indiscreet phone call in a moment of weakness – only sphinx-like silence for months on end, while the county's entire law enforcement apparatus, together with the formidable internal security services, was hunting them.
"Remember, the suspects, unlike covert intelligence agents operating in foreign lands, cannot escape to some safe haven in another country. Quite the opposite, they comprise a small, easily identifiable group, confined to well-known locations, readily recognized by their physical appearance and thus unable to blend in easily with the general population.
"For months the law enforcement agencies, with all the measures at their disposal – covert surveillance, phone tapping, insertion of undercover agents, enlistment of group members to become informers (either willingly, by positive persuasion or unwillingly, under duress) – could not come up with any incriminating evidence...

"Could it be that there is something disturbingly wrong with this picture?"
http://www.jpost.com/Opinion/Into-the-fray-Duma-dirty-dancing-and-deeply-disturbing-detention-439022
~~~~~~~~~~

And so, minus evidence or specific charges, the Shin Bet – Shabak, the Israeli internal security agency – held them in "administrative detention" for weeks without allowing them access either to their parents or to their pro bono lawyers from Honenu.
Why they selected the particular individuals they did, when they apparently were lacking evidence pointing to them specifically, is something I cannot explain. My guess at the time – and I caution that it was only my speculation – was that they decided these radical kids were a good place to start, and figured if none of those in detention were responsible, in the end they would provide information that would lead them to others.
The situation came to the fore when Honenu lawyers finally were allowed to meet with their clients on December 16th. The next evening, three attorneys associated with the case held a press conference during which they charged that the remand conditions and methods of interrogation were "appalling."
Itamar Ben-Gvir, for example, said:
"I met my client after 21 days, during which he was forbidden to meet an attorney. I met a man physically, mentally, broken, a man who needs psychotherapy. The Shin Bet investigators made him into a shadow of a man."
He claimed the interrogation was accompanied by "sexual harassment against my client, harm to what is holy to him, to his observance of the Torah and commandments, and sleep deprivation for long periods."
http://www.timesofisrael.com/shin-bet-broke-my-client-says-attorney-for-jewish-terror-suspect/
Credit: Yonatan Sindel/Flash90
~~~~~~~~~~
These deeply distressing charges were followed by counter charges and denials that made it very difficult to grasp with firmness precisely what was going on. At some points it was impossible to declare anything definitively. There seemed little to do but wait for greater clarity.
Here I can only summarize what has been and continues to be a very painful and complex situation.
Shin Bet for its part, insisted what they were doing was "tough interrogation" – supervised by lawyers - that did not constitute "torture," as the charge had been made. But then we came to a horrendous place of asking where "tough interrogation" stops and "torture" begins. Refusing to allow the suspects sleep – what is that? And refusing a religious person a chanukiah for lighting candles? Or clean underwear? Not letting a 17 year old speak with his family for weeks? Tying a suspect's hands behind his back in an uncomfortable position for extended periods?
And so questions began to be posed regarding what it was appropriate for Israel, a democracy, to be doing. Especially, as minors were involved. There have certainly been suggestions that the law has been broken in one regard or another by the methods of interrogation that were used.
~~~~~~~~~~
It was explained by multiple persons – persons in gov't and journalists - that the Shin Bet was dealing with a very serious situation that necessitated "toughness" – because these young people want to overthrow the government and are dangerous. Overthrow the government? That would justify a great deal. This was the original claim of Ya'alon that I referred to above.
But what does this mean? That the hilltop youth are thoroughly alienated by the government and would prefer one that works according to principles of Torah is likely true. But it's a huge stretch from acknowledging this to saying they represent a "danger." This, my friends, I find it difficult to believe. There has been no evidence to bolster this claim – not with all of the investigation of the group that has been done. A convenient charge to make, perhaps to justify actions that should not be justified How? How would they be a danger in any real sense? And if they are a danger, why have no indictments in this respect been brought?
What occurred to me as these charges were being made is that we have at least one Arab member of the Knesset (Hanin Zoabi) who speaks for the enemy – and yet she is still in the Knesset. But the young people are dangerous? Is there equity of judgment here, or is it a matter of what is politically correct, and what will fly?
~~~~~~~~~~
Still another explanation offered for why "tough interrogation" was required was that these young people represented a "ticking bomb." By this was meant there was a real danger of their doing a second time what they had done once in Duma, so that information had to be secured quickly to prevent this from happening.
But this does not fly either. The arson at Duma happened at the end of July, and these young people were at large until approximately mid-November. That would have been plenty of time for them to perpetrate another terror attack, had that been their intention. There is no way to make the case for a ticking bomb here!
The term "ticking bomb" is applied with regard to an Arab with terrorist connections who may know where weapons to be used in an imminent attack are hidden, or exactly when and where the next attack is going to happen.
~~~~~~~~~~
Late last week, a news story broke that undercut denials of torture and rendered this entire situation more troublesome still (emphasis added):
"Sources close to the probe of a fatal firebombing of a Palestinian home in July say Jewish suspects in the case were tortured under the express authorization of Attorney General Yehuda Weinstein, Haaretz reported Thursday.
"The unnamed sources reportedly allege that Weinstein authorized the use of severe interrogation techniques against the detainees several weeks ago, after officials in the Shin Bet internal security service informed him that the investigation was at a dead-end.
"The report further stated that Prime Minister Benjamin Netanyahu was not informed of this decision in advance, and was only notified about the use of extreme measures after the fact."
http://www.timesofisrael.com/a-g-authorized-torture-of-jewish-terror-suspects-report/
Credit: YNet
~~~~~~~~~~
And now, Amiram Ben-Uliel, one of the young people who has been in detention, is reported to have confessed and has been indicted for the arson at Duma. Shin Bet says he acted alone (as his accomplice backed out) and that he re-enacted part of the crime in the course of his confession.
Courtesy
~~~~~~~~~~
There are two questions of over-riding significance here. One is the question of whether he did it.
I do not know and am obviously not in a position to make final judgment on this. His wife insists that he is innocent but cracked under torture. There certainly are false confessions on record given as a result of torture, whether it is true in this case or not.
IF he did it, by himself and without the assistance of an accomplice, it means that he went along a winding road into the center of Duma, set one house on fire, saw that no one was in it, set a second house, which was difficult to access because of fences and lattice-work, on fire, wrote the graffiti on the wall, and got out without being seen.
~~~~~~~~~~
But there is another issue which likely supersedes the first question: If his confession was secured via torture, it is not legal. The Movement for Governability and Democracy (Meshilut) had already charged that if the Attorney-General approved torture despite the "lack of concrete events justifying such measures" he acted illegally "and in violation of a Supreme Court ruling on this matter."
http://www.israelnationalnews.com/News/News.aspx/205884#.VomupJtunIU
Will the confession be accepted by a court of law then? For without the confession, the authorities have nothing and there is no case against Ben-Uliel.
~~~~~~~~~~
And so we are grappling with two matters of deepest concern.
One is whether a Jew committed terrorism against an Arab family.
But the other is whether Israel will conduct herself according to the rule of law – and whether "tough interrogation"/torture will be permitted when there is no independent evidence that would justify it. The Chief Rabbi of Jerusalem, Rabbi Aryeh Stern, having spoken with the young people held in detention, has already called for an "independent inquiry" to determine whether the charges against the Shin Bet are true. There will be other such calls. .
Undoubtedly, I will return to this, as these are heavy, heavy questions.
~~~~~~~~~~
Before closing, I make this comment: I saw an article that implored, leave the Shin Bet alone, for we are indebted to them for the work they do in protecting us. I heartily concur that we are indebted to them! I write about it all the time – the Hamas cell they uncover, the cache of weapons, etc. It is an ongoing and very necessary service they provide to Israel with considerable effort and diligence.
Thus, does it follow that it gives me no pleasure to criticize the Shin Bet.
However, the Shin Bet as well must obey the laws of the land, and when it seems there are hard questions to be asked, they must be asked. This too is for Israel's sake, that she might be all she should be as a democracy.
In point of fact, this entire posting has been very difficult for me to write.
~~~~~~~~~~
© Arlene Kushner. This material is produced by Arlene Kushner, functioning as an independent journalist. Permission is granted for it to be reproduced only with proper attribution.

If it is reproduced and emphasis is added, the fact that it has been added must be noted.

See my website at www.arlenefromisrael.info Contact Arlene at akushner18@gmail.com

This material is transmitted by Arlene only to persons who have requested it or agreed to receive it. If you are on the list and wish to be removed, contact Arlene and include your name in the text of the message.
http://arlenefromisrael.squarespace.com/current-postings/2016/1/4/january-4-2016-it-is-time.html
Posted
on Monday, January 4, 2016 at 06:31AM
by
Arlene
|
Post a Comment
|
Email
|
Print
It has been my practice every year, as January first approaches, to speak about the fact that for me the New Year is Rosh Hashana, a time of reflection and prayer. All the secular new year means to me, I would write, is that I must change the date I put on my checks. And, while I almost never write checks anymore, this still pertains to putting the correct year at the top of my postings.

But every year, as well, I have most sincerely wished my readers a Happy New Year, and put up an illustration that is somehow celebratory, in recognition of how New Year's Eve is customarily observed by many. Champagne glasses. Bright sparklers.

Yet in this posting you will see no illustrations of celebration. This year is different. Of course I wish one and all a good year ahead. But right now, in my heart of hearts, I feel revelry is not appropriate. At all. For the world is in crisis.

A Rosh Hashana model seems so much more fitting: Don't we need to reflect on what needs to be done to move this world of ours to a more peaceful and humane place – a place where evil is defeated?

And should we not pray for the strength and wisdom required to go forward?
Credit: Chabad

May I write a year from now uplifted by the good that will have transpired in the course of 2016.

~~~~~~~~~~

Be assured, I am not suggesting there is nothing to celebrate. For of course there is, always! Touching various bases:

"Researchers at the Hebrew University of Jerusalem have developed a molecule known as NT157 which targets metastatic human melanoma and colon cancer. The molecule has been licensed to Israeli startup TyrNovo for medical trials."

https://www.afhu.org/internationally-acclaimed-researchers-discover-a-double-anti-cancer-agent/news/#.VoO7TnlunIU


Credit: afhu

~~~~~~~~~~

"The Prime Ministers of Israel and Albania signed a joint declaration of friendship in honor of 25th years of establishment of diplomatic relations between the two countries. Other documents signed included a medical research cooperation agreement between hospitals."

http://www.israelnationalnews.com/News/Flash.aspx/346139#.VngM4Vnn-Ug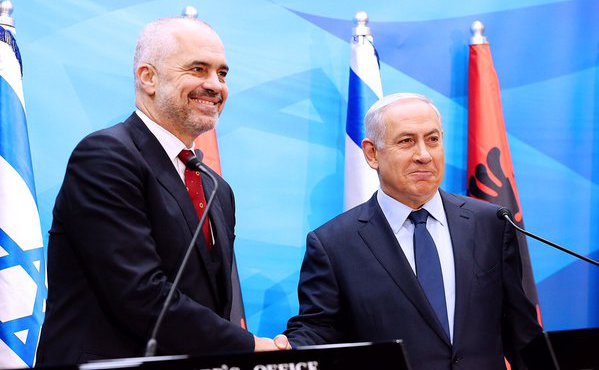 Credit: invest-in-albania

~~~~~~~~~~

"Israel is to open a diplomatic-level mission to the International Renewable Energy Agency in Abu Dhabi, its first openly established representative office in the United Arab Emirates. Foreign Ministry Director General Dore Gold (on left below) visited Abu Dhabi earlier in December, the first time an Israeli government official of his diplomatic rank has publicly made the trip."
Credit: israelhayom

http://www.israelhayom.com/site/newsletter_article.php?id=30033

This is not, I hasten to note, a full diplomatic mission and Israel and the UAE still do not have diplomatic relations. But, as one Israeli official noted, "It is half a step out the door." One more sign of a changing situation, being achieved incrementally.

~~~~~~~~~~

"Dudu Shevy was paralyzed in a car accident 12 years ago. Thanks to Amit Goffer, founder of Israel's ReWalk, Dudu surprised his family by walking down the aisle to his bride wearing a ReWalk exoskeleton loaned to him for his wedding day."

Shevy, who is an IDF vet, had three months of secretive training by the Defense Ministry in order to pull off the surprise.

http://www.timesofisrael.com/with-israeli-tech-paralyzed-idf-vet-walks-down-the-aisle/

Credit: madpatriots

~~~~~~~~~~

We are dealing with a crisis in our diplomatic relationship with Brazil. This is a situation that has broad and serious implications.

The current Israeli ambassador to Brazil, Raed Mansour, completed his term of office and returned to Jerusalem last week, and Dani Dayan, who had been chosen by Prime Minister Netanyahu to be the next ambassador, was prepared to replace him.


Credit: Flash 90

Dayan was an excellent choice: A native of Argentina, he knows Latin America well. What is more, Brazil is a rapidly growing market for Israeli goods and Dayan has experience as an entrepreneur.

But politics reared its head in an unexpected and severely problematic fashion: Three former Israeli ambassadors, all with a distinctly left-wing tilt – and all working for EU associated NGOs - lobbied Brazil, in a most inappropriate action, to reject Dayan because of his association with "the settlements": Dayan had served as head of the Yesha Council, the Council of Jewish Communities in Judea, Samaria and Gaza. By many, he is seen as the public face of the "settlements" – the Jewish communities in Judea and Samaria. Argued the former ambassadors, accepting Dayan would be tantamount to acknowledging Israel's right to be present in Judea and Samaria.

Thus did the BDS movement – normally associated with boycotting of goods from and academia in Judea and Samaria – intrude itself into a diplomatic matter. Dayan himself has said that this is not just about him, and whether he is accepted in Brasilia, but where all those diplomats who live in or are associated with Judea and Samaria will be deemed "not kosher."

This simply is not a situation that Israel can accept. Deputy Foreign Minister Tzipi Hotovely has let Brazil know that someone else will not be appointed. It will be Dayan or no one. Attempts at settling the matter quietly were unsuccessful and the issue has been made public.

See Caroline Glick on this, below, with more to follow shortly regarding the transparency of NGOs.

http://www.jpost.com/Opinion/Our-World-Dani-Dayan-and-the-challenge-to-Israeli-democracy-438685

~~~~~~~~~~

German journalist Jurgen Todenhöfer (shown with ISIS fighters), is the only Western journalist ever allowed access to the terrorists where they are located. He risked his life in moving with them in Iraq and Syria for 10 days, and has now done an interview with the the Jewish News in the UK.
Credit: al-Jazeera

ISIS, he declared (emphasis added) is "preparing the largest religious cleansing in history...The only country ISIS fears is Israel. They told me they know the Israeli army is too strong for them...

"They think they can defeat US and UK ground troops, who they say they have no experience in city guerrilla or terrorist strategies, but they know the Israelis are very tough as far as fighting against guerrillas and terrorists...

"...they are scared of the Israelis, and told me the Israeli army is the real danger. We can't defeat them with our current strategy."

http://unitedwithisrael.org/israel-is-the-only-country-isis-fears-says-western-journalist/

Let this be so! This is very relevant to the current situation ( see following).

~~~~~~~~~~

An offshoot of ISIS known as Shuhda al-Yarmouk – the Yarmouk Martyrs Brigade – has taken over wide swaths of territory in the Syrian Golan Heights from the al Nusra Front. Estimated at about 600 fighters, they are situated about 15 kilometers (just over nine miles) from Israel. Because they are in possession of a significant quantity of weapons, the IDF considers them to be a genuine threat.

Thus are appropriate precautions being set in place: security has been enhanced, concrete blocks have been put up at the fence (to prevent a truck with explosives from crashing through), more armored units have been brought to the area.

http://www.timesofisrael.com/idf-islamic-state-ally-poses-terror-threat-on-northern-border/

~~~~~~~~~~

Additionally, a new elite Commando Brigade - Brigade Oz – has been established. It is headed by Col. David Zini (pictured), a veteran of the most distinguished Sayeret Matkal special forces unit.

Credit: IDF Spokesperson's Unit

This new brigade will combine some of the army's most specialized units — Egoz, Rimon, Maglan and Duvdevan – for greater efficiency.

http://alt.timesofisrael.com/idf-goes-commando-with-formation-of-new-elite-brigade/

~~~~~~~~~~

The terror? It continues unabated:

On Saturday, an Arab rammed his car into troops manning the Hawara checkpoint south of Shechem (Nablus) and was shot deal. One solider was lightly wounded.

On Sunday, a terrorist stabbed a soldier near the Jerusalem Central Bus Station; the soldier was lightly wounded and the terrorist was grabbed by security. You see here the knife the terrorist used.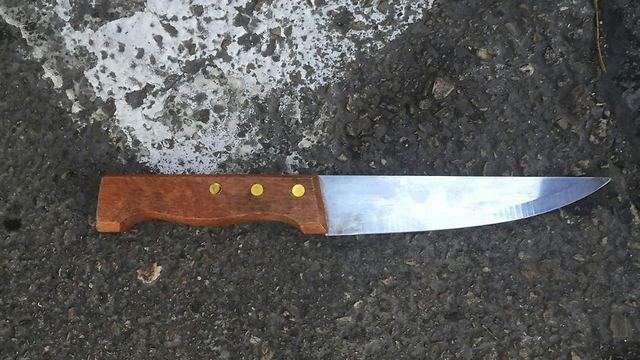 Credit: police spokeswoman

Later that same day, again at Hawara, Arabs attempted to stab soldiers who were checking their papers. One soldier was lightly wounded; the terrorists were shot dead.

~~~~~~~~~~

Sadly, yesterday we learned of the passing of Ganedi Kofman, the much-loved gardener of Hevron, who had been so badly stabbed but hung on for weeks.

http://www.israelnationalnews.com/News/News.aspx/205694#.VoPhsZtunIV

Credit: Jewish yishuv of Hevron

~~~~~~~~~~

Today there has been a car ramming that lightly injured one soldier; the terrorist was shot.

~~~~~~~~~~

Before leaving the subject of terrorism, there are two items I want to bring to your attention in order to provide perspective (with emphasis added):

"With Palestinians committing stabbing attacks against Israelis almost daily, the PA and Fatah have chosen to glorify and promote the 'blood' and Martyrdom motifs.
"The Facebook page of official spokesman of the PA Security Forces Adnan Al-Damiri, posted a message from Fatah Shabiba youth movement to children that the way to succeed in 'revolution' against Israel is to 'water it with blood':

"Teach your children to love the land
"Teach them that we live a life of suffering
"Teach them that there is a seed in the ground
"If they water it with blood, a revolution will flower
"Teach them that Fatah is the eternal revolution
"That the 'Storm'
"Is the blade of the intifada
"And that the Shabiba are the knights of the rocks."

http://www.palwatch.org/main.aspx?fi=157&doc_id=16785

Once again, my friends, I must ask that you save this and broadcast it widely. People must know.

~~~~~~~~~~

Dr. Ofer Merin, Director of the Trauma Unit at Shaare Tzedek Hospital says that the wounds suffered by terror victims are not random. "The terrorists know where to strike," he declared at a conference on emergency medicine.

"Three weeks ago, a casualty who is still hospitalized was brought to us with four stab wounds: one in the lungs, one in the upper atrium, one in the right ventricle and one in the neck. It's as if someone read the manual, and then the casualty came in with two punctures in the heart. You learn from that, that they know where to strike."

http://www.israelnationalnews.com/News/News.aspx/205650#.VoPmBJtunIV

Credit: Hadas Parush/Flash 90

Questions are raised, then, about whether attacks are truly "lone wolf" as has been claimed."

~~~~~~~~~~

There is more, my friends. More that is painful, and difficult and confusing. It will wait until my first posts of 2016.

~~~~~~~~~~

But let us end this last post of 2015 with something lighthearted: a story about an ostrich ambling down a street in the southern Jerusalem neighborhood of Gilo causing quite a good-natured stir, with people taking selfies with the bird.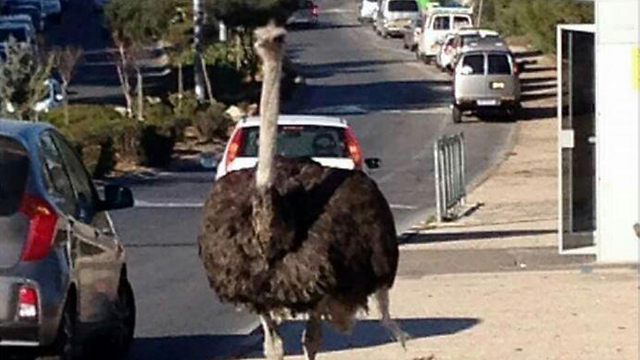 Credit: Shlomi Hazut

The bird – approximately one to two years old - had been bought illegally as a chick from an Arab marketplace near Tel Aviv, and was being raised in its owner's home in Jerusalem when it escaped.

Said Dr. Asaf Brill of the Jerusalem Municipality Veterinary Service:

"We experience fleeing animals like parrots and iguanas, but these are animals people usually raise. The ostrich is a wild, dangerous and endangered bird. It can reach the weight of many hundreds of pounds – a kick from it can kill a man."

A Jerusalem Municipality spokesperson said that, "Out of a deep concern for her well-being, the municipal authority has coordinated her transfer to the Biblical Zoo, where she will receive the dedicated care of the professional staff."
http://www.breakingisraelnews.com/57218/watch-runaway-ostrich-casually-strolls-streets-jerusalem/#EMD7kipcIhXUb7Ut.99

~~~~~~~~~~

"Bashana Ha-ba'a" is an Israeli folksong commonly associated with Rosh Hashana. "You will yet see, you will yet see," goes the refrain, "how good it will be next year."

I found this old video of the song that somehow seems right for us now in all its unpolished eagerness. Children are our hope, after all.

https://www.youtube.com/watch?v=ouUZY04p860

~~~~~~~~~~

© Arlene Kushner. This material is produced by Arlene Kushner, functioning as an independent journalist. Permission is granted for it to be reproduced only with proper attribution.

If it is reproduced and emphasis is added, the fact that it has been added must be noted.
Posted
on Thursday, December 31, 2015 at 09:26AM
by
Arlene
|
Post a Comment
|
Email
|
Print
The good news? Lets start with this picture of Yotam Sitboun:
Screenshot

Just a week ago, Yotam was, along with 13 others, the victim of a terrorist car ramming during which a portion of his leg was severely damaged. According to numerous sources, none official – his parents were not talking – the damaged part of his leg had to be amputated.
The boy's parents now say they have released this picture to dispel rumors. "It's important for us to clarify: false pictures and rumors about Yotam's health were published."

Does this mean that efforts to reattach the almost severed leg were successful? Or that he's bouncing back from the amputation? Do not know. Only know that the boy is doing all right and the parents – who did not allude to the condition of their son's leg - are hopeful.
That's enough to make us smile. And there is more from the parents:
"The nation of Israel is a great nation. Jews from around the world pray together with us and we feel this and it gives us and Yotam much strength. We are asking for you to keep praying..."

http://www.algemeiner.com/2015/12/18/parents-of-baby-terror-victim-publish-photo-of-smiling-son-reject-false-rumors-about-his-condition/
Please note here the total absence of bitterness and hatred in the parents' message. That, too, is what makes us a great nation.
~~~~~~~~~~
Also good news, of an entirely different sort, is that at long last we have taken out Samir Kuntar, a Lebanese Druze terrorist. He was the worst of the worst – capable of a brutal and despicable act. In 1979, participating in a Palestinian Liberation Front terror operation, he came down from southern Lebanon into Israel, kidnapped a father, 31-year-old Danny Haran, and his 4-year-old daughter, Einat. He shot Danny in front of Einat, then crushed her skull with the butt of his rifle. The moral depravity of this behavior defies rational comprehension.
Credit: Beitbart
Kuntar was tried and imprisoned in Israel, but in 2008 was released in a prisoner trade with Hezbollah in Lebanon. He then began operating with Hezbollah and was believed to have held a senior leadership position within that terrorist group. Reportedly, he recruited Druze for Hezbollah.
Israel never directly claims attacks such as this one, but Syrian militia reported a direct Israeli strike that took Kuntar out on Saturday night. The building he was living in, in the Jaramana neighborhood of Damascus, took the hit.

Credit: ste.india
http://www.jpost.com/Arab-Israeli-Conflict/Israeli-officials-praise-reports-that-terrorist-Samir-Kuntar-killed-in-Syria-437840
~~~~~~~~~~
According to reports in Arab media, eight other terrorists – who were working on related terror attacks - were taken out with Kuntar. In fact, it is being said that this was less vengeance for Kuntar's past terrorism than it was a need to eliminate him because of what he was currently planning with his associates.
There seems a great deal of validity to this, for there are reports that Kuntar was no longer working for Hezbollah but had become an agent for Iran. According to Ely Karmon, senior researcher at the International Institute for Counter-Terrorism in Herzliya, Kuntar was part of an Iranian effort to set up a platform in southern Syria.
http://www.jpost.com/Arab-Israeli-Conflict/Analysis-Kuntar-killed-for-future-plot-rather-than-past-attack-437888

~~~~~~~~~~
And yet, with this all, there is certainly a feeling on the part of many here that Israel has finally gotten someone who long deserved to die. Smadar Haran, widow of Danny Haran, spoke of the alleged assassination of Kuntar as "historic justice" and the "closing of a circle."

http://www.timesofisrael.com/hezbollah-mp-vengeance-for-kuntar-a-matter-of-time/

~~~~~~~~~~
It comes as no surprise that there was (Katyusha) rocket fire directed at northern Israel from Lebanon hours after the Kuntar hit – at least three projectiles landed in an open field near Nahariya. Israel, holding the Lebanese army responsible, shelled the area in Lebanon from which the rockets were launched.
But this is likely not the end of it, as Hezbollah vows retaliation, as do several Palestinian Arab groups.
Of course, both Syria and Iran condemned the assassination of Kuntar. And so did Hamas, which called the killing of Kuntar a "heinous" crime and called upon the international community to take action against Israel.
http://www.timesofisrael.com/hamas-condemns-heinous-killing-of-hezbollah-terror-chief/
Kuntar is to be buried in Beirut's Dahiya neighborhood and it is anticipated that the funeral will be the focus for a Hezbollah terror rally – complete with Nasrallah addressing the crowd via satellite feed from his bunker. The IDF is on high alert.

~~~~~~~~~~
Sunni Syrian rebels in battle with Hezbollah utilized social media to thank Israel for eliminating Kuntar.
http://www.israelnationalnews.com/News/News.aspx/205172#.VncL_ptunIU
~~~~~~~~~~
At the end of November, ostensibly in response to the Turkish shooting down of a Russian plane, the Russians declared that they had installed a battery of the S-400 ground to air missile defense system in northwest Syria.
Credit: Sputnik news
If that system is up and operating (there have been some questions about this), there may be implications to be drawn regarding Israel's action in Damascus. Thus does Aaron Lerner of IMRA conclude "that the operation took place with the knowledge of Russia that jets would operate at specific locations within the S-400 envelope - and in this case in a route that passed through the area of Syria's capital."
http://imra.org.il/story.php3?id=69353
Remember that Israel and Russian have a system of communication in place for coordination to avoid conflict in a variety of scenarios. And so this could well be the case (although it still seems fairly mind-boggling).
However, Ely Karmon, cited above, suggests that Israel may have used long range missiles that did not require entering Syrian air space.
Most important however, says Karmon, is that the strike underscores Israel's commitment to maintain full operational freedom and disrupt imminent threats to its security.
~~~~~~~~~~
Nothing is official yet, but there have been high level bilateral meetings in Switzerland and it is looking likely that Israel and Turkey will resume diplomatic relations.
There had been unease about this possibility in several quarters:
- Because of its potentially negative impact on the growing diplomatic relationship with Greece and Cyprus.
- Because of Turkey's demands regarding Gaza and its relationship with Hamas.
But now the official response here to what seems to be on the diplomatic horizon has been largely positive.
Turkey has been given a face-saving out with regard to its demands that Israel lift the "siege of Gaza" – actually a legal maritime blockade. Israel has no intention of lifting that blockade and allowing goods – which would include large quantities of weapons – to be brought in via the Mediterranean without being checked. That blockade will stay in place, but Israel will allow larger quantities of goods into Gaza via land – above and beyond the very large quantities already permitted in daily. Thus will Turkey say the blockade has been "eased."
For your information: on one single day – a fairly routine day - this August, 405 trucks carrying 12,966 tons of goods entered Gaza.
http://www.cogat.idf.il/Sip_Storage/FILES/8/4688.pdf
Many people have no clue that this is taking place.
Credit: IDF blog
The key here is diligent checking and stringency in terms of what can be brought in, e.g., regarding dual use products. (There has been some tendency for Israel to be, shall we say, excessively forthcoming in what has been permitted through in order to demonstrate humanitarian concerns.) Even now Turkish aid to Gaza is arriving at Israel's ports and being transported by land to Gaza.
And then – this is something most of us choke on because of the essential injustice of the situation - Israel will be providing a $20 million fund for the families of the Turks killed on the Mavi Marmara. They were killed in a defensive action when they viciously ambushed IDF naval commandos. This is something Turkey demands and there is a face saving aspect here as well.
http://www.jpost.com/Israel-News/Politics-And-Diplomacy/Face-saving-formula-on-Gaza-blockade-could-allow-Israel-Turkey-normalization-437838
~~~~~~~~~~
Pointing to a significant gain for Israel, Minister Ze'ev Elkin says the projected deal places "a heavy limitation on Hamas activity in Turkey": Turkey will be required to expel Hamas leadership - most importantly, Salah Al-Arouri, who is a founder of the military wing of Hamas, Izz ad-Din al-Qassam Brigades, and coordinates Hamas activities in Judea and Samaria from his base in Turkey.
But perhaps the most hopeful aspect of renewed relations is the prospect of a major deal for Turkey to purchase natural gas from Israel. This is potentially a multi-billion dollar project (that would ultimately involve the construction of a gas line) and, according to Energy Minister Yuval Steinitz of huge importance both with regard to further development of the Leviathan field in the Mediterranean (below), and bringing international energy firms back to Israel to look for new gas fields.

Credit: offshore technology
Turkey is dependent upon imports for its energy sources. As a result of its tensions with Russia, from which it has been buying natural gas, Turkey needs to find new sources.
http://www.ynetnews.com/articles/0,7340,L-4741131,00.html
~~~~~~~~~~
Shoshana Bryen's analysis of the situation – "When All Else Fails, Erdogan Looks to Israel" - is helpful (emphasis added):
"Turkey's foreign policy choices and current crises have combined to make Erdogan reach out to Israel for help...

"The restoration of relations with Israel is less a political reconciliation than an admission of the utter bankruptcy of Turkey's last five years of diplomatic endeavor."
http://www.gatestoneinstitute.org/7069/turkey-israel-relations
~!~~~~~~~~~
There is gushing from some members of Turkey's ruling party about the fact that Israelis are Turkey's friends – they make it all sound terribly positive. (With everything else, the Turks are eager to have Israelis as tourists to their country once again.)
But Dr. Daniel Pipes, president of the Middle East Forum, fears that Israeli leaders may be a bit naïve in their enthusiasm for this deal. He sees strong Islamist influence within Turkey. (We should note that even after the negotiations in Switzerland, Erdogan met with Hamas leader Khaled Mashaal.)
And savvy commentator Ruthie Bloom writes about "An ill-advised deal with the Turkish devil": "...getting in bed with an Islamist is tantamount to the tale of the tortoise helping the scorpion across the river. The deadly sting to the former is inevitable, even if the latter commits suicide in the process."
~~~~~~~~~~
A world in flux, sufficiently so to make the head spin.
~~~~~~~~~~
Unfortunately, the terror is not abating. On Saturday, three Israelis were stabbed by a terrorist in Raanana – one seriously hurt. Yesterday, an Arab woman attempted to stab soldiers in Hevron before being shot and seriously wounded. And on it goes. There have also been multiple IDF operations in which cells planning terror were apprehended before the fact.
~~~~~~~~~~
I end with the song "Shomer Israel": Guardian of Israel, watch over the remnant of Israel.
I do believe this may be Neshama Carlebach singing.
This video includes lovely shots of Israel.
https://www.youtube.com/watch?v=Agi56fq0mV4
~~~~~~~~~~
© Arlene Kushner. This material is produced by Arlene Kushner, functioning as an independent journalist. Permission is granted for it to be reproduced only with proper attribution.

If it is reproduced and emphasis is added, the fact that it has been added must be noted.
http://arlenefromisrael.squarespace.com/current-postings/2015/12/21/december-21-2015-this-and-that.html
Posted
on Monday, December 21, 2015 at 10:33AM
by
Arlene
|
Post a Comment
|
Email
|
Print
Credit: dellatore
Which means a rapidly changing political/diplomatic terrain.
In this immediate context, news that reverberates positively in two respects (emphasis added):
The Technion – Israel Institute of Technology laid a cornerstone on Wednesday in Shantou, in the Guangdong province of south-eastern China, for the first Israeli university in China: The Guangdong Technion Israel Institute.
"The combination of the innovative and entrepreneurial spirit of Israel and the unbelievable scale and resources of China will result in a great partnership. Together we will create a major research institute that will help not only China and Israel, but mankind in general," said Technion President Peretz Lavie at the groundbreaking.
http://www.jpost.com/Israel-News/Technion-breaks-ground-on-first-Israeli-university-in-China-437553
And so we see not only a venture that is good for Israel in immediate terms, we see signs, once again, of Israel's growing closeness to the far East. I am absolutely convinced that our hi-tech expertise and spirit of innovation will make us a nation to which people turn more and more.
~~~~~~~~~~
By way of example: Also on Wednesday, Liberia's senate president, Armah Zolu Jallah, was here – marking the first time that the head of Liberia's parliament visited Israel. He came with thanks to Israel for assistance in wiping out Liberia's Ebola epidemic. That assistance encompassed setting up of mobile clinics, training of medical teams and visits by Israeli medical experts.
Jallah expressed great admiration for Israel, saying – to his counterpart, Knesset Speaker Yuli Edelstein (to the left of Jallah in the picture below) - Liberia "can learn much from you in the fields of innovation, technology, agriculture and medical research."
http://www.jpost.com/Business-and-Innovation/Health-and-Science/Liberia-thanks-Israel-for-helping-to-wipe-out-its-Ebola-outbreak-437502
Credit: Knesset

~~~~~~~~~~
And there are significant signs of a new emerging alliance between Israel, Cyprus and Greece. Two days ago, representatives of all three countries met here in Jerusalem, in part to plan a summit - in Nicosia, Cyprus - in which Israeli Prime Minister Binyamin Netanyahu, Greek Prime Minister Alexis Tzipras, and Cyprus President Nicos Anastasiades are scheduled to participate in January.
http://www.jpost.com/Israel-News/Politics-And-Diplomacy/Israeli-Greek-Cypriot-officials-pave-way-for-trilateral-meeting-of-leaders-in-Nicosia-437516
~~~~~~~~~~
The three nations have many shared concerns - including gas in the Mediterranean, migration issues, fighting terrorism, and water management - certainly enough to motivate a sense of needing to work together. But this growing alliance has a complex background that also reflects upon that changing diplomatic terrain.
Credit: cns
As Col. (res.) Dr. Eran Lerman wrote recently:
"The flourishing new relationship between Israel and her two Hellenic neighbors in the eastern Mediterranean – Greece and Cyprus – is important on its own merits. But equally important, the Israel-Greece-Cyprus alliance seeks to block Turkey's ambitions of regional hegemony, while at the same time offering Ankara a key place in the new Mediterranean political order, if and when she comes to her senses. (Emphasis here in the original and added following.)
"Two events, apparently unrelated, yet interwoven in unpredictable ways, demonstrated last month that regional dynamics in the eastern Mediterranean are at a new and possibly formative stage.
"Turkey downed a Russian fighter operating in Syria, which raised fears of a broadening conflict, and placed two of the world's most headstrong leaders on what seemed like a collision course. Meanwhile, despite his roots in the country's traditionally anti-Zionist left, Greek Prime Minister Alexis Tsipras paid a short and warm visit to Israel. So did Cypriot President Nikos Anastasiades.
"When visiting Israel, Tsipras went so far as to recognize that Jerusalem is, and will continue to be, 'the eternal capital of the Jewish People' (while offering similar recognition to the putative Palestinian 'state').
"Both these visits, as well as the Russian conflict with Turkey, reflect – directly or by inference – aspects of the growing cost of Turkey's vaulting ambitions under President Erdogan and Prime Minister Davutoglu."
http://besacenter.org/perspectives-papers/9508/
~~~~~~~~~~
Feeling shut out as a result of the shifting dynamics, Erdogan – whose relationship with Israel has been cold to non-existent since the Mavi Mamara incident more than five years ago - has in recent days began making overtures to Israel, speaking about how a good Turkish-Israeli relationship would benefit the entire region. This signals the possibility of a real shift on Erdogan's part (and indeed there are reports that normalization of relations is on the horizon). Whatever is going on behind the scenes, however, Israel's public response has been appropriately cool (especially as Erdogan is still making demands regarding Israel's naval blockade of Gaza and more).
Erdogan was undoubtedly motivated in part by statements made by a furious Putin regarding the fact that trade relations with Turkey could be severed, and replaced by commercial understandings with Israel.
Just yesterday, at a major press conference, Putin accusing Erdogan of overseeing a "creeping islamization," and said he didn't "see any prospects of improving relations with the Turkish leadership,"
http://www.israelnationalnews.com/News/News.aspx/205080#.VnLm9JtunIU
Credit: realclear
It is believed that the announcement by Israel regarding the upcoming summit with Greece and Cyprus was timed to reassure these two countries that any normalization of ties with Turkey would not come at their expense. This announcement also made it clear to Turkey that Israel has other options in the region.
Shifting sands...and Israel as a major regional player.
~~~~~~~~~~
Earlier this week, Egyptian planes entered Israeli airspace in the course of its attack on ISIS in the Sinai. This was reportedly with Israeli permission, and the fact that this is so marks a shift in our relationship with Egypt, as well. We are on the same side, fighting common enemies.
http://www.israelnationalnews.com/News/News.aspx/204991#.VnLp85tunIU

Credit: Reuters
~~~~~~~~~~
I thought the perspective of this posting was important, after all the bad (and vile) news I've been writing about. I will – I know I must – return to less palatable issues such as the UN, the EU, the PA, terrorism and more in my next post.
Today a terrorist came at members of the IDF with a knife outside of Shechem (Nablus) and was shot dead before he reached them. We can call this a "quiet" day.
And so I circle around to two stories of victims of terror who have happy endings.
The first involves Naor Shalev Ben Ezra, a boy who was almost thirteen when he was attacked and almost died from his wounds. You will remember this incident: this was the case of the young attacker whom Abbas claimed Israel had "executed," when in fact he was being well cared for in the hospital. Noar had been knifed in the neck and for a period of time he could not talk.
"I have prepared for this moment for a long time," Naor told reporters on Thursday, "I didn't think I was going to have a bar mitzvah after I was stabbed, but, baruch hashem, I feel like I am 90-95 percent better than I was before." His bar mitzvah was celebrated at the Kotel in the presence of hundreds.

http://www.algemeiner.com/2015/12/17/family-of-jerusalem-terror-victim-celebrate-sons-bar-mitzvah-after-recuperation-from-stab-wounds/

Credit: Times of Israel
~~~~~~~~~~
Roi Kapach sustained very serious injuries as a result of a car ramming at Tapuah junction in Samaria last month and is currently undergoing strenuous rehabiliation. He is shown here in his hospital bed with the soldier who saved him:

Credit: humansofjudaism
On Tuesday, he asked his girlfriend to marry him, and expressed hope that they will be able to dance at their wedding.
http://www.algemeiner.com/2015/12/17/israeli-vehicular-terror-victim-gets-engaged-while-in-rehab-says-he-plans-to-dance-at-his-wedding/#
Gratitude, then, for life, and resilience.
~~~~~~~~~~
We are going into Shabbat now, and so I offer the Maccabeats singing Lecha Dodi, which has mystical overtones and is traditionally the centerpiece of Kabbalat Shabbat – the service welcoming in the Shabbat.
https://www.youtube.com/watch?v=RWmcQpzUMHY
~~~~~~~~~~~
© Arlene Kushner. This material is produced by Arlene Kushner, functioning as an independent journalist. Permission is granted for it to be reproduced only with proper attribution.

If it is reproduced and emphasis is added, the fact that it has been added must be noted.
http://arlenefromisrael.squarespace.com/current-postings/2015/12/18/december-18-2015-shifting-sands.html
Posted
on Friday, December 18, 2015 at 07:16AM
by
Arlene
|
Post a Comment
|
Email
|
Print
There IS good news, in spite of all that's vile. And that's where we are going to start:
The very articulate, California-based Denice Gary-Pandol, radio show host, lecturer and teacher, "gets it." She understands what the world confronts today, and stands solidly with Israel.
Via her Strategic Solutions for a New Middle East, she has just released a Hannukah/Christmas video Greeting for 2015. Watch it. You will be uplifted:
http://www.strategicsolutionsforanewmiddleeast.com/hanukkah-christmas-greeting-2015/
~~~~~~~~~~
As for what's vile...
I wrote in my last posting about Susan Talve of Central Reform Congregation in St. Louis. As you may recall, she spoke over the candles at the White House. Talve, I explained, is a member of T'ruah, a group that is now promoting "soft BDS" programs. And I was flippant – sometimes that works well. Is "soft BDS" like being a little pregnant? I asked.
Daniel Greenfield, however, writing in FrontPage Magazine, identified "soft BDS" with seriousness: "'Soft BDS' targets Jewish organizations conducting humanitarian projects in parts of Israel that BDS bigots want made Judenrein. T'ruah's Soft BDS is even worse than basic BDS because instead of targeting companies...it goes after humanitarian projects. There is a special place in hell for those BDS bigots who hate the Jewish State so much that they go after the charities that help make life better for Israel's vulnerable populations." (Emphasis added)
http://www.frontpagemag.com/fpm/261115/obamas-favorite-new-anti-israel-bds-group-joins-daniel-greenfield
Credit: freedomoutpost
~~~~~~~~~~
I also wrote about the Haaretz Conference in NYC, peopled with anti-Israel speakers. By no stretch of the imagination would Haaretz ever be described as Israeli nationalist. But there are limits – or should be.
One of the speakers at the conference on Sunday was Saeb Erekat, who for years was chief negotiator for the PA and is now PLO Secretary-General.
Draped on the stage, behind the speakers' podium, was an Israeli flag. Erekat let it be known that he would not speak in the presence of the Israeli flag.
He should have been shown the door. But he wasn't. Haaretz removed the flag for him. Those responsible should hang their heads in shame. They won't.
http://www.israelnationalnews.com/News/News.aspx/204846#.Vm8RwZtunIV
~~~~~~~~~~
But most vile is this:
Not far from the Chords Bridge in the center of Jerusalem on Monday there was a terror attack:
Credit: Jerusalemshots
An Arab plowed his car up onto the sidewalk, where citizens were waiting for a bus. He rammed 14 people. One of those severely injured was Yotam Sitbon, an 18 month old toddler. My best information (the parents refuse to give information to the media) is that his leg, which had been seriously damaged, had to be partially amputated after two surgeries in which attempts were made to save it.
Credit: Israel Police
After ramming people, the terrorist jumped out of his car, brandishing an ax.
Credit: Israel Police
He was shot dead.
~~~~~~~~~~
I cried when I learned about the baby who lost part of his leg. And then (I trust my readers will understand), on reflection, I was glad that I had cried. There is a lingering concern that these attacks, occurring day in and day out, might begin to seem "routine" and inure us to suffering. But if I – and many, many others – still feel that innocent child's pain and sense the horrid waste of it all, we have not been rendered insensitive. And in the end, I think, we will not be because of who we are.
~~~~~~~~~~
Within hours of the attack on Monday, Netanyahu announced that barriers would be installed at key bus stops in Jerusalem.
http://www.timesofisrael.com/pm-orders-barriers-at-bus-stops-across-jerusalem-after-car-ramming/
On Sunday, even before this latest attack, Transportation Minister Yisrael Katz had announced the formation of a 300-person civilian security unit that will be stationed along public transportation routes.
The unit is comprised of security guards and former combat soldiers who are equipped with uniforms, handguns, and walkie-talkies. They have been issued certificates from the police that authorize them to conduct searches and detain suspicious parties. (My granddaughter actually witnessed such an action yesterday.) And they have at their disposal dozens of special security vehicles, which will operate along traffic arteries during all hours that buses operate said.

http://www.jpost.com/Israel-News/Civilian-security-guards-deployed-at-Jerusalem-bus-stations-437193
~~~~~~~~~~
Additionally, according to an army statement, IDF troops and Border Police officers arrested 15 suspects during operations in Judea and Samaria overnight Monday. This is the sort of operation that goes on routinely.
~~~~~~~~~~

This is all to the good, and very necessary. But it does not bring the terrorism to a halt.
Yesterday, Hamas announced that the terrorist – who lived in Hevron but possessed an Israeli residency card because he previously lived in the Beit Hanina neighborhood of eastern Jerusalem – was a member of Hamas. They actually put out a flier promoting this fact.
http://www.timesofisrael.com/hamas-says-jerusalem-car-ramming-terrorist-was-a-member/
~~~~~~~~~~
What is more, Hamas leader Khaled Mashaal said the other day, while in Malaysia, that (emphasis added):
"The Palestinians have reached the realization that negotiations with the (Israelis) are useless. The so-called peace process is futile. There is no peace. Only the path of Jihad, sacrifice, and blood (will bear fruit)...

"Weapons like Kalashnikovs [rifles] or missiles are not at hand, but there are knives and cars with which to run over the enemies...after the knives used by the people of the West Bank and Jerusalem, can anyone possibly have an excuse to abandon the path of jihad? Nobody can have such an excuse...
"They [stabbers] are the most exalted and the noblest of people."

http://www.timesofisrael.com/hamas-political-leader-urges-more-stabbing-attacks/

And so, Hamas – which has NEVER endorsed negotiations – is cashing in on the current activity and joining the incitement parade.
And we can talk about vile.
~~~~~~~~~~
But despicable terrorists though they are, the leaders of Hamas have been fairly straightforward in stating their intentions. For this reason, I think an argument can be made that Mahmoud Abbas of the PA surpasses them. Unabashed in his hypocrisy, he is prepared to play both sides at the same time.
Abbas spoke at an event to mark the UN's International Anti-Corruption Day at the Red Cross and Red Crescent headquarters in El-Bireh on Monday.

Yes, yes, I know: a UN International Anti-Corruption Day is ludicrous in and of itself. Perhaps we might say it provided appropriate context for Abbas's speech:
There has been violence, he explained, because of "the despair of young Palestinians over the lack of a political horizon for the two-state solution, the invasion of the Al-Aqsa Mosque and the continuation of settlement building and military checkpoint deployment."

Young Palestinians suffer from the "lack of an alternative."
http://www.timesofisrael.com/abbas-wave-of-violence-due-to-despair-of-palestinian-youths/
~~~~~~~~~~
What we see, first of all, is that he is endorsing violence. Of course young people have an alternative.
Then he out-and-out lies, with regard to "invasion of the Al-Aqsa Mosque." This has been the theme of his incitement during this period, and it has no factual basis. I just wrote about how Netanyahu is – maddeningly - bending over backwards to keep the Wakf happy.
Add to this the fact that he makes Israel responsible for "lack of a political horizon," when in truth he is the one responsible. Remember, he has now admitted that he walked away from a deal for a Palestinian state. A state is not his intention – and we need to regularly remind people of this fact – even as he pretends to be frustrated by the political situation.
As to despair among young Palestinian Arabs, it is fomented by the PA, with its gross corruption and lack of human rights. Young people are not pining for a state, but for better quality of life.
Vile on so many counts.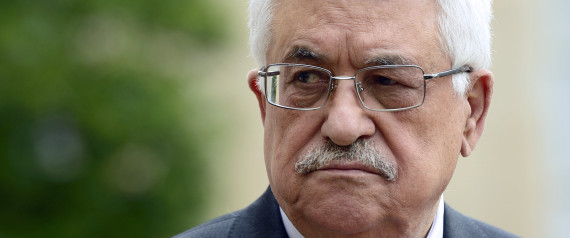 Credit: AFP/Getty
~~~~~~~~~~
A bit of lighthearted news to counter the above:
Israel's Ben Gurion Airport has been ranked as the world's fourth best international airport. Among other pluses, it is recognized as "one of the world's most secure airports."
No surprise here, but pride, yes.

http://www.jewishpress.com/news/breaking-news/israels-ben-gurion-airport-ranked-fourth-best-airport-in-the-world/2015/12/07/
~~~~~~~~~~

"The number of tourists from India to Israel in October increased by 44% over the same month last year...Israel and India have enjoyed a closer relationship since the election of Indian Prime Minister Narendra Modi. Indian President Pranab Mukherjee became the first Indian head of state to visit Israel, also in October, and condemned all acts of terrorism..."

This is emblematic of our growing relationship with peoples and nations of the East – about which I will continue to write - and so a source of hope.

http://www.algemeiner.com/2015/11/24/report-despite-spike-in-terrorism-sharp-increase-in-indian-tourism-to-israel/#

~~~~~~~~~~

Here a lovely story about Kila, a retired IDF dog, who ran dangerous missions with the Oketz unit and now cheers up seniors in an assisted living facility.

"Kila is a giving dog. Whenever someone calls her name, she immediately comes, and when a hand is reached towards her, she understands and puts her head in the reacher's lap."
Kila, in her own way, compensates a bit for the world's ugliness.

http://www.ynetnews.com/articles/0,7340,L-4739132,00.html
~~~~~~~~~~
A nigun is a song without lyrics – sometimes soulful sometimes joyous - that is drawn primarily from Chassidic roots. It can transmit a great deal.
I've decided to close today with two nigunim. First one delivered (with hints of Carlebach) by Yehuda Green. Relax, close your eyes, and take it in.
https://www.youtube.com/watch?v=2Sm9vyLnnpc
~~~~~~~~~~
And then Shlomo Katz doing a Shlomo Carlebach nigun that is an expression of joyous celebration. This is quintessential Carlebach. Enjoy and be uplifted.
https://www.youtube.com/watch?v=ZF2DFsgqNSs
~~~~~~~~~~
© Arlene Kushner. This material is produced by Arlene Kushner, functioning as an independent journalist. Permission is granted for it to be reproduced only with proper attribution.

If it is reproduced and emphasis is added, the fact that it has been added must be noted.
http://arlenefromisrael.squarespace.com/current-postings/2015/12/16/december-16-2015-how-vile-does-it-get.html
Posted
on Wednesday, December 16, 2015 at 07:58AM
by
Arlene
|
Post a Comment
|
Email
|
Print
The eighth and last candle of Chanukah was lit last night, and we are now in the final day of the holiday.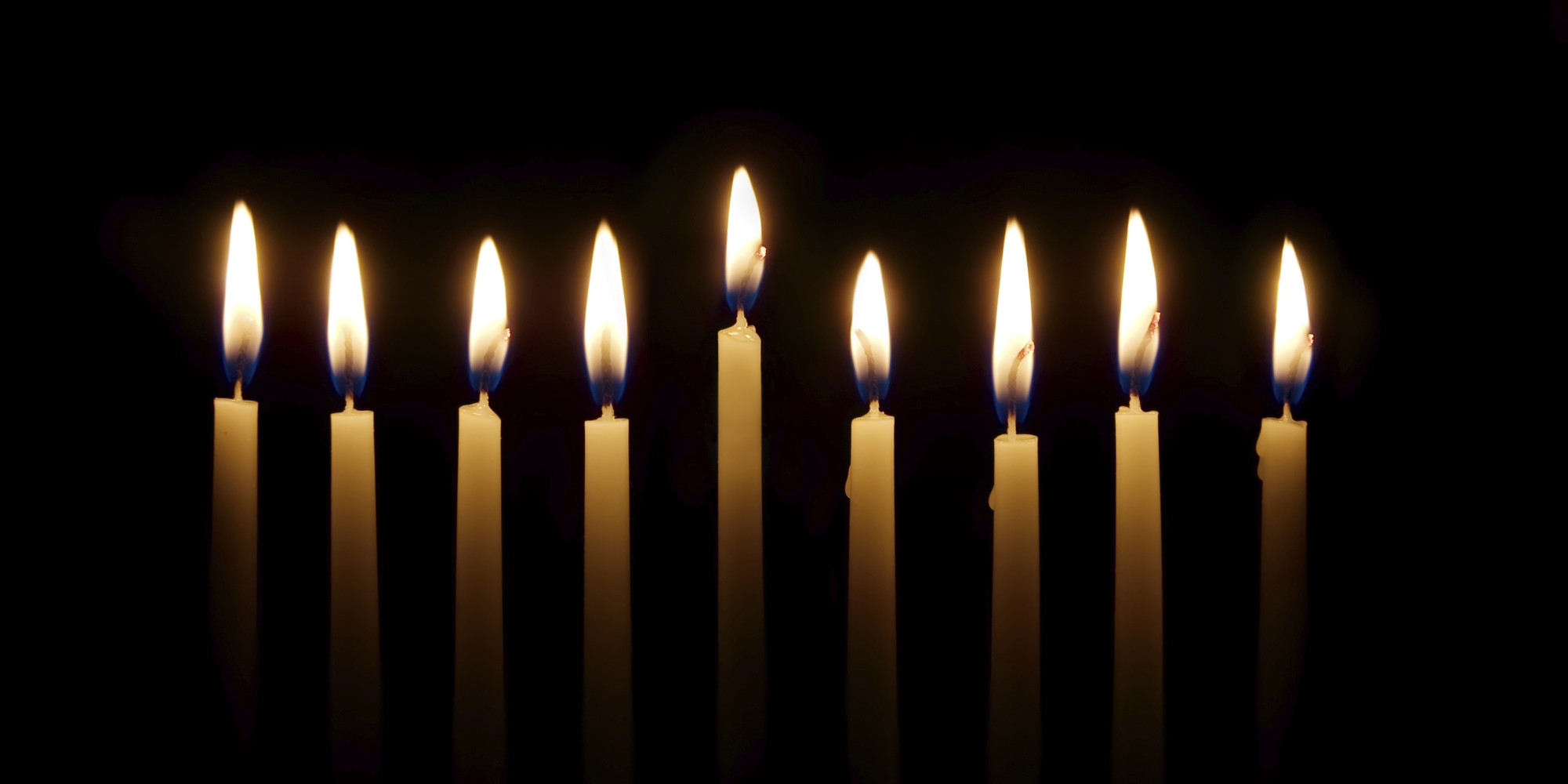 Credit: Huffington Post
~~~~~~~~~~
I begin here with what I consider good news. Yossi Cohen, who has been serving as National Security Advisor, has been tapped by Prime Minister Netanyahu and is about to become head of the Mossad.
Credit: Flash 90
This past Shabbat, Cohen spoke at his synagogue and, as far as I am concerned, what he said has real import.
"Without siyata de'shamaya ['Heavenly aid,' in Aramaic] the state of Israel would not have been established", he declared. "And today too, we need siyata de'shamaya."
All right! We need leaders humble enough to know that they cannot proceed on Israel's behalf without help from Above – leaders who acknowledge the role of the Almighty.
http://www.israelnationalnews.com/News/News.aspx/204790#.Vm2JoZtunIU
~~~~~~~~~~
For more on Cohen and what he's facing in his new job, see here:
http://www.timesofisrael.com/islamic-state-and-an-empowered-iran-await-the-new-mossad-chief/

He served as deputy director of the Mossad from 2011 to 2013; his forte is human intelligence. Gathering first class intelligence in foreign countries is a key aspect of what he will be doing.
~~~~~~~~~~
Well...Israeli President Ruby Rivlin has been at the White House, both for a meeting with Obama and Chanukah celebrations. There was a fair amount of gushing in the media, in some quarters, about how lovely the interaction between Rivlin and Obama has been, and how this signals a warming of the US-Israeli relationship.
However, I am not about to go mushy and politically correct at this point in my life. Quite the contrary: As I see it, the entire spectacle was stomach-turning. Rivlin – apparently very grateful to be in the media spotlight and welcomed at the White House – was doing a major suck-up. I think the look on his face tells the story:
Credit: Times of Israel
http://www.timesofisrael.com/rivlin-obama-not-optimistic-about-abbas-future-restarting-talks/
~~~~~~~~~~
For a full sense of how revolting it all was, we have this description of the Chanukah candle lighting at the White House from Gil Ronen in Israel National News:
One of the speakers was Susan Talve of Central Reform Congregation in St. Louis, Missouri. "Talve is a member of T'ruah, a group which is now promoting 'soft BDS' programs."

Is "soft BDS" like being a little bit pregnant?
Intoned Talve: "I stand here with my fierce family of clergy and Black Lives Matter activists who took to the streets of Ferguson. I stand here to light these lights to say no to the darkness of Islamophobia and homophobia and transphobia [fear of refugees?]… Inshallah, inshallah."
"Inshallah"???! Spoken by a Jew who has truly lost her way. One who is proudly for everyone and everything but traditional Judaism and Jewish rights in Israel.

Undoubtedly Obama's kind of Jew. Sad that Rivlin should have been present. He didn't say "inshallah." But he did, Heaven help us, speak about Obama's "strong and clear moral leadership."
http://www.israelnationalnews.com/News/News.aspx/204838#.Vm362ZtunIU
~~~~~~~~~~
It would have been better had our president lit his Chanukah candles in the President's House here in Jerusalem, and stayed home thereafter. Far better.
Credit: JPost
Saturday night, actually, there was a demonstration outside the President's House. A protest: because Rivlin was scheduled to participate in a conference in New York on Sunday run under the auspices of the extreme left-wing Israeli newspaper Ha'aretz and the New Israel Fund, which supports BDS. The line-up of speakers was hair-raising for its anti-Israel bent: Saeb Erekat, representatives of J Street, journalists Peter Beinart and Amira Haas, etc., etc.
Perhaps most disturbing of all was the projected participation of Breaking the Silence, represented by Avner Gvaryahu.
~~~~~~~~~~
Maj. (res.) Amit Deri, who manages the Tavor Pre-military Academy, spoke at the protest (emphasis added):
"We, officers and soldiers in the reserves, are protesting and calling on our president not to lend legitimacy to the lies and blood libels spread by Breaking the Silence and others. We, officers and soldiers who readily report for duty to serve the country, refuse to be the subject of lies and libel spread in Israel and abroad."
Maj. (res.) Amichai Chikli, who heads the Tavor academy, voiced similar thoughts:
Gvaryahu, he said, "gathers false descriptions for delegations from Europe to Hebron.
"You [Rivlin] cannot, on the one hand, give medals of excellence to soldiers at the President's Residence and, on the other hand embrace what drives the BDS movement and the like."
http://www.israelhayom.com/site/newsletter_article.php?id=30385
~~~~~~~~~~
Rivlin put out a fairly pro-forma "explanation" via his Residence office: The president would be extending greetings, but when the panel took place on which the most controversial speakers would participate, the president would not be present.
That was no answer at all. For to extend "greetings" is to lend credibility to a conference that is hosting those who lie about and defame Israel.
~~~~~~~~~~
But in the end he did get the message of the protest at some level. Truly unfortunate that he acknowledged the event, but his words included this (emphasis added):
"Our soldiers defend our country and we will do everything to defend them and to stand shoulder to shoulder along with them...
"The IDF is doing everything in its power to keep the highest moral standard possible, even under impossible conditions.
"No other army in the world is as moral as Tzahal [the IDF]...We are very proud of them and really owe them all our support and appreciation."

http://www.jpost.com/Israel-News/Politics-And-Diplomacy/Rivlin-to-Haaretz-parley-in-NY-We-must-stand-with-IDF-soldiers-437244

The unembellished truth.

~~~~~~~~~~
The terror attacks continue. With all of my heart I wish I could report they have stopped. Worst hit from day to day is the Hevron area, but it is not only in Hevron. Here a stabbing, there an attempted vehicular attack, etc. etc.
We Israelis are strong and resolute, but there is no question that everyone's morale has been affected. How could it be otherwise?
~~~~~~~~~~
It's not difficult to understand why matters have not improved: Fatah and the PA have no desire for quiet, and less then none for peaceful relations with Israel.
Writing for the Jerusalem Center for Public Affairs, Lt. Col. (ret) Yoni Halevy has released a briefing, "Fatah, with Mahmoud Abbas at the Helm, Confirms the Confrontation Strategy toward Israel":

"The Fatah Central Committee gave its backing to a strategy that combines the terror intifada with diplomatic and legal moves in the international arena aimed at achieving recognition of the state of Palestine as well as an Israeli withdrawal to the 1967 borders with no political quid pro quo from the Palestinians. (Emphasis here is in the original – all other emphasis below is added.)
"The Central Committee did not condemn the acts of violence and terror being perpetrated by Palestinians...On the contrary, it characterized the foiling of terror attacks as 'executions,' chose to call the perpetrators 'heroes,' and promised to assist their families. The Palestinian leadership thereby gave full backing to the continuation of the terror wave against Israel...

"...the Central Committee fully endorsed Abbas' threat voiced during his address to the United Nations that the Palestinians will stop honoring the agreements with Israel.
"The Palestinian leadership hewed to the line of all-out confrontation with Israel. An important aspect of this approach is the legal arena." Halevy referred to legal means for "ending the occupation" and facilitating "right of return."
And then, one last item has been added:
"...the Palestinian leadership, with Abbas at the helm, denies the Jewish right to the area of the Western Wall and regards it as a sacred Islamic site that is an inseparable part of the Al-Aqsa Mosque."
This is a key element of their current attack and it is serious business.
http://jcpa.org/fatah-with-mahmoud-abbas-at-the-helm-confirms-the-confrontation-strategy-toward-israel/
~~~~~~~~~~
This, as I've been saying and will continue to say, is a time for resolute strength. And there have been some encouraging signs of that strength that we have been able to see lately.
Sadly, disturbingly, this has not been the case where Har Habayit is concerned, however.
Some weeks ago, it was announced that the number of Jews allowed up on the Mount would be limited. And more recently, two Jews were arrested for praying on the Mount.
http://www.israelnationalnews.com/News/News.aspx/204518#.VmVnupuhfIU
Netanyahu seems to bend over backward to avoid ruffling the feathers of the Jordanian-backed Wakf on the Mount. Behind the scenes there is considerable cooperation between Jordan and Israel, but it is always behind the scenes.

~~~~~~~~~~
Please, take the time to see this. Last month, Mahmoud Abbas "publicly confirmed for the first time that he turned down a peace offer in 2008 that would have provided for an independent Palestinian state containing all of the Gaza Strip, much of the West Bank (with land swaps), and a tunnel connecting the two areas."

http://www.thetower.org/2580-breaking-abbas-admits-for-the-first-time-that-he-turned-down-peace-offer-in-2008/
This is proof of what many of us have known all along: The Palestinian Arabs do not want a "two state solution," and pushing Israel to do "more" to provide incentive is foolish and counterproductive, unfair, and just plain wrong.
Save this link, share it broadly, and refer to it in letters to the editor and Internet talkbacks. People need to know.
~~~~~~~~~~
Less than two weeks ago, Prof. Norbert Lammert, president of the German Bundestag, declared the EU decision on labeling of Jewish products from Judea and Samaria "unnecessary and unwise...Germany not only didn't agree to the decision, rejected it." In fact, he said he could "understand Israel's anger."
All of this took place in the German parliament when Israeli Knesset Speaker Yuli Edelstein was in town to address the Bundestag's Foreign Affairs and Defense Committee.
http://www.jpost.com/Diaspora/German-parliament-rejects-settlement-labeling-says-understands-Israels-anger-436069
Nice words, and ultimately worthless. Mere days later, German Chancellor Angela Merkel announced support for the labeling policy.
http://www.jpost.com/Israel-News/Politics-And-Diplomacy/Merkels-government-announces-support-for-EU-labeling-of-settlement-products-436579
This is in the face of what had just been celebrated as a "special relationship" between Israel and Germany. It is particularly reprehensible coming from Germany because of the history of Nazi labeling of Jewish goods.
~~~~~~~~~~
Danny Danon, Israel's Ambassador to the UN, has just given an interview to the JPost, in which he sounds an optimistic note, in spite of what I've just written above. There is, he says, "a public UN," and a "quiet UN."
At a public level, "There are many countries whose sole mission at the UN is to bash Israel."
However, "During the day, I have many meetings with ambassadors and officials and quietly you see that there is a lot of appreciation, I would even say admiration for Israel."
http://www.jpost.com/Israel-News/Politics-And-Diplomacy/Danon-to-Post-UN-quietly-admires-Israel-but-publicly-bashes-it-437125
Credit: UN/Kim Haughton
We must hope for – and vigorously work towards - the day when that quiet admiration can be expressed in public policy. This echoes what I just wrote about cooperation between Israel and Jordan behind the scenes, does it not?
~~~~~~~~~~
This allows me to segue into a musical piece – designed to "promote tolerance and unity through music" - that has just been released as a video by the Permanent Mission of Israel to the UN:
Entitled "United Pianos," it features 11 pianists seen playing the same tune in different countries around the world - Israel, Turkey, the United States, Vietnam, the Bahamas, Germany, India, Australia, Russia, South Africa and Poland. Said Danon, "This project was created with hope to reach the day when music will replace the sound of wars and disagreements."

http://www.jpost.com/Not-Just-News/WATCH-Israeli-at-the-UN-releases-piano-music-video-to-replace-the-sound-of-wars-437137
Cute. Perhaps this will catch peoples' attention, in an "out of the box" and positive fashion. (It has a really interesting line-up, although I confess I would hope to learn more about the pianist from Israel.)
~~~~~~~~~~
© Arlene Kushner. This material is produced by Arlene Kushner, functioning as an independent journalist. Permission is granted for it to be reproduced only with proper attribution.

If it is reproduced and emphasis is added, the fact that it has been added must be noted.
http://arlenefromisrael.squarespace.com/current-postings/2015/12/14/december-14-2015-the-eighth-candle.html
Posted
on Monday, December 14, 2015 at 10:35AM
by
Arlene
|
Post a Comment
|
Email
|
Print
I would be out-and-out misrepresenting, if I said everything was great. And if I said that you wouldn't believe me anyway.
But what I do know is that we are celebrating Chanukah, which brings messages of joy, and resilience and hope. These are messages we must internalize, especially in bad times.
Credit: inspirationalstorytellers
~~~~~~~~~~
That said, I put out a request for prayers. We have been enduring terror attacks – or attempted attacks - on a daily basis. But of late, either the terrorist has been taken down before damage could be done, or the damage done has been minimal. Until yesterday, in Hevron, near the Machpelah (the Tomb of the Patriarchs), when Ginadi Kaufman was attacked by a terrorist who stabbed him in the heart, lungs, and stomach. He is in critical condition and fighting for his life.

Credit: Emil Salmon

Please, pray for him: Ginadi Chaim Notah Ben Reiah Rachel.

Ginadi is a gardener, much loved in the Hevron community, who has been responsible for beautifying the area around the Machpelah.
The terrorist, a resident of Hevron, was taken out.
~~~~~~~~~~
Before moving on, I must make a correction in my reporting – called to my attention by two readers, whom I thank:
I wrote in my last posting about immigrants in Germany who, insulted by the red cross label on supplies they were given, set fire to their tents. I had checked and located this story on other sites before running it, but I didn't do my job well enough: my guess is that these other sites simply drew from the same story I was looking at and didn't actually provide independent confirmation. At any rate, I have learned that the site is not a reliable one. There was, shall we say, a bit of embellishment in their story. And so, with apologies, I set the record straight.
However – and this is a big "however" – I am not implying that the immigrants are all peaceful and cooperative. Not at all. They tend to make demands, and to be violent. They even do set tents on fire sometimes. We see this in the following stories that are from reliable sources:
http://www.dailymail.co.uk/news/article-3302211/Chaos-Cyprus-migrants-threaten-suicide-burn-tents-clash-police-complain-treatment-arriving-British-military-base.html
http://www.bbc.com/news/world-europe-34592797
The sort of thing that angers them is not being processed and moved out as quickly as they want to be, to the places where they want to go. But most likely seeing a red cross on supplies does not, in the end, provoke tent burning.
And, I reiterate what I had indicated last time: this violent and demanding behavior is not typically the behavior of genuine refugees who are fleeing for their lives.
~~~~~~~~~~
Several of the news items I want to report on here have both good and bad aspects, enfolded. In the main, the "bad" has to do with how officials of other nations are addressing us. But the "good" – and this is a very big thing – is the way our own officials are standing strong against insults and misrepresentations and more. No rushing to appease and make these hostile officials happy.
I have a theory: It had to get really bad before our officials stopped caring what others think. To a very great extent, I measure how we are doing by how strong we are standing and not by what the world thinks of us. And by that measure, we are doing OK!
A few examples:
Austria's Vice Chancellor Reinhold Mitterlehner, who is also the Austrian Minister of Science, Research and Economy, was scheduled to arrive here two days ago for meetings with Ofir Akunis, Israeli Minister of Science, Technology and Space (pictured below), to discuss some joint projects. But then, Mitterlehner discovered that Akunis's office was in eastern Jerusalem. As it is Austrian policy never to attend Israeli events over the Green Line, Mitterlehner requested that the venue of the meeting be changed. Akunis refused. Mitterlehner cancelled.
Responded Akunis (emphasis added):
"Austria will not divide Jerusalem. With all due respect to the Austrian Minister of Science, united Jerusalem, Israel's capital for the past 3,000 years, stands above any consideration."
Noting that eastern Jerusalem is an inseparable part of Jerusalem according to Israeli law, he added that, "We will not divide Jerusalem, just as the Austrians will not divide Vienna."

http://unitedwithisrael.org/austrian-minister-cancels-trip-refuses-to-meet-israeli-counterpart-in-occupied-eastern-jerusalem/
Credit: Marc Israel Sellem

~~~~~~~~~~
Then there is Swedish Foreign Minister Margot Wallström, who said in the Swedish parliament last week that Israel was guilty of "extrajudicial executions" and applying "disproportionate" force in response to the current wave of terrorism.
Sigh...
Prime Minister Netanyahu minced no words in his response to her. Israel, he declared, gives full support to security forces and civilians, "who have the right to defend themselves."

Noting that Wallström had not called the the killing of the terrorists in San Bernardino "extrajudicial executions," he said that he had called Swedish Prime Minister Stefan Lofven on Sunday to "strongly protest [Wallström's] hypocrisy...

"There aren't two sets of morals, one for Israel and one for the rest of the world. We will continue fighting terrorism and hypocrisy." (emphasis added)
http://www.jpost.com/Israel-News/Politics-And-Diplomacy/Netanyahu-slams-Swedish-double-standard-towards-Israel-on-terrorism-436548
Wallström subsequently said she had been "misunderstood," but it is pretty much a sure thing that this backing off would not have taken place were it not for Netanyahu's strong stance.
~~~~~~~~~~
The Swedes have been consistently bad news. Prime Minister Stefan Lofven – in his attempt to defend Wallström – actually made the situation worse. He has now declared that the attacks by Palestinian Arabs here in Israel are "not terrorism," since it is not clear that they have been sanctioned by an international organization classified as terrorist.
http://www.ynetnews.com/articles/0,7340,L-4736430,00.html
~~~~~~~~~~
Then there is Secretary of State Kerry, our perpetual headache. Kerry may be one of the last persons alive who continues to pump for a "two-state solution."

Credit: AP/Gary Cameron

Speaking at the Saban Forum of the Brookings Institution in Washington DC, Kerry declared that, "Current trends are leading [toward] a one-state reality…The one-state solution is no solution at all for a secure, Jewish, democratic Israel living in peace. It is simply not a viable option."
The clear implication here is that Israel should be doing more to prevent this situation from unfolding.
Replied Netanyahu in a forthright manner (emphasis added):
"I want to make it clear—Israel will not become a bi-national state.
"For there to be peace, the other side will have to decide it wants peace. Unfortunately, that is not what we are seeing. First of all, the Palestinian Authority's incitement continues. This must stop. And I saw that the chief Palestinian negotiator (Saeb Erekat) paid a condolence visit to the family of a terrorist who tried to kill Jews. So not only did [Erekat] not condemn the attack, he expressed his condolences to [the terrorist's family], thereby giving encouragement and support for terrorist actions."
http://www.algemeiner.com/2015/12/06/netanyahu-rejects-kerry-warning-says-israel-wont-be-binational-state/#
Credit: PMO
~~~~~~~~~~
Kerry, in the course of his remarks, also referred to the possibility the PA might collapse, which he implied would be the worst thing that could happen to Israel. Apparently we are supposed to do more to bolster the PA to avoid a disastrous result:
"Without the PA security forces, [the Israel Defense Forces] could be forced to deploy tens of thousands of soldiers to the West Bank indefinitely to fill the void. Are Israelis prepared for the consequences this would have for their children and grandchildren who serve in the [IDF]?"
This is a threat, and I do not appreciate it. He should mind his own business with regard to what Israeli citizens are prepared to accept. And he should open his mind, such as it is, to a host of different scenarios that would have potential to be realized if the – ever inciting, ever corrupt - PA were to collapse.
~~~~~~~~~~
Let's take a quick look here at the PA, which we are supposed to dedicate ourselves to preserving:
Recently, the IDF demolished the homes of three members of the Hamas cell who opened fire on Eitam and Naama Henkin, killing them in front of their four children. Now, activists in Nablus (Shechem), which is PA administered, have launched a campaign called "The Campaign to Rebuild the Homes of the Free Men." A large transparent money collection box was placed in the central square of Nablus to raise money for rebuilding those homes. In one day, 115,000 shekels was raised (roughly $30,000).
http://www.timesofisrael.com/palestinians-donate-to-rebuild-homes-of-henkin-killers/
The collection was shown on Palestinian Authority TV:
screen capture: PA TV
~~~~~~~~~~
The Haifa Customs Authority has seized containers that had been sent from the United Arab Emirates and were on their way to the Palestinian Authority. According to the importer's declaration, the containers contained clothing, plastic products, and carpets. What they really contained, however, were 4,000 terrorist dolls.
Written on each doll were the words 'Jerusalem is ours' and 'Jerusalem, we are coming!' The dolls wore PA colors, and a keffiyeh. Each doll held a rock in its hand.
Credit: Haifa Customs Authority
Credit: Haifa Customs Authority
http://www.israelnationalnews.com/News/News.aspx/204575#.Vmbwp5uhfIV
Deputy Foreign Minister Tzipi Hotovely said it exactly right:
"These dolls were en route to the PA with one clear purpose: to poison the minds of small and innocent children... (emphasis added)
"The nations of the world must understand that until there is a dramatic change in the Palestinian educational system, in the very core of the Palestinian leadership, which only plants fear hate, we cannot conduct any dialogue with our neighbors."
Once again, my friends, I implore you to share this information far and wide. You can help educate people and open their eyes to the truth.
~~~~~~~~~~
For a smile and a sense of quiet pride:
Elieth of Tanzania had arrived at the Wolfson Medical Center in Holon for free life-saving treatment for her 15 month old daughter via the Save A Child's Heart foundation. While the child, Dorice, was undergoing surgery, Elieth, who was pregnant, went into early labor. In one day, she delivered a new baby daughter and received news that the surgery for the older child had been a success.
http://www.israel21c.org/surprise-baby-arrives-during-sisters-heart-surgery/
The new baby was named Laura after the housemother for the SACH families staying in Holon. Dr. Sion Houri, head of pediatric intensive care, is holding the baby in this picture.
Credit: Barak Nuna
~~~~~~~~~~
And this piece of good news that I certainly do not know how to comprehend: In spite of the terrorism and the grief and the struggle, our national deficit has dropped 46% in less than a year. We are doing something very right, and, I would suggest, are blessed from above.
http://www.algemeiner.com/2015/12/07/israels-national-deficit-drops-46-in-less-than-1-year/#

Always, always, there is good news if we seek it.

~~~~~~~~~~

I close here with this very appropriate song, "The Almighty will bless me from Jerusalem - Shalom al Yisrael":
https://www.youtube.com/watch?v=BHKwZJlUSqw
~~~~~~~~~~~
© Arlene Kushner. This material is produced by Arlene Kushner, functioning as an independent journalist. Permission is granted for it to be reproduced only with proper attribution.

If it is reproduced and emphasis is added, the fact that it has been added must be noted.
http://arlenefromisrael.squarespace.com/current-postings/2015/12/8/december-8-2015-keeping-our-eyes-on-the-flame.html
Posted
on Tuesday, December 8, 2015 at 03:06PM
by
Arlene
|
Post a Comment
|
Email
|
Print