Alan Baker has a long and impressive list of credentials: He is an international lawyer; former Ambassador of Israel to Canada; member of the Levy Committee; Director, Institute for Contemporary Affairs, Jerusalem Center for Public Affairs; Director, International Action Division, The Legal Forum for Israel.
On November 8, Baker sent a letter to Kerry in response to Kerry's statement about the settlements.
I reproduce it here in its entirety and urge you to share it widely.
~~~~~~~~~~~
The Hon. James Kerry, U.S. Secretary of State,
The State Department,
Washington D.C.

November 8, 2013

Dear Secretary Kerry,
After listening to you declare repeatedly over the past weeks that "Israel's settlements are illegitimate", I respectfully wish to state, unequivocally, that you are mistaken and ill advised, both in law and in fact.
Pursuant to the "Oslo Accords", and specifically the Israel-Palestinian Interim Agreement (1995), the "issue of settlements" is one of subjects to be negotiated in the permanent status negotiations. President Bill Clinton on behalf of the US, is signatory as witness to that agreement, together with the leaders of the EU, Russia, Egypt, Jordan and Norway.
Your statements serve to not only to prejudge this negotiating issue, but also to undermine the integrity of that agreement, as well as the very negotiations that you so enthusiastically advocate.
Your determination that Israel's settlements are illegitimate cannot be legally substantiated. The oft-quoted prohibition on transferring population into occupied territory (Art. 49 of the 4th Geneva Convention) was, according to the International Committee Red Cross's own official commentary of that convention, drafted in 1949 to prevent the forced, mass transfer of populations carried out by the Nazis in the Second World War. It was never intended to apply to Israel's settlement activity. Attempts by the international community to attribute this article to Israel emanate from clear partisan motives, with which you, and the US are now identifying.
The formal applicability of that convention to the disputed territories cannot be claimed since they were not occupied from a prior, legitimate sovereign power.
The territories cannot be defined as "Palestinian territories" or, as you yourself frequently state, as "Palestine". No such entity exists, and the whole purpose of the permanent status negotiation is to determine, by agreement, the status of the territory, to which Israel has a legitimate claim, backed by international legal and historic rights. How can you presume to undermine this negotiation?
There is no requirement in any of the signed agreements between Israel and the Palestinians that Israel cease, or freeze settlement activity. The opposite is in fact the case. The above-noted 1995 interim agreement enables each party to plan, zone and build in the areas under its respective control.
Israel's settlement policy neither prejudices the outcome of the negotiations nor does it involve displacement of local Palestinian residents from their private property. Israel is indeed duly committed to negotiate the issue of settlements, and thus there is no room for any predetermination by you intended to prejudge the outcome of that negotiation.
By your repeating this ill-advised determination that Israel's settlements are illegitimate, and by your threatening Israel with a "third Palestinian intifada" and international isolation and delegitimization, you are in fact buying into, and even fueling the Palestinian propaganda narrative, and exerting unfair pressure on Israel. This is equally the case with your insistence on a false and unrealistic time limit to the negotiation.
As such you are taking sides, thereby prejudicing your own personal credibility, as well as that of the US.
With a view to restoring your own and the US's credibility, and to come with clean hands to the negotiation, you are respectfully requested to publicly and formally retract your determination as to the illegitimate nature of Israel's settlements and to cease your pressure on Israel.
Respectfully,
Alan Baker, Attorney, Ambassador (ret'),
Former legal counsel of Israel's Ministry for Foreign Affairs,
Former ambassador of Israel to Canada,
Director, Institute for Contemporary Affairs, Jerusalem Center for Public Affairs,
Director, International Action Division, The Legal Forum for Israel

~~~~~~~~~~

When Netanyahu made his statement about Iran and the very bad deal that was about to happen, he also addressed the issue of negotiations with the Palestinian Arabs:
He will never, he said, compromise on the security and national interests of Israel, no matter how much international pressure is brought to bear. This was a direct response to Kerry's horrific statement about incitement, etc. if Israel did not do more for "peace."
~~~~~~~~~~
Wendy Sherman, an Undersecretary of State, was just here in Israel with a small delegation and has now left without achieving her goal of "reaching an understanding with Israel on Iran."
http://www.timesofisrael.com/us-delegation-leaves-israel-without-understanding-on-iran-deal/
Well, of course she wouldn't be successful. Those days are gone. But we see that the US is trying to put a good face on matters.
One American official said the disagreement between the US and Israel was "merely tactical," as both had the same goal of preventing Iran from going nuclear: "we absolutely agree on the objective."
But that line doesn't work any longer.
At one point, Kerry suggested that Netanyahu was off base because he didn't even know the details of the proposed deal with Iran, to which Netanyahu responded that he is kept very well informed and most certainly did.
~~~~~~~~~~
Kerry also says that criticism of the projected plan is premature, as what is being discussed is only a first stage, with a "reversible" relief in sanctions in place, to buy time for negotiations on a full deal to prevent Iran from going nuclear.
And so I want to most vigorously reiterate the fact that once this "interim" decrease in sanctions were put in place, it would be impossible to reverse this again. As I'm reading it, from one expert after another, the entire sanctions program would disintegrate, with corporations lining up to do business with Iran and the economic pressure on the Iranians substantially decreased.
A senior Israel official quoted today said: "There's no doubt that if they sign now, Iran will turn into a threshold state and there won't be any deal that could stop Iran from developing its nuclear plan." (Emphasis added)
http://www.ynetnews.com/articles/0,7340,L-4451885,00.html
~~~~~~~~~~
I think those here in Israel who say that Obama was willing to accept any deal with Iran in order to avoid having to attack have it right.
http://www.timesofisrael.com/us-anxious-to-sign-deal-with-tehran-to-avoid-military-option/
The handwriting was on the wall once we saw how Obama handled Syria. After preparing to hit Syria with a few cruse missiles as a response to Syria's use of chemical weapons, Obama precipitously changed course and signed on to a Russian-initiated deal to remove weapons of mass destruction from Syria. It is a very flawed deal, with Syria most certainly hiding some weaponry, increased Russian influence in the area, and the built-in necessity for Assad to stay in power because he knows where the weapons are.
Now we have Syria redux -- or would if not for Netanyahu and then France. What will happen in coming days remains to be seen.
~~~~~~~~~~
What I'm learning is that - while Netanyahu certainly seems to have had an influence on France's turn-around on the Iranian deal - there are multiple other factors that were likely in play:
Tsilla Hershco, a senior research associate at Bar-Ilan University's Begin-Sadat Center for Strategic Studies, who specializes in France's involvement in the Middle East conflict, points out that, "France has initiated strong sanctions against Iran. They define the Iranian nuclear program as the number one threat to world peace, so they themselves have an interest in this." (Emphasis added)
Additionally, France - which, after the US, "has the highest number of diplomatic offices across the globe," with the Middle East seen as "high priority" - is eager to play a larger role in world affairs. The French, watching the waning US involvement in international affairs, see an opportunity to wield greater influence.
Then there is the fact that Saudi Arabia, which is fiercely opposed to a nuclear Iran, is a major economic partner of France. The Saudis - the foremost buyers of French arms - recently signed a $1.34 billion defense contract with France, and are heavily invested in French agriculture.
With all of this, we can consider that France also has major defense cooperation and trade relations with Israel.
http://www.timesofisrael.com/why-france-stood-alone-to-scuttle-iran-deal/
~~~~~~~~~~
Actually, this whole incident regarding Iran seems to have warmed relations between Israel and France. This may be a silver lining -- considering the grief that the EU brings us, improving our ties with a major EU nation can only serve us well.
French president Francois Hollande is due here for a visit next week.

Credit: la-croix
Two weeks ago, he refused an invitation to speak to the Knesset plenum, raising the ire of Israeli leaders who felt they were being snubbed.
Yesterday, Hollande officially informed the office of the Speaker of the Knesset, Yuli Edelstein, that he had decided he would address the plenum. Responded Edelstein:
"I am happy and proud that President Hollande has decided to speak to the people of Israel from the platform of the Knesset," he said. "I believe the visit will be significant for both countries."
http://www.israelhayom.com/site/newsletter_article.php?id=13237
~~~~~~~~~~
I had written yesterday about Netanyahu's options with regard to attacking Iran, and the difficulties that would be encountered if the P5 + 1 struck a deal with Iran, thus reducing Israel to the position of maverick warmonger. I had suggested that Netanyahu - while preferring the opportunity to act under other circumstances - would still do what he had to. I wrote that because of all I've learned about how important Netanyahu believes his mission is, to protect the people of Israel from Iranian attack.
Here you have an article in which several experts discuss this:
"'Practically speaking, [a deal] shuts the [Israeli military] option down,' said Maj. Gen. (res) Giora Eiland, who served as head of the National Security Council under prime minister Ariel Sharon.

Credit: Flash 90
Maj. Gen. (res) Uzi Dayan, who was Eiland's predecessor an national security advisor, thought that a deal, protested by Israel, would still allow some maneuverability: "The probability of the military option would be reduced, but not erased."
And then we have Dore Gold, "a Netanyahu confidant, who traveled with him to New York and Washington in October," Gold, who "stated that he did not wish to directly address the matter of military capabilities, nonetheless indicated that Israel would ultimately retain the right and ability to act. 'Obviously, Israel is not signatory to any of these deals and the prime minister has said so,'...
"'If Israel comes under threat from Iran after the deal, then certainly we will have to do what is necessary to protect ourselves.'" (Emphasis added)
Credit: Moshe Shai/Flash 90
http://www.timesofisrael.com/iran-deal-would-greatly-reduce-israels-military-option-ex-advisers-say/
I think it's not a coincidence that the expert quoted here who remains most convinced Israel would act even after a deal was signed is also a Netanyahu confident. Understanding the prime minister's thinking is key to assessing the situation.
~~~~~~~~~~
And in closing, this:
"Don't Say It Can't Be Done," by Israel Hayom editor-in-chief, Amos Regev (emphasis added).
There is only one way to avoid a nuclear Iran: to attack it • Any deal, bad or somewhat bad, won't change that • The IDF has already proved it can do the impossible; it can also do the unthinkable...
Regev's concluding paragraphs:
"If we are left with no choice, we will defend ourselves. True, it is much more convenient being an armchair strategist. It is also much simpler to take the easy way out by stating that 'the mission is impossible,' or by trying to accuse Israel's leaders of pointing an 'unloaded gun.' The U.S. has awesome power that could be used for an air campaign. But it has not shown any willingness to tap its resources. The U.S.'s order of battle dwarfs that of Israel; but the quality of Israel's forces matches or even exceeds that of Uncle Sam's.
"The capabilities exist; they have been drilled. It is just a matter of willingness, determination, leadership and above all -- a deep conviction that the butcher's knife is at our throats. We cannot trust anyone but ourselves."
http://www.israelhayom.com/site/newsletter_article.php?id=13245
It is worth noting - I do not consider this irrelevant -- that Israel Hayom is a staunchly pro-Netanyahu publication.
~~~~~~~~~~
© Arlene Kushner. This material is produced by Arlene Kushner, functioning as an independent journalist. Permission is granted for it to be reproduced only with proper attribution.
If it is reproduced and emphasis is added, the fact that it has been added must be noted.
http://arlenefromisrael.squarespace.com/current-postings/2013/11/11/november-11-2013-a-letter-to-kerry-from-alan-baker.html
Posted
on Monday, November 11, 2013 at 11:47AM
by
Arlene
in Alan Baker, France, Hollande, Iran, Israel, Kerry, Netanyahu, settlements
|
Post a Comment
|
Email
|
Print
Either they're asleep, or on numbing narcotics, or have decided they just don't give a damn any longer what happens in the world -- so that the fact that their president is surrendering America's proud and exceedingly important international role is just fine with them.

Please! do not write to me explaining what happened to America. The above is rhetorical flourish by way of introduction to what I am seeing. I cannot fix America, and whether Americans are asleep or on something, the result is the same: America's proud and important role in the world is being swiftly abandoned. I grieve for this. The implications are terrifying.

And the bottom line here, of course, is that the president of the United States is destroying America. I think Americans have yet to face the profound consequences of what is being wrought.

~~~~~~~~~~

The core of what I am referring to is, of course, Iran. What has become shockingly clear is that Obama has capitulated to Iran. Talks have been going on in Geneva between Iran and P5 (the permanent members of the UN Security Council -- the US, France, Britain, Russia and China) + 1 (Germany).

What had been on the verge of being finalized just days ago was a horrendous agreement. It would have required Iran to stop enriching at the 20% level, but would have permitted the continuation of enrichment at the 3.5% level, with enrichment continuing at all sites. Nothing would have been dismantled and there would have been no limit on the number of centrifuges that Iran would continue to possess (estimated at 19,000).

In return for this, there would have been a considerable reduction in sanctions -- the unfreezing of $3 billion in fuel funds, an easing of sanctions on the petrochemical and gold sectors, an easing of sanctions on replacement parts for planes, and a loosening of restrictions in the Iranian car industry.

One source quoted by the JPost called this "very grave" -- a situation that might lead to the collapse of all sanctions. It would not stop the Iranian nuclear project, but merely give the Iranians "breathing space."

As the JPost explained, "Once major international transactions begin, a dynamic will kick in that will lead to a collapse of sanctions."

"The Americans folded," said the source, "maybe because they very much want to reach an agreement and be done with this."

"...The Iranians are the ones who came crawling to the negotiations, begging for an easing of sanctions, otherwise their regime will fall, and what's incredible is that it seems that the Americans are more eager than them (sic) to reach an agreement." (Emphasis added here and above)

http://www.jpost.com/Iranian-Threat/News/Political-sources-The-US-folded-during-Iran-nuclear-talks-331075

What has to be emphasized here is that this was to be an "interim" agreement: it was not intended to dismantle Iran's ability to make a bomb. It involved only a "freeze." As all enrichment facilities and equipment would stay in place, the Iranians could start up again whenever they pleased. And it would be too late to re-start the sanctions program that would prevent them from taking this step.

~~~~~~~~~~

Needless to say, Israeli Prime Minister Binyamin Netanyahu went ballistic over this. Israel has again and again advised the international community that only if Iran no longer has the capacity to develop a bomb could a deal be considered a success. Aside from the enrichment facilities, there is also the heavy water plant at Arak.

On Friday morning, he met on this issue at the airport with Secretary of State Kerry, who was leaving for Geneva. This was a suddenly announced trip and it is widely thought that Kerry took himself there to secure credit for the deal he anticipated would be finalized shortly.

Then, later, on learning more about what was transpiring in Geneva, Netanyahu met with reporters, and said (emphasis added):
"I understand that the Iranians are walking around very satisfied in Geneva -- as well they should be because they got everything and paid nothing. Everything they wanted; they wanted relief of sanctions after years of a grueling sanctions regime, they got that. They are paying nothing because they are not reducing in any way their nuclear enrichment capability."
He explained that, "the international community got a bad deal, a very bad deal" while Iran "got the deal of the century."
And then he made it clear that, "Israel utterly rejects [the deal] and what I am saying is shared by many in the region, whether or not they express that publicly. Israel is not obliged by this agreement and Israel will do everything it needs to do to defend itself and the security of its people."
http://www.israelhayom.com/site/newsletter_article.php?id=13189
On the cite above you will find a video clip in addition to Netanyahu's words in print. Please notice how agitated and drawn he looks.
~~~~~~~~~~
With this statement, the prime minister has put the world on notice. No one can ever say he/she didn't know that Israel was going to/on the cusp of deciding to hit Iran.
I am keenly aware of the balancing act Netanyahu is engaged in, with regard to hitting Iran. If negotiations fail (and more on this below), this becomes an appropriate time. If a bad deal is struck, then he must face the ire of the international community, which will claim it had been on the edge of securing a peaceful situation, when he, a warmonger, upset the dynamic. That doesn't mean that he wouldn't do it anyway. Not at all.
But I have the sense of his weighing various options with the utmost seriousness possible. And I also have a vivid and painful awareness of the fact that the window of opportunity for Israel to act is going to close very very soon.
I make no secret of my conviction that, as matters stand, he must hit. But there is no certainty yet. In fact, there will be no certainty until it's been done.
Netanyahu has spoken repeatedly about the need to tighten the screws on Iran with regard to the sanctions. This is apparently in the hope that it might yet cause the implosion of the current regime, or, far more likely, weaken it sufficiently so that the mullahs hold off on crossing that red line -- especially as Israel presents a credible threat.
Yet, as matters have transpired in the last days, this is an unlikely prospect.
~~~~~~~~~~
When Netanyahu made his statement on Friday, he believed the deal was about to be finalized. What happened yesterday, however, is that France - as I understand it, and astonishingly - took Netanyahu's warnings seriously and pulled back from agreement. The French referred to the prospective arrangement as a "sucker's deal," and so at present there is no deal.
Some reports have the other P5 + 1 parties that are involved - apparently still eager to finalize that deal - minimizing French objections: No no, everyone is on board, France is just addressing some technicalities. Whether France will hold out remains to be seen.
As matters currently stand, there will be a short break, before negotiations are resumed on November 20. In the meantime, Netanyahu intends to do a great deal of lobbying. Yet, again.
~~~~~~~~~~
Whether this deal goes through or not, whether France holds out or not, whether Netanyahu convinces some other nations to take a more careful look at what they are doing or not, I hold the Obama administration culpable at the most basic levels.
Once, not so long ago, the US was the leader of the free world, and demonstrated strength and perseverance. Now, from all indications, the US was terribly eager to sign a very bad deal. This after Kerry had pontificated that no deal is better than a bad one.
How shameful is it, that it could be said that America was more eager for a deal than Iran. What does this tell us?
And what an indictment, that perhaps the Americans caved because they want to be done with it already. What a gross and shocking dereliction of Obama's basic responsibility to his nation, and to the international community this would be.
~~~~~~~~~~
It seems to have been the case that the US stance softened in the course of these recent negotiations. What is still speculative is the reason why. A desire to "be done with it already" is only one possible reason. There are other perspectives being advanced.
The Netanyahu government is especially incensed that the degree of reduction in sanctions the US was prepared to agree to was greater than Israel had been told it was. Reportedly early on Friday, before the negotiations for the day began in Geneva, Kerry told Netanyahu that there would be "minor" sanctions relief offered to Iran that would "not be significant."
http://www.thegatewaypundit.com/2013/11/israel-shocked-by-us-sanction-relief-to-iran-netanyahu-fumes/
And so there have been suggestions of deliberate deception. Jonathan Tobin of Commentary wrote that "Obama is Lying About Iran Sanctions."
http://www.commentarymagazine.com/2013/11/08/obama-is-lying-about-iran-sanctions/
The Daily Beast ran an exclusive two days ago regarding "Obama's Secret Iran Detente":
"The Obama administration began softening sanctions on Iran after the election of Iran's new president in June, months before the current round of nuclear talks in Geneva or the historic phone call between the two leaders in September.
"...the key condition for Iran—relief from crippling sanctions—began quietly and modestly five months ago."
http://www.thedailybeast.com/articles/2013/11/08/exclusive-obama-s-secret-iran-d-tente.html
What this suggests is that the Obama administration didn't simply cave at the last minute during negotiations, but was eager all along to provide relief to Iran -- and to show Iran a weak negotiating stance.
Then the indictment against Obama is far graver: it becomes an issue of pre-meditated intent to cut Iran as much slack as possible, and, yes, allow Iran to go nuclear. And we have to ask which side Obama is on. (Again -- please, don't write to tell me.)
~~~~~~~~~~
As might be expected, Israeli-US relations are in a state of considerable tension right now. And there is a way in which I consider this healthy. For Netanyahu can harbor no illusions about a quid pro quo if Israel makes concessions, or about trusting the US to stop Iran from becoming a nuclear power, or about the US having Israel's back.
Netanyahu's predisposition to respond to American pressure has to be slight at best. We must trust that he will now proceed on the basis of what is best for Israel. Period.
Obama is simply not to be trusted.
~~~~~~~~~~
I want to circle back to a discussion of the "negotiations" -- for certainly what I have written here has serious implications in that regard as well. In fact, the prime minister himself alluded to this issue in his statement about the bad deal with Iran.
Because I have something of significance to share concerning Israel's stance on the negotiations, I am going to save this for tomorrow's post.
As well, I hope to take a look at other ways in which Obama is weakening the country he was elected to lead.
~~~~~~~~~~
© Arlene Kushner. This material is produced by Arlene Kushner, functioning as an independent journalist. Permission is granted for it to be reproduced only with proper attribution.

If it is reproduced and emphasis is added, the fact that it has been added must be noted.
http://arlenefromisrael.squarespace.com/current-postings/2013/11/11/november-10-2013-where-are-the-american-people.html
Posted
on Monday, November 11, 2013 at 01:40AM
by
Arlene
in America, Geneva negotiations, Kerry, Netanyahu, Obama
|
Post a Comment
|
Email
|
Print
I had no time to write today, with Levy Report work and a very early Shabbat. But I must write, ever so briefly, because people must know about this.
Yesterday, Kerry, who is here, gave a TV interview. And this is what he said (emphasis added):
"The alternative to getting back to the talks is the potential of chaos. Does Israel want a third intifada?"
http://www.israelnationalnews.com/News/Flash.aspx/280009
I repeat: Does Israel want a third intifada?
This is a form of intimidation and blackmail: Israel, make additional concessions to the PA, or face the consequences of violence.
~~~~~~~~~~
Not an acceptable way to talk to Israel. Either we make concessions because it's good for us in terms of a deal to be struck, or we shouldn't make concessions.
Violence? We'll have to brace for it if it comes, cope with it. Make a lot of arrests, send out a lot of police and troops, and, who knows? maybe take aim at the heads of a few of the perpetrators of violence that threatens innocent Jewish life, so that people get the message not to fool with us. (I speak for myself and not officially, of course.)
~~~~~~~~~~
But folks, this is not the worst of what Kerry did. The interview was with Udi Segal, of Israel's channel 2 and also with Maher Shalabi, of Palestinian TV.
And so, what Kerry is also guilty of, besides intimidation and blackmail, is incitement. He was speaking to a Palestinian Arab audience as well. And he was giving the nod to their being violent if they are not happy with the Israeli stance.
This is the chief diplomatic officer of the United States of America? This is the despicable low to which the US has fallen?
~~~~~~~~~~
The urgency in writing has to do with my sense that Americans who love Israel -- and I know you are legion! -- need to know what Kerry did. You are likely to be outraged along with me,
~~~~~~~~~~
Please! translate that outrage into action. Do not sit still for a secretary of state who speaks to Israel thus. To protest to the White House or State Department is pointless.
Contact your representatives of Congress. Protest this in the strongest terms. DEMAND that intimidation of Israel stop. Call for the firing of Kerry. He doesn't qualify as dog catcher of Washington DC.
For your Congresspersons:
http://www.house.gov/representatives/find/

For your Senator:
http://www.senate.gov/general/contact_information/senators_cfm.cfm

And, please, share this posting absolutely as broadly as you can, encouraging others to also protest Kerry's behavior.
~~~~~~~~~~
On the flip side of this vile behavior, we can see encouraging news. Kerry is desperate or he wouldn't be speaking this way. Pay no attention to his babble about how much progress has been made in just days. He is not getting from Israel the concessions he is seeking.
What is more, he has now thoroughly and completely discredited himself with the Israeli government, which had no official comment. I don't know this from official sources but understand it intuitively. He is less likely now, not more likely, to have the leverage to convince our government of anything. One unnamed Israeli official called this, from Kerry, "a worrying and dangerous precedent."
I would say that, should Arab violence increase in the wake of this interview, any Jewish blood that is spilled would be on Kerry's hands.
Let us stay strong, and hold fast to our rights.
Much more - in particular on Iran - coming soon.
Shabbat Shalom.
~~~~~~~~~~
© Arlene Kushner. This material is produced by Arlene Kushner, functioning as an independent journalist. Permission is granted for it to be reproduced only with proper attribution.
If it is reproduced and emphasis is added, the fact that it has been added must be noted.
http://arlenefromisrael.squarespace.com/current-postings/2013/11/8/november-8-2013-hes-crossed-the-line.html
Posted
on Friday, November 8, 2013 at 08:55AM
by
Arlene
in Intifada, Intimidation, Israel, Kerry, Palestinian Authority
|
Post a Comment
|
Email
|
Print
"A Tangled Affair," actually. Yesterday. I've rethought this and decided "morass" might be a better term for what Israel is dealing with in her relations with the PA, and with the US.

This is one of those political sagas that is going to go on, and on, and on. So, I'll attempt to be brief here, as I provide an update on some of the matters I touched upon yesterday. Tomorrow there may be another story.

First, please note, Secretary of State Kerry is here and laid a wreath at Rabin Square (in commemoration of the 18 years since Yitzhak Rabin was assassinated). At the ceremony, he declared that he will stand by Israel "every step of the way."

Touches your heart, doesn't it? No? Maybe it gives you heartburn?

~~~~~~~~~~

Kerry likely does not know that Rabin, who signed on to the Oslo Accords with considerable reluctance, made it clear before he died that he was not for a full Palestinian state, but something lesser, some sort of autonomy. Those of you who saw the signing ceremony on the White House lawn on TV may remember Rabin's moment of hesitation - disgust, actually - before he girded himself to take Arafat's hand.

~~~~~~~~~~

A report coming from Maariv indicates that the Obama administration is attempting to link Iran with the "peace talks."

It's not new. This nonsense has been going on for some time.

What Maariv reports now is that, according to US sources, both Kerry and Obama have delivered the message to Netanyahu that if he makes "progress" on the "peace process," then "it will be easier for the US to support Israel's position."

http://www.israelnationalnews.com/News/News.aspx/173679

In point of fact there is no linkage between the two issues, except insofar as Obama wishes to create one. If maintaining strong sanctions on Iran is a good thing to do - for the sake of the US and the world, not as a favor to Israel, for heaven's sake - then it is a good thing to do whether Netanyahu makes "progress" in negotiations or not.

Yes, this is blackmail - in line with, but not as severe as what Caroline Glick suggested. And yes, this might be a factor in Netanyahu's continued involvement in those "negotiations."

Would Kerry like to repeat that again, with a straight face - the business of being by Israel's side?

~~~~~~~~~~

If there is any mitigating factor, it is that the US administration is reported by Maariv to be making efforts to avoid a confrontation with Israel. I suggest this would not play well with Congress or large parts of the American electorate. This suggests a need for maximum strength and resilience from our side. If the US is going to push just so hard, they need to encounter maximum resistance.
Yesterday I wrote that we need to implore Netanyahu to hold fast with regard to Israel's rights. I want to reiterate this here, even more emphatically. Please, let the prime minister hear from you. Keep your message short, avoid speeches and history lessons - and be courteous. Let him know that you truly do stand with him as he exhibits strength and stands up for Israel's rights. Tell him this is not the time for more concessions, which would be a disaster and serve only to weaken Israel.

Memshala@pmo.gov.il and also pm_eng2@it.pmo.gov.il (underscore after pm) use both addresses

~~~~~~~~~~

I'm picking up rumors, still, about US intentions to attempt to push a solution, with Kerry coming back here with his own version of a deal. If Obama and company do intend to try this, I admit, it causes a certain unease and definitely has the potential to raise blood pressure.

But in the end I am confident that no "deal" can be reached - especially not a deal that is pushed down the parties' throats. And I want to reassure my readers on this score.

The gaps are simply too great, and all the pushing in the world will not create a bridge that will hold.

Jerusalem is a prime example. The Palestinian Arabs insist that Jerusalem must be their capital as well. But there is exceedingly strong feeling, within our nation and within our government, regarding Jerusalem undivided as Israel's eternal capital. Even Yair Lapid, who tilts left and is for "two states," was quoted today by the JPost as opposing the division of Jerusalem. Such a division, by the way, would by law require a national referendum and is not something that can be accomplished by Livni behind closed doors.

And then there is the issue of the Jordan Valley, which Netanyahu insists we must retain for security reasons. He refuses to consider international troops, for very good reason. There are reports that he wants to build a security fence along the Jordanian border in the Valley to prevent infiltration by terrorists from our east. (Remember, tens of thousands of Syrians are now in Jordan as refugees and who knows how many of these are jihadists.)

The PA is adamant that Israel cannot have it and cannot even station troops there.

See: "Israel-Palestinian talks: Why fate of Jordan Valley is key":

http://www.bbc.co.uk/news/world-middle-east-24802623

~~~~~~~~~~

Please, also see Khaled Abu Toameh's latest on this issue of negotiations, "We do not trust the Americans" (emphasis added):

"As U.S. Secretary of State John Kerry embarks on a fresh mission to prevent the collapse of the Israeli-Palestinian peace talks, the Palestinian Authority [PA] appears to be doing its utmost to internationalize the conflict with Israel.
"The Palestinians want other international parties, especially the European Union, United Nations and Russia, to play a major role in the current U.S.-sponsored peace talks.
"...The PA's biggest fear is that Washington will try to impose a solution that would certainly fail to win the backing of most Palestinians and Arabs.
"A forced solution, Palestinians warn, would also severely undermine the credibility of the PA leadership, whose leaders would be accused by many Palestinians and Arabs of capitulating to American pressure and threats.
"...Kerry and his team are evidently unaware of the fact that neither Abbas, whose term of office expired several years ago, nor any other Palestinian leader is authorized to make real concessions to Israel.
"The last time the Americans tried to extract concessions from a Palestinian leader was in the year 2000, when President Bill Clinton dragged Yasser Arafat to Camp David and exerted heavy pressure on him to accept Ehud Barak's offer to hand over to the Palestinians most of the West Bank, east Jerusalem and the Gaza Strip.
"The result of the U.S. pressure was that Arafat ran away and within a few weeks Palestinians launched the Second Intifada against Israel; Abbas, in Arabic, has already threatened as much.
"Today, the PA is already facing growing criticism for agreeing to return to the negotiating table unconditionally three months ago. Palestinian leaders have justified their decision by arguing that Kerry forced them to drop their pre-conditions and resume the peace talks with Israel.
"'We want the Americans to be involved in the peace process,' said a senior aide to PA President Mahmoud Abbas. 'But the U.S. should focus its pressure on the Israelis and not on us. We want the Americans to force Israel to accept the two-state solution and dismantle all the illegal settlements.'
"Palestinian Authority officials say they are now convinced that the U.S. administration has no intention to force Israel to comply with all the demands of the Palestinian negotiators, including a full withdrawal to the pre-1967 lines..."
http://www.gatestoneinstitute.org/4046/palestinians-americans-trust
~~~~~~~~~~

I have been writing consistently that Abbas cannot surrender any of the PA demands. He has neither the popular backing nor the political legitimacy to do so. And - I say this with all seriousness - were he to attempt to surrender what he is not empowered to surrender he might risk his life.

It may well be that Kerry and his team are not aware that Abbas is not in a position to make concessions. But consider what breathtaking diplomatic incompetency this suggests.

And please understand that this scenario guarantees there will be no diplomatic resolution.

~~~~~~~~~~

No resolution. But violence? Yes. That is exceedingly likely. Abu Toameh, in his piece, above, referred to what Abbas has already said in Arabic. It is this, described by Ruthie Blum:
"Until now, Abbas has been tight-lipped about the hush-hush two-state solution discussions in which his negotiating team is ostensibly invested. And though he has made an effort to come off as more moderate than his terrorist predecessor, Yasser Arafat, he occasionally lets his true ill intentions slip. On Monday, as always, he did this in Arabic. After all, he could not risk being too upfront with U.S. Secretary of State John Kerry scheduled to arrive in Israel on Tuesday.
"What Abu Mazen [Abbas] told his cronies in the Fatah Revolutionary Committee was that the negotiations are significantly deadlocked. No surprise there. But the words to follow are noteworthy. 'The situation,' he said, 'is liable to be explosive.'
"According to Yehezkeli [Channel 10 Arab affairs commentator Zvi Yehezkeli], the phrase Abbas used in Arabic can also be interpreted as 'the situation is explosive.'
"Translations aside, Abbas was not merely being careless, linguistically or otherwise. He was effectually giving a green light for an eruption of violence against Israelis. This is something he has been doing indirectly, through the PA-controlled media. But saying it outright is unusual for him, since he always tries to remain above the fanatical fray by hiding behind his tailored suit and silk tie..." (Emphasis added)
http://www.israelhayom.com/site/newsletter_opinion.php?id=6203
~~~~~~~~~~

There were reports today of the PA insisting it was withdrawing from negotiations because Israel was not being forthcoming enough and was continuing to build:

"A senior Palestinian official, who asked to remain anonymous, told AFP that the Palestinians would refuse to continue the talks as long as Jewish settlement on the West Bank proliferates.' The Palestinian-Israeli negotiations broke down during the session on Tuesday night,' the official said."

http://www.ynetnews.com/articles/0,7340,L-4450182,00.html

But the Arabs are masters at making threats that they don't follow through on. If I had a shekel for every time Abbas said he was quitting, I'd be a rich woman. My first thought on hearing this was that the threat was made with an eye towards Kerry, in the hopes something would be offered as an "inducement" to keep them negotiating. Isn't that the way the Obama administration plays it?

Kerry was in Bethlehem today, where he met Abbas. And what do you know? He announced "his intention to transfer $75 million to the Palestinian Authority in order to create new jobs, improve roads, schools and other infrastructure"?

"US officials said the aid is designed to boost Palestinian public support for faltering peace talks."

http://www.ynetnews.com/articles/0,7340,L-4450320,00.html

My guess is that they'll take the money even as they will retain their negative opinions about the "peace process." They're not bought that easily. But Abbas will probably stay at the table.

~~~~~~~~~~

And there's more, for Kerry also said: "We consider now, and have always considered, the settlements to be illegitimate." He's correct, this has been the US position -- it's not new. But he states it now for Abbas's sake.

http://www.israelnationalnews.com/News/News.aspx/173689

My response: Thank Heaven we've begun the Levy Report Campaign (which is just now revving up). It makes Israel's rights in Judea and Samaria clear.

Note, even Kerry is careful not to say the "settlements" are "illegal." They're not.

~~~~~~~~~~

There is something good that happened today. Avigdor Leiberman - who had had a trial because of charges of corruption brought against him - was acquitted unanimously of all charges today.
Credit: AP

PM Netanyahu had been saving the position of Foreign Minister for him, and now he can assume it.

What I like about Lieberman, aside from the fact that he moves towards the right, is his tendency to be straightforward and tell it like it is. He doesn't play games. He is considered "undiplomatic" because of this, but I find him a refreshing change and consider him a welcome addition to the government.

"Lieberman himself is not against a two-state solution in principle but believes it can't be achieved in this generation, with these Palestinian leaders, and within the current climate of upheaval in the Middle East. For the past few years, Lieberman has been leading a campaign against PA President Mahmoud Abbas..." (Emphasis added)

http://www.israelhayom.com/site/newsletter_opinion.php?id=6229

The PA has already voiced displeasure at Lieberman's return to politics.

~~~~~~~~~~

So much, so much, to examine and write about...

~~~~~~~~~~

© Arlene Kushner. This material is produced by Arlene Kushner, functioning as an independent journalist. Permission is granted for it to be reproduced only with proper attribution.

If it is reproduced and emphasis is added, the fact that it has been added must be noted.
http://arlenefromisrael.squarespace.com/current-postings/2013/11/6/november-6-2013-did-i-say-a-tangle.html
Posted
on Wednesday, November 6, 2013 at 02:06PM
by
Arlene
in Abbas, Avigdor Lieberman, Israel, Kerry, Palestinian Authority, peace process
|
Post a Comment
|
Email
|
Print
When I returned to my postings recently after a two-week hiatus, I joked about not being sure what "normal" was. Well, I have since discovered that there is no "normal" for me right now, and that -- with the on-going attention to be devoted to the Levy Report Campaign -- it will be necessary for me to post less frequently than has been my custom for some time now. First things first...
~~~~~~~~~~
That said, what I want to look at here are some of the facts, rumors and speculations circling around the "negotiations," and the positions of our prime minister. Prepare for a convoluted ride:
When the terrorist prisoners were released some days ago, Netanyahu -- in the face of enormous national protest -- insisted that he had to do this because we had promised (as part of the deal for entering negotiations), and because it was ultimately in our best interest. Minister of Defense Ya'alon made a statement about security that echoed the "best interest" theme.
The "promise" theme was weak, because the PA breaks promises all the time. And, while it was obviously Obama who had been promised, he is not exactly a truth-teller himself. The best that can be said for this is that the world must see that Israeli officials stand by their word -- that Israel can be trusted.
But how was it in our "best interest"?
In her column last Friday, Caroline Glick suggested that Netanyahu was being blackmailed by Obama. She proposed some possibilities, including that maybe Obama threatened that if we didn't cooperate in negotiations with the PA, he would let Iran know when we were about to attack. Could be. But she provided no source -- not even an unnamed source -- and said just that: "maybe."
http://www.jpost.com/Opinion/Columnists/Column-One-Obamacare-victims-and-Israel-330307
Her working assumption here, of course, is that there has to be something pretty bad for Netanyahu to play along.
Another analyst I spoke with, who has connections inside the government, saw it otherwise.
~~~~~~~~~~
One incident that gave me pause and made me feel that Glick's "maybe" might have plausibility was something else that Obama did.
Late last Wednesday night, a Syrian military base adjacent to the port city of Latakia was hit.

Credit: Wikimapia satellite photo
The missiles that were the target of the attack - Russian-made SA-125 missiles that were to be transferred to Hezbollah - were reportedly all destroyed. There was some confusion in various press reports (none of them originating from Israel) about whether the site was hit via missiles launched from a ship a distance away, or whether warplanes were involved. It is exceedingly unlikely that planes entered Syrian airspace and the attack may well have been launched from the Mediterranean. Some reports alluded to a second attack in Damascus.
What was clear in reports, however is that "Obama administration officials" were saying that it was Israel that had attacked. I encountered one report, cited below, that said the leak came directly from the White House.
Now, everyone knows that Israel has warned that the transfer of serious weaponry from Syria to Hezbollah in Lebanon will not be tolerated. When such weaponry is demolished, everyone knows that Israel is responsible. BUT Israel takes pains not to make this explicit, thus maintaining what is referred to as "plausible deniability." And there's a solid reason why this stance is taken.
Assad, who to date has ignored such attacks, is thus given the latitude of being able to behave as if he has no certain information about who is responsible.
But now, and not for the first time, Washington, as Aaron Lerner of IMRA put it, "has seen fit to rub Israel's responsibility for attacks in President Assad's face."
This is a provocation -- a fomenting of Syrian violence against Israel. Not the behavior of an ally: Israeli government officials were fuming, and referred to the American action as "scandalous."
See: http://www.timesofisrael.com/israel-to-us-syria-raid-leak-endangers-our-national-security/
The precise motivation of the American administration in doing this can be analyzed and analyzed. But the bottom line is that Israel does not have a friend -- or a trustworthy ally -- in the White House. Precisely how far he would go in acting against Israel in what particular circumstances is anyone's guess.
~~~~~~~~~~
On Sunday, a ceremony was held to mark the departure of Maj. Gen. Ya'akov Amidror from his post as national security advisor.

Credit: alliancefrance
Amongst the statements he made on that occasion was one regarding the fact that if talks fail, Israel's position in the international community would worsen: "...if the talks fail, it will give everyone interested in boycotting us every reason to do so."
http://www.timesofisrael.com/amidror-if-talks-fail-israel-to-become-isolated/
I've always found Amidror to be a fairly straight shooter. And I don't know that he was telling the prime minister to make sure the talks didn't fail, so much as he was assessing an ugly reality.
But it gives us pause, with regard to Netanyahu's motivation for his recent behavior. He may simply be standing on his head to prove that Israel is doing everything possible to cooperate, so that when the talks do fail the onus will be less solidly on us in the eyes of the international community. Whatever else might be going on, it certainly seems this is likely a factor in determining his decisions.
But he's dreaming if he imagines he can make Israel's case with the international community, and most notably with the Europeans.
~~~~~~~~~~
Now let's turn to the negotiations, which by all reports are going nowhere quickly.
Tonight (oh joy!) Kerry is due here. I believe he is going to meet first with Abbas tomorrow in Bethlehem and then with Netanyahu, in an attempt to get things going.
What we are seeing, in the lead-up to the Kerry visit, are a series of somewhat hysterical charges leveled against Israel by the PA. Primary among them are attacks regarding our building plans, which are being called the destruction of the process.
Our government has said repeatedly that both the Americans and the PA knew, at the start of the negotiations, that, as prisoners were released in stages, so would there be announcements about building. PA leaders were not surprised at all by our announcement. They went along with the original understanding because they were glad to secure the release of some of their murderers, yet knowing that they'd attack Israel for building in any event. After all, they could not appear to stand silent while Israel declared intentions to build, could they?
Netanyahu's comment with regard to this was:
"If they can't even stand behind the agreements that we had...then how can I see that they will actually stand by the larger issues that will require them far greater confrontation with received opinion and fixed positions in their society?"
Indeed.
But if this is the case, why try? Why fight the losing battle of trying to show the world how much effort we expend and how fair we are?
~~~~~~~~~~
While the PA is busy accusing us of positions that make negotiations impossible, let's look at what Glick (in the article cited above) had to say about their demands:
"On Sunday, PLO officials leaked to the media a position paper that Palestinian chief negotiator Saeb Erekat presented to Justice Minister Tzipi Livni outlining the PLO's position on a final peace settlement. In a nutshell, the paper requires Israel to destroy itself demographically, democratically, militarily, legally and politically and that it relinquish its water supply. Six months after it does all these things, the Palestinians will agree to sign a peace treaty with it.
"The Palestinian document claims not only all of Judea and Samaria, (except for 1.9 percent of the territory that Israel can keep in exchange for money and more land within sovereign Israel), and eastern, northern and southern Jerusalem. It demands the northern Negev, the Hula Valley, Latrun and the Elah Valley. And it demands them all free of all Jewish presence.
"They demand that Israel relinquish its rights under international law to Judea, Samaria and Jerusalem by agreeing that they are 'occupied.'
"They demand full control over the airspace over Judea, Samaria, Gaza and Jerusalem, and over the waters off the Gaza coast. They demand an end of air force overflights of those areas.
"They demand control over all the underground aquifers, and over the electromagnetic spectrum.
"Moreover, the Palestinians are demanding that Israel allow 5 million foreign-born Arabs the right to freely immigrate to its remaining territory."
~~~~~~~~~~
Netanyahu is acquainted with all of these demands and yet continues the pretense of negotiating. Of course the talks will fail spectacularly at the end. Or before, if the PA acts on its threat to pull out of talks because Israel is being so difficult. (They won't, because they want more prisoners released.) The talks will fail not only because it's obvious that we will not sign on to these demands, but because the PA doesn't really want a state next to Israel, not even next to a severely truncated Israel. And because they won't recognize Israel as the nation-state of the Jewish people.
What a colossal farce this is.
~~~~~~~~~~
There were rumors just days ago -- fueled by a report released by Meretz head Zehava Gal-on, after having met with American officials -- that, early next year, the Americans were going to present their own proposals for resolving the situation. But Kerry is now saying this is not the case. Although I notice he hedges it slightly: "there are no other plans at this time." At this time? And in two months?
It would be a very, very foolish move that ultimately would lead to nothing constructive and might do considerable damage.
We must hope that Netanyahu refrains from additional self-destructive "gestures," and implore him to hold fast for Israel's rights.
Memshala@pmo.gov.il and also pm_eng2@it.pmo.gov.il (underscore after pm) use both addresses

~~~~~~~~~~
The following story gives us a good picture of what we contend with, in terms of Arab hostility and intransigence. There is no give, no good will. And in this instance I am referring to Israel Arabs, who also happen to be members of the Knesset.
Yesterday afternoon, the Knesset Internal Affairs Committee held a discussion on the issue of Jewish prayer on the Temple Mount. The current situation is insulting, outrageous and unjust. Jews are prevented by Jewish police from praying on the Mount -- even though at an earlier time the High Court had said this was allowed -- because it presents a "security risk."
What does that mean? It means that Arabs will see Jews pray, and will riot. The police don't want to deal with a riot, so it's better that Jews not be permitted to pray.
Writes the Times of Israel:
"Enraged by the prospect of a policy change, Arab MK Jamal Zahalke (Balad) interjected (emphasis added), 'There is no such thing as the Temple Mount, there is only the al-Aqsa Mosque,' setting off a shouting match between members of the Jewish and Arab parties.
"...Leaving the hall, Barakeh [Mohammed Barakeh of Hadash] jabbed a finger in Regev's direction, saying, 'Anyone who comes to desecrate the al-Aqsa Mosque will find us there and not here.'
"'What is that, a threat?' responded Regev, an accusation that Zahalke hastily denied. 'Here come the threats,' Regev said.
"'The Second Intifada broke out because of al-Aqsa, and because of you [the third] will break out because of al-Aqsa,' Tibi [Ahmad Tibi of Ta'al], said, standing up and walking out, referring to a visit to the Temple Mount by then opposition leader Ariel Sharon in September 2000.
"From the coalition side of the table, an unseen MK shouted in response, 'You say that as a friend of [former Palestinian Authority president] Yasser Arafat?'
"'I'm proud to have been his friend,' Tibi snapped. 'Arafat's shoe is worth 10 of you.'"
I have a whole lot of trouble with people such as Tibi serving in the Israeli Knesset, but that's a story for another day. What I hasten to point out here is that the second intifada did not start because Sharon went up to the Temple Mount. That was a Palestinian Arab ruse, something to hang it on. Arafat was already planning it. And Tibi? At one point he was an Arafat advisor.
http://www.timesofisrael.com/enraged-arab-mks-storm-out-of-debate-on-temple-mount/
~~~~~~~~~~
Let's end this with something very upbeat about Israel, which story I encourage you to share broadly:
A young Syrian woman, beginning to go into labor with her firstborn, realized there was no one in her village to help her and asked to be transferred to the border with Israel. "I was very afraid to go, but I was even more frightened of giving birth at home alone by myself."
IDF soldiers transferred to Ziv Medical Center in S'fat.
"I don't feel like I am in an enemy country," she said. "The staff are all helping me and worrying about me."
"My baby, too, is getting wonderful, devoted care."

Credit: Hannah Bickel
Explained the nurse who runs the delivery room:
"We gave her a hug, a shower and food.
"We gave her postnatal advice. She's a very young woman who came without her husband or anyone else accompanying her, and it was her first delivery.
"Our job is to ensure that every new mother remembers her delivery as an unforgettable, positive experience, whatever her ethnic, national or religious background."
The young mother delivered a 3.2 kilo (7 pound) healthy baby boy. Her identity is being protected so that she has no trouble on returning to Syria.
http://www.jpost.com/Health-and-Science/First-Syrian-refugee-baby-born-in-Israeli-hospital-330491
Where, my friends, where but in Israel??? Israel, the country the world loves to malign.
~~~~~~~~~~
© Arlene Kushner. This material is produced by Arlene Kushner, functioning as an independent journalist. Permission is granted for it to be reproduced only with proper attribution.
If it is reproduced and emphasis is added, the fact that it has been added must be noted.
http://arlenefromisrael.squarespace.com/current-postings/2013/11/5/november-5-2013-a-tangled-affair.html
Posted
on Tuesday, November 5, 2013 at 06:17PM
by
Arlene
in Abbas, Kerry, Knesset, Netanyahu, Palestinian Authority, Syria, peace process
|
Post a Comment
|
Email
|
Print
It's infuriating when agents outside of Israel act against Israel. But there is something uniquely distressing about damage we do to ourselves. This is what I'm seeing now -- and feel compelled to write about. The current situation is not only unacceptable, it's intolerable.
First, there is the prisoner release that took place this week. Ostensibly, because we "promised" at the beginning of the negotiations. It was the lure to bring the PA to the table.
No one in Israeli officialdom, it seems, ever confronts the question of why the PA would need an enticement to come negotiate in order to secure the state they keep claiming they want. They should be running to talk.
~~~~~~~~~~
When the time for releasing the prisoners approached, and there was much protest on the right, the left -- and most specifically Tzipi Livni -- made an accusation: Well, you could have agreed to freeze settlements instead (about which more following). But since you refused to stop building, we had to promise the prisoner release.
Excuse me? We had to? It was incumbent upon us to make some sort of commitment that is not in Israel's best interests?
What is more, Naftali Bennett, head of Habayit Hayehudi, who has been opposed to the release of prisoners, directly contradicted the Livni charge: "This is a lie and a total fabrication. [That he agreed to a release of prisoners to protect construction.] I was never presented with those two possibilities. Netanyahu told me [about the prisoner release] after it was a fait accompli."
http://www.jpost.com/Diplomacy-and-Politics/Bennett-tells-iPosti-I-didnt-make-a-deal-with-PM-to-continue-settlement-construction-330033
~~~~~~~~~~
There is no question but that the PA has been pumping for release of prisoners and referring to it as a key priority. This said, however, the promise -- the commitment to release prisoners -- is not really to the PA but to Obama. That there was great pressure from the White House is certainly the case. In his eagerness to be able to boast a diplomatic achievement in this part of the world, Obama bent over backwards to find ways in which Israel might entice Abbas.
But there is a time to say NO.
~~~~~~~~~~
A demonstration at Ofer Prison, where the terrorists about to be released were held; protests registered by members of the coalition; the emotional pleas of families of the victims of these terrorists -- none of it made a difference to Netanyahu, who insisted that a promise had been made and it was necessary to follow through.
"The decision to free prisoners is one of the difficult I have made as prime minister," he declared. "This decision was necessary in our current reality. We have to navigate through a complex international area full of challenges."
I believe that Netanyahu is severely deluded -- that within his distorted view of matters he continues to believe, in the face of much evidence to the contrary, that there are rewards from the international community for Israeli sacrifices.
Yesterday, Defense Minister Moshe Ya'alon echoed his boss, saying that the prisoner release was necessary because of "long-term security considerations."
http://www.jpost.com/National-News/Israel-goes-ahead-with-second-round-of-Palestinian-prisoner-release-330116
Time was, when this refrain was fed to the Israeli public, I would wonder if maybe, just maybe, there was a quid pro quo coming down the road for what was being done -- something we were not aware of. I stopped wondering about that a long time ago. It's nonsense.
~~~~~~~~~~~
Twenty-six prisoners were released. Five to Gaza, and 21 to Palestinian Arab areas of Judea and Samaria. Those 21 were let go in the small hours of the morning on Wednesday -- the intent being to damp down media attention and celebration by the PA. It didn't work. The PA celebration was larger than it had been with the first release this summer (104 are slated for release in four intervals).

Credit: scmp
~~~~~~~~~~
Murderers, welcomed home like victors. Every single one has Jewish blood on his hands.
"Terrorists who kidnapped, lynched and murdered IDF soldiers and reservists; ambushed and slaughtered unarmed hikers; killed a defenseless couple sitting in their care in a secluded forest at night..."
http://www.jpost.com/National-News/List-of-Palestinian-prisoners-to-be-released-includes-terrorists-convicted-of-brutal-crimes-330020
What sort of nation releases such terrorists from its prisons?
~~~~~~~~~~
And what sort of people celebrate and adulate their terrorists? Abbas hugged and kissed them all, calling them "heroes."
Yesterday he declared that there would be no agreement with Israel as long as even one Palestinian Arab remained in Israeli prisons.
~~~~~~~~~~
Also yesterday, the Israeli government announced plans for additional building over the pre-1967 line -- with final permits having been given for 1,500 apartments in Jerusalem (Ramat Shlomo, pictured) and hundreds more in communities in the large blocs in Judea and Samaria, such as Ma'aleh Adumim, Betar Illit, and Ariel.

Credit: JPost
Additionally, preliminary plans were announced for another 2,000 units beyond the security barrier and outside the large blocs, in communities such as Ofra, Beit El and Shilo. The prime minister also gave the final go-ahead to a national park east of Hebrew University's Mount Scopus Campus and for a tourism and archeological center opposite the entrance to the City of David.
All this building is great. But the timing of this announcement is hardly a coincidence, and the intent here on Netanyahu's part to mollify the right wing of his coalition after the prisoner release is obvious and publicly acknowledged.
~~~~~~~~~~
As could have been predicted, there was a furor over this, with Palestinian officials saying that this was "destroying the peace process."
My favorite headline on this issue came from Israel National News yesterday: "Ban: Releasing Murderers is Good, Building is Bad."
That about sums up the international attitude in many quarters. No criticism that Abbas kisses terrorists. That's not counterproductive to "peace." Hey, so what if it incites Palestinian Arabs to be like those celebrated terrorists?
But building past the pre-1967 line, that's a whole other story. The UN Secretary-General says it's "contrary to international law."
http://www.israelnationalnews.com/News/News.aspx/173422
He's walking proof of our need to solidly promote the Levy Report.
~~~~~~~~~~
Interestingly, the JPost today cites an Israeli official who said that the US and the PA both knew that our release of prisoners would be accompanied by an announcement of construction plans.
http://www.jpost.com/Diplomacy-and-Politics/US-knew-of-settlement-construction-plans-330223
~~~~~~~~~~
Now, having mentioned Ban, let me segue into a related issue at the UN -- this regarding the UN Human Rights Council.
About 18 months ago, Israel walked away from participation in the Council because of a continued and egregious bias against the Jewish state.
Anne Bayefsky of Human Rights Voices explains:
"The Council...adopted a short permanent agenda that governs every regular session. It contains one item for censuring Israel alone [Agenda Item 7], and one general item for all other 192 UN countries combined. Thirty-five per cent of all the resolutions the Council has passed that are critical of specific states have been directed at Israel – compared to nothing on states like Russia, China, or Saudi Arabia."
The Europeans and the US, warned Bayefsky, were "strong-arming" Israel into rejoining the Council. She provided a painful picture of the way in which the Council operates.
http://www.jpost.com/Opinion/Op-Ed-Contributors/Europe-US-pressuring-Israel-to-endure-discrimination-at-UN-Human-Rights-Council-329832
~~~~~~~~~~
Unfortunately, on Tuesday, Israel caved to that massive pressure and came forward for additional biased treatment, assurances to the contrary not withstanding.
Not a good move.
As the JPost editorial today, explains:
"Admitting that the council has a 'strong bias against Israel,' the US delegation to the UNHRC nevertheless argued that by staying away, Israel was forgoing the opportunity to 'present its own narrative.' The trouble, though, is that nobody at the council is listening.
"...Now Israel has switched tack and two days ago defended its record in a hearing that descended into a kangaroo court, where some of the most repressive regimes pass judgment on a sterling democracy and where the damning verdict [in a "Periodic Review"] had been composed long before the proceedings began."
http://www.jpost.com/Opinion/Editorials/Israel-and-the-Rights-Council-330194
~~~~~~~~~~
But wait, we're not done yet. This is what the Israeli representative to the UNHRC, Eviatar Manor, told the council on Tuesday:
"All of them [the released prisoners] have blood on their hands; all of them have murdered Israelis. Their release, I believe, illustrates Israel's determination to reach an agreement with our Palestinian neighbors..."
http://www.jpost.com/Diplomacy-and-Politics/WATCH-LIVE-Israel-undergoes-its-Universal-Periodic-Review-at-the-UN-Human-Rights-Council-330063
How pathetic can it get? We need a huge dose of national pride.
~~~~~~~~~~
Let me note here that, while Washington thinks nothing of strong-arming Israel, yesterday, Kerry observed that the US would "not succumb" to fear tactics by those opposing the diplomatic engagement with Iran.
~~~~~~~~~~
But let me end on an upbeat note.
For a very brief interval of time recently, Abbas, speaking for the PA, reportedly said that he would consider an interim agreement with Israel -- something that, according to rumors, Netanyahu is seeking, since he knows that a final agreement will not happen.
But very quickly thereafter, Abbas claimed he never said anything of the sort. Either he was misquoted in the first place, or he backtracked in the face of enormous anger from his own people. Now Abbas has returned to demanding everything: Israel's return behind the pre-1967 line, half of Jerusalem as a Palestinian Arab capital, etc. etc.
In any event, the assessing is that whether Netanyahu may have been shooting for this -- as Deputy Minister of Defense Danny Danon has charged -- or not, the current composition of the government would make such a deal impossible.
From an impeccable source, I have it that Saudi Arabia is so furious at the US for Obama's stand on Iran and on Syria, that Saudi officials are advising the PA not to cooperate with Obama. What is more, some Fatah officials are saying that they won't consider any compromise in negotiations because they don't trust Obama.
~~~~~~~~~~
© Arlene Kushner. This material is produced by Arlene Kushner, functioning as an independent journalist. Permission is granted for it to be reproduced only with proper attribution.
If it is reproduced and emphasis is added, the fact that it has been added must be noted.
http://arlenefromisrael.squarespace.com/current-postings/2013/10/31/october-31-2013-not-remotely-acceptable.html
Posted
on Thursday, October 31, 2013 at 02:39PM
by
Arlene
in Netanayhu, PA, UN, UNHRC, building in Judea and Samaria, prisoner release
|
Post a Comment
|
Email
|
Print
Just yesterday plans were finalized for launching the first stage of a major effort aimed at securing the acceptance of the Levy Report.

You will find an article about it here:

http://frontpagemag.com/2013/arlene-kushner/restoring-israels-rights-the-levy-report/

But I want to take the time in this posting to provide a bit of background and explain what the report is and why it is important.

~~~~~~~~~~

The Jewish claim to the land of Israel -- certainly including all of Jerusalem and Judea and Samaria -- is solid. It is predicated first on our ancient history in the land. Jews are, in fact, the indigenous people here, having maintained a continuous presence for almost 4,000 years. Our ancient heritage actually can be found not in western Israel, but in eastern Jerusalem and Judea and Samaria.

In addition to heritage, there is solid legal precedent for our claim to the land -- via the San Remo Conference, the Mandate for Palestine, and more.

For at least 20 years, however, there has been a concentrated delegitimization campaign waged by the Palestinian Arabs and their supporters that attempts to discredit our rights to the land.
The perception that Jewish rights to the land have been diminished has been fueled by Palestinian Arab leader Mahmoud Abbas and his cohorts, who – in insisting ad nauseum that Israel's proper place is behind the "1967 border" – reveal themselves to be major advocates of the dictum that, "If you tell a lie big enough and keep repeating it, people will eventually come to believe it."
Of course this business of a "1967 border" is a lie: there was no border established to Israel's east after the War of Independence ended in 1949, only a temporary armistice line. The armistice agreement was not even with a "Palestinian people," but with Jordan. Nor did Security Council Resolution 242 require Israel to pull back fully from Judea and Samaria, which was secured defensively during the Six-Day War in 1967.
But why bother with facts when a myth more favorable to the political interests of the Palestinian Arabs can be successfully generated? Today, a good part of the world believes that Judea and Samaria consist of "Palestinian land," which Israel must "return." The president of the United States speaks in such terms. Jewish communities in Judea and Samaria, called "settlements" (pejoratively), are referred to either as "illegitimate" or "illegal," and the stumbling block to peace. Eastern Jerusalem, today part of the united capital of Jerusalem under full Israeli sovereignty, is called "Arab Jerusalem."
~~~~~~~~~~
This Palestinian Arab myth could not have been successfully generated had successive Israeli governments self-confidently and persistently presented truths to counter the lies. Regrettably, since Oslo, this has rarely been the case. While no Israeli government has ever declared Judea, Samaria and the eastern part of Jerusalem to be "Palestinian land," some have skirted close to embracing this position by behaving "as if." Some Israeli leaders to the left have swallowed the notion in its essence, speaking in terms of what the Israelis owe the "Palestinians." Some others are ideologically opposed to any such concept but timid about bucking a position that is politically correct internationally.
In other places you may read about the "competing" Israeli and Palestinian Arab "narratives" concerning the land. You will not hear that from me. There are not two "narratives" of equal weight that are simply a matter of perspective. There is the truth about the situation, and there is the invented narrative -- the deliberate lie crafted for malign political purposes. Regrettably, many of our own leaders have not spoken the truth boldly enough for some time now.
~~~~~~~~~~
Prime Minister Netanyahu is not ideologically committed to a "Palestinian state." His problem, rather, is that he is timid before the international community. He prefers to "play the game," believing -- mistakenly -- that in doing so he will lessen the pressure on Israel and accrue favor for Israel in the international community.
In January, 2012, Netanyahu appointed a committee – popularly referred to as the Levy Committee – to examine the status of Israeli building in Judea and Samaria. Edmund Levy, former Justice of the High Court, headed the committee; its other members were Alan Baker, international lawyer and former adviser for the Foreign Ministry, and Tehiya Shapira, retired Tel Aviv District Court Judge.
The Committee's Report, which was released on July 8, 2012, is 90 pages long in the original Hebrew. (Only summaries exist in English.) It consists of both conclusions and recommendations and provides legal arguments and research.
The accusations currently being leveled by the international community against Israel as a violator of "international law" because of building in Judea and Samaria are countered by the Levy Report conclusions. That is, because of both historical and legal factors, the decades-long presence of Israel in Judea and Samaria is not "belligerent occupation." Israel's situation is unique (sui generis) and Israel has the legal right to settle in Judea and Samaria.
The Report then offers a number of important recommendations, consistent with the conclu­sions, regarding adjustments in Israeli policies and practices in Judea and Samaria. These recommendations would clarify the rights of Israeli citizens living in Judea and Samaria, who currently find themselves at a serious disadvantage: The Israeli legal system default there favors Arabs.
~~~~~~~~~~
I have it from an impeccable source that when Prime Minister Netanyahu first saw the Report, he declared, "Ah, this is just what we need."
But information about the report was leaked, and Netanyahu, confronting the international furor that would result from its official adoption, did an about-face. The Report, which was to be referred to the Ministerial Committee on Settlements for discussion, was tabled. To this day, it sits in a drawer somewhere, effectively never having seen the light of day.
And so, the Levy Report disappeared from the radar screen of public awareness. But it was not forgotten by Israeli activists and politicians with a nationalist orientation, who understood its enormous importance.
In the fall of 2012, a small group of seasoned activists (including yours truly) formed an ad hoc committee to pursue plans for securing the adoption of the Report by the government. International lawyers and politicians were consulted, the political climate was assessed and assessed again; and plans for a campaign evolved through several permutations. Persons and organizations of prominence who would lend their names to the campaign were sought. Additionally, and necessarily, backers to provide funds were secured.
As the plans for the campaign have coalesced over the last few months, the Campaign Committee has become convinced that the timing is right.
This is, first, because of the farcical "negotiations" with the Palestinian Authority. If there are going to be such negotiations (certainly not advocated by the Campaign Committee) it is important that Israel negotiate from strength, and this means stating Israeli rights without equivocation. There is scant time to delay on this. It's one thing to concede that Israel "must" withdraw from at least part of Judea and Samaria, because this is "owed" to the Palestinian Arabs, and quite another to say that it is Israeli land by right and any concessions to the Palestinian Arabs would be a matter of choice and discretion.
Then there has been an encouraging shift within the government, with a greater number of ministers and deputies who are nationalist or who tend to be opposed to the notion of a Palestinian state, such as: Moshe Ya'alon; Naftali Bennett; Danny Danon; Yisrael Katz; Tzipi Hotovely; Ze'ev Elkin; Uzi Landau; Yair Shamir; and Uri Ariel. Add to this list Yuli Edelstein, Speaker of the Knesset.
Lastly, there is Prime Minister Netanyahu's second Bar Ilan speech of October 6. Instead of speaking of a "two state solution," as he had previously, he emphasized Jewish rights in the land. A change of tone that many consider significant.
~~~~~~~~~~
And now, at long last, the Levy Report Campaign is kicking off.
The Campaign Committee is operating with the assistance of Regavim, a fine Israeli organization that works "to ensure responsible, legal & accountable use of Israel's national lands and the return of the rule of law to all…aspects of the land." (See http://regavim.org.il/en)
The campaign is envisioned in two stages – first within the Knesset and then more broadly within the public domain.
It is so new that neither a name nor a logo are yet in place. But the services of the educator who will work with the members of the Knesset have been secured. There will be major social media aspects to this effort, as well as organizational work done within the Knesset – in large part by Knesset members themselves – to generate significant and sustained support for the Report. Already, members of the Knesset approached informally have expressed considerable enthusiasm.

The goal of the campaign, of course, remains acceptance of the Levy Report by the government. Right now a process is being set in place that will take time to unfold, step-by-step. It would be foolish and unrealistic to anticipate immediate acceptance. First the climate must be created.
The Campaign Committee believes this effort will provide support for the prime minister, so that he is bolstered from within the nation – and thus better able to resist outside pressures. As well, the campaign should, in time, shift public perceptions regarding Israel's rights.
As the campaign progresses, I will, of course, follow through with additional information.
~~~~~~~~~~
A word about sovereignty. The committee is certainly not ideologically opposed, but is not promoting this -- and takes no position on the specific form it might take -- because in our opinion it is premature. There will be no serious action towards sovereignty -- either over Area C or all of Judea and Samaria -- until the government of Israel first declares our RIGHT TO THE LAND, and there is broad public understanding of that right. This is what the Levy Report is about. It is a vehicle for changing the paradigm of thinking. We believe it lays the necessary ideological/legal groundwork for what will follow.
~~~~~~~~~~
Readers, please note that we are seeking support in two respects. First, we have a coalition of organizations that are supporting our venture in principle. If you are associated with an organization that would like its name added, or would like information to that end, please contact me.
And then, while sufficient funds were raised to kick this off, additional money is required for an aspect of the campaign that has been added since the budget was drafted. If you are interested in more details and think you might be able to help, please! do contact me.
~~~~~~~~~~
© Arlene Kushner. This material is produced by Arlene Kushner, functioning as an independent journalist. Permission is granted for it to be reproduced only with proper attribution.

If it is reproduced and emphasis is added, the fact that it has been added must be noted.
http://arlenefromisrael.squarespace.com/current-postings/2013/10/31/october-28-2013-a-levy-report-campaign.html
Posted
on Thursday, October 31, 2013 at 02:32PM
by
Arlene
in Israel, Judea and Samaria, Levy Report, rights
|
Post a Comment
|
Email
|
Print
"Back to Normal" (whatever "normal" means)
Some days ago, I had shared with my readers the fact that there would be a hiatus in my writing both for personal reasons and because of a major project. As to the personal reasons, I am functioning without major distraction now but advise you that, down the road, I may again be focused on other matters for a period of time during which I will not be posting.
As to the major project: I look forward eagerly to sharing the details in a day or two, in a posting devoted primarily to this.
Today's posting will be, as I indicated, "normal."
~~~~~~~~~~
What strikes me is that in the duration of time during which I have not been posting, nothing of major significance has shifted. It's essentially more of the same, with slight variations and permutations. The same nonsense. The same outrage.
One on-going source of outrage is the manner in which an anti-Israel EU is conducting itself. And so I would like to begin by sharing a part of Caroline Glick's column from this past week, entitled, "Israel's European challenge." Writes Glick (emphasis added):
"...In mid-September, the IDF enforced a High Court of Justice order to destroy 250 structures built illegally by Palestinian squatters in the Jordan Valley. The High Court acted in accordance with the agreements signed between the Palestinians and Israel. Those agreements gave Israel sole control over planning and zoning in the Jordan Valley and throughout the area of Judea and Samaria defined in Area C.
"Five days after the IDF destroyed the illegal structures, Palestinian activists arrived at the site with tents. Their intention was to act in contempt of the law and the agreements the PLO signed with Israel, and to resettle the site.
"The Palestinians did not come alone. They were accompanied by European diplomats. The diplomats were there to provide diplomatic cover to the Palestinians as they broke the law and breached the agreements PLO signed with the Israeli government.
"This would have been bad enough, but in the event, one European diplomat, Marion Castaing, the cultural attache at the French Consulate in Jerusalem, decided that her job didn't end with providing diplomatic cover for lawbreakers. She joined them. She punched an Israeli border policeman in the face.
"Rather than apologize to Israel for using European diplomats to support Palestinians engaged in criminal activity, and for Castaing's shocking violence against an Israeli soldier lawfully performing his duties, EU foreign policy chief Catherine Ashton attacked Israel.
"Ashton called the tents, presumably paid for by European taxpayers, 'humanitarian assistance' and declared, 'The EU deplores the confiscation of humanitarian assistance carried out by Israeli security forces yesterday in Khirbat al-Makhul.'
"'EU representatives have already contacted the Israeli authorities to demand an explanation and expressed their concern at the incident. The EU underlines the importance of unimpeded delivery of humanitarian assistance and the applicability of international humanitarian law in the occupied Palestinian territories,' Ashton said.
"The EU's role in financing illegal Palestinian building efforts in the Jordan Valley is not unique. For some time, in contempt of Israeli law and the arrangements signed between Israel and the PLO, the EU has been financing illegal building by Arabs in Judea, Samaria and Jerusalem.
"What was new in last month's incident was the deployment of European diplomats at the scene to provide diplomatic cover for Palestinian law-breakers...
"In recent months, there has been a palpable escalation of European hostility toward Israel..."
~~~~~~~~~~
"Outrage" is a fairly apt description of what transpired here -- what continues to transpire. The Europeans are growing increasing blatant in their anti-Israel positions. There is nothing subtle about their behavior. And please note that they fall back upon allusions to "international humanitarian law" when criticizing Israel. That's the standard: Anyone, at any time, can refer to "international humanitarian law," but this in no way means that such law genuinely applies.
~~~~~~~~~~
Glick tracks what she sees as the cause of the heighted EU hostility to Israel, much of it economic in nature.
But that hostility transcends economic issues and can be tracked back for some time. It incorporates hypocrisy and a double standard applied to Israel alone.
"Consider," says Glick, "Europe's position on Israeli communities built beyond the 1949 armistice lines. Europe wrongly asserts that these communities are illegal. But even if they were right, Europe's behavior toward Israel would still make a mockery of its proclaimed devotion to international law. Europe has no problem, indeed it has actively supported settlements for citizens of belligerent occupying powers in areas ruled through occupation. As Profs. Avi Bell and Eugene Kantorovich from the Kohelet Policy Forum explained in a recent paper on the EU's guidelines, the EU supports settlements by occupying powers in Northern Cyprus, Abkazia and Western Sahara. In light of this, it is clear that the guidelines directed against Israel are inherently discriminatory.
"The EU's supposed commitment to international law is similarly exposed as a sham by its willingness to turn a blind eye to the Palestinian Authority's diversion of EU monies to finance terrorism. Despite mountains of evidence accumulated over the past 13 years that aid is being siphoned off to finance terrorist attacks against Israel, the EU has refused to take action. And its refusal to act is itself a breach of international law."
It is time, says Glick, to begin confronting the truth on these issues and stop giving a free pass to those "who distort the very meaning of international law while making empty proclamations of support for the cause of peace."
http://www.jpost.com/Opinion/Columnists/Column-one-Israels-European-challenge-329699
This is information -- and a perspective -- that every supporter of Israel should have access to.
~~~~~~~~~~

Another running theme is that of Iran's race to become a nuclear power, and the refusal of the nations negotiating with Iran to put a stop to what is imminent.
Perhaps at some time in the near future I'll be motivated to discuss details once again. But for me now it all seems so wearisome, so "been-there-done-that." The bottom line is that everything that is being discussed is a half-way measure that won't stop Iran. As PM Netanyahu continues to point out, nothing short of the dismantlement of Iran's nuclear development capability will work. The Iranian offer to stop enriching at higher levels is meaningless if the equipment that would permit them to do so is still in their possession: In a matter of weeks they could (would, as they wished) be up and running again.
And I hasten to point out here, that when it's said that the sanctions are working, that is not really so -- or is only relatively so. The Iranians are in an economic bind and hope to have sanctions eased, undoubtedly. But please note that they have not stopped their program because of those sanctions. (See Ajami on this below.)
~~~~~~~~~~
Fouad Ajami offers an analysis of the situation -- both with regard to Obama's position on Iran and on Syria -- in the Wall Street Journal (emphasis added):
"...The remarkable thing about President Obama's diplomacy in the region is that it has come full circle—to the very beginning of his presidency. The promised 'opening' to Iran, the pass given to Bashar Assad's tyranny in Syria, the abdication of the American gains in Iraq and a reflexive unease with Israel—these were hallmarks of the new president's approach to foreign policy.
"Now we are simply witnessing the alarming consequences of such a misguided, naïve outlook. [Note from Arlene: do not write to me to tell me that Obama is not naive, please. This is an Ajami quote, and he makes his case.]
"Consider this bit of euphoria from a senior Obama administration official after the Oct. 16-17 negotiations in Geneva with the Iranians over their nuclear program: 'I've been doing this now for about two years, and I have never had such intense, detailed, straightforward, candid conversations with the Iranian delegation before.'
"...True, the sanctions have had their own power, but they haven't stopped Iran from aiding the murderous Assad regime in Syria, or subsidizing Hezbollah in Beirut. And they will not dissuade this regime from its pursuit of nuclear weapons. In dictatorial regimes, the pain of sanctions is passed onto the underclass and the vulnerable.
"...The gullibility of Mr. Obama's pursuit of an opening with Iran has unsettled America's allies in the region. In Jordan, Saudi Arabia and the United Arab Emirates there is a powerful feeling of abandonment. In Israel, there is the bitter realization that America's strongest ally in region is now made to look like the final holdout against a blissful era of compromise that will calm a turbulent region. A sound U.S. diplomatic course with Iran would never have run so far ahead of Israel's interests and of the region's moderate anti-Iranian Arab coalition."
http://online.wsj.com/news/articles/SB10001424052702303448104579149682674870284
~~~~~~~~~~
The last paragraph I cite above is significant on two counts: The news here is filled with reports of the severe disillusionment of Saudi Arabia -- the anger at Obama's failure to come through.
For example, from Reuters:
"Saudi Arabia's warning that it will downgrade its relationship with the United States is based on a fear that President Barack Obama lacks both the mettle and the guile to confront mutual adversaries, and is instead handing them a strategic advantage.
"Riyadh is locked in what it sees as a pivotal battle over the fate of the Middle East with its arch-rival Iran, a country it believes is meddling in the affairs of allies and seeking to build a nuclear bomb, charges Tehran denies.
"The kingdom's intelligence chief, Prince Bandar bin Sultan, has told European diplomats that Riyadh is contemplating a 'major shift' away from the United States over Washington's policies on a host of issues including Syria."
http://news.yahoo.com/analysis-saudi-move-reflects-fears-u-falling-iranian-180118004.html;_ylt=A2KLOzKtpmhSxU8A4j7QtDMD
~~~~~~~~~~
And Ajami is on the mark, indeed, with the fact that here in Israel, where we get it right, we deeply resent being represented as a stumbling block to a peaceful settlement with Iran, a "warmonger," facing down the US's "peaceful" approach.
~~~~~~~~~~
There continues to be a very real dispute between the US and Israel with regard to how much time there remains before Iran has nuclear capabilities, i.e., the ability to put together a bomb should its leaders decide to.
David Albright, president of the Institute for Science and International Security and a former inspector with the IAEA, has released a new assessment estimating that "Iran could produce enough weapons-grade uranium to build a nuclear bomb in as little as a month.
"The new assessment comes as the White House invited Senate staffers to a briefing on negotiations with Iran as it is trying to persuade Congress not to go ahead with a bill to stiffen sanctions against Iran." (All emphasis added)
http://www.usatoday.com/story/news/world/2013/10/24/iran-bomb-one-month-away/3181373/
Israeli assessments (roughly, "months away") are much closer to the Albright estimate than to what Obama is gambling on. Obama is playing with fire of the most dangerous and lethal sort.
~~~~~~~~~~
The heart of the matter is the question of what Netanyahu will finally decide to do, and when -- after all his warnings are ignored and the world sails blithely towards a nuclear Iran.
Last week, the New Republic ran a major interview with Amos Yadlin, former head of IDF intelligence and presently head of the Institute of National Security Studies. Yadlin flew one of the planes that attacked the Iraqi reactor. (All emphasis added)
Says Yadlin: "I supported [Netanyahu and Barak] on the notion that if we come to the fork in the road [on Iran], where we have to choose between very tough alternatives—the 'bomb' or the 'bombing'—I'm with the prime minister, for the bombing."
Many people, he goes on to say, thought that 2012 was the year in which Israel had to attack. He did not. But he suggests that 2014 is. He believes Israel should go as long as possible in giving diplomacy that chance. But then...
"Israel doesn't need America on D-Day. It can do it alone. It even can cope with the day after, but it does need the United States for the decade after.
"...even the most successful operation theoretically—theoretically—will stop the program for five years. If you want to make these five engineering theoretical years into a decade, until the regime changes, you need the U.S. on board, with the continuation of sanctions, with leading the international campaign against the renewal of the nuclear program in Iran, and maybe supporting [Israel] in doing it again. So that's why I think 2012 was the wrong year to do it, because in 2012, it was a bright red light from Washington. I would like to emphasize, Israel is not asking for a green light. Israel only doesn't want to do something that is going 180 degrees against American vital interests as long as it is not a response to a threat that is almost an existential threat. I think in late 2013 or early 2014, especially if America sees that Iran is not serious about reaching an acceptable agreement and only continues to buy time, the U.S. will accept an Israeli attack because a nuclear Iran is absolutely against American vital national security interests...
~~~~~~~~~~
"The coming year is a special challenge because the Iranians are now very close. They may be able to produce a bomb faster than intelligence can detect that they are breaking out or sneaking out. And the breakout time may be shorter than the time necessary for the decisions and planning and execution of an operation that can stop it. This is what is unique here. 'You cannot live with a nuclear Iran,' that's was decided long ago, But in the coming year, the probability of affirmative answers to all four fundamental questions [that must be asked regarding possibility of success] will be higher than it has ever been...
"[To those who say Israel cannot do it] I say that they ignore history. The same people also thought that we couldn't destroy the Arab air forces in '67. They thought we couldn't make it to Entebbe and free the hostages in 1976. They thought it was impossible to strike the reactor in Iraq. They thought we couldn't destroy the Syrian air defenses in the Bekaa Valley in 1982. There's a lot they thought Israel couldn't do."
Yadlin is confident that Israel can do it. Period. "It is doable...My confidence level is quite high. We have been building the force and practicing for this day for years."
He then addressed the issue of probability of success -- with that probability dropping as Iran does more to secure its facilities. Right now he thinks the probability is still quite high -- 95% -- but that indeed it will be dropping.
As to Netanyahu: "The prime minister is not bluffing. It is the main issue he cares about. He thinks that stopping Iran from acquiring nuclear weapons is the most important issue for the future of the State of Israel. And he hasn't changed."
http://www.newrepublic.com/article/115313/amos-yadlin-iran-strike-why-israel-needs-act-soon
~~~~~~~~~~
© Arlene Kushner. This material is produced by Arlene Kushner, functioning as an independent journalist. Permission is granted for it to be reproduced only with proper attribution.
If it is reproduced and emphasis is added, the fact that it has been added must be noted.
http://arlenefromisrael.squarespace.com/current-postings/2013/10/27/october-27-2013-back-to-normal.html
Posted
on Sunday, October 27, 2013 at 04:40PM
by
Arlene
in EU, Israel, Netanyahu, Palestinians, attack on Iran
|
Post a Comment
|
Email
|
Print
Late on Thursday night, men who are being presumed likely terrorists broke into the home of Shariya Ofer and his wife, Monique. Shariya -- a retired IDF colonel who had served as a commander of the elite Sayeret Shaked infantry reconnaissance unit -- was bludgeoned to death by Arabs wielding iron bars and axes.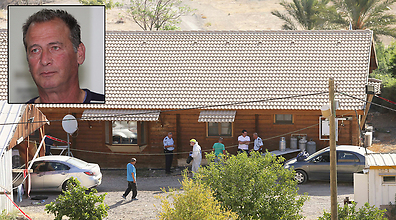 Credit: nosnondits
His wife, who ran to seek help, was moderately injured and is in the hospital.
The Ofer home is in the community of Brosh in the Jordan Valley. The location is thought perhaps to not be a coincidence, as the Palestinian Authority is now claiming that all Israelis must leave this area in any settlement.
I want to point out here that it is not a question "simply" of murder -- horrendous as it is -- but a certain viciousness that is frequently the mark of Arab terrorists. (I qualified above, in the interests of honest reporting, because it is being suggested that there is a small possibility that the motive here was criminal and not terror.)
~~~~~~~~~~
Five Arabs from the PA area have been arrested on suspicion of involvement in this attack.
But the question at this point is broader: We're seeing a spate of Arab attacks -- each one, in and of itself, horrendous and totally unacceptable. The linkage has been made between these attacks and the persistent, never-ending incitement coming from the PA, with PA officials refusing to explicitly condemn them. The message is being given that at the highest levels of the PA this is an acceptable part of the "resistance."
And yet... Israel continues to engage with the PA in these faux-negotiations. Engage with an entity that is most clearly not a partner for peace. And so, the question is why? And then, when will this end?
~~~~~~~~~~
I share here parts of a superb interview of Khaled Abu Toameh that ran in Hadassah Magazine (with thanks to Chana G. for calling it to my attention).
Journalist Abu Toameh, a genuinely moderate Muslim Arab with Israeli citizenship, tells it like it is, with courage and integrity. For which I salute him. Speaking Arabic, and in touch with Arabs inside the PA areas, he reports with an authenticity that is difficult to achieve from the outside looking in (all emphasis except for the Question lines is mine):
Q. What happened to the moderate Palestinian center?
A. Palestinians have been so radicalized that you will find very few Palestinians who will openly talk about making any significant compromise with Israel. No P.A. leader would dare to sign any agreement with Israel for fear of being condemned as a traitor. Israel has been delegitimized in the eyes of most Palestinians and this is the result of decades of indoctrination and incitement against Israel. This is true throughout the entire Arab world.
Ironically, this incitement intensified after the peace process began. The Palestine Liberation Organization leadership used the media, the mosques and every available podium to delegitimize and discredit Israel in the eyes of the Palestinians. By doing so, the P.L.O. has actually shot itself in the foot. P.A. leaders know that they have radicalized their people to the point where there are people who don't want to hear about peace with Israel at all. I believe this is why [Mahmoud] Abbas will not sign any agreement with Israel. He simply doesn't want to go down in history as a traitor.
Q. Is there anything Israel should be doing differently?
A. Israel is facing two camps in the Palestinian community. One is the radical camp that doesn't believe in Israel's right to exist and seeks its destruction. With that camp, there's nothing that can be done. The second, less radical, camp is represented by some P.L.O. leaders in the West Bank who are unable to deliver [change or peace]. This is a camp that lacks grass-roots support. It has further been discredited due to its close relations with the U.S., Europeans and even Israel. So Israel is facing one camp that doesn't want to deliver and another that cannot practically do so.
Q. United States Secretary of State John Kerry has tried to revive the peace process with multiple visits and public declarations. Can this break the logjam?
A. It's a waste of time. You might be able to reach some sort of interim agreements with Abbas over certain areas that he's actually in control of in the West Bank, but I doubt he'll go even for that. Many in the international community see Abbas as a peace partner and this might be partially true, but so what? The question we need to ask is 'Can this man deliver?' What's a peace agreement worth with Abbas when he can't even visit his house in Ramallah that has been taken over by Hamas? The international community should go to the Palestinians and ask them to get their act together and start speaking in one voice and stop the indoctrination and glorification of suicide bombers. They must start preparing their people for possible compromise with Israel.
Q. Why is there such a pronounced Palestinian denial of Jewish history—from the Holocaust to the Jewish connection to the Temple Mount and Western Wall?
A. It's part of the campaign to delegitimize Israel: [The message is that] the Jews have no historical attachment to this land. We are told...even by moderates that there is no such thing as the Western Wall; it is the southern wall of the Al Aqsa mosque. We are told that there is no such thing as Rachel's Tomb. We are told that there's no such thing as Joseph's Tomb; it's just the tomb of a Muslim sheik. And all the archaeological discoveries are fake. That Jews come at night and plant items at excavation sites and in the morning call a press conference to present these items as something that demonstrates a connection.
Q. What should Israel's approach to peace be at this time?
A. Israel's policy should be to talk to anyone who wants to talk and shoot back at anyone who shoots. I don't see anything that Israel can do under the current circumstances. Some would say, 'Why doesn't Israel just get up and leave, unilaterally go to pre-1967 lines?' I think that would be a recipe for another war. Any land you give to the P.L.O. will undoubtedly end up in the hands of Hamas and other extremists. We've been to this movie before and I'm not even sure the P.L.O. wants Israel to pull out of the West Bank, although they demand that in public. The P.L.O. knows that its survival in the West Bank depends on Israel's security presence.
http://www.hadassahmagazine.org/site/apps/nlnet/content.aspx?c=twI6LmN7IzF&b=6725377&ct=13243859&notoc=1
~~~~~~~~~~
I sincerely wish I had time to address to other issues, but I do not. As I indicated in my last posting...other matters have my attention at the moment. Please, curtail your communication with me until I begin posting regularly again. It was important to me to share the above. Will return to regular posting as soon as it possible -- in particular with regard to Iran.
~~~~~~~~~~
© Arlene Kushner. This material is produced by Arlene Kushner, functioning as an independent journalist. Permission is granted for it to be reproduced only with proper attribution.
If it is reproduced and emphasis is added, the fact that it has been added must be noted.
Posted
on Sunday, October 13, 2013 at 03:08PM
by
Arlene
in Khaled Abu Toameh, PA, terror
|
Post a Comment
|
Email
|
Print
Before speaking about that pride, I simply wanted to alert my readers to a slowdown in my postings that will be taking place for the next 10-14 days. I am well, but focused on both a personal family situation and on a major project -- about which you will hear in due course. Please, unless it is important, refrain from writing to me during this time.
~~~~~~~~~~
Two Israeli professors have won the Nobel Prize in Chemistry, sharing it with an Austrian Jewish American, Prof. Martin Karplus, who fled to the US before the Holocaust.
The two Israelis are Prof. Arieh Warshel, currently living in CA, and Michael Levitt, a native of South Africa with Israeli citizenship who splits his time between Israel and the US. Warshel and Levitt are the 11th and 12th Israelis to win the Nobel Prize.

Warshel Credit: news.usc

Levitt Credit:midco
The prize is for "development of multiscale models for complex chemical systems." As Warshel -- whose breakthrough came in 1975, when he was teaching at the Weizmann Institute here in Rehovot, Israel -- explains:
"We developed how a computer can take the structure of a protein, and can understand how it does exactly what it does -- for example digesting food. You want to understand how it is happening, and then you can use it to design drugs, or in my case, to satisfy your curiosity."
A spokesman at Weizmann clarified further:
"The work of the three laureates is a breakthrough because they have managed to settle the contradictions between classical physics and quantum physics, which is significantly different."
This represents the fourth and fifth times since 2004 that an Israeli scientist won the Nobel Prize in Chemistry. Not bad for a little country only 65 years old, huh?
~~~~~~~~~~
I have already written about Prime Minister Netanyahu's Bar Ilan speech and provided links to it. Here you have another link, this one put out by BESA. It provides the video in Hebrew, with English subtitles:
http://www.youtube.com/watch?v=205m86or7aw&feature=youtu.be
~~~~~~~~~~
One of Netanyahu's major themes was the fact that the failure of the Palestinian Arabs to recognize Israel as the nation state of the Jewish people was a major stumbling block to peace. There would be no peace, he said, without that recognition.
Now Yasser Abed Rabbo - secretary of the PLO - has stepped forward to provide proof-positive of the veracity of Netanyahu's charge that the PA/PLO is intransigent with regard to this issue. On Palestinian radio he called Netanyahu a "racist" and "the number one extremist in Israel" because of his demand that Israel be recognized as the Jewish state.
The Palestinian Arab leadership, declared Abed Rabbo, refuses to recognize "historic Palestine" as the "homeland of the Jewish people."
http://www.timesofisrael.com/top-plo-official-dubs-netanyahu-number-one-extremist/
Perhaps we should thank Abed Rabbo for making the case so perfectly.
~~~~~~~~~~
With regard to the charge that Netanyahu is a "racist," Abed Rabbo is attempting to present Israel as an exclusively Jewish. But this is not at all the case: 20% of Israel's population is Arab and has full individual civil and human rights in the country. What the Arabs do not have are national rights, as a people, for then Israel would no longer be the Jewish state. This distinction, which is often distorted, is significant.
In contrast, this past July, putative PA president Mahmoud Abbas declared:
"In a final [peace negotiation] resolution, we would not see the presence of a single Israeli — civilian or soldier — on our lands."
http://www.timesofisrael.com/abbas-says-there-will-be-no-israelis-in-palestine/
Who's the racist here?
~~~~~~~~~~
What is more -- and we should never overlook this -- Abed Rabbo is presenting the Palestinian Arab narrative, built on fiction, which claims the land of Israel as "historic Palestine." What he is implying is that "Palestine" was the ancient homeland of the present day Palestinian Arabs, rather than of the Jews. Hokum. The present day "Palestinians" self-identified this way only in recent times. Historically there were no Palestinian Arabs, as a people. In fact, before the founding of modern Israel, Jews in Palestine identified as "Palestinians." Palestinian Jews.
~~~~~~~~~~
The response of the Arab League to a tentative proposal by the Czech president puts the lie to what is claimed to be the Arab position. The Czech president's suggestion was that his country's embassy in Israel be moved from Tel Aviv to Jerusalem.
The League called this a violation of Palestinian rights.
http://www.washingtonpost.com/world/middle_east/arab-league-furious-at-czech-presidents-call-to-move-countrys-embassy-to-contested-jerusalem/2013/10/09/3eaf6fd0-30f8-11e3-ad00-ec4c6b31cbed_story.html?
But wait... the Palestinian Arabs are forever calling -- in English for Western consumption -- for eastern Jerusalem to be their capital. You know, everything over the '67 line. Never mind that there are no Palestinian "rights" to any of Jerusalem, if this were a genuine demand there would be no objections to Israel's continued sovereignty over western Jerusalem. And yet, the Arabs protest the presence of international embassies to Israel in the west of Jerusalem as well.
They want it all, folks. Have no doubt about this.
~~~~~~~~~~
As time and energy allow in the coming days, I want to look again at the abysmal situation with Iran. Today I will simply mention this:
The Israel Air Force has been holding an extensive drill to test its capacity to fly remote destinations. Declared the IDF website:
"When we say, 'all options are on the table', we're talking about military options as well. The Air Force, the longest reaching arm of the IDF, is responsible for realizing that option if it is so required. In the force, we're enforcing a range of abilities, including long-term flights. In this field the Air Force is required to develop all relevant ability, from a pinpointed activity to a wide-range action."
http://www.ynetnews.com/articles/0,7340,L-4439261,00.html
According to YNet,
"In one of the highlights of the drill, where the Air Force cooperated with a foreign army, fighter jets were fueled midair."
I will note here that, as I understand it, Israel also possesses fighter planes that could reach Iran without mid-air refueling.
I find this story enormously reassuring. First because we are providing the only credible military threat to Iran, and thus causing Iran to sit back and take notice. And then because it is imperative that we be prepared to do what we may yet need to do, with regard to actually hitting Iran.
~~~~~~~~~~
© Arlene Kushner. This material is produced by Arlene Kushner, functioning as an independent journalist. Permission is granted for it to be reproduced only with proper attribution.
If it is reproduced and emphasis is added, the fact that it has been added must be noted.
http://arlenefromisrael.squarespace.com/current-postings/2013/10/10/october-10-2013-pride.html
Posted
on Thursday, October 10, 2013 at 04:47PM
by
Arlene
in IDF, Netanyahu, Palestinian Authority
|
Post a Comment
|
Email
|
Print