On Tuesday night, according to eye witnesses, a black car stopped near Mohammad Abu Khdeir, 16, from the upscale Beit Hanina neighborhood of Jerusalem and then took off with the boy inside. Some time later, the family reported him missing.
By early Wednesday morning, his burnt body had been found in the Jerusalem Forest area.
~~~~~~~~~~
What happened next should not surprise us, as infuriating as it it: assumptions are being made far and wide that this boy was killed by Jews in retaliation for the terrorist murders of the three students.
Unfortunately, we are seeing this even among some Israelis, who, imagining themselves righteous people, are thumping their chests in an ill-advised and premature "mea culpa."
~~~~~~~~~~
One of the most egregious of the accusations came from Secretary of State Kerry, which should really, really not be a surprise. We know by now quite well who is our friend and who is not. There is not even a pretense of evenhandedness. Rather, his bias is exposed for all the world to see.
~~~~~~~~
Yisrael Medad put out a comparison of what Kerry said after our boys were found dead, and what he said now (with all emphasis from Medad):
Then:
"The news of the murder of these three Israeli teenagers...is simply devastating. We all had so much hope that this story would not end this way. As a father, there are no words to express such a horrific loss that shakes all people of conscience. We pray for these boys and their families, and together we grieve with all of the people of Israel. Knowing that Naftali was also an American citizen makes this an especially heavy blow.
"We condemn this despicable terrorist act in the strongest possible terms. The killing of innocent youths is an outrage beyond any understanding or rationale, and the perpetrators must be brought to justice. This is a time for all to work toward that goal without stabilizing the situation."
And now:
"The United States condemns in the strongest possible terms the despicable and senseless abduction and murder of Muhammad Hussein Abu Khder.
"It is sickening to think of an innocent 17 year old boy snatched off the streets and his life stolen from him and his family. There are no words to convey adequately our condolences to the Palestinian people.
"The authorities are investigating this tragedy, a number of Israeli and Palestinian officials have condemned it, and Prime Minister Netanyahu has been emphatic in calling for all sides 'not to take the law into their own hands.'
"Those who undertake acts of vengeance only destabilize an already explosive and emotional situation. We look to both the Government of Israel and the Palestinian Authority to take all necessary steps to prevent acts of violence and bring their perpetrators to justice. The world has too often learned the hard way that violence only leads to more violence and at this tense and dangerous moment, all parties must do everything in their power to protect the innocent and act with reasonableness and restraint, not recrimination and retribution."
http://myrightword.blogspot.co.il/2014/07/kerrys-vengeance-language.html
~~~~~~~~~~
The difference in over-all tone between the two statements – the far more passionate distress when referring to the killing of the Arab boy – is fairly obvious.
But what we must pay closest attention to are certain key judgmental words: vengeance, destabilize, recrimination, retribution. He has Israel tried and convicted on this, without evidence.
There we were, showing a nobility in our behavior with the funeral. But it wasn't allowed to stand.

And – naturally – Abbas is referring to the murder of this boy as an Israeli "war crime."

~~~~~~~~~~
There will in the end be a final conclusion arrived at by the police, but my absolute conviction is that he was murdered by Arabs. Allow me to share the evidence for this:
First, the body was burned. This is not the way Jews would operate.
Then, there is a report given by a "senior former police officer" that the family of the boy was well-known to police sources. "It's a problematic family with internal clashes that have been going on for many years....I know the internal conflicts in that family, and we need to wait and not rush to connect the murder of the Arab youth with the abduction in Gush Etzion."

http://www.israelnationalnews.com/News/News.aspx/182432#.U7VSuptZrIV
~~~~~~~~~~
Palestinian Arab culture is clan-based. If you are interested in further information, to help you understand what might be going on, you might want to see this:
"Arab culture addresses security through 'balanced opposition' in which everybody is a member of a nested set of kin groups, ranging from very small to very large. These groups are vested with responsibility for the defense of each member and responsible for harm any member does to outsiders. If there is a confrontation, families face families, lineage faces lineage, clan faces clan."
http://www.meforum.org/1813/the-middle-easts-tribal-dna
~~~~~~~~~~
There have been other suggestions that the boy's murder may have been an "honor killing" necessitated in the killer's view by the fact that the boy is a homosexual, which brings a shame to the family that must be rectified.
http://www.freerepublic.com/focus/bloggers/3175113/posts
~~~~~~~~~~
Palestinian Arab culture is "honor-shame" based.
An honor killing is the homicide of a member of a family...due to the perpetrator's belief that the victim has brought shame or dishonor upon the family...usually for reasons such as refusing to enter an arranged marriage, being in a relationship that is disapproved by their relative...or engaging in homosexual relations. (Emphasis added)
http://en.wikipedia.org/wiki/Honor_killing
~~~~~~~~~~
Lastly, we have reports from several sources of conflicting information provided by the mother and the father, including claims regarding an attempted kidnapping of the boy's younger brother some days before this incident. See, for example:
"On Tuesday, police said, the mother called police to say that 'settlers' had tried to kidnap her younger son. She said that individuals had stopped a car in front of her house where she was sitting with her son, and that they tried to grab him. She managed to hold onto him, she said, and they left, at which point she called police.

"Officers arrived a few minutes later to take her statement, in which she said 'settlers' had tried to kidnap her son, but could give no details. However, a few minutes later the father arrived, and he disputed his wife, saying that it was Arabs who tried to kidnap the son.

"Police asked the father if he was positive regarding the identity of the would-be kidnappers, and he said he was. When they asked him to file a police complaint, he said he would, but that he would come down to the police station later on to do so in order to be able to comfort his son. He never showed up, police said, who contacted him several times asking him to file the complaint – but to no avail."
http://www.israelnationalnews.com/News/News.aspx/182474#.U7VkF5tZrIV
~~~~~~~~~~
The charge that Jews killed this boy has sparked severe riots in certain Arab sections of Jerusalem in and near the Shuafat neighborhood and in Beit Hanina.
Credit: Hadas Parush/Flash90
Rioters did damage to the light rail station in the Shuafat neighborhood and threw rocks and homemade bombs at the police. Additional police forces had to be called out.
I pause here to point out the difference between the way we Jews responded to the death of the three boys and the way Arabs are responding here. Unfortunately, this difference will not be noted by mainstream media sources.
~~~~~~~~~~
Jerusalem Councilman Aryeh King charges that the murder of the boy was planned in order to incite unrest.
http://www.israelnationalnews.com/News/News.aspx/182449#.U7V1BJtZrIV
I cannot speak to this, but what seems certain is that the fact of the murder was used to inflame anger and promote rioting. Please note that the rioting is making it difficult for the IDF to continue with its actions against Hamas in Judea and Samaria – something else that might well have been taken into consideration when the unrest was fomented.
~~~~~~~~~~
It goes without saying that the sooner the police can reach a determination as to who was responsible the better. But this becomes a bit like trying to put feathers back into a ruptured pillow.
I'm betting that any conclusion other than that a Jew did it will not be accepted on the street within the Palestinian Arab community, and that the mainstream international media that is covering this story now will make much less hoopla when it is announced that the boy was murdered by one of his own.
My prayer is that our government has the determination and the courage, once this quiets down, to continue to pursue with full vigor the actions against Hamas that must be pursued.
We cannot – must not- be intimidated either by Arab violence or by libels directed at us by officials in the international community.
~~~~~~~~~~
I end with a lovely story that demonstrates the difference between how we Jews are truly responding to the deaths of the boys, and how the Arabs in the street are dealing with the news of the death of an Arab boy:
"Combat soldiers from the Kfir Brigade's Lavi Battalion, which specializes in counter-terror operations in Judea and Samaria, have taken upon themselves to fulfill the Jewish commandment to wrap tefillin daily for the merit of the three abducted and murdered teens' souls.
"The tefillin were donated by the Chabad house in France headed by Rabbi Shmuel Azimov...the son of Rabbi Chaim Hillel came to Israel specifically to give the tefillin to the soldiers.
"Chabad stated that in the coming weeks it will distribute dozens of pairs of additional tefillin to IDF combat soldiers.
"'We see in this a supreme mission for the sake of the IDF soldiers who work day and night for the people of Israel and the land of Israel, and for the elevation of the souls of the murdered, may G-d avenge them,' added Chabad.
"'Even if you cut off these three flowers you never will succeed, because there's a continuation. There's Gilad, Naftali and Eyal in all the people of Israel and the whole world,' said Ashkenazic Chief Rabbi David Lau at the funeral. Addressing G-d, he added 'No one can defeat this people, even in hard moments they stand before You in prayer. ...They don't give up on an eternal tradition.'" (Emphasis added)
http://www.israelnationalnews.com/News/News.aspx/182429#.U7V5N5tZrIV
Credit: Lubavitch [Chabad]
Traditional Jews believe that to take upon themselves an additional mitzvah (commandment) elevates the soul of a departed one.
Each and every day we should remind ourselves of who we are and bless the Almighty for that difference.
~~~~~~~~~~
And, my friends, I look to each of you to share the truth about what is happening with regard to this ugly situation.
~~~~~~~~~~
© Arlene Kushner. This material is produced by Arlene Kushner, functioning as an independent journalist. Permission is granted for it to be reproduced only with proper attribution.

If it is reproduced and emphasis is added, the fact that it has been added must be noted.
http://arlenefromisrael.squarespace.com/current-postings/2014/7/3/july-3-2014-obscene-rush-to-judgment.html
Posted
on Thursday, July 3, 2014 at 12:35PM
by
Arlene
in Kerry, Mohammad Abu Khdeir, judgment, murder, riots, tfillin
|
Post a Comment
|
Email
|
Print
Prime Minister Netanyahu called it "A Day of National Mourning," and that is precisely what it was, as Naftali Frenkel, Gilad Shaar, and Eyal Yifrach were laid to rest.

The families first had individual services in their respective communities. I was going to say "private," but in fact they were televised, and we were able to see what was going on, sometimes via split screens.

Then all gathered for interment at a cemetery in Modi'in, at which both religious and political figures spoke.

At least fifty thousand people attended these services – some say many more. They came by bus and by car from all over Israel, and they didn't stop coming. Many thousands more watched the proceedings on television.



Credit: Times of Israel

While it is my great desire to convey to my readers what went on, I know that at some level it is not possible to impart the sense of it all: The feeling of oneness, the mourning for these boys as our boys, the shared pain and horror. My daughter-in-law said it perfectly: "I came to stand with Am Yisrael (the people of Israel)." And my daughter thought what was incredibly moving was the soft heart-felt singing – of psalms, words of prayer - done by thousands and thousands of people, their voices joined, while waiting for the proceedings to begin.

~~~~~~~~~~

The messages of those who spoke were ones of comfort and praise.

Prime Minister Netanyahu, his face etched with sorrow (emphasis added):

"The whole nation prayed for the return of the boys, and the whole nation saw the nobility of spirit, and inner strength of you, the parents.
"The nation understood immediately the depth of the roots and the strength of spirit you possess.
"We learned a lesson that will not be forgotten, of faith and firmness, of unity and sensitivity, of Judaism and humanity."
"A whole nation was banded together and was reminded of who are we and why are we here.
"You [ the mothers Racheli, Bat-Galim and Iris] gave the whole world a lesson about the cry of a mother.
"...A deep moral abyss separates us and our enemies. They sanctify death, we sanctify life. They sanctify cruelty, and we sanctify mercy. That's the secret to our strength, and also the basis for our unity.

"Life has it's own strength, like a river that drags us forward, and gives us hope. The nation that has cried with you and embraced you will continue to accompany you and will be a source of comfort."
Credit: JPost

~~~~~~~~~~

President Shimon Peres (emphasis added):

"You, the mothers and fathers, raised children that Israel can be proud of. You inspired in them a love of their people. A love of Torah and a love of the land. You instilled in them devotion and a love of mankind.

"Naftali, Gilad, Eyal: Many of us saw only small snapshots of your personalities, of who you were. From those snapshots a beautiful picture developed of confident young boys, sure of their way, in service of their people.

"Youngsters with radiant faces, who stood tall. With a thirst for knowledge and a knowledge of prayers. Sure of their purpose and fulfilling the commandments. You showed the face of our people with a bright and painful light, our unity and morality.
"Gilad, Naftali, Eyal. Wonderful boys, sons of the whole nation. Rest in peace. We will bow our heads but our spirit will not break."
Credit: AP

~~~~~~~~~~

The words of Rabbi Dov Zinger, head of the Mekor Haim yeshiva, were especially poignant, because he knew two of the boys personally, as students: "Gilad and Naftali sat together in school in the third column, second row." Their seats will not be filled by others, he said.

We have the privilege, he said, to be the generation in the land. But we are being tested now. He called for increased prayer, in which the "brokenness will transform into repentance," and he appealed to all those assembled to "love thy neighbor as thyself."
Credit: Times of Israel

~~~~~~~~~~

This, then, is the glory of Israel: that in the midst of pain and suffering, wrought in the face of hatred, the talk is of love - there was a great deal of talk about love - and traditional values. Of devotion to Torah and prayer and Am Yisrael united, of concern for mankind and hunger for learning. Of our support for one another and the need to strive to be even better.

This is what we call Kiddush Hashem: Honoring the name of the Almighty through proper action as a Jewish people that can be seen by the world.

We here in Israel can hold our heads high, my friends. Without being complacent. As Rabbi Zinger said, we are being tested. We must work to hold on to the unity, to hold fast to the values that are transcendent, and to remember always why we are here.

~~~~~~~~~~

I would like to think that the world would notice who were are, and approach us with a kinder spirit. But I know to expect this would be only great foolishness.

What I would hope is that young Jewish people outside of Israel actually might be touched by our behavior as a nation. I'd heard so much about how young American Jews are alienated from Israel because of the negative hype they pick up. I've heard some painful, painful stories.

And I want to say: Look, my young friends. See who we are and be proud.

~~~~~~~~~~

In some great measure, what inspired the words of those who spoke was the exemplary conduct of the parents of the three students. Their faith, their devotion to traditional values, their ability to cling to life, their courage. All models for the rest of us.


Credit: AP

Rachel Frenkel, pictured here, told her deceased son, Naftali, "We will have to learn to sing again without you. But you will always be in our hearts."

~~~~~~~~~~

The interment was a private affair for close family and friends. Not televised – and the 50,000 plus people were sent on. The boys were buried next to each other, bound together for eternity.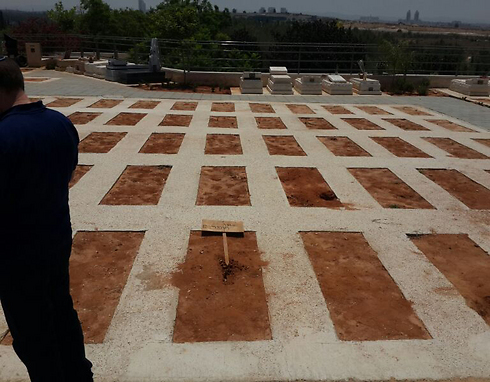 Credit: YNet



Credit: AP

~~~~~~~~~~

I will deal only briefly here with what comes next. Focusing on this will require many emails over time.

A reader (thanks Jim C.) pointed out to me that while I used the term revenge in my last posting, "justice" would be better. And he is absolutely right. I had picked up on the term revenge because of the Bailik quote. But what we must do now is truly a matter of justice.

What is more, when one confronts consummate evil, there is actually a moral responsibility to eradicate it. To fail do so is wrong.

The problem, of course, is that the world is composed large of either bleeding-heart liberals who refuse to see consummate evil when it is staring them in the face (it's all about "their suffering" and "understanding them"). And, amoral people who don't wish to deal with issues of evil because all that matters is what impinges upon the situation politically for their purposes.

The failure/refusal of the world to see that consummate evil – and I'll return to this – makes our position very difficult. It requires strength to stand strong. And that strength is required of us now. The people of Israel, and our friends elsewhere understand this.

~~~~~~~~~~

I will provide here just one very painful piece of evidence of the consummate evil that we are facing:

Gilad Shaar used his cell phone very briefly to call police and let them know that he and the others had been kidnapped. Then the phone was silenced. But a leaked version of the call has been made available by the press. It includes a statement by one of the abductors to a third person, which can be heard in Arabic in the background, announcing "We've brought three." And then the sound of gunshots, meaning that these evil abductors did not act alone, and that one or more (likely all) of the boys were summarily shot.

http://www.israelnationalnews.com/News/News.aspx/182428#.U7PhXJtZrIV

~~~~~~~~~~

What particularly enrages me is a statement that came from the US.

"While emphasizing Israel's right to defend its citizens, the White House's Deputy National Security Adviser for Strategic Communication Ben Rhodes warns that Israel should 'be precise' and avoid an overly 'heavy-handed' response that could further destabilize the situation between Israel and the Palestinians."
http://www.timesofisrael.com/idf-hunts-for-two-suspects-in-teens-murder/
I've used terms in the past such as unmitigated gall, but none of them seem sufficient here. This is nauseating and morally reprehensible.
At no point that I have observed has Obama ever referred to Hamas as being in any way responsible for the murders, although he conceded they might be 'involved." After all, they are part of the unity government right now, which the US has said it would support.
~~~~~~~~~~
What Netanyahu has said is that we will first find the perpetrators of this horror. Dead or alive, they are saying. And then we will deal with Hamas inside of Judea and Samaria. Lastly, we will deal with Hamas in Gaza as necessary. Cannot see that it won't be necessary, consider that they're still launching rockets, but one thing at a time.

We will be watching.

~~~~~~~~~~

© Arlene Kushner. This material is produced by Arlene Kushner, functioning as an independent journalist. Permission is granted for it to be reproduced only with proper attribution.

If it is reproduced and emphasis is added, the fact that it has been added must be noted.
http://arlenefromisrael.squarespace.com/current-postings/2014/7/2/july-2-2014-the-tears-of-a-nation.html
Blessed is the righteous judge.
This is the first order of business. We accept the horror of the Hamas murder of three innocent Israeli students: Naftali Frenkel, 16, Gilad Shaar, 16, and Eyal Yifrach, 19.
These boys did not die in vain. We have witnessed for many days now an incredible mood in the nation: a mood of unity, after so much painful dissension. A mood of prayer, even among those who do not usually pray. A mood of kindnesses and human sensitivity.
See here scenes of people gathered after learning the tragic news:
http://www.israelnationalnews.com/News/News.aspx/182368#.U7KASJtZrIV
Joel K., a reader, wrote, "People from Jerusalem are going to Kikar Zion; in Tel Aviv they are congregating at Kikar Rabin. Everywhere in one central place and lighting memorial candles. Haven't seen this kind of public mourning since Rabin was assassinated."
We must recognize this – all of the good that has happened and is happening. We cannot lose it and must not throw it away. In the memory of those who died, we must sustain this and enhance it. Doing acts of tzedaka ("charity"), increasing Jewish study, being mindful of the need for sensitivity to others, unifying ourselves as a nation. In this way will we bring blessing to their memory. And, we are told, in this way do we elevate their souls.
I have been astounded throughout at the bravery and graciousness of the boys' families. After they were informed of their sons' deaths, they thanked security for all they had done, and thanked the people of Israel for their support. They stand as a model of Jewish rectitude for all the world to see. We can hold our heads high.
~~~~~~~~~~
This said, vengeance is also necessary. I absolutely do not preclude this. Not at all.
In his statement after learning of the death of the boys, Prime Minister Binyamin Netanyahu quoted our national poet, Haim Nahman Bialik, who wrote a poem after a 1903 pogrom, that included the words:

"Such vengeance for blood of babe and maiden hath yet to be wrought by Satan…"
"Nor," added Netanyahu, "that of young, pure lads on their way home to meet their parents, who will not see them again. Hamas is responsible — and Hamas will pay. "
We become weak fools in the eyes of Hamas if we do not now make them pay. We become sitting ducks for what they will plan next. Especially is this so after what the prime minister has already said. If he were to fall into his habitual pattern of issuing strong words and not following through, it would be terrible.
The exact price to be extracted can be determined in discussion. We might start, for example with targeted executions of Hamas leadership in Gaza. Hamas in Jerusalem and Judea and Samaria should be totally banished. Perhaps the infrastructure of Hamas in Gaza must be severely compromised.
But the fact of the need for meaningful and tough vengeance, whatever its precise nature, should not be a topic of discussion at all.
Unfortunately, it is. We are hearing reports that the Security Cabinet met late last night and came to no determination about vengeance, with the holdouts being Livni, Lapid, and, very sadly, Ya'alon, our minister of defense. Naftali Bennett, we are being told, is furious and fighting on this. The hero of the moment, surely.
"The response currently being discussed is weak to the point of disgracefulness," he is reported to have said.
Foreign Minister Avigdor Leiberman was out of the country when the boys were found, but he is flying back. Perhaps he will have constructive words in the next Cabinet session.
Some reports say that the decision was deliberately delayed until after the funerals, which will be in Modi'in at 5: 30 today. The boys will be buried side by side, after earlier services privately for each boy.
I do not want to take a great deal of time writing details of what is happening here, because I want this out with an appeal to you: PLEASE! write immediately to our prime minister and tell him that he must, absolutely must take strong action against Hamas.
~~~~~~~~~~
Actually, in spite of the prime minister's words, there is a way to see strong action against Hamas not just as "vengeance," but also as a matter of our coming to our senses and beginning to act for our own protection. This is the responsibility of a government. For Heaven's sake, they have stockpiled 70,000 missiles and rockets, which are aimed at us, and we let it go. Not a responsible position, for we will have to deal with it sooner or later, and it only gets worse. Their goal is to destroy us. This might be seen as a wake-up call.
~~~~~~~~~~
Write to the prime minister at:
Memshala@pmo.gov.il and also pm_eng2@it.pmo.gov.il (underscore after pm). Use both addresses.
This must be done very quickly. He must be barraged before the next Security Cabinet meeting tonight.
This is especially important from Israeli citizens – who should identify themselves as such when writing. If you are not in Israel, and have family and friends who are, please forward this immediately. If you are in Israel, of course share as broadly as you can.
~~~~~~~~~~
What the Shin Bet believes is that the kidnapping was originally done with the intention of demanding a trade for thousands of prisoners. But the abductors panicked and shot them. The boys, they believe, were dead within minutes after being picked up. Their bodies – now in bad shape – were brought to a field outside of Hevron, and partially buried.
http://www.timesofisrael.com/what-happened-on-the-night-of-the-kidnapping/
As we contemplate this horror, we can only hope with all our hearts that the boys were dispatched quickly and did not suffer.
The abductors are still at large and being sought. But the point here is that they acted on orders from above.
Hamas is nervous about what we may do next, as is the PA. Abbas is asking the world to restrain us.
~~~~~~~~~~
"Restraint" is, actually, the key word internationally. How sad, say leaders, but Israel, watch what you do in response. This was certainly the message from the White House.
And so, if you are in the US, give strong voice to our right to defend ourselves. Expose the evil that we face day in and day out.
Criticize the president for not taking a significant role in this in spite of the fact that Naftali Frenkel is a US citizen – something he never alludes to at all (something he would prefer not be known).
~~~~~~~~~~
One last word here: As a form of vengeance, large scale building in Judea and Samaria and all of Jerusalem is being discussed. This irks me greatly. Not because the building should not be done. Of course it should!! But it is not vengeance, for Heaven's sake.
It is our RIGHT, legally and morally and historically. To represent it as only a punishment sends the wrong message to the world and further weakens us.
~~~~~~~~~~
~~~~~~~~~~
© Arlene Kushner. This material is produced by Arlene Kushner, functioning as an independent journalist. Permission is granted for it to be reproduced only with proper attribution.

If it is reproduced and emphasis is added, the fact that it has been added must be noted.
http://arlenefromisrael.squarespace.com/current-postings/2014/7/1/july-1-2014-baruch-dayan-haemet.html
Posted
on Tuesday, July 1, 2014 at 07:35AM
by
Arlene
in Cabinet, Hamas, Israel, Kidnapping; terrorist, Netanyahu, murder
|
Post a Comment
|
Email
|
Print
That is what that amazing woman Rachel Frankel, mother of Naftali, is asking of all of us.
http://www.timesofisrael.com/a-mothers-plea-for-prayer-positive-energy-whatever-it-takes-to-find-kidnapped-teens/
Credit: Channel 2 news
Not coincidentally, this dovetails with what I wanted to ask today as well.
Investing energy in anger about the boys' kidnapping, focusing on fear for them and other negative thoughts is not constructive in terms of what we are all seeking. The nature of the energy that is put out into the world does make a difference. And what is needed now – in addition, of course, to prayers! – is positive energy. Send the boys feelings of love. Picture them safe. Mentally hug them. Reassure them.
This truly helps, my friends. Spread the word.
~~~~~~~~~~
Last night, seven more Palestinian Arabs were arrested in an IDF sweep in Arab areas of Judea. One of those arrested was Omar Abu Aysha, the father of Amer Abu Aysha, who has been missing since the kidnapping and has been named as a likely abductor.
Some 190 sites were searched.
~~~~~~~~~~
The IDF is looking at ways to prevent future abductions by taking such actions as installing both cameras and better lighting at intersections where hitchhiking takes place.
"We will create a more robust military presence in the hitchhiking stops, which will hopefully deter future kidnappings," said Lt. Col. Shimon Peretz, deputy commander of the Judea Brigade.
http://www.timesofisrael.com/idf-to-post-cameras-lighting-in-west-bank-bus-stops/
~~~~~~~~~~
Prime Minister Netanyahu announced at today's Cabinet meeting that he is going to take steps to outlaw the northern branch of the Islamic Movement of Israel.
One is tempted to say, "Mazel tov. What took so long?" It has been apparent for some time that this group is affiliated with and fronts for Hamas. Its head, Sheikh Raed Salah, is in and out of prison because of his activities.
What finally did the trick it seems, is the demonstration held in the northern Israeli Arab village of Umm al-Fahm (which is at the heart of Islamic Movement territory) on Friday against the IDF operation to find the kidnapped boys. In fact, there were calls, in fact, for further kidnappings, and rocks were thrown at police.
http://www.timesofisrael.com/netanyahu-says-he-will-move-to-outlaw-islamist-group-in-israel/
~~~~~~~~~~
We have been subjected in the last few days to a barrage of rockets from Gaza – 12 just over the weekend. What happened last night is that a rocket hit a plastic factory in Sderot, causing it to burst into flames and ultimately injuring four persons.
Israeli firefighters extinguish a burning factory hit by a rocket fired from the Gaza Strip on June 28, 2014 at an industrial zone in the southern city of Sderot. The previous day two Palestinians in the Gaza Strip were killed in an Israeli air raid after a bomb exploded near troops manning Israel's security fence.
The Air Force retaliated, hitting several sites in Gaza last night and this morning:
"The strikes targeted a weapons factory in the northern part of the strip, another weapons facility and a "'error center' in central Gaza and six sites in the southern strip, three of them concealed rocket launchers, the IDF said.
"Direct hits were confirmed on all sites."
http://www.timesofisrael.com/israeli-jets-target-gaza-rocket-sites-in-response-to-rocket-fire/
The number of rockets launched from Gaza in June was 4.5 times the number in May. And Hamas Deputy Leader Moussa Abu-Marzouk has admitted that Hamas is doing nothing to stop the launching of those rockets.

http://www.israelnationalnews.com/News/News.aspx/182263#.U7AhZZtZrIV
Thus is attention being given to a link between the kidnapping and the rocket launching.
~~~~~~~~~~
All the expected pronouncements – from, for example, Minister of Defense Ya'alon - have been forthcoming regarding the fact that we won't tolerate rocket attacks on our people. Netanyahu, for his part, is saying that, "We are prepared to widen our operation in Gaza, should the need arise."
http://www.israelhayom.com/site/newsletter_article.php?id=18481
But I caution, "should the need arise" is the operative phrase. There has been a bit of troop movement, but this all may be saber rattling. If our intention to go into Gaza is taken seriously, and the rockets stop, we won't go in. Whether we should anyway is another discussion.
Lieberman suggests it's time to seriously consider taking back Gaza.
~~~~~~~~~~
Some tentatively good news: Martin Indyk has resigned as special envoy to the "peace talks." He is going to return to his former positions at the Brookings Institute in Washington DC, as vice president and director of foreign policy.
This signals that the government has a significantly reduced hope of achieving a negotiated peace between Israel and the PA, and, if we are lucky, it means less pressure will be put on us.
But – naturally – this does not mean we are home free. State Department spokesperson Marie Harf said that Indyk would continue to "work closely with the secretary on these issues from his position at Brookings."
http://www.jpost.com/Diplomacy-and-Politics/US-envoy-to-Mideast-resigns-after-collapse-of-Israeli-Palestinian-peace-talks-360822

While a permanent replacement for Indyk would not be named now, Frank Lowenstein, who had been part of the "team," would act in his stead on a temporary basis."

Harf elaborated (emphasis added): "We're in a pause right now. The secretary and the president, certainly, are still committed to trying to make progress here. While the direct negotiations have taken a pause, our efforts behind the scenes to work with both parties to get them back to the table are ongoing.
"It's challenging, certainly, but we're still in discussions and we're still in negotiations talking to them about how they could do that."

Oh joy.

~~~~~~~~~~

What makes the situation more problematic, and disturbs me far more than Indyk does, is the willingness of certain Israelis to go along with this.

There is, of course, Tzipi Livni, who was chief negotiator during the recent talks. Now she gushes about how committed Indyk was ta the peace process, how he understood the importance of it to Israel – and how "we will continue to act" in this spirit.

And our president-elect Ruby Rivlin. In a speech to journalists three days ago, he praised a condemnation of the kidnapping by Abbas, and said he saw this as "an opportunity to restore trust between Israel and the Palestinian Authority, if it can ever happen."
http://www.jta.org/2014/06/25/news-opinion/israel-middle-east/rivlin-abbas-condemnation-of-kidnapping-opportunity-to-restore-trust
I found this terribly worrisome and began to wonder if he was taking "president' lessons from Peres. First, it's impossible to "restore" trust unless it previously existed, and it never has. And then - in light of the Fatah Facebook page that celebrated the kidnapping and statements by other members of the PA questioning whether there really was a kidnapping - he waxed far too enthusiastic about a pro forma statement that Abbas really had to make.
~~~~~~~~~~
It's pretty easy to see what's coming down the road: Abbas will break off from Hamas, and will be heralded as a moderate and a hero for doing so. The fact that Abbas funds terrorists in our prisons and incites like crazy against us will be forgotten. He will be embraced, once again, as a "partner for peace." And unless I'm very much mistaken (and oh how I pray that I am!) our prime minister will be on board at some level, talking about his readiness to go to the table again. Ever the willing player.
~~~~~~~~~~
© Arlene Kushner. This material is produced by Arlene Kushner, functioning as an independent journalist. Permission is granted for it to be reproduced only with proper attribution.

If it is reproduced and emphasis is added, the fact that it has been added must be noted.
http://arlenefromisrael.squarespace.com/current-postings/2014/6/29/june-20-2014-prayer-and-positive-energy.html
Posted
on Sunday, June 29, 2014 at 04:19PM
by
Arlene
in Abbas, Hamas, Israel, Netanyahu, PA, kidnapping
|
Post a Comment
|
Email
|
Print
Late yesterday, Israeli security released the names of the two men who are believed to be the abductors of the three kidnapped boys.

Amer Abu Aysha and Marwan Kawasme, residents of Hevron, have been missing since the kidnapping. They always prayed in the same mosque and informants in that neighborhood reported on their absence (which, at the time, I noted). Their wives were extensively interrogated and their homes have been thoroughly searched several times.

The two are members of Hamas. As is often the case, Hamas involvement has been a family affair for them: Marwan Kawasme's uncle, Abdullah Kawasme was the commander of Hamas's military wing in Hebron until he was killed in a battle with SWAT officers in 2003; while Amer Abu Aysha's brother, Zayd, a Hamas member, was killed in a battle with Israeli soldiers in 2005, and his father, Omer, served time in Israeli prison because of Hamas involvement.

Abu Aysha's mother said that if her son is involved in the kidnapping, she is proud of him.

http://www.timesofisrael.com/israel-names-suspects-in-kidnapping-of-three-teens/

It is believed that they were in the car when the boys were abducted and are now in hiding. This does not necessarily mean they are any longer with the boys, who may have been turned over to other Hamas operatives.

There is no explanation as to why this information, which the security forces have had since the beginning, is being released now. But what this does is make clear that there indeed is direct Hamas involvement, just as Netanyahu has insisted.

~~~~~~~~~~

The other news about the search for the boys came Wednesday night, not long after I had posted. It represented a reversal of an announcement from the day prior: There was going to be no slow down in the operation after all, decided the Security Cabinet - not with regard to going after Hamas or taking care not to offend during Ramadan, or anything else. Full speed ahead. A welcome announcement.

http://www.israelnationalnews.com/News/News.aspx/182170#.U6056JtZrIU

What precipitated this reversal is not clear, although it is speculated that a presentation the three mothers gave in the Knesset – where they were received with enormous empathy – may have had something to do with it.

http://www.israelnationalnews.com/News/News.aspx/182161#.U606NJtZrIU

Bat-Galim Sha'ar, mother of Gilad, in an emotional speech, implored the government not to curtail efforts. The message delivered was that the mothers had full confidence in the measures being taken to find their sons, as long as they were done without slowdown.



Credit: ArutzSheva

The original announcement about the slowdown had said the operation against the Hamas organization in Judea and Samaria would be curtailed – as it was just about exhausted, while the search for the boys would continue unabated. But truth to tell, it's difficult to draw a meaningful line between the two. Any Hamas operative picked up, for whatever reason, might end up providing meaningful information.

And, indeed, after the slow down was reversed, overnight on Wednesday there was a sweep in the Hevron area and 10 were arrested.

http://www.timesofisrael.com/idf-arrests-10-palestinians-in-west-bank/

~~~~~~~~~~

A decision was made Wednesday night, as well, to block the Palestinian Authority monthly transfer of funds to terrorists incarcerated in Israeli prisons. The longer the term of incarceration, the greater the larger the monthly "stipend."

It was with reason, then, that Naftali Bennett, head of Habayit Hayehudi, on Thursday, applauding this decision, called Abbas a "mega-terrorist" for his financial support of imprisoned terrorists.
"In May, Foreign Minister Avigdor Lieberman addressed the subject of Palestinian prisoners being paid stipends by the PA, noting that some 5,000 security prisoners are paid more than NIS 7,500 a month each.
"'Abbas, who whines about the PA's finances, pays large stipends to prisoners convicted of murder and those who tried to become suicide bombers,' Lieberman told the MKs. 'The prisoners are given three times as much as Palestinian policemen.'" (Emphasis added)
http://www.jpost.com/Diplomacy-and-Politics/Bennett-PA-President-Abbas-is-a-mega-terrorist-360617
~~~~~~~~~~
It is now time to turn to my Shabbat preparations, once more with a prayer in my heart that when I return to write again, the boys will have been found.
Shabbat Shalom to one and all.
~~~~~~~~~~
© Arlene Kushner. This material is produced by Arlene Kushner, functioning as an independent journalist. Permission is granted for it to be reproduced only with proper attribution.

If it is reproduced and emphasis is added, the fact that it has been added must be noted.
http://arlenefromisrael.squarespace.com/current-postings/2014/6/27/june-27-2014-information-revealed.html
Posted
on Friday, June 27, 2014 at 07:12AM
by
Arlene
|
Post a Comment
|
Email
|
Print
The days move on, and still no word on recovery of the kidnapped students, Eyal Yifrah, Gilad Shayer and Naftali Frenkel. The IDF continues to operate on the assumption that they are alive and hidden somewhere in Judea and Samaria (most likely but not necessarily in the Hevron area) - although Chief of Staff Benny Gantz confessed yesterday to growing worry. We've got hundreds of soldiers combing the area, but what an incredible task it is. I wrote recently about the huge number of hiding places – caves, dry wells, underground tunnels, etc. etc. – that have been discovered and searched. But all it takes is one hidden place that has not been uncovered.

~~~~~~~~~~

The part of the IDF operation that has focused on weakening Hamas will be slowing down, in accordance with a Security Cabinet decision. This is said to be because the bulk of what could be achieved with this operation has already been "exhausted": monies confiscated, terrorists taken into custody, weapons factories dismantled, over 60 Hamas institutions in Judea and Samaria shut down, etc.

But I also have the impression, from several media sources, that the fact that Ramadan begins this Saturday has something to do with the slowdown. During this Islamic month, devout Muslims fast from sunup to sundown. There was apparently a feeling in the Cabinet that major disruptions in PA areas during this time would be particularly resented – with spiraling violence that might get out of control, and that it would not play well internationally.

We might have a discussion about whether these factors should be relevant, but we'll leave this for the moment. One senior IDF official cited by Israel National News insists that Ramadan is not an issue.

http://www.israelnationalnews.com/News/News.aspx/182107#.U6p5JJtZrIU

~~~~~~~~~~

No matter the slow down that may be implemented in a couple of days, things were still hopping last night, when 17 more terrorists were apprehended. Two of them were Palestinian Authority parliamentarians, apparently Hamas-associated. There are conflicting reports on their names.

~~~~~~~~~~

The search for the boys will continue unabated – both in terms of combing the area and on-going intelligence efforts.



Credit: Flash90

Yesterday, Defense Minister Moshe Ya'alon said: "...this continues to be the No. 1 mission, in which we are investing the best of our resources...[it is] only a matter of time until we get to the kidnappers and the kidnapped youth. We are in the right direction. We will eventually solve the mystery..." (Emphasis added)

http://www.jpost.com/Operation-Brothers-Keeper/Yaalon-We-are-not-scaling-back-our-operations-in-the-West-Bank-360436

~~~~~~~~~~

My own sense of this situation, my friends, tells me that praying for the boys is a matter of greatest importance. Please, don't stop.

~~~~~~~~~~
Yesterday, the mothers of the three boys went to Geneva, to testify before the UN Human Rights Council, to plea for action on behalf of their sons and to raise world consciousness about the situation. They were invited by UN Watch, which surrendered time for them. Rachel Frankel – mother of Naftali - spoke, and what a brave woman she is:

"Mr. President, it is wrong to take children, innocent boys or girls, and use them as instruments of any struggle. It is cruel. This council is charged with protecting human rights. I wish to ask: Doesn't every child have the right to come home safely from school?
"We just want them back in our homes, in their beds. We just want to hug them again. Thank you, Mr. President."
Iris Yifrach – mother of Eyal, and Bat-Galim Shayar – mother of Gilad, sat with her.

http://www.unwatch.org/cms.asp?id=5920913&campaign_id=63111

~~~~~~~~~~

Human Rights Voices has put together a video that begins with Rachel Frankel's testimony, and then moves to UN attitudes towards the kidnapping and towards Israel. Not an easy thing to see. But watch it, please!

https://www.youtube.com/watch?v=WwSWCg9OoiU&feature=youtu.be

You will note that one individual after another refers to the boys as "settlers." That somehow justifies crimes against them. But in point of fact – while they study in Judea and were abducted there - they are not "settlers."

~~~~~~~~~~

On Monday, the Security Council had discussed, but failed to come to an agreement on, condemning Israel for operations in Judea and Samaria, as had been proposed by Russia. The US balked at language that named Israel directly, while Jordan wanted language stronger than "deploring."

Jordan: I am very mindful of the exceedingly precarious position of the king, who undoubtedly doesn't sleep well at night. And I know that he has to demonstrate a tough line against Israel, as radicals are breathing down his neck. Yet, at a purely visceral level, sometimes it's difficult not to feel impatient with Jordan's stances.

Compare the Jordanian "tough" position in the UN with this new item:

"Jordanian sources say kingdom's cooperation with Israel has only increased as situation in Iraq has deteriorated amid ISIS offensive."

http://www.ynetnews.com/articles/0,7340,L-4534226,00.html

But this, of course, is supposed to be done quietly.

More about ISIS below.

~~~~~~~~~~

Netanyahu, relying on intelligence that has not been made public, is very certain indeed that Hamas is responsible for the abductions. But there has still been no public declaration of responsibility, and no public demands have been released.

Breaking silence for the first time, Khaled Mashaal, head of the Hamas politburo, gave an interview with Al-Jazeera in Gaza, in which he claimed that he has no information on the boys. He refers to as soldiers, because kidnapping soldiers is presumed to be less reprehensible. He explained that the political and military wings of Hamas are separate, and that the military wing does not wait for word from the politburo before deciding to act. This comment was made in response to Israeli security speculation that a speech he gave recently might have been a coded approval for the kidnapping.

But whether Mashaal and the politburo gave orders or not, it is difficult for me to believe that they have no idea if their people are the ones who acted.

All Mashaal would say was: "...if there will be a confirmation that a Palestinian group is behind the kidnapping – we should applaud and take off our hats to them." If the kidnappers were listening, they might have interpreted this as praise for their efforts and caution to stay strong.

He "blesses the hands of those who kidnapped them, since the Palestinian prisoners should be released from the Israeli prisons," he further said – thereby attributing motive to that about which he claims to know nothing.

http://www.ynetnews.com/articles/0,7340,L-4533751,00.html

~~~~~~~~~~

Just days ago I referred to the fact that over 50 terrorists released from prison in the Gilad Shalit trade have been rearrested in on-going IDF operations. Now it seems this was specifically at the order of Prime Minister Netanyahu. This was his response to the May arrest of Ziad Awad for the terrorist murder of Baruch Mizrachi on the eve of Pesach, outside of Hevron.

http://www.timesofisrael.com/pm-ordered-rearrests-of-dozens-of-prisoners-freed-in-shalit-deal/

~~~~~~~~~~

Awad's home is scheduled for demolition (pending court approval) as an additional form of punishment. The government hopes to reinstate this practice as a matter of course, as was done from 2001 to 2004. The goal was not simply reprisals, but deterrence: If terrorists knew their entire family would suffer, it was thought, it might make them think twice before carrying out their attacks.
"One government official explained that Israel 'hopes to level the playing field' and provide economic deterrents to counteract the economic inducements the PA has put into place for those carrying out terrorist acts. (Emphasis added)
"'On the Palestinian side you have a whole package of incentives to carry out terrorist attacks, such as if we arrest the terrorist, their families get a generous allowance from the PA.' the official said.
"He added that this created an absurdity whereby as much as PA President Mahmoud Abbas may have condemned the recent kidnappings of the three teens, if their kidnappers are imprisoned their families will get a generous benefit package form the Palestinian Authority."
Other actions against Hamas are to be put in place as well, such as limiting visits to Hamas prisoners to the minimum required by international regulations.
http://www.jpost.com/Diplomacy-and-Politics/Israel-to-renew-demolition-of-terrorists-homes-360274
~~~~~~~~~~
Turning back briefly to the situation in Iraq:

The lightning movement of ISIS across large swaths of Iraq has generated some serious concern in the Israeli government. For there are some specific implications:

"Israel's national security leadership watched as Iraqi security forces, trained over the course of five years by the US military, 'literally left their shirts on the ground and fled' when faced with a fight,'" a senior security officer told the JPost.

http://www.jpost.com/Diplomacy-and-Politics/Israel-concerned-over-US-security-failures-in-Iraq-360331

The Israelis are extrapolating from this situation to offers made by the US last year, to train Arab troops who would replace the IDF in the Jordan Valley. How can we trust this? is the question being asked. If Iraqi troops cannot defend Iraq, how can we expect Arabs to defend Israel against other Arabs. Well, it would be preposterous.

It seems incredible to me that the government should refer to this disastrous situation in order to make the point about the need for us to stay in the Jordan Valley. Our position should be that we are not leaving because it's ours, and that our policy is that we defend ourselves. Period. Even if the Iraqi forces trained by the US had conducted themselves well, these principles would still adhere.

I'd like to come back to issues of Arab motivations in fighting – a complex issue – at some other time. But I mention here that there are PA security forces that have been trained and armed by the US as part of a most foolish and short-sighted policy. And we here are mindful of the fact that they may yet turn this expertise, and the weapons that were supplied to them (to fight terrorism, you should understand), against us. There are precedents for this.

~~~~~~~~~~

Reader Robert S. questioned my recent statement that in the current situation in Iraq, as in Syria, there are no good guys. What about the Kurds? he asked. I told him that indeed, the Kurds were good guys, but that they were not competing for the takeover of Iraq, or Syria. They seek, rather, to establish Kurdistan, which requires slicing off one small portion of northern Iraq, as well as sections of Turkey (most substantially), Iran, and Syria.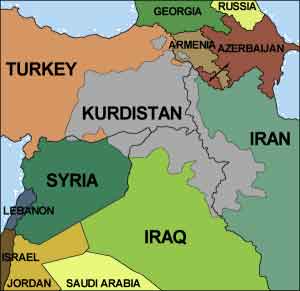 Credit: axisoflogic

Kurdistan is going to happen. And it will be good for Israel. See here:

http://www.algemeiner.com/2014/06/24/as-israeli-port-accepts-kurdish-oil-long-history-of-back-channel-relations-expected-to-continue/

One more issue to return to in greater depth.

~~~~~~~~~~

© Arlene Kushner. This material is produced by Arlene Kushner, functioning as an independent journalist. Permission is granted for it to be reproduced only with proper attribution.

If it is reproduced and emphasis is added, the fact that it has been added must be noted.
http://arlenefromisrael.squarespace.com/current-postings/2014/6/25/june-26-2014-agonizingly-slow.html
Posted
on Wednesday, June 25, 2014 at 12:44PM
by
Arlene
in Hamas, IDF, Israel, Kidnapped boys
|
Post a Comment
|
Email
|
Print
The Middle East, with the singular exception of a stable, prosperous, democratic Israel, is in a state of turmoil and transition – with enormous violence and instability the norm. We are seeing Sunni-Shia tensions, increasing radicalism, and the break down of borders. And the situation is only growing more severe and more convoluted. One of the most serious aspects of the current scenario is that it is devoid of good guys. It's simply a question of who is less problematic, less dangerous for Israeli and Western interests, and sometimes that's a hard if not impossible call.
We've seen this in Syria for some time: Assad is a vile dictator, with no concern whatsoever for the lives of his own people and a solid alliance with Iran. While many of the rebels arrayed against him are jihadists who are seeking a cross-border caliphate that is a lethal proposition.
Today we see it as well in Iraq with the brutal onslaught of ISIS there. A ruthless Sunni, jihadist, al-Qaeda off-shoot (now a rival of al-Qaeda) that began in Iraq, ISIS established itself in Syria after the civil war began, becoming a significant rebel force there. Now it is moving against the regime of Iraqi Prime Minister Nouri al-Maliki's Shia-dominated government - traveling across swaths of Iraq with lightening speed, taking territory and towns in the north and west of Iraq, and approaching ever closer to Baghdad.
Yesterday, the post of Turaibil, at the Iraqi border with Jordan was taken by ISIS, presenting a threat to the stability of Jordan.
http://www.bbc.com/news/world-middle-east-27966774
~~~~~~~~~~
ISIS is commonly referred to as an acronym meaning Islamic state in Syria and Iraq. But the Arabic - al-Sham - could just as well refer to "the Levant" (the eastern Mediterranean), which means that Lebanon and Israel are also in its sites, as is Jordan. Sometimes it is referred to as ISIL.
~~~~~~~~~~
With all of this however, there is yet another a serious problem to be confronted: Iran, which is Shia, is attempting to influence events in Iraq to its benefit. Iranian President Hassan Rouhani promised Maliki Iran's full support just days ago.

http://www.mei.edu/content/news/iran-promises-iraq-pm-its-full-support-against-terrorism

As well, Iran provides assistance to Shiite militia in Iraq. All of this strongly suggests the possibility of Iran achieving control in or undue influence over Iraq.
This rings loud bells in Jerusalem. One of the main reasons there has been Israeli opposition to Assad, in his struggle against jihadist rebels, is because he is an Iranian puppet. Were Iran to move into Iraq in a significant way, it would create an Iranian arc of influence that stretched from Iran itself through Iraq and through Syria to our border. And it would simplify the shipment of armaments from Iran to Hezbollah in Lebanon.
~~~~~~~~~~
Thus it is greatly worrisome to the Israeli government that the US seems to be reaching out to Iran, to achieve some sort of joint understanding to limit ISIS. Not only would this give Iran undue influence in Iraq, it might cause the US to even further weaken its position in nuclear negotiations. That is, Iran's price for controlling ISIS – which the US is very eager to see controlled - might be greater nuclear latitude. A real nightmare.

~~~~~~~~~~

Prime Minister Netanyahu gave an interview on NBC's Meet the Press yesterday advising the US that, "When your enemies are fighting one another, don't strengthen either one of them." Weaken them both, he said. He addressed his serious concerns about the possibility of allowing Iran nuclear weapons: "Iran could come out with nuclear weapons capability — it would make everything else pale in comparison." (Emphasis added)

http://www.nbcnews.com/storyline/iraq-turmoil/netanyahu-u-s-avoid-working-iran-iraq-n137776
~~~~~~~~~~
At our northern border with Syria (on the Syrian Golan) there is a considerable rebel presence. Yesterday, an anti-tank missile was shot from Syria into Israel, hitting a civilian vehicle. Two people were wounded and a teenage boy, Muhammad Karaka, an Israeli Druze from the village of Arrabe, was killed. His father, Fahmi is a contractor who works in the area for the Ministry of Defense.
Credit: Alarab
The missile seemed to have come from a rebel area, or an area that is contested militarily. But Israel has determined that the government of Assad is responsible, and late last night launched attacks on nine Syrian military sites, with at least 10 Syrian soldiers killed.
http://www.ynetnews.com/articles/0,7340,L-4533314,00.html
~~~~~~~~~~

There is no substantial change in the search for the kidnapped boys. The operation continues apace.
One of the things I have found interesting about the intensive search being done for the boys in Judea and Samaria (largely in the Hevron area) is the uncovering and exploring of hidden places: caves, dried wells and cisterns, tunnels and other excavated places. The goal, of course, is to find the students, who may be hidden in such a place.
But the secondary result of this exploration is to locate hidden terrorist supplies and weapons laboratories, as well as to expose secret places where fugitive terrorists might hide (or, in some cases, were hiding). I heard a news report a few days ago about a hidden excavation under a house that was uncovered and turned out to be large enough (and was apparently sufficiently well stocked) to provide hiding for many weeks. There are tunnels dug under washing machines and stoves. The mind boggles a bit at the complex labyrinth of hidden places that has been set up and drawn upon as part of the terrorist infrastructure.
See: http://www.israelhayom.com/site/newsletter_article.php?id=18335 for descriptions and a video about two-thirds of the way down.
~~~~~~~~~~
Then there are the "forked tongue" proceedings of Mahmoud Abbas. He's playing both ends against the middle, as is his usual practice. He feels constrained by world opinion to condemn the kidnappings (all such condemnations clearly insincere). He must attend to this world opinion because funding for the PA is contingent upon positive attitudes towards the PA in the international community. But at the same time, he feels constrained by the Palestinian Arab street and his relationship with Hamas to condemn Israeli efforts to find the boys: we are causing unrest, provoking another intifada, doing collective punishment, etc. etc.
The recent statement by Amin Maqboul, member of the Fatah Revolutionary Council, reflects this situation. The Palestinian street, he says, "overwhelmingly" supports the kidnappings, if the goal is to secure the release of prisoners. While Abbas "sometimes makes statements that are unacceptable to our people. But the purpose [of these statements] is to spare the Palestinian people the dangers of Israeli aggression and reactions of the international community."
http://www.jpost.com/Operation-Brothers-Keeper/Abbas-condemnation-of-kidnappings-continues-to-stir-Israel-Palestinian-Authority-360118
~~~~~~~~~~
Khaled Abu Toameh has written about unrest in the PA streets directed at Abbas and the PA:
"What happened in the center of Ramallah on the morning of June 22 could signal the beginning of an uprising, or intifada, against the Palestinian Authority [PA].
"The incident began when hundreds of angry Palestinian youths attacked the headquarters of the Palestinian policy in the city in protest against ongoing security coordination between the PA security forces and Israel...
"The attackers were particularly furious with the Palestinian policemen who stayed inside their offices as Israel Defense Force soldiers entered Ramallah in the context of a manhunt to find three kidnapped Israeli youths."
http://www.gatestoneinstitute.org/4372/new-palestinian-intifada
~~~~~~~~~~
I note here that the resident of the White House has not deemed it necessary, to this day, to issue a clear and public condemnation of Hamas for the kidnapping. Situations such as the one we are currently facing serve the role of exposing duplicity and true intentions. What makes Obama's silence all the more vile and reprehensible is that one of the boys – Naftali Frenkel - has US citizenship. The US government should be at the forefront of efforts to find him.
Mike Huckabee – former governor of Arkansas and talk show host - arrived in Israel yesterday. And he provided a sterling example of how to be a mensch – a person who stands up and does the right thing. For he immediately went to the Frenkel home to offer words of support and comfort.
"'Americans need to hear this story,' he said. 'This is an American citizen, this is one of us. And even if he wasn't – this should not happen to any young man or to any parent...'

"When asked by Arutz Sheva about the United States' call, last week, for 'restraint on both sides,' Huckabee said – 'What's to restrain? What are the Israelis supposed to do? This to me is nonsense. The only restraint at this point is the restraint by whoever has these boys to do nothing to hurt them. G-d help those people if they touch a hair on these boy's heads... I think the Israelis have every right to say – and America should join this message – you touch that boy who's an American citizen and you will have hell to pay for it. That should be the only message we are sending right now.'" (Emphasis added)
See a video of Huckabee saying this:
http://www.israelnationalnews.com/News/News.aspx/182042#.U6fmpptZrIV
~~~~~~~~~~
I close with this painful news, which has just been released, as a Shin Bet gag order has been lifted: In May, the Hamas terrorist Ziad Awad was arrested for the terrorist murder of Baruch Mizrachi on the eve of Pesach, outside of Hevron. What a horrible scene that was – Mizrachi, his wife and kids were on their way to a seder.

Ziad has been charged with the murder; his son, charged as an accessory, has also been arrested. It was the son who presented security personnel with the Kalashnikov rifle that was the murder weapon. Ziad had told his son that, "whoever kills a Jew goes to heaven." (Emphasis added)

The most horrendous part of this is that Ziad Awad was one of the terrorists released in the trade for Gilad Shalit.

I have no words for this, my friends.

Please, read this whole story:

http://www.timesofisrael.com/suspect-arrested-for-passover-eve-killing-of-police-officer/
~~~~~~~~~~
© Arlene Kushner. This material is produced by Arlene Kushner, functioning as an independent journalist. Permission is granted for it to be reproduced only with proper attribution.

If it is reproduced and emphasis is added, the fact that it has been added must be noted.
http://arlenefromisrael.squarespace.com/current-postings/2014/6/23/june-23-2014-awful-and-more-awful.html
Motzei Shabbat (After Shabbat)
When last I wrote, I expressed the fervent hope that by the time I posted again the kidnapped students would have been brought back alive. Days have gone by since then, but, most regretfully, we do not yet have them home. I can do no more here than report on what is transpiring, to the degree that we are privy to information.
The mood of the nation is somber, watchful. But what shows clear is a spirit of unity - Israel is with the boys and their families, in prayer, in thought, and in written word. The Operation that is being conducted to find the boys and bring them back is called Operation Brothers Keeper, which tells us something as well.
We see prayers for them in different locales at different times, including...
A prayer service at the Kotel last Sunday, attended by some 25,000 people.

Credit: Olivier Fittousi
Special services at the Mekor Chaim Yeshiva, where two of the boys study:
Credit: Reuters
A prayer rally in Talmon, hometown of Gilad Sha'ar, which was attended by both Chief Rabbis.
And in many synagogues last Shabbat and this.
~~~~~~~~~~
Lest you think it is only members of the religious community who are praying...
Finance Minister Yair Lapid, on visiting the family of abducted Gild Sha'ar, confessed that:
"I haven't prayed for six years. Since the bar mitzvah of my son I haven't been in a synagogue. When the story of your sons broke, I looked through the entire house searching for my grandfather's siddur [prayerbook]. I sat and prayed."
And it has been revealed that Interior Minister Gideon Sa'ar has begun to observe Shabbat and attend Torah lessons.
http://www.israelnationalnews.com/News/News.aspx/181989#.U6Xle5tZrIU
~~~~~~~~~~
It is not my practice to quote outgoing president Shimon Peres, but he was on to something when he observed:
"Three families like this can lift up a nation to heights previously unknown, and I'm not exaggerating. It's been several days that Israel is different, unified, joined, praying, fighting."
This has, without question, been the case because of how the families of the kidnapped boys are conducting themselves: with extraordinary faith and courage.
Here you see all three sets of parents, with Racheli Frankel, mother of Naftali Frenkel, declaring:
"We feel deeply embraced by the entire Jewish nation, which accompanies us throughout the day, which gives us so much support. We ask that the prayers continue… That's it, all we want is to hug our children. Eyal, Gil-ad, Naftali, we love you, we miss you, be strong, be strong!"
Credit: Yossi Zeliger/Flash90
http://www.timesofisrael.com/families-of-kidnapped-teens-come-together-for-group-hug/

~~~~~~~~~~
Naftali Frenkel's uncle, Yishai, had words that brought a bit of comfort yesterday, in a radio interview:

"Of course I can't tell you anything, but I can say that the indications we're receiving - on the basis of intelligence and not just religious faith - is that the boys are alive.

"In defense of the security system, it's important to say that almost from the start of the incident, there have been representatives in each of the families' homes 24/7. The immediate family of course know more than what's going on in the media."
http://www.jpost.com/Operation-Brothers-Keeper/Uncle-of-kidnapped-teen-The-boys-are-still-alive-360042
~~~~~~~~~~
IDF operations against Hamas are two-fold in purpose at this point.
First, of course, are the efforts to find the boys and bring them safely home. I've written already about the arrests and interrogations, the searches, the gathering of intelligence, all of which continue and intensify.
Yesterday, Prime Minister Netanyahu said that Israel "knows more than we knew a few days ago," but cautioned that patience is necessary.
~~~~~~~~~~
At the same time, actions are being taken to seriously weaken Hamas, in order to reduce its capacity to take over in Palestinian Authority areas in Judea and Samaria. What is currently happening is the one of the largest counter-terrorism operations since Operation Defensive Shield in 2002 during the second intifada. Over 300 Hamas "activists" have been taken into custody. More than 50 prisoners released in the trade for Gilad Shalit have been picked up and will be returned to prison because of their involvement in terrorism.
At the same time, Hamas institutions are being closed and money and weapons are being seized.
Ten IDF brigades are involved in this major effort, but the approach is still restrained in order to avoid inflaming the Arab population of the area or causing numerous Arab casualties. Already, however, there are reports of growing resistance, and army clashes with Palestinian Arabs in Jenin, Bethlehem and Bir Zeit. As the operation continues, the likelihood of armed clashes increases.
Yaakov Lappin, writing in the JPost, refers to speculation as to whether the kidnapping was instituted by the local Hamas in Hevron, or as the result of orders from Hamas's military wing in Gaza, Izz ad-Din al-Kassam Brigades. Security sources have noted, as well, a recent speech by Hamas politburo head Khaled Mashaal, in Doha, that may have been a coded green light for kidnapping Israelis.
http://www.jpost.com/Features/Front-Lines/Security-and-defense-The-pressure-cooker-359986
~~~~~~~~~~
In the process of this operation, there is the hope, as well, that Hamas can be delegitimized in the eyes of the world, which was, as the JPost's Herb Keinon points out, beginning to accept this terrorist entity as a legitimate political player. The US and the EU had already agreed to support a unity government that had Hamas backing. Then, down the road would have come PA elections, with Hamas moving into place as a major player, and the world finding a way to legitimize this. The goal here is to expose the nature of Hamas in a manner that will make this scenario considerably less likely.
Avi Dichter, former head of the Shin Bet, has observed that Gilad Shalit was kidnapped shortly after a Fatah-Hamas unity government was formed in 2006, which parallels the current kidnappings shortly after another unity government has been formed. He does not see this as a coincidence.

http://www.jpost.com/Features/Front-Lines/The-kidnappings-Using-recent-history-to-help-determine-a-course-of-action-359970
~~~~~~~~~~
© Arlene Kushner. This material is produced by Arlene Kushner, functioning as an independent journalist. Permission is granted for it to be reproduced only with proper attribution.

If it is reproduced and emphasis is added, the fact that it has been added must be noted.
http://arlenefromisrael.squarespace.com/current-postings/2014/6/21/june-21-2014-hoping-waiting-praying.html
Posted
on Saturday, June 21, 2014 at 06:15PM
by
Arlene
in Hamas, IDF, Netanyahu, kidnapping
|
Post a Comment
|
Email
|
Print
This is not an uncommon refrain for me these days: This posting must be short because other considerations are pulling at me. I did want to follow through a bit more about the search for the three kidnapped students. But, unfortunately, the very same matter that has my attention today may prevent me from posting again until later in the week. Please God, let there be good news to post!

What we are seeing now is:

[] Israel is squeezing Hamas in order to force the release of the boys. There have been multiple arrests of Hamas affiliated people – including some significant persons within Hamas - done in the course of the search in the Hevron area. And Israel is considering harsher actions, such as expulsions.

http://www.timesofisrael.com/israel-mulling-options-to-pressure-hamas-into-freeing-teens/

[] Netanyahu, for the first time in over a year, contacted Abbas and asked him to help with finding the boys.

http://www.ynetnews.com/articles/0,7340,L-4530951,00.html

[] Abbas condemned the kidnapping, but also condemned the actions that Israel is taking against Hamas.

http://www.timesofisrael.com/netanyahu-speaks-to-abbas-who-condemns-kidnapping/

http://www.jpost.com/Pillar-of-Defense/PA-condemns-Israel-for-wide-scale-arrest-of-Hamas-and-Islamic-Jihad-members-359454

[] In a very strange turn of events, the military arm of Abbas's Fatah party has claimed "credit" for the kidnapping. They want "thousands" of prisoners released, their announcement says. There would really be huge implications in this, but their claim does not really mean they have the boys. Lots of groups claim lots of things, and Israeli intelligence, which fingers Hamas, is excellent.

http://www.timesofisrael.com/fatah-linked-terrorists-claim-abduction-of-three-teenagers/

See this interesting piece that suggests that Hamas's action in the kidnapping tore the unity government apart, and Abbas knows it.

http://www.timesofisrael.com/in-bid-for-palestinian-street-hamas-gambles-all/

~~~~~~~~~~

© Arlene Kushner. This material is produced by Arlene Kushner, functioning as an independent journalist. Permission is granted for it to be reproduced only with proper attribution.

If it is reproduced and emphasis is added, the fact that it has been added must be noted.
A couple of very significant pieces of information have been uncovered in the extensive IDF/Shin Bet operation for the rescue of the three kidnapped students (emphasis added):

"Prime Minister Binyamin Netanyahu opened Sunday morning's cabinet meeting with dramatic revelation over the kidnapping of three Israeli yeshiva students, saying that the Islamist terrorist group Hamas is behind the kidnapping, and vowing 'serious consequences.'
"This morning I can say what I was unable to say yesterday before the extensive wave of arrest of Hamas members in Judea and Samaria.
"'Those who perpetrated the abduction of our youths were members of Hamas – the same Hamas that Abu Mazen [Mahmoud Abbas] made a unity government with; this has severe repercussions...'
"According to Palestinian media outlets affiliated with Hamas, IDF forces have already raided hundreds of houses in Hevron, Jenin, Ramallah and other cities.
"Officials said that more than 80 Hamas members were arrested overnight as part of the investigation into the kidnapping. Those detained include members of the so-called 'unity government' between Hamas and the Palestinian Authority.
"At least one of the terrorists arrested by IDF forces was apparently Hassan Yousef, a senior Hamas official."
http://www.israelnationalnews.com/News/News.aspx/181724#.U51yTptZrIU
~~~~~~~~~~
Reports have it that two Palestinian Arabs from Hevron who are associated with Izz ad-Din al-Qassam Brigades, the military wing of Hamas, are being sought. They have been missing since Thursday.
I know that low level, i.e., grassroots, intelligence is being drawn upon to the maximum in this operation. The IDF and Shin Bet have intelligence sources in Arab communities, which are being tapped regarding information about anyone who has been inexplicably absent. I make the assumption that this is how information was acquired on the two who are being actively sought.
The wives of these men were detained and questioned as to the whereabouts of their husbands.
~~~~~~~~~~
Now, later in the day, additional information has been released (emphasis added):

"A senior IDF official told reporters Sunday afternoon that in the army's estimation, the three kidnapped teenagers taken Thursday night by still-unidentified captors are still alive, and are being held somewhere in the Judean Hills.

"We are not acting blindly and without guidance,' the official said. 'The IDF is thoroughly familiar with Hamas' infrastructure in Hevron. Those involved in the kidnappings were prisoners in Israeli institutions and were released,' which gave Israeli authorities insights and information on their terror activities."
http://www.israelnationalnews.com/News/News.aspx/181734#.U52nTJtZrIU
~~~~~~~~~~
The IDF is in process of setting up a blockade of Hevron. No one is being let in or out of the city.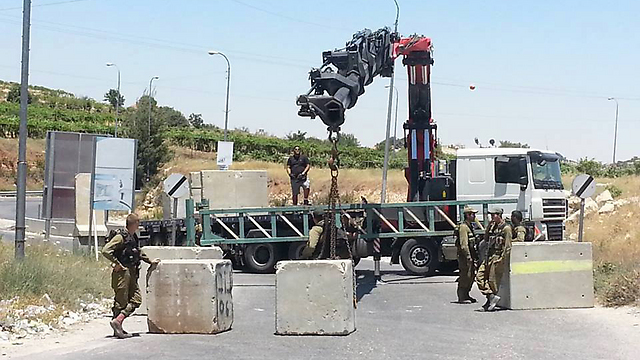 http://www.ynetnews.com/articles/0,7340,L-4530610,00.html
"A senior General Staff source said on Sunday that in terms of professionalism, the kidnapping is of the highest level. According to him, the IDF estimates that the abductees were not transferred to the Gaza Strip or to the Sinai, 'but we are prepared for that option.' He added that 'we are employing all the special units and means to locate them.'"
~~~~~~~~~~
And so my friends, keep praying that this operation will be a success and the boys can be rescued alive!
~~~~~~~~~~
Hamas has labeled Netanyahu's accusation "stupid" – a misdirected attempt to weaken the unity government.
~~~~~~~~~~
On the surface, there are reports of PA security cooperation with regard to the search for the boys. But I remain, with solid reason, completely mistrustful of Abbas's intentions.
Fatah, Abbas's own party, put out on their Facebook page an obscene cartoon representing the three Jewish students as rats:
https://www.facebook.com/photo.php?fbid=708851302484714&set=a.408417995861381.83523.408411429195371&type=1&theater
While Palestinian Media Watch has identified a vile cartoon celebrating the kidnapping that appeared in the Palestinian Authority's daily, Al-Hayat Al-Jadida :
http://www.palwatch.org/main.aspx?fi=157&doc_id=11706
Never, ever, trust them.
~~~~~~~~~~
There ought to be severe repercussions, indeed, as our prime minister put it, in response to what is now being assumed is a Hamas kidnapping. And I do hope that Israeli action against Hamas in Gaza will be very severe. Doubly is this the case as rockets continue to be launched from Gaza during this time - a "drizzle," as it is sometimes called, but even one is too much. We know where their headquarters are, and their leaders.
I hope even after this kidnapping issue is resolved, arrests of Hamas-affiliated persons in Judea and Samaria will be stepped up, as well, and that all perks will be denied Hamas members in our prisons. I want to see it made it made very difficult to impossible for Hamas to operate.
We are facing radical jihadists all around us. Standing strong, very very strong, is the only reasonable response.
~~~~~~~~~~
However, "ought to be" is the operative word here. There is often a wide gap between what should happen and what actually does happen.
Netanyahu said, in his statement this morning, that:
"Those same elements in the international community that said that the Palestinian agreement with Hamas would advance peace now see the true results of this union."
My cynical response is, "Yea, sure." The international community finds a way to ignore or rationalize all sorts of totally unacceptable Palestinian Arab behavior when it suits its own aims. This will be no different. Will the governments – including the US government – that had said they will "work with" the new unity government now refuse to do so? Please, do not hold your breath.
Unless I am missing something, there has been no condemnation of the kidnapping by Obama. Which is fairly incredible.
"Canada has firmly condemned last week's Palestinian Authority terrorist kidnapping of three teenage boys but U.S. President Barack Obama has yet to say a word about the attack — even though one of the hostages is an American citizen."
http://www.jewishpress.com/news/breaking-news/canada-condemns-pa-terror-kidnapping-but-obamas-silent/2014/06/15/
Kerry was heard from. He said he was very concerned for the students' safety, which is not the same thing as condemning the kidnappers.
~~~~~~~~~~
One result of this incident that we can expect is a furious reluctance here in Israel to ever again releasing terrorists from our prisons in any sort of deal. If the evidence for not doing this was not strong enough before, it stares us in the face now.
Today Foreign Minister Avigdor Lieberman made a statement on Army Radio:
"There will be no releases for those Palestinian terrorists sitting in Israeli prisons - not as a 'gesture' and not for any other reason."
While Tourism Minister Uzi Landau declared, "We must use an iron fist against these terrorists and not provide them with rewards for kidnapping Israelis."
http://www.israelnationalnews.com/News/News.aspx/181737#.U53FIptZrIU
~~~~~~~~~~
The most incredible statement released today came from Jonathan Pollard, who is in abysmal health and is denied clemency by Obama. It said:
"In the depths of Gehinom [roughly, hell], Jonathan Pollard is davening [praying] for the safe return of our 3 boys who were kidnapped on Thursday by a blood-thirsty Palestinian terrorist cell. Jonathan urges everyone to drop what you are doing and to pray urgently for the immediate rescue and safe return home of our kidnapped boys, alive, healthy and unharmed."
http://www.jpost.com/Jewish-World/Jewish-News/Pollard-asks-to-pray-for-kidnapped-teens-359362

Credit: AP

Amen v'amen! After the boys are brought home safe, let us direct our prayers to the release of Jonathan Pollard.

~~~~~~~~~~
© Arlene Kushner. This material is produced by Arlene Kushner, functioning as an independent journalist. Permission is granted for it to be reproduced only with proper attribution.

If it is reproduced and emphasis is added, the fact that it has been added must be noted.
http://arlenefromisrael.squarespace.com/current-postings/2014/6/15/june-15-2014-real-but-painful-progress.html
Posted
on Sunday, June 15, 2014 at 01:29PM
by
Arlene
in Abbas, Hamas, IDF, Netanyahu, PA, kidnapping
|
Post a Comment
|
Email
|
Print