Many is the time that I have alluded to this Campaign, and to Israel's legal rights in Judea, Samaria, and all of Jerusalem.

Today I will move further in explaining the Campaign. This is for your edification, and in the hopes that you will choose to be involved.

Please make sure you get to the end of this special posting.

~~~~~~~~~~

The Campaign is chaired by Jeff Daube and myself, working in Jerusalem. We seek an Israeli government that speaks out for Israel's rights and bases policies upon those rights.

We do not for a minute imagine that this is a simple or easy task. For we are battling over 20 years of Oslo thinking, and a host of misrepresentations and outright lies – promoted by those supporting the Palestinian Arabs and readily accepted by much of the world - regarding Israel's rights. The pressure on our government is enormous!

What is required is a shift in the paradigm of thinking. And this is a process. Little by little. No magic bullets.

~~~~~~~~~~

While the ultimate goal is a shift in the position of the government of Israel, we are working now in the Knesset – doing education on the issues and recruiting members of the Knesset to take a stand.

This is a part of the process, and we are in the second year of this effort. We have had successes, and have held forums in the Knesset. Unfortunately, some of the best people we had on board with us before the election are no longer in the Knesset and it is our task now to reach out to a large number of new members of Knesset. We have very fine professionals working with us to maximize our efforts.

~~~~~~~~~~

At the same time that we are doing this work, we are eager to do a modified public campaign – getting the word out and doing education wherever we can. (A full fledged public relations campaign is enormously expensive and beyond our reach at the moment.) Our social media campaign has this goal, as does our PR. We work to place op-eds on the issues, promote interviews and more.

~~~~~~~~~~

Most of my readers are outside of Israel – primarily in the US (with some significant individuals also in Canada). And so I want to emphasize here that education on this issue in the US is tremendously important and that outreach must be done to Senators and Congresspersons.

However, we believe that the first impetus must come from within the Israeli government. We see that even Senators and Congresspersons who are with us in principle look to the positions of the Israeli government before taking a stand.

~~~~~~~~~~

One last note here: We are not a campaign to promote sovereignty, but to provide the groundwork that will ultimately make that sovereignty possible. We believe that there will be no government of Israel that will seriously talk about annexation until it has been made clear that we have the RIGHT to annex – that international law, history, etc. are on our side. Right now, you will note, the prime minister says he will not consider a "Palestinian state" because of security risks. That is not the same as saying we have legal and historical rights that must be taken into account.

(Even those who would - for whatever reason - still like to see a "two state solution" should welcome promotion of our legal rights – for this would permit going into negotiations from strength, and not from the horrendous position that the land is "theirs" and we must "return" it.)

What we would like to do, down the road, is consider different formulations and plans for how to proceed in the future, once Israel's rights are more broadly established.

~~~~~~~~~~

Now I ask my readers, wherever you are, to:

Inform yourselves on the issues of Israel's legal rights. To that end, Please! see and bookmark our website: http://israelrights.com/en/

On the site, you will find:
- an outline of our basic legal rights (including the San Remo Resolution I spoke about yesterday) - this is the heart of the matter, the core documentation
- information on our rights to all of Jerusalem
- articles, reports, and videos on the issue
- links to primary documents such as the Balfour Declaration
- a discussion of why promotion of Israel's rights is important
There is, as well, a great deal more, including a list of the highly respected international lawyers who comprise our Legal Advisory Board.

Please, while you are logged on to the website, sign on as a member of the Campaign. This costs nothing. But it gives us leverage and allows us to provide information updates and promote activist action.

~~~~~~~~~~

Take a look at our Facebook page, as well – and "Like" it, please: https://www.facebook.com/legalgrounds

Both the website and the FB page have very recently been upgraded.

~~~~~~~~~~

And then, because Jeff and I, with our professionals and volunteers cannot do the job alone, we ask you to join us in a number of respects:

[] Tell others about our work, and ask that they in turn inform themselves and sign on to our Campaign, "Like" our FB.

[] Don't let people get away with promulgating gross misrepresentations and lies. Refute the lies and misrepresentations wherever you can.

There was never a Palestinian state and Judea and Samaria do not "belong" to the Palestinian Arabs.
There is no "1967 border" – it was only a temporary armistice line.
The 1947 partition plan is not legally binding, as some maintain.
Israel is not an "occupier" according to international law. The reasons why this is so are quite clear.
The "settlements" are not "illegal."

On and on. These are not "innocent" mistakes – they are calculated lies, which are then absorbed as well by naïve individuals who believe what they have been told.

It's time to fight back, as extensively as possible.

Beware in particular of the language that promotes misrepresentations. I think the officials of the PA use the term "international law" more than any other. They don't have to document the law – which most often does not even exist: people tend to automatically defer when they hear that term. Then there are "war crimes," "illegal settlements," and (as alluded to above) "the '67 border."

And watch your own language usage. Much of this terminology has been so thoroughly absorbed into mainstream thinking that you are not even aware of it:

It's:
- "Jewish communities in Judea and Samaria" and not "settlements"
- "Judea and Samaria" and not "West Bank"
- "the temporary '67 armistice line" and not "the '67 border"

Use:
- letters to the editor
- talkbacks on the Internet
- op-eds
- your own websites and FB pages
- websites and discussion lists for groups with which you participate
State your position briefly, unemotionally, and factually.

Become pro-active! Talk to people.

If you are in the US, monitor the positions of your Senators and Congresspersons and contact them as appropriate (whether to thank them, provide information, or encourage a change in position).

We will be grateful if you decide to become part of the Legal Grounds team, and actively stand up on this issue.

~~~~~~~~~~

I am not writing today to raise funds, but rather to inform and recruit activists. But it goes without saying that I do not turn away funds, which are always needed for our operation. (Some of those reading this have already graciously and generously made donations.)

If you are in the US, and might be interested in supporting a very special "out-of-the-box" project for this Campaign, let me know, please.

~~~~~~~~~~

The good news I close with today comes from Yaakov Kirschner, who does the "Dry Bones" cartoons. We are enormously grateful to him. For he has not only done a cartoon that addresses the issue of Israel's legal and historical rights (see immediately below), he has sent it out very widely, with the URL to our website.

And so, Dry Bones: Thank you, thank you!



~~~~~~~~~~
© Arlene Kushner. This material is produced by Arlene Kushner, functioning as an independent journalist. Permission is granted for it to be reproduced only with proper attribution.

If it is reproduced and emphasis is added, the fact that it has been added must be noted.
http://arlenefromisrael.squarespace.com/current-postings/2015/4/28/april-28-2015-the-legal-grounds-campaign.html
Posted
on Tuesday, April 28, 2015 at 11:24AM
by
Arlene
in Israel, Jerusalem, Judea, Legal Grounds, Samaria
|
Post a Comment
|
Email
|
Print
There are - forgive the cliché - just so many hours in the day. And so, which happens now and again, as I am working on the Legal Grounds Campaign, it is impossible to do a full posting, as much as I would like to.
There is enough happening to make one's head spin, but here we will simply touch a few of bases. And we will begin with a fine article that relates to the Legal Grounds issue, an op-ed by Salomon Benzimra, "San Remo:The Forgotten Milestone" (emphasis added):

"...On Sunday, April 25, 1920, after hectic deliberation, the Supreme Council of the Allied Powers (Great Britain, France, Italy, Japan and the U.S. acting as an observer) adopted the San Remo Resolution -- a 500 word document which defined the future political landscape of the Middle East out of the defunct Ottoman Empire.

"This Resolution led to the granting of three Mandates, as defined in Article 22 of the 1919 Covenant of the League of Nations..in the third Mandate, the Supreme Council recognized the 'historical connection of the Jewish people to Palestine and the grounds for reconstituting their national home in that country'...
"The importance of the San Remo Conference with regard to Palestine cannot be overstated..."

http://www.israelnationalnews.com/Articles/Article.aspx/16835#.VT4-QJuJjIW
A significant piece of the larger Legal Grounds story. More to follow.

~~~~~~~~~~

I have written next to nothing about the formation of the new coalition, something that Prime Minister Netanyahu has been working on for what seems to be (but is not) an interminable amount of time. It has not been an easy process: this is clear.
But I have avoided reporting on rumors because it serves no purpose. While rumors may be correct, often they are not, and are actually planted by one faction or another in order to influence the proceedings. There has been talk (just talk, I believe) about a unity government with Herzog, Heaven help us. There has been tension regarding whether one faction or another will be given a specific portfolio or it will be retained for a member of the victorious Likud. (It has happened on previous occasions that so many key portfolios were promised out that the Likud members ended up quite disgruntled.)

Now I believe we are on the cusp of having a government, which I expect to be able to write about before long. What I will mention here is that the current scuttlebutt is that Naftali Bennett, chair of Bayit Hayehudi, has relinquished demands for the Defense or Foreign Affairs Ministry and is requesting Education. (Although apparently there are rumblings in Likud about this, too.)

Seems perhaps not a "major" position, but in point of fact is exceedingly significant. The future lies with our youngsters, and their ability to understand our people's heritage in the land, and our rights to that land.

I had a good laugh when people on the far left, such as Meretz chair Zehava Galon, said Bennett's appointment would be "dangerous." Oh, the damage that the far left did to a generation of our students.

~~~~~~~~~~

There is a great deal going on, with regard to violence, attacks, response to those attacks, attempted attacks, and more, both at our northern border and with Gaza. I cannot do justice to this now and hope to return for a solid report.

~~~~~~~~~~
Undoubtedly all or most of my readers know of the horror that has taken place in Nepal, with, last I heard, well over 3,000 lives lost as the result of an earthquake.

Once again, Israel is responding with an outstanding humanitarian spirit:

From the IDF spokesman we learn that a 260 member mission has gone to Nepal. "An advanced multi-department medical facility, equipped with approximately 95 tons of humanitarian and medical supplies from Israel and a medical staff of 122 doctors, nurses and paramedics, will be rapidly established in the city of Katmandu to provide medical care for disaster casualties. The facility will include pediatric, surgical, internal medicine,neonatal, and radiology departments as well as a maternity ward and emergency and operating rooms. The hospital has the equipment, capacity and manpower to treat approximately 200 patients each day."

This is fairly incredible, but very much in line with what we did in Haiti.

The mission includes a search and rescue team from the IDF National Search and Rescue Unit, which is "a highly skilled force trained to execute special search and rescue missions, both in Israel and abroad."

http://imra.org.il/story.php3?id=67095
~~~~~~~~~~
© Arlene Kushner. This material is produced by Arlene Kushner, functioning as an independent journalist. Permission is granted for it to be reproduced only with proper attribution.

If it is reproduced and emphasis is added, the fact that it has been added must be noted.
http://arlenefromisrael.squarespace.com/current-postings/2015/4/27/april-17-2015-step-by-step.html
Posted
on Monday, April 27, 2015 at 04:00PM
by
Arlene
in Legal Grounds, Nepal earthquake, San Remo
|
Post a Comment
|
Email
|
Print
Credit: Jpupdates
Today is Yom Ha'azma'ut – Israel Independence Day. It is 67 years since Ben Gurion announced the establishment of the State of Israel, on the Hebrew date of Iyyar 5, which that first year corresponded to May 14. (Today is only the 4th of Iyyar – celebrations were moved up to avoid Shabbat desecration).
See here the full reading by David Ben Gurion of the Declaration of Independence:
https://www.youtube.com/watch?v=Vy_LlKE9OMQ:
Its words are of enormous significance – in terms of the recognition of our historical and legal rights to the Land, our readiness to include Arabs in peace, and a great deal more. Many of the illustrations that accompany the reading are enlightening as well (Ban Ki Moon towards the end notwithstanding).
Credit: takegreatpictures
~~~~~~~~~~
When Ben Gurion announced independence, the people were already at war, for the Arab nations were determined to destroy the Jewish State at its very inception. The population of Israel at that time was 806,000 - many were bone-weary refugees from the Shoah; they had to conduct their war of self-defense with meager weaponry.
It didn't look good. But we prevailed, just as we have prevailed in every war since, sometimes astoundingly so.
Not only have we prevailed against every enemy intent on destroying us, we have managed to grow and flourish at the same time. Today our population is 8,345,000. The Jewish population is 6,250,000 (74.9% of the total population), making Israel now the largest Jewish community in the world. The Arab population is 1,730,000 ((20.7%), and the remainder are non-Arab Christians and members of other groups. Some 176,000 babies have been born in the last year, and 32,000 have come to Israel.
~~~~~~~~~~
I site here commentators who have, over the last couple of days, celebrated Israel's successes.
Isi Liebler, in "We have reason to rejoice," writes (emphasis added):
"Israel has become a veritable economic powerhouse, emerging as the second-largest country (after the US) in high tech and start-up facilities. We overcame our water problems via an extraordinary desalination program. And now we are effectively energy self-sufficient, and will even be exporting surplus gas resources.
"...our social welfare structure and in particular the medical system provides outstanding services for all Israeli citizens without discrimination.
"Culturally, we are a pulsating country in which our ancient and sacred language has been renewed as the lingua franca for Jews coming from totally different cultures....
"Despite external threats and terror, we remain a democratic oasis in a region of barbarism, providing the right to vote to all citizens...
"But the most incredible transformation is that after 2,000 years as a subjugated and persecuted people, we have become a regional military superpower. The empowerment of the Jewish nation, the success of our people's army, and its ability to deter the combined force of all its enemies is mind-boggling..."
http://www.jpost.com/Opinion/Candidly-speaking-Independence-Day-We-have-reason-to-rejoice-398845
~~~~~~~~~~
Michael Freund, in "Kvell, don't kvetch, on Independence Day," says (emphasis added):
"...In the blink of an eye, we went from bloodstained Jewish history to blossoming Jewish destiny...
"...In the spiritual realm, we have also reached new heights. Israel is now home to more yeshivot than have ever existed at any time in all of Jewish history. On any given day, more Torah is being studied than ever before, more pages of Talmud are being scrutinized, and more Jews are visiting sites such as the Western Wall and the Cave of the Patriarchs.
"Indeed, in just about every field imaginable, be it literature or music, theater or the arts, Jewish creativity is at an unprecedented level..."
http://www.jpost.com/Opinion/Fundamentally-Freund-Kvell-dont-kvetch-on-Independence-Day-398837
~~~~~~~~~~
To this I want to add Israel's incredible propensity for lending assistance to other nations in times of hardship and crisis. There are Israeli teams working with drought-plagued Africans to improve irrigation techniques for better agricultural yield, Israeli doctors seeking to ameliorate disease in struggling corners of the world, Israeli rescue efforts in times of earthquake and tsunami.
That propensity for lending assistance applies at home, as well. Wrote Abigail Klein Leichman, in Israel 21C, "Intermittent terrorism and wars since before the founding of the state of Israel have bred a culture of caring second to none."
In this sense, too, we are very much family – people reach out even to strangers with advice and assistance.
Israeli society is exceedingly child-friendly, as well. I was astonished, and delighted, to see, when I first came here, that parents bring babies and toddlers to weddings, which is fine for all concerned. Jews in Israel have a considerably higher birthrate than Jews of other lands – babies are an intrinsic part of all that goes on.
And what better indicator of hope for the future than making babies?
~~~~~~~~~~
How has all of this happened? There is a reason why Yom Ha'atzma'ut begins with a special prayer service that includes Hallel – psalms of praise to the Almighty. Without the Hand of Heaven, we could not be where we are.
~~~~~~~~~~
Above I wrote about the increase in the Jewish population here over the years. I believe this is a step in the Ingathering of the Exiles – kibbutz galluyot, spoken of by prophets and rabbinic sages alike. Jeremiah (29:14): "I will...gather you from all the nations and from all the places whither I have driven you… and I will bring you back." The Talmud states that "the day of the Ingathering of the Exiles is as great as the day on which heaven and earth were created."
~~~~~~~~~~
And so, my friends, open your eyes and SEE THE MIRACLE. Embrace it and broadcast it.
My Beautiful Israel:
https://www.youtube.com/watch?v=S2jSi9VxJxg
Israel – Small but Outstanding:
https://www.youtube.com/watch?v=AoizSL-TEJQ
Hatikva and more:
https://www.youtube.com/watch?v=s4pjKopHoHg
Note: I provide links to specific videos. What sometimes happens is that they are followed automatically by others that may or may not be of interest to you, but which I have neither endorsed nor recommended.
~~~~~~~~~~
© Arlene Kushner. This material is produced by Arlene Kushner, functioning as an independent journalist. Permission is granted for it to be reproduced only with proper attribution.

If it is reproduced and emphasis is added, the fact that it has been added must be noted.
http://arlenefromisrael.squarespace.com/current-postings/2015/4/23/april-23-2015-see-the-miracle.html
Posted
on Thursday, April 23, 2015 at 12:06PM
by
Arlene
in Israel Independence Day
|
Post a Comment
|
Email
|
Print
...on the unanimous vote in the Senate Foreign Relations Committee to advance the bill, sponsored by Senator Bob Corker (R-TN), which would give Congress the right to review the deal currently being worked out with Iran.

Yes, as I wrote last week, it is a step in the right direction, as Senators are beginning to insist upon their right to be involved in this critical deal. But it falls short in a very critical respect.

Jonathan Tobin, editor of Commentary, effectively explains this in "The Reverse Iran Deal Ratification Process" (emphasis added):
"...By treating it as a normal act of legislation, the president will be able to veto the measure. That sets up a veto override effort that will force Iran deal critics to get to 67 votes, a veto-proof majority. If that sounds reasonable to you, remember that in doing so the bill creates what is, in effect, a reverse treaty ratification mechanism. Instead of the president needing a two-thirds majority to enact the most significant foreign treaty the United States has signed in more than a generation, he will need only one-third of the Senate plus one to get his way.
"By allowing pro-Israel Democrats a free pass to vote for Corker-Menendez the president is giving them a way to say they voted to restrain the president before also granting them a path to back him by either voting for the deal or failing to vote to override the president's veto. That gives plenty of room for inveterate schemers such as Democratic Senate leader-in-waiting Chuck Schumer to make sure the president gets his 34 votes while giving some Democrats, including perhaps himself, impunity to vote against him.
"What has happened here is that despite furious effort and hard legislative work all critics of Obama's pursuit of détente with Iran have accomplished is to allow him the opportunity to legally make a historic and disgraceful act of betrayal of Western security with the least possible support. They may have had no better options and I'll concede an ineffectual vote on an Iran deal might be better than no deal at all, but please spare me the praise for Corker's bipartisanship or the chortles about how the White House was beaten. What happened yesterday actually advanced the chances for Iran appeasement. And that's nothing to celebrate."

https://www.commentarymagazine.com/2015/04/15/the-reverse-iran-deal-ratification-process-obama-corker-menendez/

~~~~~~~~~~

Keith Koffler, in his article, "The Corker Cave-in," agrees with this analysis and takes it one step further (emphasis added):
"'The Unified States Senate just capitulated to Obama,' radio host and Constitutional scholar Mark Levin said Tuesday night. 'The Unified States Senate just rewrote the Treaty Provision of the Constitution.'
"...It's true, international agreements have increasingly, over the decades, been done by executive action. But an agreement such as this – negotiated over the course of years and involving nuclear weapons for our most pernicious adversary and therefore the possible destruction of the United States – must by its nature qualify as a treaty under the Constitution, or there is no Constitution at all.
"The Founders are very clear on the need for a co-equal role in such critical matters for the Senate, which was originally entrusted not just with approving treaties, but helping negotiate them too...
"With the Corker bill, he [Obama] now has Congress in his pocket as he joins Iran in shredding the Constitution over a Swiss negotiating table. And in ten to 15 years, when Iran conducts its first nuclear test, Congress will have had a 'role' in the tragedy."
http://www.whitehousedossier.com/2015/04/15/corker-cavein/
~~~~~~~~~~
Let's look briefly at some other commentary about the Iran deal, and some of the latest news updates:
"Iran could collect up to $50 billion in oil revenue if sanctions are lifted, according to congressional officials briefed by the Obama administration.
"If negotiators are successful in brokering a deal with Iran this summer to suspend its nuclear program, officials say the country could receive between $30 billion and $50 billion after signing an agreement, the Wall Street Journal reported...."
http://www.washingtonexaminer.com/lifting-u.s.-sanctions-would-give-iran-infusion-of-up-to-50-billion/article/2563272

~~~~~~~~~~

Foreign Policy editor David Rothkopf argued last week that:
"Unfreezing billions of dollars worth of Iranian assets...will have the effect of exacerbating Iran's 'systematic, 35-year campaign of regional meddling, destabilization, and extension of … influence' that threatens the Middle East."

http://www.thetower.org/1899-foreign-policy-editor-nuke-deal-that-doesnt-halt-irans-regional-threat-is-serious-error/

~~~~~~~~~~
"As UN nuclear inspectors arrived in Tehran [last] Wednesday, Iranian President Hassan Rouhani said the Islamic Republic will not accept a comprehensive nuclear deal with major powers if all sanctions imposed on Tehran are not lifted.
"'If there is no end to sanctions, there will not be an agreement,' Rouhani said in a televised speech in the northern Iranian city of Rasht.
"'The end of these negotiations and a signed deal must include a declaration of cancelling the oppressive sanctions on the great nation of Iran.'"
http://www.ynetnews.com/articles/0,7340,L-4647387,00.html
~~~~~~~~~~
And – as you grapple with this horrendous situation - factor this in, as well (emphasis added):
"Even if Congress rejects his final Iranian nuclear deal, President Barack Obama could use his executive pen to offer Tehran a hefty portion of sanctions relief on his own. ...

"The president could suspend some existing US sanctions with his waiver authority. He could issue new orders to permit financial transactions that otherwise are banned under current law. And he could simply take certain Iranian entities, including nearly two dozen Iranian banks, off US target lists, meaning they no longer would be subject to sanctions.
"Only Congress can terminate its legislative sanctions. And those are some of the toughest penalties against Iran because they target its energy sector, central bank and key segments of its economy. But experts say Obama can neutralize the effect of some of those sanctions, too, and work with the Europeans to neutralize others....
"Says Tyler Cullis, legal fellow at the National Iranian American Council, which favors an agreement: 'Some have expressed doubt whether the president can provide Iran significant sanctions relief solely on the basis of his own authority. Such doubt should be put to rest.'
"He said the president 'could almost gut' an entire segment of sanctions..."
http://www.timesofisrael.com/obama-could-ease-many-iranian-sanctions-without-congress/
~~~~~~~~~~
"North Korea supplied several shipments of missile components to Iran during recent nuclear talks and the transfers appear to violate United Nations sanctions on both countries, according to U.S. intelligence officials." (Emphasis added)
http://freebeacon.com/national-security/north-korea-transfers-missile-goods-to-iran-during-nuclear-talks/
~~~~~~~~~~
"A senior commander in Iran's Revolutionary Guard said Sunday that inspectors would be barred from military sites under any nuclear agreement with world powers.
"Gen. Hossein Salami, the Guard's deputy leader, said on state TV that allowing the foreign inspection of military sites is tantamount to 'selling out.'
"'We will respond with hot lead [bullets] to those who speak of it,' Salami said. 'Iran will not become a paradise for spies. We will not roll out the red carpet for the enemy.'"
http://www.dailystar.com.lb/News/Middle-East/2015/Apr-19/294948-iran-guard-rejects-inspection-of-military-sites.ashx
Just how much will Obama tolerate? Is this a deal at any cost, so that he can claim a deal?
~~~~~~~~~~
This is heavy information, as I am well aware, my friends. But we dare not ignore it.
~~~~~~~~~~
And now for the good news, which we so badly need. Today I include a couple of sites – the first and last items - that may be of interest to tourists.
Israel's Beit Guvrin-Maresha National Park has earned its certification as a UNESCO World Heritage site. Located in lowland south of Beit Shemesh and east of Kiryat Gat, the Park – which is five sq. kilometers - is within a larger area referred to as the "land of the caves."
http://www.jpost.com/Israel-News/Israels-Beit-Guvrin-celebrated-as-UNESCO-World-Heritage-site-398074
The park contains thousands of ancient underground man-made caves, and also encompasses the ruins of Maresha, an important town of Judah of 2,000 years ago. Here you see the "Bell Cave" and below it, a cave with dovecotes.
Credit: Shmuel Bar-Am
Credit: S. Aronson
~~~~~~~~~~
In the face of its lowest levels of available water ever, Brazil has hosted a delegation of 13 Israeli water companies who came to help the Brazilians address their water crisis.
http://israelnewtech.com/2015/03/israeli-water-delegation-on-mission-to-help-brazil-solve-water-crisis/
~~~~~~~~~~
Professor Zvi Bentwich, 78, a member of Ben-Gurion University of the Negev's department of microbiology, immunology and genetics, heads the university's Center for Emerging Diseases, Tropical Diseases and AIDS. In the 1990s, he did groundbreaking research that uncovered a link between intestinal worms and immune system deficiencies – deficiencies that contribute to Africa's AIDS and tuberculosis epidemics.
Now the professor has been named the recipient of a grant from the Bill & Melinda Gates Foundation for his project in Ethiopia to wipe out parasitic worm infections.
http://www.israel21c.org/news/gates-grant-for-public-health-hero/
Credit: BBC
~~~~~~~~~~
"Can you name 15 varieties of cherry tomatoes? What about four types of carrots? Have you ever tasted an Uri Kaduri orange? And do you know the difference between the seven varieties of mint leaves?
"A three-hour visit to the Salad Trail, a unique touch-and-taste farm in the Hevel Habesor region of the northern Negev, will turn you into an expert grower for the day.
"Pick-your-own produce farms are commonplace. But agronomist Uri Alon (pictured below) has upped the ante with his complete senses-and-learning experience at his farm in the northern Negev.
"'If you want to see how the real vegetables grow, and taste the best vegetables in the world, that's reason enough to come visit,' Alon, the brains behind this blossoming oasis in the middle of the sandy desert, tells ISRAEL21c.
"'If you want to see the real Israel and see how you can take a desert and change it and make it bloom, it's enough reason to drive 1.5 hours from Tel Aviv.'"
http://www.israel21c.org/headlines/the-tastiest-tourist-attraction-in-israel/
~~~~~~~~~~
© Arlene Kushner. This material is produced by Arlene Kushner, functioning as an independent journalist. Permission is granted for it to be reproduced only with proper attribution.

If it is reproduced and emphasis is added, the fact that it has been added must be noted.
http://arlenefromisrael.squarespace.com/current-postings/2015/4/19/april-19-2015-the-bottom-line.html
Posted
on Sunday, April 19, 2015 at 04:02PM
by
Arlene
|
Post a Comment
|
Email
|
Print

Courtesy Family

His name was Shalom Yohai Sherki, and he was 25. On Wednesday night, he was standing at a bus stop in the French Hill neighborhood of Jerusalem, and a car rammed into him and the woman standing next to him.

Credit: MDA

Both were rushed to the hospital in critical condition.

On Thursday morning, he succumbed to his head wounds; his brother later expressed gratitude that he held on until the family was able to say goodbye.
Again? We cried at this news. Is there no end?

Shalom worked as a counselor to teenage students. I did not know him personally, but am close to people who did. I am told that he was much loved by his students and that he was a wonderful person. Always with a smile on his face. Somehow it is the special ones who die.

~~~~~~~~~~

The driver of the car that ran into these young people? An Arab – from a village near Jerusalem. Police are indicating that they believe this was a terror attack (an attack with "nationalist" motives, is how they say it). We knew, as soon as we heard what had happened. The Arab will be interrogated by the Shin Bet.

The funeral, attended by thousands, was held in Jerusalem late yesterday..
Credit: Hillel Maeir, Tazpit News Agency
~~~~~~~~~

This happened on Yom Hashoah. Likely not a coincidence, as this would have played into the timing of the Arab who drove the car.
More painful, to lose someone else as we are mourning the six million lost.

~~~~~~~~~~

I am frequently in absolute awe of the strength of the families losing loved ones to terrorists, and so was it the case yesterday. This sort of strength is a reflection of religious faith. Shalom's father is Rabbi Uri Sherki. At the funeral, Rabbi Sherki, noting that his son saved the woman standing next to him by moving quickly to push her aside, said:

"Go dear son, it is not difficult because your noble soul is ascending straight to the King of Peace.

"...It's not by chance that you were separated from us on Holocaust Remembrance Day.

"Our family didn't wander for two thousand years and return to Israel to be murdered but to be planted… We need to be strong, both in our private work and in the work of the government, which will know how to appropriately plant the people of Israel in its land."

~~~~~~~~~~

The woman who was next to Shalom is Shira Klein, 20, currently in serious but stable condition in the hospital.

I learned this morning that Shira and Shalom were due to become engaged. Brings tears to the eyes. Again, again.

Her family is asking for prayers for her complete recovery: Shira bat Adel Ada.

~~~~~~~~~~
I could not go into Shabbat without posting this. Dear God, may there be no more Jews who die ONLY because they are Jews. As you pray for Shira's recovery, pray for this, as well, please.

We say Baruch Dayan HaEmet: Blessed is the Righteous Judge.

With wishes for a Shabbat Shalom to all.

~~~~~~~~~~

© Arlene Kushner. This material is produced by Arlene Kushner, functioning as an independent journalist. Permission is granted for it to be reproduced only with proper attribution.

If it is reproduced and emphasis is added, the fact that it has been added must be noted.
http://arlenefromisrael.squarespace.com/current-postings/2015/4/17/april-17-2015-a-heartfelt-lament.html
Posted
on Friday, April 17, 2015 at 06:36AM
by
Arlene
|
Post a Comment
|
Email
|
Print
Today was Yom HaShoah VeHaGevurah – Day of Remembrance of the Holocaust and Heroism. (For there were not only Jewish victims, there were also Jewish heroes.)

Here in Jerusalem, in the wee small hours last night, there was the most incredible prolonged, downpour – the likes of which I have never before experienced. I would like to think that perhaps the Heavens were crying for us.

Credit: Mrsbongle
~~~~~~~~~~

I cannot permit this day to end without a posting, but will touch upon various subjects only briefly:

Last night at the Holocaust Memorial, Yad VaShem, the official annual ceremony marking the day was held. Every year, there are six survivors selected to light six torches.

Credit: TouristIsrael

Each of the six tells his or her story. Each story tears the heart. I want to share the video of one such story here - the story of Shela Altaraz. Watch the enormous emotion with which she relates her experiences, which are over 70 years old. The pain never goes away:
http://www.israelnationalnews.com/News/News.aspx/194122#.VS_XpJuJjIV
We may not turn away from this. It is our task to hear her story, absorbing its import and its power.

~~~~~~~~~~

President Ruby Rivlin spoke at the official ceremony last night.
.
Credit: ShalomLife

The core – the ikar – of his message merits attention (emphasis added):

"We cannot let the pogroms, the bellowing smoke of the crematoria blind us or blur our abilities to recognize our past, our identity, our heritage – which is stronger than those who wish to destroy us."

While the Holocaust is "our lowest point," we Jews must remember that our journey did not begin in the concentration camps, but in the Land of Israel, and "it is here that [we] have always strived to return.

"The State of Israel is not compensation for the Holocaust." It was established "out of a love and longing for our ancient homeland by virtue of a dream that came true, a dream that became a reality. Not out of fear of extinction or hatred for the other....

"The horrors of the past and the threats of the present will not dictate our lives nor shape the lives of our children."

http://www.jpost.com/Israel-News/Rivlin-Israel-is-not-compensation-for-the-Holocaust-398254
~~~~~~~~~~

Prime Minister Netanyahu also spoke during the ceremonies.
Credit: KosherPages

As we would expect, he addressed the threat of Iran and other evil regimes.

The lesson of the Holocaust, he said, was that there is "no room to be weak when faced with tyrannical regimes." (Emphasis added) The world is "comatose" and delusional" where Iran is concerned. "Appeasement towards these regimes increases their aggressiveness."

Earlier in the day, he related, he had been told by a survivor that it was his job "to prevent another Holocaust."

~~~~~~~~~~

Let it be so! For the world has learned nothing. Truly nothing. And so evil abounds. Not just in Iran, but with Isis, and Hamas, and in Muslim enclaves in certain parts of Europe. Yet the world turns away from the stark realities, and does business with evil.

We reserve the right to defend ourselves against a nuclear Iran, Netanyahu said: "Even if we are forced to stand alone against Iran, we will not fear. In every circumstance we will preserve our right and ability to defend ourselves."

~~~~~~~~~~

Yes! preserve our right and ability to defend ourselves. But it becomes time, I think, to USE that ability.

Three days ago, Russian president, Vladimir Putin announced that he would approve delivery to Iran of the long-range surface-to-air S-300 missile defense system. A contract signed in 2007 to deliver the missiles was frozen in 2010 by Dmitry Medvedev, then president of Russia, in response to pressure brought to bear on him.

And why was Putin now removing the ban on delivery? Because Iran "has shown a great degree of flexibility and a desire to reach compromise."

http://www.theguardian.com/world/2015/apr/16/putin-long-range-air-defence-missile-iran-russia-sanctions
Heaven help us.

~~~~~~~~~~

Exact dates for delivery are still under discussion, according to Reuters.

The missiles would not render an Israeli attack on Iran impossible, but would make it more difficult.

~~~~~~~~~~

There was a certain amount of hoopla about the unanimous vote in the Senate Foreign Relations Committee calling for advancement of the Iran Nuclear Agreement Review Act, sponsored by Sen. Bob Corker (R-TN). The bill would grant Congress the ability to review the deal currently being crafted by the Obama administration and Iran.

A step in the right direction, certainly, but there still is room for considerable unease. At the last minute, seeing the prospect of a vote large enough to over-ride a veto, Obama declared that he would cooperate and not veto. This is encouraging, of course – as it suggests a shift in the dynamic. (And yes, I do believe Netanyahu's Congressional talk had an influence on the situation.) But in order to secure Democratic support, there were compromises made. WSJ reviewed the situation with a somewhat jaundiced eye, and, as Arnold Ahlert wrote in FrontPage, "It remains to be seen whether lawmakers, including those in Obama's own party, will hold the president accountable for his reckless deal-making..."

I will be returning soon to consider this and related Iran issues in a great deal more detail.

~~~~~~~~~~

According to a report by the Kantor Center for the Study of Contemporary European Jewry at Tel Aviv University, anti-Semitism rose almost 40% in 2014, over the level of incidents in the previous year.

Said Center president, Dr. Moshe Kantor, "Many streets in our European cities have become hunting grounds for Jews, and some Jews are now forced to avoid community institutions and synagogues as a result. Some are choosing to leave the continent, many are afraid to walk the streets, and even more are retreating behind high walls and barbed wire. This has become the new reality of Jewish life in Europe."

http://www.jpost.com/Diaspora/Violent-anti-Semitism-surged-forty-percent-in-2014-study-finds-398165
This is very sobering indeed.

~~~~~~~~~~

After a review appropriate for Yom HaShoah, I would like to end on a more upbeat note:

Elbit Systems, an Israel defense company, has announced that it has developed a new system based on sensors that will accurately detect tunnel building. It is to be installed along the entire border with Gaza, and what a relief this will be for the Israeli residents near that border.

http://www.ynetnews.com/articles/0,7340,L-4647664,00.html
~~~~~~~~~~

"Scientists working in the Technion laboratory of Israeli Nobel Prize winner Professor Aaron Ciechanover have discovered that high concentrations of the chemical KPC1 and protein p50 suppress malignant growth and protect healthy cells."

http://www.prnewswire.com/news-releases/breakthrough-in-cancer-research-300064078.html
~~~~~~~~~~
"Israeli scientists have come up with a new method to grow grapes all year round, the Ministry of Agriculture and Rural Development recently announced. The agronomists successfully grew an existing variety of seedless grape known as Early Sweet during winter months."

http://www.israel21c.org/news/israeli-scientists-develop-all-season-grapes/
~~~~~~~~~~

Five years after the horrendous earthquake in Haiti, there is still an Israeli presence there:

"IsraAID runs a medical facility, an agriculture program, a youth empowerment center and a gender violence prevention program for Haitian women."

http://www.israel21c.org/headlines/five-years-post-quake-israel-is-still-helping-haiti-heal/

~~~~~~~~~~

You see? There is so much good stuff. We must remain resolute and strong, so that we can continue to utilize our skills and expertise in a thousand ways. To be a blessing to the world (if the world knows it or not).

~~~~~~~~~~
© Arlene Kushner. This material is produced by Arlene Kushner, functioning as an independent journalist. Permission is granted for it to be reproduced only with proper attribution.

If it is reproduced and emphasis is added, the fact that it has been added must be noted.
http://arlenefromisrael.squarespace.com/current-postings/2015/4/16/april-16-2015-then-and-now.html
Posted
on Thursday, April 16, 2015 at 03:35PM
by
Arlene
|
Post a Comment
|
Email
|
Print
Some months ago, I shared with my readers news about a scrupulously researched report, done by Regavim, on the issue of EU facilitation of building of illegal Bedouin settlements in Area C of Judea and Samaria.

(Area C is the region of Judea and Samaria designated by the Oslo Accords as being fully under Israeli control, with regard to both civil and security administration. All Jewish communities beyond the Green Line are in Area C. Area A is fully under PA control, and Area B is under PA civil control and Israeli security control.)

That full report can be found here:
http://regavim.org.il/en/wp-content/uploads/2014/11/Position-Paper-European-Building-in-Area-C-US.pdf

~~~~~~~~~~

Last Wednesday, Regavim ran a tour – in which I participated - to the Mt. Scopus area of eastern Jerusalem and from there into Area C beyond so that participants might see the situation for themselves.

This posting is devoted to the critical situation explored in that tour.

~~~~~~~~~~

In 2009, Salam Fayyad, who was then prime minister of the Palestinian Authority, conceived a plan for establishing a Palestinian state without having to negotiate with Israel.

Part of this plan involves establishing facts on the ground in Area C, and into the eastern perimeter of the Jerusalem municipality, without Israel's permission.

If this this PA effort – which has been ongoing - were to continue unabated, the result would be to:

[] create Arab contiguity with existing Arab neighborhoods such as Beit Hanina and Issawiya;

[] establish a wide corridor running from Bethlehem and the Hevron Hills, south of Jerusalem, to Ramallah, north of Jerusalem;
Credit: cuttingedge

[] generate a disconnect between the Center of Israel and the Jordan Valley (along the Jordan River between the Kinneret and the Dead Sea); the Valley provides an effective security barrier against threats from the east;

[] interfere with the traffic on Route 1, a key transverse artery vital for the transport of equipment in an emergency.

The goal is to co-opt areas that belong to Israel a little at a time, via de facto annexation of parts of Area C. In the process, contiguous Israeli areas would be isolated; most notably, Jerusalem would be cut off from areas to her east.

Area E1 is a region between Jerusalem and Ma'aleh Adumim, to the east.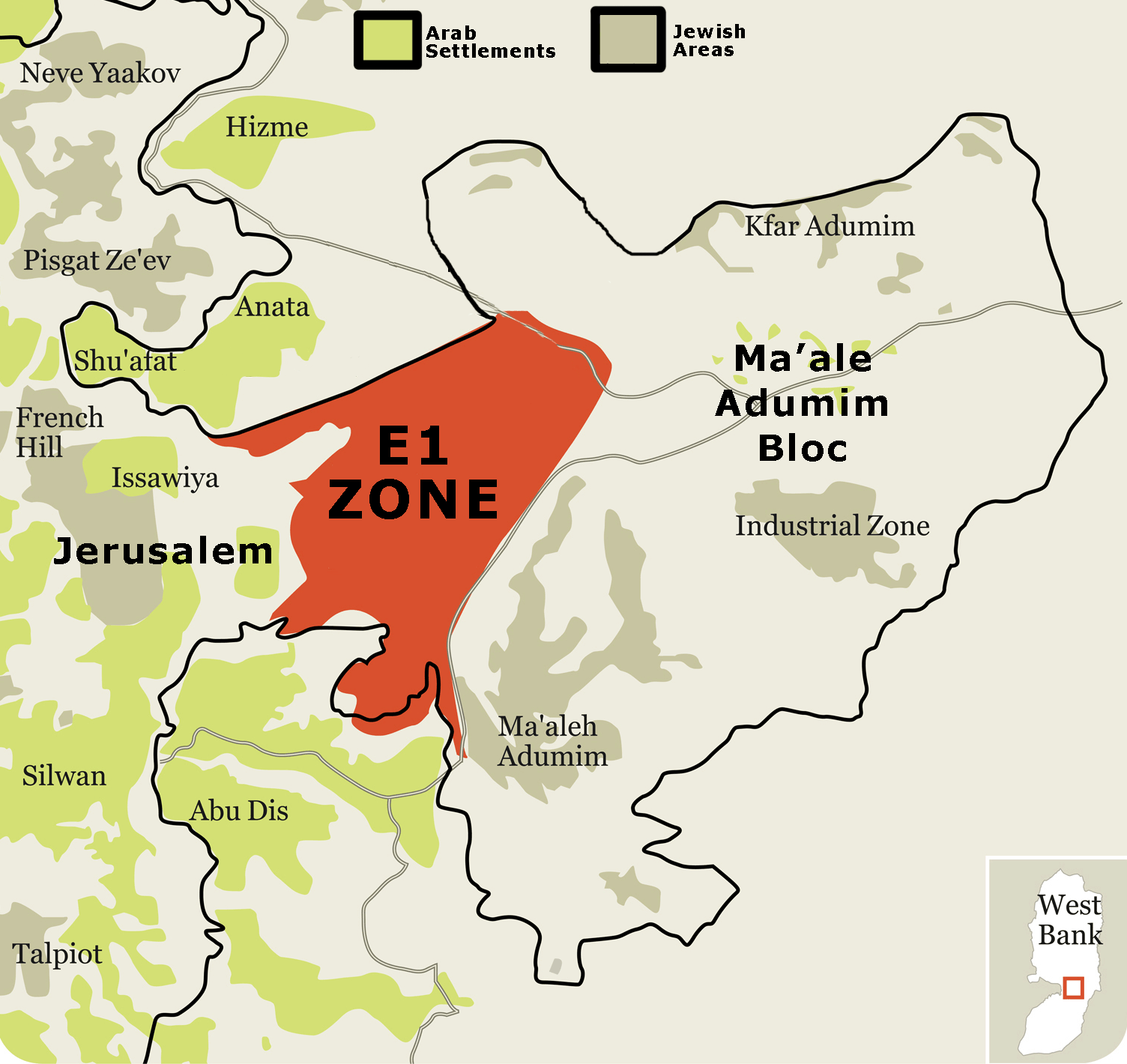 Credit: JewishVirtualLibrary

For years, plans have been in place for Jewish construction in E1. The building hasn't happened, however, because of international pressure; the only thing there is a police station. Today the entire Adumim region has become a major focus of the campaign originally initiated by Fayyad.

~~~~~~~~~~

What the PA decided to do for this major undertaking was utilize (literally, make use of) Bedouin - moving them into Area C from Area A.

I was going to say the PA was doing this surreptitiously, but that is not the case. Perhaps in the beginning it was surreptitious, but now it is very "in your face."

~~~~~~~~~~

Traditionally, the Bedouin are nomadic herders, living in temporarily constructed tents and moving about to search for water and grazing for their animals.



Credit: Neverendingvoyage

But the Bedouin who were moved into Area C were provided first with water tanks, and then subsequently with permanent housing, solar panels and more. The water tanks represented the first step in eliminating the necessity of moving about. Once there was permanent housing, the situation of the Bedouin became just that: permanent.

The picture below, from Regavim, shows permanent structures for the Bedouin in Area C, including a water tank and an outhouse. (Apparently, outhouses were among the first structures to go up).


~~~~~~~~~~

Two years ago, the European Union (the EU) became directly involved in this illegal process. It is hardly a secret that the EU and its constituent nation-members lean politically towards the Palestinian Arabs, and establish policies favorable to them. But the jump from calling Israel an occupier and claiming that "settlements" are illegal to actually supporting this building is qualitative, and significant.

In September 2012, the EU announced a decision to allocate 100 million Euros (roughly equivalent to the same amount in dollars) to the advancement of projects for Arabs in Area C. Seven million Euros were earmarked for "development of land and basic infrastructures in Area C." Some of the remainder of the money is used for advocacy – defense in the courts, etc.

Similar sums have been forthcoming in the years since. And, it should be noted, NGOs that receive funds from the EU are also involved, as are some individual European nations who are members of the EU – primarily Britain and Germany.

~~~~~~~~~~

This is very clearly not about helping poor Bedouins. The EU is not similarly assisting Bedouin in Area A. Or in the Negev, or Jordan. This is blatantly political. According to an EU document cited by Regavim:

"The European Union and Palestinian Authority are actively promoting planning and construction in Area C, which, if successful, will pave the way for development and expansion of the Palestinian Authority's control over Area C."

~~~~~~~~~~

There is a great deal that is wrong with this alarming situation.

First, it contravenes the Oslo Accords – Oslo II, the Interim Agreement, that established the areas of Judea and Samaria – to which the EU had formally served as witness.

That would be enough, but it goes beyond this.

The EU, as noted above, identifies Israel as the "occupier" of Judea and Samaria. In point of fact, Israel is NOT an occupier (a subject I visit often and will come back to again soon). Regavim notes in its report that the Levy Report determined that according to international law Israel cannot be an occupier.

But even if the EU position is accepted, there is a problem. As Regavim explains (emphasis added):

"International law clearly states that the occupying power has lawful administrative authority within the occupied areas, while preserving, as far as possible, the laws in force in those areas.

"...all entities in the area are obligated to obey the laws in force there. Violation of that law is clearly a violation of international law. Thus, violation of the planning and construction laws in Judea and Samaria by the European Union is a gross violation of international law."

The hypocrisy of the EU in this regard is breathtaking. It is quick to point a finger at Israel, to charge her with violating international law, at the same time that it is in flagrant violation.

Area C is administered by the Civil Administration, which is an arm of the Ministry of Defense. A number of regulations regarding building in Area C are in place, involving permits and more. It is certainly not acceptable to simply come along and put up a building without official sanction.

And there is still more, for a good many of the structures that the EU has paid for have been erected on nature reserve land, which means even if permits had been applied for, they would never have been granted. Water that was intended for the wildlife in these areas is being co-opted by the Bedouin.

Add to this environmental abuse, as raw sewage flows from structures the EU has built.

~~~~~~~~~~

One of the things the EU has done when paying for Bedouin structures, is to have stickers placed on them announcing the EU involvement. The sticker is a blue field with a circle of stars.
The fact that the EU is doing this – publicly announcing their participation in an illegal action – seems counter-intuitive at first. But the EU assumption has been that identifying the structures this way provides diplomatic immunity – rendering Israel more reluctant to take them down. After all, Israel wants trade agreements and more with the EU. Why tangle with it on this issue?

In the last two years, 700 EU structures have been built in Area C; 500 have stickers.

~~~~~~~~~~

Any one of us – Israeli or tourist – who has traveled in the Judean desert over the years, has seen small enclaves of Bedouin tents. They seemed rather harmless and pathetic. But what is astounding is how these enclaves – now comprised of permanent buildings - have multiplied recently. There are now 200 such enclaves in Area C, most constructed since the EU became involved. At one point in the tour, we sat on the bus and passed by one after the other. There's one, and then maybe 600 meters away, around a curve in the road, appears another. And then another, and another.

The video below, shot by Regavim via a drone, offers a glimpse of this situation:

https://www.youtube.com/watch?v=2xEOjBOoGH0&feature=youtu.be

~~~~~~~~~~

How did this complex and horrendous situation evolve? And how can it be remedied?

As Meir Deutsch, a Regavim official, said on the tour, The system is broken.

When it comes to demolition of buildings in Judea and Samaria, or eviction of its residents, Begatz, the High Court, must hand down an order. However, the Court relies upon the government to provide information on the situation and make recommendations. In this respect, the government has been remiss.

In 2012, the Court, with government consent, said that the Bedouin cannot be evicted from their homes until alternative homes are provided. And indeed there are plans in place for the establishment of a new Bedouin town north of Jericho - Ramat Nueimah. But those plans are not yet actualized. What is more, the Bedouin – provided with whatever inducements or facing whatever threats - are declaring they do not want to move. The longer they remain where they are, the more they become "facts on the ground."

This situation must be publicized, and pressure must be brought to bear upon the government, so that it begins to establish tougher policies, and make stringent recommendations to the Court. If that alternative housing is provided, and the Ministry of Defense acts, on orders from the government, then the illegal housing can and should be demolished.

Regavim - an NGO advocacy organization comprised primarily of lawyers – plans to be involved in petitions to the Court. There are two potential factors here: Regavim can petition the Court to demand that the government be pushed to act appropriately, and it can make the case against the illegal housing in order to strengthen the government position. It will do PR to promote this matter, as well.

Ari Briggs, a spokesman for Regavim and Director of its International Department, is hopeful that the situation can ultimately be turned around.

~~~~~~~~~~

I do not defend the government in this regard. Not at all. For it has not acted properly on behalf of Israel.

However, I want to note what I see as generating some of the reluctance to act. It is not just the matter of taking a stand against the EU. It is, also, I believe, a fear of negative publicity against Israel, at a time when Israel is so often delegitimized: "Look at these poor Bedouin," the left wing will inevitably cry. "All they want are pathetically simple homes. But Israel will not even permit this." Then we'll hear that we are doing "ethnic cleansing." This is the pattern.

It is time to move beyond what is said about us, and to be strong enough to do what we need to do. Lest we lose our land.

~~~~~~~~~~

The act of preventing the construction of new homes is easier to achieve, especially now that Regavim is on the scene monitoring the situation. If illegal building materials are seen being brought in, or construction is sighted, the Civil Administration can and often does act, if notified.

~~~~~~~~~~

Regavim believes that many citizens of Europe – totally unaware of what is going on in Area C – might be exceedingly unhappy to learn how their tax money is being used. This is especially the case as what the EU is doing contravenes its own charter.

And so Regavim hopes to do publicity in Europe, as well as in Israel. Additionally Regavim wants to see the Foreign Ministry file complaints against the EU.

Lastly, this summer Regavim will attend a meeting with the EU in Brussels, and hopes to bring the foreign minister along, as this will provide greater impact.

~~~~~~~~~~

It is encouraging that Ari Briggs is communicating an optimistic perspective.

Regavim, however, does not operate in a vacuum: Please, do your part by sharing this posting and publicizing this information broadly wherever you can!

~~~~~~~~~~

© Arlene Kushner. This material is produced by Arlene Kushner, functioning as an independent journalist. Permission is granted for it to be reproduced only with proper attribution.

If it is reproduced and emphasis is added, the fact that it has been added must be noted.
http://arlenefromisrael.squarespace.com/current-postings/2015/4/15/april-14-2015-illegal-eu-assistance-to-bedouin-in-area-c.html
Posted
on Wednesday, April 15, 2015 at 03:19AM
by
Arlene
|
Post a Comment
|
Email
|
Print
Pesach is over and it's back to "normal," such as that may be. Posting after posting, I have focused on Iran, and Obama. With good reason: It is a most critical issue. But I would like to at least begin with a look at the PA today. I feel I have been "neglecting" Abbas.
Credit: Reuters

Actually, Mahmoud Abbas has been playing the game every which way that he thinks might work. If you recall, about two weeks ago, the Israeli government announced that it would be releasing collected PA tax funds that had been withheld because of Abbas's declared intentions of joining the ICC and bringing charges against Israel. This looked like a regrettable Israeli concession. But then, Abbas announced that because of the taxes that were to be released, no action against Israel would be pursued in the ICC. And, more than a concession, this began to look like an action against the PA that actually netted results.

What Israel said was that funds withheld through February would be released, and determination regarding release of taxes collected in March would depend the PA.

http://www.jpost.com/Arab-Israeli-Conflict/In-exchange-for-freed-tax-funds-PA-wont-pursue-Israel-over-settlements-at-ICC-395505

~~~~~~~~~~

Ah, but this state of affairs did not last very long. For Abbas quickly learned that Israel was going to retain a percentage of the tax money to cover some part of funds owed to Israel by the PA for services provided to the Palestinian Arab population.

This is what Abbas said last week:

"The Israelis have begun punishing us by withholding the money they collect on our behalf.
"They told us they would release our funds and they did, but after deducting one-third of the sum. Why? Are these debts? Who decides? We told them this is our money and you are not doing us a favor. This is not a donation. We insist on receiving all that belongs to us." (Emphasis added)

http://www.jpost.com/Arab-Israeli-Conflict/Abbas-issues-warning-to-Israel-to-turn-over-funds-or-face-charges-at-the-ICC-396240

What we have here is a sterling example of Abbas's total disregard for facts. As it happens, Israel turned over to the PA 1.37 billion shekels in withheld tax money. Only 160,000 shekels was held back against the gargantuan PA electric bill of over 2 billion shekels. Had we kept the entire sum of withheld tax funds it still would not have covered the outstanding PA debt to Israel. And he complains?

It is Israel that should be saying, "Our electrical services are not a donation – we insist on full payment that belongs to us."

~~~~~~~~~~

Abbas threated to return the sum that was given to the PA, but I have no information that he has done so. The PA needs that money, and it is likely no more another threat.

But let us take a moment to examine WHY the PA so badly needs that money, according to the Palestinian Media Watch, as of October 2014 (emphasis added):

"The number [of public employees] currently registered in the [PA] General Workers' Office comes to approximately 175,000. Yet the total number of recipients of government salaries exceeds 200,000 – if one includes the families of the Martyrs (Shahids) and wounded, as well as the prisoners' and released [prisoners'] pensions – [whose total stipends] constitute approximately 65% of the Palestinian government's monthly expenditure.
"The tax money [the PA] gets back from Israel, which represents two thirds of the Palestinian monthly income...constitutes the basis for the government's ability to continue paying the salaries…"

http://www.palwatch.org/main.aspx?fi=1005

Do the math: families of "martyrs," prisoners, etc. receive stipends that are far more generous than what is paid to ordinary workers.

~~~~~~~~~~

At the beginning of April, Othman Abu Gharbieh, a member of the Fatah Central Committee, declared that Oslo was dead and that there would be no more peace negotiations. The PA, he declared, would be seeking Security Council recognition of a Palestinian state in the pre-1967 lines.

http://www.jpost.com/Middle-East/Senior-Palestinian-official-Oslo-accords-are-dead-395735

Yes, that again...

~~~~~~~~~~

However, last Thursday, according to AFP, announcement was made by Russian officials of a visit to Russia by Abbas that is expected to take place this week. He will be meeting with Putin, and on the agenda will be "ideas on the process of Israeli-Palestinian talks."

http://www.jpost.com/Arab-Israeli-Conflict/Abbas-to-meet-Putin-in-Moscow-on-Monday-396689

Israeli-Palestinian talks? These are the same talks that Abu Gharbieh recently said were dead, but never mind.

Abbas refers to the Russians as friends, and all together this is bad news. The Soviets had a long-standing relationship with the PLO, and Russia today would be glad for a more significant foothold in the Middle East.

~~~~~~~~~~

Hamas-Fatah relations are growing increasingly tense (after a recent bid to try again to re-establish a unity government). Just two days ago, senior Hamas official Mahmoud Al-Zahar charged that Abbas has no legitimacy as president of the PA. I will skip over matters such as PA security cooperation with Israel, which Hamas considers "treachery," and go to the heart of the matter.

Al-Zahar says that Abbas's term expired years ago. And he is absolutely correct. Abbas's term as president expired in January 2009. It is a mark of international hypocrisy that Abbas is treated as an official who represents the PA. Everyone just ignores the fact that new elections have not been held.

~~~~~~~~~~

And now, before closing, just a brief overview of the latest with regard to the Iran nuclear issue. The situation has deteriorated into one of absolute farce, with the two major issues being the matter of sanctions relief and inspections/verification.

Last Thursday, Iran's Supreme Leader, Ayatollah Seyyed Ali Khamenei gave a speech.

The entire translation can be found here: http://defenddemocracy.org/iran-press-review-9-april Significant highlights shared by Omri Ceren of The Israel Project:

"Politically, the most damage will probably come from Khamenei's declaration that nothing was agreed to at Lausanne, and that White House claims otherwise are 'incorrect and contrary to the substance of the negotiations.'

"Substantively, Khamenei's new red lines - if US negotiators ultimately accept them - would detonate the possibility of a verifiable, enforceable deal...

"On verification, he blasted inspections of military sites and ruled out any 'unconventional inspection or monitoring' in general. The military sites demand would gut the IAEA's ability to ensure the Iranians aren't enriching at military bases like Fordow (which they've done) or developing nuclear warheads at military bases like Parchin (which they've also done). Administration officials have been talking about 'managed access' to such sites, which is less than what former IAEA officials say the agency needs and less than the 'snap inspections' lawmakers were told negotiators would bring home - but still more than Khamenei is willing to give. The 'unconventional' demand would prohibit the unprecedented inspection regime President Obama has emphasized is necessary to prevent the Iranians from cheating."
~~~~~~~~~~
Eli Lake has written an article for Bloomberg that Ceren quotes:
"Now [Senator] Kirk feels that there isn't much of an agreement at all. As he told me Thursday, 'Because Iran refuses to agree to the same framework for a final deal as the United States, and because Iran still strongly disputes basic issues like how a final deal will address comprehensive sanctions relief, uranium enrichment, and coming clean on Iran's military nuclear activities, I believe the full Senate should vote, sooner rather than later, on the bipartisan Nuclear Weapon Free Iran Act of 2015.'"
The issue is not even one of who is telling the truth in the dispute between the US and Iranian version of the agreement. It is, rather, that if Iran has not signed on to the US version, and is determined to get its way, there is no agreement.

~~~~~~~~~~

Let's close with some good news:

"British Christian groups are circulating a declaration expressing appreciation for Israel as a safe haven for Middle East Christians, support for bolstering ties with the Jewish state, and a call to combat anti-Semitism.

"Called the 'Shalom Declaration,; the document states, 'We deeply appreciate that Israel is the only country in the Middle East which extends freedom of worship to all its citizens and where the Christian community is growing.'"

http://www.algemeiner.com/2015/03/10/uk-groups-circulate-declaration-of-appreciation-for-israel-as-safe-haven-for-christians/

~~~~~~~~~~

© Arlene Kushner. This material is produced by Arlene Kushner, functioning as an independent journalist. Permission is granted for it to be reproduced only with proper attribution.

If it is reproduced and emphasis is added, the fact that it has been added must be noted.
http://arlenefromisrael.squarespace.com/current-postings/2015/4/13/april-12-2015-the-pa-and-more.html
Posted
on Monday, April 13, 2015 at 03:06AM
by
Arlene
in Abbas, Iran, PA, negotiations
|
Post a Comment
|
Email
|
Print
Here in Israel, the world sort of floats in limbo over the Pesach week; and so I thought that perhaps I would not post until the holiday was over. But life does go on, and I've decided to write.

But before I move to the serious matters calling for attention, let me share this lighthearted video for Pesach, done by the students of the Technion (a top notch university – Israel Institute of Technology) in Haifa, specifically for Pesach:

https://www.youtube.com/watch?v=baQfqoZrEvI

~~~~~~~~~~

Then, moving on, and hoping your spirits have been lifted...

I'm seeing a huge number of commentaries regarding the Iran situation, and obviously cannot share any significant portion of them.

Actually, what I am finding most interesting is the way in which Obama is walking back several of his positions of last week. This is, of course, in response to severe criticism that has been directed at the framework agreement with Iran and at his hard-nosed attitude. I will come back to this.

~~~~~~~~~~

Whatever my other disagreements and disappointments with Bibi Netanyahu, I continue to salute him for speaking out on the Iran issue. There are those (writing in some of those commentaries) who think he's wasting his breath because no one is listening. I disagree. He has affected the dialogue on Iran and modeled a forthright approach.

Yesterday, Bibi asked some particularly pertinent questions (the deal is so full of holes there are always more questions):

"Why doesn't the framework address Iran's intercontinental ballistic missile program whose sole purpose is to carry nuclear payloads?" (Emphasis added)

And..."What is to stop Iran from using the over one hundred billion dollars that will be unfrozen as part of this agreement to fund aggression and terror in Iraq, Syria, Lebanon, Yemen and elsewhere?"

http://www.israelnationalnews.com/News/News.aspx/193787#.VSVc4ZuJjIV

Hmm...That first question is particularly pertinent, as Iran aims to develop intercontinental ballistic missiles that reach the US.

Joining Bibi in his forthright approach have been members of his government, such as Yuval Steinitz.

~~~~~~~~~~

And I am pleased that Israel is is not alone in criticizing the agreement.

There are Arab nations highly critical of Obama, although their criticisms are less direct than Israel's. See Khaled Abu Toameh's piece on this:

"Arab leaders and heads of state were polite enough not to voice public criticism of the agreement when President Barack Obama phoned them to inform them about it. But this has not stopped Arab politicians, political analysts and columnists reflecting government thinking in the Arab world from lashing out at what they describe as 'Obama's bad and dangerous deal with Iran.'"

http://www.gatestoneinstitute.org/5493/arabs-blast-obama-deal-with-iran

~~~~~~~~~~

Most significantly, there are key members of Congress speaking out.

Right after the framework deal was announced, Senator Mark Kirk (R-IL) blasted it in no uncertain terms (emphasis added):

"Neville Chamberlain got a lot of more out of Hitler than Wendy Sherman [State Department negotiator] got out of Iran," he declared.

There's nothing for Iranians to do but go at breakneck speed to a nuclear weapon. We're moving straight to forcing Israel to clean up this mess … when the West does nothing, Israel over and over has done something....we shouldn't force our best ally in the region to clean up the mess."
http://www.politico.com/story/2015/04/mark-kirk-iran-deal-react-nazi-116632.html
A man who pulls no punches.
Credit: Politico

~~~~~~~~~~
On April 14, the Senate Foreign Relations Committee will be voting on the Iran Nuclear Agreement Review Act of 2015, which would require the Obama administration to submit the final nuclear deal with Iran to Congress for review and approval.

Committee Chair, Senator Bob Corker (R-Tenn.) said on Sunday that "it's very important that Congress is in the middle of this, understanding, teasing out, asking those important questions."

Then on Monday, Senate majority leader Mitch McConnell stated that:

"We cannot forget that Iran is pursuing a full-spectrum campaign to expand its sphere of influence in the greater Middle East.

"The administration needs to explain to the Congress and the American people why an interim agreement should result in reduced pressure on the world's leading state sponsor of terror."
http://www.algemeiner.com/2015/04/07/senate-foreign-relations-committee-to-vote-on-iran-nuclear-agreement-review-act/
~~~~~~~~~~
It is a matter of certainty that Obama will veto this bill, and so 67 votes supporting it are needed to override that veto. Senator Corker has indicated that there are already 65 who will be voting in favor. Two more votes are necessary.
And so, please! contact your Senator without delay. If you are certain that he or she will be voting for this bill, offer thanks and express your understanding of how important this is. If you are in doubt as to whether your Senator will be supporting the bill, urge that he or she do so. Say it is a matter of critical importance, and that you will be watching.
http://www.senate.gov/general/contact_information/senators_cfm.cfm
~~~~~~~~~~
Now, as to the Obama walkback: nothing is more astonishing (and disingenuous!) than his new, improved stance on Israel. In an interview with Tom Friedman on Sunday, he declared that:
"It's been a hard period. It has been personally difficult for me to hear" accusations that "this administration has not done everything it could to look out for Israel's interest...if anybody messes with Israel, America will be there."
http://www.bloomberg.com/news/articles/2015-04-05/obama-says-iran-accord-doesn-t-forgo-defense-or-abandon-israel
This is best read on an empty stomach. What would be personally difficult for most of us would be to swallow this self-serving drivel. But I imagine that, unfortunately, there are some who will buy it.
Obama now feels so kindly disposed to Bibi that he is planning on inviting him to the White House after the coalition is formed.
http://www.jewishpress.com/news/breaking-news/obama-to-invite-bibi-after-coalition-formed/2015/04/06/
Yes, this is the same Obama who refused to see Bibi when he came to address the Congress.
~~~~~~~~~~
Elliot Abrams, Former US Deputy National Security Adviser, has penned a potent response to Obama's hot air assurances to Israel (emphasis added):
"Several times in this interview the President went out of his way to suggest that he fully understands Israel's security problems, but the full text suggests that he does not–because he believes that his statements that 'if anybody messes with Israel, America will be there' and would 'stand by them' actually solve any of those problems...
"What does 'messes with Israel' mean? No one has the slightest idea. The President unfortunately uses this kind of diction too often, dumbing down his rhetoric for some reason and leaving listeners confused. Today, Iran is sending arms and money to Hamas in Gaza, and has done so for years. Is that 'messing with Israel?...Iranian Revolutionary Guards, along with Hezbollah troops, are in southern Syria now near the Golan. Is that 'messing with Israel?' And what does the President mean by 'America will be there?' With arms? With bandages? With the diplomatic protection his administration is now considering removing at the United Nations?"
http://www.algemeiner.com/2015/04/07/leading-former-official-says-israelis-wont-be-reassured-by-obamas-security-pledges-following-iran-agreement/
~~~~~~~~~~
At some level, Bibi has little choice but to accept this new approach at face value – i.e., he will have to go to the White House. It falls to him to spin it so that it is of maximum utility to Israel – perhaps extracting certain military guarantees. Unfortunately, the "two state" solution is likely to be at the top of Obama's agenda when they meet. (And in coming days I'll have much to say about that issue, which never dies.)
~~~~~~~~~~
One of the most convoluted statements that has been offered by Obama on the benefits of the deal is this, from an NPR interview:
It is, he said "a relevant fear" that "in year 13, 14, 15, [the Iranians] would have advanced centrifuges that enrich uranium fairly rapidly, and at that point the breakout times would have shrunk almost down to zero.
"Keep in mind, though, currently, the breakout times are only about two to three months by our intelligence estimates. So essentially we're purchasing for 13, 14, 15 years assurances that the breakout is at least a year...that if they decide to break the deal, kick out all the inspectors, break the seals and go for a bomb, we'd have over a year to respond. And we have those assurances for at least well over a decade.
"And then in years 13 and 14, it is possible that those breakout times would have been much shorter, but at that point we have much better ideas about what it is that their program involves. We have much more insight into their capabilities. And the option of a future president to take action if in fact they try to obtain a nuclear weapon is undiminished."
http://www.israelnationalnews.com/News/News.aspx/193763#.VSVjQZuJjIV
~~~~~~~~~~
Immediate and vociferous criticism followed this statement: The president, went the charge, has now admitted that the deal would not stop Iran from every getting a nuclear weapon, as promised. It would simply make it perhaps a bit more difficult for some 15 years, after which breakout would be close to zero.
Spokespersons for the White House argued that the "zero breakout time" the president referred to was only if there was no deal.
~~~~~~~~~~
Our prime minister certainly isn't buying this. Iran's post-deal breakout time will be zero, he says. And with good reason:
Iran's foreign minister, Javad Zarif, has now announced that once a deal is signed at the end of June, and sanctions are lifted, Iran will move over to using its most advanced centrifuges.
These are the IR8 centrifuges, which enrich uranium 20 times faster than the current IR-1 models, meaning they would radically reduce the breakout time needed for Iran to obtain a nuclear arsenal. (Emphasis added)
http://www.israelnationalnews.com/News/News.aspx/193800#.VSVpo5uJjIX
Dear friends, digest this information carefully. Be very afraid of where this is leading, and very furious at the president of the US, who has the gall to promote his deal.
~~~~~~~~~~
The good news here – if there is any good news on this - is that there really is no deal. Not yet. And so there's time to stop what Obama would like to achieve.
Bret Stephens, writing in the WSJ, tells us that:
"what the president calls 'this verifiable deal' fails the first test of verification—mutual agreement and clarity as to what, exactly, is in it....

"The deal cannot be verified," he says, as "there are significant discrepancies between the U.S. and the Iranian versions of the deal."

http://www.wsj.com/articles/bret-stephens-obama-and-the-inevitable-critics-1428361609

According to Steve Emerson's Investigative Project on Terrorism, the French have still another version.

http://www.investigativeproject.org/4817/report-internal-french-document-shows-troubling
~~~~~~~~~~
Times of Israel editor David Horovitz writes, in "The unfolding farce of Obama's deal with Iran" that:
"Time and again, President Barack Obama and his indefatigable secretary of state promised that they and their P5+1 negotiating partners would not sign a bad deal with Iran on its nuclear weapons program.
"And, lo, they were as good as their word. They didn't sign a bad framework deal in Lausanne, Switzerland, last week. They just agreed on one in principle, and left it unsigned, allowing for multiple conflicting interpretations." (Emphasis added)
http://www.timesofisrael.com/the-unfolding-farce-of-obamas-deal-with-iran/
~~~~~~~~~~
Of course, it is Obama's deepest hope that this unsigned agreement will go through in one version or another (likely the version most satisfactory to Iran – regardless of what the president has told his people and the world), and become a signed deal by the end of June.
But it is the responsibility of every individual who can see past the president's hype to the dangers looming large, to do everything possible to make sure it does not become a signed deal.
In the US, the most important vehicle for blocking Obama is Congress – a Congress that must be informed by its constituency of its urgent concern.
But it is also important to inform those Americans who may be buying what they are told. Write letters to the editor and Internet talkbacks on this issue. Speak to people.
~~~~~~~~~~
In Israel, we must pray that our government will have the strength to do whatever must be done.
~~~~~~~~~~
Tomorrow night is holiday again – the seventh and in Israel the last day of Pesach. (Outside of Israel, there is an eighth day.)
I want to end here with one of my very favorite songs, which I have shared before: Yehi Sheamda.
This video features Yaakov Shwekey and Yonatan Razel, who wrote the vocal arrangement, at the piano.
The words. The words are straight out of the Pesach Haggadah:
And so it has stood for our fathers and for us, that it wasn't just one nation alone that rose up against us to destroy us, and The Holy One, Blessed is He, saves us from their hand.
A song of faith and of hope. Appropriate for this Pesach season, and for this time of threats to the Jewish people. Our history is a story of miracles. Let it be so now.
https://www.youtube.com/watch?v=mo6WMef3SP0
Enjoy!
~~~~~~~~~~
© Arlene Kushner. This material is produced by Arlene Kushner, functioning as an independent journalist. Permission is granted for it to be reproduced only with proper attribution.

If it is reproduced and emphasis is added, the fact that it has been added must be noted.
http://arlenefromisrael.squarespace.com/current-postings/2015/4/8/april-8-2015-mid-pesach.html
Tomorrow night begins Pesach.

A quintessential moment in the Jewish year, providing a powerful perspective: The Almighty heard the cry of the Children of Israel, who were suffering bitter slavery in Egypt. And He brought us out. Not an agent, but the Almighty. "Us" because we are commanded to consider ourselves as having been rescued then.
Credit: jfjfp

In that rescue, that Exodus from Egypt, we became a nation – ultimately brought to Mt. Sinai to receive the law, which instructs us to this day. And then brought to the land. It is of one piece.

Let us not forget the lessons of seder night. And may those lessons transcend what is going on in the world today.

To all who celebrate, Chag Pesach Kasher V'Sameach.

~~~~~~~~~~

After days of tortuous dragging out of negotiations with Iran, a "sort-of" conclusion has been announced. The advent of the holiday makes it impossible for me to comment at length on what is currently going on. Details will be forthcoming in my postings next week, after time spent with family and when I have returned to a "normal" writing schedule. Here I wish to simply review fairly quickly.

There is no signed agreement. There is only a "framework" - the Joint Comprehensive Plan of Action - that will require much working out of specifics by the end of June.

~~~~~~~~~~

Obama tonight called the agreement "historic" – if finalized it "would cut off every path" to Iran's development of a nuclear weapon, and would include the toughest inspections "ever negotiated...If Iran cheats, the world will know it. If we see something suspicious, we will inspect it."
http://www.timesofisrael.com/world-powers-iran-announce-framework-for-nuke-deal/

Give us a break! Only those eager to be taken in, only those who are so hungry for this issue to be put to rest, would believe this. Unfortunately, this describes a good number of people. Remember that Iran has a history of cheating, of moving ahead in secrecy on nuclear development.

The US speaks about re-imposing sanctions immediately if Iran were found cheating. But this is a dubious proposition, as Russia and China are likely to balk, so that Iran would be able to cheat AND have sanctions relief.

According to Jeffry Lewis, nuclear proliferation expert, "These treaties never really have an enforcement mechanism, which is, from a legal perspective, kind of weird and kind of a bummer, but totally understandable in a world of states that jealously guard their sovereignty." (Emphasis added)

https://www.vox.com/2015/4/2/8336723/iran-nuclear-deal-transcript

No enforcement mechanism? This means Iran must be trusted to keep the deal?

~~~~~~~~~~

Obama has the unmitigated gall to say there is no daylight between Israel and the US with regard to the security of Israel. This deal, he claims, is the best way to protect Israel. He's slick – attempting to sideline Netanyahu as an aggressive individual who prefers tough sanctions or even a military attack to this splendid deal that solves everything.

Israeli officials say they will continue to fight this agreement until its date for being finalized in June.

They referred to the framework as "a capitulation to Iranian dictates." Speaking on condition of anonymity, they called it "a bad framework that will lead to a bad and dangerous agreement." If finalized, it would make the world "far more dangerous."
The agreement, they maintained, constitutes "international legitimization of Iran's nuclear program" whose "only purpose is to build nuclear weapons." (Emphasis added)
http://www.timesofisrael.com/world-powers-iran-announce-framework-for-nuke-deal/

We have yet to hear from members of Congress – but we will.

~~~~~~~~~~

I note, as well, that all Western negotiating partners are not on board with the same enthusiasm that Obama exudes.

French Foreign Minister Laurent Fabius and President Francois Hollande welcomed the "framework" but expressed the opinion that there was much work to do to before there could be an acceptable deal.

~~~~~~~~~~

I share this, from Omri Ceren of The Israel Project (emphasis added):
"[Iranian Foreign Minister] Zarif just finished his speech...some of what Zarif revealed has already generated controversy. There was a lot of braggadocio in the speech: no closing of facilities, R&D will continue on Iran's scientific schedule, enrichment will continue, the heavy water at Arak will be modernized, etc.
"Perhaps most relevant to people who have been following the day-to-day in Lausanne, is that Zarif confirmed the U.S. has completely caved on the Fordow concession that the AP blew open on Thursday. Recall that Fordow is the underground bunker, built into the side of a mountain, which the Iranians emptied and made into an illicit enrichment facility. The assumption had always been that the Iranians would have to close it under any reasonable deal.
"President Obama was saying as late as 2012: 'We know they don't need to have an underground, fortified facility like Fordo in order to have a peaceful program'...
"The Iranians simply said no...So the Americans caved and said that they could keep it open as a research facility, but they had to remove all the centrifuges for storage...there was a lot of talk of Iranian flexibility when they accepted it...Then this week, it emerged that in fact the Iranians would be allowed to keep centrifuges spinning inside the mountain.
"But instead of spinning uranium, the centrifuges would be spinning germanium or similar non-nuclear elements. Centrifuges spin isotopes into lighter and heavier elements, thereby enriching' the material. That's what they do. In fact that's all they do. The administration has gone all-in on a talking point can be defeated by a Google search for 'centrifuges enrich germanium'...
"This isn't a minor point. The concession has the potential to gut the whole deal."
"[It] allows...centrifuge R&D beyond the reach of the West- since the process is the exact same process, Iran will have a hardened facility where it will be able to research and develop N-generation centrifuges. Zarif bragged from the stage in Lausanne that Iranian R&D on centrifuges will continue...the development of advanced centrifuges would give the Iranians a leg up if they decide to break out, and will put them instantly within a screw's turn of a nuke when the deal expires.
"[It] leaves Iranian nuclear infrastructure running beyond the reach of the West - if the Iranians kick out inspectors and dare the world to respond, the West will have zero way to intervene..."
http://www.algemeiner.com/2015/04/02/critics-say-just-announced-framework-deal-between-p51-and-iran-raises-many-concerns/
~~~~~~~~~~
A bit of clarification here, regarding the Fordow site and the enrichment of germanium:
"...the centrifuges could only be used to enrich germanium, zinc, and other non-fissile materials. But the centrifuges are identical in design to those used for uranium enrichment, and can quickly be retooled for uranium enrichment.
"Critics are concerned that Fordow could be used to perfect advanced uranium enrichment centrifuges using uranium stand-ins and in a location secure from outside attack."
http://www.businessinsider.com/iran-nuclear-deal-chances-2015-3

~~~~~~~~~~

And in closing, this additional information just in from Omri Ceren:
"The issue of sequencing sanctions relief - how, when, and to what extent sanctions will be lifted in exchange for Iranian compliance - was one of the key sticking points over the last week...
"Achieving an understanding on sanctions would have to be counted as a major achievement, and it's already being claimed as such. But there's something wrong here. I haven't figured out what it is yet, but I'm pretty sure I don't like it...
"The EU/Iran joint statement says sanctions will be terminated 'simultaneously' with Iran implementing its obligations...
"The White House factsheet says sanctions will be suspended 'after' Iran has taken 'all' of its nuclear-related steps...
"Zarif is already saying the White House is lying about how sanctions will be lifted... (emphasis added)
"The last time Zarif accused the Obama administration of lying on a factsheet was after the JPOA was announced, in the context of granting a 'right to enrich.' He was 100% right and the Americans were 100% wrong.
"It's not clear what the actual sanctions deal is, but it's worrying that there are already differences...If the Iranians are right, then the White House is again misleading journalists and lawmakers about the actual scope of their concessions."
~~~~~~~~~~
© Arlene Kushner. This material is produced by Arlene Kushner, functioning as an independent journalist. Permission is granted for it to be reproduced only with proper attribution.

If it is reproduced and emphasis is added, the fact that it has been added must be noted.
http://arlenefromisrael.squarespace.com/current-postings/2015/4/3/april-2-2015-the-only-clarity.html
Posted
on Friday, April 3, 2015 at 04:48AM
by
Arlene
in Iran, Israel, Obama, US, Zarif, nuclear enriichment
|
Post a Comment
|
Email
|
Print