Along with the bad news, we can see those who do get it and respond appropriately. I will describe what I have learned briefly – briefly being my practice, of necessity, before Shabbat.

The first issue is the matter of Obama's State of the Union threat to veto any legislation regarding sanctions against Iran. The issue was misrepresented, as, in fact, the sanctions under the proposed Kirk-Menendez legislation would not kick in until and unless negotiations failed. The current negotiating deadline is June 30. There have been two extensions already and it becomes ridiculous – the Iranians are being provided with the opportunity to advance their agenda. Obama's argument that this legislation would inhibit negotiations is nonsense – on the contrary, it would "motivate" Iran to negotiate.

On Tuesday, a letter was sent to the president, signed by 10 Senate Democrats, telling him that by March 24, but not before, they would vote for legislation to impose sanctions on Iran if the Iranians refuse to commit to a "political framework that addresses all parameters of a comprehensive agreement." Menendez was among those who signed the letter.

There was a widespread reaction when this news broke interpreting this as a setback for those who want to see the Kirk-Menendez legislation pass. I didn't understand that, because Obama was simply being given a bit of leeway before action on the bill would kick in. And what was significant was that 10 Democrats were now prepared to support this legislation – (with the considerable exception of Menendez, and then Charles Schumer) it had been labeled a partisan "Republican" effort. Now this was clearly no longer the case.

The ten who signed the letter were: Menendez, Schumer, Blumenthal, Peters, Casey, Cardin, Coons, Manchin, Donnelly, and Stabenow. If you are a constituent of one of these, you might want to write and thank him/her for readiness to support the bill.

~~~~~~~~~~

Fast forward to the Banking Committee, which had to pass on the Kirk-Menendez legislation. The 10 Democrats had pledged not to vote on this legislation until March 24 – but that was on the floor of the Senate. There was no commitment regarding a holding pattern in the Banking Committee.

The very good news here is that yesterday it passed through the Committee 18-4, with three additional Democrats who had not signed the letter - Tester, Heitkamp, Warner - voting for it.

There are then three Democratic Senators - Booker, Bennett, Gillibrand - who had voted for an earlier version of the Kirk-Menendez bill, and are expected to support this version, although they didn't sign the letter.

And so, the bottom line – according to Omri Ceren of The Israel Project – is that the way seems clear for it to be brought to the floor, and it looks as if the vote, come March 24, should be veto-proof.

And this is before Netanyahu speaks to the Congress. His words might bring along additional votes.

Obama, who does not take defeat lightly, is clearly not a very happy man right now (see second story below).

~~~~~~~~~~

The story broke three days ago in the Free Beacon (emphasis added):

"A U.S. State Department funded group is financing an Israeli campaign to oust Prime Minister Benjamin Netanyahu, and has hired formed Obama aides to help with its grassroots organizing efforts.
"U.S.-based activist group OneVoice International has partnered with V15, an 'independent grassroots movement' in Israel that is actively opposing Netanyahu's party in the upcoming elections, Ha'aretz reported on Monday. Former national field director for President Obama's 2012 reelection campaign Jeremy Bird is also reportedly involved in the effort.
"OneVoice development and grants officer Christina Taler said the group would be working with V15 on voter registration and get-out-the-vote efforts but would not engage in overtly partisan activities. She said OneVoice and V15 are still formalizing the partnership.
While V15 has not endorsed any particular candidates, it is working to oppose Netanyahu in the March elections.
"'We've formed a partnership with [V15], but it's important to know we're absolutely nonpartisan,' Taler told the Washington Free Beacon. 'Our biggest emphasis and focus right now is just getting people out to vote.'
"OneVoice said in a press release on Tuesday that it is teaming up with V15 because Israel 'need[s] a prime minister and a government who will be responsive to the people."'
http://freebeacon.com/national-security/state-department-funded-group-bankrolling-anti-bibi-campaign/

~~~~~~~~~~

Clearly, this is not the "good news." This is an outrage above and beyond. I have difficulty here giving voice to how I responded to this, because I try to write very professional pieces, and what I have to say would not be quite "professional."

The direct meddling in our election, not for positive reasons, but in an effort to oust Netanyahu because Obama despises him, cannot be tolerated. And this is the same Obama who has refused to meet with Netanyahu when he comes to speak to Congress, "because it's wrong to influence the election."

My own hope would be that Israelis, on learning of this, would be so enraged by the meddling that they would make a point of – dafka! – voting for Netanyahu, because the State Department cannot tell us which candidate we should support. (Dafka? Just so. In spite of. To the contrary. Spoken a bit ironically.) It is said that we Israelis are a "dafka" people, and that is how we survive.

~~~~~~~~~~

This news has been picked up and put out by a variety of sources.

Head of NGO Monitor, Gerald Steinberg, has blasted the State Department over this action.

"Steinberg pointed out that American taxpayer funds have been used for similarly politically-charged projects in the recent past. In 2012, USAID, the US's largest provider of foreign assistance, donated millions of dollars to Israeli NGOs through the 'Peace and Reconciliation Program,' which included support for the so-called "Geneva Initiative" – another grassroots project pressuring the Israeli government to make concessions to the Palestinians.
"'After public exposure, the funding was discontinued,' Steinberg said." (Emphasis added)
http://www.algemeiner.com/2015/01/28/ngo-monitor-head-slams-use-of-american-taxpayer-funds-to-finance-anti-netanyahu-campaign/

~~~~~~~~~~

So that's the first order of business, folks. Scream long and loud about this. Protest to your elected representatives. Put this information out wherever you can – in letters to the editor, Internet talkbacks, on your FB pages, etc. etc. In the US make the point that taxpayer money is being used improperly. This CAN make a difference, and it falls to each of you to do your part. Don't sit still for this. Be enraged in a pro-active manner.

~~~~~~~~~~

And the good news? "U.S. Sen. Ted Cruz, R-Texas, and Congressman Lee Zeldin, R-NY-1, today sent a letter to Secretary of State John Kerry asking for information regarding media reports that U.S. taxpayer dollars are being used to fund efforts to influence upcoming elections in Israel."

Said Senator Cruz: "This administration's relentless harassment of Israel is utterly incomprehensible. The Islamic Republic of Iran is pursuing the deadliest weapons on the planet, and there can be no doubt that their first target will be Israel, followed by the United States. This administration should be focusing its animosity on the very real enemies we face, not on our staunch allies." (Emphasis added)

The letter requests answer to eight questions.

You can see the full letter here:

http://www.cruz.senate.gov/files/documents/Letters/20150129_Letter_to_Secretary_Kerry.pdf

We've got good people working for what is right.

Shabbat Shalom

~~~~~~~~~~

© Arlene Kushner. This material is produced by Arlene Kushner, functioning as an independent journalist. Permission is granted for it to be reproduced only with proper attribution.

If it is reproduced and emphasis is added, the fact that it has been added must be noted.
http://arlenefromisrael.squarespace.com/current-postings/2015/2/1/january-30-2015-the-good-news-that-is.html
Posted
on Sunday, February 1, 2015 at 06:47AM
by
Arlene
|
Post a Comment
|
Email
|
Print
All is quiet in the north now. There are those who think it's just a matter of time until we are attacked again, and that we are certainly closer to major hostilities than we were before this most recent attack. That something major is coming down the road, at some point, is clear. But I would not rush to assume that we are now closer to it.

Hezbollah sent a message via Gen. Luciano Portolano, commander of UN forces in Lebanon (UNIFL), overnight, indicating that they are not seeking an escalation of tensions.

http://www.timesofisrael.com/hezbollah-conveys-to-israel-it-does-not-want-escalation/

As was expected, Hezbollah declared that it considered this an "eye for an eye" regarding our hit on their people in the convoy in the Golan. Their honor, dignity, whatever, has ostensibly been salvaged with the death of two of our soldiers, and for now they are content.

~~~~~~~~~~

Among political analysts there are two schools of thought regarding Hezbollah's current situation. One says that this radical terror group, in fighting for Assad in Syria, has been depleted (hundreds of their fighters killed) and drained – and thus is in no mood to take on Israel now. The other says that whatever the stresses of fighting have been for Hezbollah, the experience has honed their battle skills so that they are better equipped to confront Israel than they were before.

I am not certain that the two are necessarily mutually exclusive. They might decide to wait before advancing a major confrontation, but might ultimately be more dangerous opponents than they would have been if not for the Syrian battles.

Maj. Gen. (ret.) Yaakov Amidror, former national security advisor, says that the last thing Hezbollah needs now is to open a second front: "The chances (of an escalation) are very slim, almost none,"

http://www.israelnationalnews.com/News/News.aspx/190676#.VMpJKJv9nIU

~~~~~~~~~~

Other matters, as well, must be factored into predictions regarding Hezbollah actions in the coming days and months:

There is, as I have mentioned, great dissatisfaction inside of Lebanon with what Hezbollah is doing. See more about the mounting criticism here:

http://www.ynetnews.com/articles/0,7340,L-4620415,00.html

And there are also apparently financial difficulties for Hezbollah. It "may be on the cusp of a financial crisis":

http://www.algemeiner.com/2015/01/19/hezbollah-gripped-by-major-financial-crisis/

~~~~~~~~~~~

And, most significantly, there is Iran. If Hezbollah were to take on Israel in a major confrontation, it would be at the bidding of Iran; Many analysts believe that Iran would be reluctant to "waste" Hezbollah on this now, when it is not yet time. Hezbollah is being "saved" for the moment when Israel might decide to attack Iran. (More about Iran below.)

~~~~~~~~~~

Then, of course, on the other side, there is the reluctance of Israel's leaders to engage in a major confrontation with Hezbollah now (the proclamations of Foreign Minister Lieberman regarding the need to do more notwithstanding). We are in an election campaign, and a war now would not serve Netanyahu's electoral aspirations. The death and damage that would ensue would cause many to turn against him – whether fairly or not.

~~~~~~~~~~

But let me add, lest the above be read improperly: while our leaders may not wish to go the route of war now, our military is prepared and on the alert, and would respond if necessary. The IDF is actually on high alert in the north, and has begun searching for tunnels Hezbollah may have been excavated a la Hamas.

http://www.jpost.com/Israel-News/IDF-drilling-in-northern-Israel-amid-fears-of-Hezbollah-attack-tunnels-389236

~~~~~~~~~~

What I must say is that I wish never, ever again to see pictures such as these below here in Israel, or to have to share them. These were taken at the funeral of Maj. Yochai Kalangel, 25, who was killed by Hezbollah. He was buried in the military cemetery at Har Herzl earlier today. Perhaps some can look at these photos without a wrenching of the heart or a tear in the eye, but I cannot. Nor can many others here. The pain is palpable.

The woman is Kalangel's widow, who has a one year old child. I am assuming the man is his father, who said at the funeral that "Where you should have buried me, I bury you."
Credit: IsraelNationalNews

Credit: Yonatan Sindel/Flash 90

~~~~~~~~~~

St.-Sgt. Dor Haim Nini, 20, from Shtulim, was buried in his home village later in the day today. Yesterday, his girlfriend, Sahar, posted a picture of the two of them on Facebook, and wrote "good morning my love." Nini saw it, "liked" the photo and wrote, "you are my life. I love you." Hours later, he had been killed.

Good people, good soldiers cut down in their young lives. I never want to have to share such photos or stories again. But as surely as I am sitting at my keyboard now, I know I will have to.

~~~~~~~~~~

It is worth mentioning that the US stance on this was supportive. Jan Psaki, State Department spokeswoman, said: "We support Israel's legitimate right to self-defense." She added that Washington condemned the attack.

http://www.timesofisrael.com/us-israel-has-right-to-self-defense-against-hezbollah/

This statement lacked the absolute "evenhandedness" that so often mars comments from State; apparently it's politically correct to criticize Hezbollah.

~~~~~~~~~~

Netanyahu, in the last couple of days, has pointed a finger at Iran, as being ultimately responsible for the Hezbollah attack.

"Iran is the one which is responsible for arming, organizing, funding and deploying terrorists on Israel's northern and southern borders." (Emphasis added)

http://www.jerusalemonline.com/news/politics-and-military/politics/netanyahu-iran-behind-hezbollah-attack-11327

~~~~~~~~~~

In another statement yesterday, the prime minister said, "For some time, Iran – via Hezbollah – has been trying to establish an additional terrorist front against us from the Golan Heights." (Emphasis added)

http://www.jpost.com/Arab-Israeli-Conflict/Netanyahu-blames-Iran-for-northern-border-attack-389343

And I think with this we come full circle. We attacked the convoy in the Golan because intelligence suggested a good possibility that high level military personnel were present in order to advance plans for establishing a base there that might even include rocket launching equipment.

Now there is talk in some quarters about the need for stronger Israeli action against the killing of our soldiers in the attack launched from Lebanon – the claim is that this is necessary for deterrence. But as I see it, our deterrence was advanced most powerfully via the attack on the convoy in the Golan. Hezbollah seeks that base in order to be able to attack Israel without involving Lebanon. But Hezbollah and Iran have been warned that we are on to their intentions and will not permit this.

~~~~~~~~~~

On the subject of Iran, I share here two articles.

The first, by Shoshana Bryen, Senior Director, Jewish Policy Center: "Iran Doesn't Need Nuclear Weapons" (emphasis added):

"In his State of the Union address, President Obama forcefully announced he would not accept 'a nuclear-armed Iran.' This reflects his view that the only objectionable element of Iran's behavior would be acquisition and possible use of such weapons. This is conveniently narrow.

"While the ability to produce nuclear weapons quickly and in secret – if it hasn't already done so – is important, Iran pursues a wide variety of long-term Shiite religious and Persian imperial goals in the Middle East and Africa, and in the Western Hemisphere...

"...With his focus solely on nuclear weapons, President Obama has missed perhaps the last, best opportunity to stymie the mullahs.
http://www.americanthinker.com/articles/2015/01/iran_doesnt_need_nuclear_weapons_.html

~~~~~~~~~~

And then, Khaled Abu Toameh, "How Iran is Circling the Gulf and Israel" (emphasis added):
"...Relations between Iran and Hamas had become strained after Hamas's refusal to support the regime of Iran's client, Syria's Bashar Assad, in his fight against the Syrian opposition forces.
"Iran and Hamas need each other badly. Iran wants Hamas because it does not have many Sunni allies left in the region. An alliance with Hamas would enable Iran to rid itself of charges that it is leading a Shiite camp fighting against the Sunnis.
"Hamas, for its part, is desperate for any outside support, especially in wake of its increased isolation in the Palestinian and international arenas...
"Hamas leaders say they have taken a 'strategic' decision to restore their ties with Iran. Ismail Haniyeh, the former prime minister of the Hamas government in the Gaza Strip, announced recently that his movement is working toward establishing "open relations" with Iran...
"The Hamas-Iran rapprochement is yet another sign of Tehran's effort to use its allies in the Middle East to destroy Israel. Hamas leaders are now hoping that Iran will resume not only its financial aid to their movement, but the supply of weapons as well.
"Iran is not interested in the reconstruction of the Gaza Strip or providing shelter to thousands of Palestinian families who lost their homes during the last war. The only thing Iran is interested in there is turning Hamas into another Iranian-backed army that would be used to attack Israel. This is all happening at a time when the Obama Administration is busy preparing for another round of talks with Iran over its nuclear program. It is obvious by now that Tehran is using these negotiations to divert attention from its efforts to deepen its involvement in the Middle East, with the hope of taking over the oil fields and eliminating Israel."
http://www.gatestoneinstitute.org/5149/iran-encircling-gulf-israel
~~~~~~~~~~
This is stuff to make the blood run cold. And it is with this that I stop my political reporting tonight. Who knows what's coming down? Who cares?
I think part of what enrages me so much is the on-going hullabaloo about Netanyahu's plans to speak to Congress when Obama doesn't want him to. Here in Israel, the left is carrying on because this may give him an electoral advantage.
The bottom line is that where Iran is concerned, people should eagerly embrace an opportunity to hear what Netanyahu has to say. And we Israelis should hold our heads high, for we have a leader who gets it right – and has something to say to the Congress.
Dear friends, I urge you to share Khaled Abu Toameh's article broadly – and most specifically with your senators and congresspersons. This is a matter that must be brought to the attention of those who can make a difference.
For your Congresspersons:
http://www.house.gov/representatives/find/
For your Senators:
http://www.senate.gov/general/contact_information/senators_cfm.cfm
~~~~~~~~~~
Let's close with something upbeat. Because we must hold on to what can sustain us:
Yesterday, I saw for the first time that the almond trees (the very first to blossom) are in bloom. This means that – while winter weather, hopefully, will return to bring us more rain – spring is around the corner. Something to lift the spirits. (Yes, I know, parts of N. America are buried in snow – but allow your spirits to be lifted, at least in this regard, vicariously.)
Credit: Israel-tourguide
~~~~~~~~~~
© Arlene Kushner. This material is produced by Arlene Kushner, functioning as an independent journalist. Permission is granted for it to be reproduced only with proper attribution.

If it is reproduced and emphasis is added, the fact that it has been added must be noted.
http://arlenefromisrael.squarespace.com/current-postings/2015/2/1/january-29-2015-a-brief-respite.html
Yesterday, four rockets were launched from a Syrian-held position roughly seven kilometers inside of Syria; two of the rockets landed in the Israeli Golan Heights. They landed in open areas and there were no casualties. Military sources identified this as a joint effort of Hezbollah and Syrian forces; the IDF said that Syria would be held responsible for whatever happened inside of its territory. Within hours, Israel responded with an artillery attack that yielded a direct hit on the source of the rockets.

~~~~~~~~~~

That was yesterday. Today was much worse. This time the attack was from Lebanon, not Syria, and it claimed casualties. Some five or six Kornet anti-tank missiles were launched in an ambush attack against military vehicles traveling on a road about two kilometers inside of Israel, in the village of Ghajar. The launching site is estimated to have been four or five kilometers from the IDF vehicles.



Credit: Reuters

Two IDF soldiers were killed: Staff Sergeant Dor Nini, 20, and Major Yochai Kalangel, 25 (on the left below).


Credit: YNet

Reports are not consistent, but some additional seven soldiers were injured.

At the same time, there were mortar shells aimed at IDF bases in the area.

Israel responded with return fire into Lebanon, and declared the Lebanese responsible for what happens on their soil. As was to be expected, the Lebanese are furious with Hezbollah for operating against Israel from their territory.

Hezbollah declared the attack to be retribution for the death of the "martyrs" in the convoy that Israel had hit.

~~~~~~~~~~

At this point in time, additional information is scarce. I post now simply to get the word out (not sure how widely this will be covered); more will follow in a day or two.

~~~~~~~~~~

I cannot sign off, however, without noting that yesterday marked the 70th anniversary of the liberation of the death camp of Auschwitz. Survivors – fewer in number every year -assembled there for a major ceremony.

Credit: Daily Mail

The message is that we dare not forget. And that message carries enormous urgency today, as anti-Semitism in all its virulence is on the rise.

The difference for Jews now as versus 70 years ago is the existence of the State of Israel. Our leaders here have a solemn obligation to defend Israel with great strength and determination. Whether the world likes this or not is irrelevant.

~~~~~~~~~~

© Arlene Kushner. This material is produced by Arlene Kushner, functioning as an independent journalist. Permission is granted for it to be reproduced only with proper attribution.

If it is reproduced and emphasis is added, the fact that it has been added must be noted.
http://arlenefromisrael.squarespace.com/current-postings/2015/1/28/january-28-2015-violence-from-the-north.html
Yesterday, Prime Minister Netanyahu said, with regard to his speaking to Congress:

"In coming weeks, the powers are liable to reach a framework agreement with Iran, an agreement liable to leave Iran as a nuclear threshold state.
"As prime minister of Israel, I am obligated to make every effort to prevent Iran from getting nuclear weaponry that will be aimed at the State of Israel. This effort is global and I will go anywhere I am invited to make the State of Israel's case and defend its future and existence." (Emphasis added)
http://www.timesofisrael.com/amid-row-over-invite-pm-says-hell-go-anywhere-to-speak-against-iran/
~~~~~~~~~~
Israel's ambassador to the US, Ron Dermer, spoke yesterday as well, and he said (emphasis added):
The prime minister's visit is "intended for one purpose: To speak up while there is still time to speak up. To speak up when there is still time to make a difference."
Thus, it is Netanyahu's "most sacred duty to do whatever he can to prevent Iran from ever developing nuclear weapons that can be aimed at Israel.
"For Israel, a nuclear armed Iran would be a clear and present danger. Iran's regime is both committed to Israel's destruction and working toward Israel's destruction."
http://www.timesofisrael.com/israels-us-envoy-pms-planned-congress-speech-a-sacred-duty/

Credit: Miriam Alster/Flash 90
Couldn't be much clearer and unambiguous than this.
~~~~~~~~~~
And then we have Boehner's response to the flap that has ensued following his invitation to the prime minister:
There's nobody in the world who can [better] talk about the threat of radical terrorism — nobody can [better] talk about the threat the Iranians pose, not just to the Middle East and to Israel… but to the entire world — than Bibi (Benjamin) Netanyahu."
Boehner went on to say he did not believe Obama was giving that threat the attention it deserved.
"The president didn't spend but a few seconds (in his State of the Union address last week) talking about the threat, the terrorist threat that we as Americans face.
"This problem is growing all over the world…the president is trying to act as though it's not there, but it is there and it's going to be a threat to our homeland if we don't address it in a bigger way." (Emphasis added)
http://www.timesofisrael.com/boehner-we-gave-white-house-heads-up-on-netanyahu/
Boehner has further said, by the way, that he did not "blindside" the White House, as he has been accused of doing. He gave Obama "heads up" before news about the invitation to Netanyahu hit the press.

~~~~~~~~~~

But so insane is the election fever here, that everything is subject to attack. The following column by Uri Avnery written just two days ago is so shockingly perverse that I simply had to call attention to it:
"...Two Israeli drones have bombed (or missiled) a small Hezbollah convoy, a few miles beyond the border with Syria on the Golan heights. 12 people were killed. One was an Iranian general. One was a very young Hezbollah officer, the son of Imad Mughniyeh...
"The killing of the Iranian general was perhaps unintended....
"The intended victim of the attack was the 25-year old Jihad Mughniyeh, a junior Hezbollah officer whose only claim to fame was his family name.
"IMMEDIATELY AFTER the killing, the question arose: Why? Why now? Why at all?
"The Israeli-Syrian border (or, rather, cease-fire line) has been for decades the quietest border of Israel. No shooting. No incidents. Nothing.
"SO WHY did Israeli drones hit a small convoy of Assad's allies – Hezbollah and Iran? It is very unlikely that they had any aggressive intentions against Israel. Probably they were scouting the terrain in search of Syrian rebels.
"The Israeli government and the army did not explain. How could they, when they did not officially admit to the action? Even unofficially, there was no hint.
"But there is an elephant in the room: the Israeli elections.
"We are now in the middle of the election campaign. Was there, could there be, any connection between the election campaign and the attack?
"You bet!"
http://zope.gush-shalom.org/home/en/channels/avnery/1422014990/
~~~~~~~~~~
WHAT?!! We have here a prime example of the morally corrupt and totally perverse position of the far left. How shameful this is.
In terms of information, it is full of holes. Jihad Mughniyeh's claim to fame was NOT just his family name: he headed a terrorist cell directly funded by Iran that had already launched attacks.
And to say that it was "very unlikely that they[the convoy] had any aggressive intentions against Israel. Probably they were scouting the terrain in search of Syrian rebels"? Does he truly imagine that even though a general from Iran's Revolutionary Guards was present, there was no ill intent towards Israel? That Iran sends out a general to scout for rebels?
Nor is it true that the border with Syria has been consistently quiet. That was once the case, but no longer is.
Gush Shalom – which ran Avnery's article – promotes "peace" based on all of the Palestinian Arab demands, including "right of return," which means this is a group that supports the destruction of Israel. It is beyond the pale. Uri Avnery is a founding member.
And this is what our prime minister must contend with, on his far left flank, as he works to defend the State and keep her safe.
~~~~~~~~~~
Now I turn to an article – "Israeli strike in Syria: A move in an unfinished game" - regarding that convoy in the Golan, written by the highly informed Jonathan Spyer (emphasis added):
"Firstly, the killings were a response to a clear attempt by the Iranians/Hezbollah to violate the very fragile status quo that pertains between these elements and Israel in Lebanon and Syria...
"Some analysis of the strike has suggested that the mission of the men killed in the attack involved preparation for placing sophisticated Iranian missile systems on the Syrian part of the Golan. Other accounts suggested that the mission was part of readying this area for the launch of ground attacks across the border against Israeli targets, perhaps using proxies.
"In either case, the mission was a clear attempt to change the arrangement of forces in the north, in such a way that could be expected to ensure an Israeli response...
"The Iran/Hezbollah/Assad side has long threatened to develop the Golan as a front for possible 'jihad duties' against Israel. Both Syrian President Bashar Assad and Nasrallah, in the course of 2014, made unambiguous public statements threatening the opening of military activity against Israel in this area. Israel in turn has been very keen to make clear that such a move would constitute a violation of the status quo.
"The strike on Sunday constituted a very kinetic further Israeli message intended to drive home this point.
"What this means is that despite the death of a senior IRGC commander in the Israeli strike, the action by Israel should not be seen as a general casting aside of the rules of engagement by Jerusalem on the northern border – but rather an insistence on maintaining these rules, and a warning of the consequences to the other side of continued violation of them..."

http://www.jpost.com/landedpages/printarticle.aspx?id=388658

~~~~~~~~~~
In the above article, Spyer refers to the great unease the Lebanese have about what Hezbollah is doing:

"Responses by Lebanese political leaders and media to the event have been characterized by a sort of nervous, veiled request to Hezbollah not to bring down Israel's wrath on Lebanon..."
The Israeli government, mindful of this situation, has speculated that the "retribution" from Hezbollah may come not via a frontal attack across the border from Lebanon into Israel, but rather via terrorism unleashed on Israelis abroad.

Thus, according to Al-Hayat, Israel has relayed a message to Hezbollah, delivered via indirect channels, that warns against such action: "Israel would hold Hezbollah responsible for any attack against its institutions and nationals [abroad], including areas known to be frequented by Israelis in far-off places around the globe."
http://www.jpost.com/Middle-East/Israel-sends-stern-warning-to-Hezbollah-Dont-dare-attack-our-targets-abroad-388948
~~~~~~~~~~
Coming full circle here...
We see that the Lebanese, who have not forgotten the damage they endured during Israel's last war against Hezbollah, are not willing to support an attack on Israel by Hezbollah initiated from Lebanese soil. And so the significance to Hezbollah (and to Iran, its sponsor) of establishing a base on the Golan for launching attacks on Israel from there becomes readily apparent.
Thus the necessity for Israel to forcefully "discourage" any such plans.
In other words, we did good. Do not allow yourself to be disabused of this understanding.
~~~~~~~~~~
We will end with a good news piece:
"A breakthrough discovery by researchers at the Hadassah Medical Center in Jerusalem will allow early detection and possible prevention of colon and uterine cancers. According to the study, a genetic mutation related to Lynch syndrome has been shown to increase the risk of these types of cancers. The discovery of the mutation among members of certain population groups allows for a quick identification of at-risk patients."
This discovery is being referred to as "of immense importance in the prevention and early treatment of cancer."
http://www.israelhayom.com/site/newsletter_article.php?id=22167
~~~~~~~~~~
© Arlene Kushner. This material is produced by Arlene Kushner, functioning as an independent journalist. Permission is granted for it to be reproduced only with proper attribution.

If it is reproduced and emphasis is added, the fact that it has been added must be noted.
http://arlenefromisrael.squarespace.com/current-postings/2015/1/26/january-26-2015-a-corollary.html
Posted
on Monday, January 26, 2015 at 03:43PM
by
Arlene
in Dermer, Golan Heights, Hezbollah, Iran, Lebanon, Netanyahu
|
Post a Comment
|
Email
|
Print
There is a colossal danger to the world coming down the road: A nuclear Iran. It's scary as hell because of the radical jihadist intentions of the Iranian mullahs.

Right now the president of the United States and the Congress of the United States are at odds regarding how to respond to Iran. Currently there is a "Joint Plan of Action" (JPOA) in place – an agreement between Iran and P5 + 1 (US, UK, France, China, Russia and Germany – those nations in negotiations with Iran). This is a temporary agreement, scheduled to end on June 30, 2015 (having been extended from its prior expiration date of November 24, 2014).

JPOA outlines restrictions placed on Iran, and sanctions relief provided to Iran, for the course of negotiations regarding final understandings on Iran's nuclear status. It is theoretically the case that all negotiations are to be completed by that June deadline.

~~~~~~~~~~

Obama, in his State of the Union address, pledged to veto any legislation that imposes sanctions on Iran – a statement which is a direct challenge to the Congress. The president claims that such sanctions would be destructive to negotiations. What he has done is to misrepresent the position of Congress – for the legislation that is being advanced calls for additional sanctions ONLY IF and ONLY AFTER negotiations had failed.

The bill - sponsored by Sen. Mark Kirk (R-Ill.) and Senator Robert Menendez (D-NJ) - has bi-partisan support. In fact, it was Menendez, ranking Democrat on the Senate Foreign Relations Committee, who has voiced the most vociferous criticism of the administration position. Addressing administration officials in the course of a hearing on Iran, he said:

"I have to be honest with you, the more I hear from the administration...The more it sounds like talking points coming out of Tehran. And it heeds to the Iranian narrative of victimhood, when they are the ones with original sin: an illicit nuclear weapons program over the course of twenty years that they are unwilling to come clean on. I don't know why we feel compelled to make their case...They get to cheat in a series of ways, and we get to worry about their 'perceptions.'"

You can see him making this statement in a video here:

http://www.realclearpolitics.com/video/2015/01/21/dem_sen_menendez_obama_statements_on_iran_sound_like_talking_points_straight_out_of_tehran.html

~~~~~~~~~~

Against the background of this Congressional frustration with Obama, Speaker of the House Boehner invited Prime Minister Netanyahu to address a joint session of Congress.

Why Netanyahu? It's obvious. He is the world leader, bar none, when it comes to speaking out on the dangers of a nuclear Iran and the importance of sanctions. What an honor, that the Congress wants to hear what he has to say on the matter. Israel is not a minor league player here. How significant, that he should speak out.

But do commentators notice any of this? Nahh...

In the US, the charge is that Boehner is "using" Netanyahu to "get back at" Obama. Here, the criticism is that Bibi is "using" Boehner to help him get re-elected (as he will get a boost in the elections from this talk before Congress). What a furor has ensued.

In the course of all of these charges and counter-charges, forgotten is the possibility that Netanyahu might help keep Congress strong – perhaps even strong enough to over-ride a veto. Overlooked is the fact that stopping Iran is the ikar – the heart of the matter.

~~~~~~~~~~

The left here in Israel is accusing Bibi of "destroying" our relationship with Washington. However, "Washington" also includes the Congress.

What is more, I have noticed that already the Obama administration is backtracking on this matter: The US has an "unshakable" alliance with Israel, the White House has declared. And on Meet the Press today, Chief of Staff Denis McDonough said that:

"Our relationship with Israel is many-faceted, deep and abiding. It's focused on a shared series of threats, but also on a shared series of values that one particular instance is not going to overwhelm."

http://www.timesofisrael.com/white-house-downplays-impact-of-netanyahu-speech-on-ties/

Well now... Can we please go back to talking about Iran and sanctions?

~~~~~~~~~~

From Omri Ceren of The Israel Project, I offer the following information:

IAEA Director General Yukiya Amano spoke on Friday at the University of Indonesia. His talk included this statement (emphasis in the original):

"As far as Iran is concerned, the Agency is able to verify the non-diversion of nuclear material declared to us by Iran under its Safeguards Agreement. But we are not in a position to provide credible assurance about the absence of undeclared nuclear material and activities in Iran, and therefore to conclude that all nuclear material in Iran is in peaceful activities."

https://www.iaea.org/node/10995

The Obama administration has made two basic arguments about the success of the JPOA interim agreement.
The first is that Iran's program has been "halted" and its nuclear stockpile "reduced." But this simply is not the case. The JPOA allows Iran to enrich to 3.5% purity, which is about 60% of the effort needed to get to weapons-grade levels, provided the new material is stored as oxide. They've used the last year to create at least one bomb's worth of enriched uranium and will use the rest of the extension to enrich enough for another one.
The second claim is that the JPOA provides "unprecedented" access/insight/monitoring/inspections into Iran's nuclear facilities. But the statement above from the IAEA Director General makes it clear that this is not the case.

~~~~~~~~~~

On January 15, 2015, Iranian president Rouhani announced that Iran was building two new reactors. The State Department clarified that this is not prohibited by any Security Council resolutions, and is not in violation of the JPOA agreement.

http://freebeacon.com/national-security/state-dept-iran-allowed-to-build-new-nuclear-reactors/

Clarified Omri Ceren:

The JPOA was supposed to freeze the Iranian program to prevent them from improving their position as talks proceeded. It failed. Instead the Iranians spent the last year building up their nuclear program - and their leverage - across all areas.

~~~~~~~~~~

Fervently do I wish that those who claim to be serious thinkers on the issues would get as excised over the dangers of Iran and the damage that Obama is doing to his own nation, Israel, and the world, as they do over imagined political intrigues.

Much more to come.

I close here with Caroline Glick's latest piece on this issue, "Iran, Obama, Boehner, and Netanyahu."

"The role of an Israeli leader is to adopt the policies that protect Israel, even when they are unpopular at the White House. Far from being ostracized for those policies, such an Israeli leader will be supported, respected, and relied upon by those who share with him a concern for what truly matters."

http://carolineglick.com/iran-obama-boehner-and-netanyahu/

~~~~~~~~~~

© Arlene Kushner. This material is produced by Arlene Kushner, functioning as an independent journalist. Permission is granted for it to be reproduced only with proper attribution.

If it is reproduced and emphasis is added, the fact that it has been added must be noted.
http://arlenefromisrael.squarespace.com/current-postings/2015/1/26/january-25-2015-priorities.html
Posted
on Monday, January 26, 2015 at 03:35PM
by
Arlene
in Boehner, Iran, Netanyahu, Obama, nuclear weapons
|
Post a Comment
|
Email
|
Print
I'm going to do something different today: Start with good news items. We need to hear that good news, with all the clouds hanging over us.

The first is the matter of Israeli-Japanese relations, which have blossomed astonishingly in the past year. This is true in the areas of diplomatic relations, industrial and scientific technology and trade. On Sunday, Japanese Prime Minister Shinzo Abe arrived here for a three-day visit (which ultimately had to be cut short because of an ISIS hostage situation he had to contend with at home). And it was on Sunday that Prime Minister Netanyahu, referring to the Islamization of Europe, spoke about the need to increase Asian markets. He spoke as well about the "historic opportunity" to join Israeli and Japanese capabilities for mutual benefit.

Abe brought with him 100 Japanese diplomatic and business leaders; he and Netanyahu attended a forum on science and business.



Credit: Marc Israel Sellem/Jpost

And so the essential lesson here is that we are not alone as a nation, and we should not imagine that the world begins and ends with Europe.

~~~~~~~~~~

And then we have the absolutely remarkable speech of Egyptian President Abdel Fattah al-Sisi of just weeks ago. It is possible that you have not heard about this, and I am, quite frankly, remiss for not having shared it sooner.

C
Credit: Reuters/Philippe Wojazer

~~~~~~~~~~

Egypt is an astonishment in any event. When Mubarak was ousted in June 2012, and the Muslim Brotherhood-affiliated Morsi became president, it seemed the handwriting was on the wall for Egypt, as the grip of the Brotherhood waxed ever tighter. But then, in July 2013, the military took over, and a Brotherhood-hating al-Sisi subsequently morphed from general to president, surprising many and turning the tide in a manner that has been significant for Israel. He has, for example, acted decisively in many spheres against Hamas – a Brotherhood spinoff - in Gaza.

On December 28, 2014, an extraordinarily courageous al-Sisi spoke in Al-Azhar University, in Cairo, to key Islamic clerics and academics. He differentiated between core Islamic beliefs and an overlay of ideology or "thinking" that has been destructive. His tone was calm and reasoned, not frenzied. In part, he said (emphasis added):

"It's inconceivable that the thinking that we hold most sacred should cause the entire umma (multinational community of Muslim believers) to be a source of anxiety, danger, killing and destruction for the rest of the world. Impossible!
"That thinking – I am not saying 'religion' but 'thinking' – that corpus of texts and ideas that we have sacralized over the years, to the point that departing from them has become almost impossible, is antagonizing the entire world. It's antagonizing the entire world!
"Is it possible that 1.6 billion [Muslims] should want to kill the rest of the world's inhabitants – that is 7 billion – so that they themselves may live? Impossible!…
"I say and repeat again that we are in need of a religious revolution. You, imams, are responsible before Allah. The entire world, I say it again, the entire world is waiting for your next move…because this umma is being torn, it is being destroyed, it is being lost – and it is being lost by our own hands."
http://www.israelnationalnews.com/News/News.aspx/189700#.VMDybZv9nIU

~~~~~~~~~~

Here you have a MEMRI clip of his talk:

https://www.youtube.com/watch?v=DEhNarfrlec

~~~~~~~~~~

I also count as very good news the invitation that has now been extended to Prime Minister Netanyahu by Speaker of the House John Boehner (R-Ohio) to address the joint houses of Congress in February on the issues of Islamic extremism and Iran. This is an expression of very solid support for Israel within Congress, and marks a readiness by America's elected representatives to take seriously what our prime minister has to say about these issues.


Credit: USA Today

Netanyahu promptly accepted.

~~~~~~~~~~

Obama's nose was seriously out of joint because of this invitation. It was a breach of protocol, intoned White House press secretary Josh Earnst. Protocol, he said, would require Israel to inform the president of potential plans to visit the country before proceeding with an acceptance.

http://www.timesofisrael.com/white-house-invite-to-netanyahu-a-breach-of-protocol/

But the key source of irritation, I would imagine, was the failure of Boehner to consult the president before proceeding with the invitation. Obama was, quite simply, out of the loop. It is, of course, very much to the point that this invitation followed on the heels of Obama's State of the Union Address, which left many in Congress severely disgruntled. And that Obama knows he will not be pleased with what Netanyahu will say.

~~~~~~~~~~

Binyamin Netanyahu has consistently promoted a position of strong sanctions against Iran, to use as leverage in negotiations. This is a position that he will undoubtedly reiterate in Washington.

It runs directly counter to Obama's position – stated once again in his State of the Union address this week - that he would veto any sanctions bill advanced by Congress because of the splendid progress he is making in negotiations.

http://www.algemeiner.com/2015/01/20/obama-pledges-to-veto-iran-sanctions-bill-in-state-of-the-union-address/

I hope to return to this deplorable situation for a closer examination.

But today, a report surfaced in Bloomberg News claiming that the Mossad disagrees with Netanyahu. It indicated that Mossad officials advised US senators who were visiting Israel recently to hold off on further Iran sanctions, because they would hamper efforts to persuade Iran to give up its nuclear program.

The appearance of this report – presumably authoritative – shortly before Netanyahu is scheduled to address Congress had the immediate effect of undercutting him.

~~~~~~~~~~

Now the head of the Mossad has taken the unusual action of issuing a public denial of this report (emphasis added):

"Mossad Head Tamir Pardo met on January 19, 2015, with a delegation of US senators. The meeting was held at the request of the senators and with the prime minister's approval. At the meeting, the Head of the Mossad stressed the extraordinary effectiveness of the sanctions that have been placed on Iran for several years in bringing Iran to the negotiating table.

"The Head of the Mossad noted that in negotiating with Iran, a policy of 'carrots and sticks' must be adopted, and there are not enough 'sticks' nowadsays."

Additionally, according to the Mossad statement, Pardo "said specifically that the agreement that is being formed with Iran is bad and could lead to a regional arms race."
http://www.israelnationalnews.com/News/News.aspx/190349#.VMEZ5Zv9nIU
~~~~~~~~~~
And so what is going on here? The Obama administration – furious about the invitation to Netanyahu and concerned about his message – was playing dirty. Out-and-out lying, actually. Presumably not anticipating that the Mossad would come forward and directly counter what was "leaked."
~~~~~~~~~~
More apparent disinformation on another matter:
After the attack on the convoy in the Golan, which took out high level Hezbollah and Iranian personnel, Reuters came out with a story that a security source in Israel said the military had no idea that an Iranian general was being targeted - that it was simply thought that some guerrillas were in the convoy.

http://www.reuters.com/article/2015/01/20/us-mideast-crisis-israel-syria-idUSKBN0KT1HQ20150120

I, of course, do not know who the "source" was, but this seemed blatantly an attempt on someone's part to partially defuse a volatile situation, or to downplay Israel's accomplishment. Whatever the case, this "report" was carried broadly.

Now here I cite from Al-Arabiya, as reported in IMRA (emphasis added):

"[The attack] is also one of the biggest losses inflicted on Hezbollah by Israel in recent years...
"Analysts, speaking to Al-Arabiya News, said the attack represented a major breach to Hezbollah's security and a tactical misjudgment on the part of the Iranian-backed militant group.
"'This was a colossal failure … because they [Hezbollah] put this number of senior figures in one spot and at the same observation point and at the same time," Wehbe Katicha, a former Lebanese army general, told Al Arabiya News.
"'You rarely see armies committing such a mistake,' he said.
"This is represents a weak point of Hezbollah because of this behavior," he added.
"While not describing it as a failure, Dr. Hilal Khashan, a political science professor at the American University of Beirut, said the incident was a 'major security breach' to Hezbollah's security apparatus.
"'Hezbollah moves secretly and a number of ranking officials are even tighter. The fact is Israel had information from within,' he said."

http://imra.org.il/story.php3?id=66152

~~~~~~~~~~

I started with the good news, and must end with bad: There was a terror attack in Tel Aviv yesterday morning, when an Arab from Tulkarem, in Samaria, boarded a bus and attacked passengers and the driver with a knife, seriously injuring four. We are grateful that no one was killed.

http://www.jpost.com/Israel-News/Three-stabbed-on-Tel-Aviv-bus-388417

~~~~~~~~~~

© Arlene Kushner. This material is produced by Arlene Kushner, functioning as an independent journalist. Permission is granted for it to be reproduced only with proper attribution.

If it is reproduced and emphasis is added, the fact that it has been added must be noted.
http://arlenefromisrael.squarespace.com/current-postings/2015/1/22/january-22-2015-seeking-sparks-of-light.html
It should be, even in our less than perfect world, that international courts were bastions of ethical judgment and impartiality. OK, maybe that's expecting too much. Shall we say, just institutions that model some degree of ethical judgment and impartiality. But even this is expecting too much in today's climate of severely distorted perceptions and values.

The court I have in mind, of course, is the International Criminal Court, which is just one more corrupt – and politically correct – international body. As today's JPost editorial has it: the court is unable to "differentiate between good and bad." Ah, yes.

On Friday, Court prosecutor Fatou Bensouda announced her decision to initiate a "preliminary probe" into alleged war crimes committed by Israel this past summer during the war in Gaza (Operation Protective Edge). This is to determine whether prosecution is appropriate.

~~~~~~~~~~

In order to do this, she had to stretch credibility in several regards. First, she had to determine that, for purposes of the Court, the Palestinian Authority was a state. Never mind that the PA does not meet all the criteria of a state, the General Assembly – another upstanding institution – has accorded the PA status as an observer state. The ICC says that's enough.

And then, she had to maintain the fiction that Gaza, which is controlled by Hamas – a terrorist organization, is part of that "Palestinian state." This was necessary, because a state that accepts the ICC's jurisdiction can only bring charges in crimes committed within its own borders.

Lastly, she had to overlook the fact that the IDF routinely does investigate charges regarding behavior in the field and pursues prosecution when this is deemed necessary. The IDF – the most moral army in the world - is, in fact, super-scrupulous in this regard. But the Court, you see, is only supposed to step in if such systems are not in place.

~~~~~~~~~~

International lawyer Alan Baker continues to say this will come to nothing, and that we only serve Abbas's purposes when we become agitated about this situation. So we will not be agitated.

Prime Minister Netanyahu called the Court decision "absurd," which it is. The Prime Minister's Office released a statement that said, in part:

"We see here something truly tragic. The lofty goals of the ICC are being turned upside-down. The court was founded to prevent a repeat of history's worst crimes, foremost among them the genocide of six million Jews. Now the Palestinians are cynically manipulating the ICC to deny the Jewish state the right to defend itself against the very war crimes and the very terror that the court was established to prevent." (Emphasis added)

http://www.pmo.gov.il/English/MediaCenter/Spokesman/Pages/spokehage170115.aspx

But the Court cannot be "manipulated" without its consent. Bensouda could have ruled that the PA was not a state. I see something very perverse in Palestinian Arab involvement with international organizations, which are prepared to voluntarily distort their essence or their mandates in an effort to be politically correct. The PA is such a very minor player in the scheme of world affairs. What gives it this power?

The State Department, I must note, said, "We do not believe that Palestine is a state and therefore we do not believe that it is eligible to join the ICC."

~~~~~~~~~~

Actually, I shouldn't say, as I did above, that we are "without recourse." This is true with regard to the international institutions where we might have expected some modicum of support. But we certainly have recourse to our own sense of good and bad, and, most importantly, to the judgment of Heaven.

There are, as well, nations that are with us. I note in particular Canada – Canadian Foreign Minister John Baird has just been here, lending words of support.

He told Netanyahu: "Canada doesn't stand behind Israel; we stand shoulder-to-shoulder with it...The great struggle of our generation is terrorism and far too often the State of Israel and the Jewish people around the world are on the front lines of that struggle." (Emphasis added)

http://www.jewishpress.com/news/breaking-news/canadian-foreign-minister-baird-shoulder-to-shoulder-with-israel/2015/01/19/

Can we clone him? On his visit to Ramallah on Sunday, Arabs pelted his car with eggs because of his pro-Israel stance.


Credit: Miriam Alster/Flash 90

~~~~~~~~~~

Missiles fired from two helicopters struck at targets in the Syrian Golan yesterday, taking out either five or six members of Hezbollah. Israel never officially acknowledges involvement in such attacks, but I would say that here we have an instance of our relying on our own resources with excellent judgment.

Among those killed was Jihad Mughniyeh, son of Imad Mughniyeh, former Hezbollah operations chief whom we dispatched some time ago. According to western intelligence sources, Jihad was head of a large-scale terrorist cell, with direct links to Iran, that had attacked Israel in the past.

But there is more: According to various reports, also killed were six members of Iran's Revolutionary Guard, including General Mohammad Allahdadi, formerly head of a Revolutionary Guard brigade. The Iranians and the members of Hezbollah were part of one convoy.

http://www.jpost.com/Arab-Israeli-Conflict/Report-Six-Iranians-killed-in-Israeli-strike-in-Syria-including-Revolutionary-Guards-general-388210

The coming together of so many high level Hezbollah and Iranian fighters at one time, near the Israeli border, strongly suggests that a major operation was imminent. It might have included rockets, infiltrations into Israel, border bombings, anti-tank fire and more. Just days ago, Hezbollah head Hassan Nasrallah threatened attacks on Israel.

~~~~~~~~~~

The attack that smoothly took out Hezbollah and Iranian high level personnel suggests superb Israeli intelligence and an operation that was pinpoint.

As I see it, this not only eliminated an immediate danger (it was essential, given the intelligence!), it enhanced our deterrence power – always a good thing. They know we are watching, and that we act in our own best interest with great skill.

There is no doubt about the fact that there was a message here for Iran, as well as for Hezbollah.

But the question now is what sort of retaliation we are likely to see. It is considered unlikely that there will be a major attack that would escalate into war to our north. But there is certainly a heightened risk of terror attacks – whether we are looking at infiltration into the north of Israel with attempts at kidnapping IDF soldiers, or attacking Israelis elsewhere in the world, as has been done before.

Whatever might be ahead, our forces are on high alert in the north now, with leaves cancelled and an Iron Dome installation moved northward.

Maj.-Gen. (res.) Eyal Ben Reuven, in a press briefing arranged via The Israel Project, outlined the sensitive situation that Israel now faces: Should, for example, an Israeli soldier be killed by Hezbollah, or should rockets be launched against civilians in our north, this would invite retaliation that might generate a significant escalation in fighting.

~~~~~~~~~~

The situation of Hezbollah, operating in the Golan, directly across Israel's border to the north, is exceedingly complex. This area is no longer directly controlled by Assad. Hezbollah, said General Ben Reuven, prefers acting against Israel from this theater rather than from its home base in Lebanon. The Lebanese are not always happy with Hezbollah because of the violence unleashed on its population in response to Hezbollah actions. However, Hezbollah still has a primary goal of supporting Assad, and does not want to invite an Israeli attack inside Syria that might result in weakening him.

Right now, with some 200,000 Syrians dead in the civil war, there seems to be a standoff, with neither side achieving victory.

~~~~~~~~~~

I end – for now - with a good news story that is both moving and astounding:

Michael Mittwoch, 92, and his wife Marion, 90, fled the Nazis in Germany. They came to Israel, where they participated in the founding of Kibbutz Lavi in the north.

Now they have just celebrated the birth of their 100th (this is not a typo) great-grandchild.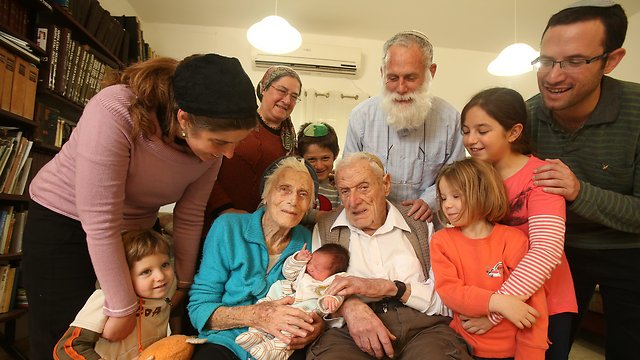 Credit: Elad Gershgoren

http://www.ynetnews.com/articles/0,7340,L-4615185,00.html

This is not just a wonderfully uplifting story, it demonstrates something: We are a people who move past adversity to life, a testament to hope.

~~~~~~~~~~

© Arlene Kushner. This material is produced by Arlene Kushner, functioning as an independent journalist. Permission is granted for it to be reproduced only with proper attribution.

If it is reproduced and emphasis is added, the fact that it has been added must be noted.
http://arlenefromisrael.squarespace.com/current-postings/2015/1/20/january-19-2015-without-recourse.html
Posted
on Tuesday, January 20, 2015 at 04:13PM
by
Arlene
in Golan Heights, Hezbollah, ICC, Iran, John Baird, Netanyahu
|
Post a Comment
|
Email
|
Print
How many times do we have to witness the funerals of innocent Jews cut down in their prime by terrorists?

Sadly, a rhetorical question. We've already witnessed it too many times. And we know with a reasonable certainty that we are going to witness this yet again.

~~~~~~~~~~

Yesterday, the four Jews who had been killed last Friday in the kosher market in Paris – Yoav Hattab, Yohan Cohen, Philippe Braham, and Francois-Michel Saada - were brought to Israel for burial. All of Tunisian heritage, they were brought first to B'nai Brak, to the Kisse Rahamim Yeshiva, which is headed by Rabbi Meir Mazuz – spiritual head of the Tunisian community in Israel.

MK Eli Yishai, also of Tunisian heritage, was among those who spoke. Referring to the fear people in Israel felt last Friday, before they knew the ultimate fate of the four, he observed (emphasis added):

"This is what it is to be Jewish, one nation, one blood, one fate...The pain is enormous...but the souls of the martyrs are so high...they merit to be interred in the Land of Israel, for which our ancestors yearned for thousands of years.

"Pray to our Father in Heaven, who will say, 'enough' to our suffering."
~~~~~~~~~~

The bodies were then brought for interment in the Har Hamenuhot cemetery in Jerusalem. During the services, each was wrapped in a blue and white tallit, and positioned next to a burning torch.

Credit: rte
Thousands attended the funeral. "This is not how we wanted you to come home, to the State of Israel," lamented President Ruby Rivlin. "We wanted you alive, we wanted for you, life."
Here, among the mourners, a relative of Yoav Hattab:
Credit: TimesofIsrael
~~~~~~~~~~

I want to circle back now, to a closer look at the events in Paris that occurred this past Sunday and Monday, and to some of the responses to those events:

There has been a great deal written about the fact that France was not eager to have Netanyahu present at the march. Although details vary, the essential events seem to be clear.

Netanyahu had not intended to come, but, on learning that Lieberman and Bennett would be there, changed his mind.

Descriptions of precisely how disgruntled French President Hollande was on learning of this decision, and how rude the French were to our prime minister, vary with the sources. Some recount deep and genuine rudeness, others claim that Hollande made his peace with the situation and was reasonably courteous.

There are stories about intentions to put Netanyahu on a second bus, and not the one with primary world leaders, and of his having to wait outside that first bus before he could enter.

What we were able to see was that Netanyahu was placed in the second row, as the march began through the streets of Paris, and that he adroitly moved himself into the first row. He did this by reaching over to introduce himself to Ibrahim Boubakar Keita, the president of Mali, and then remaining at his side.

Credit: AFP

~~~~~~~~~~

I would say that the place of Netanyahu – the prime minister of Israel - at the front of the march should have been a given, for the simple reason that the intent, at least in theory, was to show solidarity with victims of terrorism, including four Jews whose lives had been taken precisely because they were Jews.

But of course, it was not that simple. It never is.

~~~~~~~~~~

Reportedly, the reluctance of Hollande to have Netanyahu present had to do with not wanting to create a focus on the Israeli-Arab conflict, which would have been a distraction. But what did the French do, when learning that Netanyahu was coming? They invited Abbas, who apparently had intended to stay away. This strongly suggests a desire on the part of the French not to appear "biased" in favor of Israel, which is something else, is it not? That first line of the march, walked by heads of state, was no place for Abbas, no how. Hollande even met with Abbas privately that evening, to ensure that the message was clear. Please remember, France voted in the Security Council for the creation of a Palestinian state just two weeks ago.

~~~~~~~~~~

In several respects, Netanyahu was a thorn in the side of the French. First, because he kept reminding those who were paying attention that terrorism is terrorism, and that it should not be imagined that terrorism in Israel is somehow different or "lesser" (because, so the distorted rationale goes, it is fueled by the "occupation"). That terrorism has to be fought equally wherever it is, and that when that fight is mounted, Israel must be a part of it.

Nor is he afraid to name the enemy.

And then there is the welcome he extended to French Jews, to come home to Israel. Irks the French who are ever so eager now to show how they will protect "their" Jews. The army has been brought out to protect Jewish institutions.

My observation: the million plus in the streets of Paris on Sunday did not exhibit the same degree of solidarity with the murdered cartoonists and the murdered Jews. Most of it was "Je suis Charlie," with considerably fewer signs evident declaring "Je suis Juif." The issue was freedom of speech more than it was freedom from venomous anti-Semitism.

~~~~~~~~~~

It was, it seems to me, enormously important to the Jews of France that the head of the State of Israel came out to stand with them. They are bewildered now. Frightened. Angry. And his presence gave them something positive.

After the march, Netanyahu spoke at the Grand Synagogue of Paris.

Here you have his very fine speech:

https://www.youtube.com/watch?v=ge8h8XCeaGs&feature=youtu.be

The next day, he visited Hyper Cacher, the market where the Jews were shot down. There he said (emphasis added):

"A direct line leads between the attacks of extremist Islam around the world to the attack that took place here at a kosher supermarket in the heart of Paris. I expect all of the leaders, with whom we marched in the streets of Paris yesterday, to fight terrorism wherever it is, also when it is directed against Israel and Jews."

http://www.algemeiner.com/2015/01/12/netanyahu-visits-site-of-kosher-supermarket-attack-in-paris/

Yes, I can well imagine how eager the French government was for him to go home.

~~~~~~~~~~

The head of Europol, the European police organization, yesterday said there are as many as 5,000 European jihadis fighting in Syria [and Iraq]. This constitutes a huge security problem for Europe, which he says, suffers a "capability gap" in terms of dealing with the situation.

http://www.jpost.com/Middle-East/Up-to-5000-European-jihadis-fighting-in-Syria-pose-great-risk-for-Europe-Europol-chief-says-387637

These Muslim radicals with European citizenship, who go to fight with the Islamists, are further radicalized in Syria and Iraq – they are taught terrorist techniques, provided with weapons, and recruited to cause havoc on their return to Europe.

Neither France nor the other nations of Europe are likely to get serious about combatting this. They have neither the will nor the procedures in place. Confronting this with seriousness would mean, at a bare minimum, tracking those who have left to join the Islamists, putting legislation in place that blocks their return, and establishing stringent enforcement policies and systems.

~~~~~~~~~~

The French Police have revealed that the guns used in the terror attacks last week came from outside of France. The size of the cachet of weapons that was uncovered suggests an organized network.

http://www.timesofisrael.com/police-arms-for-paris-attacks-came-from-abroad/

~~~~~~~~~~

From the Intelligence and Terrorism Information Center we learn that the terrorists who created mayhem in Paris were connected with Al-Qaeda and ISIS. And that France has the largest number of nationals who have gone to fight with them.

http://www.terrorism-info.org.il/en/article/20757

~~~~~~~~~~

David Horovitz, editor of Times of Israel, considers the situation in "The death-cult ideology that France prefers not to name " (emphasis added):

"...This time, too, [Hollande] pledged unity and vigilance in the battles against racism and anti-Semitism. What he didn't explicitly promise, then or now, however, was to tackle violent Islamic extremism. On Friday, indeed, he asserted in an address to the nation that 'these terrorists and fanatics have nothing to do with the Islamic religion.'

"It would be nice to think that they didn't. But it is their perverted interpretation of obligation to that religion that they invoke in carrying out their acts of terror and fanaticism.
"Islamist jihad cannot and will not be defeated if it is not honestly acknowledged. The enemies of freedom will not be picked out at border crossings, tracked on the internet, targeted, thwarted and ultimately marginalized if insistent self-defeating political correctness means those enemies are not even named.

"Does anybody seriously believe, for instance, that France is about to launch a crackdown on Islamist groupings at its higher-education institutions, or devote serious resources to investigating potential incitement at local mosques? Are France and the rest of Europe about to introduce passenger profiling at EU entry points, in the way that Israel does? Is the EU set to sanction Turkey for facilitating the flow of radicalized European Muslims to and from the Islamic State terror group in Syria and Iraq?
"Not terribly likely, is it, when the French president declares that 'these terrorists and fanatics have nothing to do with the Islamic religion'? Not terribly likely, is it, when the French president, reportedly, didn't want his day of dignified identification with the victims of terrorism spoiled by the presence of those, like Netanyahu, who might distract from the solemn harmony and focus furious attention, instead, on the specific cause, that great big elephant stuck in among the masses in central Paris: Islamic extremism?
"Three and a half million people took to the street of France on Sunday in a show of solidarity for the latest fatalities of a ruthless ideology. But they couldn't bring themselves to call that death-cult by its name.
"Do the last few days of Islamist murder in France constitute a watershed moment for one of the Diaspora's largest communities? The beginning of the end? I rather think so.
"A watershed moment in the Western battle against Islamic extremism? I fear not."
http://www.timesofisrael.com/the-death-cult-ideology-that-france-prefers-not-to-name/

~~~~~~~~~~

And let's close with some good news (which we badly need):

[] Israel produces more scientific papers per capita than any other nation by a large margin – 109 per 10,000 people – as well as one of the highest per capita rates of patents filed.

[] In proportion to its population, Israel has the largest number of startup companies in the world. In absolute terms, Israel has the largest number of startup companies than any other country in the world, except the US (3,500 companies mostly in hi-tech).

[] Israel is ranked #2 in the world for venture capital funds right behind the US.

http://www.israel21c.org/did-you-know-israel-facts/

~~~~~~~~~~

© Arlene Kushner. This material is produced by Arlene Kushner, functioning as an independent journalist. Permission is granted for it to be reproduced only with proper attribution.

If it is reproduced and emphasis is added, the fact that it has been added must be noted.
http://arlenefromisrael.squarespace.com/current-postings/2015/1/14/january-14-2015-recurring-nightmare.html
No way to be upbeat today, even with the outpouring of protest from people grieved and furious about the terrorist killings in France.
Late Friday – before Shabbat - four French Jews were killed in a kosher market in Paris by an associate of the terrorists who attacked at Charlie Hebdo. Apparently he intended to take hostages, to trade for the release of his associates. In the end, four were shot dead and others were hidden in the market refrigerator by Lassana Bathily, a "Malian Muslim" employee [from Mali or of Mali extraction] and then rescued.

The four killed were Yoav Hattab, 21; Yohan Cohen, 22; Philippe Braham, 40; and Francois-Michel Saada, about 60.


Credit: Elder of Ziyon

~~~~~~~~~~
Hattab, who was studying in France, was the son of the chief rabbi of Tunis.
Leah Elyakim, of Israel, met him just weeks ago when he visited here for the first time. It had been difficult for him make his way here sooner, coming from Tunis.
"He learned Hebrew, he knew everything about Israeli history, more than any of us," she remembered.
"Every day we traveled, we walked around with an Israeli flag on his back. He said Israel was the only place he would walk freely with a Star of David or an Israeli flag. In France he never could have."
"His dream was to move to Israel and serve in the army. [He had been] "so depressed when he had to return to France. He told me, 'when I get to Paris, I'll have to hide the flag.'"
http://www.israelnationalnews.com/News/News.aspx/189773#.VLJd-Jv9nIU
So he hid the Israeli flag, but shopped at a kosher market in Paris, and that did it.
Make no mistake: These four were killed because they were Jews.
There is talk now about bringing them to Israel for burial. I consider this enormously appropriate because of the statement this makes.
~~~~~~~~~~
A dear friend of mine, who lives in Paris with her family (and will likely see this), wrote to me last night:
"Sadly this is just the beginning - finally the authorities have admitted its just a matter of when!!"
Important, this honest recognition: There are Islamist cells throughout France and it will happen again. And again. There are now reports that terrorist sleeper cells have been activated.
http://www.ynetnews.com/articles/0,7340,L-4613629,00.html
And there is evidence of links the terrorists may have had to either Al-Qaeda or Islamic State.
~~~~~~~~~~
French aliyah (immigration into Israel) has grown a great deal in recent years. In 2014, 7,000 French Jews came, twice the number that had come the previous year. Natan Sharansky, head of the Jewish Agency, has reported that there were 50,000 inquiries about aliyah from French Jews in 2014. With the current attack, the actual aliyah is likely to increase significantly. Numerous Israeli officials, beginning with our prime minister, are encouraging this.
Last night, Netanyahu spoke out to French Jews:
"The State of Israel is not just the place to which you turn in prayer. The State of Israel is also your home. This week, a special team of ministers will convene to advance steps to increase immigration from France and other countries in Europe that are suffering from terrible anti-Semitism. All Jews who want to immigrate to Israel will be welcomed here warmly and with open arms. We will help you in your absorption here in our state that is also your state."
http://www.israelhayom.com/site/newsletter_article.php?id=22707
~~~~~~~~~~
Some French officials are disturbed by the prospect of a major Jewish emigration from France. (There are some 500,000 Jews in France – the largest Jewish community remaining in Europe.)
Of particular note is the statement by the French Prime Minister, Manuel Valis, reported by Jeffrey Goldberg in The Atlantic:

"The choice was made by the French Revolution in 1789 to recognize Jews as full citizens. To understand what the idea of the republic is about, you have to understand the central role played by the emancipation of the Jews. It is a founding principle. If 100,000 French people of Spanish origin were to leave, I would never say that France is not France anymore. But if 100,000 Jews leave, France will no longer be France. The French Republic will be judged a failure."
http://m.theatlantic.com/international/archive/2015/01/french-prime-minister-warns-if-jews-flee-the-republic-will-be-judged-a-failure/384410/
I found this fascinating. They are saying they will send the army, if necessary, to protect the Jewish institutions of France.
But my response is that they should have thought about this sooner. The French Republic is about to be judged a failure not just because it has not protected the community of Jews it had emancipated long ago, but because it has not been true to its principles in a host of spheres. Because there are enclaves of Muslims ("no-go zones governed by Sharia law) right in Paris and other locales, where the French police will not enter. And because essential freedoms presumably guarded by the French nation have been sacrificed.
~~~~~~~~~~
Says Alex Fishman, writing in YNet (emphasis added):
"As long as Jews were the only ones getting killed, France avoided dealing with the Islamic terror. The red lights which should have been triggered several years ago didn't even flash for a second.
France has opened its arms to Islamic terror. And the bigger the failure, the larger and grander the mourning rallies. This is a rule invented by politicians to cover up their own failures....
"The French security services' failure in the past week was colossal and shameful, and indeed, France and all of Europe are being swept away accordingly in mass mourning rallies and protests of millions. (See below on this.)
"But there is not a single protest or speech which can cover up the bitter truth: The Western European countries' security services in general – and France's security services in particular – are not prepared in any way for dealing with the radical Islamic terror. Not professionally, not legally and definitely not mentally...
"Suddenly it turns out that all those red lights which should have been triggered several years ago, when the Islamic terror killed Jews, did not even flash for a second. The French security services insisted on not touching the Islamic terror, professionally and fundamentally.
"There is no legislation in France which makes it possible to deal with the hundreds of people who left France to fight along with the radical Islamic movements. There is no legislation which defines Islamic terror as a problem, and therefore there are no agents in the problematic mosques.
"The French intelligence services have zero ability to do something with the information they receive from foreign intelligence agencies about dangerous Muslims who have returned to France. And so the terrorists had no problem travelling on a train in France with Kalashnikovs in their bags. There was not a chance in the world that someone would stop them...
"Who would have thought that the French people, who invented the modern intelligence, would reach such a low point. When France wants its intelligence to be extraordinary, it is. But it just didn't want, for political reasons, to deal with the Islamic terror..."
http://www.ynetnews.com/articles/0,7340,L-4613823,00.html
~~~~~~~~~~
There are politically correct concerns being voiced about a backlash against innocent Muslims – Islamophobia, they call it – as a result of the terror attacks. With regard to this, I share the observations of Lawrence A. Franklin writing in Gatestone (emphasis added):
"A seemingly required inclusion in most reports on the recent mass murder in Paris was the rhetorical question posed by reporters has been: "Will these events invite a wave of anti-Muslim incidents"? Since these Islam-inspired murders, however, there have been only a few anti-Muslim actions -- all against property.
"Under-reported, however, was how rapidly the assault against Charlie Hebdo migrated into an anti-Jewish mini-pogrom in the heart of Paris. What did shoppers in a kosher market, four of whom were slaughtered, have to do with the cartoon images of Mohammad? Nothing. But the assault on the HyperCacher Jewish kosher supermarket has a lot to do with the true nature of Islamic militancy.
"It seems the drawings in Charlie Hebdo offended some true believers of Islam, but the mere existence of Jews also offends them...
"In reaction to the murders in Paris, the French capital's Grand Synagogue was closed for the first time since World War II. In fact, synagogues all over Paris were closed. There were no Shabbat services this Saturday, the Jewish day of rest...In light of all the expressed concern about possible anti-Muslim incidents, claims on television, such as on CNN, that 'Muslims are the most persecuted people,' seemed jarring and wrong.
"The Grand Mosque in Paris, like mosques all over the capital, was open for business on Friday, the Muslim day of prayer. Moreover, there was little discernible increased security around the Grand Mosque. It seems French security authorities were less worried about attacks directed at Muslim institutions than were America's media commentators. Perhaps they should have spent just a little time reporting on the anti-Jewish rioting that took place in the heavily Muslim neighborhood of Trappes, a suburb of Paris?"
http://www.gatestoneinstitute.org/5025/paris-mosque-synagogue
~~~~~~~~~~
It is well understood that Obama embraces the same politically correct perspective, which translates into a policy protective of Muslims. I will note here that it has made the rounds of several blogger sites that Obama's press secretary said that, in light of the terror attacks in Paris, fighting Islamophobia would be given a priority by the president. However, I have not been able to locate a primary source for this. Thus, while I have no trouble believing that this would reflect Obama's position, I cannot verify this statement.
What I can share here, however, is a piece by eminent anti-terrorist Steve Emerson, regarding the refusal to use the word "Islam" in association with terrorism:
"The first comments came from Josh Earnest, the White House spokesman, who refused to even call the massacre an act of terrorism, but made sure to add the now typical non-sequitor which...routinely follows Islamic terrorist attacks, that 'Islam is a religion of peace' and therefore no [one] should associate the "extremists" in Paris with Islam.
"Then President Obama issued his own statement, but in keeping with his administration's 6 year old prohibition on using the term 'Islamic terrorism,' he simply referred to the attack as 'terrorism' -- a vanilla term conspicuously devoid of any descriptive term explaining the motivation behind the attack."
There's more. See it here:
http://www.investigativeproject.org/4721/will-we-ever-learn-obama-white-house-cant-admit
~~~~~~~~~~
Emerson reports that in 2012, Obama spokesman Jay Carney said, referring to the very same Charlie Hebdo Magazine that was attacked last week:
"We are aware that a French magazine published cartoons featuring a figure resembling the prophet Muhammad, and obviously we have questions about the judgment of publishing something like this. We know these images will be deeply offensive to many and have the potential to be inflammatory."
So much for defending freedom of speech.
~~~~~~~~~~
I mention this here not only to expose the appeasement of the Obama administration, but to point out where true courage in "telling it straight" can be found now: Amongst the cartoonists. And I want to spotlight one particular cartoonist, Yaakov Kirschen, originator of "Dry Bones."
Says Kirschen:
"I don't think that the political or religious leadership in the West is up to the job. I think they are cowardly. I think they are fearful and that's what we got.
"I think what we have now, is that bizarrely, cartoonists are the front-line soldiers in the war to defend freedom of speech...I think cartoonists have become advocates and activists."
http://www.jpost.com/International/Cartoonists-The-unlikely-front-line-soldiers-387312
Kirschen is involved in a cartooning project to fight anti-Semitism and apathy regarding persecution of Middle East Christians.
You might want to lend support. See http://www.drybonesblog.blogspot.co.il/
~~~~~~~~~~
As I close today, hundreds of thousands, if not a million, people are winding up their march in Paris, a silent protest against terror. Among the leaders present are Israeli Prime Minister Binyamin Netanyahu, British Prime Minister David Cameron, German Chancellor Angela Merkel, and Italian Prime Minister Matteo Renzi; Israeli Ministers Naftali Bennett and Avigdor Lieberman are also in attendance.
Credit: Jewish News UK
Something heartening about seeing such a turnout against terror. You want to believe it says something positive. But for me this has been seriously marred by the revolting presence of Mahmoud Abbas, who was not ashamed to show his face, as if he were also against terror.
A good show. But let's see what, if anything at all serious, follows.
~~~~~~~~~~
© Arlene Kushner. This material is produced by Arlene Kushner, functioning as an independent journalist. Permission is granted for it to be reproduced only with proper attribution.

If it is reproduced and emphasis is added, the fact that it has been added must be noted.
http://arlenefromisrael.squarespace.com/current-postings/2015/1/11/january-11-2015-crisis.html
Posted
on Sunday, January 11, 2015 at 01:25PM
by
Arlene
in Charlie Hebdo, France, Israel, Netanyahu, anti-Semitism, terror, terrorism
|
Post a Comment
|
Email
|
Print
I begin here with a correction: When I last shared news of the electoral campaign, I mentioned irregularities in the Likud primary. And I spoke about the fact that one candidate demanded a recount and came close to securing a reasonable slot on the list as a result. This was Tzipi Hotovely, pictured below. My brain was not working when I wrote, however, and I typed "Tzipi Livni" instead. Many readers caught this. I appreciate it, because it means my readers are paying attention. But I also appreciate that just about every single reader who wrote to me indicated that he/she knew it was an error and that I meant Hotovely.
Credit: kikar
~~~~~~~~~~
And then a tribute to a very special lady, Joan Peters Caro, who passed away yesterday. Joan was a courageous journalist, devoted to truth, who wrote "From Time Immemorial," which documented poorly understood facts about the Jewish and Arab demography in the land in the years prior to and right after the founding of the modern State of Israel. Scrupulously researched, it is considered an indispensable resource by many who care about Israel as the Jewish state.
Credit: Levitt
~~~~~~~~~~
Coming back to Tzipi Livni just briefly...Arutz Sheva says she claimed yesterday that she and Herzog would make Israel "popular" again – something she maintains Netanyahu could not do.
http://www.israelnationalnews.com/News/News.aspx/189633#.VK7ipZv9nIU
This position, which I find deplorable, goes a long way to demonstrating what is wrong with the left.
It is several years ago, when she was foreign minister, that she gave a talk at a conference I attended. She explained that we "had to" give away Judea and Samaria in order to make the world happy, as this was important. I got up and walked out. Would do the same today, of course.
Our positions must be based on what is best for us, and we must stand up strongly for our rights, whether this makes the world "happy" or not.
What is more, her claim that Netanyahu is responsible for the "increasing isolation" that Israel is enduring is just plain wrong. The UN and the EU are horrendously one-sided, but around the world we are forging new relationships with some states, and strengthening our relationships with others. Read about our growing ties with India, for example, or Japan. And the very quiet cooperation with the more moderate Arab states (something that would have been impossible not so long ago). We are not increasingly isolated.
~~~~~~~~~~
On the other hand, I was not exactly ecstatic about a statement made by Netanyahu on Tuesday, either:
He says he is still in favor of a "two-state" solution, as he espoused it in his Bar Ilan speech of 2009, but the Palestinian Arabs have rendered this impossible:
"I don't think withdrawing settlers is practical at the moment."
http://www.jpost.com/Israel-Elections/Netanyahu-says-unlikely-settlements-will-be-dismantled-if-elected-to-fourth-term-386887
~~~~~~~~~~
I know exactly what is happening, as it is fairly obvious on the face of it: Kerry is telling Netanyahu he will support Israel in international forums. But, as the US opposes unilateral actions by the PA because negotiations are the way for the Palestinian Arabs to secure a state, Israel must be willing to consider coming back to the table to negotiate that state.
And so, our prime minister is playing both sides. Yes, sure I'm for that state, he says for public consumption, but look, the PA has made it impossible for us to proceed.
He's certainly correct, that the PA has made negotiating impossible. This is what makes the position of leftists who call for us to negotiate a state now so ridiculous. But, it is time for our head of state to say that a Palestinian state is not the way to go, in any event, because of Jewish rights in the land. He should not be going on record, once again, for that "two state solution."
~~~~~~~~~~
United Nations Secretary-General Ban Ki-moon announced on Tuesday that the Palestinian Arabs will formally become a member of the International Criminal Court (ICC) on April 1. What is more, the court's registrar said yesterday that jurisdiction would date back to June 13, 2014.
http://www.reuters.com/article/2015/01/07/us-palestinians-israel-un-idUSKBN0KG1JV20150107
This is something I do not understand: retroactive jurisdiction. Bringing jurisdiction back to the middle of June means possibly giving the PA the opportunity to level charges against Israel for her actions in the Gaza war. (There are still issues regarding jurisdiction of place – as Hamas and not the PA is in control in Gaza.)
~~~~~~~~~~
Meanwhile, the State Department has declared that the US does not believe Palestine qualifies as a sovereign state and doesn't recognize it as such and does not believe that it is eligible to accede to the Rome statute."
http://www.israelhayom.com/site/newsletter_article.php?id=22659
~~~~~~~~~~
International lawyer Alan Baker, writing for the Jerusalem Center for Public Affairs, agrees with the US position. He says that the Secretary General should have refused to accept the request of the PA because the Rome statute limits membership to states, and explains why "Palestine" is not a sovereign state.
Says Baker:
"...the acceptance by the Secretary General of the Palestinian request is legally flawed and was determined under false pretenses – 'false' because there exists no sovereign Palestinian state, and 'pretenses' because of the pretension by the Secretary General as if such a state exists when he is fully aware that there is no legal basis for this."
http://jcpa.org/un-approves-pa-icc/
~~~~~~~~~~
Senator Rand Paul (R-KY) yesterday introduced a bill that would immediately stop all US aid to the PA, until such time as the PA withdrew its application to the ICC. The bill is entitled, "Defend Israel by Defunding Palestinian Foreign Aid Act of 2015."
http://www.algemeiner.com/2015/01/08/rand-paul-launches-senate-bill-to-defund-palestinian-authority/
Love it! Let's see how many Republicans stand up now.
Credit: US Senate
~~~~~~~~~~
There is no one reading this who is not aware of the horrendous Islamist massacre that took place at Charlie Hebdo in Paris, and I doubt there is anyone reading this who is not horrified and whose heart does not go out to those killed and their families.
The news reports yesterday spoke of the many tens of thousands who crowded the streets in Paris and elsewhere in France, as well as in other countries, showing solidarity with those slain ("Je suis Charlie"). It is in this report that I found just a little glimmer of hope: out on the streets, not in their homes, staring at the TV and clucking. Is the world just possibly beginning to wake up?
~~~~~~~~~~
Last I wrote, I spoke of the major snow storm predicted. I even included a lovely picture of snow falling. But a slight rise in temperatures changed that scenario here in Jerusalem. Chilling to the bone cold, but not cold enough. We had fierce weather, but it was pouring rain, and hail, and sleet. They're talking about snow for tomorrow. We'll see...
Credit: rvbloggers
~~~~~~~~~~

© Arlene Kushner. This material is produced by Arlene Kushner, functioning as an independent journalist. Permission is granted for it to be reproduced only with proper attribution.

If it is reproduced and emphasis is added, the fact that it has been added must be noted.
http://arlenefromisrael.squarespace.com/current-postings/2015/1/8/january-8-2015-always-more.html
Posted
on Thursday, January 8, 2015 at 04:59PM
by
Arlene
in Alan Baker, ICC, Netanyahu, PA, Rand Paul, UN
|
Post a Comment
|
Email
|
Print