Pretty much describes the state of affairs here and elsewhere. I was going to use the Hebrew term "balagan," which means a state of confusion, a muddle. But that is much too benign. "Dysfunctional" suggests impairment, and that is much closer to the mark.

Let us return to the issue of video cameras on the Temple Mount.
Credit: cbn

Seems such cameras probably will go up, PA objections – which I noted in my last posting - notwithstanding. The agreement, which was apparently signed, was between the US, Israel, and the Jordanians.

However, yesterday there was this news item:

"Prime Minister Binyamin Netanyahu's office denied Monday allegations from the Jordanian Wakf Muslim Authority that Israel has prevented security cameras from being placed on the Temple Mount, in accordance with an agreement signed between Israel, Jordan and the US.

"Final arrangements for the manner and locations of the cameras on the Temple Mount, which was agreed upon between Israel, Jordan and the United States, were supposed to be coordinated at the professional level.

"...Israel has already expressed its consent to start the process as soon as possible."
http://www.israelnationalnews.com/News/News.aspx/202471#.Vi6VopuhfIV
~~~~~~~~~~
Why would the Jordanian Wakf make this accusation? We have an answer here:

It was the Wakf that was playing games, attempting to unilaterally install cameras, without the coordination of technical teams, which had not yet met. The prime minister's office has cited Kerry's statement from Saturday on this:

"I expect Jordanian and Israeli technical teams will meet soon to discuss the implementation of this idea."

http://www.jpost.com/Arab-Israeli-Conflict/Israel-hopes-to-coordinate-Temple-Mount-camera-installation-as-soon-as-possible-430135

~~~~~~~~~~

I am very pleased that Israeli security stopped the Wakf from proceeding unilaterally. This is a demonstration of sovereignty, at some level. And where did the Wakf try to install cameras? At the Mughrabi gate, the only gate through which Jews and other non-Muslims can enter. Ah ha...

~~~~~~~~~~

What I have learned since last I wrote about the situation is that Israel already has cameras on the Mount – at least 100 and possibly as many as 300 – that are used for Israeli security. According to Israeli officials, the feed from the cameras now to be installed will go to the Wakf and also Israeli police. This too is good, if it happens.

But wait: the Grand Mufti of Jerusalem Sheikh Muhammed Ahmad Hussein said on Sunday – which is after Kerry had made his announcement about the agreement – that the Wakf had not decided whether to go along with the cameras.

This is how it is here.
~~~~~~~~~~
Ya'akov Kirschen has perhaps the last word on precisely how dysfunctional the situation is, although he graciously calls it "Looney Times":
Boy is it the truth!
~~~~~~~~~~
The Joint Committee of Temple Organizations - which is comprised of 30 organizations working for Jewish rights on the Mount – has released a statement declaring that "the prime minister is not entitled to prevent Jews from praying on the Temple Mount..." This stance, says the Committee, contravenes Israel's Basic Law: Jerusalem, and Israel's Law of the Holy Places. Indeed.
Basic Law: Jerusalem, section 3, reads, "The Holy Places shall be protected from desecration and...anything likely to violate the freedom of access of the members of the different religions to the places sacred to them or their feelings towards those places."
https://www.knesset.gov.il/laws/special/eng/basic10_eng.htm
Protection of the Holy Places Law, reads very similarly: "The Holy Places shall be protected from desecration and any other violation and from anything likely to violate the freedom of access of the members of the different religions to the places sacred to them or their feelings with regard to those places."
http://www.mfa.gov.il/mfa/foreignpolicy/mfadocuments/yearbook1/pages/14%20protection%20of%20holy%20places%20law.aspx
~~~~~~~~~~
What we are seeing, then, is an eagerness by the Israeli government to scrupulously safeguard the religious rights and freedoms of diverse groups within Israel – Christian, Muslim, Bahia, etc. etc., while at the same time permitting deprivation of the rights and freedoms of Jews when it comes to the holiest of Jewish sites.
Dysfunctional, for sure.
~~~~~~~~~~
Yesterday the 20th anniversary of the assassination of Prime Minister Yitzhak Rabin was marked.
Credit: embassies.gov.il
Because of his association with Oslo, Rabin has been seen over the years as someone who enthusiastically embraced "the two-state solution." Or, I might better put it, came to be seen thus, as his memory was co-opted by those eager to promote that "solution." To this day, there are those who promote this distorted vision of Rabin as rationale for pursuing negotiations.
The reality is far more complex.
On October 5, 1995, Rabin brought to the Knesset the Interim Agreement for ratification. Note the following that he proposed (emphasis added):
[] No sovereign Palestinian state.
"[The] State of Israel...will include most of the area of the Land of Israel as it was under the rule of the British Mandate, and alongside it a Palestinian entity which will be a home to most of the Palestinian residents living in the Gaza Strip and the West Bank.
"We would like this to be an entity which is less than a state..."
[] United Jerusalem.
"First and foremost, united Jerusalem, which will include both Ma'ale Adumim and Givat Ze'ev."

So what Rabin envisioned for Jerusalem 20 years ago, the Arabs are stills screaming about, with regard to building in E1, between Ma'ale Adumim and Jerusalem.
[] No return to '67 borders (sic).
"The security border of the State of Israel will be located in the Jordan Valley, in the broadest meaning of that term.
"Changes which will include the addition of Gush Etzion, Efrat, Beitar and other communities, most of which are in the area east of what was the 'Green Line,' prior to the Six Day War.
"The establishment of blocs of settlements in Judea and Samaria, like the one in Gush Katif."
[] Settlements.
"I want to remind you: we committed ourselves, that is, we came to an agreement, and committed ourselves before the Knesset, not to uproot a single settlement in the framework of the interim agreement, and not to hinder building for natural growth."

http://imra.org.il/story.php3?id=68782

And then there is this, additional, regarding our relationship with the PA. Said Rabin to the Knesset (emphasis added):

"We are aware of the fact that the Palestinian Authority has not -- up until now -- honored its commitment to change the Palestinian Covenant, and that all of the promises on this matter have not been kept. I would like to bring it to the attention of the members of the house that I view these changes as a supreme test of the Palestinian Authority's willingness and ability, and the changes required will be an important and serious touchstone vis-à-vis the continued implementation of the agreement as a whole."

My friends, this was 20 years ago, and to this day the necessary changes in the Palestinian Covenant have not been made – essentially what was required was removal of clauses that called for Israel's destruction.

We must ask, even now, what pressures were brought to bear on Rabin: why he felt the need to continue with the Oslo process, which, it seems, had already become something of a runaway diplomatic train. If he viewed the PA's changing of its Covenant as the supreme test of its seriousness, why did he not demand those changes before implementing the next stage of Oslo?

We see here the unfolding of a very unfortunate pattern, and I would suggest that at his core, Rabin seemed to know better.

~~~~~~~~~~

I did not lead off with news about terror attacks today. But this does not mean they have ceased. They have diminished in frequency, but have not halted. Security officials are warning us the attacks may continue for some while yet.

Yesterday morning, a terrorist seriously wounded a soldier in Kiryat Arba, right outside Hevron. He was then shot dead.

In the afternoon, a terrorist at the Machpela was thwarted in his attempt to knife a soldier.

In Jerusalem, thank Heaven, it has been quiet for a couple of days.

~~~~~~~~~~

Speaking of Jerusalem, at the Cabinet meeting on Sunday, Netanyahu said something about looking into revoking Jerusalem residency for whole Arab neighborhoods, which would mean some 80,000 or more people. This is different from from revoking it for those who commit or attempt to commit terror acts, and for their families. While the latter is a very good move, moving on the larger proposal would be highly problematic.

While at first blush it might seem good, there is reason to be wary with regard to removing residency permits for whole neighborhoods. Right wing members of the government reacted with alarm, fearing that what Netanyahu intended was to lop off these neighborhood and say they were now part of the PA – a dangerous process that would be the beginning of dividing Jerusalem.

I do not expect that what Netanyahu casually mentioned will come to pass, but I wanted to mention it here. My speculation: Could he have floated this as a warning to those Arab residents who still entertain thoughts of committing terrorist acts?

~~~~~~~~~~

In light of the current quiet in Jerusalem – may it continue! – I have decided to run "Jerusalem of Gold" – "Yerushalayim Shel Zahav": my very favorite version with the late, great Ofra Haza. English subtitles and scenes of Yerushalayim included.

https://www.youtube.com/watch?v=JH8gtdDA5x0

~~~~~~~~~~

© Arlene Kushner. This material is produced by Arlene Kushner, functioning as an independent journalist. Permission is granted for it to be reproduced only with proper attribution.

If it is reproduced and emphasis is added, the fact that it has been added must be noted.
http://arlenefromisrael.squarespace.com/current-postings/2015/10/27/october-27-2015-dysfunctional.html
Posted
on Tuesday, October 27, 2015 at 03:25PM
by
Arlene
|
Post a Comment
|
Email
|
Print
Today I begin with a marvelous Dry Bones cartoon by Ya'akov Kirschen. It is not "ha ha" funny, but evokes a laugh in the way that something that rings very true can do.
So, we cope with our adversities, which seem never-ending, and yet we hold our heads high, knowing who we are, and that we will prevail.
~~~~~~~~~~
But oh those adversities. The terrorism, while perhaps occurring at a somewhat slower pace, has not stopped.
Some attacks are averted in time because of alert passers-by or security. There was, for example, the warning received by police in Tiveria, about a suspicious looking man who boarded a bus, saying he wanted to be a "shahid" – a martyr. They picked him up, and found a knife on him, and – it should be noted – a kippah. It is not uncommon for terrorists to attempt to disguise themselves as Jews before attacking (see following). And yesterday, at Tapuach Junction in the Shomron (Samaria), a Palestinian Arab was caught with a knife.
In a different incident this morning, which was not adverted, an Israeli driver had his car pelted with stones, one of which hit him on the head; when pulled over and exited the car, he was stabbed. Please see what the knife looked like: this was not a paring knife for peeling an apple: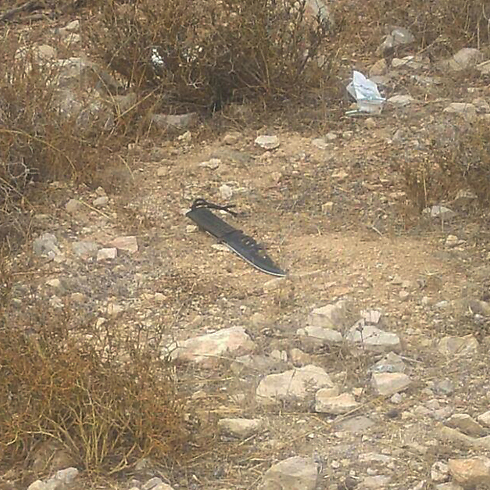 Credit: Gush Etzion Council
The terrorist, who some reports said was dressed as an ultra-Orthodox Jew, fled to the nearby Arab village of Si'ir; I am confident he will be caught.
http://www.ynetnews.com/articles/0,7340,L-4715851,00.html
While this afternoon, an Arab woman attempted to stab a soldier at a checkpoint but was shot before she succeed.
~~~~~~~~~~
The big news today has been the announcement that in his meeting with Kerry, Netanyahu agreed to surveillance cameras on the Temple Mount. This was a proposal of the Jordanians, whose Wakf – the Islamic trust - administers the Muslim holy sites on the Mount.
Kerry enthusiastically declared it "an excellent suggestion by King Abdullah...to provide 24-hour video coverage of all sites."
http://www.israelnationalnews.com/News/News.aspx/202362#.VizFIZuhfIV
~~~~~~~~~~
Netanyahu, at this morning's Cabinet meeting, said that the Temple Mount would continue to be administered as it has been (rather than reverting to full Jordan control of the Mount, as has been demanded). "The visiting arrangements for Jews on the Temple Mount are preserved, and there will be no change."
http://www.jpost.com/Arab-Israeli-Conflict/Netanyahu-Video-cameras-on-Temple-Mount-serve-Israels-interests-429999
This was good, in so far as he had not caved to those demands for Jordanian control: Jews and other non-Muslims would continue to be able to go up to the Mount, albeit for limited hours. And Israel would still have security control regarding which Muslims entered.
~~~~~~~~~~
But then Netanyahu said that the video cameras would serve Israel's interests, and of this I was entirely dubious – even as he explained that it would "debunk the claim" that Israel was changing the status quo.
It felt demeaning to me because it was one-sided: Muslims watching us. Actually made me slightly nauseous.
Netanyahu said that camera surveillance additionally would "show where the provocations are really coming from" and thwart them..."
But does anyone in Israel seriously believe that if the Jordanian Wakf were monitoring the cameras they would be forthcoming about Muslim harassment of Jews? Hardly likely: I've no evidence that the Jordanian Wakf is remotely evenhanded.
At the same time, it struck me as exceedingly likely that if one single Jew whispered to himself up there, there would be an announcement about how Jews were praying when they are "not supposed to."
Credit: Miriam Alster/Flash 90
~~~~~~~~~~
Of course, I was not the only one with serious reservations about this plan. Knesset Speaker Yuli Edelstein wanted to know exactly who would control the cameras. He even envisioned the possibility of forged footage put out to damage Israel.
http://www.israelnationalnews.com/News/News.aspx/202395#.VizR8puhfIV
Credit: Yonaton Sindel/Flash 90
~~~~~~~~~~
But here's the finale to this issue, the "kick in the head," as it were.
"'This is a new trap,' Foreign Minister Riyad al-Maliki said on Voice of Palestine radio, accusing Israel of planning to use such footage to arrest Muslim worshippers it believes are 'inciting' against it."

Read: They might catch us at something, can't chance it.
Credit: Reuters
http://www.jpost.com/Arab-Israeli-Conflict/Palestinian-FM-says-surveillance-on-Temple-Mount-a-new-trap-by-Israelis-430002
Naturally, Hamas was vehemently opposed as well, as an Hamas spokesman explained in an over-the-top statement: This proposal was just a "pathetic" attempt to "beautify the Zionist Judaizing project." Who writes their public announcements?
~~~~~~~~~~
We have here a "wait and see" situation, in terms of how this will resolve itself, but I suspect that nothing is going to happen. But is Kerry going to say that Israel cooperated and the PA did not? Nahh...
~~~~~~~~~~
What I want to do here is raise exceedingly important over-arching issues with regard to Israel and the Temple Mount. These are not issues that can be resolved today, but we should remain mindful of them, act on them as appropriate and in accordance with promotion of Israeli rights.
There is no question about the fact that Israel accorded Jordan "special status" with regard to the Mount as part of the Israeli-Jordanian peace treaty of 1994. But we need to examine the words of the treaty itself (with my underlining for emphasis added) to determine what has been accorded to Jordan and what obligations adhere:
Article 9 – Places of Historical and Religious Significance
Each party will provide freedom of access to places of religious and historical significance.
In this regard, in accordance with the Washington Declaration, Israel respects the present

special role of the Hashemite Kingdom of Jordan in Muslim Holy shrines in Jerusalem

. When negotiations on the permanent status will take place, Israel will give high priority to the Jordanian historic role in these shrines.
The Parties will act together to promote interfaith relations among the three monotheistic religions, with the aim of working towards

religious understanding

, moral commitment,

freedom of religious worship

, and tolerance and peace.
http://www.mfa.gov.il/mfa/foreignpolicy/peace/guide/pages/israel-jordan%20peace%20treaty.aspx
~~~~~~~~~~

Please note that Jordan has been accorded a special role with regard to Muslim holy shrines only. On the Mount, this means most significantly the Al Aksa Mosque
Credit: Wikipedia
and the Dome of the Rock
Credit: Widipedia
Although there are other mosques on the Mount, of lesser significance, the special role – as defined in the treaty - does NOT adhere to the entire Mount. Israel has not relinquished sovereignty or right of control over the entire Mount – which comprises some 20 football fields in size - to Jordan.
And yet, there is a sort of extreme deference that is accorded to Jordan on this issue by the Israeli government that is sometimes maddening. I know...I know...these are sensitive times, and the king sits uneasily on his throne and we do not want jihadists to take over in Jordan. And yet, time and again we seem to go above board.
~~~~~~~~~~
Most important of all is the question of how it has come to pass that the Muslim Wakf controlled by Jordan has the jurisdiction to forbid Jewish prayer on the Temple Mount – Har Habayit, the most sacred of all Jewish sites. This is an outrage of considerable dimensions. And doubly so because Jordan is party to a treaty that requires it to work towards freedom of religious worship.
In point of fact, the Israeli High Court has ruled that Jews have a right to pray on the Mount, but that the police have the right to restrict it for security reasons. And that is what has happened: the right is restricted because of Muslim threats of unrest and violence.
The issue of the right of Jews to pray on the Mount will be pursued until justice is finally done.
Says Rabbi Yehuda Glick, head of the Temple Mount Heritage Foundation, encouraging people to visit the Mount:
"Prayer is a(n) internal, spiritual act that no military or police can prevent. (Emphasis added)
"The reality on the Temple Mount will not be determined by speeches, and not even by international pledges to cameras, but rather by facts on the ground...We must condition the world to accept the presence of Jews as part of the natural landscape of the Mount."
http://www.israelnationalnews.com/News/News.aspx/202368#.VizzUpuhfIV
~~~~~~~~~~
Mahmoud Abbas, after meeting with John Kerry and King Abdullah in Amman yesterday, is reportedly demanding "incentives" to stop the violence. He wants prisoners released and a return to the peace table on his terms.
He has less than no chance of securing the release of terrorists from Israeli prisons now. I can speak with near certainty when I say that the Israeli public absolutely would not tolerate this in the current climate of terrorism, and that were Netanyahu to attempt to honor this demand, he would lose his government – which means he won't do it.
What concerns me is that Abbas may have made this demand as an "opening bid," so to speak, and is looking for other concessions from Israel.
The notion of offering concessions of any sort to get an arch terrorist to stop inciting his people to kill us is an obscenity. He should stop because we have made it clear that things will go badly for him and his people if he does not. Period.
And yet, I worry that Netanyahu – who a while back declared there would be no concessions – will, when pressured, cave in small ways. But even these small ways constitute a reward for terrorism that should not be entertained.
Arutz Sheva speaks about the possibility of increasing the number of work permits for Palestinian Arabs. But can that be, either, under current circumstances? How daft do we continue to be???
http://www.israelnationalnews.com/News/News.aspx/202384#.Viz3dpuhfIU
Another situation to be tracked carefully.
~~~~~~~~~~
Echoes of an horrendous time come back to haunt us: Rabbi Haim Yehiel Rotman was praying at the Kehilat Bnei Torah synagogue in the Har Nof neighborhood of Jerusalem last November when terrorists launched an incredibly vicious attack on worshippers. Rabbi Rotman suffered ax blows to his head and fell into a vegetative coma. Survived by his wife and 10 children, he passed away yesterday and was buried last night with many hundreds in attendance.
~~~~~~~~~~
And now a beautiful closing video. There is something called the "Shabbat Project" that works to get a maximum number of Jews around the world to observe a single Shabbat all at the same time. It is an annual effort, and the Shabbat for 2015 was this past Shabbat, just over.
The Shabbat observed in 2014 was October 24 and 25th. This video comes from that observance. At the end of Shabbat there is a Havdalah ceremony, with prayers over wine, spices and candles, to mark the difference between Shabbat and the mundane days of the week.
Here we have the Maccabeats and Cantor Netanel Hershtik singing Havdalah, using two different tunes. You see people from around the world who have participated in keeping Shabbat.
This, my friends, is who we are at our best, and why we can proceed with heads held high. Enjoy!
https://www.youtube.com/watch?v=5Y9jPvnV5B8
(Sharon, thank you!)
~~~~~~~~~~
© Arlene Kushner. This material is produced by Arlene Kushner, functioning as an independent journalist. Permission is granted for it to be reproduced only with proper attribution.

If it is reproduced and emphasis is added, the fact that it has been added must be noted.
http://arlenefromisrael.squarespace.com/current-postings/2015/10/25/october-25-2015-proceed-with-head-held-high.html
Posted
on Sunday, October 25, 2015 at 01:09PM
by
Arlene
|
Post a Comment
|
Email
|
Print
Yesterday was a horrible day with regard to terror attacks. Jerusalem was quiet except for one foiled attack – I think Netanyahu was correct in saying that extensive work in the city, including deployment of many security forces, has had a positive effect. The attacks are taking place mainly in Judea and Samaria, outside Ma'ale Adumim, and the Gush Etzion area, Yitzhar, on Route 60, etc. etc. There were five attacks that wounded six – all police and soldiers, one critically. Knifings and car attacks. For the first time there was an attempted attack in Beit Shemesh.

~~~~~~~~~~

Said IDF Chief of Staff Lt.-Gen. Gadi Eisenkot in a Channel 2 interview yesterday:

"There is no focused, clear solution to this kind of challenge.
"There is an integrated, multi-dimensional response. I believe that a solution to this problem will be found, even if it takes time."

http://www.jpost.com/Arab-Israeli-Conflict/Five-West-Bank-terrorist-attacks-leave-6-Israelis-wounded-428687

Not encouraging for those of us weary of all this and eager to see a strong hand raised against those who threaten us. Rightly or wrongly, this is not the way our government is going to play it.

~~~~~~~~~~

The response of the international community is both tiresome and infuriating: So many words, so many platitudes, so much that distorts rather than seriously confronts the reality. We are facing evil and hatred, and a desire to eliminate Israel (much more on this below). German Chancellor Angela Merkel, meeting with Netanyahu in Berlin yesterday, declared that she expects Abbas to condemn acts of terrorism. That's nice. As Netanyahu pointed out, Abbas has not condemned a single one.

Merkel also said, "Israel has the obligation to protect its citizens, but the means have to be commensurate with the goals." (Emphasis added)

Here we go again, with the "proportionate" mentality. The world does not like it when we kill terrorists who have attacked our people. Just because some Arab tried to make a Jew dead doesn't mean we should make him dead, right? We should give him a comfy prison cell instead and let him watch cable TV.

http://www.jpost.com/Israel-News/Politics-And-Diplomacy/Merkel-We-expect-Abbas-to-condemn-acts-of-terrorism-428676

UN General Secretary Ban Ki Moon was here, and, as expected, expounded on the need for a "two state solution" to give hope to the Palestinian Arabs. I cannot help wonder when I hear people such as Ban propose such a solution, whether they truly can believe it. I seriously doubt it, whatever their political orientation.

~~~~~~~~~~

A major focus of this violence, at least ostensibly, continues to be the Temple Mount, which we are charged with attempting to take over. The PA and Jordan are seeking full control of the Mount, with decisions as to how many non-Muslims can come up totally in their hands. That is not going to happen. What did happen is that Netanyahu offered to further restrict the number of non-Jews allowed up. (You may have heard the huge thump that followed this offer, as I banged my head into the wall.) This is NOT the way to go – as concessions signal weakness. At any rate, his offer was rejected because it didn't go far enough.

~~~~~~~~~~

I want to repeat again here what the original understanding in 1967 was: the wakf, in Jordanian hands, has day to day administration of the Muslim religious sites on the Mount.

The Arabs do not have sovereignty over the Mount; we do.

Our current situation is not new – and goes back way before modern Israel existed. Charges that Jews are going to take over the Al-Aksa Mosque on the Mount have been utilized time and again to incite Arabs in the land to the murder of Jews.

Most notably there is the Mufti of Jerusalem, Haj Amin al-Husseini, who, in 1929, spread just this rumor. This led to the massacre of 67 people in Hevron. See on this and similar incidents here:

http://www.algemeiner.com/2014/01/31/inciting-violence-against-jews-through-inaccuracy/#

~~~~~~~~~~

In 2000, Ariel Sharon, who was then head of Likud, the opposition party, went up on the Mount after having coordinated his visit with Wakf security.
Credit: Flash 90

The second intifada – the Arab war – that followed was said to have been ignited by this visit, which Palestinian Arabs claimed they found offensive. But this was a pretext. I have material indicating clearly that the PLO had been planning for the intifada and were just waiting for the excuse to pin it on. They even had fliers printed and stones stockpiled.

~~~~~~~~~~

But before we move away from the subject of the Mufti, I want to take a look at the furor that erupted yesterday because of a statement Netanyahu made regarding him. In this instance I stand behind the prime minister, whose words were a bit distorted by media. It was made to sound as if he said the Mufti and not Hitler was responsible for the Holocaust.

What Netanyahu said at the World Zionist Congress meeting here in Jerusalem:

"...the Mufti...was...sought for war crimes in the Nuremberg trials because he had a central role in fomenting the Final Solution.

"He flew to Berlin. Hitler didn't want to exterminate the Jews at the time, he wanted to expel the Jews. And Haj Amin al-Husseini went to Hitler and said, 'If you will expel them, they'll all come here.' 'So what should I do with them?' he [Hitler] asked. He [Husseini] said, 'Burn them.'"

http://www.jpost.com/Israel-News/Politics-And-Diplomacy/Netanyahu-trivializing-Holocaust-by-claiming-mufti-persuaded-Hitler-to-kill-Jews-Herzog-says-427598

Netanyahu subsequently made it clear that he was not in any way trying to absolve Hitler of the crimes of the Holocaust. However, it is "absurd" to ignore the role played by the mufti in encouraging Hitler.

"There is abundant proof of this." Adolf Eichmann's deputy, at the Nuremberg trials said that the mufti played a role in the decision to destroy European Jewry. He thought this was "a reasonable solution to the Palestinian question."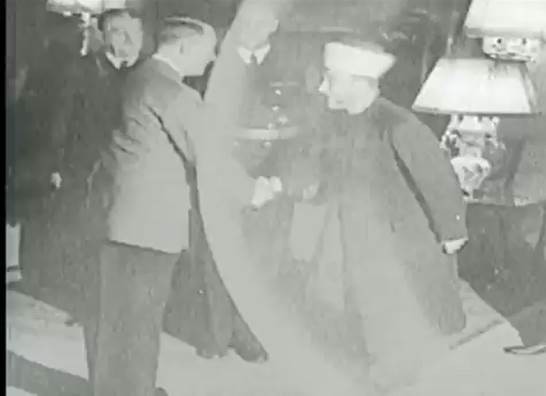 Credit: hirhome

~~~~~~~~~~

My friends, there is a direct line from the Mufti to Mahmoud Abbas, and within certain parts of Palestinian Arab society there is an endemic hatred of Jews that has a long tradition. To ignore this is to ignore the reality of what we are dealing with now.

Prime Minister Netanyahu is to be congratulated for raising this significant issue. Please share this information broadly, for it is obvious the world, in a desire to exonerate the Palestinian Arabs, would prefer to sweep it under the rung.

~~~~~~~~~~

Middle East Forum scholar, historian and author Wolfgang G. Schwanitz supports Netanyahu's contentions (emphasis added):

"It is a historical fact that the Grand Mufti of Jerusalem al-Hajj Amin al-Husaini was an accomplice whose collaboration with Adolf Hitler played an important role in the Holocaust. He was the foremost extra-European adviser in the process to destroy the Jews of Europe."

https://madmimi.com/p/62c2d6?fe=1&pact=33998600335

~~~~~~~~~~

Please see this article by Daniel Gordis, "No Country for Jews?"

Gordis is not a right-winger or a nationalist, not by a long shot. But what he describes here is dialogue that ensued between students and a religious Muslim woman who is an instructor at the very moderate Shalem College in Jerusalem.

How did she think the current tensions would be resolved? the students asked her (emphasis added):

"'It's our land,' she responded rather matter-of-factly. Stunned, they weren't sure that they'd heard her correctly. So they waited. But that was all she had to say. 'It's our land. You're just here for now.'"

"...What upset them was that she — an educated woman, getting a graduate degree (which would never happen in a Muslim country) at a world class university (only Israel has those — none of Israel's neighbors has a single highly rated university) and working at a college filled with Jews who admire her, like her and treat her as they would any other colleague — still believes that when it's all over, the situation will get resolved by our being tossed out of here once again."
http://www.nydailynews.com/opinion/daniel-gordis-no-country-jews-article-1.2400841

~~~~~~~~~~

And see this, by David Horovitz, editor of The Times of Israel, who tilts left much of the time. "Not an uprising against the occupation. An uprising against Israel." (emphasis added):

"...what we face now is unknown numbers of potential attackers, who've been stirred to murderous fervor by a thoroughly organized campaign of hatred against us.

"...the result is that we set out each day knowing that people around us want to kill us...the brainwashing has been so effective that they come at us ready and willing to die in the act of killing the Jew — the evil Jew, they have been so effectively persuaded, who has no right to be here, who has no connection to Jerusalem and to this land."

http://www.timesofisrael.com/not-an-uprising-against-occupation-an-uprising-against-israel/

~~~~~~~~~~

These messages carry more weight because they are being delivered by people who are not rightist, people who would have opted for two-states, but are strong enough to tell the truth now.

Please! share this broadly. These are existential issues.

~~~~~~~~~~

In Berlin today, Kerry met with Netanyahu. The Secretary of State, who is oh so eager to ignore the realities, and probably has cotton between his ears:

"...called on Israel to move 'beyond the rhetoric' and take steps to 'rekindle' the peace process with the Palestinians....

"'It's very important to settle on the steps that can be taken that take us beyond the condemnations, beyond the rhetoric.'"

As if there could be a "peace process" in the face of the hateful rhetoric.

He said he has been encouraged by recent statements by Abbas and Hussein regarding a de-escalation of the violence. He is now going to meet with them in Amman. But of course Abbas will tell him what he wants to hear.

Netanyahu's response (emphasis added):

"There is no question that this wave of attacks is driven directly by incitement — incitement from Hamas, incitement from the Islamic Movement in Israel, and incitement, I'm sorry to say, from President Abbas and the Palestinian Authority. I think it's time for the international community to say clearly to President Abbas: Stop spreading lies about Israel.

"To generate hope, we have to stop the terrorism. To stop the terrorism, we have to stop the incitement."

http://www.timesofisrael.com/kerry-to-netanyahu-lets-rekindle-the-peace-process/

~~~~~~~~~~

One other subject I want to touch on here. It is one that generated furious anger in Israel, but in the end has only PR value.

UNESCO passed a resolution yesterday. I had been optimistic before the vote, for the original resolution called for the Kotel, the Western Wall, to be identified as part of the Temple Mount (i.e., in Muslim hands) and even the the head of UNESCO condemned this.

I was, it seems, too quick to see hope. The final resolution dropped this claim but advanced two others: That Kever Rachel (Rachel's Tomb) just outside Jerusalem, and the Machpela (the Tomb of the Patriarchs) in Hevron are "Muslim sites." Ludicrous, outrageous.

I want to visit this in more detail, just as I wanted to come back to the issue of Kever Yosef (Joseph's Tomb). But will not take the time to do so until I am certain that my postings will be received by my readers.

For now, just know that this vote is purely symbolic and has less than no impact in the de facto situation, and no legal implications whatsoever. Wrote one major international lawyer, whom I queried on this:

"...they can resolve that the moon is Palestinian territory and it would have no effect whatsoever. Just another Palestinian exercise."

~~~~~~~~~~

Vehi She'amda is for Pesach, from the Haggada, but it is appropriate for today as well:

"And it is this [covenant] that has stood for our Forefathers and us. For not just one enemy has stood against us to wipe us out. But in every generation there have been those who have stood against us to wipe us out, and the Holy One Blessed Be He saves us from their hands."

I particularly love this duet, with Ya'akov Shwekey and Yonaton Razel (who did the musical arrangement):

https://www.youtube.com/watch?v=mo6WMef3SP0

~~~~~~~~~~

© Arlene Kushner. This material is produced by Arlene Kushner, functioning as an independent journalist. Permission is granted for it to be reproduced only with proper attribution.

If it is reproduced and emphasis is added, the fact that it has been added must be noted.
http://arlenefromisrael.squarespace.com/current-postings/2015/10/22/october-22-2015-horrific.html
Posted
on Thursday, October 22, 2015 at 09:46AM
by
Arlene
|
Post a Comment
|
Email
|
Print
Before beginning news about Israel, I want to take a moment to speak about the Canadian election. Many of us in Israel are deeply saddened that Stephen Harper's Conservative Party has lost, and that he will no longer sit as prime minister. He is an extraordinary friend of Israel, and has retained his moral compass during a time when the world has gone made.
Here I am providing a link to a petition that just been drafted simply to say thank you to him. If you feel inclined, please take the time to open it and add your name:
http://www.petitionbuzz.com/petitions/thankstephenharper
~~~~~~~~~~
Today, mostly a quick overview of what is happening, good and bad. I want to start with the encouraging signs, the actions either thwarted or undertaken:
The Acting Commissioner of Police, Bentzi Sau, has announced that hundreds from Arab neighborhoods in eastern Jerusalem are going to be arrested. These are people suspected of having participated in riots, throwing of rocks and firebombs, etc.
Additionally, six teams of special investigators will be coming to Jerusalem to work with the Shin Bet and other security.
http://www.ynetnews.com/articles/0,7340,L-4713799,00.html
~~~~~~~~~~
Already arrested: a major Hamas figure and founder of Hamas, Sheikh Hassan Yousef, in a security bust outside of Ramallah last night. His son Mossab (pictured below) is the young man who called himself "son of Hamas" and served the Israelis as major source of information on Hamas. You may remember him.
http://www.israelnationalnews.com/News/News.aspx/202155#.ViZYM5uhfIV
Credit: Telegraph
~~~~~~~~~~
Prime Minister Netanyahu is moving to cut off funds sent to the Islamic Movement of Israel – funds from sources inside Israel and beyond. These include Muslim Brotherhood in Turkey and Egypt. Without funds it will be difficult for the Movement to operate.
At the same time, work is being done to declare the Movement fully illegal.
http://www.israelhayom.com/site/newsletter_article.php?id=29063
~~~~~~~~~~
A Bayit Yehudi bill is being advanced that would deny entry into the country of any non-Israeli who supports boycotts of Israel from entering the country via a visitor visa or residency permit. It has already been approved by the Ministerial Committee for Legislation, and now heads for the Knesset.
Feels as if we're beginning to stand up for ourselves more effectively.
"It cannot be that someone who is trying to harm the State of Israel can enter it freely," said MK Yinon Magal, who introduced the bill."
http://www.jpost.com/Israel-News/Politics-And-Diplomacy/Ministers-approve-banning-boycotters-from-entering-Israel-427375
~~~~~~~~~~
On the diplomatic front:
Kerry has rejected the notion of international observers on the Temple Mount. A modest achievement, in having the US stand with us on this. But I should add that the PA also came out against this plan, so perhaps he was standing with them (or just saw it as a non-starter).
He is planning on meeting in the next few days with Netanyahu (in Berlin), and Abbas and King Abdullah in Amman.
http://www.algemeiner.com/2015/10/20/kerry-rejects-call-for-international-presence-on-temple-mount/#
Kerry has some strange notion about getting the commitment about the status quo on the Temple Mount "in writing."
If there is true good news in all of this, it's that Netanyahu has said that when he meets with Kerry, there will be no concessions to the Palestinian Arabs. This may seem to many of my readers to be the obvious position, the only one he could possibly take. But the fact is that for a very long time that is not how it's been played: America would tell our leaders, "Just give the Palestinian Arabs a 'good will' gesture to show your positive attitude." Netanyahu anticipated this. But now? No way!
I hope and trust he will stick to this.
http://www.timesofisrael.com/netanyahu-no-concessions-to-palestinians-in-response-to-terror/
~~~~~~~~~~
And this IS good news, showing not only that people stand with us sometimes, but perhaps that there is a modicum of fairness now and then. It shows as well that the Palestinian Arabs have been overplaying their hand and may be losing ground (emphasis added):
"UNESCO Director-General Irina Bokova and the United States bashed as incitement to violence the draft text of a resolution which seeks to reclassify the Western Wall in Jerusalem — the most sacred public prayer site in Judaism — as a holy Muslim site.
"The US warned that the resolution threatened to alter the status quo of Holy sites, such as the Temple Mount, where the Western Wall is located.
"The United States strongly opposes this resolution and any such use of international agencies such as UNESCO to inflame tension in the region and alter the status quo at the Holy Sites,' Edgar Vasquez, a State Department spokesperson, told The Jerusalem Post...

"Bokova 'appeals to the UNESCO Executive Board to take decisions that do not further inflame tensions on the ground and that encourage respect for the sanctity of the Holy Sites.'"

http://www.jpost.com/Arab-Israeli-Conflict/UNESCO-Director-General-bashes-draft-text-claiming-Western-Wall-is-a-Muslim-Holy-site-427526
The Palestinian Arabs think they have the international agencies all lined up to do their bidding, and it is turning out to not be so (and we may yet see this in other situations). Screaming about the "status quo" on the Mount and then attempting to change it was not a brilliant idea.
~~~~~~~~~~
So, we've had our "good news" for the day, but unfortunately, it is followed now by some ugly news: The terrorism has not abated.
Avraham Hasno of Kiryat Arba was driving at Al Fawar junction not far from Hevron when his car – with others - was pelted with rocks. He pulled over and got out of his car, at which point an Arab truck driver ran him over and kept going. He died on the scene.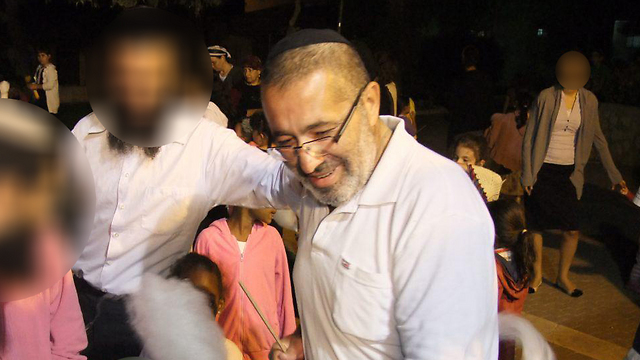 Credit: Uri Tzabari
http://www.israelnationalnews.com/News/News.aspx/202162#.ViaZ7JuhfIU
~~~~~~~~~~
Gruesome enough, but it gets worse:
"The paramedic who treated Hasno at the scene revealed shortly after returning from the incident that he had witnessed a blood-chilling sight while performing resuscitation attempts for the victim, which eventually failed...
"Around the site where he was trying to save Hasno's life, the shocked paramedic said dozens of Arabs were standing...and they clapped, celebrated and cheered as the victim lay critically wounded and dying on the pavement.
"The Arabs celebrated with 'cruelty that is hard to describe among human beings.'"
http://www.israelnationalnews.com/News/News.aspx/202175#.ViaUm5uhfIU

~~~~~~~~~~
A soldier patrolling in the Hevron Hills was attacked by a terrorist with a knife and lightly injured. Other soldiers on the scene shot the terrorist dead.
~~~~~~~~~~
A terrorist driving from the direction of Hevron ran into two people – a youth and a soldier - waiting at the Gush Etzion Junction; they were lightly wounded. When the terrorist emerged from his car with a knife in his hand, he was shot by soldiers on the scene.
~~~~~~~~~~
A firebomb hurled near Kever Rachel (Rachel's Tomb) lightly injured a police officer.
~~~~~~~~~~
Tonight in Hevron, two terrorists attacked two soldiers with knives. One soldier was wounded; the other soldier shot and killed the terrorists.
This happened adjacent to Beit Hashalom (Peace House), a building for which Jews who are resident had to conduct a long struggle before the High Court ruled that it has been legally purchased by them.
Credit: Residents

http://www.israelnationalnews.com/News/News.aspx/202191#.ViaZAJuhfIU
~~~~~~~~~~
It seems entirely appropriate to end today with the Prayer for the Peace of the State of Israel, sung by the marvelous Chief Cantor of the IDF, Shai Abramson. Complete with English translation and photos.
https://www.youtube.com/watch?v=XP40Bl24PE0
~~~~~~~~~~
© Arlene Kushner. This material is produced by Arlene Kushner, functioning as an independent journalist. Permission is granted for it to be reproduced only with proper attribution.

If it is reproduced and emphasis is added, the fact that it has been added must be noted.
http://arlenefromisrael.squarespace.com/current-postings/2015/10/20/october-20-1015-briefs.html

Posted
on Tuesday, October 20, 2015 at 04:42PM
by
Arlene
|
Post a Comment
|
Email
|
Print
It was eerie how precisely I called it. Yesterday, in describing the terror situation, I said: "I might write about the most recent attack and then, within hours, there might be another one." As it turned out, it wasn't even hours. I had just sent out my posting when word came in of another attack. But this wasn't a relatively simple matter of an attempted knifing. This was an horrendous affair:
It happened in the Central Bus station in Be'ersheva, in the Negev:
Credit: barefootholy

A major attack. A terrorist carrying a pistol and a knife stormed into the bus station, killed a soldier, grabbed his rifle and began shooting.
The soldier was Omri Levi, 19, of the Golani Brigade. He was on his way to his base.
Courtesy
Before he was shot dead by security, the terrorist wounded ten people, including four security personnel – some critically, some less seriously.
~~~~~~~~~~
It is deeply regrettable that one other person died in the course of this attack: An Eritrean, standing nearby, was thought by security to be an accomplice to the terrorist, and so was shot. The crowd in the station, assuming he was complicit in the attack, then set upon him, beating him. He ultimately died of his wounds.
~~~~~~~~~~
The terrorist has been identified as an Israeli citizen – a Bedouin, Muhand Al-Okabi, 21,
Credit: radiojai
News reports that identify him as having come from the Bedouin town of Hura, near Be'ersheva, are incorrect: he lived in an illegal Bedouin village outside of Hura. (They like to call these villages "unrecognized," as if the government has failed to give them their due, but "illegal" is the proper term.)

His father is an Israeli Bedouin from the area, his mother had been brought by his father from Gaza, and acquired citizenship when she married him. I'll come back to this.
~~~~~~~~~~
What has been determined is that security was lax at the bus terminal – someone with a gun and a pistol should not have been able to enter.
~~~~~~~~~~
From all sides, Palestinian Arabs celebrated this attack.
On the Hamas website, spokesman Husam Badran blessed "the quality operation."
http://www.timesofisrael.com/liveblog_entry/hamas-praises-quality-terror-attack-in-beersheba/
While Jibil Rajoub, Fatah strongman and former head of PA preventative security, in an interview with official PA media, referred to the attack as "an act of heroism."
http://www.jpost.com/Breaking-News/Veteran-Fatah-strongman-Rajoub-praises-Beersheba-attack-as-act-of-heroism-427366
And a Lebanese Internet site reported "heavy celebratory gunfire" at Palestinian refugee camps al-Beddawi and Ain el-Hilweh in Lebanon.
http://www.timesofisrael.com/liveblog_entry/celebrations-reported-in-lebanon-after-beersheba-attack/
I doubt that many expected anything else.
~~~~~~~~~~
The big question being asked is how an Israeli citizen could have done this – this is not a Palestinian Arab from some village in Samaria.
Bedouin leaders in the Negev, including the mayor of Hura, have expressed horror at what happened. One insisted, "His family is known and not as a family that encourages terrorism." The family was lauded, in fact, as having helped to found the State of Israel.

Another leader protested: "This is not our way. Our way is the way of peace and reconciliation, love and brotherhood, of intermeshing and loyalty." (Quite a mouthful. Does he not protest too much?)
~~~~~~~~~~
Well, my friends, I am here to tell you that the situation is much more complicated and much uglier than what the Bedouin leaders would have us believe. We tend to think of the Bedouin of the Negev as loyal Israeli citizens and undoubtedly some still are. Undoubtedly some are genuinely horrified by what has taken place and are proud to serve in the army (though fewer do these days). What we need to face, however, is that for several reasons there has been a radicalization of the Negev Bedouins.
This is in part because the Islamist – Hamas affiliated – Islamic Movement in Israel, Northern Branch, comes down into the Negev to incite them. They are heavily invested in the Bedouin community there, including in the schools. There is a recent history of the Bedouins – incited and guided by the Islamic Movement - who make radicalized demands of the State with regard to illegally constructed villages, which they misrepresent as having a legitimacy that does not exist. Those of you who have been reading my posts for any length of time know I have reported. This is not a benign phenomenon, but rather one intended to marginalize Jewish settlement.
~~~~~~~~~~
Then there is the matter of his mother, who is from Gaza. This is another part of the story of the Israeli Bedouin, who adhere to the Muslim practice of polygamy. Since this is against Israeli law, they do it serially, nominally divorcing one wife before marrying another. When there is a "wife shortage," they seek women from places such as Gaza. But these women are not pro-Israel.
Al-Okabi's mother is not his father's first wife. What ideology did she bring with her from Gaza, as she raised her son (and, presumably, other children)? Perhaps Muhand Al-Okabi's family was a good family in the past, as is being claimed. But in his generation?
~~~~~~~~~~
This is a phenomenon, in all its aspects, that has not been addressed sufficiently by Israeli officials. More than once, I have been horrified by what I learned. For example: Bedouin in those illegal villages frequently extort. They come out and tell the company paving a road in the area that if a road is not also laid down in their illegal village, the road that is being put down will be torn up over night.
Because the rule of law has not been enforced on relatively small matters, the chickens are now coming home to roost – as we confront major issues.
~~~~~~~~~~
There is one other very major aspect to the problem of the Negev Bedouin that must be addressed.
Reports have surfaced that the terrorist was a supporter of ISIS. So says a man who worked with him (although I have not been able to discover what sort of "work" we are talking about).
"Channel 2 television reported that the worker said, 'He talked about it all the time.'" (Emphasis added)
http://www.jewishpress.com/news/bedouin-terrorist-who-attacked-beer-sheva-had-isis-ideology/2015/10/19/
If this is so, how surprised could his family have been? But let's carry it further: How startled could the Bedouins of Hura been, their elaborate protests not withstanding?
This past June, the Shin Bet arrested six residents of Hura, "after it was discovered they were actively spreading the ISIS ideology, and attended secret meetings for the movement. Four of the suspects are school teachers. The official statement said that the suspects used their position as educators to spread the ISIS ideology." (Emphasis added)
http://www.ynetnews.com/articles/0,7340,L-4676824,00.html
~~~~~~~~~~
The best analysis I've seen with regard to what we are dealing with now is by Ari Soffer in Arutz Sheva, "Israel Must Tackle Its Own Extremism Problem" (emphasis added):
"...This is no 'war' against a foreign country or entity, but a struggle to wrest a portion of Israel's own citizens from the claws of a poisonous ideology that is incinerating country after country in our immediate neighborhood...
"Yet far from countering it, in the absence of any real strategy Israel authorities are achieving the very opposite, with an approach which is in practice completely, absurdly, illogically backwards.
"As any counter-extremism expert will tell you, one of the most basic elements of such a strategy must be empowering moderates and marginalizing extremists as much as possible. Yet here in Israel, we do the very opposite.
"Extremist Arab MKS who openly support terrorist groups like Hamas, who actively engage in racist harassment against Jews (and police) on the Temple Mount, who have attacked soldiers in the past (remember the Mavi Marmari?), and who are even now calling for an 'intifada,' are free to serve in the Knesset and receive a government-funded salary.
"And while our politicians vow to crush Hamas and attack the Palestinian Authority for not doing more, we allow Hamas's little brother, the Islamic Movement – particularly its jihadist northern branch – to operate openly and legally in Israel, alongside other fascist Islamic groups...Why are these organizations still legal in Israel?
"At the same time, those Israeli Muslims, Christians and Druze who are loyal citizens, who do serve in the army and contribute as much as any Israeli Jew to Israeli society are sidelined...drowned out by the extremists we ourselves allow to flourish here...
"Much of this is due to the rampant political-correctness of the Supreme Court and some politicians, who are afraid of 'discriminating' against Arabs by taking action against extremists. But the result is a perverse one: if discrimination and distrust towards Israeli Arabs still persists, it is in great part because the liberal elite has fed it by effectively legitimizing the most rabid extremists as their 'legitimate representatives' – whether their 'constituents' actually like it or not...And...it is Israel's Arab population that ultimately suffers the most...
"So instead of battling the extremists who encourage and facilitate terrorism, while empowering moderates who encourage and facilitate integration and participation in Israel society (some of whom, like Father Gabriel Nadaf, are doing incredible work even with the limited resources they have) we are getting the worst of both worlds: sidelining the moderates while allowing the extremists to run riot.
"The time has come to flip that irrational approach on its head. The government must act decisively to not only follow through with Netanyahu's latest pledge to ban the Islamic Movement, but to show a true zero-tolerance policy towards all purveyors of Arab and Muslim supremacy. Extremist MKs such as Hanin Zoabi, Ahmed Tibi, Basel Ghattas, and Jamal Zahalka should not be free to abuse their positions and act as an effective fifth-column operating within Israel's own legislature. And rabid anti-Semitic preachers should not be allowed to spread their hate on the Temple Mount, Judaism's holiest site."?
http://www.israelnationalnews.com/News/News.aspx/202111#.ViTib5uhfIU
~~~~~~~~~~
I have grown exceedingly weary in recent weeks of reading apologetics, including in mainstream Israeli media, about how we must be more sensitive to our treatment of Arabs in our midst – for we see that our treatment has fostered the current terrorism. Or about how it's all about "occupation," and how even the Israeli Arabs witness this and are radicalized by it.
The issues I've raised here are painful to confront, but it is very necessary to do so. The time has come to grapple with the situation with seriousness.
What our government requires most of all now is introspective honesty and a very determined strength in working to correct the problem. Everyone who truly cares about Israel must be behind our government on this. For we are going to face a firestorm of criticism from the politically correct, left-leaning international community – as well as from those same politically correct and left-learning elements inside our society. (Already there are pro-Palestinian Arab NGOs here registering distress about the "injustice" of depriving terrorists of their citizenship or residency rights.)
~~~~~~~~~~
What I've been doing, during this time of renewed terrorism, has been to track the government's strength in taking sane steps to adjust the situation. I've been encouraged in several respects – as if the light had suddenly dawned, and major parties within the government had had enough. But we are not where we need to be yet, not by a long shot.
I will go back to doing this tracking, and discussing related issues, in my next post.
Here I simply want to report on what is happening with Hamas and Fatah. Yesterday, Hamas declared itself dissatisfied with the results of the 'knife intifada," which wasn't killing many. Put down your knives, they advised and go back to killing with vehicles.
And now Hamas has ordered its followers to conduct suicide bombings.
"Mahmoud al-Zahar, a senior Hamas official, said Sunday that the 'intifada' needs to be turned from a 'popular' terror war into a fully-militarized terror war, making an open call for the use of guns and explosives".
While Fatah brags that is can "blow up buses in Tel Aviv," Jibil Rajoub isn't sure it's a good idea at this time:
"The world doesn't accept exploding buses in Tel Aviv...
"However...the international community seems to allow the murder of IDF soldiers and Jewish residents of Judea and Samaria.
"The world doesn't ask about a settler or soldier who is on occupied territories at the wrong place and the wrong time, no one asks about that."
Got that?
http://www.israelnationalnews.com/News/News.aspx/202109#.ViUZspuhfIV
~~~~~~~~~~
And then, as with every post now, I close with good news. This is a beautiful video, that let's people see who we are (with thanks to Deena M):
https://www.youtube.com/watch?v=EzfIuJkYl_Y&feature=youtu.be
~~~~~~~~~~
© Arlene Kushner. This material is produced by Arlene Kushner, functioning as an independent journalist. Permission is granted for it to be reproduced only with proper attribution.

If it is reproduced and emphasis is added, the fact that it has been added must be noted.
http://arlenefromisrael.squarespace.com/current-postings/2015/10/19/october-19-2015-a-huge-problem-confronts-us.html
Posted
on Monday, October 19, 2015 at 01:23PM
by
Arlene
|
Post a Comment
|
Email
|
Print
It's not going to go away soon – not either front. And we Israelis are called upon to be strong. Actually, what I am finding is that, almost to a person, those I speak to are weary and drained. But confident that we will come out on top. I hear it over and over, "This is my home, and I'm not going anywhere."

~~~~~~~~~~

The physical attacks – and attempted attacks – continue. It's difficult to document them all, for they seem on-going. I might write about the most recent attack and then, within hours, there might be another one.

There were five stabbing incidents yesterday. I do not minimize any of them, for each attack has lethal potential. But I am grateful that there were no Jewish fatalities, and I believe just one Jewish injury. A quick run-down:

A terrorist from the Arab Jebel Mukaber neighborhood of Jerusalem moved into the nearby Jewish neighborhood of Armon Hanatziv (east Talpiot) and was shot dead when he came at a border policeman with a large knife. This has a déjà vu feeling.

An Arab tried to stab a civilian in Hevron. The civilian was carrying a gun, and shot him.

In a separate incident in Hevron, an Arab woman asked directions of a Border Police officer; when the officer drew closer, the terrorist tried to stab her in the neck but aimed badly and hit her vest instead. The border police officer then shot the terrorist.

There was an attack at the Kalandiya checkpoint outside of northern Jerusalem (a notorious trouble spot). There as well, the attacker failed to penetrate the vest of the officer he had charged. Officers shot and wounded him, but when a bomb squad officer tried to approach him, he pulled out another knife and tried to stab him. A determined so-and-so. He was ultimately subdued when shot by another Border Police officer.

A terrorist stabbed and moderately wounded a soldier at a checkpoint in Jerusalem before being subdued by another soldier.

In addition to the above, in the Har Homa neighborhood of Jerusalem, fireworks were thrown at moving cars. It could have been a lot worse: vehicles were damaged, but there were no injuries, even though one car carried three children.

~~~~~~~~~~

Today, the IDF has had to contend with riots in Judea and Samaria: At Beit Hagai, a Jewish community in the southern Hevron Hills of Judea, where 200 Arabs hurled rocks at the army. And at Tulkarem, in the Shomron, where some 100 Arabs hurled rocks and firebombs. The IDF responded in each situation with crowd-dispersal methods, including rubber bullets, tear gas, and Ruger rifles. In all, some five Arabs were injured.

~~~~~~~~~~

Hamas has declared that the aggression against Israel has just begun: In a speech in Turkey, Hamas leader Ismail Haniyeh, referring to the "Al Quds intifada," called on all Palestinian Arabs to escalate their attacks.

He referred to "a tsunami on the diplomatic front and on the ground," which is precisely what I was referring to when I titled this postings "The Two-Front War."

http://www.israelnationalnews.com/News/News.aspx/202031#.ViOejZuhfIV

~~~~~~~~~~

PA security forces – apparently eager to quell serious violence - are reporting that Hamas is planning a major terror attack in Judea and Samaria. Hamas's goal is to draw Israel into more fighting, especially with Kerry coming.

However, Fatah's military wing apparently is also looking to "stir things up" with additional violence. The PA is controlled by Fatah.

You can avoid a sense of confusion if you are careful not to expect consistency or logic. They are all playing it six different ways at the same time.

http://www.timesofisrael.com/hamas-said-to-be-plotting-big-west-bank-terror-attack/

~~~~~~~~~~

Some of the responses by Israel we are seeing (in addition to all sorts of activity in the intelligence sphere we cannot see):

Police are erecting a barrier between the Jebel Mukaber and Armon Hanatziv neighborhoods. The barrier is intended "to prevent the throwing of firebombs at the houses on Meir Nakar Street [in Armon Hanatziv] and to prevent the loss of life. It means nothing more," a police spokeswoman told The Times of Israel. (That is, it is not a political separation of different parts of Jerusalem.)

~~~~~~~~~~

Paratroopers are now riding Jerusalem's buses.

~~~~~~~~~~

Public Security Minister Gilad Erdan (Likud) has proposed a law that would expand the circumstances under which police searches would be permitted. It received the approval of the Cabinet this morning, and now has to pass the Knesset.

At present, police officers can search someone if there is reasonable suspicion that he or she is carrying a weapon; a visual indication (e.g., a lump in a jacket pocket) is required. If the new bill passes it would permit searches in places prone to violence and if there is suspicion that someone present might use a weapon - even if no visual cue is evident. The search is permissible for weapons – if a commander deems an area to be one prone to violence – but not for drugs or other items.

http://www.jpost.com/Israel-News/Politics-And-Diplomacy/Government-approves-expanded-stop-and-frisk-law-in-wake-of-terror-426298

Here we see a search by Border Police outside of the Jabel Mukaber neighborhood of Jerusalem:


Credit: Menahem Kahane/AFP

~~~~~~~~~~

Interior Minister Silvan Shalom has announced the revocation of citizenship of two Israeli-Arabs who perpetrated terror attacks. Note: this is citizenship, not just revocation of residency status in Jerusalem.

My prayer is that we hold strong and keep on doing this.

On Friday, Channel 10 TV news cited a senior defense official as having said:

"If the terrorist attacks continue, we will begin deporting the families of terrorists to the Gaza Strip."

http://www.jpost.com/Arab-Israeli-Conflict/If-violence-continues-Israel-to-begin-banishing-Palestinians-to-Gaza-426195

I know of one reader of mine - he has been asking about this - who will be pleased to read what this official has said. However, it's still a considerable step from the statement of one person to an official policy.

~~~~~~~~~~

Another "are we daft?" situation that may be changing for the better:

Culture and Sports Minister Miri Regev of Likud, (picture below) has sent a letter to Justice Minister Ayelet Shaked, requesting that the law be changed so that public defenders are no longer provided to persons charged with terror-related crimes.

http://www.jpost.com/Israel-News/Politics-And-Diplomacy/Regev-calls-on-Justice-Ministry-to-drop-public-defender-representation-of-terrorists-423797

Credit: Flash 90

Yes, shake your head, just as I shook mine. Democracy is great, and human rights are important – but this is insanity. And we are accused of apartheid, yet.

~~~~~~~~~~

Yet another move long overdue. We're on a roll!

The Palestinian Authority pays salaries to terrorists in Israeli prisons. There are various ways in which the funds are delivered – routinely via wire transfer to the terrorist's account, or delivery to the terrorist's home, or even occasionally directly inside the prison. These are not welfare funds for their families – as is sometimes claimed. Very definitely salaries, the payments are keyed to the severity of the attack in which the terrorist participated.

"According to Palestinian law, a terrorist serving three years or under in Israeli prisons is eligible for a monthly payment of about $370, a terrorists serving up to 15 years is paid $1,600 a month, and those sentenced to life in prison are paid $3,100."

This serves as a reward for terrorism, and as incitement.

Israeli intelligence is being instructed to investigate the nature of the transactions, so that funds can be prevented from reaching their destination – either by blocking transfers or confiscating the money.

http://www.algemeiner.com/2015/10/16/israel-to-cut-off-palestinian-authority-payments-to-imprisoned-terrorists/

~~~~~~~~~~

As to the other front in the war:

To add to the list of what we must contend with, we now have an old-fashioned blood-libel. Palestinian Arab "activist" Bassem Tamimi posted on his Facebook page last Wednesday a photo of a boy with stitches across his stomach, along with the message: "When Israelis arrest Palestinian CHILDREN, what is the purpose? To STEAL THEIR ORGANS."

This would be horrendous in any event – even if Bassem Tamimi were a "lone wolf" Jew-hating nut. However – and please note this well – he is currently on an Amnesty International-sponsored speaking tour in the US. He has been arrested numerous times for directing children to throw rocks at Israeli soldiers.

You can see find information here:

http://www.israelnationalnews.com/News/News.aspx/202040#.ViOQWJuhfIV

This is the email for Amnesty International: contactus@amnesty.org . I urge my readers to take two minutes to write to Amnesty International and vigorously protest its sponsorship of Bassem Tamimi. It is important to speak out in such situations and numbers count.

Before contacting Amnesty International, you might want to read an article about Tamimi in Tablet Magazine:

http://www.tabletmag.com/scroll/194278/why-is-amnesty-international-sponsoring-a-u-s-tour-for-a-palestinian-promoter-of-the-blood-libel

"Bassem Tamimi has addressed American third-graders on Israel and Palestine."

~~~~~~~~~~

Then we have PLO Secretary General (former chief negotiator) Saeb Erekat in the latest PLO international ploy. Yesterday he sent a letter to Christof Heyns, UN special rapporteur on extra-judicial, summary or arbitrary executions, asking him to open an immediate investigation into the killings of Palestinians by Israel over the past few weeks, which he defines as "war crimes."

http://www.jpost.com/Arab-Israeli-Conflict/Erekat-calls-inquiry-into-Israeli-war-crimes-again-426247

Credit: nsnbc

~~~~~~~~~~

And as they suggested they would, Hamas has gotten into the diplomatic act.

According to a statement released by Hamas, last night politburo head Khaled Mashaal was in touch with the Russian deputy foreign minister, Mikhail Bogdanov. requesting that Russia use its influence to demand that Israel stop its "aggression" against "our people and our holy sites."
http://www.israelnationalnews.com/News/News.aspx/202048#.ViNfWZuhfIU

The release indicates that the Russians were receptive, but I wouldn't hold my breath on that one. I note this here because it is part of the pattern of conduct by Arabs seeking to turn the international community against us.

~~~~~~~~~~

More international game-playing:

Algeria, Egypt, Kuwait, Morocco, Tunisia and the United Arab Emirates are reportedly planning to submit a proposal to UNESCO, on behalf of "Palestine," to claim the Western Wall – the Kotel – as part of the Al Aksa compound.

http://www.timesofisrael.com/palestinians-seeking-to-claim-western-wall-as-part-of-al-aqsa-mosque/

Cute?

~~~~~~~~~~

What enraged the Netanyahu government far more, however, was a French initiative:

"The French daily Le Figaro reported on Saturday that the French envoy to the United Nations introduced a draft text that would be endorsed by the president of the Security Council – currently Spain – to station 'independent observers' on the Temple Mount to 'identify possible violations of the status quo.'
"A senior official in the Prime Minister's Office dismissed the initiative as 'baseless' and as 'only declarative.'
"'We expect that they condemn the incompetence of the Wakf on the Temple Mount,' the official said.
"'Those who brought explosives and fired firecrackers were Palestinians who turned the Temple Mount into a terrorism warehouse, and they are the ones who tried to change the status quo.'
"The official said Prime Minister Benjamin Netanyahu instructed National Security Council head Yossi Cohen and the Foreign Ministry to protest the 'biased and baseless' language of the initiative."

http://www.jpost.com/Arab-Israeli-Conflict/Jerusalem-furious-at-French-bid-for-observers-on-Temple-Mount-426253

~~~~~~~~~~

Netanyahu has made it clear that we will not cooperate with any international observers, which he called absurd. Israel is not "the problem" on the Mount, but "the solution." What the French proposal would do, essentially, is internationalize the site.

"...we've seen across the Middle East – in Palmyra, in Iraq, throughout Iraq and elsewhere — how militant Muslims blast each other's mosques sky-high. We've just seen it in a Jewish holy site, Joseph's Tomb. Only Israel, Israel alone, is the guarantor of the holy sites on the Temple Mount," declared Netanyahu (emphasis added).

http://www.timesofisrael.com/netanyahu-israel-is-solution-not-problem-on-temple-mount/

This leads us full-circle to the observation of Deputy Foreign Minister Tzipi Hotevely, that any international intervention on the Mount would be a violation of Israel's sovereignty there.

The Muslims are seeking to squeeze us out on the Mount – although they will not succeed – advancing the very erroneous notion that it is "theirs." But in point of fact, when Israel took the Mount during the Six Day War, and Moshe Dayan made his exceedingly ill-advised agreement with the Muslim Wakf there, it was understood that the Wakf had day to day administrative responsibility for the Muslim holy sites, but they were not ceded sovereignty over the Mount. Sovereignty remains in the hands of Israel, however poorly we exercise it.

~~~~~~~~~~

Next, I hope, more about Kever Yosef – Joseph's Tomb. And about some diplomatic interactions.

I know, my friends, how many bases I've touched. There is so much to track. And so much to analyze.

~~~~~~~~~~

I want to close by sharing a video from Aish of a few weeks ago: "I am Israeli!" Watch it full screen.

http://www.aish.com/v/is/I-Am-Israeli.html

Perfect for today's situation – for the matzav. And maybe because of the matzav, it made me cry.

But this is truly a good news ending.

~~~~~~~~~~

© Arlene Kushner. This material is produced by Arlene Kushner, functioning as an independent journalist. Permission is granted for it to be reproduced only with proper attribution.

If it is reproduced and emphasis is added, the fact that it has been added must be noted.
http://arlenefromisrael.squarespace.com/current-postings/2015/10/18/october-18-2015-the-two-front-war.html
Posted
on Sunday, October 18, 2015 at 02:43PM
by
Arlene
|
Post a Comment
|
Email
|
Print
It is most important for each of you, my readers, is to run with the information that I am providing. This is information that is often not shared by media outside of Israel. I think the tide is beginning to turn: Abbas has gone too far. Please! as always, put this information out in every way you can, share it as broadly as possible. Additionally, if you encounter news sources that slant the information or neglect to report on the situation, challenge them directly.

~~~~~~~~~~

I wrote yesterday about Ahmed Ansara, the Palestinian Arab boy who lay in good condition in Hadassah hospital at the very moment that Abbas and his cohorts were claiming that Israel had "executed him in cold blood." Ahmed had been run over by a car when fleeing Israelis who went after him because he had stabbed two people. This was NOT an innocent child.

Now there is follow-up on this, as police have questioned him. "I went there to kill Jews," he told them.

Courtesy

As Times of Israel reports:

"Manasra said he was motivated to carry out the attack by the Palestinian claim that Israel has been trying to change the status quo on the volatile Temple Mount in Jerusalem."

http://www.timesofisrael.com/terrorist-teen-executed-by-israel-confesses-to-attack/

Please, mark this very well.

He explained that "I came with my cousin Hassan. He brought the knives and I agreed to join him."

Both Ahmed's family and the PA have denied that he had anything to do with it, but security camera videos of the boys proving otherwise exist.

Here's a still from a police video, showing the boys carrying knives.


Screen capture: Israel Police

Footage in the video shows them chasing a man, and then attacking a boy on a bike.

~~~~~~~~~~

I want to take a moment here to mention the boy who was attacked (whose name is apparently not on record, and wisely so). About the same age as Ahmed, he was scheduled to have his bar mitzvah next month. Thank Heaven he is still alive, but he was taken to the hospital in critical condition and put on a respirator because of stabbing to his throat. I am without words for this.

~~~~~~~~~~

The incredible thing is that the PA does not let up, as foolish as they begin to look. Netanyahu held a press conference yesterday (about which more below) at which he discussed the incitement by the PA and the outrageous charges it makes.

Following this press conference, PLO chief negotiator Saeb Erekat, who lies with the best of them, said, "Mr. Netanyahu's attack on President (sic) Abbas is a failed attempt to distract from the fact that Palestinian civilians, including children, are being systematically targeted for extra-judicial executions by Israel." (Notice that Abbas is "president" while Netanyahu, is not "prime minister" but "Mr.")

~~~~~~~~~~

At his press conference, held partly in English and partly in Hebrew, Netanyahu, filled with his own fury about what is going on, minced no words (emphasis added):

"Abbas is inciting murder.

"Make him accountable and stop trying to justify him in any way – not with settlements, not with the peace process, not with anything. The first order of the day in fighting terrorism is moral clarity. Nothing justifies terrorism, nothing exonerates it. Stop trying to explain it away...

"We expect our friends...to see the truth and not draw false symmetry between Israeli citizens and those who would stab them and knife them to death."
http://www.jpost.com/Arab-Israeli-Conflict/WATCH-LIVE-Prime-Minister-Benjamin-Netanyahu-speaks-to-foreign-press-amid-wave-of-terror-426087

~~~~~~~~~~

Netanyahu also took strong issue with State Department spokesmen John Kirby. On Wednesday, during the daily briefing, the air-headed, bumbling Kirby said (emphasis added):

Israel has a "right and responsibility to protect its citizens."
However, he declared, "We've certainly seen some reports of what many would consider excessive use of force. Obviously we don't like to see that. We're concerned about that."

http://www.jpost.com/Israel-News/Politics-And-Diplomacy/US-State-Department-has-been-traditionally-hostile-to-Israel-Erdan-says-424998

At the time, Security Minister Gilad Erdan, retorted that (emphasis added):

"The comments by the US State Department spokesman are so crazy, deceitful and baseless, that I expect President [Barack] Obama and US Secretary of State [John] Kerry to distance themselves from them, and to clarify the US position.

"...every reasonable person knows very well how the police in the United States would act if terrorists armed with axes and knives would come to kill citizens in New York and Washington."

His point here is a crucial one: The world seems to feel free to judge Israel by a standard that is applied to no other nation.

Netanyahu also addressed this yesterday:

"What would happen in New York if they saw people rushing into crowds trying to murder people? What would happen in London, in Paris, Rome, Moscow, or anywhere?"

~~~~~~~~~~
I asked rhetorically yesterday if we are daft sometimes, regarding how nice we are to Arabs within our midst and how we cut them slack. This is certainly the case with some of the Arab members of the Knesset, who pump for the other side, and incite, and yet still sit in the Knesset. Many is the time that I have asked myself, "What the hell is wrong with us?" after hearing one of them mouth off.

Well, as I have indicated before, the very worst of these inciteful offenders is Hanin Zoabi, who has been consistently sympathetic to Hamas and other jihadists. She has been cut altogether too much slack over time – especially after her involvement with the Mavi Marmara flotilla. But I think her days as a free-wheeling traitor sitting in the Knesset are numbered. The proper place for her to sit is in a prison cell.

Yesterday, she repeated Abbas's charges about "execution" of innocent Arabs.

Then she called again for the end of "lone wolf attacks" and said she wanted to see a "true popular intifada." This is major incitement.

http://www.israelnationalnews.com/News/News.aspx/201965#.ViDfH5uhfIV

~~~~~~~~~~

Hamas has declared today to be a "Day of Rage," which means security has to be particularly vigilant. Here I wish to note several incidents, one critical:

Kever Yosef, Joseph's Tomb, a Jewish religious site, is located inside PA territory in Shechem (Nablus). According to the Oslo Accords, Jews are to have regular access to this site, which is to be protected. I will return to this broader issue as appropriate and as time allows in coming days.

Last night, an Arab mob set fire to the Tomb and caused considerable damage:

Credit: Facebook

The fire was brought under control by PA police and the IDF – which announced that it views the incident with "utmost severity" - said it will do necessary repairs so worship can take place there.

http://www.jpost.com/Arab-Israeli-Conflict/Josefs-Tomb-set-ablaze-by-Palestinian-rioters-426143

~~~~~~~~~~

There are now calls here for Israel to retake the Tomb, because religious sites are only safe when under Israeli control – which is absolutely the case!

What is more, it is understood that the incitement of Abbas was almost certainly a strong motivating factor of what was done. Wrote Uri Ariel (Habayit Hayehudi) on Facebook (emphasis added):

"Torching one of the places holy to the Jewish people is a new low, and a result of Palestinian incitement. While the Palestinians brazenly lie about us harming the status quo on the Temple Mount, they go out and burn and desecrate the sacred places of Israel, and that won't be forgiven."

http://www.timesofisrael.com/rightists-call-to-retake-josephs-tomb-after-torching/

~~~~~~~~~~

A Palestinian Arab disguised himself as a journalist in Kiryat Arba, next to Hevron today, approached an IDF soldier and then stabbed him. The terrorist was shot dead. The soldier is in the hospital in moderate condition.

http://www.jpost.com/Arab-Israeli-Conflict/Initial-report-One-hurt-in-stabbing-attack-near-Kiryat-Arba-426170

~~~~~~~~~~

Because of that "Day of Rage," border police were monitoring the area near Mt. Scopus in Jerusalem, as many areas, with special care. In the course of a sweep of the area, a bomb-sniffing dog and his handler located a pipe bomb, which was then neutralized, saving lives.

http://www.jpost.com/Arab-Israeli-Conflict/Police-thwart-attempted-attack-after-finding-pipe-bomb-in-Jerusalem-426163

Credit: Police

I never mention the hard working police and military dogs, but they do a great job and I say hurray! for them here.

~~~~~~~~~~

I'm going to close with this article, although the report is still tentative. It has the potential to be a very significant story.

This has to do with the suspicion, being investigated by Minister of Health Ya'akov Litzman, that when Jews were critically injured in an attack in the Old City, Arab doctors from an adjacent clinic did not come out to help them. If this turns out to be true, it is huge, in light of the fact that Jewish doctors consider themselves ethics-bound to treat Muslim terrorists. Here we're not talking about terrorists, but innocent Jewish victims. They died, and there is the thought they might have been saved.

http://www.israelnationalnews.com/News/News.aspx/201984#.ViDoLJuhfIW

The blood pressure shoots up at the mere thought that this might have been so. It would change the equation.

Will stay on top of this. And I thank reader Ya'akov G. for alerting me.

~~~~~~~~~~

Shabbat is on the way. We must keep Shabbat, as Shabbat keeps us. I carry hope in my heart always, and want to convey this to readers.

Here a video of songs about Shabbat peace and the peace of Jerusalem that is so very appropriate. Shabbat Shalom to all.

https://www.youtube.com/watch?v=VCMBkxr2WSc

~~~~~~~~~~~

© Arlene Kushner. This material is produced by Arlene Kushner, functioning as an independent journalist. Permission is granted for it to be reproduced only with proper attribution.

If it is reproduced and emphasis is added, the fact that it has been added must be noted.
http://arlenefromisrael.squarespace.com/current-postings/2015/10/18/october-15-2015-telling-truth-to-a-reluctant-world.html
Posted
on Sunday, October 18, 2015 at 05:32AM
by
Arlene
|
Post a Comment
|
Email
|
Print
There are a great many measures against the terrorism that the Security Cabinet has passed or is considering at this point.
It seems to me that among the most powerful are those that affect the families of terrorists. Potential terrorists anticipate becoming "shahids" – martyrs - and having their names praised, never mind being rewarded with 70 virgins in heaven. It's all a great honor.
But they are not keen on leaving their families – parents, wives, children - in a severe bind. Thus has it been decided that homes of terrorists will be demolished and it will be forbidden for new homes to be built on the same site. Property of the terrorists will be seized.
~~~~~~~~~~
In addition, Jerusalem residency will be revoked. A great many of the terrorists are from east Jerusalem and – by choice - have Jerusalem residency papers, which provide certain perks, but not full citizenship. Interior Minister Silvan Shalom has announced this status will be revoked at present for 19 terrorists.
http://www.timesofisrael.com/minister-says-residency-of-19-east-jerusalem-terrorists-to-be-revoked/
Now, please, pay careful attention here:
If the terrorists lose their status as residents, they lose rights to National Insurance. This has two implications. If the terrorist died, the family cannot collect welfare benefits from National Insurance. And if the terrorist was wounded, but is still alive, there will be no disability insurance.
My friends, I read this, and I said, STOP THE PRESSES!
What does this mean?? That until now terrorists who had Jerusalem residency status DID receive insurance benefits via the State.
And I rhetorically asked myself the obvious: Are we daft? Completely and totally daft – at least until now?
~~~~~~~~~~
I think perhaps this entire horrendous situation that the nation is grappling with may have a positive effect in that it clarifies national thinking in certain significant ways. We might just start to get smart for ourselves (if this isn't wishing for too much). I will come back to this below.
~~~~~~~~~~
The Security Cabinet has adopted Gilad Erdan's suggestion that the bodies of terrorists not be returned to their families, but be buried without fanfare. The goal here is to prevent the displays at funerals that turn them into a very public celebration of terrorism. "Honor" accrues to the terrorist and to his surviving family, and the ceremony serves as a form of incitement, as well.
http://www.israelnationalnews.com/News/News.aspx/201878#.Vh-e4JuhfIU
Credit: Issam Rimawi/Flash 90

Recently, the body of terrorist Muhammad Halabi - who killed two people in Jerusalem's Old City before he was shot dead - was returned to his family for burial. Fatah then brought bags of soil from near the Al Aksa mosque, so that his dead body "can hug the soil for which he died a martyr."
http://palwatch.org/main.aspx?fi=157&doc_id=15893
Hopefully this sort of thing will no longer be possible.
~~~~~~~~~~
With each of these steps – such as legal action against the Islamic Movement of Israel, Northern Branch – I find myself thinking, it's a start. Long overdue, but a start. Perhaps a step towards national sanity.
~~~~~~~~~~
Other steps that are being taken, of a security nature, some of which I have already addressed:
Hundreds of IDF troops (six companies, I believe) have come into Jerusalem and will be working with the police.
Credit: Hadas Parush/Flash 90
They are riding buses and trains, and are surrounding the Arab neighborhoods, where they have set up checkpoints.
Credit: Reuters
They have the go-ahead to totally seal off a particular neighborhood for security purposes if this is deemed necessary.
~~~~~~~~~~
Naturally, these practices have their critics and naysayers. There are those who decry the inconvenience to innocent people in those neighborhoods, to which I reply "Tough." Better they be inconvenienced than that innocent Jews be killed. No contest on this. Emergency situations require stern measures. These measures will not be sustained long term.
Others say that even with the roadblocks and the rest, those who are determined terrorists will find their way out of their neighborhoods. This may be: this approach may be less than perfect. But it does seem to be having a dampening effect on terrorist activity. (If this turns out to not be successful, there will need to be sterner measures yet.)
Still others say that this is stop-gap, and a long term solution is needed. This may also be. But stop-gap, if it stops terrorists right now, is what is needed first. Once it's quiet, there will be time to examine long term policy adjustments. We are dealing with an exceedingly complex situation in an intensely volatile time. I hope in due course to address some of the issues.
~~~~~~~~~~
I mentioned briefly in an earlier posting what the response from Israeli citizens has been, and I want to reiterate it here. People are carrying guns (with control regulations loosened), and pepper spray, and various other items that can be used for self-defense. Repeatedly, they have rallied at a sign of trouble.
Self-defense instructors in Krav Magen technique are providing free lessons across the country. Typical Israel rallying, folks.
http://www.jpost.com/Israel-News/Amid-terror-attacks-Krav-Magen-instructors-offer-free-classes-in-Jerusalem-other-cities-426081
Courtesy
~~~~~~~~~~
Circling back to my question regarding whether we have been daft in the latitude we have provided terrorists... The answer, of course, is absolutely we have. Part of the reason is because we have a segment of our society that remains bleeding heart delusional, or that tilts pretty far left. But I see as a greater reason the concern within the government about how the world is seeing us.
We must remind ourselves that no matter how we treat the Arabs in our midst, including the terrorists and troublemakers, we are going to be judged badly by the world. Who cares how we act? They will say about us what they will say, with malice aforethought.
Who knows, who cares, that terrorists are treated alongside their victims in Israeli hospitals? This is a matter of medical ethics – which are scrupulously adhered to, not Israeli policy.
http://www.timesofisrael.com/once-inside-israels-hospitals-the-terrorist-becomes-the-patient/
For us to expect the world to judge us fairly is a foolish and losing proposition. We must hope at this point that we will begin to put our needs first, as well we should
~~~~~~~~~~

Two days ago, at a speech at Harvard, Secretary of State Kerry said, "And there's been a massive increase in settlements over the course of the last years, and now you have this violence because there's a frustration that is growing."

http://www.jpost.com/Israel-News/Politics-And-Diplomacy/Kerry-to-visit-Israel-amid-crisis-423892
And so, he blamed us for the terror directed at us. Netanyahu, who has it right, was crystal clear in his statement that the terror does not come from frustration, but from a desire to annihilate us.
http://www.jpost.com/Arab-Israeli-Conflict/Netanyahu-Terrorism-comes-from-a-desire-to-annihilate-us-not-from-Palestinian-frustration-423728
I will point out here, as I have before, and will again, that we have endured some of our worst terror when we were in negotiations and making concessions. That terror was not fueled by frustration, but by a perception that we, in making concessions, were weak and could be frightened into even greater concessions.
But how many millions of people learned of Kerry's remarks, and believed his assessment? Never mind that the State Department subsequently tried to walk back Kerry's statement.
~~~~~~~~~~
After speaking about frustration and terrorism, Kerry then announced that he was coming here some time soon, to try to help bring quiet to the region via negotiations. The Quartet visit was cancelled, but we may get the Secretary of State anyway. Oh joy.
~~~~~~~~~~
There were, as well, comments by the British Foreign Office. While condemning terrorism, Minister Tobia Ellwood said:
"We are also concerned by the use of force by Israeli security personnel in response to protests and security incidents..."

http://www.israelnationalnews.com/News/News.aspx/201862#.Vh_8NpuhfIV

How's that for empty-headed evenhandedness? Our security forces should maybe hug the terrorists?

~~~~~~~~~~
Abbas has made one outrageous accusation against Israel after another. This has been most notable with regard to the Temple Mount, but also concerning what he has labeled as excessive violence against "innocent" Arabs.
In the last couple of days, however, Abbas's attempt to paint Israel as the aggressor went too far. Speaking in Ramallah yesterday, he referred to:
"...the policy of occupation and aggression by Israel and its settlers, who commit terror against our people, our homes, our trees, our holy places, and who execute our children in cold blood, as they did to the child Ahmed Mansara." (Emphasis added)
http://www.haaretz.com/news/diplomacy-defense/.premium-1.680494
The PA even ran a brief video that purported to show Ahmed Mansara lying dead in the street.
~~~~~~~~~~
Ahmed and his cousin Mohammed had wounded two Israelis in a stabbing attack in the Pisgat Ze'ev neighborhood of Jerusalem on Monday. He wasn't executed, he was hit by a passing car when running from bystanders who were chasing him.

And guess what? He is alive and doing very well in Hadassah Hospital.
OOPS!
After Abbas made his charges that Israel had "executed" the boy, Minister of Health Yaakov Litzman permitted cameramen to photograph him:
Screenshot
This infuriated the Mansara family. According to Minister Litzman, the family was cooperating with Abbas in the fabrication that the boy was dead.
http://www.algemeiner.com/2015/10/15/family-of-teen-terrorist-touted-as-killed-in-cold-blood-tried-to-prevent-israel-from-filming-him-alive-video/#

This is the sort of libel we must contend with.
~~~~~~~~~~
Where are we with regard to the terrorism? It's better, but no guarantee, of course, that it's over. It will be some time before we can say that.
Yesterday, there was an attempted attack at the Damascus Gate into the Old City; security took out the terrorist. And then outside the Central Bus Station, a woman was stabbed by an Arab, before he was shot to death.
Today, it has been quiet, please Heaven may it remain so.
~~~~~~~~~~
I close with a video that should bring a smile. It is not directly connected to this time of violence, but reflects the attitude of Israelis. A Flashmob on the Jerusalem light rail:
https://www.youtube.com/watch?v=wtqAFP5E1b8
~~~~~~~~~~
© Arlene Kushner. This material is produced by Arlene Kushner, functioning as an independent journalist. Permission is granted for it to be reproduced only with proper attribution.

If it is reproduced and emphasis is added, the fact that it has been added must be noted.
http://arlenefromisrael.squarespace.com/current-postings/2015/10/15/october-15-2015-a-tough-struggle.html
Posted
on Thursday, October 15, 2015 at 04:27PM
by
Arlene
|
Post a Comment
|
Email
|
Print
As I begin this post in the late afternoon in Jerusalem, with the sounds of helicopters circling overhead, this is what we've seen today:
There were two simultaneous attacks in Jerusalem. One was in Armon Hanetziv (east Talpiot).
Two terrorists from Jabel Mukaber - an Arab neighborhood of Jerusalem right next to east Talpiot – boarded an Eged bus in east Talpiot, armed with a gun and a knife, and began attacking passengers. Two were killed and nine others were injured, either with gunshot or stabbing wounds – two seriously. It appeared that the terrorists intended to take over the bus. One terrorist was killed by security, the other wounded. They would have had Jerusalem residency, at least, if not citizenship.
A scene from that attack here: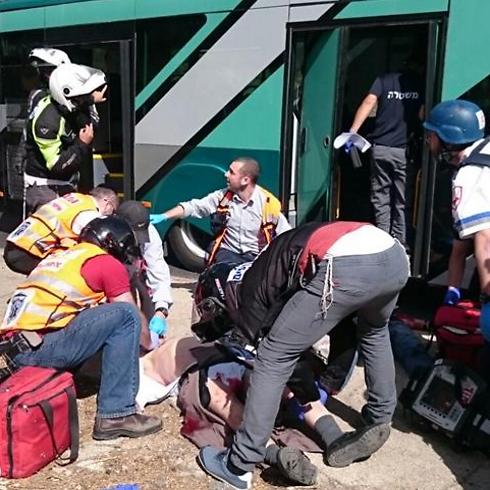 Credit: Shlomi Cohen
~~~~~~~~~~
The second attack took place on Malchei Yisrael street in the Geula neighborhood of Jerusalem. The terrorist plowed his car into a bus stop, killing one - Rabbi Yeshiyahu Krishevsky - and seriously injuring another. He then leaped out of the car and began stabbing people before he was shot dead by security. A scene from the second attack:

Credit: kooker
~~~~~~~~~~
The terrorist in Geula was Alaa Abu Jamal (I believe also from Jabel Mukaber).

And here is the shocker: He was an employee of the Israeli phone company Bezeq, was wearing his uniform when he attacked, and used a company car. In the picture above you can see the Bezeq "B" logo.
Bezeq put out a statement:
"Bezeq would like to express its deep outrage over the attack on Jerusalem's Malchei Yisrael Street and over the terrorist action of one of its workers...We are stunned and repulsed by the criminal act, and the deep hurt he has caused to the families of those killed. We are praying for the quick recovery of the wounded victims.
"We emphasize that there were no warning signs, and there were no clear changes in the worker's conduct that could have prevented the act of terror. We will continue to follow the developments, and our hearts cry out to the victims and their families."
http://www.israelnationalnews.com/News/News.aspx/201808#.Vh0GrpuhfIV
~~~~~~~~~~
Not for a second do I question the sincerity of the distress registered by Bezeq – representatives and executives within the company had to be been exceedingly horrified.
But it is not quite the case that there was no way to know this man was a potential terrorist: He was a cousin to the monsters who committed the atrocity in Har Nof last year, and when interviewed about it on television said, "Thank Allah, when someone dies as a martyr, that's a great thing."
http://www.israelnationalnews.com/News/News.aspx/201823#.Vh0QuZuhfIU
~~~~~~~~~~
I am, of course, not implying that Bezeq had any clue about this. The question raised here is what sort of vetting of Arab employees is appropriate. The implications are vast and can seriously impact the Arab community in Israel, with regard to their ability to readily secure employment. In situations such as the one we are in now, innocent Arab Israelis are likely to pay a price.
~~~~~~~~~~
There has been a great deal of talk about the lone wolf, and people acting on their own initiative after having been incited. But security officials are now suggesting this is not the case any longer (if it ever was): The simultaneous timing of the two attacks in Jerusalem suggests something else (emphasis added):
"A security source said that the two terrorist attacks that killed three people and wounded several others in Jerusalem on Tuesday morning seem to be 'a planned and timed assault.'
"'There is no doubt that the source of incitement of the sequence of terrorist attacks this morning is east Jerusalem,' the source added."

http://www.jpost.com/Arab-Israeli-Conflict/Security-source-Jerusalem-attacks-seem-like-a-planned-and-timed-assault-423806
Once there is an address for the source of the attacks, it certainly seems it should become easy to put a stop to it. See more below on this.
~~~~~~~~~~
Also this morning, there were two stabbing attacks in the city of Ra'anana, a city in the central plain, near Herzliya. In the first attack, at a bus stop outside of city hall, the terrorist stabbed someone, causing light wounds; he was restrained by passers-by until the police arrived. He was from eastern Jerusalem.
In the second attack, less than two hours later, a terrorist began stabbing people on the street, injuring one critically and three others lightly. A motorist, seeing what was happening, rammed his car into the terrorist. He was from eastern Jerusalem.
http://www.jpost.com/Arab-Israeli-Conflict/Initial-report-Attempted-stabbing-attack-in-Raanana-423789

~~~~~~~~~~
Jerusalem Mayor Nir Barkat, who has come off during this spate of terrorism with a tougher line than Netanyahu, at least up to this point, called for the closure of the Arab neighborhoods of Jerusalem.
There were calls, as well, for the international community to stop funding the PA, because it is a major source of incitement.
"Deputy Foreign Minister Tzipi Hotovely (Likud) said after the attacks that the Palestinian Authority had lost its right to exist (a mouthful if this is taken seriously – of course she is correct), adding that PA President Mahmoud Abbas bears responsibility for the ongoing terror...
"'The blood of Israeli citizens is on [Abbas's] hands, and of those of his men who incite children to go out and murder.'" She was referring to Abbas spokesperson Nabil Abu Roudeineh, who reportedly praised the 13-year-old Palestinian who stabbed an Israeli teenager yesterday on his bike.
""The Palestinian Authority has lost the right to exist. Instead of preventing violence, it is a hothouse for radical Islam that hurts Israelis on a daily basis,' she said."
Credit: Times of Israel
http://www.timesofisrael.com/liveblog_entry/hotovely-says-pa-has-lost-right-to-exist/
"Science Minister Ofir Akunis (Likud) lambasted the international community for failing to condemn the current wave of terror."
"'There is no excuse in the world to justify the murder of innocent children. The silence of the international community is regrettable and worrying. The fact there no one condemns the Palestinians spreading lies that increase murderous terror is a warning signal to the entire free world.'" (Emphasis added)
http://www.timesofisrael.com/liveblog_entry/science-minister-slams-worlds-silence/
~~~~~~~~~~
My friends, the world's silence is, for most of us here in Israel, more than "regrettable and worrying." Minister Akunis, normally a very forthright man, was being a bit polite. It is, as we see it, horrifying and deeply disturbing. I would suggest a serious moral deficit. There is a disconnect, a reluctance to confront what Israel is coping with.
We see that the Palestinian Arabs continue to tell the most outrageous lies, pretending to innocence and pointing fingers at Israel. And we know that much of mainstream media are happy to transmit the skewed version of events – focusing on what Israel has "done" to poor Arabs. I will return to this.
~~~~~~~~~~
Speaking of the international community, Netanyahu requested that the Quartet not come now, and they agreed. One less pressure. Can you imagine them looking over our shoulders as we respond to the terror?
~~~~~~~~~~
Yesterday, as the Knesset opened its winter session, Netanyahu made a forthright statement (emphasis added):
"Terrorism does not come from frustration because there is no peace process. Terrorism comes from a desire to annihilate us."
We have faced terrorism repeatedly over the last 100 years, he declared. "What always wins is the recognition that this is our homeland. Our will to live trumps our enemies' desire for death. There is no way to stop the Zionist enterprise."
http://www.jpost.com/Arab-Israeli-Conflict/Netanyahu-Terrorism-comes-from-a-desire-to-annihilate-us-not-from-Palestinian-frustration-423728
~~~~~~~~~~
This afternoon, he called a lengthy Security Cabinet meeting to discuss the way to handle the current outbreak of terrorism. Subsequently he made a statement (emphasis added):
"Israel will settle its account with 'murderers and those who want to kill, and anyone who helps them. Not only won't they have any rights, but we will extract the full price from them'
"The prime minister said that he was sure that the actions Israel will take will bring about a realization on the other side that 'terror does not pay.'"
http://www.jpost.com/Arab-Israeli-Conflict/Netanyahu-Israel-will-settle-scores-with-those-killing-civilians-423836

He addressed a number of specific problems – particularly PA incitement and veneration of terrorists, and the complicity of certain Arab MKs. I will return to examine these.

Although when he spoke he was not specific about what actions would be taken, for the first time, I began to have genuine hope that my government was, at last, ready to get serious. And sufficiently tough.

~~~~~~~~~~

After he spoke, the Security Cabinet reconvened in order to pass a number of measures. Most significant, I think, is the bolstering of IDF forces in city centers, with Arab neighborhoods in eastern Jerusalem to be surrounded by security forces.

We are going to hear a great deal about deprivation of Arab rights now. Watch. I think the gov't is prepared to withstand this onslaught, likely to come from international sources and certain Arab MKs.

More to come as the situation unfolds.

Please do take note of the bravery of Israeli citizens who have been involved in stopping or capturing terrorists.

~~~~~~~~~~

Today's good news:

In August, Israeli charity Ezer Mizion's Bone Marrow Donor Registry facilitated 25 lifesaving transplants. They included stem cell donations by five IDF soldiers that saved the lives of five desperately ill patients.

http://www.ezermizion.org/blog/because-of-you-16/#more-3176

~~~~~~~~~~

© Arlene Kushner. This material is produced by Arlene Kushner, functioning as an independent journalist. Permission is granted for it to be reproduced only with proper attribution.

If it is reproduced and emphasis is added, the fact that it has been added must be noted.
http://arlenefromisrael.squarespace.com/current-postings/2015/10/13/october-13-2015-situation-impossible.html
Posted
on Tuesday, October 13, 2015 at 04:17PM
by
Arlene
|
Post a Comment
|
Email
|
Print
Dear friends,
I did not intend to post today, but – as has happened before – I realized that I must.
Yesterday, I wrote about Sheikh Mohammad Abu Rajab, who, during a sermon in the Al Abrar Mosque in Rafah, Gaza, demonstrated the way to stab a Jew. I knew there was a video of his "sermon," but it seemed to be unavailable – I couldn't access it and so put up a still photo. Bad enough, to see a member of the Muslim "clergy" brandishing a knife from the pulpit.
Now I have located the video, which comes from MEMRI. It was broadcast via Internet, and Abu Rajab himself makes note of this, because the message goes far and wide this way. Internet, and social media, have been used extensively in inciting during the current violence.
Here is the video from MEMRI.
http://www.memritv.org/clip/en/5098.htm
I truly hope you can access it. I watched it, not once, but twice. I was stunned and shaken, for the hatred he expresses is so obscene.
You must watch it to the end, my friends, to understand what we are dealing with.
~~~~~~~~~~
And then, do your part for Israel: make sure this goes viral. Send this short posting to everyone. Or simply duplicate the URL for the cleric's "sermon" and put it out, to everyone on your list, and on your Facebook pages and your websites. Put it out on lists for discussion groups. Include your own brief comment telling people that this is what Israel is dealing with and asking them to spread the word. Do EVERYTHING you can to make certain that millions in America see it. This not only educates people to our reality, it refutes the horrendous lies being told about us.
~~~~~~~~~~
There were more, and worse, attacks today. See: http://www.israelnationalnews.com/News/News.aspx/201766#.Vhu7SJuhfIV . There are calls for the attackers to come out in groups to be more effective. We have at least two people in critical condition, fighting for their lives. The attackers aim for their chests and their throats.
~~~~~~~~~~
And so what do I read?
Security Minister Gilad Erdan is thinking that we might refuse to return terrorists' bodies.
That will really stop them.
The security cabinet on Sunday discussed possible legal measures to outlaw the Northern Branch of the Islamic Movement in Israel for incitement to violence.
That's it? "Possible" measures? "A senior official in Jerusalem said following Sunday night's meeting that the ministers would continue their debate on the issue in the coming days."
And worst: At a meeting of the Likud faction today, Netanyahu said: "We will complete the surrounding of the State of Israel's borders with security fences."
No! This is not an announcement that demonstrates needed strength. Strength is the only thing they understand.

~~~~~~~~~~
Just in case you imagine that it is only the radical jihadists in Gaza that are supporting terror, I share this as well – which also needs to be publicized widely (emphasis added):

"The Palestinian Bar Association -- which receives major funding from the United Nations and European Union -- has decided to award an honorary law degree to Muhammad Halabi, the 19-year-old Palestinian [Arab] law student who stabbed two Israelis to death in Jerusalem's Old City on Oct. 3 before being killed by Israeli security forces, according to a report published by the Middle East Media Research Institute on Sunday.
"The Palestinian Bar Association decided in its meeting today [Oct. 10] to award an honorary law degree to the martyred hero Muhammad Halabi and to hold its next [bar] swearing-in ceremony in [his] honor," a Palestinian Bar Association statement said."
http://www.israelhayom.com/site/newsletter_article.php?id=28833
~~~~~~~~~~
With it all, I will end with good news, as I have been doing now. I told a reader last night that there is always good news, if we look for it. So much for Israel to be proud of, day in and day out. With all that is done to us, and all that we are defamed, we truly are a blessing to the world. And these blessing too should be shared widely:
Here I share a link to an extensive article by David Hazony in The Tower, "How Israel Is Solving the Global Water Crisis." (emphasis added):
"Israel could not have made the desert bloom without its incredible innovations in water technology. As the world becomes more aware of the importance of conserving water, they are turning to Israel for exports and expertise."
http://www.thetower.org/article/how-israel-is-solving-the-global-water-crisis/
Credit: Yonaton Sindel/Flash 90
~~~~~~~~~~
© Arlene Kushner. This material is produced by Arlene Kushner, functioning as an independent journalist. Permission is granted for it to be reproduced only with proper attribution.

If it is reproduced and emphasis is added, the fact that it has been added must be noted.
http://arlenefromisrael.squarespace.com/current-postings/2015/10/12/october-12-2015-this-must-go-viral.html
Posted
on Monday, October 12, 2015 at 12:35PM
by
Arlene
|
Post a Comment
|
Email
|
Print