Last night, here in Jerusalem, I attended a performance of Dames of the Dance of the Gush Katif Bride Project.

Reproduced with permission

Twelve amateur women's dance groups from different studios performed before an all-woman audience. To a one, these dancers projected a sense of joy.

The theme of the evening was unity (achdut), and that message was clearly delivered in introductory remarks: We may be different in a host of ways – young and not so young, native Israelis and newcomers, those of Ashkenazi, Sephardi and Mizrachi traditions. Be we are one. We are there for each other, and care for each other.

~~~~~~~~~~

A word of explanation: In August 2005, the expulsion (euphemistically referred to as a "disengagement") from Gush Katif in Gaza took place. Not one of Israel's proudest moments, it caused serious trauma to the people who had lived in the communities of Gush Katif and found themselves dislocated and in many cases jobless. Perhaps hardest hit were the idealistic young people.

Within six months, a committee had formed to lend assistance – both material and emotional - to young couples who had come out of Gush Katif and were planning to marry. In the ten years since, 1,250 young couples have received this assistance. They are given linens, small appliances and other goods to help them on their way. And in addition are provided with encouragement. As it was explained last night: "We want them to know they are cared about and not alone."

If there is a guiding spirit to this activity, it is Sharon Katz, who last night seemed to be everywhere, forever smiling. Sharon founded Dames of the Dance in Efrat, Gush Etzion.
Credit: JPost

~~~~~~~~~~

And so, I walked out of the Jerusalem Theater last night rejoicing in the specialness of who we are, as modeled by these wonderful women. The sense of unity, of coming together when things are difficult is all important. It happens here in Israel again and again. What is more the group's response to pain has been positive. They have sought a way to make things better: To do it by contributing to the building of new Jewish homes, a quintessentially Jewish value. And to utilize song, and dance and a spirit of hope in the process.

What made it all the more amazing is the fact that this took place while the nation is in the throes of terrorism, which does not stop.

~~~~~~~~~~

Carrying through with a theme of hope, I want to pick up on signs that times indeed are changing, and sometimes for the better.

MEMRI has just released a translation of an article that appeared in the Kuwaiti government daily, Al Anba. Wrote journalist Saleh Al-Shayeji, "Israel is not our enemy." MEMRI's summary:

"Al-Shayeji called on the Arab countries to abandon 'the delusion of the single [Arab] nation' and pursue their own individual interests. As part of this, he said, they must stop seeing Israel as an enemy just because of its conflict with the Palestinians. He wondered why Kuwait sees Israel as an enemy even though Israel never invaded or fought it, while it sees Iraq – which did invade and occupy it – as an ally and a sister-state."

http://www.memri.org/report/en/0/0/0/0/0/0/8877.htm

Credit: twitter
~~~~~~~~~~
"Israel's Leviathan offshore natural gas field is expected to supply the Egyptian company Dolphinus Holdings with up to 4 billion cubic meters (141 million cubic feet) of gas per year for 10 to 15 years, according to a preliminary deal announced last week.
"'We've worked with Dolphinus before and we expect to reach a final agreement quickly," Yossi Abu, chief executive of the Israeli company Delek Drilling, told Reuters.'"
http://www.algemeiner.com/2015/11/30/israel-to-supply-egypt-with-natural-gas-for-next-decade-and-beyond/

~~~~~~~~~~

This sort of economic cooperation is positive, as, I believe, is this:

"Israel and Jordan are moving ahead with a plan to build a water-carrying canal from the Red Sea to the Dead Sea, which will rehabilitate the shrinking Dead Sea and supply drinking water to Israelis, Jordanians and Palestinians.

Interior Minister Silvan Shalom and Jordanian Water Minister Hazim Nasser on Monday announced the release of the $800 million tender, which will be formally published Tuesday. The two nations, which made peace in 1994, are seeking a company to construct the canal and operate it for 25 years.
"'Today we took an additional historic step to save the Dead Sea," said Shalom...'"
http://www.timesofisrael.com/israel-jordan-unveil-800m-joint-plan-for-red-dead-canal/
In this instance, we are looking not only at cooperation with an Arab neighbor, but, as Shalom pointed out, moving to save the irreplaceable Dead Sea. To see how its waters are receding is painful indeed.
Credit: Oren Nahshon/Flash 90
~~~~~~~~~~
I'm not sure that the growing cooperation between Russian and Israel is any less surprising or less indicative of a changing time than our cooperation with Arab neighbors. It might, in fact, be a good deal more so. I have written about this before, and will continue to do so. I always have a "who would have thunk it?" response to what is going on.
Right now there is a UN conference on climate change going on outside of Paris. Yesterday, Prime Minister Netanyahu and Russian President Putin, both present at the conference, met on its sidelines.
screen capture Youtube
Following that meeting, Netanyahu said:
"I just had an important talk with Russian President Vladimir Putin. We agreed to deepen the coordination between us in order to prevent mishaps and to do so on a broad basis.
"I think that every citizen of Israel understands today, in light of recent events on the Turkish border, the great importance of my trip to Moscow and these ongoing contacts with the Russian president."
http://www.timesofisrael.com/israeli-russian-officials-to-meet-for-talks-on-continued-syria-coordination/
Yesterday, Putin expressed satisfaction with the meetings with Netanyahu, and even acknowledged that the mechanism for avoiding unintended clashes had been proposed by Netanyahu. He extended good wishes ahead of the "very bright" Jewish holiday of Chanukah, which "symbolizes the triumph of light over dark." And he expressed hope that the spirit of the holiday would extend to "international affairs."
Today Israeli and Russian military officials were scheduled to meet to deepen the cooperation.
~~~~~~~~~~
Signs that that matters are going well with the Israeli-Russian coordination are clear: Ya'alon has let it be known that, in the process of operations in Syria, Russian pilots had breached Israeli airspace but without incident because of the close security coordination.
~~~~~~~~~~
On the other side...
Lebanon's Al Mustaqbal television station reported Sunday that the night before the Israel Air Force had struck a weapons convoy and munitions storage facilities in the Qalamoun region near Syria's border. Reportedly, the storage facilities held long range surface-to-surface missiles that had been transferred by Syria.
Apparently this was the third time the IAF had hit in the region in a week, without a peep from Russia.
~~~~~~~~~~
Putin is hardly the only one that Netanyahu has met with at the sidelines of the climate conference, although that meeting attracted the most attention. There was, for example, Indian Prime Minister Narendra Modi.
Netanyahu, speaking to Israeli journalists, explained (emphasis added):
"Israel's standing in the word is very firm.
"People are looking to get close to us. They understand that Israel is a big regional power, and also a world power in cyber technology and there is hardly anyone who didn't talk to me about that. They also understand that we can help in the war against terrorism and radical Islam."

http://www.jpost.com/Israel-News/Politics-And-Diplomacy/Netanyahu-calls-for-friendly-countries-to-change-their-voting-pattern-on-Israel-435891
Our prime minister is not inventing this. We ARE a world leader in cyber technology and a world expert in terrorism. If the nations of the world are sufficiently unsettled (read: terrified) by the current situation that they will now come to us for guidance and intelligence, this is very much to the good indeed. The dynamics may shift of necessity. Netanyahu said that leaders from around the world – including Arab states – approached him to talk about counter-terrorism and technological issues.
What Netanyahu says he now expects is that nations (which went unnamed) who are seeking cooperation with Israel will change their voting patterns in the UN and other international forums. It doesn't work, that they should expect help from us, and vote against us at every turn.
"You will hear this [demand] more and more – this is our natural expectation."

~~~~~~~~~~

I read in the news today that the municipal police of Paris are using an Israel-made surveillance balloon to help guard the climate change summit.

http://www.jpost.com/Breaking-News/Israeli-surveillance-balloon-guarding-Paris-climate-summit-435905

Case in point.

~~~~~~~~~~

You might also want to see this article about Seth M. Siegel, author of "Let There Be Water: Israel's Solution for a Water-Starved World."

Siegel has been on a book tour and has been "dumbstruck" by what he is finding:

"'People are excited by the message of the book — that there is a solution for the coming global water crisis — and they come up to me afterward, I don't mean one or two, but significant numbers of people. They tell me they want to come visit Israel and learn from Israel.' (emphasis added)
"What they want to learn, explains Siegel, is how a country that is 60 percent desert and whose population increased tenfold since 1948 not only has enough water for itself, but in fact has a surplus..."
He hopes that Israel's "world class water practices" will have a ripple effect on peace.
http://www.timesofisrael.com/how-israel-became-a-water-superpower/
~~~~~~~~~~
Lest I give the false impression that everything is wonderful:

[] Defense Minister Ya'alon yesterday told the Knesset Foreign Affairs and Defense Committee: "We don't see any changes in the wave of terrorism; it is mostly attacks by individuals. The wave of terrorism is not dwindling or being curbed."

The IDF is doing what is can, he says, but is also prepared for an escalation.

http://www.jpost.com/Arab-Israeli-Conflict/Israel-sees-no-sign-that-terror-wave-subsiding-IDF-prepared-for-escalation-435807

Seems to me, someone had better come up with some more creative ideas. (Please, do not send me any more suggestions. Neither Netanyahu nor Ya'alon is consulting me at present.)

~~~~~~~~~~

[] Three Arabs from eastern Jerusalem have been sentenced for conspiring to carry out shooting and kidnapping attacks against Jews on the Temple Mount.

http://www.jpost.com/Arab-Israeli-Conflict/Court-sentences-3-terrorists-to-13-years-in-jail-for-planning-to-kill-Jews-praying-on-Temple-Mount-435835

~~~~~~~~~~
Early this morning, once again, there was a stabbing at the Gush Etzion junction in which one person was injured. Another Israeli was lightly wounded in a knife attack in a north Jerusalem neighborhood.
And on it goes...
On Sunday, Hisorai Taplaya, a caretaker from Nepal who has resided as a foreign worker in Israel for the past seven years was wounded in a terror attack in Jerusalem.
Screenshot
Some three hours before this attack, a Border Police officer was stabbed.
~~~~~~~~~~
I will return to a number of other issues less than pleasant (including with regard to the EU) in coming posts.
~~~~~~~~~~
© Arlene Kushner. This material is produced by Arlene Kushner, functioning as an independent journalist. Permission is granted for it to be reproduced only with proper attribution.

If it is reproduced and emphasis is added, the fact that it has been added must be noted.
http://arlenefromisrael.squarespace.com/current-postings/2015/12/1/december-1-2015-rising-up-in-strength.html
Posted
on Tuesday, December 1, 2015 at 11:42AM
by
Arlene
|
Post a Comment
|
Email
|
Print
We begin today with an opinion piece from the Friday JPost magazine section, written – in 2010 - by Rabbi Nathan Lopes Cardozo, "Israel: The blessing of insecurity" (emphasis added):

"Throughout the centuries, historians, philosophers and anthropologists have struggled with the concept called 'Israel'...

"It was clear that Israel did not conform to any framework. It resisted historical concepts and generalities. Its uniqueness thwarted definition, since that implies arrangement in categories. Anything that flies in the face of categorization is alarming and disturbing. [After the Bar Kochba rebellion was crushed by the Romans and the general Julius Severus...forced the Jews out of their country]...the Jew was hurled into the abyss of the world's nations and confronted with a new condition – ongoing insecurity – which continues to this day. While mankind has always faced moments of uncertainty, the Jews have been denied even the smallest share of the dubious security that others possess. Aware of it or not, Jews have always lived on ground that could, at any moment, give way beneath their feet.

"In 1948 Israel once again became a country. But not only a country. All of its other dimensions...continued to exist...

"Throughout its short history, the State of Israel has experienced the most puzzling events modern man has ever seen. After an exile of nearly 2,000 years, during which the old Israel survived against all historical odds, Jews returned to their homeland. There they found themselves surrounded by a massive Arab population incapable of making peace with the idea that this small, mysterious nation lives among them. After having survived a Holocaust, in which six million of its members perished, the Jewish nation was not permitted to live a life of tranquility on its tiny piece of land.

"...From the onset, Israel was forced to battle its enemies on all fronts. It was attacked and then condemned for defending its population and fighting for its very existence. Over the years, it has has had to endure the international community's policy of double standards. When it calls for peace it is condemned for provoking war. When it tries, as no other nation does, to avoid hurting citizens of countries that declare war on it, it is accused of being more brutal than nations that commit atrocities against millions of people.

~~~~~~~~~~

"Simultaneously, against all logic, this nation builds it country as no other has done, while fighting war after war...While bombs and katyushas attack its cities, and calls for its total destruction are heard in many parts of the world, Israel continues to increase its population, generate unprecedented technology and create a stronger and more stable economy. But the more it succeeds, the more its enemies become frustrated and annoyed and the more dubious Israel's security becomes. The more some nations aspire to destroy it, the more the world is forced to deal with this tiny state and its survival capacity...

~~~~~~~~~~

"We have only one way to comprehend the positive meaning of this otherwise apparently negative anomaly: faith. From any other viewpoint, the failure of Jews to fit into a category would be intolerable, a meaningless absurdity. We must understand that our inability to conform to any framework is our living avowal of Israel's uniqueness. Israel's very existence is the manifestation of divine intervention in history to which it must attest. In Israel, history and revelation are one; only there do they coincide. While other nations exist as nations, the people of Israel exist as a reminder of God's involvement in world history, even if it pays a heavy price. Only through Israel is humanity touched by the divine....

"All of this proves that Jews have a destiny and mission different from other nations. We are an eternal people with a timeless message; our history is one of radical otherness.

"The realization of this has become modern Israel's great challenge...

"It leaders must realize that any attempt to 'normalize' the State of Israel will threaten its very existence...

"Our biblical prophets warned against such false notions of security. They predicted that Israel would perish if it insisted on existing only as a political structure. Yet it can survive – and this is the paradox of Israel's reality – as long as it insists on its vocation of uniqueness.

"Israel is summoned to remind the world of God's existence, not only concerning religion but as a historical reality. There is no security for Israel unless it is secure in its own destiny. We must shoulder the burden of our own singularity, which means nothing less than fulfilling our role as God's witness. We must draw strength from this phenomenon...Once Israel recognizes its uniqueness, it will, paradoxically, enjoy security and be victorious."

http://www.jpost.com/Opinion/Israel-The-blessing-of-insecurity-435464
Credit: JPost

~~~~~~~~~~

I offer no comment here on this profound perspective, because I do not believe any is needed. But I do wish it to serve as backdrop for the next part of this posting, which, indeed, addresses issues of insecurity, specifically with regard to how the Israeli government is responding to the terrorism.

A good number of readers have written to ask questions concerning this response: Why is more not being done, etc. Briefly here I would say that a great deal is being done. While it likely even more might be, it is also the case that there is not one magic bullet for handling this. More on this below, but it would not, for example, be a good idea to do a targeted assassination of Abbas, his horrendous incitement notwithstanding.

Among actions being taken or seriously contemplated during this past week:

[] Operations involving thousands of soldiers are underway in the Hevron area – this includes administrative detention for those activists with Hamas affiliation.

[] Increased checking of Palestinian Arab cars on shared routes.

[] Work permits of close family members will be revoked and there is seriously thought being given to expulsion of family members.

http://www.ynetnews.com/articles/0,7340,L-4730227,00.html

~~~~~~~~~~

There are many soldiers stationed at the Gush Etzion junction.
Credit: Times of Israel

And I have been advised that some special crack shot troops have been brought in.

~~~~~~~~~~

A bill is under way – but has not yet passed - in the Knesset that would permit the imprisonment of terrorists who are minors. That so many are has generated a serious problem.

Juvenile offenders of 12 or more would be sentenced to a youth facility until age of 14, when they would be transferred to prison. Prison sentences could also be imposed on children under 14 if they are convicted of murder, attempted murder or manslaughter,

http://www.timesofisrael.com/knesset-advances-bill-enabling-imprisonment-of-terrorist-minors/

Additional checkpoints have been set up surrounding Hebron, Hawara and Nablus, as well as around villages adjacent to the Etzion bloc.
Credit: Times of Israel

http://www.timesofisrael.com/more-checkpoints-troops-arrests-west-bank-crackdown-gathers-steam/

Arab workers have been banned from Gush Etzion – or will be shortly. There are other municipalities which have done this.

http://www.jpost.com/Arab-Israeli-Conflict/Israeli-women-killed-after-day-of-three-separate-West-Bank-terror-attacks-435013

~~~~~~~~~~

Late last week, a report broke of a recommendation coming from the IDF of certain "positive gestures" that should be taken with regard to the PA, in order to ease matters.

One was increase in the number of work permits, so that Arabs in PA areas felt their situation was better. Not only NOT a good idea because right now the move is to limit movement of Arabs in to Israel, but also because it would constitute a reward for terrorism. Also reportedly proposed was release of some prisoners.

But worst of all: It was suggested weapons, ammunition and armored vehicles be provided to the PA so that it could help combat the terrorists.

This, my friends, is the stuff of nightmares. It should be noted that the PA security forces have in the past, more than once, turned their guns (provided by the US so they could fight terrorism) on us.

~~~~~~~~~~

At any rate, I am here to tell you that none of this is going to happen.

First, it was one IDF officer who spoke out – severely out of turn, actually: GOC Central Command Maj. Gen. Roni Numa.
Credit: JPost

While, of course, there is no guarantee that there are no other officers with similar opinions, he was not speaking for the security forces more broadly – which is the impression that had been lent when Haaretz originally ran with the story.

It was MK Bezalel Smotrich (Bayit Yehudi – pictured below) who revealed the identity of the "anonymous source." Numa was apparently reprimanded both by Defense Minister Ya'alon and by the Prime Minister.

http://www.jewishpress.com/news/meet-the-anonymous-idf-source-for-left-leaning-news-maj-gen-roni-numa/2015/11/26/
Credit: bholword

~~~~~~~~~~

Netanyahu has made it clear that there will not be any weapons or other gestures to the PA. The political echelon in the country, which has the final word, is not at all in favor of any such suggestions. In fact, reports are that top government officials responded with anger.

http://www.israelhayom.com/site/newsletter_article.php?id=29973

~~~~~~~~~~

It is with a sense of déjà vu, then, that I report that late last week reports surfaced of intent by the Civil Administration to turn over land in area C to the PA, as a goodwill gesture. The area spoken of was 10,000 dunams (2,500 acres).

Today, speaking to his Likud faction, Netanyahu said (in a statement relayed to the press by an official at the PMO):

"not 40,000 square meters, not 10,000 meters and not a single meter."

http://www.timesofisrael.com/netanyahu-denies-plan-to-transfer-2500-acres-to-palestinians/

~~~~~~~~~~

What is important in a situation such as this, is that Netanyahu has right-wing MKs in his coalition – in his own party and in Bayit Hayehudi – who work to keep him "on track." With all of the grief we endure, it is my observation that over time the government of Israel is moving to the right.

And I would say the same about the top echelon of the IDF. While we have those such as General Numa, I am delighted that increasingly up and coming officers come out of the Dati Leumi (religious nationalist) world.

~~~~~~~~~~

A couple of other notes here:

Just today, Defense Minister Ya'alon responded to criticism from MK Lieberman and others that there should be an increased IDF operation in Judea and Samaria. Part of his response is absolutely on the mark, and merits attention:

As part of Oslo agreements, major cities – area A - had been turned over to PA control. But in 2002, with the second intifada, the IDF went back into those cities in Operation Defensive Shield to clean out terrorist cells. And "we haven't stopped doing so...Such operations take place dozens of times a day."

http://www.timesofisrael.com/no-need-for-west-bank-invasion-assassinations-says-yaalon/

Important to understand that this is going on and on what a significant scale. It is part of what makes the notion of giving the PA any sort of sovereignty a ludicrous idea from a purely security perspective.

Explained Ya'alon, "If there's information about a terrorist in some place, we just go in and arrest him, even in the heart of Area A, in the refugee camp of Jenin or the Qasbah in Nablus. This time we don't need another Operation Defensive Shield...There's no need for divisions. An undercover unit goes in, carries out the arrest and leaves."

~~~~~~~~~~

Sadly, my friends, I report that the terrorism has not come to an end. Today alone there were two stabbing attacks in Jerusalem within three hours.

http://www.ynetnews.com/articles/0,7340,L-4732243,00.html

~~~~~~~~~~

But I end on a joyous note. I had written already about the invitation extended to the people of Israel by Sarah Litman and Ariel Biegel, following the terrorist murder of her father and brother. On the day they were supposed to be wed, Sarah was sitting shiva. But, she announced, the wedding would delayed only days, and would be held at the Binyanei Hauma – Jerusalem Convention Center – to accommodate everyone.

'Do not rejoice over me, my enemy, for I have fallen but I have gotten up,' read the announcement. Oh! how they did get up.

The wedding was last Thursday evening. Some thousand guests were invited, and the chupah (the wedding ceremony) was enormously emotional. Later in the evening, the doors were opened to the thousands – who knows, very likely tens of thousands – waiting outside to celebrate with the couple. There were so many people that finally the doors were closed and some remained dancing outside. (The couple did come out to see them.)

~~~~~~~~~~

Here you see Sarah and Ariel:


Here, a beautiful Sarah being celebrated:

https://www.youtube.com/watch?v=xqT_gD3jq4A&index=17&list=PL1lDqeen2dMh_46afJon4SFVX8gzJx8T3

And here just some of those rejoicing outside:

http://www.israelnationalnews.com/News/News.aspx/204023#.Vls7l5uhfIV

~~~~~~~~~~

What a special people are we!

~~~~~~~~~~

© Arlene Kushner. This material is produced by Arlene Kushner, functioning as an independent journalist. Permission is granted for it to be reproduced only with proper attribution.

If it is reproduced and emphasis is added, the fact that it has been added must be noted.
Posted
on Monday, November 30, 2015 at 02:16AM
by
Arlene
|
Post a Comment
|
Email
|
Print
I'm so grateful to have some good things to write about, in the face of daily anguish. Several good things, as a matter of fact – ways in which innovative Israel helps and reaches out.

Credit: Shutterstock

That strange red creature on the leaf is a Phytoseiulus persimilis, the most effective predator of the red spider mite, which attacks peppers, tomatoes, potatoes, beans, corn, cucumber, melon, strawberries, eggplant and ornamental flowers such as roses.

This particular P. persimilis comes from BioBee Biological Systems at Kibbutz Sde Eliyahu in northern Israel, which has become a leader in developing natural solutions to agricultural problems. Its biological based products are used in over 50 nations around the world. Over the next year, for example, BioBee will be shipping over 600 million specially bred P. Persimilis to farmers in Colombia, allowing them to reduce use of chemical pesticides by a whopping 80%. It causes no harm to the plants.

http://www.israel21c.org/colombian-farmers-welcome-israeli-bugs-for-pest-control/

~~~~~~~~~~
"HARBO Technologies is an Israeli company with an innovative cleanup product that could save companies billions of dollars and save our environment, too.
"The company has created a lightweight, easily deployed floating barrier – known as a containment boom — that can prevent disastrous consequences of marine oil spills within minutes of leak detection."
http://www.israel21c.org/a-slick-solution-to-spilled-oil-on-our-seas/
Credit: HARBO Technologies
~~~~~~~~~~

"When a broken pelvis put Israeli farmer and inventor Gilad Woolf into a wheelchair for a few weeks, the bumpy ride wreaked havoc on his back, and he determined to improve wheelchair design with a suspension system to absorb shock.
"After his initial idea – a hydraulic air cushion in the seat, like those in tractors – proved unsuccessful, he made the audacious decision to reinvent the wheel.
"The result of his efforts, with encouragement and financing from Israel's RAD BioMed Accelerator and a team of experts, is called SoftWheel."
http://www.israel21c.org/leave-it-to-israelis-to-reinvent-the-wheel/

And now:

"Wheelchair-bound US army veterans will be among the first users of the revolutionary Acrobat Wheel created by Israeli company SoftWheel to increase their mobility significantly."

http://www.israel21c.org/us-vets-wheelchairs-will-roll-on-israeli-tech/

Credit: Israeli 21C

~~~~~~~~~~

All the above, which are only examples, are the result of Israeli ingenuity, and all benefit the larger world.

It's so important for us to be mindful of these achievements. But today it takes effort and focus. For what is on everyone's mind is the specter of who might be killed next, or injured, in a knifing, or a shooting, or a car-ramming. That, of course, is what the terrorists want – that we should be consumed with their evil.

Since last I wrote, there have been additional attacks. On Sunday afternoon, Hadar Buchris, 21, was stabbed to death at the Gush Etzion junction. Her assailant was shot dead at the scene by security.

Credit: Facebook

Hadar, recently returned from a trip to India, was studying at a seminary. Rabbis couldn't praise her enough at her funeral.

http://www.jpost.com/Arab-Israeli-Conflict/Israeli-seriously-wounded-in-West-Bank-terror-stabbing-434942

~~~~~~~~~~

Earlier that same day, a Palestinian Arab cab driver rammed into the car of an Israeli on route 1, outside of Ma'aleh Adumim, east of Jerusalem.

At first it appeared to be a traffic accident. But then, when the Israeli driver got out of his car, the Arab came at him with an eight-inch knife. A passenger in the Israeli car shot him dead.

Oh, and before that on Sunday, there was an attempted stabbing at the bus stop near the Hawara checkpoint in Samaria. A bystander ran the assailant over and police then shot him.

~~~~~~~~~~

Yesterday, a soldier, Ziv Mizrahi, was killed in an attack at a gas station on route 434. You know how old he was? Eighteen. A member of Nitzan Battalion of the Combat Intelligence Corps.

His funeral at the military cemetery on Har Herzl was attended by thousands.

Cried his mother, "How beautiful you were on the day you were born...I don't want to be here."

His father related how he saved his superior officer: "He shot the terrorists with a knife in his heart. That's Ziv, a hero of Israel."

Credit: Hadash Paruch/Flash 90

http://www.timesofisrael.com/thousands-attend-funeral-of-soldier-killed-in-west-bank-stabbing/

Ziv's uncle, Alon Mizrahi, died in a terror attack in 203: he was a security guard at the Café Hillel in Jerusalem, and lost his life trying to prevent the bomber from entering the premises.

http://www.timesofisrael.com/stabbing-victim-ziv-mizrahi-was-nephew-of-heroic-cafe-hillel-security-guard/

~~~~~~~~~~

And this morning, an Arab rammed his car into a crowd of Israelis at the Tapuah Junction, in Samaria. There were four injured, none seriously, including two IDF officers and a policeman.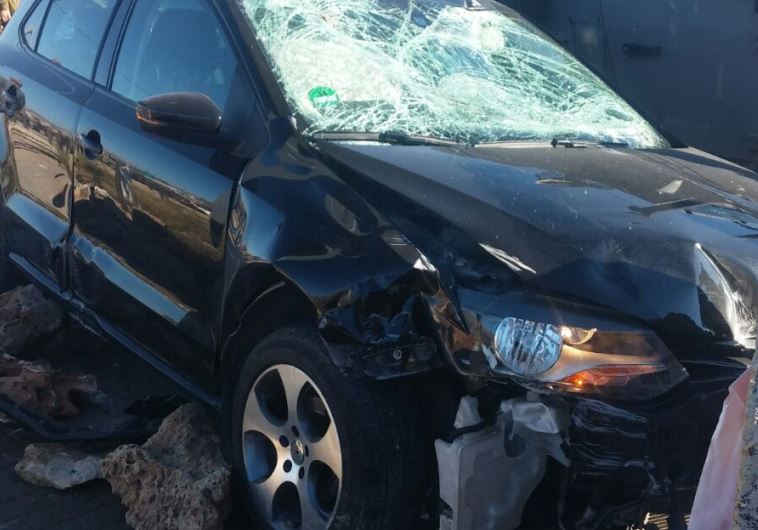 Credit: Jpost

http://www.jpost.com/Arab-Israeli-Conflict/Initial-report-Suspected-ramming-attack-at-Tapuach-Junction-in-West-Bank-435154

~~~~~~~~~~

So we are living a nightmare, my friends. A nightmare that must come to an end. But, oh, how strong we are. Never mind, that the terrorists have succeed in having us think of them. We go about our business, strong in the faith that this will come to an end.

"They won't break us," declared Ziv Mizrahi's father today.

~~~~~~~~~~~

But listen, my friends, Kerry was here today.
Credit: Telegraph

In remarks before meeting with Netanyahu, he expressed his "complete condemnation for any act of terror that takes innocent lives and disrupts the day-to-day life of a nation."

OK...

And then he declared that Israel had both a right and an obligation to defend itself against terrorism.

http://www.jpost.com/Israel-News/Politics-And-Diplomacy/Kerry-calls-Palestinian-attacks-terrorism-that-must-be-condemned-435167

Wow. What a relief. We have permission. Can you imagine his going to any other nation in the world to provide assurances that it's OK for that nation to defend itself against terror?

And think about how awful it had to get before he modified his standard, "both sides need to take steps to calm down" line.

~~~~~~~~~~

I will be very brief in my comments about Kerry's meeting with Netanyahu today, because to the best of my knowledge nothing happened. The secretary of state ostensibly came to convince our prime minister to take some steps in Judea and Samaria that would ease the situation and reduce the threat of terrorism.

His approach was predicated on faulty thinking to begin with. We aren't being knifed because the Palestinian Arabs have no hope and endure such deplorable conditions. It is because of the most incredibly ugly incitement – which I hope I will address again, very soon. And which Netanyahu did address today.

But he also came having misread the public mood in Israel by a great deal. The notion of giving the Palestinian Arabs anything right now – which would constitute a reward for terror – would go over like a lead balloon.

Reports were that Netanyahu told Kerry that the only way he might sell concessions to the Security Cabinet was if Kerry first made a statement about our right to build in the settlement blocs. Uh huh... Any moment now, Kerry might make such a statement. But today sure wasn't the day, and Netanyahu knew this as he made his demand, which we might see as rhetorical. In the end, Netanyahu told Kerry there would be no official construction freeze in Judea and Samaria under his watch ("official" – unofficially construction is already almost at a halt, please note).

Boy, is Kerry clueless. Consider the irony: Netanyahu telling Kerry that he needs to acknowledge our right to build in the major settlement blocs in Judea and Samaria, while Kerry hoped to get Netanyahu to stop all building.

In point of fact, however, Netanyahu's reference to our right to build carries significance in a variety of other contexts. Meanwhile, Netanyahu said even economic programs would be on hold until the terror stopped.

http://www.israelnationalnews.com/News/News.aspx/203880#.VlSXuZuhfIU

~~~~~~~~~~

Because this posting is long, I want to return to discuss what steps Israel is taking in an attempt to quell the terror - where they involve increased stringency, and where this is not the case.

~~~~~~~~~~

Here I want to address an issue that makes the heart heavy: When last I wrote, I celebrated Pollard's release from prison on parole, as imperfect as it was. Of course it is still far far better that he should be out, and with his wife, than in prison. But the more I learn about the irrational, grossly restrictive terms of that parole, the more I realize how purely evil they are, how vindictive, how breathtakingly unjust. For the justice department has admitted he presents no risk. The bastards (forgive the lapse in my professionalism) simply do not want him to live. And that goes to the very top in the US.

Pollard has some very devoted lawyers dealing with this situation. Hopefully they can effect changes of significance.


Credit: Reuters

~~~~~~~~~~

Ending with Nomi Shemer's classic "al kol eleh," over all of these: Dear Heaven, please, watch over the bitter and the sweet for me, don't uproot what has been planted.

https://www.youtube.com/watch?v=Gbw2FTYHCTg

~~~~~~~~~~

© Arlene Kushner. This material is produced by Arlene Kushner, functioning as an independent journalist. Permission is granted for it to be reproduced only with proper attribution.

If it is reproduced and emphasis is added, the fact that it has been added must be noted.
http://arlenefromisrael.squarespace.com/current-postings/2015/11/30/november-24-2015-holding-tight.html
Posted
on Monday, November 30, 2015 at 02:05AM
by
Arlene
|
Post a Comment
|
Email
|
Print
Posted
on Monday, November 23, 2015 at 06:41AM
by
Arlene
|
Post a Comment
|
Email
|
Print
This post is not only being done reluctantly, my friends. It will be very brief. No introductory good news, again. No analysis.
I am holding on to an enormous amount of material, which I will most likely draw on after Shabbat. How much there is to say about the sick and convoluted situation of the world takes my breath away.
But so does this take my breath away:
After several days of quiet, we lost five Jews in terror attacks today, the largest number in one day since the attacks began.
There were two separate attacks. The first took place in south Tel Aviv, in the Panorama office building (pictured), in a room utilized for prayer. The afternoon prayer (minha) was in progress when he entered and stabbed two people with a knife, ultimately killing them. Two others were wounded.
The terrorist was apprehended by passersby and then arrested by police. He lives in Dura, an Arab village near Hevron, but had a permit to work in Israel: he worked in a Jaffa restaurant.
http://www.timesofisrael.com/3-dead-several-wounded-in-etzion-bloc-shooting-attack/

Credit: Yoni Kempinski
~~~~~~~~~~
A bit later there was an attack in Gush Etzion, near the community of Alon Shvut, where two terrorists brandishing Uzis shot from their car, killing an American and a Palestinian Arab on the spot and wounding an Israeli Jew who later died in the hospital. Each person shot was in his own car.
They then rammed their car into several others, injuring them. They were shot and wounded, and then taken into custody.
http://www.timesofisrael.com/3-dead-several-wounded-in-etzion-bloc-shooting-attack/
~~~~~~~~~~
In response to these attacks, Prime Minister Netanyahu said:
"Whoever condemned the attacks in France needs to condemn the attacks in Israel. It's the same terror. Whoever does not do this is a hypocrite and blind."
http://www.ynetnews.com/articles/0,7340,L-4728304,00.html
He is correct, but, as you may have noticed, the world is overrun with blind hypocrites (some of whom I will write about in my next posting).
~~~~~~~~~~
I wrote this because I believe I have a responsibility to inform my readers. This information is unlikely to make news outside of Israel.
~~~~~~~~~~
I close with a link to an album by singer Theodor Bikel z"l. These are songs that are over 50 years old, classics from another time. Hopefully they will bring you pleasure and a smile. They remind us that, even as we grieve, we will be OK in the end.
https://www.youtube.com/watch?v=17vudHypQdU&list=RD17vudHypQdU#t=454
Credit: Jewwatch
~~~~~~~~~~
© Arlene Kushner. This material is produced by Arlene Kushner, functioning as an independent journalist. Permission is granted for it to be reproduced only with proper attribution.

If it is reproduced and emphasis is added, the fact that it has been added must be noted.
http://arlenefromisrael.squarespace.com/current-postings/2015/11/19/november-19-2015-a-reluctant-posting.html
Posted
on Thursday, November 19, 2015 at 04:28PM
by
Arlene
|
Post a Comment
|
Email
|
Print
When last I posted, I wrote that – even though I chose to pass on writing about it in that particular post – there is always good news from Israel. And indeed this is so.

THIS is good news, very good news, although of an usual sort – preceded as it is by tragedy:

"Sarah-Tehiya Litman 21, whose father and brother were murdered by terrorists on Friday, and who was supposed to get married to Ariel Bigel on Tuesday [today], has announced that the wedding will only be postponed by nine days –and that the entire nation of Israel is invited. The wedding will be held at Binyahei Hauma in Jerusalem [a huge convention hall].
"The invitation-announcement is preceded by the phrase – 'Do not rejoice over me, my enemy, for I have fallen but I have gotten up.' (Micha 7:8)
"'This evening, instead of wearing the bridal dress, I will sit on the floor with a torn shirt,' Sarah told the newspaper Yediot Aharonot Tuesday. 'But very soon, we will marry in a large and happy wedding. We will go on and be happy as Father and Netanel always were. We will not be crushed....Multitudes will come to make us happy.'"

Credit: Eliron Aharon

http://www.israelnationalnews.com/News/News.aspx/203513#.VkssM5uhfIU

~~~~~~~~~~

I wept when I read this.

What an extraordinary people we are! How strong. Facing down terror and tragedy with love and rejoicing and mitzvot (commandments). I have seen it again and again, Jews who rise from tragedy to CHOOSE LIFE. Where a wedding is concerned, there is a special import: weddings are not to be postponed, unless it is essential to do so. For the creation of a new Jewish home should not be delayed.

~~~~~~~~~~

And on the flip side, this is also good news:

The Security Cabinet has declared the Northern Wing of the Islamic Movement in Israel – the more extreme branch of the Islamic Movement - an illegal organization. It has been headed by Sheikh Ra'ed Salah (pictured) of Umm el Fahm – a radical Arab town in the north.
Credit: AFP/Jack Guez

Defense Minister Ya'alon has signed a decree to this effect: any person or organization that offers services to the Movement will be operating in defiance of the law and will be jailed. The offices of 17 Islamic Movement-affiliated NGOs were shut down and several were searched. Computers were seized and bank accounts frozen.

Said the Cabinet announcement:

"For years, the Northern Wing of the Islamic Movement has been leading a campaign of deception under the headline 'Al Aqsa is in danger,' which falsely accuses Israel of intending to damage the Al Aqsa mosque and break the status quo. Within this framework, the Northern Wing established an array of paid activists – the murabitun / murabitat – for the purpose of initiating provocations on the Temple Mount. This activity has led to a...escalation in tensions on the Temple Mount. Many of the terror attacks carried out recently were executed against the background of this incitement and propaganda."

http://www.israelnationalnews.com/News/News.aspx/203503#.Vks1v5uhfIU

This is one of those "Mazel Tov! What took so long?" moments.
~~~~~~~~~~
With regard to the terror attacks in Paris, there is so much to say that it cannot possibly all be addressed in one posting. I will undoubtedly be coming back to this again and again.
Today I wanted to offer a brief look at the situation from a particular perspective.
Shimon Samuels - who works from Paris as Director for International Relations for the Simon Wiesenthal Center - has an op-ed in today's JPost that is particularly insightful and forthright.
Credit: snipview
In "What began with the Jews has crossed a new threshold for Europe" (emphasis added), Samuels writes:
"The Charlie Hebdo/Jewish supermarket attacks of January 2015 followed years of anti-Semitic terrorism in Europe and Israel which have now led over the edge of the abyss into general mayhem.
"Despite the French government's welcome measure of placing armed military personnel outside vulnerable Jewish targets, a cognitive disconnect has continued in media and political rejection of the features common to European and Israeli victimology.
"A London Metropolitan police official at September's Counter-Terrorism Summit in Israel expressed his concern with Islamic State, al-Qaida and Boko Haram, but admitted that Hamas and Hezbollah did not reach his radar screen.
"Yet all jihadists view the Jew as a tactical target within a consortium of enemies...The strategic target is the delicate fabric of democracy itself.
"In the slum belts around French cities, twin cries in Arabic now resonate among native-born Islamists,fired up by jihadist imams and Internet sites: "Maut al Yahud" (Death to the Jews) and "Na'al Fransa" (Curse France).
"These young Europeans, recruited to IS in Syria/Iraq or Pakistani Koranic schools, are now returning home as trained murderers...
"These black-uniformed, suicide-belted, "Allahu Akbar" shrieking "martyrs," crouched and swiveled their Kalashnikovs in 360 degree turns, for maximum carnage. Multiple locations for simultaneous assaults augmented general panic and confusion, especially for security and first responders.
"These are the appurtenances of Middle East terrorism – honed over years against Israel – now transplanted to European soil.
"Yet Europe appeases these forces of evil by supporting and endorsing the demonization subsets underpinning the terrorism against Israeli civilians: boycott, now called 'labeling' of Jewish export products; a defensive fence labeled 'apartheid wall'; a 'right to return' campaign for the great-great grandchildren of refugees from 1948 British Mandate Palestine; their current leaders' theft of Jewish heritage and the constant attrition of anti-Israel UN resolutions disproportionate to the condemnation of any other member state.

"Paris is only a way station as London, Berlin, Amsterdam, Brussels and Rome take preventive measures. As Europe rebuilds its border fences, profile-sifting trained and potential jihadists among the current refugee wave, perhaps opinion will now bridge that cognitive synaptic association, that was so axiomatic for Simon Wiesenthal, 'what starts with the Jews never ends with them!' A maxim that can be paraphrased as: 'The suicide bombings, intifadas, knife stabbings, car rammings that began in Israel do not end there!' Anti-Semitism, anti-Zionism, anti-Israelism in Europe only serve the mutual enemies of both Israel and Europe."

http://www.jpost.com/Opinion/What-began-with-the-Jews-has-crossed-a-new-threshold-for-Europe-434290

~~~~~~~~~~

We heard Prime Minister Netanyahu saying after the Paris attacks that all terrorism is the same, that there are no "good terrorists" and "bad terrorists," that he expects the concern of the world for our losses to terrorism as well.

But the world does not hear this, and somehow manages to rationalize the terror attacks against us as being "our fault" because we are "occupiers," or whatever. This is worst sort of libel, which manages to give terrorists here the impression that the world somehow "understands" them.

This is not only a grave injustice to Israel, it facilitates further terrorism. And at its heart is anti-Semitism, in particular European anti-Semitism.

~~~~~~~~~~

In the very same issue of the JPost, there is a piece by Manfred Gerstenfeld, an expert in European anti-Semitism and emeritus chair of the Jerusalem Center for Public Affairs.
Credit: Lisaswelt
In "Suggestions for the anti-Semitic slurs list," Gerstenfeld speaks about the list the Simon Wiesenthal Center puts out at the end of the year of leading perpetrators of major anti-Israel and anti-Semitic slurs and incidents.

"This list," writes Gerstenfeld, "serves as a principal address for identifying these perpetrators and to some extent bringing them to account."

And what does he see as a foremost candidate for the list? Why, the EU, of course.

"More than 40 percent of EU citizens of 16 and older agree with the statement that Israel is conducting a war of extermination against the Palestinians. This is not only a sign of Europe's on-going moral degeneration, it is also partly the result of EU incitement against Israel...

http://www.jpost.com/Opinion/Suggestions-for-the-anti-Semitic-slurs-list-434293

~~~~~~~~~~

A paradox then. I have been feeling that we here in Israel stand separate from the rest of the world. Yet, at the same time, we are at the center of things.

~~~~~~~~~~

More soon...

Here I want to end by honoring Sarah Litman and Ariel Bigel, who were supposed to marry tonight, by sharing a video of a bedeken, a traditional veiling ceremony. Actually there are two ceremonies on this video clip (the second one starting at about 2:45). Some of you may have participated in this traditional custom, for others it will be new. The veil is supposed to drawn over the bride by the groom so that, it is said, he is not – as our father Ya'akov was when he was given Leah instead of Rachel to marry – fooled into marrying the wrong woman. The groom is accompanied by his friends and male relatives in a procession to his bride, who awaits him as a queen on her throne, surrounded by her friends and female relatives.

This is the real stuff. The music is classic, as is the boisterous sense of joy and celebration. And there is something intimate and emotional about it.

https://www.youtube.com/watch?v=2BSN2v3Nxgk

~~~~~~~~~~

© Arlene Kushner. This material is produced by Arlene Kushner, functioning as an independent journalist. Permission is granted for it to be reproduced only with proper attribution.

If it is reproduced and emphasis is added, the fact that it has been added must be noted.
http://arlenefromisrael.squarespace.com/current-postings/2015/11/17/november-17-2015-a-specific-focus.html
Posted
on Tuesday, November 17, 2015 at 05:12PM
by
Arlene
|
Post a Comment
|
Email
|
Print
I know my readers have become accustomed to seeing a good news piece or two at the beginning of a posting. Not today.
Does not mean there is no good news – there always is. But we must focus now on the horrendous news just past.
~~~~~~~~~~
It began here in Israel, right before Shabbat, outside of Hevron. Every single terrorist attack endured here is painful for the nation. But some are harder because of unique circumstances. And this was true on Friday.
There is an Ashkenazi custom for a prospective groom (chatan, in Hebrew) to be called to the Torah on the Shabbat before his wedding. The air is festive and there is traditionally rejoicing after the Torah reading. This is Shabbat Chatan.
In Hevron this past Shabbat there was going to be a Shabbat Chatan, and Rabbi Ya'akov Litman was on his way – for this was the celebration for the man who was going to be his new son-in-law in a matter of days. Outside of Hevron, at Otniel, terrorists shot at the Rabbi's car. He was killed as was his son, Netanel, 18.
Courtesy: family

The prospective bride was not in the car, but other members of the family were wounded – including, I believe, her mother. Her 16 year-old brother, shot in the leg, contacted security forces and directed them to the scene.
~~~~~~~~~~
When the news came to me Friday at almost sundown, my thought was, How little the world understands of what we Israelis endure. Nor does the world understand how strong we are. My mind flew to the Applebaums. Twelve years ago, father, David, and daughter. Nava, met in the Jerusalem café Hillel for talk a day before her wedding, and were blown away.
And then, I lit my Shabbat candles, and went to synagogue, and sang at the Shabbat table. Because this is what we do.
~~~~~~~~~~
The funeral – attended by hundreds and vastly emotional - was last night, in Jerusalem. The young woman who was scheduled to be married this week is instead sitting shiva (observing a stringent one-week mourning period) for her father and brother. Reports are that she was inconsolable, and who could blame her?
Credit: Yonatan Sindel/Flash90
President Ruby Rivlin spoke at the funeral, and he said (emphasis added):
"We are not afraid, we do not surrender and we do not retreat – even when our blood, the blood of fathers and sons is spilled, we remember that our roots are planted in the earth of this land."
THAT, my friends, is how strong we are.
http://www.timesofisrael.com/hundreds-attend-funeral-of-father-and-son-killed-in-terror-attack/
~~~~~~~~~~
Security forces have the weapon that was used in the attack, and have located the car, which had been abandoned. As the result of a massive manhunt, and a joint security operation, one of the terrorists has been apprehended. In the course of interrogation, he implicated himself. Rest assured, his accomplices will also be apprehended.
~~~~~~~~~~
There were reports that an ambulance of the Red Crescent, the Muslim version of the Red Cross, passed by the dead and wounded at Otniel, and declined to stop and lend assistance. Officials from the prime minister down are furious. A campaign will be launched against Red Crescent by Israel: a complaint will be registered with the International Committee of the Red Cross, along with a demand for Red Crescent officials to explain themselves.
A foreign ministry official said, "Israel will enact all necessary sanctions against the Red Crescent."
What must be understood here is that this is routine practice for Red Crescent, despite ethical obligations to treat all casualties – as the Israeli Magen David Adom does.
http://www.israelnationalnews.com/News/News.aspx/203375#.Vkios5uhfIX
~~~~~~~~~~
And then, no sooner was Shabbat over then I received word of the ISIS jihadi attacks in Paris, which had occurred later Friday night and had huge dimensions. While many of my readers may not have heard what went on here before Shabbat, I doubt there is anyone who has not heard about this.
At least 130 people have been killed and 352 more injured (99 critically). This was not one attack, but a series of six timed and coordinated attacks in different locations in Paris, in the 11th and 12th arrondissements. A very sophisticated, well-planned operation, it all occurred within 30 minutes, starting at 9:45 PM. This strongly suggests a lack of adequate French intelligence, especially as France was on a high security alert even before the attack.
In the worst attack, at least 88 people were killed at a concert at the Bataclan night club/theater. There is reason to believe that this club was chosen because of its Jewish ownership.
Credit: Gatewaypundit
"French magazine Le Point says the Bataclan theater has for years been the target of anti-Zionist groups as its Jewish owners often put on pro-Israel events."
http://www.timesofisrael.com/liveblog_entry/french-mag-bataclan-an-islamist-target-due-to-jewish-owners/

~~~~~~~~~~
In another hit, there was a double suicide bombing right outside the Stadium of France, where French President Hollande and the German foreign minister were watching an international soccer game. Altogether too close...
Several select restaurants were also attacked.
France is now observing three days of mourning, with many shops closed, and people remaining at home. Certainly all Jewish institutions in Paris are shut.
~~~~~~~~~~
Heartfelt condolences came from many quarters, including, of course, Israel. Last night, Netanyahu said, "An attack on any one of use should be seen as an attack on all of us...Terrorism is the deliberate and systematic targeting of civilians . It can never be justified."
http://www.jpost.com/Israel-News/Netanyahu-responds-to-Paris-attack-An-attack-on-one-of-us-is-an-attack-on-all-of-us-433056
Additionally, Netanyahu said:
"You can't fight terrorism selectively. You can't say these are the good terrorists and these are the bad terrorists. All terrorists are bad.
"Just as we have condemned murderous acts around the world, so too I expected condemnation to be issued against the murders that occurred yesterday, of Yaakov and Natanel Litman." (emphasis added)
Dearly do I wish the Western world would respond to this expectation. I do not for a moment believe it will.
~~~~~~~~~~
In a spirit of solidarity with Paris, the walls of the Old City in Jerusalem were lit up in the colors of the French flag.
Credit: Perry Mandelbaum
~~~~~~~~~~
Three teams of ISIS- affiliated attackers acting in unison carried out the terrorist operation. All the attackers carried assault rifles and wore suicide vests. The coordinator of the entire attack is still at large, as is the bomb-maker and apparently a member of one of the terrorist teams.
While some French nationals were involved – Belgian authorities say two of the French nationals were living in Belgium - there were also at least two attackers who came into France as Syrian "refugees."
"Syrian passport found by police at the scene of the mass shooting in a Paris concert hall belonged to an asylum seeker who registered on a Greek island in October, a Greek minister said Saturday.

"'We confirm that the Syrian passport holder came through the Greek island of Leros on October 3 where he was registered under EU rules,' said a statement issued by Nikos Toskas, the minister for citizen protection.

"'The most logical assumption is that it's the same person, sent on a mission to Europe,' said a European security expert speaking on condition of anonymity."
http://www.timesofisrael.com/greece-syrian-terrorist-passed-through-country-as-migrant/
"Second Suspected Paris Attacker Likely Passed Through Greece as Refugee
"Holder of Syrian passport found near gunman's body arrived in Europe with 69 refugees in island of Leros in October, Greek official says..."
http://www.haaretz.com/world-news/1.686021
~~~~~~~~~~
This entire matter of jihadists posing as "refugees" is of enormous import for all of Europe, which has been welcoming those coming from Syria with open arms. Of course not every person who claims refugee status is a jihadist, but analysts – yours truly among them – have been warning that the signs of a dangerous situation have been clear for all to see.
The unrest and anxiety this now causes in Europe is tremendous; already Poland has indicated a reluctance to take future refugees according to an allotment spelled out by the EU.
Whatever the reluctance now to take more refugees, the fact remains that thousands who are militants are likely already inside Europe's borders. That is, Europe has a humungous problem which we've seen coming down the road.
~~~~~~~~~~
President Hollande has declared:
"It is an act of war that was committed by a terrorist army, a jihadist army, Daesh [ISIS], against France. It is an act of war that was prepared, organized and planned from abroad, with complicity from the inside, which the investigation will help establish."
He is planning to call out the army in strength; Paris, which he expects will remain under a state of emergency for three months, will be patrolled by the military.
France, said Hollande, will "be unforgiving with the barbarians from Daesh," Acting within the law, France would respond with "all the necessary means, and on all terrains, inside and outside, in coordination with our allies."
http://www.nytimes.com/2015/11/15/world/europe/paris-terrorist-attacks.html?_r=0
There are reports of French planes flying over ISIS strongholds in Libya, and there is an investigation already begun, to determine precisely who each of the terrorists was, and how it all came together. But beyond this, there is no clarity on what Hollande intends.
I will be returning to this.
~~~~~~~~~~
Ana Bekoach is an ancient kabbalistic poem set to music. A prayer. It allegedly has great mystical power and meaning. What I know is that I love it, and think it appropriate for ending this posting. We need to reach for the mystical powers.
"We beg thee, with the strength and greatest of Thy right arm,
Untangle our twisted fate.
"Accept your peope's song, elevate and purify us...
"Accept our cries, and hear our screams,
oh knower of mysteries."

https://www.youtube.com/watch?v=Wp4HRYBhtSI&list=PLrEf38ndf2USoU2Jvi0KUEHQuoaNWS32V
~~~~~~~~~~~
© Arlene Kushner. This material is produced by Arlene Kushner, functioning as an independent journalist. Permission is granted for it to be reproduced only with proper attribution.

If it is reproduced and emphasis is added, the fact that it has been added must be noted.
http://arlenefromisrael.squarespace.com/current-postings/2015/11/15/november-15-2015-horrendous.html
Posted
on Sunday, November 15, 2015 at 04:09PM
by
Arlene
|
Post a Comment
|
Email
|
Print
One of Israel's many significant medical developments:

Assistant Professor Dr. Daphne Weihs, of the Technion in Haifa, has developed a unique biomechanical method for the early detection of metastatic (secondary) cancer - a cancer that has already spread. It can also identify where the cancer has spread to and enable early treatment.

http://pard.technion.ac.il/2015/10/28/early-warning-of-cancer-metastasis/

Credit: Technion

~~~~~~~~~~

In a year, a full twenty-five percent of all of the blood donated to Magen David Adom ("MADA" – national emergency health service) comes from soldiers. "You officers and soldiers are an example for pure and significant giving," said MDA blood services director Prof. Eilat Shinar.

http://www.jpost.com/Business-and-Innovation/Health-and-Science/IDF-soldiers-account-for-25-percent-of-blood-donated-to-Magen-Adom-Adom-427560

~~~~~~~~~~

Bloomberg media outlet has just done a ranking of countries for health, based on a number of parameters such as life expectancy and rate of vaccination. Israel is ranked sixth in the world. The US is 33rd.

http://www.israelhayom.com/site/newsletter_article.php?id=29395

~~~~~~~~~~

And now?

What happened at the much touted Netanyahu-Obama meeting at the White House, which took place yesterday?

Well, not a whole lot, really. At least as far as we know. It was a virtual love fest, compared to some of the former meetings between the two heads of state. They were trying to generate a friendly atmosphere, complete with appropriate body language; this serves the interests of both parties, each for his own reasons.

Credit: AFP/Saul Loeb

It should be noted that there was no press conference after the meeting – with a declaration of issues resolved or commitments made - and no official photo op. Journalists were invited into the Oval Office before the meeting began, to hear informal statements and take pictures.

~~~~~~~~~~

Netanyahu, for his part, declared that he still had hope of seeing "two states for two peoples." I wince every time he says this, but understand that it is part of what he believes he has to do now (more on this below).

Obama had previously said that he recognized that there would not be peace achieved before the end of his term; he even said he doubted that the two parties would even come to the table during this time. And so, Netanyahu knew demands on him would be less than on other occasions. And the prime minister did qualify his support for two states by speaking of "a demilitarized Palestinian state that recognizes a Jewish state." He knows full well that these conditions will be rejected out of hand by the PA.

As for the PA, I was happy to know that Obama "condemned in the strongest terms Palestinian violence against innocent Israeli citizens."

~~~~~~~~~~

It is key is that Obama declared that "the security of Israel is one of my top foreign policy priorities. And that's expressed itself not only in words, but in deeds." (Emphasis added.)

If Obama were truly concerned about Israel's security, he would not have negotiated the deal with Iran that he did. And so, one is inclined to tell him, "Get real!" But of course Bibi did nothing of the sort. He instead expressed gratitude, speaking of "shared values, buttressed by shared interests."

http://www.jpost.com/Israel-News/Politics-And-Diplomacy/Obama-to-Netanyahu-The-security-of-Israel-remains-a-top-priority-432495

The most must be made of Obama's declaration of commitment to Israel's security.

But anyone who is truly familiar with the situation knows that it is often the Pentagon and Congress who push for concern for Israel to be expressed in real actions. Some of the best friends we have in the US are military people in the Pentagon, who truly understand our situation. Obama has been considerably less forthcoming, and has on occasion been a stumbling block to military assistance. But he's not adverse to taking full credit for military and intelligence cooperation between the US and Israel.

Right now, Israel's position is that the deal with Iran mitigates increased military assistance to Israel, to offset increased risks that have been generated. This is not just with regard to the threat of Iran's nuclear capacity, but increased terrorism to our north because of lifting of sanctions on Iran.

But when Obama says, as he did, that both nations stand together in their commitment to prevent Iran from acquiring nuclear weapons, it is beyond laughable.

~~~~~~~~~~

While in principle it seems Obama has agreed to an increase in security assistance for Israel, no specifics were mentioned, nor was it at all clear that Bibi will get everything he is asking for.

The current security arrangements between the US and Israel expire in 2017. It was agreed that a US team will come to Israel in December to assess needs and begin to negotiate a new deal, which could take months to complete.

~~~~~~~~~~

There was no statement made by Obama regarding "settlements" – he left that to his press secretary (following). Nor did Obama speak to the press about US readiness to support Israel by vetoing Security Council motions that the PA might promote – via a member of the SC such as France – to recognize a "Palestinian state."

And I remind my readers that we do not know what was said between the two during the meeting. We don't know if Obama demanded a quid pro quo – some sort of so-called "good faith gestures" to the PA, for example – for increased military assistance or for support in the UN.

~~~~~~~~~~

White House spokesman Josh Earnest held a briefing as the talks in the oval office were winding down.

Credit: The Blaze

He said that he did not see Netanyahu's stated commitment to "two-states" as hollow, but indicated that the best way to measure the prime minister's sincerity was to "see the degree to which his administration is willing to follow through on those comments.
"That is certainly what the Obama Administration will be doing..."
Clarifying, Earnest indicated that "settlement building" has been harmful to attempts to resume talks. "Continued Israeli settlement construction is counter-productive to that process." This is hardly a new American position.

However, Earnest also added that disagreements over the peace process or Iran, "have not effected the commitment of this administration to Israel's security."

http://www.jpost.com/Arab-Israeli-Conflict/White-House-Israeli-Palestinians-talks-unlikely-in-Obamas-last-14-months-432553

I would like to hope not.

~~~~~~~~~~

Present at the Obama-Netanyahu meeting were Ron Dermer, Israeli Ambassador to the US (pictured), Dan Shapiro, US Ambassador to Israel, Vice President Biden, and US national security advisor Susan Rice.

Credit: abcnews

~~~~~~~~~~

The Russians have announced that after years of delay, Russian and Iran have signed a deal paving the way for delivery to Iran of the Russian S-300 missile defense system. One of the most sophisticated anti-aircraft systems in the world, it is a source of real concern to Israel.

Undated photo of a Russian S-300 anti-aircraft missile system on display in an undisclosed location in Russia (photo credit: AP, File)
Credit: AP file

For this reason, increased military assistance to Israel takes on a new dimension. The F-35 is the only aircraft able to counter the S-300 surface-to-air missile system. Israel is slated to receive 33 of these American planes, which have been ordered, in 2016. It might be that more of them will be sought, along with V-22 Ospreys and other weapons systems .

http://www.timesofisrael.com/russian-weapons-chief-s-300-deal-with-iran-has-been-signed/

~~~~~~~~~~

Let's take a quick look at what's happening with the Palestinian Authority as its officials continue to demonstrate their moderation, their readiness for compromise, and their love of peace:

On November 3, after Israel had returned the bodies of terrorists to the PA, PA representative to the UN, Riyad Mansour, wrote a letter to the president of the UN Security Council claiming that:
Matthew Rycroft, president of the U.N. Security Council
Read more at Reutershttp://www.reuters.com/article/2015/11/04/us-israel-palestinians-un-idUSKCN0ST32420151104#GJ9Qy9q3lHfGRc6A.99
"...following medical examinations, it has been reported that the bodies were returned with missing corneas and other organs, further confirming past reports about organ harvesting by the occupying power..."

This is classic blood libel and Israel's ambassador to the UN, Danny Danon, has registered protest.

http://www.israelnationalnews.com/News/News.aspx/202950#.Vj_CX5uhfIV

~~~~~~~~~~

The standard PA line is that Judea and Samaria are "occupied" by Israel and constitute what should be the "Palestinian state." Many people buy this line.

But now and again – and it seems to be happening more frequently of late, perhaps because the PA is bolder – the truth slips out: They see ALL of the land between the river and the sea as "occupied," and belonging to their state.

Abbas slipped in his speech to the UN General Assembly on September 30, when he said, "Mr. President, ladies and gentlemen, haven't you wondered: For how long will this protracted Israeli occupation of our land last? After 67 years, how long?" The State of Israel was founded 67 years ago.

Shortly after, two posts on the Facebook page of the PA Security Forces referred to the Israeli cities of Haifa and Acre as "occupied."

http://www.palwatch.org/main.aspx?fi=157&doc_id=16127

This is important because the truth of the PA must be exposed.

~~~~~~~~~~

Abbas continues with his standard, varied threats: to cut off from cooperation with Israel, to bring charges against Israel in the ICC, etc. On Sunday, he visited Egypt's President Abdel Fattah Sisi and asked him to use his influence with international parties to pressure Israel to stop "provocations and assaults" against the Aksa mosque.

~~~~~~~~~~

Very recently, the current Grand Mufti of Jerusalem, Sheikh Muhammad Ahmad Hussein, who was appointed by Abbas, made the claim that there have never been Jewish temples on the Temple Mount: A mosque has been on the Mount "since the creation of the world," he said. It was built by angels in Adam's time.

http://www.timesofisrael.com/jerusalem-mufti-denies-temple-mount-ever-housed-jewish-shrine/

Go argue with this. There is a strain of a-historical Muslim religious thinking that maintains there was Islam before Islam was founded.

~~~~~~~~~~

My friends, this is an intolerable situation that cannot go on – and yet which IS going on:

Sunday morning, at Tapuah Junction in Samaria, a terrorist drove his car into a crowd of pedestrians – one a pregnant woman; four were injured, including one seriously. The driver was shot dead by Border Police.

Scene of attack at Tapuah junction
Credit: YNet

Two hours later, a security guard was injured in a stabbing attack outside of Beitar Illit in Gush Etzion. The terrorist was shot and wounded.

Please see the startling video of the terrorist, a woman of apparently innocent appearance, as she suddenly pulls out her knife:

http://www.israelnationalnews.com/News/News.aspx/203074

Just shortly after that, a man was stabbed and seriously wounded when he was attacked by two terrorists in Nabi Ilyas; it is situated near a busy road - not far from the community of Alfei Menashe in Samaria - and many Jews stop to shop at stalls there.

Binyamin Ya'akobowitz, a Border Police officer critically wounded in a car terror attack last week died of his injuries. He was 19.

Binyamin Ya'akobovitz
Credit: Israel police

~~~~~~~~~~

Sergeant Orel Azuri had a story similar to that of Binyamin, but hers thankfully had a happy ending: A terrorist rammed into her with a car and sent her flying; she was then brought to the hospital in critical condition and lay unconscious for 13 days, "sedated and ventilated, teetering between life and death." And then she says, about the fact that she woke up, "A miracle happened to me."

http://www.ynetnews.com/articles/0,7340,L-4722473,00.html

Sergeant Orel Azuri in the hospital. (Photo: Dana Kopel)
Credit: Dana Kopel

~~~~~~~~~~

On Monday morning a terrorist was shot dead after attempting a stabbing at Eliyahu Crossing near Alfei Menashe (very close to where a man was stabbed on Sunday).

~~~~~~~~~~

Now today, there has been terror here in Jerusalem again. A security guard was stabbed on the light rail, at a station in the Pisgat Ze'ev neighborhood.

While near the Damascus Gate of the Old City, an attempt was made to stab a police officer and the terrorist was shot dead.

~~~~~~~~~~

But as we're speaking of Jerusalem, a smile:

The elephants at the Jerusalem Biblical Zoo are Asian elephants - from Thailand, actually, accompanied by Thai trainers/keepers.

Credit: Wikipedia

Now the Zoo has presented Thailand's Ambassador to Israel, Angsana Sihapitak, with $1,500 raised via small donations, for an elephant hospital in Lampang, Thailand. The check was delivered to the ambassador by an elephant named Tamar, who handed it to him with her trunk.

http://www.algemeiner.com/2015/11/06/israeli-zoo-donates-to-thai-elephant-hospital-with-check-in-elephants-trunk/

Love it! But then, I love elephants.

~~~~~~~~~~

Something neat, and different, to end today: Israeli cantor/entertainer Dudu Fisher, singing "Jerusalem is mine."

Credit: kumah

The visual you see in the video is a dynamic sand painting – really remarkable.

https://www.youtube.com/watch?v=v8kK-yYuuZI

~~~~~~~~~~

© Arlene Kushner. This material is produced by Arlene Kushner, functioning as an independent journalist. Permission is granted for it to be reproduced only with proper attribution.

If it is reproduced and emphasis is added, the fact that it has been added must be noted.
http://arlenefromisrael.squarespace.com/current-postings/2015/11/10/november-10-2016-and-now.html
Posted
on Tuesday, November 10, 2015 at 09:43AM
by
Arlene
|
Post a Comment
|
Email
|
Print
There is so much that is positive going on here. Today I start with an interesting piece about Israeli technology.

The Israeli firm DeepOptics is developing a revolutionary liquid crystal alternative to the multi-focal lens. It will utilize a pixelated dynamic focal lens that "constantly changes its optical power to adjust viewing distance based on data processed right in the frame from two hidden sensors tracking the wearer's line of sight."


Credit: Shutterstock

http://www.israel21c.org/your-multifocal-glasses-are-all-set-for-a-revolution/

~~~~~~~~~~

And this light-hearted item:

A rare songbird – the blue-cheeked bee-eater – that had not been seen in the Negev for 50 years, has been spotted, amidst much excitement. In October a flock of 30 – 40 of them suddenly showed up. As you can see, they nest in the sand. Neat. Israelis are nature lovers.

Credit: Nehama Baruch

http://www.israel21c.org/rare-songbird-reappears-in-israel-after-50-years/

~~~~~~~~~~

I count this as "semi" good news:

According to US officials, Obama has made a "realistic assessment" that a peace agreement between Israel and the PA will not be possible before he leaves office.

http://www.timesofisrael.com/obama-rules-out-israeli-palestinian-peace-deal-before-leaving-office/

The fact that it wasn't realistic never stopped him before, but this time – in the face of the current violence – he has apparently come to terms with the fact that he'd look even more inept than usual if he tried to push "peace" now.

So there will be a bit less pressure on Netanyahu for the time being.

~~~~~~~~~~

But only "a bit less," because:

"White House Deputy National Security Adviser Ben Rhodes told Israeli reporters that the president would want to hear from Netanyahu...ways in which the prime minister will seek to keep a two-state solution viable even in the absence of direct negotiations. Rhodes said Obama regards a two-state solution as urgent, and reiterated the US stance that settlement building undermines faith in the diplomatic process and delays such a solution."

That again? Settlements are not the stumbling block to peace. Deep-seated Muslim Arab animosity towards Israel is. An animosity that incorporates a total unwillingness to accept the presence of the Jewish state in the Middle East, and is expressed today not just in acts of violence but in attempts to delegitimize Israel internationally. Oh, and a total unwillingness to compromise on demands.

We must ask (rhetorically) whether Obama will be discussing with the officials of the PA the multiple ways in which their behavior undermines "faith in the diplomatic process"? It's all very one-sided.

~~~~~~~~~~

This entire issue is particularly pertinent now, as Netanyahu is on his way to Washington for a Monday meeting with the president, for the first time in over a year.
Credit: Algemeiner

~~~~~~~~~~

Aside from discussing the issue of keeping "peace" with the Palestinian Arabs viable, a main topic on the table will be Iran. Now that the non-existent nuclear deal with Iran has been completed – something Obama urgently seeks to represent as a major diplomatic success – he is looking to ensure that Netanyahu does not undercut it. The two will be discussing Israel's security needs in light of the current situation, and Obama might just be receptive to an increase in US military aid to Israel.

Please understand the irony here. When Obama was promoting the Iran deal, he insisted that it was a good deal for Israel too. Now he faces the reality (hardly a secret) that lifting of sanctions will enable Iran to assist its proxies – Assad in Syria, and Hezbollah in Lebanon – with greatly increased levels of funding. He may at one and the same time be eager to show a "concern" for Israel's security, and attempt to buy Netanyahu's acquiescence with regard to the deal.

~~~~~~~~~~

There had been a "sort of" understanding that there would be compensation for the Iran deal. On August 19th, Obama wrote a letter to Congressman Gerald Nadler (D-NY) that said(emphasis added):

"My administration is prepared to enhance the already intensive joint efforts underway to identify and counter the range of shared threats we face in the region, as well as increase missile defense funding..."

"[While Israel has] unparalleled access to some of the most advanced military equipment in the world, including the F-35 Joint Strike Fighter (pictured), which will be delivered in 2016, all of the options available to the United States - including the military option - will remain available through the life of the deal and beyond." (Not sure what this means, especially as the US will not sell Israel the 30,000 pound Massive Ordnance Penetrator bunker buster.)

http://www.jpost.com/Israel-News/Politics-And-Diplomacy/Obama-unveils-compensation-package-for-Israel-after-of-Iran-deal-412914
Credit: US Air Force

While the contents of this letter were more than a bit non-specific, it seemed to imply intent. Seemed. This was two days before Nadler announced in support of the deal and was clearly aimed at bringing him on-board, not at providing assurances to Israel. None-the-less, the impression that there would be compensation was sustained.

I could hardly be accused of being overly cynical if I were to suggest that there just might be a connection in Obama's mind now between Netanyahu's willingness to keep the "peace plan" viable and his willingness to assist Israel.

~~~~~~~~~~

What I would hope is that Bibi might secure the maximum possible from Obama – because our security needs truly are increasing – without surrendering our latitude in speaking out or acting as it is our right or in our interest. A tall order – a balancing act - in the hands of the prime minister and his advisors.

~~~~~~~~~~

Actually, I am picking up contradictory reports on what might be expected from that Obama-Netanyahu meeting:

On Friday, White House press secretary Josh Earnest told reporters:

"Prime Minister Benjamin Netanyahu's visit is a demonstration of the deep and enduring bonds between the US and Israel, as well as the unprecedented security cooperation, including our close consultations to further enhance Israel's security.

http://www.jpost.com/Israel-News/White-House-wants-to-boost-security-ties-with-Israel-432350
But, also on Friday, the NYTimes cites "White House sources" as saying that Netanyahu would not be getting what he wants out of his trip: Israel would not get an increased "compensation" package from the US.
http://www.algemeiner.com/2015/11/07/report-white-house-will-reject-israels-aid-package-request-during-netanyahu-visit/
Leaked reports from inside of Israel indicated that Netanyahu was seeking a ten year package at $5 billion per year.
~~~~~~~~~~
On the topic of Iran, I provide an update, following my last posting:

There has been a surge in cyberattacks on US officials, journalists and activists working on Iran. It is believed that these attacks – some of which were successful - were launched using the computer of American citizen Siamak Namazi, who was arrested in Iran last month. Namazi's laptop had been confiscated by the Revolutionary Guard Corps. Apparently some Obama administration personnel have had their computers hacked.

http://www.wsj.com/articles/u-s-detects-flurry-of-iranian-hacking-1446684754
~~~~~~~~~~

Anti-American vitriol was elevated this past week because of the anniversary of the seizure of the American Embassy in Tehran, with the taking of hostages, 36 years ago. This is an event that is "celebrated" annually, and is marked with cries of "Death to America" and burning of American flags.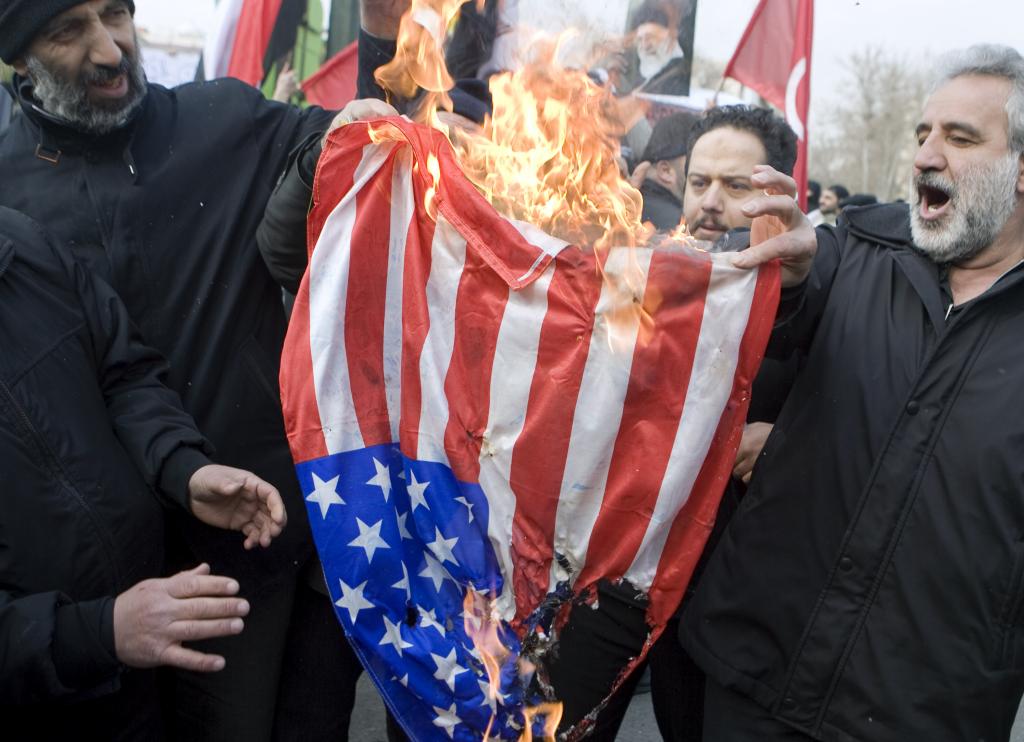 Credit: CAMERA

~~~~~~~~~~

This next item would be quite funny, if it weren't so grim. Black humor?

"President Barack Obama and Secretary of State John Kerry have voiced hopes that the Iran nuclear agreement reached in July could spur greater cooperation between Washington and Tehran on regional issues..."

http://foreignpolicy.com/2015/11/04/syria-crisis-tests-newfound-detente-between-washington-and-tehran/

Obama personally intervened with the Saudis to allow Iran to take part in international talks on Syria.

Comments Omri Ceren of TIP: "The Iranian cyber-offensive - plus the arrest of Namazi, plus Iran's arrest last month of U.S. resident Nizar Zakka, plus the new joint Iranian-Russian military offensive in Syria, plus Iran's recent launch of a ballistic missile in violation of UNSC resolution 1929, plus this week's widespread Death to America celebrations throughout Iran risks making the administration look naive."

"Naïve"? Ceren's understatement. How about demented? Or purposefully self-destructive?

~~~~~~~~~~

Please see an informative analysis of a new and exceedingly complex situation, written by Australian-Israeli columnist Isi Leibler (pictured below) - "Israel and Putin's Russia: A tenuous relationship" (emphasis added):

"For over 30 years, my principle public occupation in the global Jewish arena was to promote the struggle for liberation of Soviet Jewry.
"This brought me into direct contact with Soviet ministers, officials and apparatchiks, enabling me to appreciate firsthand the obsessive anti-Semitism underlying the Kremlin's policy toward Israel and the Jews.
"This contrasts starkly with current Russian President Vladimir Putin's positive attitude to Jews in general, despite the fact that he was a former officer of the Soviet secret police agency, the KGB, a body notorious for its anti-Semitism.

"It is also astonishing that, despite his strategic involvement and alliance with the Syrians and Iranians, Putin has determinedly kept the channels to Israel open, making a point to personally visit Israel. In fact, in June 2012, Israel was the first country he visited after his election. He frequently speaks warmly about the Jewish state, expressing pride that it contains the largest diaspora of former Russian citizens. At the Western Wall, accompanied by Russian Chief Rabbi Berel Lazar, he donned a kippa, which undoubtedly made his Bolshevik predecessors turn in their graves. He also seemed quite indifferent to the rage this created among his Arab allies.
"Prime Minister Benjamin Netanyahu has deftly steered a delicate diplomatic course, seeking to retain a good relationship with the Russians without antagonizing the Americans in relation to both Ukraine and Georgia....

"...due to US President Barack Obama's incredible mismanagement, Putin's major geopolitical breakthrough has transformed Russia overnight into a dominant power in the Middle East with greater influence in the region than even at its peak during the Cold War...
"In contrast to a bumbling Obama, he emerged as a shrewd and tough strategist who can be relied upon to stand by his allies and confront his enemies.
"As a consequence, the situation has become immensely more complicated for Israel and there are logical grounds for concern that Russia's ongoing confrontation with the US will override Putin's emotional philo-Semitism. His recent meeting in which he expressed solidarity with Assad in Moscow was hardly reassuring.
"But the situation remains far from black and white. Immediately after announcing Russia's intervention, Putin agreed to a three-hour summit meeting with Netanyahu, who flew to Moscow where parameters were drawn up in order to minimize any possible military overlap and try to protect some of Israel's security concerns.
"Coordination has been maintained at the very highest military levels between both countries, with Russia operating a direct hotline with Yossi Cohen, Israel's national security adviser, informing him in advance of Russia bombing targets in Syria.
"Furthermore, according to Ehud Ya'ari of Channel 2, the Russians have allocated a future role for Israel in their area of influence by offering to buy a substantial chunk of Israel's newly discovered gas fields and provide military guarantees against Hezbollah attacks on the offshore locations. It is also proposing to export this gas to Europe...

"Profoundly conscious of the Iranian regime's messianic aspirations to wipe Israel off the face of the planet, optimists consider the possibility that the Russians will inhibit the Iranians from directly attacking Israel. They argue that Shi'ite fundamentalists like the Iranians also pose long-term threats to the Kremlin...

"The Netanyahu government is to be commended for its efforts to isolate itself from the conflict. But the situation is volatile and could unravel in the course of intensified superpower confrontations in this region. Israel is also cognizant of potential confrontations with the Russians should they continue to intervene when Iranians seek to transfer advanced missiles to Hezbollah.
"However, it is a consolation that all things being even, Putin would prefer not to confront Israel and does not aspire to bring about its destruction, as did the Bolsheviks...."
http://www.jpost.com/Opinion/Candidly-speaking-Israel-and-Putins-Russia-A-tenuous-relationship-431747
Credit: JPost

~~~~~~~~~~

After Netanyahu met with Putin in September, he indicated that an agreement had been reached with the Russians whereby they will not stop Israel from entering Syrian air space for purposes of stopping transfer of weapons to Hezbollah. My best understanding is that this is indeed likely the case.

Just a little over a week ago, there were reports in international media (Israel never reports directly on this) that Israel had entered Syrian airspace, hitting near the Lebanese border, presumably to intercept a weapons convoy.

Last week, Defense Minister Ya'alon indicated that Israel will respond with zero tolerance to...weapons trafficking to terrorists, and the distribution of chemical weapons to terrorists.

http://www.jpost.com/Israel-News/Politics-And-Diplomacy/After-reports-of-Israeli-strikes-in-Syria-Yaalon-issues-warning-431891

~~~~~~~~~~

My friends, the terror has not stopped:

On Friday a man received serious stabbing wounds outside of a Rami Levy store in Sha'ar Binyamin, north of Jerusalem.

Friday night, two teenagers on their way to prayers at the Machpela (Cave of the Patriarchs) in Hevron were shot, apparently by a sniper from a Muslim neighborhood overlooking the site. It was a special Shabbat in Hevron, as the Torah portion, Chayei Sara, speaks of the death of Sara, for whom Avraham bought the cave in order to bury her.

Credit: Bibleplaces

Thousands of Jews come to Hevron every year on this Shabbat. All Arab presence was banned from the area of the Machpela, and security was huge. But that did not stop the sniper.

Some two hours later, an Israeli was shot and seriously wounded at Beit Einun junction north of Hebron.

Another attack in Gush Etzion was averted, as a Palestinian Arab woman of 72 who was attempting to run over a soldier was shot dead by security. There were Arab claims that she was was "executed" without reason, but they ring hollow. A commando knife was found in the car, her husband had been a terrorist, and Friday night Hamas leader Ismail Haniyeh paid a call to her daughter.

http://www.ynetnews.com/articles/0,7340,L-4721867,00.html

~~~~~~~~~~

Jerusalem born Yitzhak Navon, who served as Israel's fifth president, has passed away at 94.
Credit: Times of Israel

In a statement released last night, Prime Minister Netanyahu said:

"As David Ben-Gurion's secretary, Minister of Education and President, Navon was a full partner in shaping the State of Israel as a free, Jewish and democratic state. I was always impressed by the depth of his education, his openness to everyone and his deep love for the people of Israel and its heritage."

~~~~~~~~~~

"Kol ha'olam kulo, gesher tsar me'od," goes the song. All the world is a very narrow bridge...And the important thing (ha-ikar") is to never be afraid.

A lesson for all of us now. This version was done for the IDF, and it's beautiful. It speaks to each of us.

https://www.youtube.com/watch?v=8K8RBZzxdZw

~~~~~~~~~~

© Arlene Kushner. This material is produced by Arlene Kushner, functioning as an independent journalist. Permission is granted for it to be reproduced only with proper attribution.

If it is reproduced and emphasis is added, the fact that it has been added must be noted.
http://arlenefromisrael.squarespace.com/current-postings/2015/11/8/november-8-2015-facing-the-world.html
Posted
on Sunday, November 8, 2015 at 07:20AM
by
Arlene
|
Post a Comment
|
Email
|
Print
As has become my practice now, I start with some good news.

As to this first item, it's possible that the jury is still out on whether we are certifiable, or whether we simply have a higher moral standard than the rest of the world. I go with the second option, and believe we must continue in our efforts to let the world know who we are (emphasis added):

"While the mass murder of hundreds of thousands of Syrians by the Assad regime and a raft of regional Islamic terror organizations shows no sign of ending, an unheralded Israeli humanitarian mission recently marked the treatment of 2,000 Syrian patients.
"Although the two countries remain sworn enemies, advocates of Israel's program caring for badly wounded Syrians highlight the Jewish imperative to save life whenever possible. Despite endangering the lives of Israeli soldiers and medical personnel, it has enabled critically injured Syrians, with no one else to turn to for lifesaving treatment, to cross the border to an Israeli field hospital...
One of the most senior IDF officials involved in the program described it:
"'This [pointing across the valley to the Syrian warzone from a high vantage point] is the main area of the fighting...Many wounded people come from this area.
"'All of the doctors in this area were probably killed. Most of the people that are left are the poor and the most vulnerable. The [Syrian refugees] who go to Europe are the people with thousands of Euros who are fit enough for the journey. Any time the rebels occupy one of the villages the regime places it under siege, stopping electricity, water [and food]. This has been going on for about three years...
"'As an orthopedic surgeon I can tell you this is the most horrible thing that I have ever seen. Blast injuries, shrapnel, amputations, head injuries. In my orthopedic department we say the people aren't dead because they haven't read the record of their trauma...'"
http://www.investigativeproject.org/5016/israel-unheralded-syrian-humanitarian-project
Members of the Israeli army medical staff tend to a Syrian man who was wounded in the ongoing violence in Syria, in a military hospital located in the Golan Heights near the border with Syria on Tuesday, Feb. 18, 2014. Since the Syrian conflict erupted almost three years ago hundreds of Syrians have received treatment in Israeli hospitals. (AP Photo/Menahem Kahana, Pool)
Credit: AP/Menahem Kahana

~~~~~~~~~~

Another, "Mazel Tov! It's about time."

Deputy Foreign Minister Tzipi Hotovely has given instructions that Foreign Ministry cadets [diplomatic trainees] will now also tour settlements and study about their legality.

What? you may say on reading this. Until now people moved into the world as representatives of Israel without solid knowledge about our rights in Judea and Samaria? You've got it. The diplomatic corps has a reputation for tilting left, which has been one of our problems.

So I say, "Hurray for Tzipi," who observed:

"It is important that ambassadors be able to deal with the challenge of the boycott of Israel and the delegitimization of our right to self-defense that is linked to the fundamental issues of the connection of the Jewish people to its land."

http://www.jpost.com/Israel-News/Politics-And-Diplomacy/Hotovely-Foreign-Ministry-cadets-to-tour-settlements-430678

Credit: Flash 90
~~~~~~~~~~

"Dry Bones" cartoonist Ya'akov Kirschen is also fighting BDS and delegitimization of Israel. For many years he has done a sterling job of presenting Israel's positions in his cartoons. But now, understanding the importance of fighting media bias, he has a Dry Bones Academy that will train "an army of cartoon activists" to fight anti-Israel media-bias.

Bravo, Ya'akov, and much luck in moving forward with this!

Please see this major JPost feature about his new venture below and spread the word:

http://www.jpost.com/Israel-News/Culture/Dry-Bones-battles-against-BDS-media-bias-431999

Credit: Courtesy

~~~~~~~~~~

Now, "the big stuff": Not terror attacks, not the incitement of Abbas. I'm talking Iran, the dangers of which trump all the rest. In any event, terror attacks are fomented and funded by Iran and its proxies – so the issues are intertwined.

Because I've been focusing more on immediate domestic issues, I've not addressed the Iran situation for a while, and the fact is that it is horrendous and grows more so daily.

~~~~~~~~~~

Item one:
In late September, Reuters conveyed Iranian media reports establishing that the Iranians recently took their own environmental samples at their Parchin military facility, where they conducted tests relevant to the detonation of nuclear warheads, in lieu of having IAEA inspectors take the samples

Item two:
In mid-October, Omri Ceren of TIP wrote, "Iranian media reported that Tehran recently tested a new precision-guided long-range ballistic missile, the Emad (show below), which is capable of carrying a nuclear warhead. The test is a black-letter violation of United Nations Security Council resolution (UNSCR) 2231, in which 'Iran is called upon not to undertake any activity related to ballistic missiles designed to be capable of delivering nuclear weapons, including launches using such ballistic missile technology' for the next eight years."
Credit: Telegraph (UK)

However, the Obama administration and its allies "insist that the nuclear deal does not ban Iran from developing nuclear missiles."

Wrote Ceren regarding this: "[The situation] is a fairly damning indictment of how badly American negotiators got rolled in Vienna, but the immediate question is much more straightforward: the Iranians have definitely advanced their ballistic missile program and have definitely violated a binding United Nations Security Council resolution in the process, and what is the Obama administration going to do about that?

To the best of my knowledge Obama is going to do nothing, whatever the ferment within Congress. Obama espouses this position in spite of the fact that "from the earliest days of Iran negotiations, White House officials promised Congress that they would bring home a deal limiting Iran's ballistic missile program."

Please, absorb the full import of this.

~~~~~~~~~~

Item three:
Also in mid-October, the Iranians arrested Siamak Namazi an Iranian-American businessman, with dual citizenship, who operated from Dubai and was in Iran to visit a friend.
According to the NYTimes, he is "head of strategic planning at Crescent Petroleum... also alleged to have ties with people in the National Iranian American Council."

http://www.nytimes.com/2015/10/30/world/middleeast/iran-is-said-to-detain-another-american.html

Namazi was reportedly picked up by Iranian intelligence officials and taken to the Evin torture prison; according to the Wall Street Journal, friends say Iranian intelligence agents ransacked his family home in Tehran and confiscated his computer.

A Daily Beast article suggests that he was central in assisting the White House in pushing the Iran deal (which would fit with ties to the National Iranian American Council). The implications here are huge, regarding who is running Iran and what hardline backlash we may be seeing against those who promoted the nuclear deal.

Another theory suggests that Iran is deliberately trying to provoke the US.

~~~~~~~~~~

These scenarios are all bad news with regard to Iran's relationship with the US, particularly in the context of the nuclear deal. Iran was already holding four Americans prior to this incident and since has arrested Nizar Zakka, a Lebanese with permanent US residency.

In some quarters it's being said that for Iran it's open season on Americans.

~~~~~~~~~~

There was a bit of a firestorm over these incidents in Congress, with demands to know what the US government was going to do about the situation.

On Tuesday, State Department press office director Elizabeth Trudeau held a briefing and was asked about the issue of the arrests.

After saying a couple of times that of course the government is concerned and of course those arrested should be home, she was asked about consequences [for Iran].

Her answer: "Consequences. You know, on this, this is something that we continue to have dialogue on. You know, this is something we will continue to discuss."

There you have it, my friends: Dialogue. The Obama panacea.

You can access the briefing here: http://www.c-span.org/video/?400251-1/state-department-briefing

~~~~~~~~~~~

Lastly, but possibly most importantly, I refer to a briefing by Yigal Carmon, president and co-founder of MEMRI (the Middle East Media Research Institute), "The Emperor Has No Clothes." (Emphasis has been added)
"What is mistakenly perceived as an agreement under the title of 'Joint Comprehensive Plan of Action' (JCPOA)...is neither a contract nor even a real agreement between Iran and the P5+1. It is a set of understandings and disputes compiled into a single document.
"For example, the JCPOA states that in the event of Iranian violations, sanctions will be re-imposed (snapback). However, the Iranian position, which rejects all sanctions, is incorporated in the same document...This is not merely an Iranian reservation expressed outside of the negotiating room. It is incorporated into the text of this selfsame document – and one that completely contradicts preceding provisions that stipulate otherwise...
"The JCPOA is best characterized by bangs and whimpers – by bold prohibitions on Iran that peter out in qualifying terms such as 'unless,' 'except if,' and the like.
"The JCPOA includes a timetable and obligations applying to both sides. Within this time frame, both parties had 90 days from July 14 to secure approval for the agreement from their respective national institutions. By 'Adoption Day,' set for October 19...agreement was meant to have been approved by both sides. The EU was to have announced the lifting of its sanctions, while President Obama, on behalf of the U.S., was to have announced the lifting of the U.S. executive branch's sanctions, along with waivers on sanctions imposed by the U.S. legislative branch...
~~~~~~~~~~
"The Western side showed its consent long before October 19...
"In Iran, however, following discussion in both its Majlis [legislative body] and its Guardian Council, the JCPOA as concluded and announced on July 14 was not approved. The Majlis ratified something else – a set of recommendations to the government of Iran regarding how it should execute the JCPOA...The Guardian Council, for its part, approved what the Majlis had done...
"Was this a fulfillment of what Iran was obligated to do under the JCPOA? No! Did the U.S. administration insist that Iran approve the JCPOA, as concluded and announced in Vienna on July 14? No! Does the U.S. realize that Iran's ultimate authority to approve laws rests with Supreme Leader Khamenei, and that he has not yet approved the JCPOA? NO! Nevertheless, the U.S. and Europe have chosen to regard what Iran has done as approval – so that the peace process will not be halted.
"The U.S. and Europe then proceeded to the first post-Adoption Day phase in the JCPOA timetable: The EU announced that its sanctions would be terminated. President Obama announced that the U.S.'s executive sanctions would be lifted and its legislative sanctions waived; this announcement was not for immediate execution, but in fact advance notice that these measures would come into effect by December 15 – provided that the IAEA would report that Iran has fulfilled its obligations under the JCPOA.
~~~~~~~~~~

"What are these obligations that Iran has to fulfill between Adoption Day and December 15 in order to merit this sanctions relief?"

[A list follows: reducing and storing centrifuges, reducing the stockpile of uranium, etc.]

"Did Iran hasten to meet these obligations? No!...

"At this stage, events have taken an absurd turn. Iran has started dragging its feet...No one wanted to budge without explicit permission from Supreme Leader Khamenei."

~~~~~~~~~~

In an interview this week, Carmon declared, "Not one centrifuge has been removed."

In this report, he writes: "Now the big secret is out. Khamenei has not approved the JCPOA."

~~~~~~~~~~

Explains Carmon, once Khamenei knew that President Obama was "either unwilling or unable to capitulate any further, Khamenei broke his silence. Stepping in in the final act, Khamenei...dictated, in a letter to President Rohani, nine new conditions for the JCPOA, and declared that if these were not met Iran would stop the agreement."

Carmon says that a key demand of Khamenei is the full lifting of sanctions, whereas where the Congressional sanctions are concerned, Obama, cannot override them; he can only issue a suspension via waiver. "Politically too, it might be too far for him to go to break his promise of the JCPOA's built-in security mechanism – snapback of the sanctions. Obviously, snapback is possible only if the sanctions remain in place under suspension."

Carmon believes it would be impossible for the AIEA to provide confirmation that Iran has complied with required stipulations because "the Iranians themselves are declaring loudly that they are not going to do it.

"With every passing day, Iran is more and more in violation of the JCPOA. But neither the Republicans nor the Democrats, nor the media, nor anyone else will acknowledge this, for the implications are too devastating. The agreement is no longer in effect. Its clock has stopped."

http://www.memri.org/report/en/0/0/0/0/0/0/8833.htm
Credit: Flikr

A great deal to assimilate, I know. But this cannot be ignored.

~~~~~~~~~~

Yesterday, in the Hevron area, a young Border Police officer was critically wounded in a car attack. The terrorist was shot dead.

~~~~~~~~~~

Yehoram Gaon is one of my very favorite Israeli singers. And so I was pleased at comments he made this week about our situation (emphasis added):

"I've been here long enough to look back and say honestly that there were attempts to establish genuine peace. There were enough prime ministers who tried. There have been enough negotiations...

"We have been living for years with the feeling that if we return these territories or others, a tremendous peace will be established here and we'll drink coffee in Damascus. But in light of recent events, I've begun to realize that it's much more complex, deep, rooted and most importantly - not a story of territory.

"I lived in Jerusalem before the IDF's conquest of the city, and I remember well the families slaughtered in the Jewish Corridor, before there was a dispute over territories...

"These latest events make me think, in fact, that the other side's will is we simply not be here at all, no matter what we do."

http://www.israelnationalnews.com/News/News.aspx/202735#.Vjp6jpuhfIV

Twitter

~~~~~~~~~~

All right then! I close with a song by Yehoram Gaon. A classic celebrating Israel, "Shalom Lach Eretz Nehederet" – Shalom to you, glorious land.

https://www.youtube.com/watch?v=YDLmJdxpktA

~~~~~~~~~~

© Arlene Kushner. This material is produced by Arlene Kushner, functioning as an independent journalist. Permission is granted for it to be reproduced only with proper attribution.

If it is reproduced and emphasis is added, the fact that it has been added must be noted.
http://arlenefromisrael.squarespace.com/current-postings/2015/11/5/november-5-2015-the-big-stuff.html
Posted
on Thursday, November 5, 2015 at 07:45AM
by
Arlene
|
Post a Comment
|
Email
|
Print